Coinomi Wallet Review – Pros and Cons
Fact Checked
Everything you read on our site is provided by expert writers who have many years of experience in the financial markets and have written for other top financial publications. Every piece of information here is fact-checked. We sometimes use affiliate links in our content, when clicking on those we might receive a commission - at no extra cost to you. By using this website you agree to our terms and conditions and privacy policy.
To begin investing in cryptocurrencies, investors must first set up a crypto wallet. If you don't know where to begin, there are dozens of options out there to choose from, but it doesn't have to be overwhelming.
This Coinomi review provides you with a comprehensive look at it, one of the best crypto wallets available on the market.
What is Coinomi Wallet?

More than 1770 different assets are available for storage, portfolio management, and trading with Coinomi, which is used by millions of users. After becoming one of the top options for storing cryptocurrency right after its launch in 2014, this multi-chain wallet has been in development since 2014. As well as maintaining its dominant position, Coinomi continuously releases new features and updates, always staying one step ahead of competitors. This article aims to introduce Coinomi as a crypto wallet and explain what makes it so great.
It's one of the oldest wallets in this category, developed in 2014 and supporting several different blockchain platforms. Today, Coinomi supports more than 125 networks with tokens and coins from over 1700 different sources. In addition, some of these tokens and coins can be transferred via SegWit to facilitate lighter transactions.
With this wallet, much of the functionality is shared among audiences and devices from a wide range of OS's and platforms, such as Android, iOS, Windows, Mac, and Linux. The Ethereum-based Coinomi wallet was originally conceived as a mobile digital wallet. However, the developers have also made efforts over the past few years to make the software available for desktops as well.
As for features, Coinomi's developers have not shied away from adding new features. Among the features are:
Built-in exchanges,
Direct DEX Trading (token swaps)
Credit cards as a means of purchasing crypto
DApp and Web3 support
Access to DeFi applications
Over eight different languages are supported
Coinomi Wallet Pros & Cons
Using Coinomi can be an excellent method of storing a variety of cryptocurrencies because it boasts enhanced security features and a user-friendly interface that allows you to store a variety of cryptos easily. In addition, Crypto wallets for smartphones are what Coinomi is best at.
Pros:
Supports a wide variety of cryptocurrencies
Strong security
Active community
Staff that responds promptly
Trustworthy
In-built exchange
Cons:
Open-source software but not fully open
Cryptocurrency cannot be bought with fiat
Which Cryptocurrencies Can You Store In Coinomi Wallet?
There are currently over 125 blockchain assets listed in the wallet's coin listing, which has gradually been expanded over time. Additionally, it supports the storage of 382 tokens, including those using the ERC-20 standard that is currently in use today.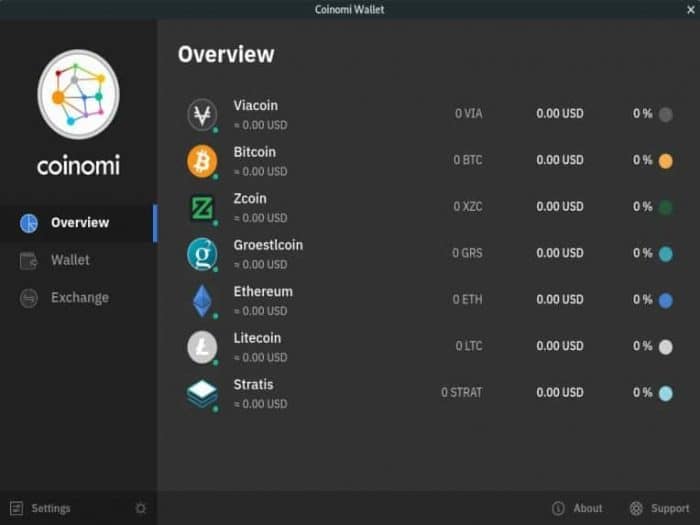 Users can use the wallet all over the world due to its global reach. To cater to its considerable user base across the globe, Coinomi has been developed to support several languages, including English, Chinese, Spanish, French, German, Russian, and many more that are being regularly added suggestions from users.
Bitcoin

Digital currency Bitcoin was created in 2009 and is a decentralized system. Originally developed by Satoshi Nakamoto, it is based on ideas outlined in a white paper.12 It is still not clear who exactly invented the technology. Bitcoin is a decentralized currency operating under an independent authority – unlike government-issued currencies, which are centralized.
Because Bitcoin uses cryptography to keep its security, it is known as a type of cryptocurrency. The only bitcoins that exist as balances on a public ledger that is accessible to all (though the records are encrypted). The verification process for Bitcoin transactions involves massive amounts of computational power via a process known as "mining." Bitcoin is neither issued nor backed by any financial institution or government, nor is each bitcoin a commodity. Bitcoin is a very popular cryptocurrency even though it is not legal tender in most countries. That has given rise to hundreds of alternatives, collectively known as altcoins. When trading bitcoin, BTC is commonly used.
Bitcoin (BTC) is available in Coinomi wallet for you to trade it at your entire convenience.
Ethereum

Blockchain platform Ethereum also has its cryptocurrency called Ether (ETH) or Ethereum, and its programming language is dubbed Solidity.
Ethereum is a blockchain-based public ledger where transactions are verified and recorded. Through the application platform, users can create, publish, monetize, and use applications and pay in Ether, the network's cryptocurrency. Those who are inside the network call these decentralized applications "dApps."
Bitcoin is the top-rated cryptocurrency by market value as of May 2021, but Ethereum is in second place.
Ethereum (ETH) is available in Coinomi wallet for you to trade it at your entire convenience.
Avalanche (AAVE)

In the following years, Avalanche launched as a platform for smart contracts, implementing decentralized applications, or dapps, and the development of subnetworks and bespoke blockchains.
President of Ava Labs, John Wu, says a subnet is a private or public blockchain built offshoot to the core Avalanche platform. These custom blockchains are designed with complete control by the developers, with the only requirement being to contribute to the platform's security."
Validators for Avalanche verify transactions according to how many coins they hold in hand. The proof of stake model is used for Avalanche. People who support PoS say it is significantly less energy-intensive and has a smaller environmental footprint than alternative models.
Avalanche (AAVE) is available in Coinomi wallet for you to trade it at your entire convenience.
Binance Coin

It should be noted that although Binance initially offered 100 million tokens as part of the ICO, the current total supply is less than 100 million. That is because the Binance team uses one-fifth of its profits as part of its quarterly treasury purging process in which it purchases and permanently destroys Binance coins.
These burning events have been performed regularly by Binance. In response to the latest BNB burn, Binance burned a total of 1,099,888 BNB on April 15, 2021. That's $595,314,380 USD in tokens. In terms of dollars, this is Binance's 15th quarterly BNB burn and its largest ever.
Binance Coin (BNB) is available in Coinomi wallet to trade it at your entire convenience.
Cardano

Developed to be a more efficient alternative to proof-of-work (PoW) networks, Cardano is a third-generation, decentralized proof-of-stake (PoS) blockchain platform. As PoW networks like Ethereum grow, their scalability, interoperability, and sustainability are hampered by the infrastructure burdens of rising costs and inefficient energy use.
In 2015, Charles Hoskinson, the co-founder of Proof-of-Work (PoW) blockchain Ethereum, began developing Cardano, a blockchain platform and primary cryptocurrency that this cryptocurrency, ADA, provides. He launched this platform and the token in 2017.
Weoboros is the consensus protocol that underlies the Cardano platform. The Ouroboros protocol, created during Cardano's foundation phase, is the first Proof of Stake protocol that is not only secure and supports scholarly research, it is also based on academic research. Research-based insights and evidence-based methods are incorporated into every development phase of Cardano's roadmap to provide progress toward and achievement of the milestones related to the usage of the blockchain network and the ADA token in the future.
Cardano's cryptocurrency ASA, which has a value of approximately $31.4 billion, is staked in 2,626 active pools as of June 20, 2021.
Cardano (ADA) is available in Coinomi wallet for you to trade it at your entire convenience.
Coinomi Wallet Fees & Commissions
Neither Coinomi's incoming transactions nor its outgoing transactions are charged any fees. Mining fees are associated with Coinomi's outgoing transactions. These fees are usually quite small and do not amount to much. On the other hand, they could be higher during times when the network is busy. Using Coinomi, you can customize your fee structure to your liking. There are a lot of assets that can be used on this platform, and each user can set their transaction fees for all those assets. There will be a delay in confirmation time with a lower fee wallet/service/exchange, as with any wallet/service/exchange. Firstly, the miners always create a block, with the highest paying transaction being the first one included.
The Coinomi app is a completely free application. A desktop version of the software was recently introduced, and it can be used on computers running Windows, Linux, and Mac OS.
Coinomi Wallet User Experience
If you cannot use a wallet or if you have to spend a significant amount of time learning how to use it, it is no use setting one up. Coinomi is continually developed by the team with the user experience in mind, thanks to their efforts. Whether it is for Windows, Mac, IOS, or Android, Coinomi always has a minimalistic, lightweight, and intuitive design.
The number of cryptos owned and their value is shown in the single tab where users can receive, buy, send, transfer, exchange, and even receive cryptocurrencies. You can also find your transfer history here, as well as an overview of the status of your transactions.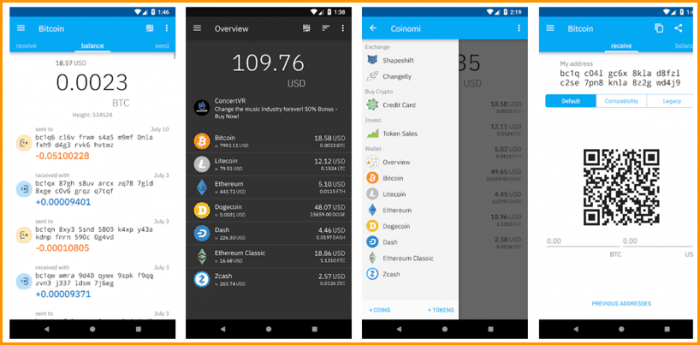 It will be possible for you to separate complex features from the rest of your portfolio. Once you have experienced the world of crypto, you may switch to Coinomi's other tabs and use their rich DAPP browser. That will enable you to make your way to buying NFTs, yield farms, loaning crypto, and even interacting with decentralized exchanges.
Don't forget that you can use your coins outside of the Coinomi app. Coinomi is supported by many DeFi protocols via WalletConnect, which lets you access apps directly from your browser. So, for instance, you can trade Coinomi tokens on Shrimpy by connecting our app to that of Coinomi, and begin to trade immediately.
Coinomi Wallet Features
There are already millions of users trusting Coinomi. Here are some reasons for its popularity:
The broadest range of crypto
Providing native support for 125 Blockchains (the most in the industry for non-custodial wallets) and thousands of tokens, Coinomi is known for security-first, multi-chain wallets for both mobile & desktop.
The highest level of trust
The oldest multi-chain wallet available, Coinomi, was founded back in 2014 and is used by millions of people. Specifically, there has never been a hack or other compromise of any Coinomi wallet to date.
The most versatile global app
One hundred sixty-eight fiat currency representations are available in Coinomi in 25 languages, and SegWit capabilities are enabled. Within the app, you can trade all supported assets instantly via built-in exchanges.
How does Coinomi differ from its competitors?
Superb Security
Neither you nor your device will ever see your private keys. Wallet encryption and cryptography will safeguard your funds, allowing you to keep control of your funds at all times.
Enhanced privacy/anonymity
You will not need to complete KYC paperwork, your IP address will not be linked to your account, and there will be no transaction tracking. In addition, your requests are anonymized by hiding your IP address from prying eyes on servers.
Multi-chain
Integrated support of the most common altcoins and tokens, including bitcoin. They were integrating key altcoins and tokens continuously. Strict standards are applied in selecting and adding coins.
Solid track record
Operating continuously since 2014, Coinomi has never been hacked, and no user has ever lost funds.
Zero fees
Transaction fees are 0 – you only pay the transaction fees directly to the miners when sending and receiving transactions.
Cross-platform
Coinomi's mobile app has recently been updated to support both iOS and Android devices. With the recent launch of its desktop version, wallet access and control have never been easier.
One-time Backup
With Hierarchical Deterministic Wallet (BIP44) logic, you'll be able to keep all your data both accessible and secure.
Exchanges built-in
Through our strategic partners and multiple DEXs, you can instantly swap between hundreds of assets and thousands of pairs. Moreover, you can be assured of the highest level of security and transaction speeds that surpass industry standards.
Multi-seed support
Manage an unlimited number of password-protected wallets, each with its encryption settings, with the ability to import.
Custom and Dynamic miners' fees
With the dynamic calculation of transaction fees, you are assured of getting the greatest value for your money at all times. As an alternative, you also can set and create your fees in any of the supported currencies.
Native SegWit
For Bitcoin, Litecoin, and many other cryptocurrencies, you can get faster confirmations and lower fees with Coinbase. In addition, you can switch between Bech32, P2SH, and legacy modes dynamically.
Cold staking
You should let your crypto work for you rather than against you. With a single click, you can stake cold supported assets and earn rewards even if you're offline
Full asset support
All ERC20, Omnilayer, BEP2, TRC10, and NEM Mosaic tokens will be supported fully. In addition, a lot more tokens will be supported in the future!
DApp Browser & Web3 support
Access your favorite DApps seamlessly using Coinomi's integrated DApp browser and Web3 support without compromising security, thanks to Coinomi's integrated DApp browser.
DeFi Ready
Access all the top DeFi services without leaving the app and interacting with them directly outside of it.
Trusted Node
The ability to connect to your full Bitcoin node will allow you to gain complete financial sovereignty.
Wallet interoperability
If you don't want your public address to become long, register FIO and Unstoppable Domain addresses. Creating blockchain-agnostic payment requests and sending any crypto from any FIO wallet.
Collectibles
The Coinomi platform gives you the power to store, access, and manage your Ethereum collectibles with confidence and security, using an intuitive interface and full ERC721 token support.
Wallet Connect
The Coinomi wallet can easily and securely be linked to other wallet apps that support that feature, which means you can access DApps on the big screen as well.
Blockchain-based ID
As part of Coinomi's comprehensive solution, Digi-ID is included out of the box so that you can replace your old, insecure credentials with top-quality blockchain-based identity management modules.
Crypto DNS
Replace all vague addresses across different services and blockchains with human-readable aliases and eliminate the risk of theft and identity theft.
Multilingual & hyperlocal
The Coinomi platform supports many languages worldwide, including English, Chinese, Spanish, French, German, Russian, and many more.
Coinomi Wallet Mobile App Review
The Coinomi Support Staff has a fairly active Reddit sub-forum where they quickly respond to any questions and assist with any issues that may come from time to time. The crypto community also says that they value Coinomi's responsiveness and appreciate the speed with they responded when they asked a question.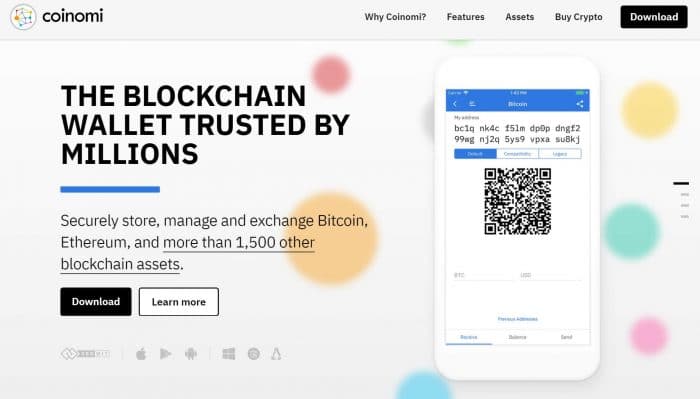 According to Coinomi, despite the widespread media coverage of the February incident, "none of Coinomi's mobile wallets have been compromised or hacked. Furthermore, Coinomi still claims the bug, while serious, never resulted in funds being lost, and they are not aware of any other claims of missing funds.
Both the Apple iTunes App Store and Google Play store give the wallet a 4.6 rating. The Play store has more than 16,000 reviews.
Coinomi Wallet Deposit and Withdrawal Methods
Depositing
Coinomi does not allow direct deposits of USD, EUR, or other currencies. With third-party services, one can purchase cryptocurrency directly through Coinomi and pay in fiat currency. The "Buy Crypto" option is located in the left sidebar, or you can go to our website and click on "Buy Crypto" at the top. There are no fiat currencies on Coinmi. Crypto assets are controlled by Coinomi and have no monetary value, but they may be worth something in the future.
Withdrawing
You will not be able to buy Fiat currency in the world of eBay, but you can get gift cards to hundreds of different shops and services if you choose "Gift Cards." As a beginner, you should open a crypto-exchange account with your bank before you can start withdrawing your cryptocurrency into the account. Then you can sell the coins to the crypto-exchange and withdraw the money. Another way to trade cryptocurrency is by exchanging them directly with merchants who accept them or exchanging them directly with a cryptocurrency exchange.
Coinomi Wallet Contact and Customer Service
By sending a ticket to Coinomi's online support portal, you can contact the company's technical support staff. You will receive a ticket number once you have submitted your question. If you decide to use the other channels to contact the team, you can use this ticket.
As well as user guides, the wallet's official support portal also features Frequently Asked Questions and a "Frequently Asked Questions" section. In addition, the Coinomi team has a strong social media presence through its most active Twitter, Telegram, Reddit, and Facebook platforms, assisting their users with questions regularly on their social media accounts.
Their official blog features the latest updates and announcements relating to their products. However, it is said that the response times vary from some hours to a day, depending on the number of users.
Is Coinomi Wallet Safe?
In addition to having strong encryption, the Coinomi mobile wallet boasts enhanced privacy measures and is among the most secure mobile wallets available.
The Coinomi wallet generates a seed phrase using a "Hierarchical Deterministic" algorithm. So, if your phone is lost or damaged, you can restore access to your funds based on the seed phrase.
Furthermore, HD wallets generate a new wallet address every time you make a transaction, which boosts your privacy since it's difficult to link all transactions to a single wallet address.
Coinomi's servers anonymize the IP addresses of wallet owners so that the wallet owner remains anonymous. It also prevents the risk that online attackers or tracking technology will access your personal information or financial information.
As part of its public release plan, Coinomi has made some of the source code available to the public, making it possible for developers to examine the underlying software and contribute by fixing any bugs or failings they find.
In our review of Coinomi, we would be biased not to mention the incident in February 2019, when a user reported losing $60,000 in cryptocurrency because of an issue related to security. In the problem, Coinomi was importing seed phrase information to a Google API address for spell checking as a part of the imported settings. As a result, an anonymous user reported that he was robbed of his funds by a Google employee.
Despite this, it is highly unlikely that this is the case since requests made to Google were rejected for failing to include an API key. Furthermore, there was also a TLS encryption on the seed phrase, so it was not plain text.
After learning about this problem, Coinomi was able to fix the bug within hours. In response to Coinomi's statement, they have not stated that any of their phone-based wallets have been hacked or otherwise compromised. However, no other details on any other claims regarding losses are indeed available.
How to Start With Coinomi Wallet
Step 1: Open a Trading Account
The Coinomi wallet can be used on any device that supports the Coinomi App or your computer using Coinomi Desktop. In addition, you can download Coinomi for Windows, macOS, Linux, and Android and iOS apps.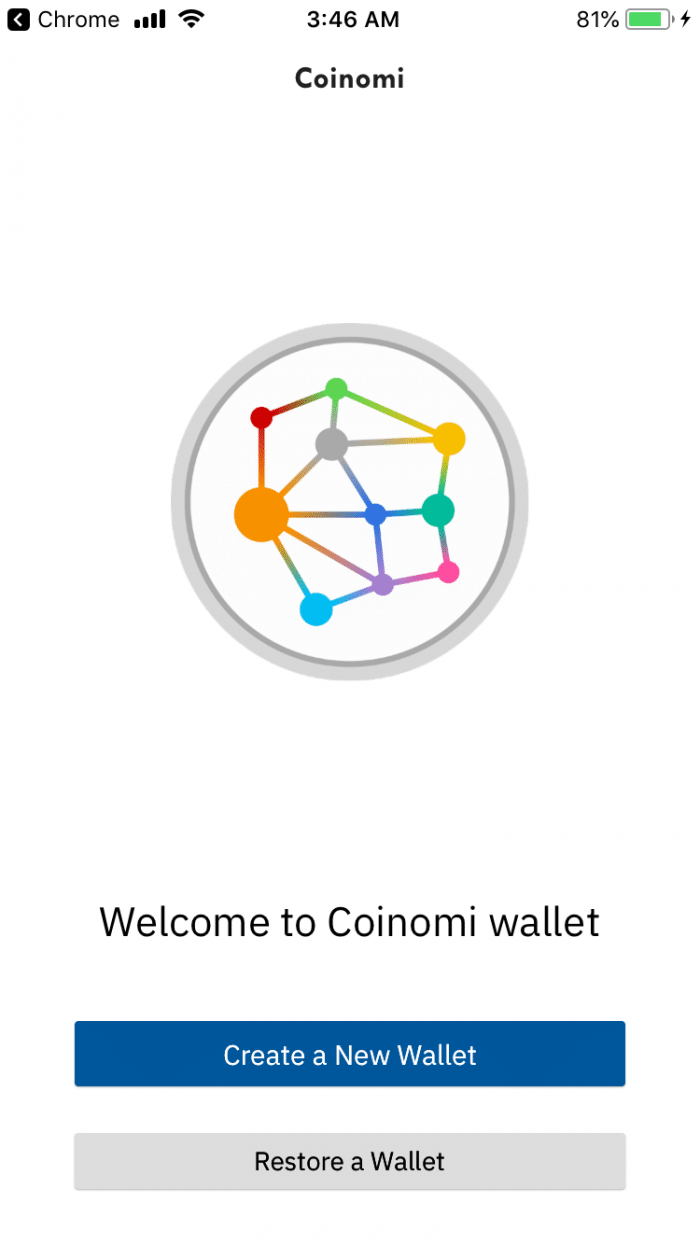 Step 2: Confirm your password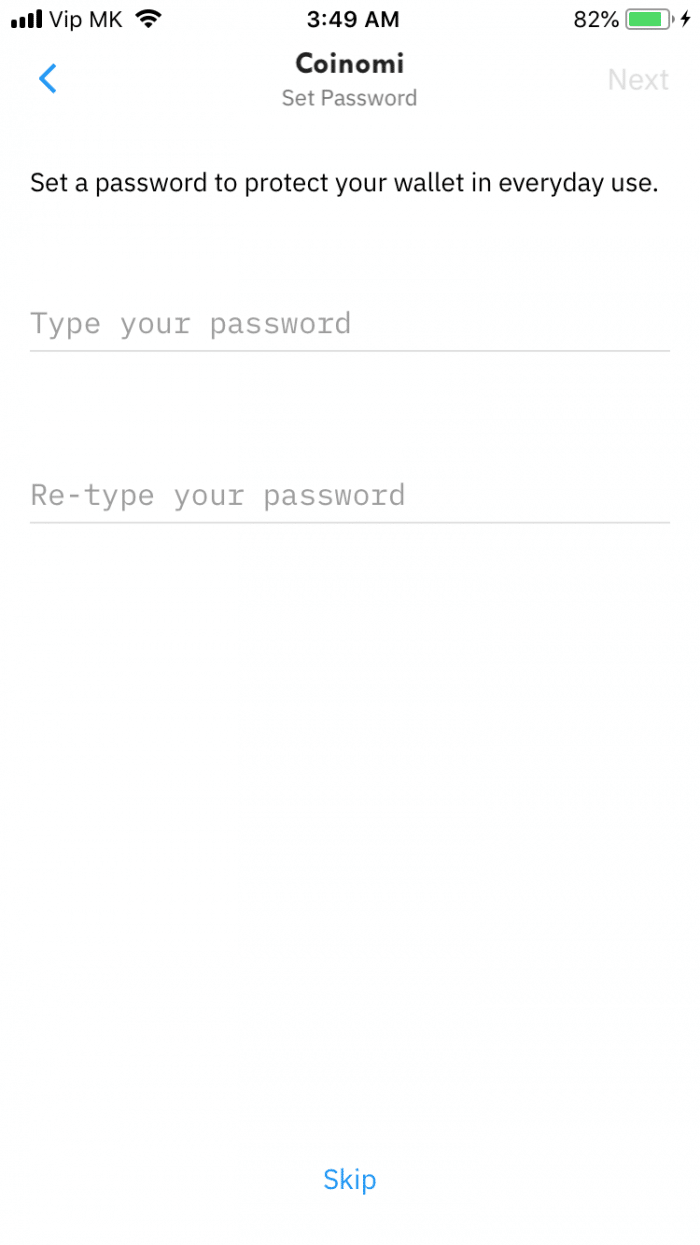 Step 3: Store Your Cryptos with Coinomi Wallet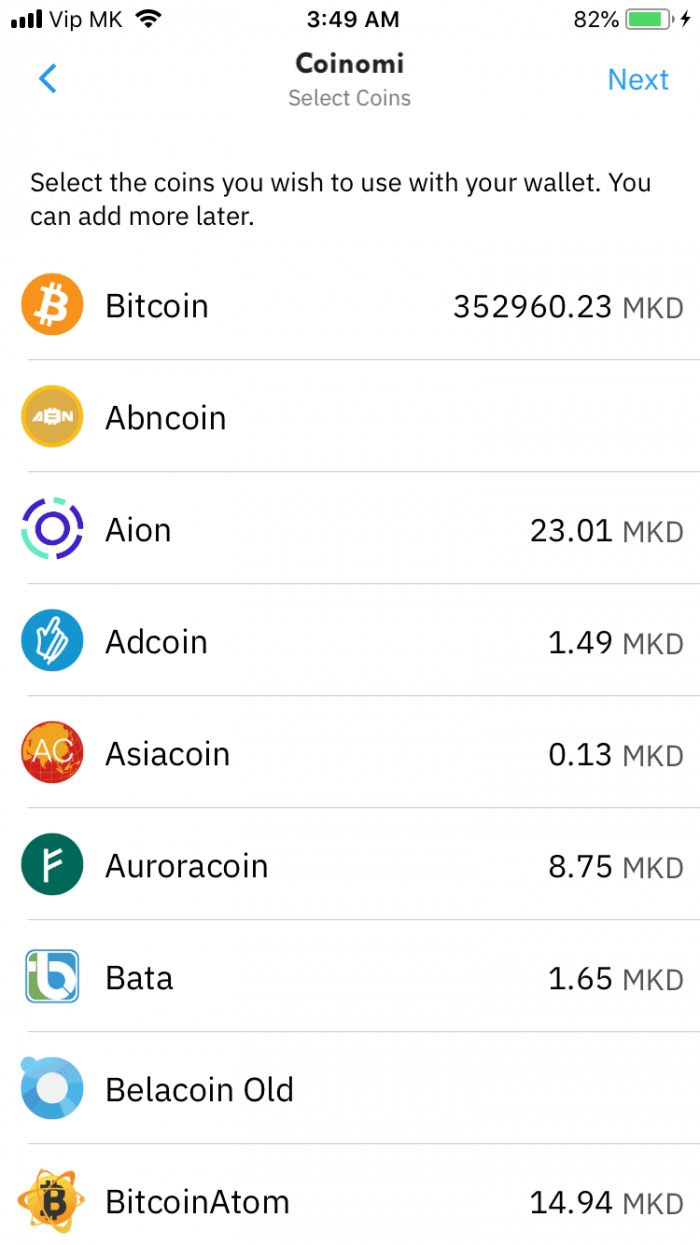 Step 4: Accept Terms and Conditions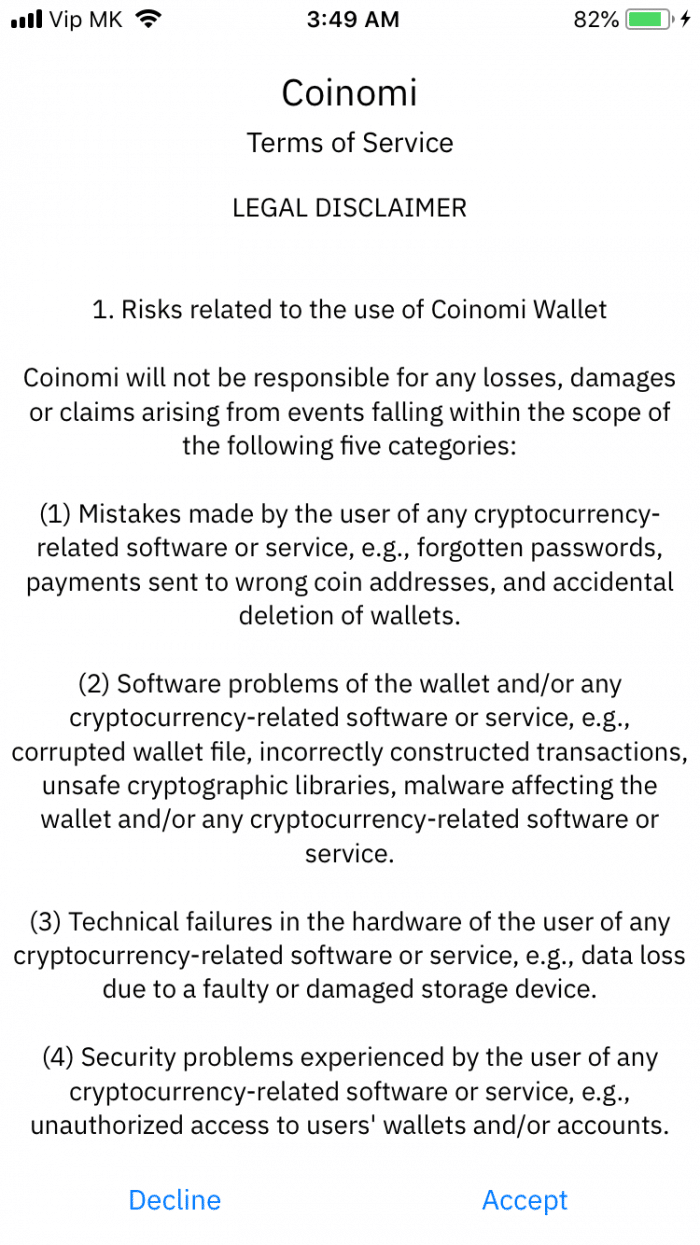 Coinomi Wallet Review – Conclusion
Coinomi is an android wallet that is extremely user-friendly and extremely secure and supports a variety of cryptocurrencies. That makes Coinomi a fantastic desktop or mobile wallet.
New users often do not feel comfortable trading on exchanges due to numbers constantly changing from the ask to the sell-side; trading through the Coinomi wallet simplifies the whole process greatly.
Anyone can likely see the benefit of using the Coinomi wallet, even advanced users. It is only our concern that Coinomi is no longer available as an open-source service. Nevertheless, there are many impressive wallets out there that are neither open source nor free.
eToro – Best Trading Platform To Trade Cryptocurrencies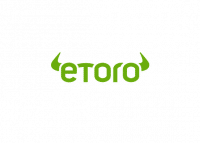 67% of retail investor accounts lose money when trading CFDs with this provider. You should consider whether you can afford to take the high risk of losing your money.
FAQs
What is cryptocurrency trading?
What crypto-assets can I store in Coinomi Wallet?
Can I do crypto trading in Coinomi?
Can I open an account with Coinomi Wallet in the US?