Best Crypto Lending Platform in Canada – With Highest Interest Rates
Cryptocurrency lending is a new application of decentralized finance that is sweeping the cryptocurrency universe. Cryptocurrency lending platforms make it easy for you to lend your cryptocurrency to other investors, developers or platforms instead of paying interest.
This guide will analyze Canada's top 5 crypto lending platforms for 2023. We will also explain how cryptocurrency loans work and show you how to start today.
Best Crypto Lending Platforms in Canada List 2023
Listed below, you will find the 5 best crypto lending platforms that you can get started with right now:
Would you like to learn more about crypto lending platforms? Consequently, we've put together brief reviews of each so you can see what each offers and decide which platform is right for you.
1. AQRU – Overall Best Crypto Lending Platform In Canada
AQRU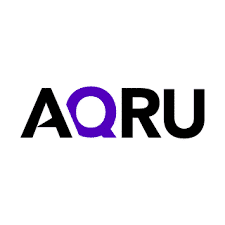 will be the best Bitcoin lending platform in Canada in 2023. Using this platform, lenders are able to make Bitcoin, Ethereum, Tether, USD Coin, and DAI loans at interest rates that reach as high as 12.0% APY. As well as this, each currency has a risk profile, and there is a specific interest rate associated with it, so it is very simple to put together a portfolio with different interest rates. Is important to note that AQRU never locks any of your money, so you can withdraw cryptocurrencies whenever you wish and redeploy your portfolio at any time.
The interesting thing about AQRU is that the platform allows you to easily move from fiat to cryptocurrency in one step, making it very easy for you. The platform not only allows you to use your credit card, debit card, or bank transfer to deposit funds, but it also automatically converts them into cryptocurrency using MoonPay.
There is no fee for depositing in fiat currency, and there is no fee for withdrawing in fiat currency.  You can use either of the five cryptocurrencies AQRU accepts to make a crypto deposit with AQRU.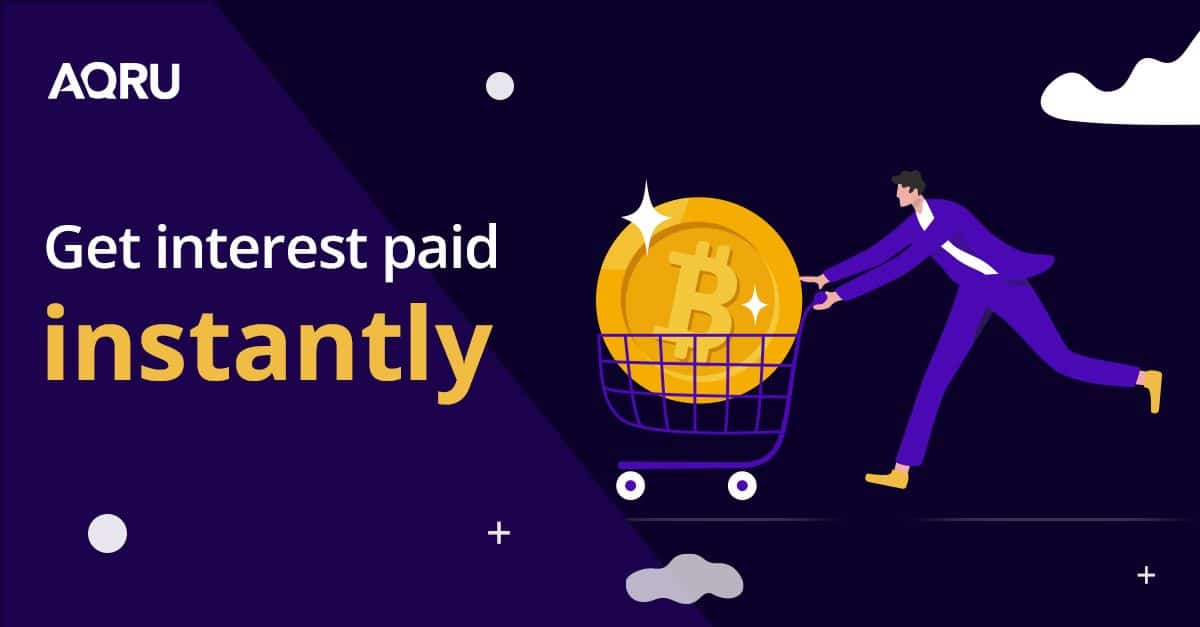 | | |
| --- | --- |
| Maximum Interest Rate | Fees |
| 12.0% APY | None |
Pros:
You can earn up to 12.0% APY
You can deposit fiat currency or cryptocurrency
There is no fee for depositing or withdrawing fiat currency
Interest is paid daily
Cons:
Supports lending for only 5 cryptos at this time
Cryptoassets are highly volatile unregulated investment products.
2. Crypto.com - Best Canadian Crypto Lending Platform With Flexible Loan Periods
Crypto.com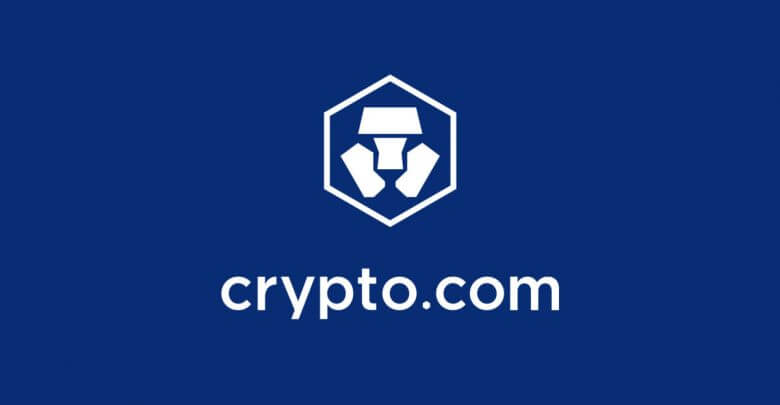 is a leading cryptocurrency lending company that makes it easy for cryptocurrency users to earn altcoins. There are some causes for this, including that this lending platform supports more than 50 different tokens and gives up to a 14.0% return on the USD coin. In addition, Crypto.com offers 8.5% APY on each of Bitcoin and Ethereum.
We particularly like Crypto.com since they offer flexible loan terms or the option to lock in your crypto for 1, 3, or 6 months. If you want to lock your crypto, you can get a higher interest rate. There are penalties when you want to withdraw your crypto early.
One important point to recognize when it comes to Crypto.com's Bitcoin loans is that Crypto.com reserves the best Bitcoin loan rates for its users who hold at least $4,000 worth of CROs, Crypto.com's original cryptocurrency token. A simple calculator on Crypto.com will let you calculate just how much money you can earn when you lend different coins with different lock-in periods and CRO stakes through Crypto.com.
When it comes to AQRU, it is relatively easy to create and diversify a cryptocurrency portfolio with a wide range of currencies and interest rates. In addition to paying interest every week, Crypto.com allows you to monitor your profits via the Crypto.com mobile app or the Crypto.com website. Besides the app, Crypto.com offers the use of the Crypto.com exchange and other options, such as a cryptocurrency rewards credit card, making it an all-in-one platform for everything related to cryptocurrency.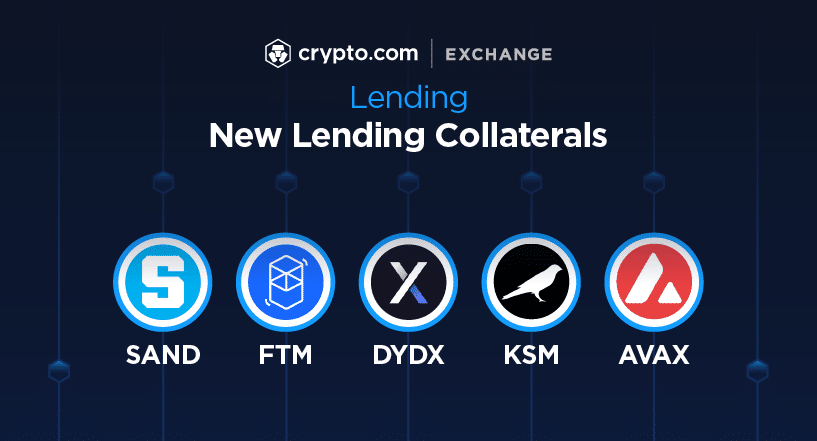 | | |
| --- | --- |
| Maximum Interest Rate | Fees |
| 14.0% APY | None |
Pros:
You can lend 50+ new cryptocurrencies
Get a 14.0% APY
By locking in your crypto rates, you will be able to get higher rates
A great mobile app as well as other offerings
Cons:
CRO must be staked to get the best crypto lending rates
Cryptoassets are highly volatile unregulated investment products.
3. BlockFi - Safest Crypto Lending Platform For Stablecoins In Canada
BlockFi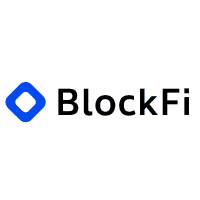 is another one of the most prominent Bitcoin lending platforms in Canada. The BlockFi.com platform focuses on stablecoin lending, as it provides a way to earn interest on coins such as USDC, GUSD, PAX, USDT, and BUSD. Furthermore, BlockFi also allows lending for super popular cryptocurrencies such as Bitcoin, Ethereum, and Monero.
The maximum interest rates on BlockFi are 8.75%, which is not the best interest rate for Bitcoin loans that we may see in the future. On the other hand, the interest rates are graduated, so you receive full interest on your first 1-2 Bitcoin or Ethereum deposits. Therefore, your interest rates will decrease as your account balance increases above that figure.
The main advantage of BlockFi is that it's perfect for cryptocurrency investors with moderate holdings, but it may be a disadvantage if you have a lot of cryptocurrencies to lend. In addition, there is an advantage to BlockFi's cryptocurrency savings account in that no fees are applied to it.
A number of advantages also come from the cryptocurrency ecosystem that BlockFi has created, where the lending service is just one part of the overall ecosystem. As one example, the company offers a rewards credit card, a cryptocurrency exchange, several investment products, as well as a built-in wallet for cryptocurrencies.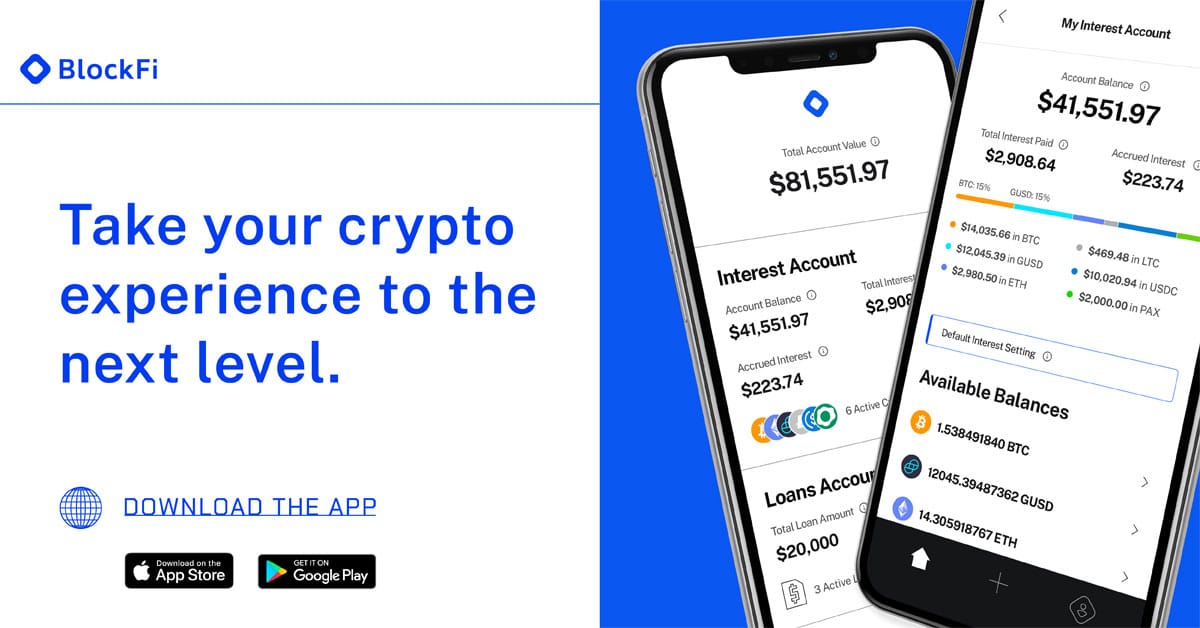 | | |
| --- | --- |
| Maximum Interest Rate | Fees |
| 8.75% APY | None |
Pros:
Provides support for a wide range of stablecoins
There are no fees associated with interest accounts
You can earn up to 8.75% APY
Credit cards and investment products with rewards
Cons:
As your account balance increases, your interest rate decreases
Cryptoassets are highly volatile unregulated investment products.
4. Nexo - Best Crypto Lending Platform For Daily Interest Payments In Canada
Nexo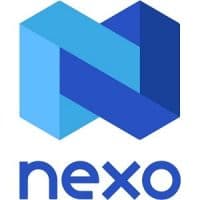 crypto lending is designed to meet the needs of investors looking to get the highest possible interest rate from their cryptocurrency holdings. If you choose Nexo, you will be able to find promotional rates of up to 36% APY for Axie Infinity and 20% APY for Terra. As a comparison, normal interest rates for Polygon can reach up to 16% APR, while Polkadot can reach up to 15% APR.
For each and every one of the 32 cryptocurrencies Nexo provides loans about, the company pays interest daily relating to each one of them. So with the increase in the interest rate on bitcoin loans each day, you can take advantage of high-interest rates on your Bitcoin loans.
It is significant to note that one of the key features of Nexo is that all interest will be paid in NEXO tokens and not the cryptocurrency that was borrowed. If you like the NEXO token but wish to switch to another cryptocurrency in the future, you will have to spend exchange fees when you try to switch back. The loans Nexo provides are free of charge, and the platform offers customers several levels of insurance to protect their funds.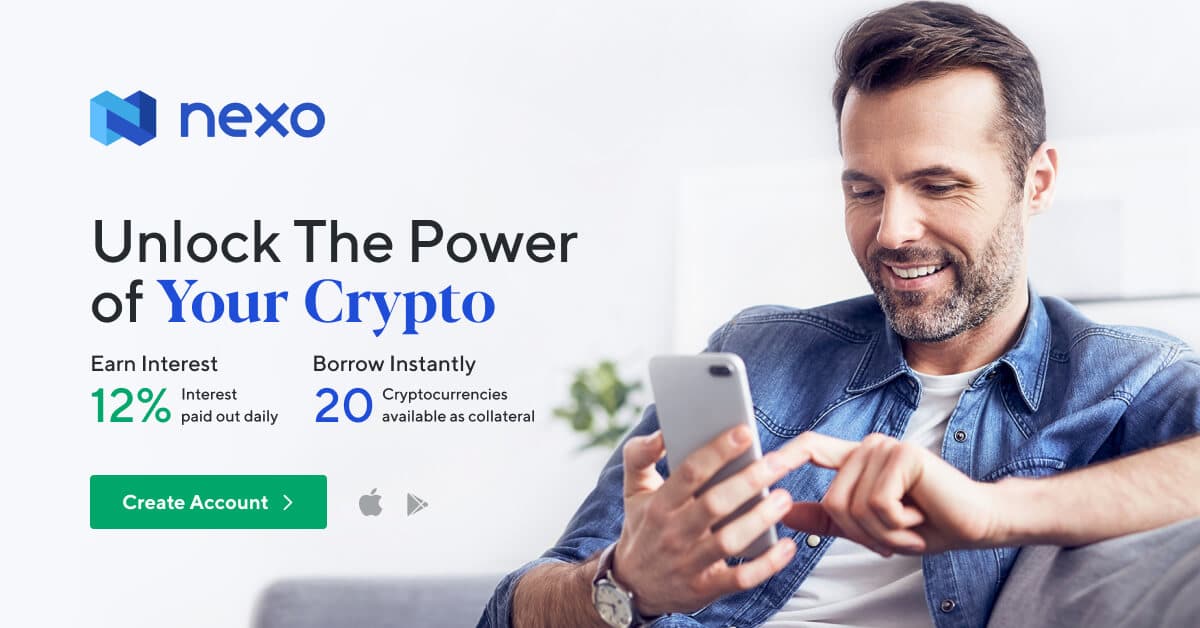 | | |
| --- | --- |
| Maximum Interest Rate | Fees |
| 36.0% APY | None |
Pros:
Promotional rates of 36% APY
Regulation of rates up to 16% APY
Payout of daily interest
Fees for lending are not charged
Cons:
NEXO is used for all interest payments
Cryptoassets are highly volatile unregulated investment products.
5. YouHodler - Best Lending Crypto Platform with an APY up to 12.3% In Canada
YouHodler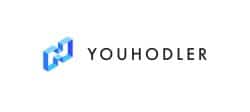 is another one of the most popular lending sites in Canada today. You can lend across 50 coins of many different types on this site, which is comparable to Crypto.com in terms of flexibility. It can be seen that Tether's current top rate of 12.3% APY is present, while USD Coin earns 12.0% APY and Bitcoin earns 4.8% APY.
One of the things that make YouHodlr unique is the fact that it has a few peculiarities. First, you have to utilize cryptocurrencies in your savings account as collateral for cryptocurrency loans. This is such a great deal because you are effectively using your Crypto in duplicate, i.e., once for earning interest and again for securing the loan with the same account.
The YouHodler app also gives you the option of redeploying or withdrawing your funds at any time, so you can redeploy your wallet whenever you want. In addition, the interest earned on cryptocurrencies is paid every week, which means that it is possible to earn compound interest immediately.
In addition to its security policy, we appreciate that YouHodler has one worth $150 million. This offers a lot of confidence when making loans through the platform since you can ensure that the funds are guaranteed if there is a hack.
| | |
| --- | --- |
| Maximum Interest Rate | Fees |
| 12.3% APY | None |
Pros:
A total of 50 different coins can be lent
Tether is offering a 12.3% APY
You can use your crypto savings as collateral for a loan
Loss insurance policy for $150 million
Cons:
There is no lock-in option for higher rates
Cryptoassets are highly volatile unregulated investment products.
Best Crypto Lending Platforms in Canada - Rates Comparison
In the table following, you can see a simple summary of the top cryptocurrency lending websites, along with the interest rates they offer.
| | | |
| --- | --- | --- |
| | Tokens for Lending | Maximum Interest Rate (APY) |
| AQRU | BTC, ETH, USDT, USDC, DAI | 12.0% |
| Crypto.com | CRO, USDT, USDC, TUSD, DAI, BUSD, EURS, HUSD, BTC, ETH, LINK, UNI, DOT, COMP, XLM, MKR, SUSHI, YFI, SNX, OMG, PAXG, DOGE, XRP, ZRX, BNT, BNB, ADA, DASH, TRX, EOS, BCH, AAVE, HT, XTZ, BAT, USDP, REP, AVAX, BTT, 1INCH, FTT, NEAR, ZIL, FIL, ATOM, LTC, SRM, FTM, LUNA | 14.0% |
| BlockFi | BTC, LTC, PAXG, UDST, ETH, LINK, USDC, GUSD, PAX,BUSD, DAI, UNI, BAT | 8.75% |
| Nexo | USDT, USDC, DAI, USDP, TUSD, XRP, LTC, LINK, BCH, XLM,UST, USDX, EURX, GBPX, BTC, ETH, NEXO, AXS, FTM, MATIC, DOT, LUNA, AVAX, KSM, ATOM, BNB, ADA, SOL, TRX, EOS, PAXG, DOGE | 36.0% |
| YouHodler | USDT, USDC, TUSD, DAI, BUSD, HUSD, BNB, ADA, BTC, EURS, ETH, LINK, UNI, COMP, MKR, SUSHI, YFI, SNX, OMG, PAXG, DOGE, LTC, XRP, XLM, ZRX, BNT, DASH, TRX, EOS, BCH, AAVE, DOT, HT, XTZ, BAT, USDP, REP, AVAX, BTT, 1INCH, FTT, NEAR, ZIL, EGLD, CAKE, FIL, ATOM, SRM, FTM, LUNA | 12.3% |
Types of Cryptocurrency Lends
The cryptocurrency lending process can be carried out in several different ways. This guide will discuss the most common ways of lending cryptocurrencies and their differences.
Lending Crypto From a Site
Our analysis selected the cryptocurrency lending platforms that correspond with those that provide cryptocurrency loans through their websites. Although, unlike traditional exchange platforms, these platforms do not hold your cryptocurrency on your behalf; instead, they keep it on-call in an account, and it is borrowed on your behalf, with a portion of the interest paid by borrowers going to you.
Lending Crypto to a Platform
Through this type of cryptocurrency lending, the user stakes their cryptocurrency to guarantee the validity of new transactions made through their blockchain. A newly minted coin is given to users when a transaction on the blockchain has been validated. As a reward for their wager, a portion of the blockchain's reward is returned to them in the form of interest.
Your cryptocurrency will be blocked for several days or even several weeks at the same time. If you withdraw your new crypto before the end of the blocking period, you will not receive any interest until the blocking period. Therefore, the best period to bet on a cryptocurrency is when you plan to make the most money from it over the long run. This is the time when you are expecting its value to increase.
Peer-to-Peer Crypto Lending
This is basically a crypto peer-to-peer loan that you make directly to another individual within the world of Bitcoin peer-to-peer lending. If you are lending cryptoassets, you may find that this method involves the highest degree of risk. If the borrower is unable to repay, it won't be easy to get your money back.
One of the great advantages of cryptocurrency peer-to-peer loans is that, compared to traditional loans, they offer some of the lowest interest rates on the market. Therefore, cryptocurrency peer-to-peer loans are one of the best investments out there today. Using a decentralized lending exchange, it is possible to search for potential borrowers and set up a loan repayment schedule.
Bitcoin Lending Interest Rates Explained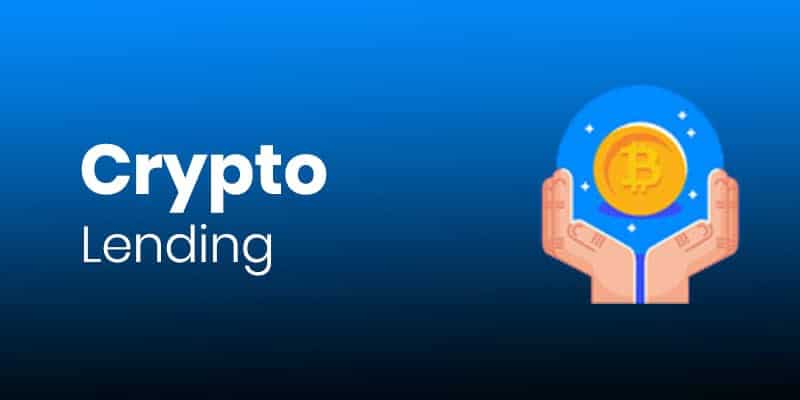 The interest rate to be earned on the borrower's loan needs to be taken into account when comparing Bitcoin lending platforms and the currencies to be lent in. This is because cryptoloan rates can vary widely between platforms and can fluctuate immediately depending on whether the demand for cryptoloans increases or decreases over time.
These rates are typically calculated as annual percentage yields or APYs (annual percentage yields). Therefore, it is possible to earn a return if you lend crypto throughout the year based on the cryptocurrency interest rate. It is important to note that you will only get a fraction of the APY if you lend your crypto for a shorter period of time.
How to Lend Cryptocurrency in Canada
Below, our guide will show you how to get started with AQRU, the top-rated website for Bitcoin lending in Canada, as well as much more.
Step 1: Open an Account
If you want to set up a new lending account, please go to AQRU.io and click "Sign Up." After that, enter your email address, select a password, and click Create Account.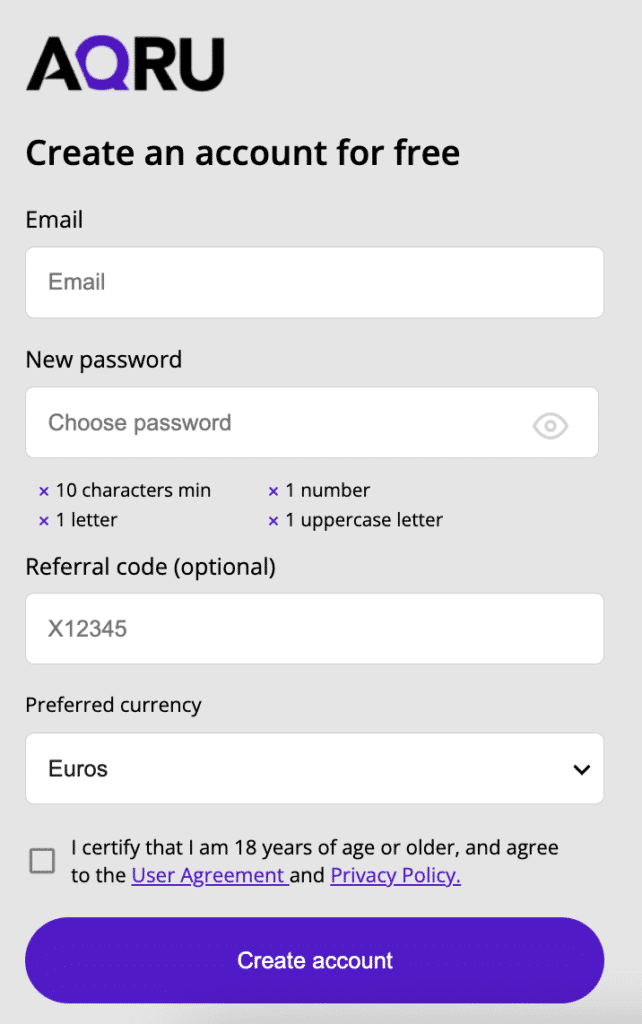 Cryptoassets are highly volatile unregulated investment products.
Step 2: Deposit Funds
Deposits at the AQRU are free of charge through credit cards, debit cards, bank transfers, or cryptocurrencies. Please choose your deposit method and enter the amount you wish to deposit. You will be required to initiate a transfer from your crypto wallet to deposit crypto if you intend to deposit crypto.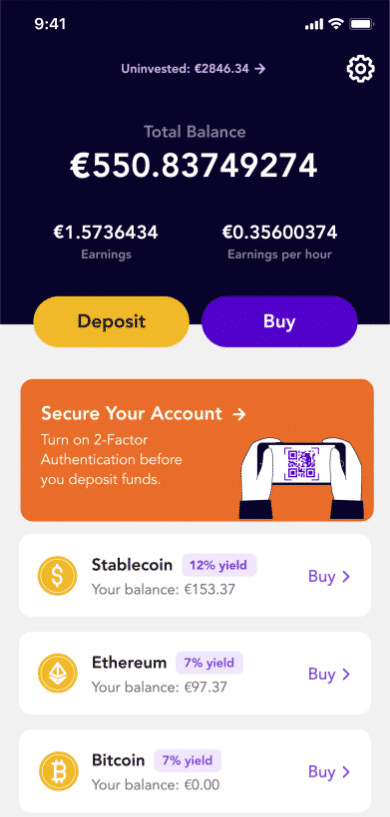 Step 3: Lend Cryptos
After terminating the above steps, you are ready to lend out your cryptocurrencies to AQRU as soon as you are finished with them. First, select the coin you wish to lend based on the interest rates displayed, then choose the amount you wish to lend based on the interest rate displayed. Remember that AQRU allows you to lend multiple coins simultaneously, which means you can create a portfolio of different crypto lends with different interest rates and risk profiles.
Cryptoassets are highly volatile unregulated investment products.
Is it Safe to Lend Crypto?
Generally speaking, lending crypto is relatively safe, although it shouldn't be as safe as traditional fiat lending through a bank. Unlike savings accounts, a crypto lending account is not protected under the Financial Services Compensation Scheme.
As a result, the top crypto lending platforms ensure that your funds are protected every step of the way. For example, most of these lenders use crypto wallets to store client funds throughout the lending process. In addition, platforms like AQRU have insurance policies that will help replace your money if you lose it due to a hack or other mishap.
You should also keep in mind that lending out Crypto can also lead to losing money. There is no guarantee that your repayments will be made, and you can lose some or all of your principal if your lender defaults - that is especially true if you are lending Bitcoin peer-to-peer, where you depend on one borrower to make the repayments. In the case of cryptocurrency loans, you may also lose money if the price of the coins you are holding drops, even if you are still earning interest on your crypto loan.
Conclusion
A cryptocurrency lending company makes it easy to earn interest on your cryptocurrency holdings. If you decide to put your crypto to work right now, here are the 5 best crypto lending platforms in Canada where you can start.
AQRU is one of our top recommendations; this company accepts fiat deposits and offers rates as high as 12.0% APY. Therefore, AQRU is one of our top recommendations.
AQRU – Best Platform to Lend Cryptocurrencies in Canada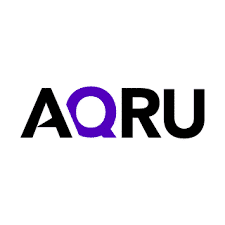 Cryptoassets are highly volatile unregulated investment products.
FAQs
What is crypto lending?
There is a crypto lending process whereby you can borrow and lend cryptocurrencies for a fee or interest. Once you provide collateral, you can apply for a loan and begin investing immediately. It is also possible for you to use a cryptocurrency exchange or a DeFi lending DApp as an alternative. There will be a time when you have to top up your collateral if it falls below a certain value to avoid being liquidated. Your capital is unlocked as soon as you return your loan and pay a fee for it.
How does crypto lending work?
Typically, three parties are involved in crypto lending: the lender, the borrower, and a DeFi (Decentralized Finance) platform or cryptocurrency exchange. Most of the time, in order to borrow any cryptocurrency, a borrower has to provide some kind of collateral. There are, however, certain types of flash loans that do not require collateral. For example, if you want to mint stablecoins, or if you want to build a platform where users are able to lend funds to other users, you could implement a smart contract. Lastly, the entire process is managed by a group of lenders who receive a share of the interest and remit that to the lenders.
Is crypto lending safe?
If you engage in crypto lending, you can lose money. Although the majority of crypto platforms have insurance policies to replace your funds if your crypto platform is hacked, they provide a financial buffer against individual defaults.
Which is the best platform for lending crypto?
According to us, AQRU will be the best way to lend Crypto in 2022. Apart from offering interest rates as high as 12.0% APR, AQRU also allows you to deposit fiat currency without any additional fees, making the system even more attractive.
Is lending Bitcoin profitable?
You can make money from Bitcoin lending because you are earning interest on your cryptocurrency without selling it. You may lose money, however, because you are lending your money.