The last decade has seen tremendous growth in internet users, spurring the BDaas industry. And with the rising demand for technological solutions, we can only expect the industry to keep growing. 
A recent analysis by TradingPlatforms.com predicted the industry could grow to $247.7 billion by 2032, up from 2022's $222.6 billion. The projected 25.7% CAGR is primarily fueled by data growth due to digitization and automation and the increasing demand for actionable insights from big data. 
Edith Reads, the Research Lead at the site, the forecast period will see several factors come to play to drive the market's growth. "We expect several technological shifts in the coming decade, as we are at the cusp of an industrial revolution propelled by tech. BDaaS is going to be huge in the coming years, as the number of internet users in the US alone is expected to reach 328 million in 2027."
More Users, More Data 
One of the most significant factors expected to accelerate the industry's growth is the increasing number of globally connected devices. During the forecast period, end-user sectors, including governments, retail, manufacturing, and media & entertainment, will adopt more connected devices for their business and manufacturing units. 
Additional factors include the growing demand for real-time data analytics, increased adoption of predictive modeling tools, and government initiatives supporting significant data infrastructure. 
According to the research report, the solutions category from the BDaaS market is expected to have the fastest CAGR of 25%, similar to the public cloud deployment sector. 
The US BDaaS market is also expected to have the highest CAGR over the forecast period and is projected to reach $88.4 billion. China, the UK, and Japan are projected to hit $17.8 bn, $10.2 bn, and $14.4 bn, respectively.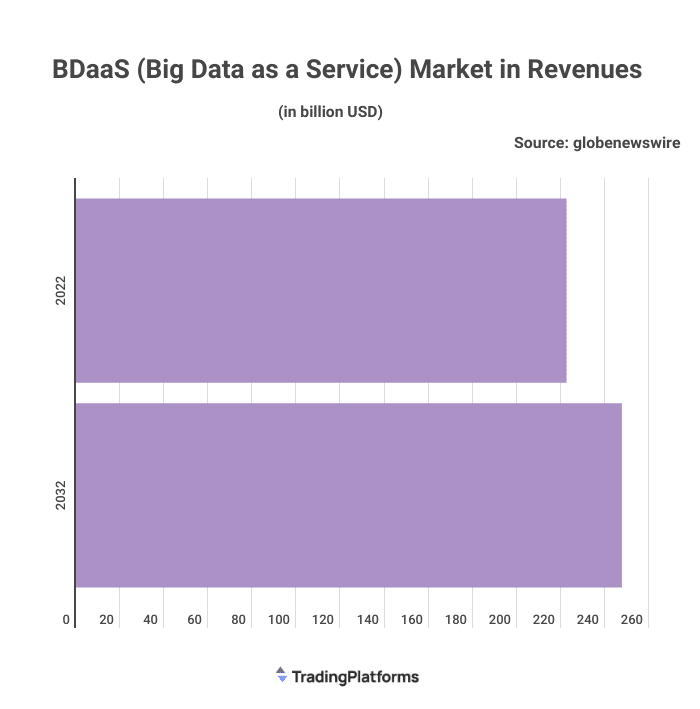 Key Players Dominate the BDaaS Market 
Like many other industries, big data as a service has several companies dominating and taking the lion's share of the market revenue. Big data companies like IBM Corporation, Hewlett Packard Enterprise, and Oracle Corporation. These companies are expected to dominate the industry, owing to the increased investment to develop advanced BDaaS for the manufacturing, healthcare, and BFSI industries. 
IBM announced the acquisition of Red Hat Inc. for $34 bn in October 2018. This move made IBM the world's first hybrid cloud provider offering the only open cloud solution. In 2019, Google cloud collaborated with Deloitte to provide advanced cloud computing solutions to create opportunities for big data applications. 
Big data is undoubtedly on an upward trajectory in market revenue. However, it will be interesting to see how things pan out as more internet users move towards privacy-based solutions as blockchain technology catches on to the masses.