Despite the ongoing crypto winter, the current market cycle has seen developer activity quadruple as projects gear up for the next bull run. However, interest in the Ethereum blockchain seems to be dwindling. 
A recent report by TradingPlatforms.com showed that despite 2022 registering the highest number of new developers in history, only 16% took an interest in the second-largest blockchain. Of the 61,127 new developers in 2022, less than 10,000 are building on the Ethereum blockchain. 
According to research analyst Edith Reads, tracking a blockchain's developer activity is crucial to predicting the next bull run's biggest gainers. "It's interesting to see these new trends in dev activity on Ethereum. Clearly, other blockchains are also attracting builders, and Ethereum's dominance might be suppressed in the coming few years." 
Still, Ethereum registered a 5% growth in developer activity and had the highest number of new developers joining the ecosystem in 2022. 
Developer Activity in the Top Two Blockchains
Not surprisingly, the Ethereum blockchain still takes the lead in the number of full-time developers 1t 1,910. The community of full-time devs is 2.5x larger than the Polkadot developer community, which comes in second at 764 devs. 
However, recent activity indicates increased interest in other layer-one solutions. Although the monthly dev activity increased by 5%, the report showed a 16% decline from the all-time high of developers in June 2022. 
It's also worth pointing out the developer activity for the largest blockchain, Bitcoin. Unlike Ethereum, the number of monthly active devs remained flat in 2022, a significant concern for BTC critics. Many argue that lack of developer activity will be the deciding factor that finally kills BTC. 
Ms Reads, however, disagrees. She argues that Bitcoin was invented to solely be a store of value and doesn't require too many developers to keep the project running. Besides, several layer two solutions are building on the blockchain, such as Lightning Network. 
The King Coin's blockchain had a little over 1,900 new developers in 2022, which has been constant since 2017.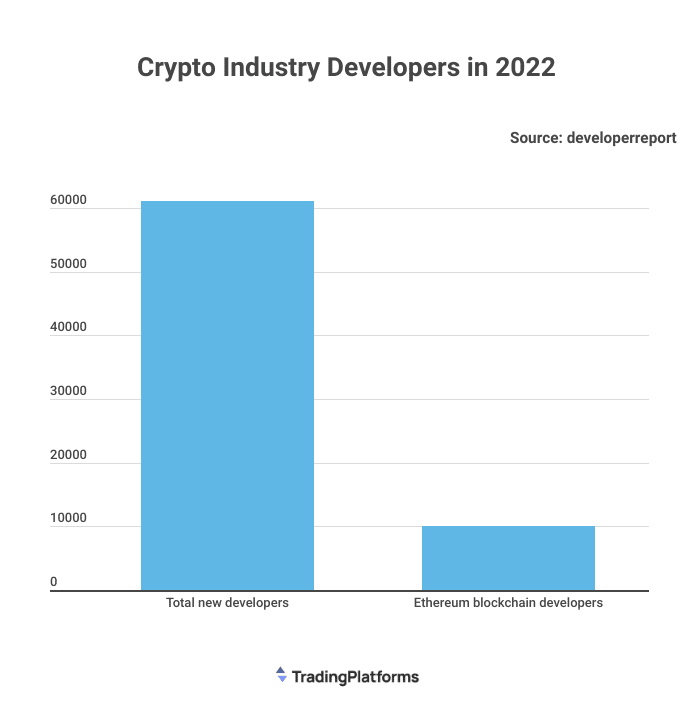 Comparison in Dev Activity During Bull Runs
The report by Trading platforms further showed increased interest outside the market's two largest ecosystems. 
72% of developers are now building outside bitcoin and Ethereum. DeFi interest in Ethereum has also declined as 50% of DeFi developers now prefer other solutions besides Ethereum. 
As we head closer to the upcoming bull run, analysts are keen to identify trends in the market cycles. A comparison of this bear market and the one before 2018 shows that Bitcoin's full-time developer count has increased by 4X. Polkadot, Cosmos, and Solana grew by more than 16X to 400+ full-time devs. 
The fastest of emerging ecosystems took less than four years to grow to 150 full-time devs and include Solana, Polygon, Kusama, Near, and BNB. 
One thing's clear, dev activity doesn't slow after a bull run, and it'll be interesting to see how the markets pan out in the months leading to and after the anticipated bull run of 2024.