The crypto market is a notoriously unstable one. The price of each coin can change dramatically, sometimes multiple times in a day. Tradingplatforms.com analyzed the daily volatility of the top coins over one year to find out which ones had the highest volatility. 
The results were surprising! Solana (SOL) came out on top with an annualized volatility rate of 162 percent and an average daily volatility rate of 8 percent among the top 10 coins. So what could be behind these figures?
According to tradingplatforms' financial analyst, Edith Reads, "There has been constant downtime on the Solana network. In addition, the lack of new projects rolling out on the network, among other issues, have made investors lose confidence in this blockchain network, thus selling off their investments. As a result, the network's coin has lost 70% of its value in the last 60 days of trading."
Ripple (XRP) comes in second after SOL with a volatility of 153%. Binance (BNB) and Polkadot (DOT) share the third position with 148% volatility. All these had 8% daily volatility rates. Cardano follows suit with a 131 percent annualized volatility.
With its $403 billion market cap and almost cult-like following, Bitcoin was 81 percent volatile in a typical year. It also had a 4% average daily volatility rate. Ethereum has a higher annualized volatility rate of 107 percent annualized volatility rate.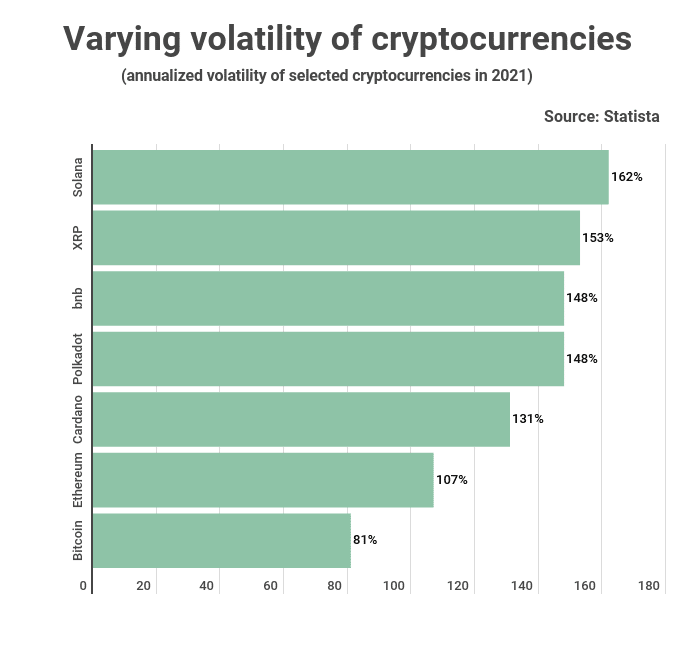 Solana downtime series continues
There are thousands of coins out there, and they're all trying to make their mark on the world. Unfortunately, SOL has been one of the worst-hit tokens during the recent market recession. But just how did it get there?
The answer lies in its history. SOL was touted as 'Ethereum killer' before it even launched. However, we're now seeing some issues with their network performance, with frequent outages and slower speeds. These problems are likely contributing to its volatility by making investors worry about whether they can trust Solana as a platform for building applications on top of blockchain technology.
Several outages have hit the network, and many investors have had to make tough decisions of dumping their coins due to constant downtime. Unfortunately, the network has been experiencing regular outages for a while now. 
The latest one was reported in the early hours of Wednesday morning (UTC). It lasted for over an hour and affected the entire network. Solana is facing a clock drift issue, a delay in on-chain time caused by longer block processing.
What next for Solana
Although the issues plaguing Solana have caused many investors to lose confidence in the project, the network's team has been working hard to improve its product. The network is using the funds from its ICO (Initial Coin Offering) to build new features that will enable them to compete with other blockchains in the space.
There are still some positives that can be taken from the Solana situation. First of all, it is clear that there is still demand for decentralized systems that are capable of handling high throughputs and low latency times. Second, this will give developers more time to work on their solutions and build better products before launching them onto their networks.