Twenty-seven public companies hold over 217 thousand Bitcoins (BTC) in their treasuries. According to data presented by tradingplatforms.com, the BTC dominance of these companies stands at 1.15 percent.
The data's dominance metric considered BTC's circulating supply of roughly 18.94 million coins at press time. Additionally, public companies' BTC investment value topped the $8B mark.
Tradingplatforms.com's Edith Reads has been talking up the figures. She opines, " The corporate foray into BTC is a positive thing. For starters it emboldens would-be investors that despite its volatility BTC remains a viable investment alternative. Secondly, it helps in mainstreaming the asset making it readily available for many."
Leading the pack
MicroStrategy, the premier online analytics firm led the pack in BTC held. The Michael J Saylor-led outfit has invested in 121, 044 BTC. From an initial outlay of nearly $3.6 billion, the firm's BTC interest has grown to over $4.5 billion.
The firm insists that it will continue increasing its BTC exposure. Its Chief Financial Officer (CTO) Phong Le said they pursue a buy and hold BTC strategy. As such, it will put its excess funds into crypto. Moreover, the company is mulling the acquisition of BTC-backed bonds soon.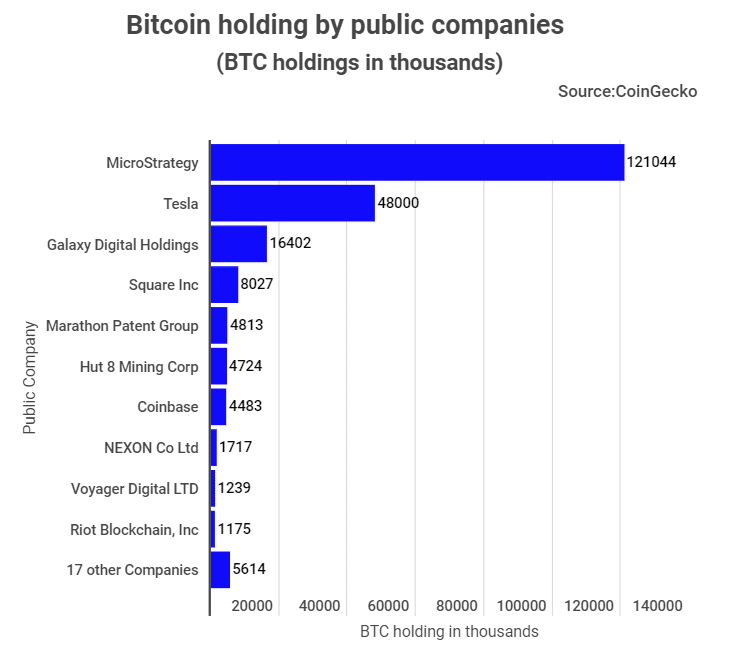 Tesla and Galaxy Digital are the other companies that made it to the five-figure BTC holding range. The EV manufacturer placed second on the list with a BTC ownership of 48,000. From an initial investment of $1.5B, this reserve's value has grown to about $1.75B currently.
And occupying the final top three spot was Galaxy Digital Holdings. The investment management firm has invested in 16,402 BTC with a current value of over $614 million. Square Inc, Marathon Patent Group, and Hut 8 Mining Corp are other notable inclusions in the top ten.
Public Companies are embracing BTC
The onset of the COVID-19 pandemic has seen a shift in perceptions about cryptos. The general positive sentiments regarding digital currencies have been a boon for bitcoin.
An area where this shift is evident is in the corporate scene. While initially dismissive of this asset class, many institutions have had a change of heart about them. Today corporate investors hold over 1.6 million BTC. That figure amounts to nearly eight percent of the king crypto's 21M hard cap.
One factor favoring their BTC acquisition is inflation. The global economy is still recovering from the impact of the Corona crisis. During that period, BTC emerged as an effective hedge against inflationary tendencies. So good was it that some quarters have tipped it to replace gold in that role.
Additionally, public companies are looking to diversify their portfolios. Thus cryptos and BTC, in particular, offer them new investment options. Besides, there's a growing consensus that BTC and other cryptos are the future of global finance. Analysts, therefore, reckon that this trend will continue in the future.