BitGPT App Review 2023 – Full Robot Review
Fact Checked
Everything you read on our site is provided by expert writers who have many years of experience in the financial markets and have written for other top financial publications. Every piece of information here is fact-checked. We sometimes use affiliate links in our content, when clicking on those we might receive a commission - at no extra cost to you. By using this website you agree to our terms and conditions and privacy policy.
Despite the volatility of the past few years, the crypto market is beginning to show signs of a resurgence. To capitalize on these fluctuations, traders are turning to crypto trading tools that use machine learning to achieve market-beating returns. One such tool is BitGPT. Our BitGPT App review takes a closer look at the trading platform to discover whether or not it is legit.
This novel trading platform is also referred to as BitGPT App or BitGPT AI. Its website claims that the platform uses advanced algorithmic trading tools to execute trades on behalf of investors, freeing them from the need to monitor the market constantly. However, are the offerings provided by the platform as effective as the platform suggests? Let's investigate and find out.
BitGPT App Review – Overview
Platform type
Cryptocurrency trading platform
Cost
Minimum deposit is $250
Regulated
Not regulated.
Type of assets available
Cryptocurrency (Bitcoin, Ethereum, Ethereum Classic, Bitcoin Cash, Dash, ZCash, Cardano, MIOTA, EOS, NEO).
Main pros

Automated trading platform
Integration with MetaTrader 4
24/7 Trading system
User-friendly and intuitive platform
No Trading or transaction fees
Free demo account
24/7 customer support

Main cons

Access is only available to registered users
High minimum deposit of $250
Limited information on the website
Unknown owner and development team
Lack of user testimonials
Your capital is at risk.
BitGPT App Review- Full Review 2023
According to its website's claims, BitGPT App is an automated trading platform that identifies investment opportunities within the cryptocurrency market. It executes trades on behalf of the user. The platform permits trading customization by employing user-defined strategies and risk management tactics, making it a versatile tool for beginners and experienced investors. We've examined the features of this software to see what it has to offer. Here are the details in full.
What Is BitGPT App?
Our BitGPT App review deduced that the platform is a fully automated crypto trading software that aims to enhance the trading experience of both novice and experienced traders. The platform claims to utilize the latest technology, trading innovations, and artificial intelligence to conduct automated trading on behalf of its users. Its user-friendly interface makes trading easy and effective, especially for traders who cannot dedicate several hours daily to trading.
According to the BitGPT App website, the platform employs complicated mathematical algorithms to perform accurate market analysis continuously. The platform uses this data to make informed trading decisions on behalf of the user, resulting in calculated trades. It also leverages artificial intelligence to execute trades successfully and increase its users profitability. If the platform keeps up with this offering, it will become one the best algorithmic trading platforms in no time.
Your capital is at risk.
BitGPT App Review – Platform Key Features
The platform touts itself as one of the best trading platforms for first-time traders, simplifying trading and offering tools that aid its users' grasp of the trading ecosystem. The software's website claims that the platform makes it easier to identify patterns and predict prices. However, it does not solely rely on machine learning, as it provides its users with a manual trading option. The platform also claims to offer advanced features for experienced investors to refine their trading strategies further.
Investors have the option to oversee all trading decisions or utilize the automated trading solution, which executes trades according to their settings. Users can customize their trading strategy by setting parameters within the tool, such as the cryptocurrencies to trade and stop loss limits to adhere to.
While the manual and automated trading options are undoubtedly exciting, the question remains: how practical are these features? This BitGPT App review has conducted the background work, examining the platform's features and what users need to know. Let's dive into these features and see if the broker qualifies to be the best automated trading platform.
✔️ Automated trading platform
The platform utilizes an automated trading software that tracks the crypto market for data. This data collects and uses it to implement calculated and informed trading strategies.
The platform's automated trading system (ATS) is a type of algorithmic trading that employs a computer program to create, buy and sell orders and automatically submits them to a market center or exchange. These platforms as sometimes referred to as bitcoin robots. The computer program generates orders based on a predefined set of rules derived from technical analysis, advanced statistical and mathematical computations, and input from other electronic sources.
The ATS determines whether an order should be submitted based on the current market price of an option and theoretical buy and sell prices, which are derived from the current market price of the underlying security. A look-up table stores a range of theoretical buy and sell prices for a given range of current market prices. This allows for quick and efficient decision-making as the price of the underlying security changes.
✔️ OpenAI technology
BitGPT App is an AI crypto project that uses modern technology to improve trading. According to the platform's website, investing in cryptocurrencies has always been challenging. Hence, its platform offers an AI trading bot that uses the latest machine learning algorithms to help users make the most profitable trades. The trading bot is powered by OpenAI technology, the same advanced machine learning technology used to develop ChatGPT. With this technology, the bot can analyze large amounts of data and identify patterns that are not visible to the human eye. This allows it to make more accurate predictions and execute trades precisely.
The platform's trading bot is user-friendly, with an intuitive interface suitable for both beginners and experienced traders. The platform claims to continuously update its trading bot to ensure it always performs at its best, with accuracy being its top priority. This is a decent offering for even the best automated trading platform.
✔️ Analysis tools
The best automated trading platform must provide its clients with a repertoire of analytical trading tools. This BitGPT App offers its users a variety of trading analysis instruments to assist users in making informed trading judgments. Some of the analysis tools provided by the software are:
Copy trading
This feature allows users to copy the trades of successful traders on the platform automatically. Essentially, users can select successful traders and have their trades automatically replicated on their own trading accounts. This feature streamlines the process of making profitable trade. This is because it allows users to benefit from the expertise of experienced traders without spending time and effort researching the market themselves. This can be particularly useful for new or inexperienced traders who may not have the knowledge or skills to make profitable trades independently. By copying the trades of successful traders, users may increase their chances of making profitable trades.
Technical analysis tools
Traders use these technical tools to analyze financial markets and make trading decisions based on market data, primarily historical price and volume information. The platform offers various technical analysis tools, such as trading charts and indicators, which can assist users in analyzing market trends. Trading charts are graphical representations of market data, such as price and volume, over some time.
Analysis tools can be used to identify trends, patterns, and support/resistance levels that help traders make decisions about when to enter or exit trades. Indicators are mathematical calculations based on market data traders use to predict future market movements. The software offers a range of indicators, including moving averages, Relative Strength Index (RSI), and Bollinger Bands. Traders can use these indicators with trading charts to gain insights into market trends and identify potential trading opportunities.
Fundamental analysis tools
This type of market analysis is nothing like the feature discussed in the BitGPT copy trading review. These tools require that users study various economic and financial factors that influence the value of an asset. The platform provides users access to fundamental analysis tools like economic calendars and news feeds. Economic calendars list important upcoming economic events and their potential impact on the market. This information can help traders anticipate market movements and adjust their trading strategies accordingly.
The news feeds provided by the platform update in real-time and provides users with the latest news and developments in the financial market. This includes news related to political events, corporate earnings reports, mergers, and acquisitions that may affect the price of assets. By staying informed of such events, traders can make more informed decisions about when to enter or exit a trade, increasing their chances of making a profit.
✔️ Customer service
According to the BitGPT App website, the customer support team is available 24/7 to assist users with any issues or queries. Our BitGPT App review confirms that the platform provides excellent customer support with a dedicated multilingual team in English, Portuguese, Polish, Norwegian, Hungarian, Greek, French, Finnish, Spanish, German, Italian, and Turkish.
Registered users can contact customer support through the platform's live chat feature or by submitting a support ticket. The platform's customer support team responds promptly to inquiries, resolving most issues within a few hours. Current users have praised the platform's customer support, stating that the team is helpful and responsive.
However, it is worth noting that non-registered users cannot call or connect with customer support through live chat or email. Additionally, the platform's website lacks "Contact Us" and "About Us" pages.
One major issue raised by the platform's current users is the number of calls they receive from supposed account managers. The motives of these account managers are unclear, and it appears to be a persistent problem.
✔️ Demo account
BitGPT offers a demo account feature that allows users to practice trading with virtual funds and under real market conditions without risking their actual capital. This feature lets traders get a feel for the platform and its operation before depositing any real money. Users can experiment with different trading strategies, observe how the platform works, and see how it responds to market conditions. The platform's demo account is entirely free to use, and users can access it after registering and depositing a minimum amount of $250 into their trading account. The demo account feature is useful for new traders who want to learn how to use the platform, gain experience, and test different trading strategies before using real money.
✔️ Security and regulation
According to the platform's website, the platform provides several security measures, such as cold cryptocurrency storage, SSL encryption, two-factor authentication, regular security audits, and publicly available privacy policy and terms of use documents. These are typical security measures that a trading platform should provide.
Despite the increasing popularity of cryptocurrencies, many people are still skeptical about their security and reliability. Even the best crypto exchanges and bitcoin trading platforms are still being scrutinized.
Although the platform's website claims to be legit and reliable software, we could not verify this claim as there isn't enough online information regarding the website's legitimacy. The platform is not regulated or registered with any financial market authority. This may be due to the decentralized nature of cryptocurrencies. However, some third-party BitGPT copy trading reviews suggest that the platform partners with some CySEC-licensed brokers. This is, however, not enough reason to claim to be the best automated trading platform.
✔️ Account registration process
Opening an account on BitGPT AI is a straightforward process. To begin, users should visit the platform's website and click the "Sign Up" button. They will need to fill in their details, such as their name, email address, and phone number, and create and confirm a password. Afterward, users must agree to the terms and conditions before clicking the "Sign Up" button. Once the necessary details have been provided, users will proceed to a verification process, which they must complete before they can fund their accounts.
✔️ User interface
BitGPT AI is a relatively new trading platform, and like many modern trading platforms, its design and user interface are sleek and modern. The platform prides itself on having a simple, game-like, and user-friendly interface. Users will easily locate real-time market data, technical analysis tools, and trading charts on the platform. The color scheme and gradient of the platform are also commendable.
This review rates the platform's user interface as one of the best automated trading platforms. It is clear, consistent, responsive, simple, flexible, and aesthetically pleasing. The platform is easy for users to navigate and understand, and trading tasks can be accomplished quickly and effectively. Additionally, the software is compatible with various devices, including laptops, iOS, Android, and Windows phones and tablets.
✔️ Asset availability
The auto trading platform offers a range of cryptocurrencies to trade beyond Bitcoin and Ethereum, the two most popular cryptocurrencies. This includes altcoins such as  Ethereum Classic, Bitcoin Cash, Dash, ZCash, and Cardano.  Third-party BitGPT App trading reviews have hinted that users can also trade forex and other assets on the platform. However, details on which specific assets are available to trade are not readily available on the company's website. Including other assets beyond cryptocurrencies provides users with more trading options and diversification opportunities, potentially resulting in more profitable trading strategies. However, it is important to note that trading these other assets may carry different risks and market dynamics than trading cryptocurrencies, so users should approach trading them cautiously and seek a thorough understanding of the underlying assets.
Your capital is at risk.
BitGPT App Review – Pros and Cons
BitGPT AI, a trading platform that utilizes the power of artificial intelligence and machine learning to automate trading decisions, has advantages and limitations. Some of these pros and cons have been highlighted for your reading pleasure.
Pros:
Automated trading: The platform uses advanced algorithms and machine learning to analyze market trends and patterns. This allows for more efficient and accurate trading decisions, potentially increasing profits. Automated trading can be executed in milliseconds, allowing faster response to market changes and opportunities. It also ensures that trades are executed based on predetermined criteria, eliminating human emotion and inconsistency.
Integration with MetaTrader 4: This is one of the most popular trading platforms in the industry. It makes it easier for traders to access and utilize the platform's automated trading capabilities within their preferred trading environment.
24/7 Availability: The platform claims that the trading system runs 24/7, which is beneficial as the market is always open, and opportunities can arise anytime. This allows users to execute trades at any time, regardless of whether the trader is actively monitoring the market.
Intuitive and easy-to-use platform: The auto trading platform appears user-friendly, with an intuitive home page and official platform. This allows for easier navigation and a more efficient trading experience.
No Trading or Transaction Fees: The platform does not charge any trading or transaction fees, allowing for potentially higher profits for traders.
Free demo account: The auto trading platform offers a free demo account, which allows users to test the platform's capabilities and features before committing to a live account. This helps traders make more informed decisions about whether the platform is the right trading platform.
24/7 customer support: This is beneficial for traders who may encounter issues or have questions at any time. It ensures that traders can receive assistance whenever needed, potentially reducing the risk of lost opportunities or profits.
Cons:
Limited access: One potential downside of the platform is that access to the platform is only available to registered users. This may limit the ability of potential users to fully evaluate the platform before committing to creating an account.
High minimum deposit: The auto trading platform requires a minimum deposit of $250 to start trading, which could potentially limit the ability of traders with smaller budgets to use the platform.
Limited information: The platform's website does not provide information on its owner or development team. The website also does not feature user testimonials or BitGPT reviews, making it more difficult for potential users to assess the platform's reliability and effectiveness.
Your capital is at risk.
BitGPT App Fees
As part of its effort to become the best automated trading platform, BitGPT App has stated on its official website that it does not charge users any fees for its trading features and services. This means that users can enjoy the benefits of trading on the platform without paying any deposit, account, or withdrawal fees. The platform does not explicitly state whether it takes any commissions on trades, so it is unclear whether trades are completely free.
Is BitGPT App Legit?
Despite some positive third-party copy trading reviews, the information on the auto trading platform's website is relatively limited. Key details about the platform's owners, creators, and regulators are not readily available, and there is little discussion on social media platforms. As a result, it can be challenging to determine the legitimacy of the platform based on available information.
How To Use BitGPT App in 2023
It is possible to register an account with BitGPT App in minutes. Below is the process that you will need to follow to sign up.
Step 1: Create an account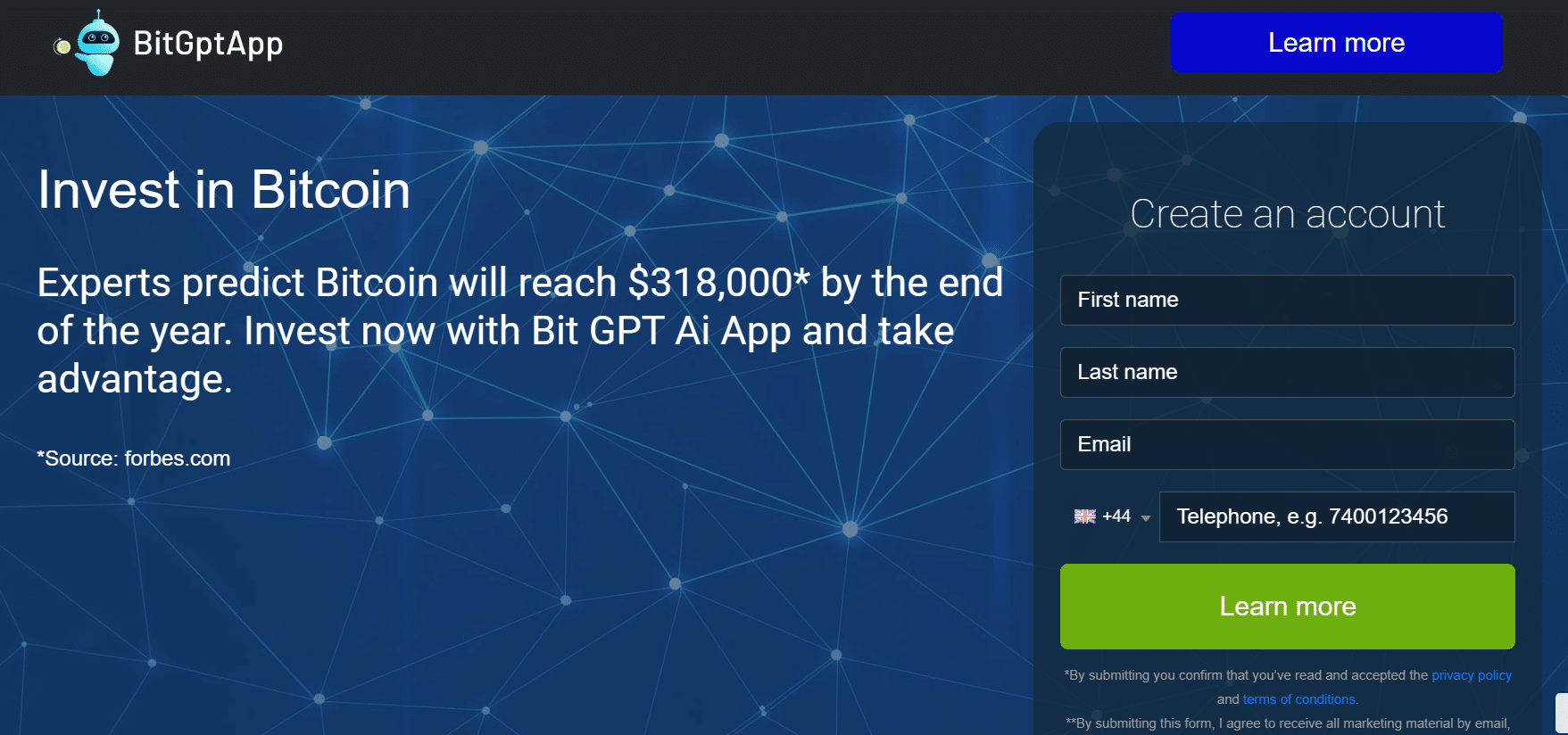 To open an account on BitGPT App, users should visit the platform's website and fill out the registration form. To authenticate their account, they must complete a verification process for their contact details. Failure to submit valid information can result in account suspension at later stages. BitGPT App has a strict data privacy policy, which ensures that the platform interacts with users' data appropriately and does not share personal data without the user's permission.
When registering on the auto trading platform, users should also be aware of the verification process with partner brokers. The trading platform collaborates with brokers to give traders access to a broad range of tradable assets. After completing the registration process, users will be directed to a broker's page. These brokers adhere to strict regulations that require users to comply with KYC (Know Your Customer) and anti-money laundering policies. The KYC requirements mandate that all deposit-taking platforms should establish the true identity of their partner brokers. The process of verifying one's identity with the underlying broker is straightforward, and it doesn't take much time.
Step 2: Deposit funds
After completing the verification process and signing up, users will be redirected to the account funding page on BitGPT App. They will be presented with a list of payment methods offered by the broker . Users will also need to select their preferred option and follow the prompts to complete the account funding process.
Users must have at least $250 in trading capital to access the trading robot. The auto trading platform does not charge deposit fees, and the funds will be credited to the user's trading account balance in less than a minute.
Step 3: Use Educational Materials To Learn About Trading
To access trading tutorials on BitGPT App, traders can navigate to the trading dashboard and select the "Trading Tutorials" tab. After carefully watching all the tutorials and setting up the trading robot as instructed, users can test the robot on a practice account by clicking the "Run on Demo" tab.
According to our BitGPT App review, the software's demo account delivers results very close to what users can expect during live trading. Therefore, trading settings that deliver good results on the demo account are likely to yield positive results during live trading.
It should be noted that while our BitGPT review is positive about the demo account, it is not a guarantee of success, given the fast-paced nature of the crypto market. As such, users should always be prepared for any trading outcome.
Step 4: Start placing live trades
Once users have practiced using the demo account and gained some confidence, they can proceed to set up the trading robot to execute trades automatically. The robot will handle all the heavy lifting while users monitor its performance through the trading dashboard.
For traders who prefer a more hands-on approach, especially when dealing with large sums of money, the platform provides access to its expert team, who can manually execute trades. This ensures that users have the option of a human touch when needed.
The trading system is available on web, desktop, and mobile devices. This makes it convenient for users to access the auto trading platform anytime, anywhere. It is suitable for both new and experienced traders.
Your capital is at risk.
Can You Make Money With BitGPT?
BitGPT App boasts that over 50,000 users have achieved considerable profits on its platform. According to the claims found in our BitGPT App review, 95% of all trades executed on BitGPT App are successful, resulting in 95 profitable trades for every 100 trades made by BitGPT App. However, based on existing financial market data, this claim is an unsustainable feat even for the best automated trading platform in the long run. This claim may be a promotional strategy, so users should approach it cautiously before investing.
BitGPT Full Review 2023 – Final Thoughts
This BitGPT App review acknowledges the auto trading platform's capability to trade on behalf of users can provide many potential advantages, such as responding quickly to market changes and allowing users to make profits with little prior experience. Nevertheless, there is a lack of concrete evidence to support the effectiveness of the platform's profit-generating ability. While users can use the demo trading account, it requires a minimum deposit of $250 before they can begin. Therefore, it is advisable to exercise caution when dealing with the platform and trade with full knowledge of the associated risks.
Your capital is at risk.
FAQs
Can you make money with BitGPT App?
What is the best automated trading platform to trade Bitcoin?