Best Copy Trading Platforms South Africa 2023
Almost all of the major social forex and stock trading platforms in the world offer copy trading as a part of their platform. Copy Trading allows a user to directly copy the positions taken by an expert or experienced trader, thereby linking a portion of the user's portfolio to the trader's. In this article, we will walk you through the best copy trading platforms in South Africa.
Copy Trading has increased in popularity over the past few years for various reasons. One of the reasons that it is popular is that it helps to simplify the trading process for beginner traders.
Best Copy Trading Platforms in South Africa 2023
Let's take a quick look at some of the best copy trading platforms we will review today.
Zulu Trade (via AvaTrade) – Copy Trading in South Africa With an FSCA Broker
Meta Trader 4 (via Libertex) – Copy Skilled Traders That Focus on Technical Analysis
Mirror Trader (via AvaTrade) – Copy Advanced Algorithmic Trading Strategies
CM Trading – Copy Trading Tool Offered by a South African Broker
RoboForex – Copy Trading Platform With Vast Experiences
Best Copy Trading Platforms in South Africa- Reviewed
When choosing a copy trading platform, it is important to consider plenty of factors. Aside from the specific copy trading tool itself, it would help to look at what markets the broker offers, the fees and commissions that apply, the payment methods the broker supports, and the safety of your funds.
To make the best choice, below you will find a list of the top copy trading platforms in South Africa for 2022.
1. Zulutrade via AvaTrade – Copy Trading in South Africa With an FSCA Broker
In South Africa, Zulutrade is a popular platform that offers copy trading as well as a range of other features. Using this platform, you can choose a trader you like and mirror them like-for-like. In addition, it will provide you with several data points and the information you need to make an informed decision.
Setting up Zulutrade is much more complex than setting up Capital.com because Zulutrade must be connected to either MT4 or MT5 to function properly. Naturally, this means you will need to open an account with one of the MT4/MT5 brokers before proceeding. This is the reason we recommend AvaTrade – as the broker offers access to MT4, MT5, and Zulutrade.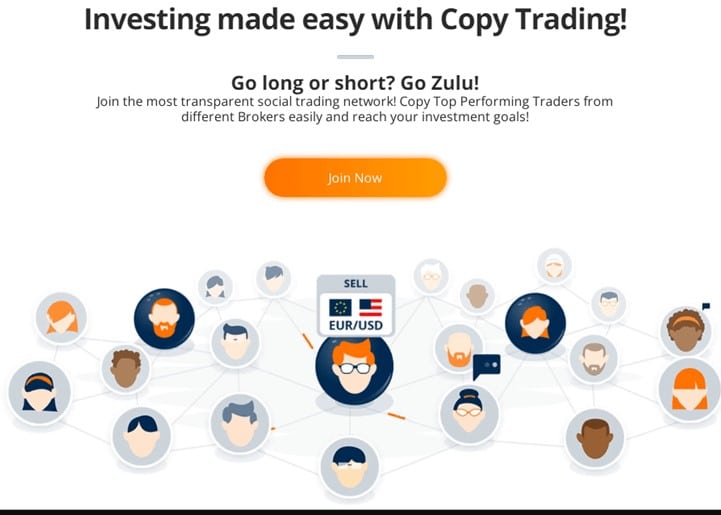 Additionally, the platform is authorized and regulated by the FSCA – along with five other bodies. Using Avatrade, you can trade thousands of markets at no commission once set up. In addition, you'll get some of the best spreads with major assets like forex and indices.
As far as the fundamentals are concerned, Avatrade requires that a minimum deposit of $100 is made to open an account. However, opening an account in just a few minutes is usually possible, depositing funds instantly with a credit card or debit card. There are also options for South Africans to use bank wires, which will delay the process.
Pros:
Trade stocks, forex, and commodities with CFDs.
Spreads include all fees
Includes paper trading with MetaTrader 4
Copy and social trading functions
Highly regarded and regulated
Cons:
Inactivity fees are very high
Your Money Is At Risk.
2. Meta Trader 4 via Libertex – Copy Skilled Traders That Focus on Technical Analysis
The Meta Trader 4 (MT4) platform is the most widely used third-party trading platform in the online space. The main advantage of MT4 is that it is loaded with various tools that are ideal for performing advanced technical analysis.
As a result, the tool offers a variety of technical indicators and chart drawing tools that are highly conducive to finding new pricing trends. MT4 also comes with a copy trading facility that works much the same way as any other platform on this list.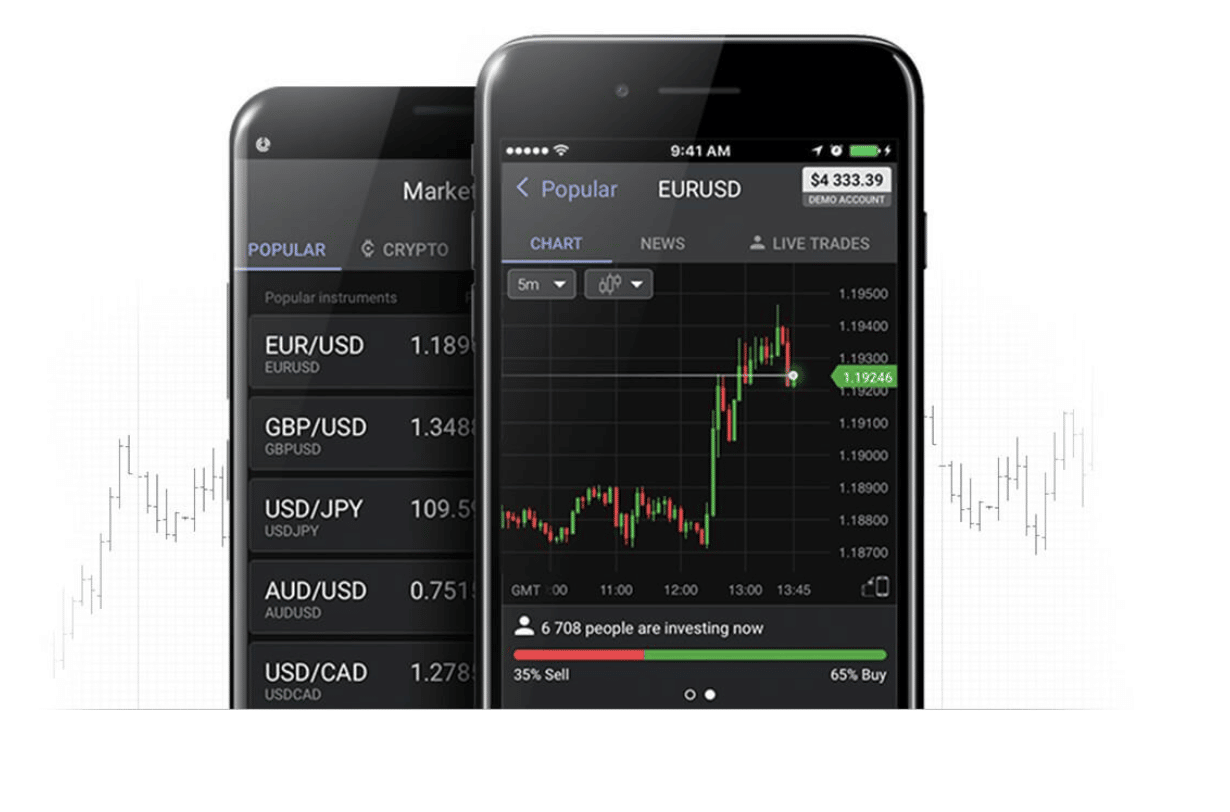 Since you are replicating your chosen trader's buy and sell positions in a like-for-like manner, you will not have to perform any research yourself. However, remember, you still need an MT4 broker capable of executing your orders on your behalf.
Libertex stands out in this regard - it offers ZERO spreads on its trading platforms. This is true for all its supported markets, including indices, ETFs, forex, cryptocurrencies, stocks, and commodities. Commissions are usually between 0 and 1%. In addition, Libertex is an FSCA-regulated broker.
Pros:
All markets have zero spreads
0% commissions on certain stocks
Leverage is available
Educational guides and webinars
PayPal accepted
MT4 support
Mobile trading app
Trustworthy broker
Cons:
Your Money Is At Risk.
3. Mirror Trader via AvaTrade – Copy Advanced Algorithmic Trading Strategies
Tradency offers Mirror Trader, an automated trading software. As part of this copy trading system, you will be mirroring a proven system - many of which use algorithms.
As soon as you have chosen a strategy you are comfortable with; the Mirror Trader protocol will ensure that all the ongoing buy and sell positions are replicated in your portfolio. Mirror Trader, however, can only be used if you have an account with a broker that supports it.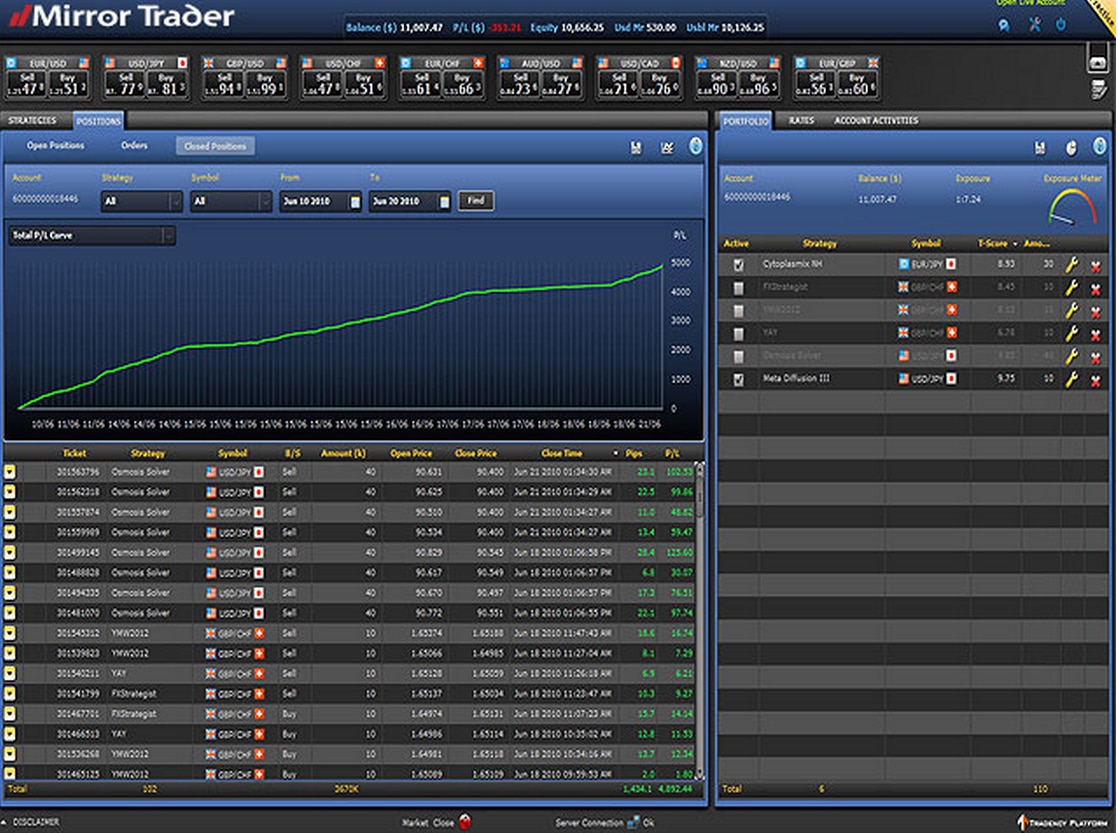 Pros:
Trade stocks, forex, and commodities CFDs
All fees built into the spread
Includes MetaTrader 4 paper trading
Including copy and social trading features
Excellent reputation
Highly regulated
Cons:
Your Money Is At Risk.
4. CM Trading – Copy Trading Tool Offered by a South African Broker
If you are looking for a copy trading platform in South Africa, then CM Trading is a good option.
Four years in a row, CM Trading was voted the best Financial Broker in Africa. CM Trading offers everything from indices and cryptocurrencies to forex and stocks. Through CFDs, you can leverage all supported markets.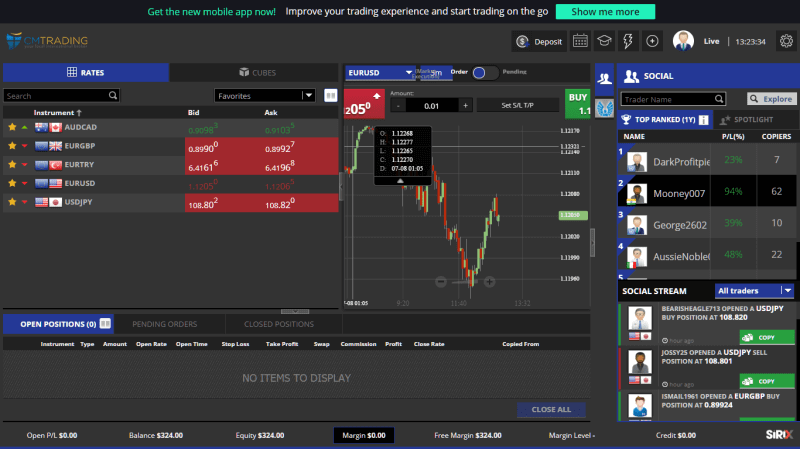 As one of the broker's services, they offer a copy trading tool called CopyKat, which works similarly to AvaTrade. This is because you will need to find an appropriate trader to copy before deciding how much to invest. After that, your ongoing positions will be mirrored in your own CM Trading account. CM Trading, however, has a very limited pool of traders in comparison to AvaTrade.
Pros:
CopyKat tool offered by South African broker
FSCA-regulated
Variety of financial markets
Available leverage
Excellent educational tools
Cons:
A limited selection of copy traders
5. RoboForex – Copy Trading Platform With Vast Experiences
The RoboForex Group has been around since 2009. It includes two companies, RoboForex and Robomarkets Ltd. While the former offers services around the globe, the latter was established specifically for EU and EEA clients, and FSC manages this organization as well.
Roboforex has approximately 800,00 clients from 170 different countries. Due to the assistance of 18 languages provided by the broker, there is a smaller language barrier. RoboForex has done its best to overcome any barriers between clients, whether they are located overseas or locally, whether they are novices or professionals in their field. The broker gave away a prize of $1,000,000 until April 2021 in celebration of its 10th anniversary.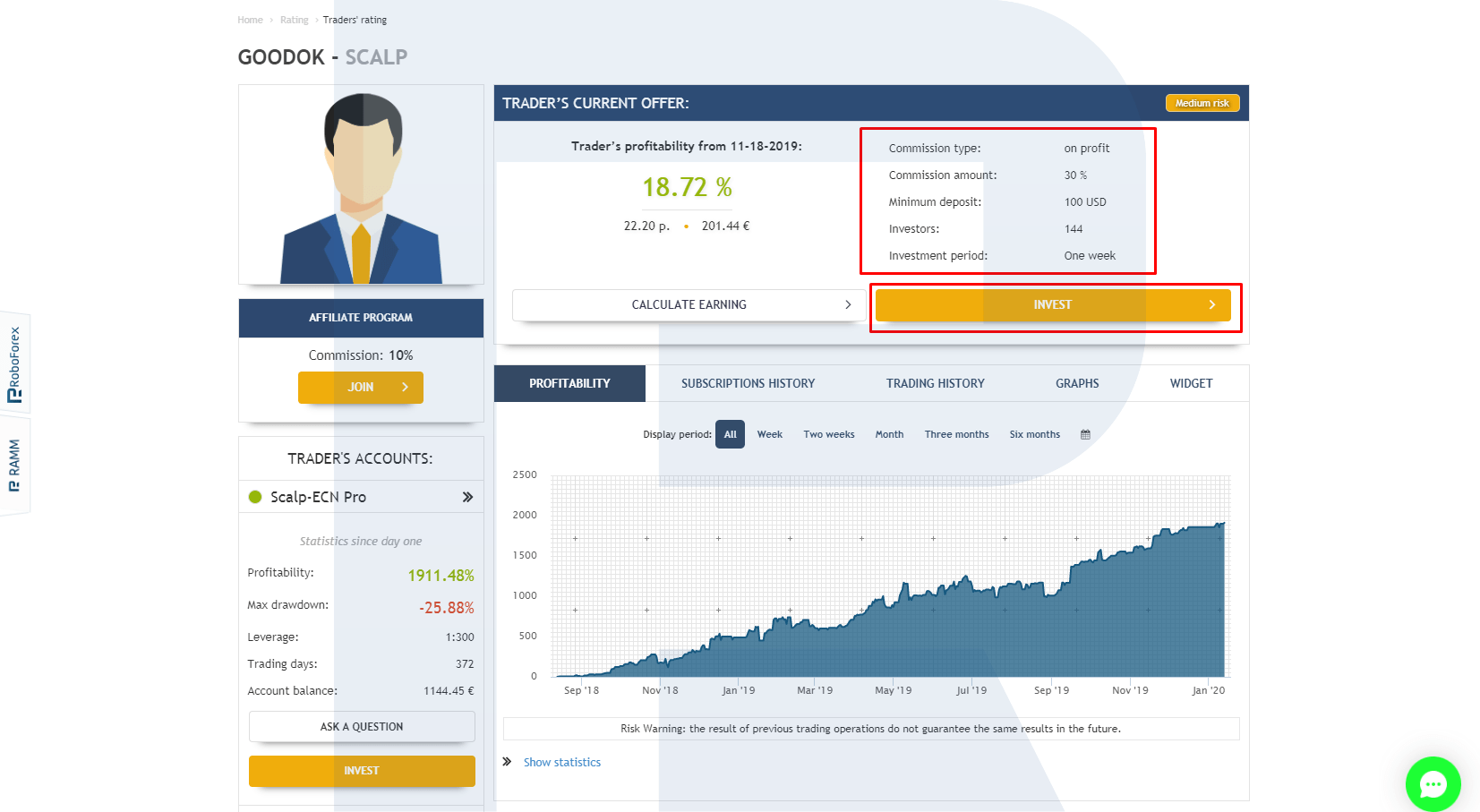 There are 9,400 assets available at Roboforex across eight categories: Commodities, energies, metals, ETFs, indices, forex, stocks, and cryptocurrencies.
The clients can choose from a wide range of financial opportunities. For example, with spreads as low as 0.0 pips and commissions per $1,000,000 traded at $15 for the Prime account, the ECD-Pro NDD account has spreads as low as 0.0 pips and a commission of $20 per $1,000,000 traded. In addition, around 40 currency pairs were available for trading with a leverage of 1:2000.
Pros:
Excellent customer service
Multiple trading platforms
Multiple deposit and withdrawal options
Verified broker
Cons:
What is Copy Trading?
The concept of copy trading is pretty much what it sounds like. It is a method of following expert traders and copying their trading movements. Let's say that the trader you follow buys 100 shares of a particular stock. As a result, you will also be buying 100 shares of the stock. If they allocated 5% of their portfolio to a particular stock market sector, you would do the same.
The key is to follow a trader whose investment style and goals match your own. For example, if you invest conservatively, you will copy someone with a conservative trading style. On the other hand, if you are a growth investor, you shouldn't mimic the trades of a value investor.
Copy-trading can be done on your own or through a copy-trading platform. This latter option allows you to mimic a particular trading activity. Meanwhile, it makes investments on your behalf. The trades are automated, so you don't have to do anything. However, you can still choose who to follow. Make sure your trading account has enough money to cover trade activity.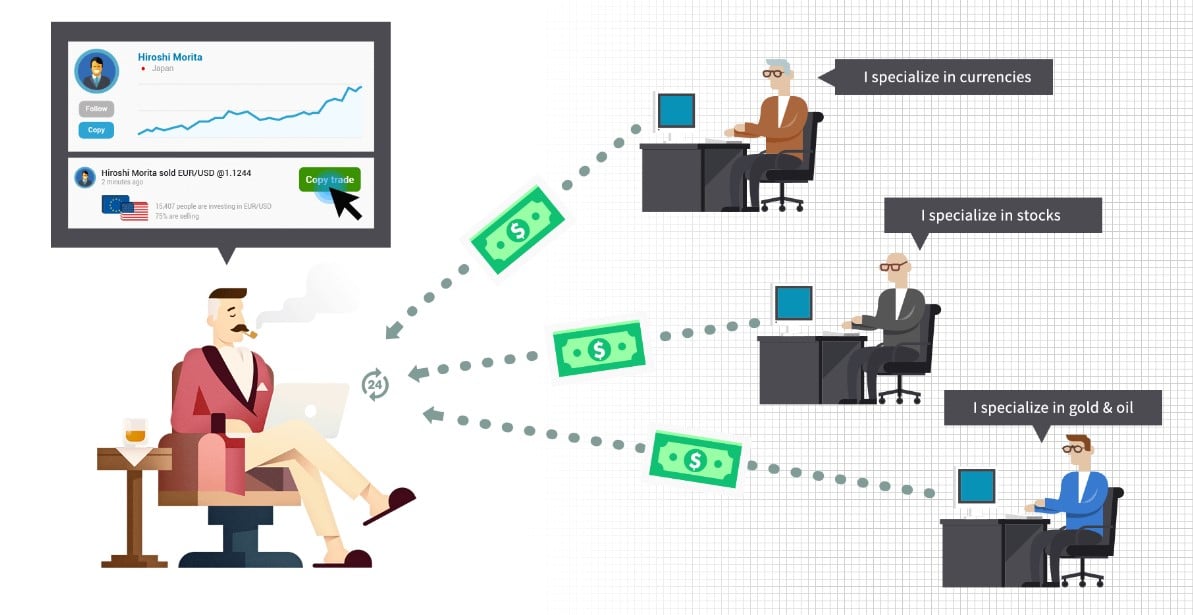 The advantage of copy trading is that it allows you to leverage someone else's investment knowledge and experience. You do not need to analyze stock market movements or trends to decide which stocks to buy, sell, or hold. All you need to do is to follow a pro-investor. For example, consider the scenario where you have chosen someone who consistently generates high returns in their portfolio. As a result, if you were to copy them, you would theoretically be able to reproduce the results.
Copy trading is largely passive, so you leave the hard work of choosing investments to someone else. As a result, you can earn returns in your portfolio without spending hours researching the market. In addition to diversification and risk management, the pro trader directs investment decisions.
There are a few factors to consider when choosing an investor to emulate:
How long they have been trading.
Investing track record.
The number of open positions.
The typical holding period for investments.
Types of investments preferred.
It would help to consider what you want to accomplish with your portfolio. For example, if you are interested in alternative investments, you might copy someone who invests in hedge funds, commodities, or FOREX. In contrast, if your goal is to match rather than beat the market's performance, you might consider an investor who favors an index strategy.
Copy Trading Techniques
Copy-trading can involve handing over trading decisions to other traders. However, there's still plenty of room to make strategic choices regarding picking the traders you want to copy, determining the amount of capital to allocate to each copied trader, placing stops, knowing when to stop copying a trader, and so on. Hence, it is wise to enter the copy trading arena with a few copy trading strategies in your arsenal to implement them if and when the need arises.
Signals
A forex signals service provider is another great choice in searching for the best copy trading platform. You can copy trades but in a semi-automated way. The most basic form of a trading signal is when the provider sends you trading suggestions based on its research and analysis.
Learn2Trade, a popular signal service, has a team of in-house traders that scan the forex and cryptocurrency markets manually.
In addition to using technical indicators and charting tools, they will also use advanced charting tools.
Learn2Trade will send out a signal if a trader spots a trend that represents a risk-averse opportunity.
By doing so, you will know exactly what orders you need to place at your chosen brokerage.
An example of a trading signal is as follows:
Asset: BTC/USD
Order: Long (Buy)
Entry: $51,500
Stop-Loss: $49,600
Take-Profit: $54,050
It is clear from the above that you are copy trading semi-automated since you must first decide whether to act on the signal. Afterward, it would help if you placed the suggested orders with your chosen broker.
As opposed to automating the whole process, this option may be more suitable for those who wish to copy trades in a more controlled manner.
Automation and Algorithmic Software
As an alternative to copying trading, you can use an automated trading platform. A trading automation system, also known as a bot or an expert advisor, is pre-programmed by third-party developers and backed by an algorithm.
The main concept here is that the system will trade fully automatically.
The program is unable to 'think' like a human trader. As a result, the system places trades based on the code it has been programmed to follow.
In simple terms, the system might short a forex pair if it breaks through a support level.
Alternatively, the system will buy a crypto asset if it rises by more than 10% within 24 hours. Regardless of your choice, your automated copy trading platform will operate 24 hours a day.
Human traders can only devote so much time daily, so this is already a major advantage. In contrast, the main disadvantage of automated systems is their stubbornness. They cannot understand or interpret financial news or fundamental analysis because they may only be able to follow pre-programmed code.
In addition, third-party platforms like MT4, MT5, and cTrader must be installed with bots and automated software programs. In other words, you will also need to connect your brokerage site to the platform.
Coping with individual Traders
With the emergence of user-friendly cryptocurrency sites that cater exclusively to retail clients, a pair of new terms have emerged - social and copy trading.
As a result of social trading, you can communicate with other members of the crypto exchange you are using. Using this feature, you can start a discussion thread, reply to other messages, and like comments.
In terms of copy trading, this is a new and exciting way to invest passively in cryptocurrencies. So put, and as the name implies, you will be copying another investor's trades on the exchange in question.
How to Choose Traders To Copy
Even though copy trading allows you to take a hands-off approach to investment, you will still need to do some groundwork. The reason is that you need to spend some time researching the many copy traders your chosen platform offers.
When you use a top-rated provider like AvaTrade, you'll have access to tens of thousands of verified investors - so it's important to know what to look for when choosing the right trader for your financial needs.
Here are the most important factors to remember when looking for the best traders to copy to help clear up the confusion.
Asset class
The first thing you should do is decide which assets you wish to trade passively. For example, are you trying to copy a seasoned day trader who focuses on forex or a long-term buy-and-hold investor who specializes in stocks?
Maybe you'd like exposure to cryptocurrency trading or a volatile asset like gold? Regardless, it's best to work with a trader with experience with your preferred asset class.
Performance
Once you have narrowed down your search by choosing your asset class, it is time to focus on the performance. After all, you will want to copy those who are the best copy traders in the world.
This can only be done if we look at the trader's historical results in the past. At AvaTrade, you can specify two key metrics that help you find a top-rated trader that meets your goals - these metrics are listed below.
Percentage Gains: It is possible to enter the minimum percentage profit that you want your chosen trader to make.
Period: After that, you can specify a period ranging from one month to two years.
For example, the trader you choose might have made at least 30% over the past two years. By entering your requirements, AvaTrade will show only traders who meet this criterion.
Risk
It is somewhat difficult to assess how much risk you are taking by selecting an investor on many of the copy trading platforms we reviewed today. For example, the maximum drawdown percentage may be available, but this does not tell you how much risk the trader typically enjoys.
Some copy trading brokers, offer a risk rating on all their copy traders. The platforms' algorithm determines this automatically based on a series of metrics.
For example, a high-risk rating would be assigned to a trader specializing in volatile assets such as Bitcoin and oil, along with a maximum drawdown above average. On the other hand, a trader with a diversified portfolio who favors blue-chip stocks and index funds might be rated as low-risk. Risk ratings range from 1 (lowest) to 6 (highest).
How To start Copy Trading In South Africa
If you are interested in passively investing, it will take you less than five minutes to set up ZuluTrade's copy trading feature.
Open an Account and Verify ID
An online application form is used to process new account applications. The ZuluTrade website also allows you to complete the registration process using your Facebook or Google account. In addition, you will need a verified MT4 trading account with a participating brokerage.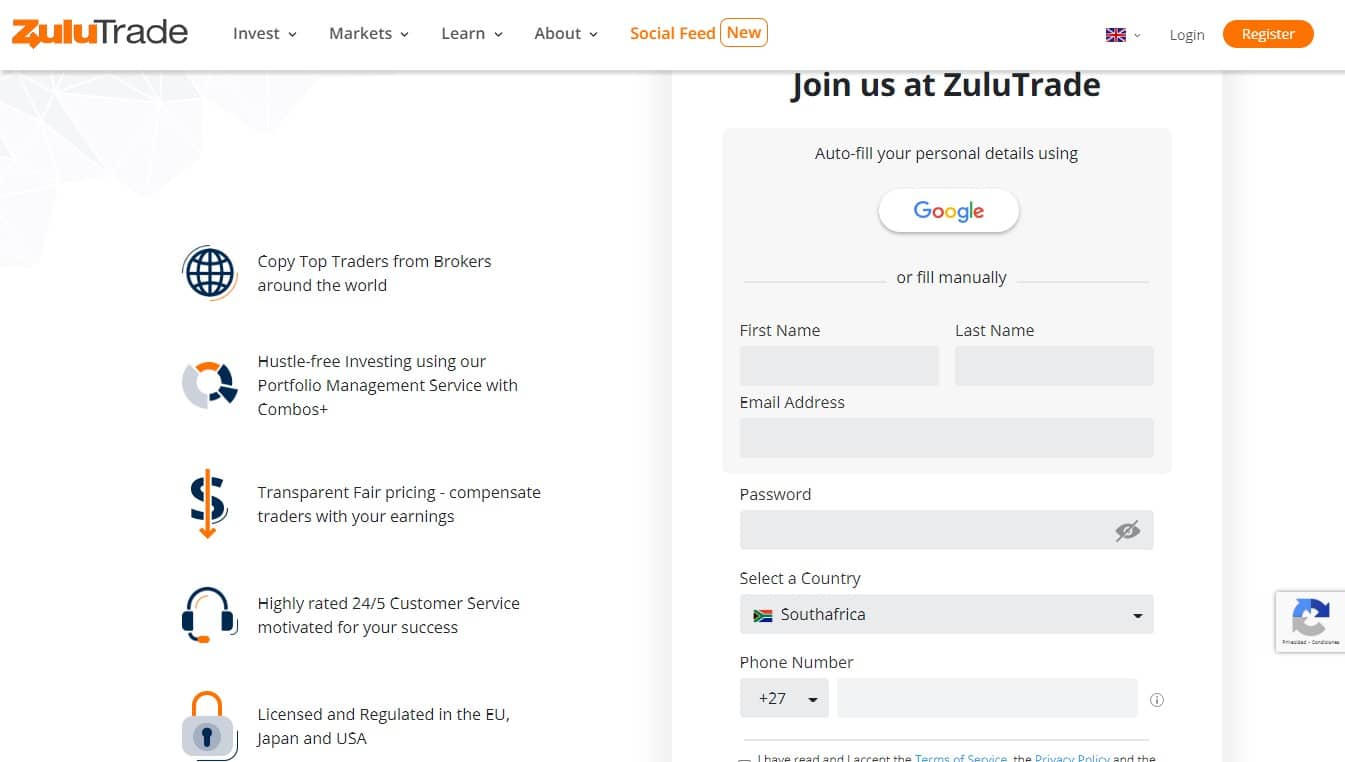 Deposit Funds
Investors and traders have various deposit and withdrawal options, depending on the brokerage they use. However, ZuluTrade does not facilitate the payment processing process.
Choose a Trader to Copy
You can choose a crypto trader to copy. This part of the process can take some time since choosing crypto traders to align with your financial goals is important.
Invest in a Copy Trader
Select the funds you wish to invest in and your preferred risk level.
Click the follow button again, and you will now be copy trading. After you have just followed a Trader, you can now start copying his positions.
Best Copy Trading Platforms South Africa- Conclusion
In the cryptocurrency investment world, social and copy trading tools are revolutionary. As well as interacting with other traders and sharing insights, you can now invest passively by mirroring the positions of an experienced pro.
ZuluTrade is an established and regulated social trading platform. ZuluTrade is an excellent option for investors who want to follow trading strategies. Partnerships with global brokerages offer maximum cross-asset exposure and diversification of strategies. However, retail traders are most concerned with the cost structure of the profit-sharing account, which is too steep for them to bear.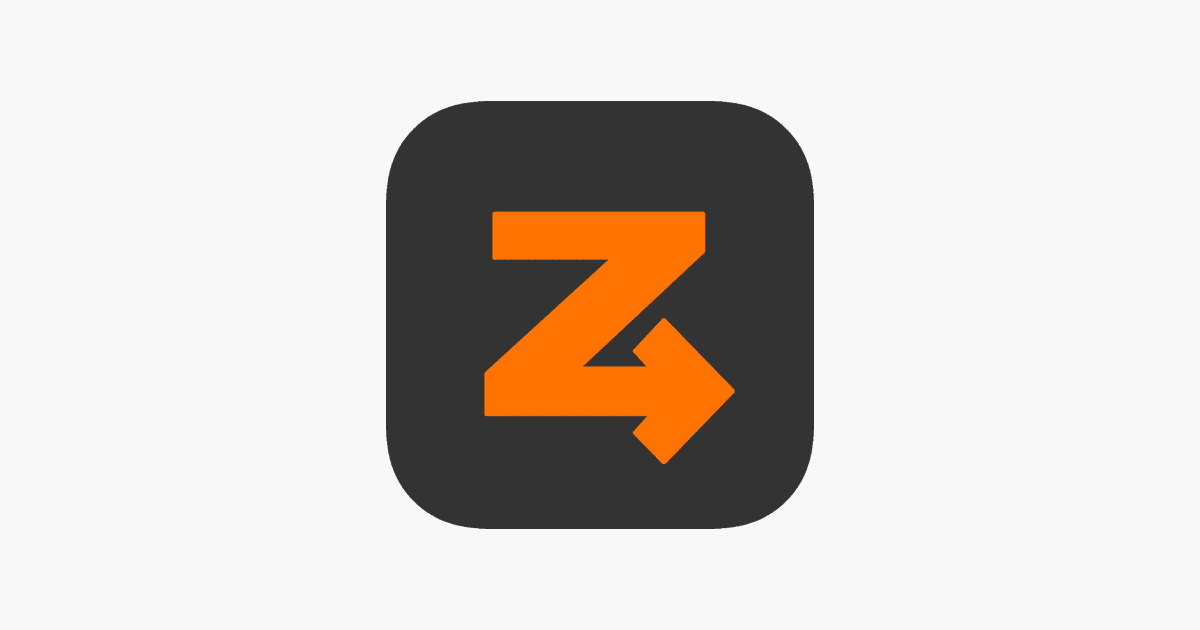 Your Money Is At Risk.
FAQs
How to copy trade in South Africa?
Can you make money copy trading?