AvaTrade Review 2023 – Pros & Cons Revealed
Fact Checked
Everything you read on our site is provided by expert writers who have many years of experience in the financial markets and have written for other top financial publications. Every piece of information here is fact-checked. We sometimes use affiliate links in our content, when clicking on those we might receive a commission - at no extra cost to you. By using this website you agree to our terms and conditions and privacy policy.
Disclosure
The investing information provided is for educational purposes only. Trading platforms does not offer advisory services, nor does it recommend or advise investors to buy or sell stocks, securities or other investment vehicles. Some or all of the products displayed on this page are from partners that compensate us. It may influence the products we cover and the location of the product on the page. Nevertheless, our research and analysis is unaffected by our partners.
AvaTrade is a popular forex and CFD broker that was established in 2006 and is regulated by multiple financial authorities such as ASIC and the Central Bank of Ireland. Avatrade users can trade forex, CFDs, and cryptocurrencies on a commission-free basis.
In this AvaTrade review 2023, we explore all key metrics from fees and commission, to payment options and mobile trading. So, keep reading to find out if AvaTrade is the right broker for you.
71% of retail investor accounts lose money when trading CFDs with this provider. 
What is AvaTrade?
Established in 2006, AvaTrade is an international CFD and forex broker that is regulated by several top-tier financial institutions.
When it comes to tradable assets, AvaTrade offers forex trading and a wide range of CFD derivatives including stocks, bonds, ETFs, commodities, and indices. Additionally, you can trade seven different cryptocurrencies directly through the AvaTrade platform with zero commissions and no bank fees on transactions.
71% of retail investor accounts lose money when trading CFDs with this provider. 
In terms of trading minor, major, and exotic currency pairs UK-based clients can download the top-rated MetaTrader 4 and MetaTrader 5 platforms to both Windows and iOS operating systems, as well as a Web-based version and the mobile trading app for Apple and Android devices.
Furthermore, AvaTrade has heaps of resources and tools that beginner traders will appreciate, such as a free paper trading account with $100,000 of virtual funds to practice your trading strategy in a risk-free environment, as well as access to more than 250 financial instruments including 24/7 crypto trading.
AvaTrade Pros & Cons
What we like
Low non-trading fees
No deposit or withdrawal fees
Wide range of deposit methods including credit cards, wire transfer, and e-payments such as WebMoney, Skrill, and Neteller.
Low $100 minimum deposit to open a trading account
If you use a credit card to deposit funds into your brokerage account, the payment is credited instantly.
Wide variety of educational materials and resources such as tutorial videos and technical trading strategies.
Unfettered access to multiple trading platforms including MT4 and MT5, AvaTradeGo, Automated Trading, AvaSocial.
Cryptocurrency trading with popular digital coins including Bitcoin Cash, Litecoin, and Ethereum.
Commission-free trading
Competitive spreads
Trade major forex pairs such as EUR/USD with leverage up to 30:1 and tight spreads of 0.9 pips.
A free demo trading account is available.
Fully-regulated broker
What we don't like
Inactivity fees and annual administration fees are above average
Lack of traditional investments such as stock trading
Fractional share trading is not supported
71% of retail investor accounts lose money when trading CFDs with this provider. 
What Can You Trade on AvaTrade?
Forex Trading
The forex trading market is a global financial marketplace whereby fiat currencies are traded daily. The forex market is the largest financial market in the world, with an average daily trading volume of more than $6.5 trillion. This casts a huge shadow over the total value of daily stock trading. Currencies are exchanged for many purposes, particularly for trading goods and services, hedging, and speculative trading.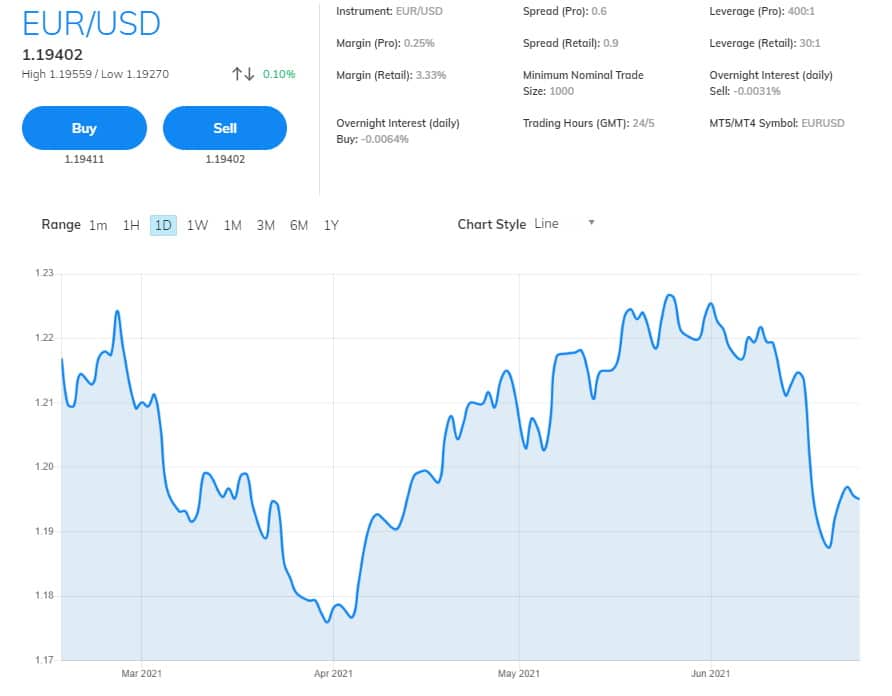 With this in mind, you can trade the most popular and major forex pairs including EUR/USD, GBP/USD, and USD/JPY with 0% commissions as AvaTrade is a free trading platform and is compensated through the spread. Additionally, all financial instruments are traded on margin which allows clients to leverage their trades. The forex trading conditions show both the leverage and margin requirements, as well as the overnight interest rate when holding a position open past the end of the standard trading hours.
For example, when trading the EUR/USD pair as a retail trader, the daily overnight interest rate for buy positions is -0.0064%, the spread is 0.9 pips, the margin rate is 3.33%, and you can use up to 30:1 leverage.
CFD Trading 
Contract for differences consists of an agreement between buyers and sellers to exchange the difference in the value of an underlying asset between the opening and closing of the contract. CFD trading allows investors to speculate on the price movements of financial instruments and therefore do not take ownership of the underlying asset.
One of the benefits of CFD trading is that it enables traders to speculate on price movements either rising or falling. Simply put, you can match a traditional long position where instruments are bought, as well as matching a short trade that earns a profit when the underlying asset's price drops.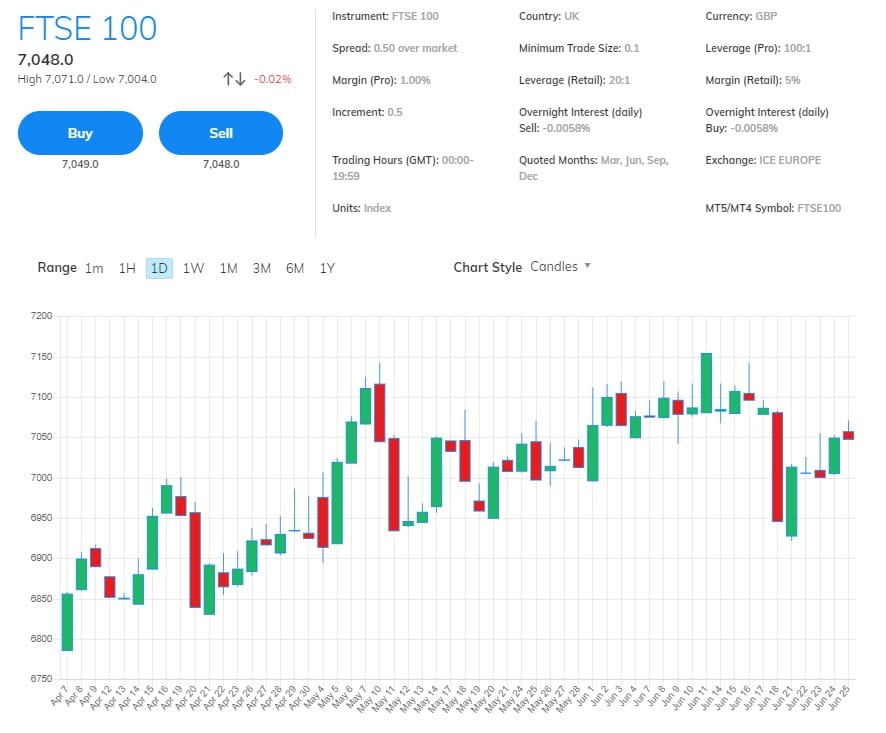 For example, if you think that the price of crude oil is going to drop you could sell as CFD based on crude oil. If the price of crude oil plummets, returns are made when the short position is closed. However, if the price of crude oil increases, losses will be incurred when the short trade is closed. Potential losses and profits are only apparent once the position is closed.
There are multiple CFD trading strategies one can adopt including day trading, swing trading, and scalping. CFDs provide easy access to a variety of international assets from one trading account.
Let's say you wanted to trade Apple Stock CFDs on AvaTrade, you could do this with a typical spread of 0.13% and up to 5:1 leverage.
When it comes to CFD trading on AvaTrade you can choose from:
AvaTrade Fees & Commissions
AvaTrade does not charge commissions on any trade, whether that is forex, CFDs, or cryptocurrencies, the only trading fees you will incur are the bid-ask spread, and the overnight financing fee if you keep positions open past the standard trading hours.
Typical spreads are only indicative amounts as they are hugely influenced by volatile market conditions and macroeconomic events that impact the financial markets. When it comes to margin trading the margin requirements are subject to change based on the trade size, news release, and market volatility.
In terms of non-trading fees, there are no deposit or withdrawal fees, as well as no account fees. However, AvaTrade brokerage accounts are subject to an inactivity fee of $50 after three months of non-use. This is then followed by an annual administration fee of $100 after one year of inactivity which is deducted from the trading account.
| | |
| --- | --- |
| Type of Fee | Charge |
| Forex Fee | 0% Commission, typical spread for EUR/USD is 0.9 pips and leverage up to 30:1 |
| CFD Fee | 0% Commission, typical spread for Amazon Stocks is 0.13% and leverage up to 5:1 |
| Cryptocurrency Fee | 0% Commission, typical spread for Ethereum is 0.28% and leverage up to 2:1 |
| Overnight Financing Fee | Trade Amount * Daily Overnight Interest = Daily overnight interest charged/paid. For example, for a 1,000 EUR/USD trade with a daily overnight interest buy rate of -0.0064% and subject to a one day charge, the calculation is 1,000 * -0.000064 = -0.064 = -$0.06 |
| Deposit Fee | None |
| Withdrawal Fee | None |
| Account Fee | None |
| Inactivity Fee | $50 after 3 months of inactivity and a $100 administration fee after one year. |
AvaTrade User Experience
AvaTrade offers a user-friendly web trading platform with unique order types to help manage your risk tolerance. On the flip side, customizability is limited and you cannot set price alerts and push notifications.
AvaTrade supports a variety of trading platforms including:
WebTrader
MT4 and MT5
AvaOptions
AvaTradeGo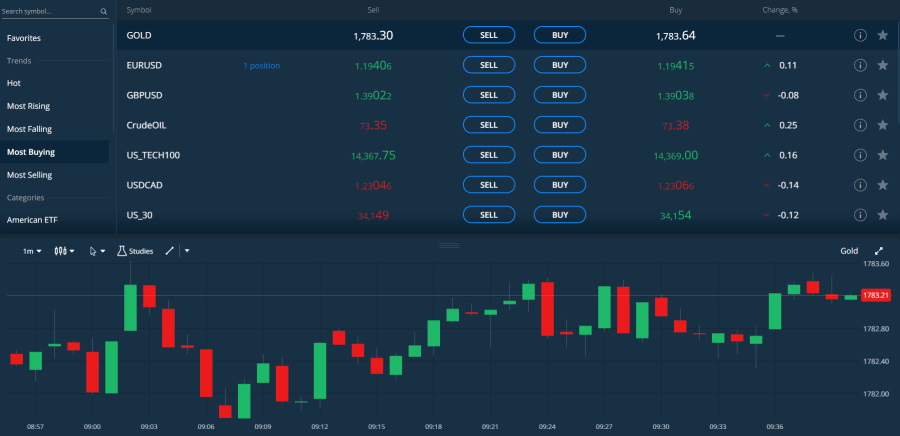 71% of retail investor accounts lose money when trading CFDs with this provider. 
AvaTrade's proprietary web-based trading platform is easy to use and well designed which is ideal for new traders. Furthermore, you can only use basic order types such as Market and Limit orders on the AvaTrade web platform. Experienced traders may find the web platform too simplistic for more advanced online trading and may prefer the MetaTrader suite instead.
When it comes to opening an account and depositing funds these are straightforward processes that take a matter of minutes.
AvaTrade Features, Charting, and Analysis
You can access trading ideas via the third-party research provider called Trading Central. All the trading ideas are based on technical analysis and focus mostly on forex pairs and stock indices. To browse through the trading ideas simply tap on trading central and then Analyst Views which is financial market research that provides a mix of senior analyst expertise with sophisticated algorithms.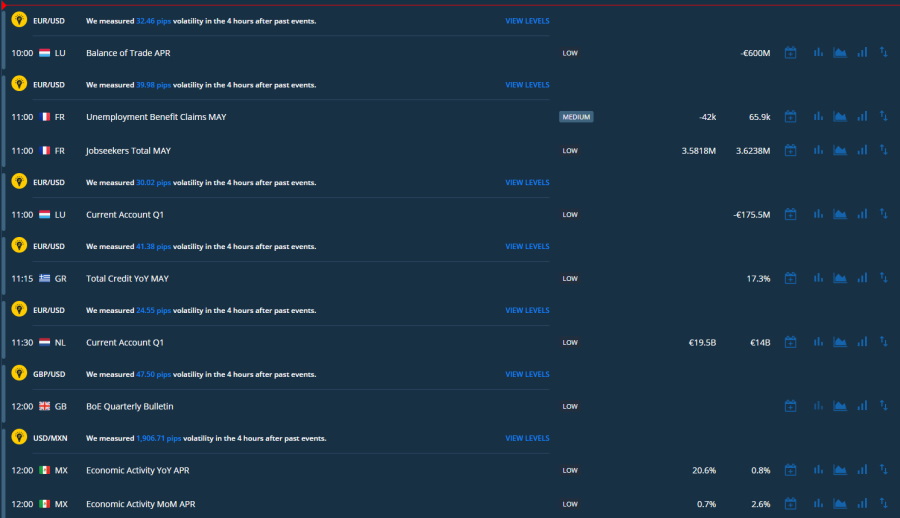 When it comes to fundamental data you can access this via the economic calendar under the Trading Info tab on the website's homepage. This economic calendar presents regular financial macroeconomic events that impact the financial markets and global economy. Experienced traders will use these economic indicators as benchmarks to plan their future trades. All macroeconomic events can create rifts in the markets which have a knock-on effect on online trading.
In terms of charting, editing the charts is simple and features a well-designed interface. Additionally, there are more than 80 technical indicators that you can integrate into your charts, which for new investors is more than enough. AvaTrade supports popular and common technical indicators including Bollinger Bands, Exponential Moving Average, and MACD.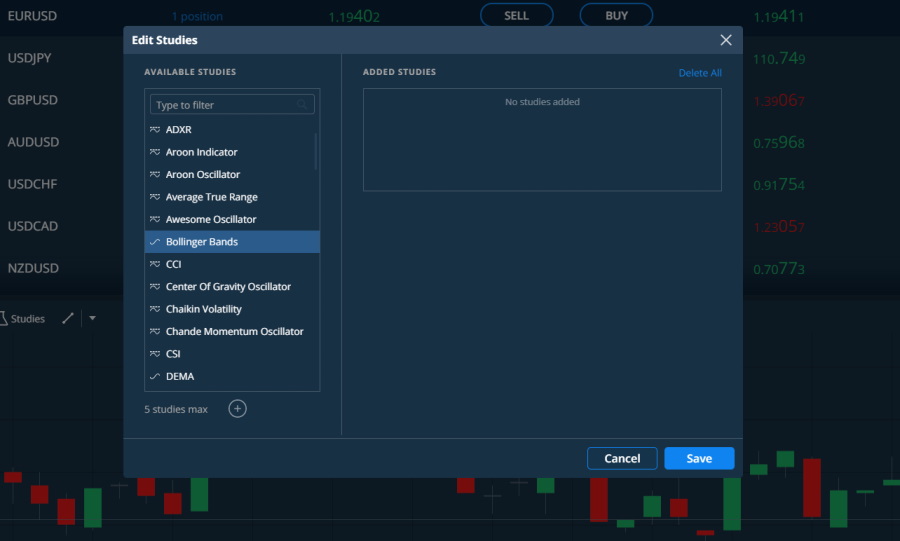 AvaTrade users can also access a blog where they can browse through heaps of market updates that are posted daily. If you know exactly what you are looking for then you can use the filter bar at the top of the blog to narrow the posts down by subject matter such as News & Market Analysis and Crypto News.   
AvaTrade Account Types 
AvaTrade offers different account types depending on the specific entity. For example, AvaTrade Middle East Ltd offers Retail, Professional, and Options accounts, whereas Ava Capital Markets Australia Pty Ltd only offers Standard and Options accounts.
When it comes to EU-based clients using AvaTrade EU Ltd they can access Retail, Professional, Options, and Spread betting accounts.
AvaTrade Mobile App Review
AvaTrade provides three mobile trading platforms:
AvaOptions, AvaTrade's proprietary mobile trading app for options trading.
AvaTrade's in-house developed mobile trading app called AvaTradeGo
The MetaTrader 4 mobile trading platform.
All three mobile trading platforms are compatible with both iOS and Android mobile devices.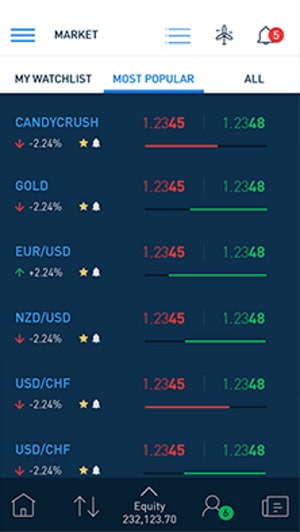 Aside from the typical mobile trading app functions like search and notifications, as well as tutorial content and depositing funds can be done from within the mobile app itself. When it comes to login security, AvaTrade only supports one-step authentication, nevertheless you can use biometric authentication for added security and convenience.
As well as depositing and withdrawing funds into and out of your trading account you can also place order types from within the app. Simply choose the asset you want to trade and tap on your preferred order type such as AvaProtect, Take Profit and Stop Loss orders.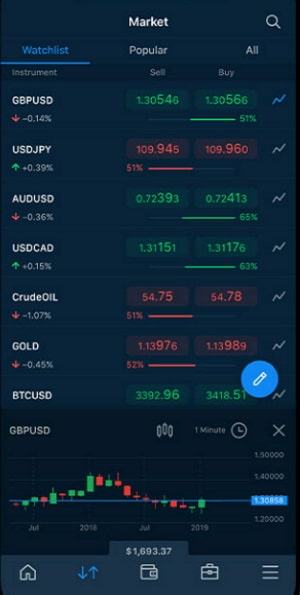 71% of retail investor accounts lose money when trading CFDs with this provider. 
Beginner and advanced traders will be pleased to know that you can set price alerts and push notifications so that you can never miss a unique trading opportunity without being glued to your mobile device 24/7.
AvaTrade Payments
As we have already mentioned AvaTrade has a wide range of payment options for you to choose from when depositing or withdrawing funds. These include credit cards, wire transfers, and e-payments such as Skrill, WebMoney, and Neteller.
For an in-depth review of the payment methods and processing times provided by AvaTrade, let's take a look at the following table:
| | |
| --- | --- |
| Available Banks for Wire Transfer | NatWest, Barclays |
| Deposit fee | None |
| Withdrawal fee | None |
| Minimum deposit via credit card or e-payments | $100 per account |
| Minimum deposit via wire transfer | $500 per account |
AvaTrade New Accounts Promotion EU
From time to time, AvaTrade announces new bonus promotions aimed at new clients. During our extensive research, we found that AvaTrade currently offers an Education Pack when new EU-based traders open an AvaTrade account.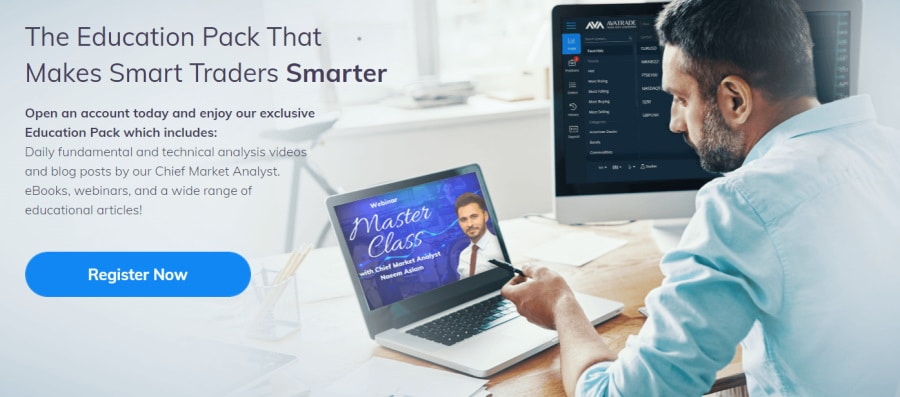 The Education Pack consists of daily fundamental and technical analysis video and blog content created by AvaTrade's Chief Market Analyst, as well as eBooks, webinars, and heaps of educational articles. This is ideal for beginner investors with no trading experience.
AvaTrade Contact and Customer Service
You can contact AvaTrade customer support via live chat, telephone and email 24/5. You can expect fairly quick responses depending on how busy the customer services are.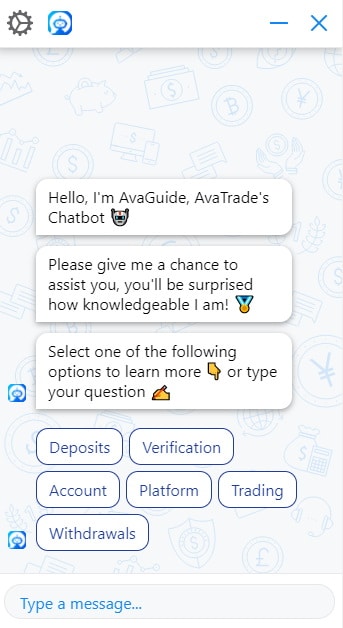 Additionally, you can refer your questions to AvaGuide which is AvaTrade's Chatbot service. Similarly, you can use AvaTrade's FAQ and Help Centre page for relevant answers and information to the most commonly asked questions and trading issues. You can also contact AvaTrade's customer services via Twitter, as representatives manage and reply to social media posts regularly.
When you deposit at least $1,000 you are automatically assigned a dedicated account manager to support you during your initial trades and investments.
Is AvaTrade Safe?
Launched in 2006, AvaTrade operates entities on a global scale and as such is authorized and regulated by multiple top-tier financial authorities. These include the Australian Securities and Investments Commission (ASIC), the Financial Sector Conduct Authority in South Africa, Japan's Financial Services Agency and the Financial Futures Association of Japan, the Abu Dhabi Global Markets Financial Regulatory Services Authority, CySEC, the Central Bank of Ireland, the B.V.I (British Virgin Islands) Financial Services Commission, and the Israel Securities Authority.
According to AvaTrade, client funds and data are protected by:
256-bit SSL encryption throughout the site
Implements McAfee Secure to combat credit card fraud and identity theft
Embedded True-Site identity assurance seal
Client funds are held in segregated bank accounts
As AvaTrade operates multiple subsidiaries, the investor protection amount differs depending on the regulator and the entity. For EU-based clients, the Central Bank of Ireland protects up to 20,000 euros should the broker become insolvent.
Crucially, AvaTrade also offers negative balance protection in all jurisdictions that it offers its services in. Simply put, this means that you cannot lose more capital than the number of funds in your trading account.
For example, imagine you deposited $2,000 into your brokerage account and then entered a CFD trade with a 10:1 leverage. With this level of leverage, you will have opened a position worth $20,000. Consequently, following market volatility your trade falls by 25% and you suffer a $2,500 loss or 125% of your deposited capital. This would mean that your initial deposit of $2,000 would not cover the difference and you would then owe the brokerage firm $500.
On the other hand, with negative balance protection, potential losses can not surpass your total account balance.
How to Start Trading with AvaTrade
In this section we will guide you through the process of opening a live account with AvaTrade and trading financial instruments such as forex pairs, cryptos and CFDs.
Step1: Join AvaTrade  
The initial step is to open a live trading account with AvaTrade. If you are new to online trading then you may consider opening a demo account first to practice your trading strategies and familiarize yourself with the supported trading platforms without running the risk of losing your capital.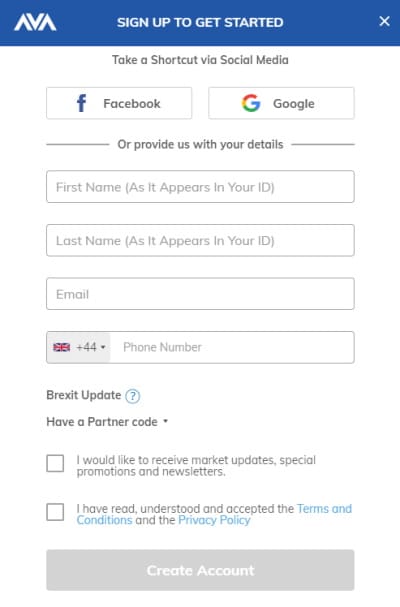 71% of retail investor accounts lose money when trading CFDs with this provider. 
To get the ball rolling simply navigate your way to the AvaTrade homepage and click on the Register Now button typically located at the top right-hand corner of the screen. You will then be required to provide your details such as full name, email address, and phone number.
The next stage of the registration process involves providing more information about your trading experiences and personal details. These questions are designed to help the broker understand how they can offer you the best services to suit your trading needs and goals and to determine whether you are eligible for leverage.
Step 2: Account verification 
In compliance with standard KYC policies, you will be required to upload your ID and residence documents, which can include passports, driver's licenses, and copies of utility bills and bank statements dated within the last three months.
Once the documents have been uploaded to your trading account, the Document Verification team will assess and process them within 24 business hours.
Step 3: Depositing Funds
As we have already mentioned, there are several payment options available when depositing funds into your live trading account. Whether you choose credit cards, wire transfer, and e-payments such as Skrill, Webmoney and Neteller, you need to keep in mind that while there are no deposit fees, the minimum deposit via credit card and e-payments is $100, whereas the minimum deposit via wire transfer is $500.
Step 4: Start Trading
To buy at the Ask price, sift through the Dealing Rates Table within the AvaTrade trading platform, find the asset you are interested in and tap on the Ask/Buy price in the table. This will then populate a transaction window for the chosen market order. Once you have entered the number of units, tap on OK. Your order will be executed straightaway at the current market price.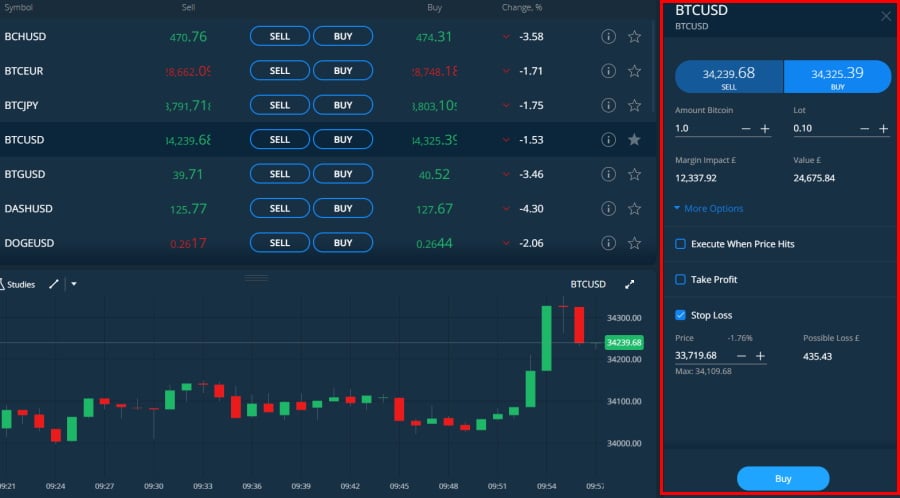 Alternatively, you can also access automated trading services via DupliTrade which is a platform compatible with MetaTrader 4 and enables UK-based traders to automatically follow advanced investors' signals and trading strategies in real-time.
Another popular option is ZuluTrade, a top-rated automated trading platform, that automatically executes trades in your AvaTrade UK account based on the signals of experienced investors.
When it comes to MetaTrader 4 and MetaTrader 5, you can use MQL4 and MQL5 to subscribe to signals from a myriad of providers directly from your trading platform. You can try to optimize your trading performance by following and copying the trades of other experienced investors on the MQL4 and MQL5 networks.
In this constantly evolving digital age, mobile applications are becoming more popular. This is where AvaSocial fits in. AvaSocial is AvaTrade's proprietary automated mobile trading app. The user-friendly design and interface make it perfect for new investors with little trading experience.
With AvaSocial you can browse through a list of seasoned traders and explore their past performance, risk profile, and statistics. You can then follow and copy the trades of other investors. Additionally, you can interact with traders on your follow list which makes this a great social trading platform.
AvaTrade Review – The Verdict
With so many online brokers to choose from, making the right decision can be a daunting task, especially for new traders with little trading experience. This in-depth AvaTrade review has covered all the key metrics that you need to consider when picking the right trading platform to meet your trading needs.
In summary, if you want to trade forex, CFDs, and popular cryptos with competitively low spreads and no commissions then AvaTrade is a great option. Furthermore, clients have unfettered access to a demo account as well as the MT4 and MT5 series of platforms. So, follow the link below and start trading with a 0% commission today!
AvaTrade – Best Online Forex and CFD Broker with 0% Commissions and Tight Spreads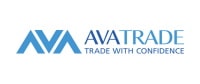 71% of retail investor accounts lose money when trading CFDs with this provider. 
FAQs
How to withdraw money from AvaTrade
What is the best platform on AvaTrade?
How to verify your account with AvaTrade
How to buy Bitcoin on AvaTrade