Best Crypto Exchanges & Trading Platforms UK 2023
Fact checked
Fact Tooltip Text
Disclosure
Disclosure Tooltip Text
If you are a beginner in the world of cryptocurrencies and you are looking to trade them without having to leave home, the first thing you should do is to choose a totally secure platform. In addition, the platform must offer a totally secure environment for trading, but it must also be regulated and transparent.Another important aspect is that the platform has a large number of cryptocurrency markets with low commissions. In this guide, we will analyze the best cryptocurrency exchanges and Bitcoin trading platforms on the market right now in the UK.
Best Crypto Exchanges UK List 2023
9 Provider that match your filters Providers that match your filters
The best cryptocurrency day trading platforms in the UK are shown in the list below. Read on to read a detailed review of each platform.
Best Crypto Exchanges UK Reviewed
1. eToro – Overall Best UK Crypto Trading Platform 2023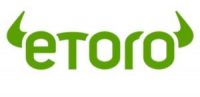 eToro is by far the best cryptocurrency exchange for day trading in the UK. For starters, and perhaps most relevantly, this famous trading site is highly regulated. Not only is it fully licensed by the FCA, ASIC and CySEC, but eToro is also licensed and registered with FINRA.
This means that traders in the United States and around the world can safely use eToro. In terms of what you can trade, eToro makes it possible for you to buy and sell 18 popular cryptocurrencies. These include Bitcoin, EOS, BCH, Ethereum, Solana, XRP, Cardano, and Binance Coin, among others. Moreover, depending on your location, you can also trade crypto derivatives.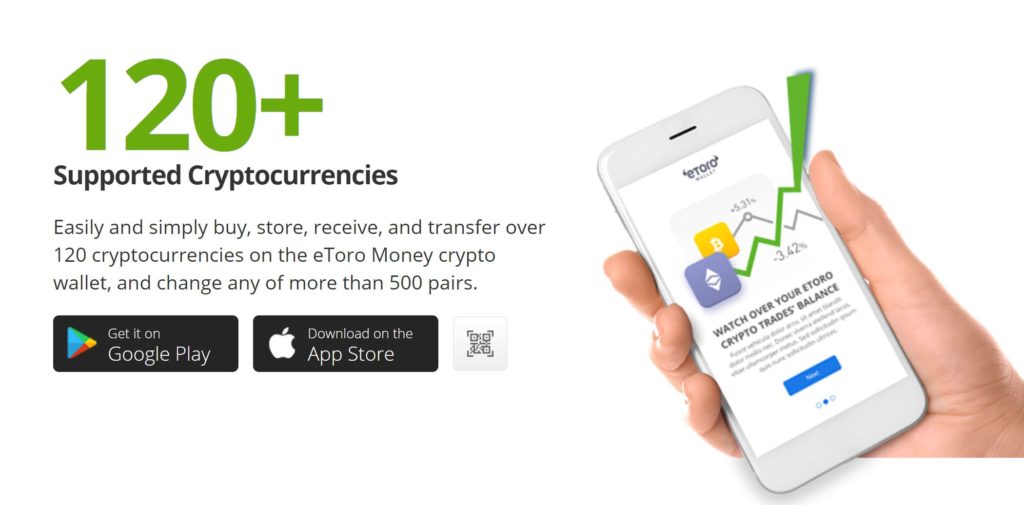 There are also no registration fees and payment methods expressed in US dollars are completely free of charge. Otherwise, you will pay a minimal currency exchange fee of just 0.5%. eToro also distinguishes itself as the best daily cryptocurrency trading platform as it offers a set of passive trading tools in its user interface. Among them is the CryptoPortfolio, which is a diversified basket of digital currencies in various weights. It is managed by the eToro team, so you have no need to worry about portfolio rebalancing.
Another option is to buy and sell cryptocurrencies, such as the best ERC 20 coins, using the Copy Trading tool. Its name indicates that you will be copying the trades of an experienced and proven cryptocurrency investor using eToro. You only have to raise a minimum of $500 to be able to benefit from this. If you trade autonomously, the minimum cryptocurrency trading amount is only $25. You can start a trading account at eToro in minutes – and deposit mechanisms comprise debit cards, bank drafts and e-wallets such as Paypal.
eToro fees
| | |
| --- | --- |
| Fee | Amount |
| Crypto trading fee | Spread, 0.75% for Bitcoin |
| Inactivity fee | $10 a month after one year |
| Withdrawal fee | $5 |
79% of retail investor accounts lose money when trading CFDs with this provider. You should consider whether you can afford to take the high risk of losing your money.
2. OKX- One Of The Best Crypto Platforms For Experienced Traders In The UK
OXK is an exchange based in Seychelles. This platform can be an ideal choice as it offers low exchange fees.
At OKX you have access to more than 100 cryptocurrencies, including the most popular ones such as Bitcoin and Ethereum, with new cryptocurrencies being added periodically so they can be used.
If you want to trade a cryptocurrency on OKX, you should know that you can do it using two ways the basic and the leveraged. With either of these options, you will have access to tools, chart analysis, and living order access. In the case of using leverage, up to 125X is possible. Therefore, this platform can be ideal if you are someone who already has experience with the market.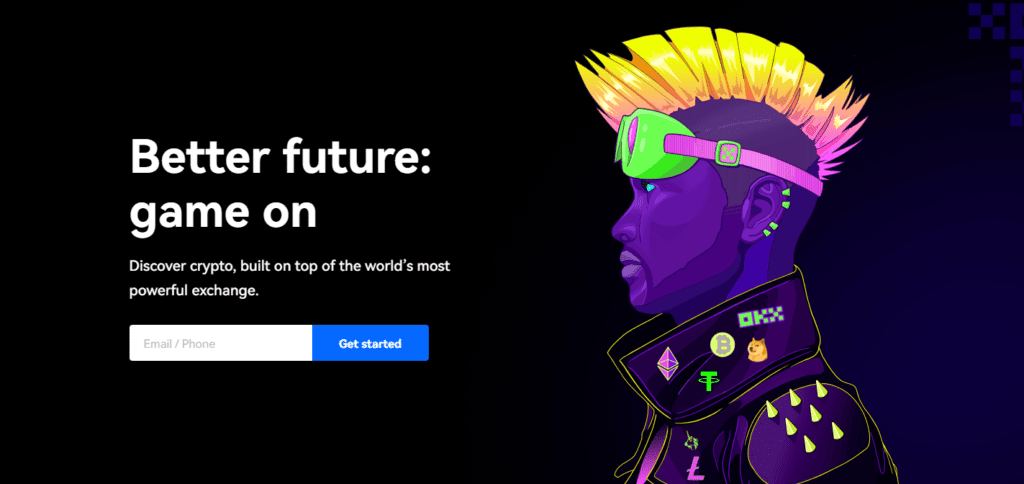 You can buy cryptocurrencies using a bank account, debit and credit card, or online payment methods. In addition, the platform supports over 30+ fiat currencies.
As far as security is concerned, OKX offers cold storage. Setting a password when withdrawing funds from the account is also possible.
OKX Fees
| | |
| --- | --- |
| Fee | Amount |
| Crypto trading fee | 0.10% per trade |
| Inactivity fee | Free |
| Withdrawal fee | From 0.0002BTC |
Your money is at risk.
3. Crypto.com – Buy New Crypto Coins On a Fast-Growing Cryptocurrency Exchange

The cryptocurrency exchange Crypto.com has seen rapid growth in recent years. Thanks to many developers and a strong marketing team, the site is fast and secure.
There are over 40 cryptocurrencies, DeFi coins, and stablecoins in the portfolio of the staking program, with a return of 14% annually.
The CRO coin from Crypto.com ranks 12th on our list based on its market capitalization of $15.6 billion. However, it is a platform with immense ambition, considered one of the best crypto lending platforms.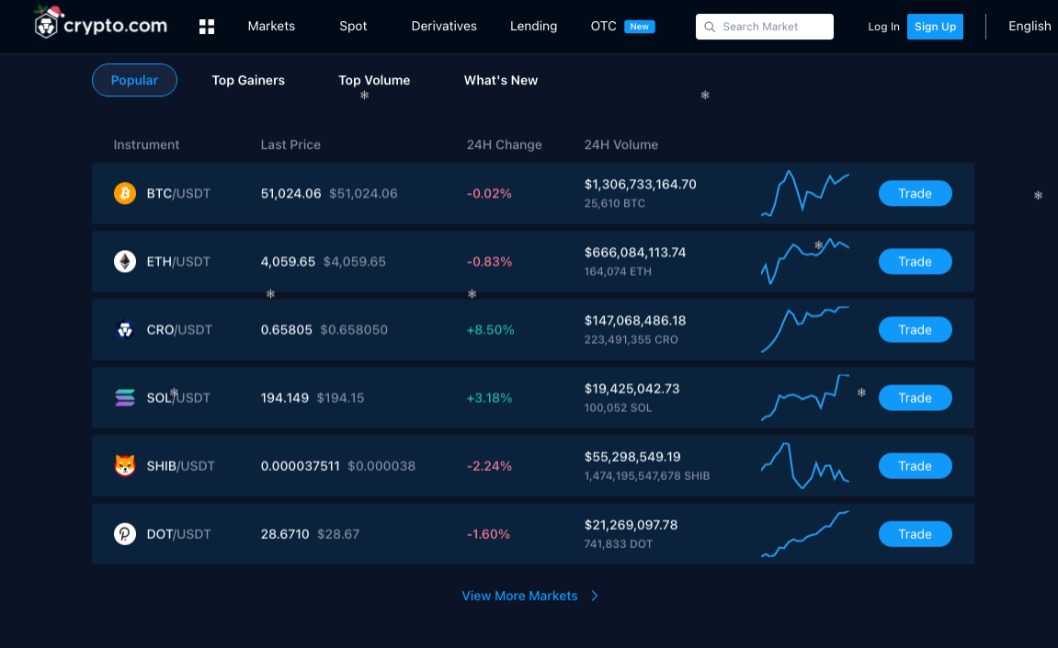 Furthermore, the company offers margin trading on derivatives and plans to move into non-financial trading. The minimum investment at Crypto.com is $1.
Crypto.com fees
| | |
| --- | --- |
| Fee | Amount |
| Crypto trading fee | 0.4% per trade |
| Inactivity fee | Free |
| Withdrawal fee | Free |
Your money is at risk.
3. BitDD — Easy-to-use crypto exchange with cutting-edge analytic tools
Did you know that over 80% of trading platforms operate without a certification? When you put your money into a highly volatile asset, its safe-keep should be one of your major concerns. Governments have devised regulations to protect the interest of investors. However, most investors overlook the safety aspects when choosing a trading partner. 
We're introducing to you a crypto exchange that you can't go wrong with when it comes to safety. BitDD is a global crypto exchange licensed by the US Treasury department. The platform has built a large user base in the UK owing to its impressive security standards. It offers advanced currency and derivatives transaction services for cryptocurrencies like BTC, ETH, and USDT.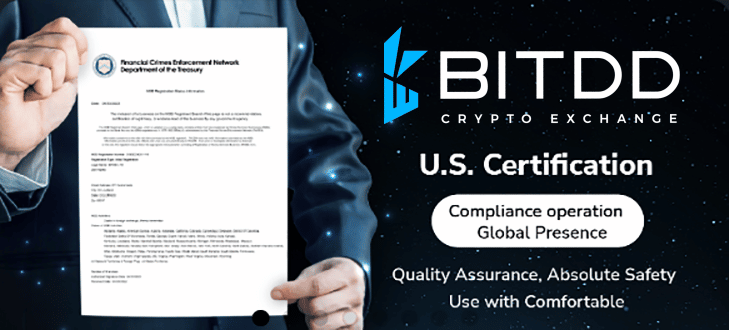 Apart from the strict adherence to regulatory requirements, the key highlights of BitDD are its easy onboarding tools, cutting-edge data analytic tools, and exciting reward programs. You can start trading and earning from the platform as soon as you've completed registration and deposited assets. BitDD offers interest up to 14.5% p.a on crypto deposits. Moreover, new users can earn up to 500 USDT on crypto deposits. 
Another compelling feature on BitDD is free trading for the first 90 days, giving new users the flexibility to learn about the platform. The platform has also launched a welcome reward program worth 8888 USDT to onboard new users. 
If you are new to crypto trading or running short on time, you can make use of BitDD's exclusive "Fast Trades". The set of analytic tools helps you step up your crypto investment strategy and improve your profitability. 
The project's directors have more than 20 years of experience in financial investments, blockchain technology, and the crypto industry. BitDD is actively trying to partner with traditional regulators and bank partners to strengthen its credibility.
| | |
| --- | --- |
| Fee | Amount |
| Crypto trading fee | |
| Inactivity fee | |
| Withdrawal fee | |
Your money is at risk.
4. Alvexo – Best Platform To Buy Cryptos For All Traders In The UK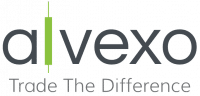 The main focus of this broker is to provide traders with a friendly trading environment. Additionally, they are able to develop new skills and learn new things through it. Founded in 2014, Alvexo has offices in Paris and Cyprus. Alvexo offers traders of all skill levels the opportunity to trade through technology that makes trades easy to execute instantly.
Traders dealing in foreign exchange can use Alvexo's platform to trade CFDs online, which offers many of the same features as stockbrokers, such as mobile apps and web-based trading platforms. A CFD platform, Alvexo deducts commissions from the spread on each asset because it is basically a CFD platform. Classic Accounts are available with a variety of spreads. However, the Classic Account can offer spreads as low as 2.9 pips. The spread is the only fee assessed, and no other charges are assessed.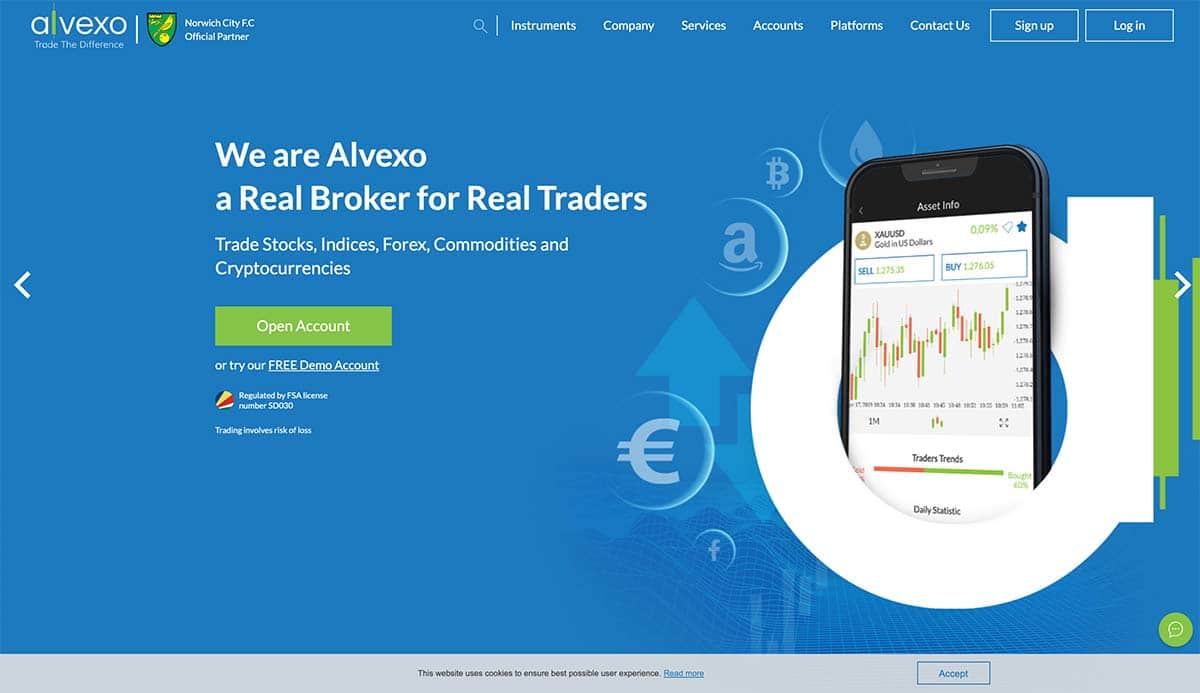 Trading and learning are both made easy with Alvexo. In addition to trading signals, news, webinars, eBooks, economic calendars, and even a Financial Web TV, this platform offers a wide range of educational services. Traders can also benefit from CySEC's reputation for security since the platform is licensed and regulated in the EU.
Alvexo fees
| | |
| --- | --- |
| Fee | Amount |
| Crypto trading fee | Commission |
| Inactivity fee | US$10 per month after three months |
| Withdrawal fee | Free |
76.22% of retail investor accounts lose money when trading CFDs with this provider. You should consider whether you can afford to take the high risk of losing your money.
6. Margex – Best Crypto Platform For Beginners With Educational  Material For Trading In The UK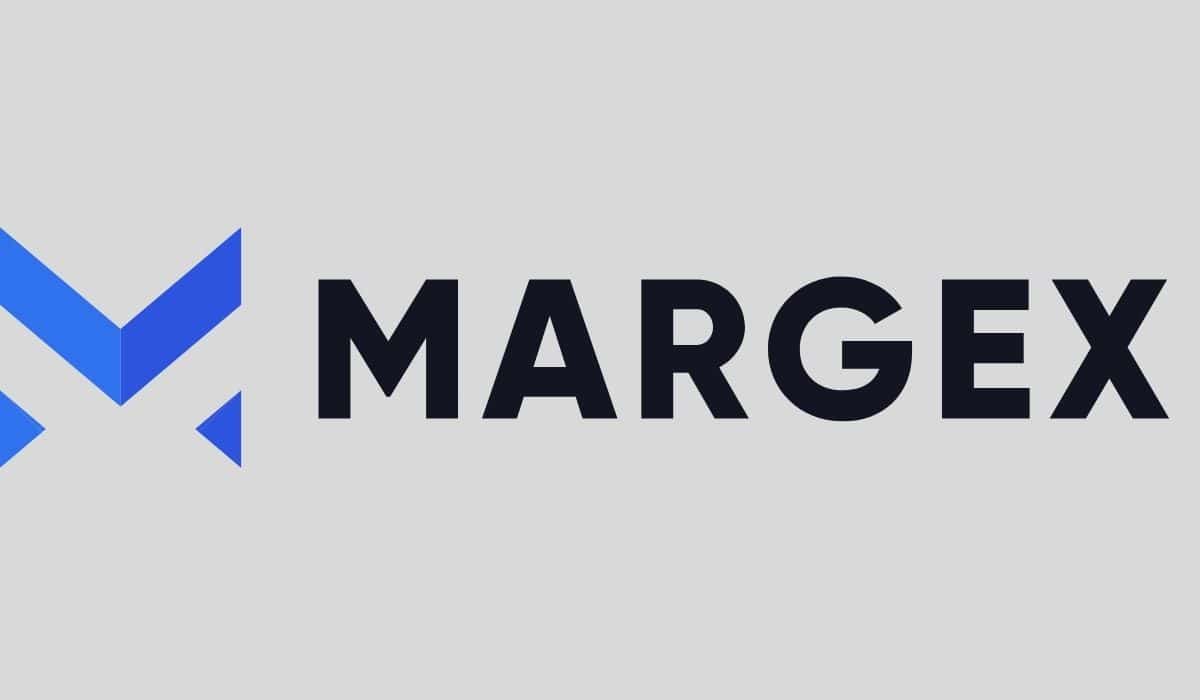 Margex is a cryptocurrency brokerage and trading platform based in Seychelles founded in 2020. In Seychelles, the market conditions for a platform of this kind are particularly favorable. In addition to the fact that the exchange does not require KYC information to operate, there is also an important aspect.
Having it accessible from anywhere in the world makes it more convenient and helps to ensure financial privacy. With the Margex security program, users have the unique ability to create an AI-Customized MP Shield with data encryption to protect them from financial risks. Furthermore, the platform does not record crypto assets affected by price manipulation in terms of liquidity trading pairs. Account security options during withdrawals and deposits are available in a wide variety.
The fact that other similar platforms do not also require the verification of step two should also be considered. On the other hand, if you do not do so, you will lose some advantages when utilizing the service.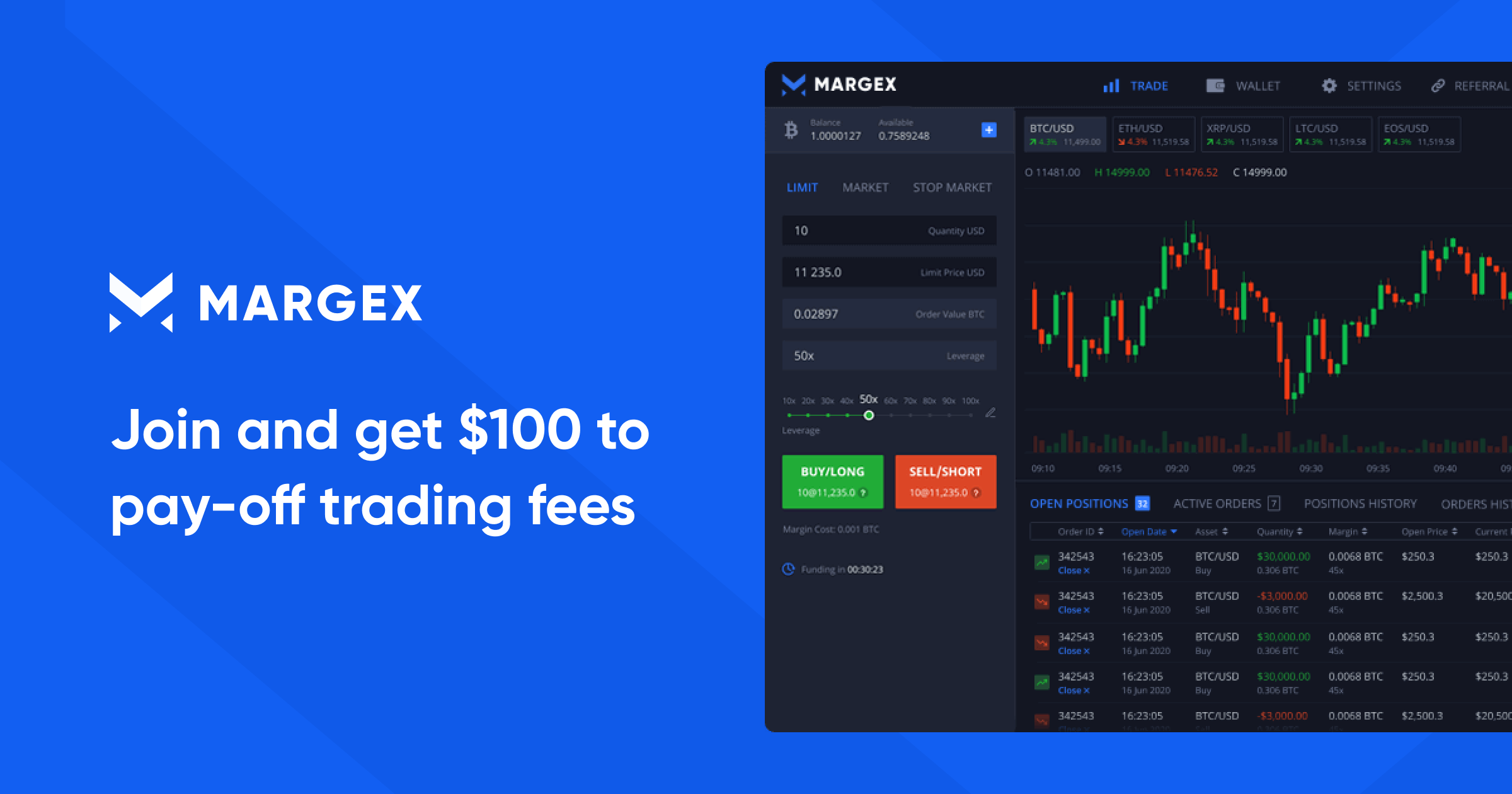 Margex's trading website has an easy-to-use interface that novice cryptocurrency traders may be able to use for informational purposes before starting to trade immediately. In addition, to achieve profits, beginners have access to useful reading material for crypto trading, such as articles and video guides. Margex's trading website has an easy-to-use interface that novice cryptocurrency traders may be able to use for informational purposes prior to starting to trade immediately. To achieve profits, beginners have access to a range of useful reading material for crypto trading, such as articles and video guides.
Margex fees
| | |
| --- | --- |
| Fee | Amount |
| Crypto trading fee | Maker Fee of 0.019% and a Taker Fee of 0.060 |
| Inactivity fee | Determined individually for each account |
| Withdrawal fee | Approved Crypto Network Fees |
Your money is at risk.
7. Binance – Best Cryptocurrency and Bitcoin Exchange For Day Traders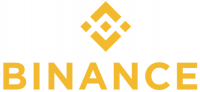 This is a thoroughly popular platform on this planet without any doubt. This is the perfect place to buy any currency you want. This is the appropriate place if you have experience trading cryptocurrencies like any other crypto. Easy to use and one of the safest on the market. Additionally, it has a large ecosystem which even includes one of the best NFT Platforms in the UK.
In terms of tutorials and videos, there is quite a bit of content to choose from for beginners. For example, Binance describes how you can buy with a credit card and trade your money based on your experience throughout its website. It also describes how you can repeat your purchases across its numerous platforms.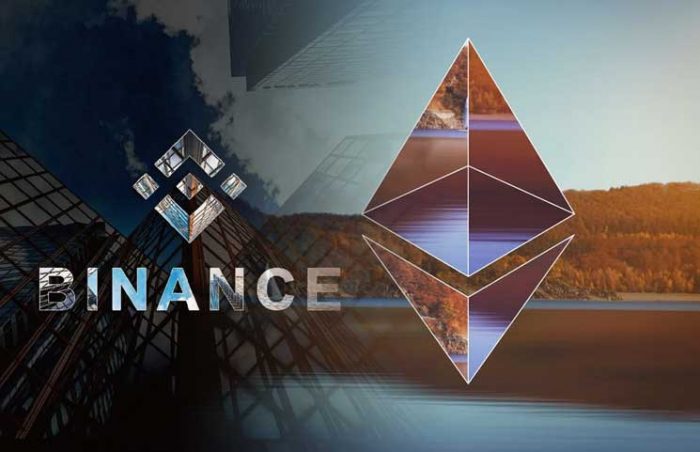 Using Binance's system, you can purchase cryptos using credit cards, debit cards, and bank transfers. The platform has been desk through for the experience of using it when you are working with it. On Binance, you will also find one of the largest amount of cryptos to trade with, from Bitcoin, Ethereum, Telcoin, SafeMoon, OMI, and Cardano to smaller projects such as Sand or Shiba Inu.
Binance fees
| | |
| --- | --- |
| Fee | Amount |
| Crypto trading fee | Commission, starting from 0.1% |
| Inactivity fee | Free |
| Withdrawal fee | 0.80 EUR (SEPA bank transfer) |
Your money is at risk.
8. Huobi – Crypto Trading UK with one of the largest Altcoin offerings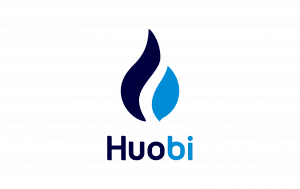 One of the largest cryptocurrency exchanges in the world, Huobi has an impressive $2.3 trillion trading volume per day, averaging 6.3 billion. Huobi, founded by Leon Li in 2008, is also a Singapore-based exchange. Nevertheless, the company now offers compliance services in Singapore, Japan, South Korea, the United Kingdom, Australia, Canada, Brazil, and Hong Kong to reach more than 130 countries.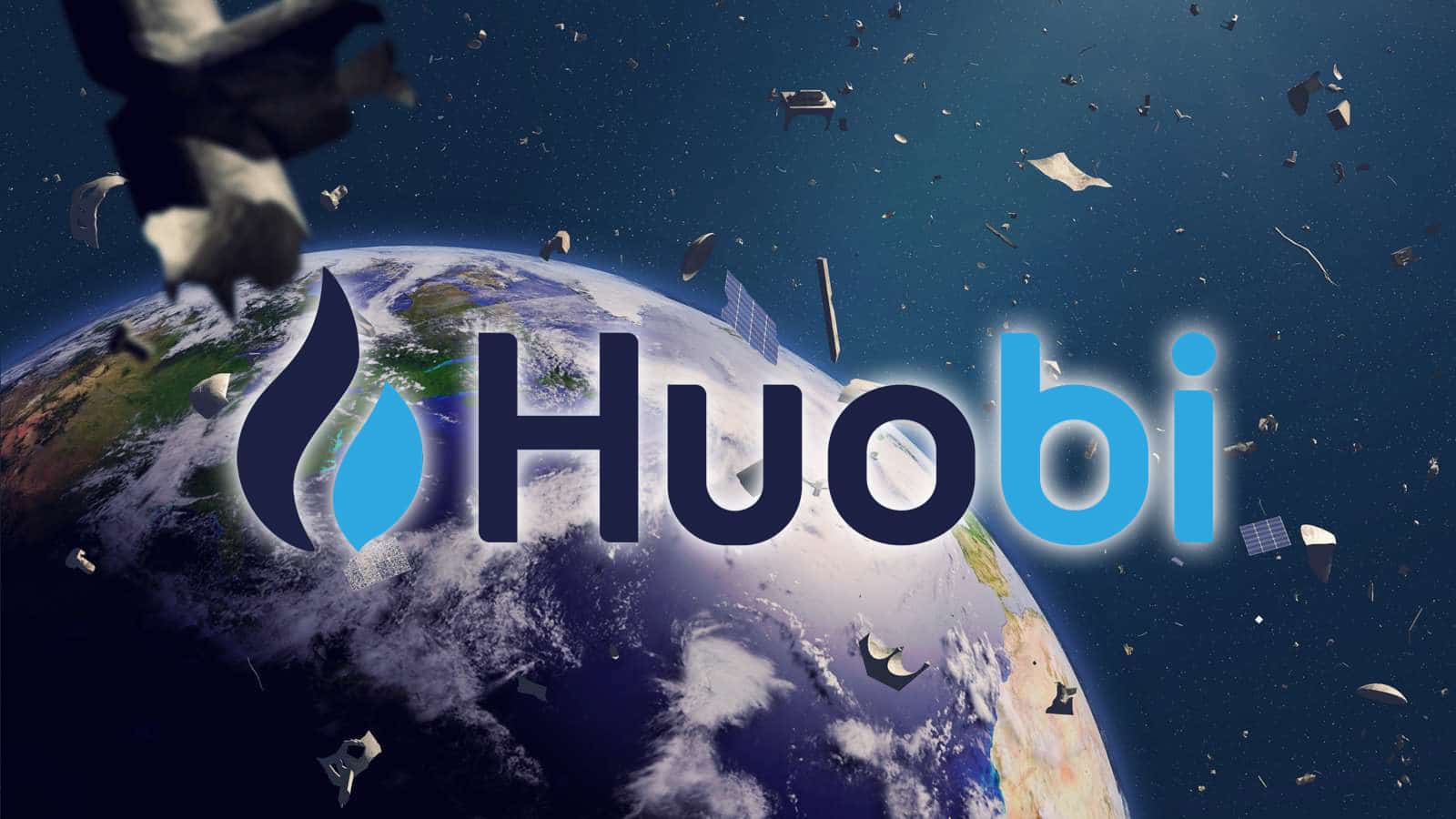 Huobi Global, Huobi has one of the most extensive offerings among its products. It supports more than 200 cryptocurrencies and has 15 or more fiat currencies. Huobi also has a token called HT, which is listed in the top 100 by market cap.
| | |
| --- | --- |
| Fee | Amount |
| Crypto trading fee | Commission, starting from 0.2% |
| Inactivity fee | Free |
| Withdrawal fee | 0.2% |
Your money is at risk.
9. Coinbase – One of the Best Bitcoin Trading Platforms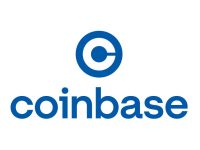 The largest exchange in the world was created in 2012 by Coinbase. Furthermore, this exchange works in the same way as a classical exchange: You will see the word resources at the top of the web page. There's plenty of information here, from basic advice to market news—ideal for beginners who want to trade Bitcoin and other cryptos or even for those who want to open a crypto savings account.
Users of Coinbase can buy and sell different currencies. Because of the nature of this exchange, it is its source of income to charge for each cryptocurrency transaction.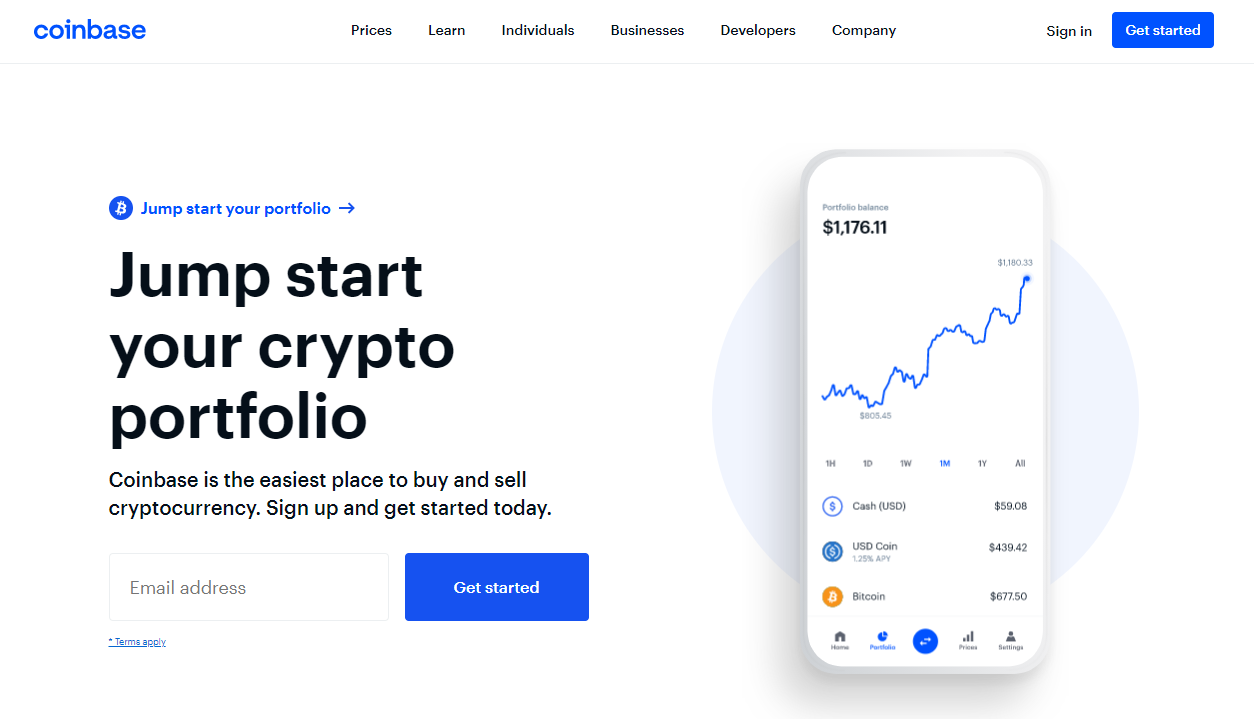 Essentially, Coinbase is a classical broker that operates on an offer and demand basis and it's one of the best platforms for yield farming. As a result, the money is stored in a digital wallet.
Coinbase fees
| | |
| --- | --- |
| Fee | Amount |
| Crypto trading fee | Commission, starting from 0.50% |
| Inactivity fee | Free |
| Withdrawal fee | 1.49% to a bank account |
Your money is at risk.
10. Kraken – Crypto and Bitcoin Exchange With Lower Price Than Competitors

Kraken is one of the world's biggest cryptocurrency exchanges and was founded in 2011.
More than 4 million people worldwide have used the company's Bitcoin trading platform since it was launched in 2013.
The platform also allows users to trade and stake 66 different cryptocurrencies. Kraken is regulated by Several of its subsidiary companies are also regulated by these agencies, including the FCA, AUSTRAC, and the FSA in the UK.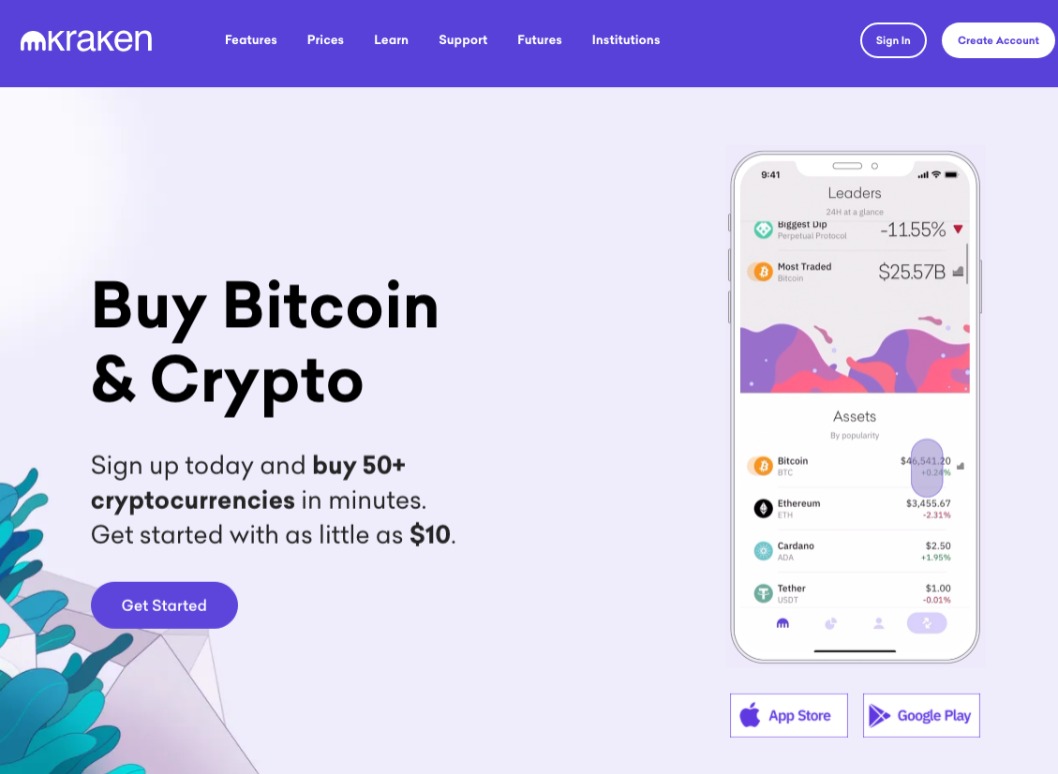 With this platform, you can trade futures using cryptocurrencies, which are unavailable on most other platforms. It also offers some of the industry's best safety and security features. It is also easy to use, offers a broad range of currencies, and has large margins, making it quite appealing.
Kraken fees
| | |
| --- | --- |
| Fee | Amount |
| Crypto trading fee | For sellers, commissions start at 1% per trade. Free for buyers |
| Inactivity fee | Free |
| Withdrawal fee | According to the currency withdrawn. 0.0005 for BTC |
Your money is at risk.
11. Coinjar – Best Trading Platform for Bitcoin UK for Long-Term Investors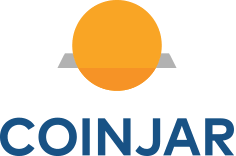 Coinjar is a global cryptocurrency platform that has won numerous awards. Even though it entered the Australian market, it is the biggest digital currency broker there. Users can purchase and sell Bitcoin and other digital assets through Coinjar.
It also offers 24-hour exchanges for cryptocurrencies. In addition, Coinjar lets you buy cryptocurrencies on its platform and provides a full-featured Bitcoin wallet in the UK. The app is available for both iOS and Android devices.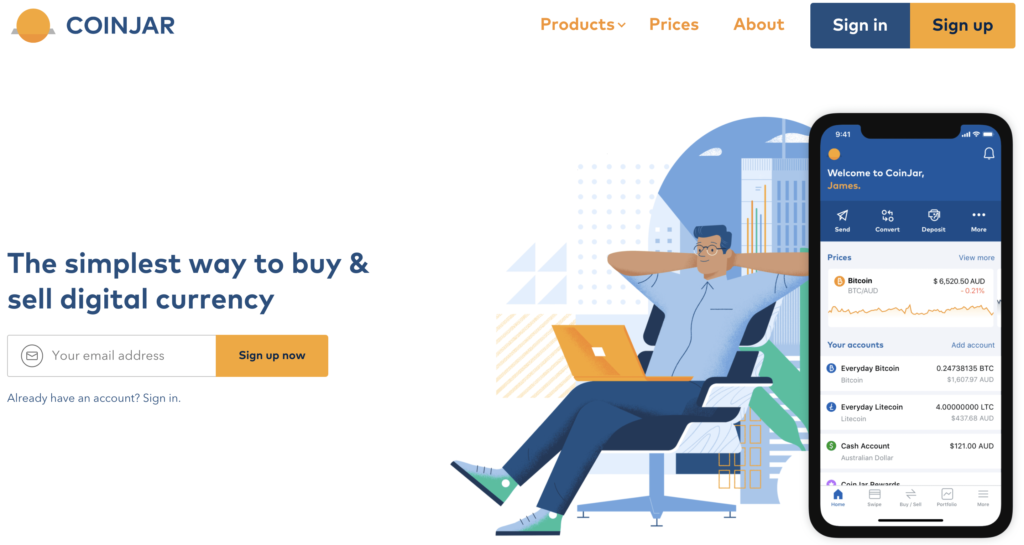 The app has each aspect laid out and optimized according to your specific operating system. Once the application has been installed, your crypto will be sent to your unique wallet address.
Coinjar Fees
| | |
| --- | --- |
| Fee | Amount |
| Crypto trading fee | Currently 0.2181% |
| Inactivity fee | Free |
| Withdrawal fee | Depending on amount |
Your money is at risk.
Featured Crypto Tokens- Invest Early And Maximise Returns!
Love Hate Inu
Fight Out
Metroploy
C+ Charge
1. Love Hate Inu (LHINU)- Invest
Love Hate Inu is the hottest new crypto to watch in 2023. The innovative meme project provide a lucrative vote-to-earn platform that allows users to get involved with important issues, share their opinion anonymously and receive valuable rewards for doing so.
To partake in voting, users must stake LHINU tokens. he staking mechanism will be block-chain based to ensure transparency and accuracy. The more users stake, the more voting power they will receive.
The LHINU token will have a total supply of 100 billion, with 90% of tokens being sold during the ongoing presale event. The remaining 10% of tokens will be used for liquidity and to fund project developments.
2. Fight Out (FGHT)- Invest
Fight Out is a brand new move-to-earn platform that aims to encourage more people to maintain an active and healthy lifestyle. Through Fight Out, users win rewards for completing workouts and winning competitions. Furthermore, each user will have a unique avatar that will reflect their real-life fitness. The fitter the avatar becomes, the better chances they will have of winning competitions and receiving rewards.
The FGHT token presale has already raised $2 million in just 2 days! Early token investors will receive great rewards and will se profits when the token is eventually listed on exchanges.
3. Metropoly (METRO)- Invest
Metropoly is a revolutionary NFT real estate marketplace that allows users to invest in valuable properties that generate income without banks. The project makes it easy for anyone to invest in projects, no matter where they are and without any hidden fees.
Through the project, users can earn passive income whilst building an NFT real estate portfolio. Users can use the platform to buy property in less than 20 seconds. Investing into NFT real estate will protect investor's capital against inflation and build a source of income.
1 billion METRO tokens will be available to buy via presale and through exchanges. The token is an ERC-20 asset built on the Ethereum blockchain. The presale is live now and investors are promised excellent returns on their investment after launch.
4. C+ Charge (CCHG)- Invest
C+ Charge is the best green crypto to invest in 2023. The project aims to incentivize EV driving by rewarding drivers with CCHG tokens every time that they fuel their vehicles with C+ Charge charging stations.
Tokens can then be reused to pay for future fuel o swapped for carbon credit NFTs. These NFTs will hold real-value and can be sold on NFT marketplaces to companies or individuals who are looking to offset their carbon footprint.
The C+ Charge mobile app will offer a seamless experience to both drivers and EV charging station owners. The app will provide real-time data of fuel prices, charging station availability and charging station wait times. The app will also be used as a wallet to store CCHG tokens.
The C+ Charge presale is ongoing but expected to end soon. Early investors can expected excellent returns from their investment.
What Is A Crypto Exchange?
A crypto exchange is an online platform that can be used to buy and sell cryptocurrencies and other digital assets. Many exchanges provide access to the cryptocurrency market- a type of online financial arena that lists all available coins for sale.
Through exchanges, traders can easily purchase, swap or sell tokens. Some exchanges also offer staking services that allow investors to earn interest from their crypto holdings.
Most exchanges require users to connect a digital wallet in order to buy and hold coins. However, some exchanges have native wallets that can be used within the platform.
Is It Legal To Trade Crypto In The UK?
Yes, it is legal to trade cryptocurrencies in the UK. The UK government and regulatory bodies, such as the Financial Conduct Authority (FCA), do not prohibit the buying, selling, or trading of cryptocurrencies. However, the FCA does regulate the use of cryptocurrencies and crypto-related services, such as exchanges and wallet providers. Therefore, crypto traders and investors in the UK are advised to choose regulated and reputable crypto exchanges and service providers to ensure they comply with relevant regulations and laws.
What Crypto Trading Plaforms Are Regulated By The Financial Conduct Authority?
The Financial Conduct Authority regulated a number of centralized exchanges that are available to UK traders. These include eToro, Coinbase, Kraken and Binance. Using a regulated exchange is a good way to protect your funds from fraud. However, some traders prefer the freedom of using a decentralized platform that is not effected by third-party governance.
If a crypto exchange is regulated by the Financial Conduct Authority in the UK, it will have to adhere to strict safety protocols that are put in place to protect traders. These include KYC and 2FA.
Cryptoassets are highly volatile and unregulated in the UK. No consumer protection. Tax on profits may apply.
How to Choose the Best Cryptocurrency Trading Platform in the UK for You
According to CoinMarketCap, approximately 200 crypto exchanges operate in the online space.
Choosing a provider should not be a particularly difficult task if you take some time to do some research on the key considerations when choosing a platform. You need to keep in mind everything related to security, tradable markets, payment systems and fees.
This guide will provide you with a little more information on these basic requirements.
Regulation and Safety
We have already discussed that just under 200 online exchanges provide cryptocurrency exchange and trading services. Nevertheless, maintain in mind that some platforms may not be regulated and therefore not safe for investments.
This presents a major problem, as you can never know for sure whether your money is safe or not. Since many of these cryptocurrency exchanges offer industry-leading fees, inexperienced investors are attracted by these conditions.
For this explanation, it should be made clear that you should never sign up for a cryptocurrency trading platform if it does not offer a number of safety nets and account protections.
Checking if the cryptocurrency trading platform is regulated is best to assess this. This is the case with eToro, the top-rated trading platform regulated on three fronts. It is regulated by the FCA, ASIC, and CySEC. Additionally, the platform is registered with FINRA.
You should consider eToro as the best crypto platform UK.
Cryptoassets are highly volatile and unregulated in the UK. No consumer protection. Tax on profits may apply.
Assets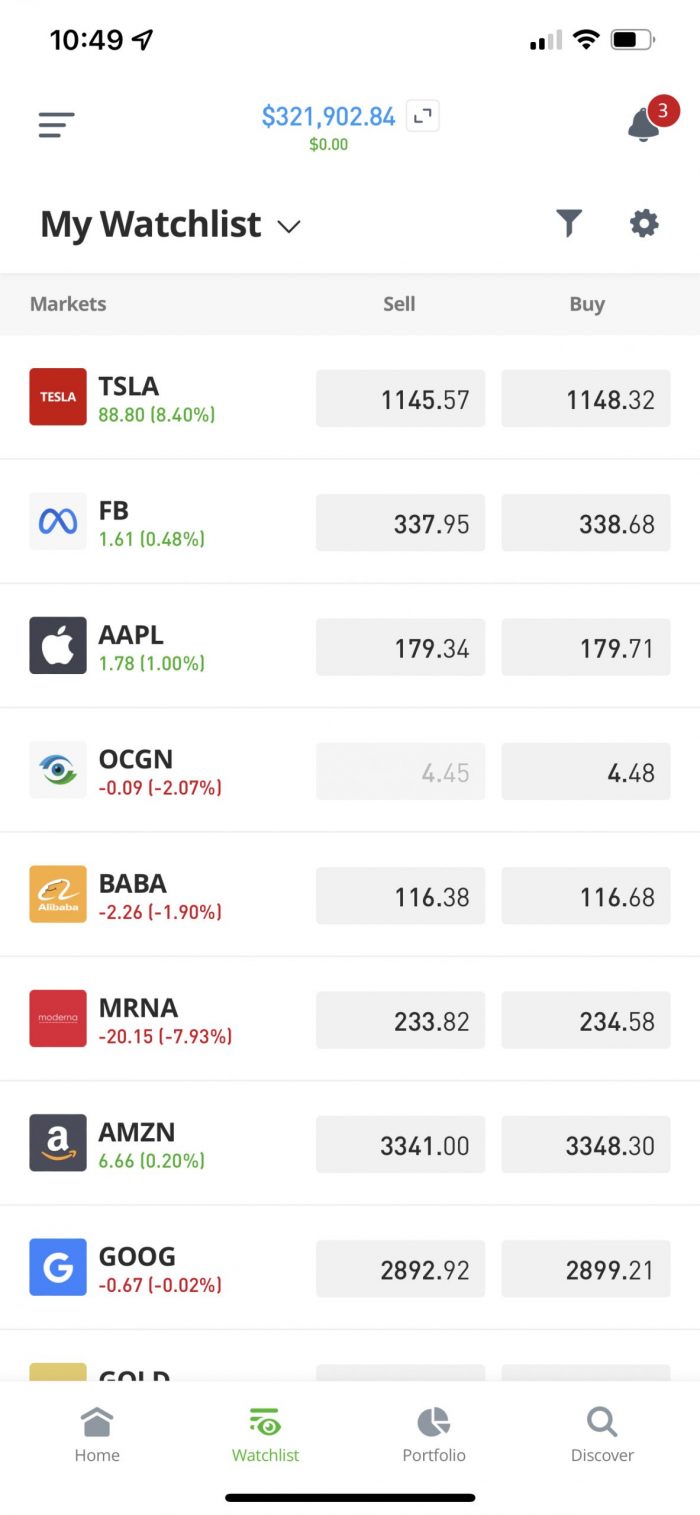 Some cryptocurrency trading platforms offer a wide variety of markets, while others focus on just a few. When it comes to thinking about the preferred cryptocurrency pairing, it usually comes in one of two forms: crypto to fiat or crypto to crypto.
- Crypto to fiat: If you use a regulated platform, you will most likely have the ability to access crypto to fiat pairs. This means that you will trade the value of a cryptocurrency against a fiat currency. For example, BTC/USD comprises Bitcoin and the US dollar.
- Crypto-to-crypto: The vast majority of platforms in this field provide crypto-to-crypto pairs. This means that you will trade the exchange rate between two different digital assets. For example, the BTC/EOS pair consists of Bitcoin and EOS.
Aside from the above, you may also be interested in digital currency derivatives. For example, major cryptocurrency trading platforms offer Bitcoin futures and options markets. In addition, these platforms often offer leverage and the ability to short sell.
Fees
This guide has covered the best cryptocurrency trading platforms in the UK, but you will always have to pay a commission when it comes to buying or selling digital currencies.
Below is a list of the main commissions you should investigate before choosing a provider.
Deposit and Withdrawal Fees
Before you can start trading with the best cryptocurrency, you will need to deposit funds into your account. If you don't already have access to certain digital currencies, you will need to choose a provider that allows you to make deposits in fiat currency. The most popular cryptocurrency exchange platforms will charge your credit or debit card a huge amount of money for funding your account.
Ultimately, you need to recoup this amount in profit by paying such a high fee for depositing funds to break even.
That's why we recommend you consider eToro if you want to open your fiat currency account. This regulated provider only charges 0.5% for debit card deposits, e-wallets, and wire transfers.
Bitcoin & Crypto Trading Commission Fees
Cryptocurrency traders always charge a commission like stock trading platforms, forex trading platforms, stock trading platforms, and CFD trading platforms. Unless you are trading really low amounts, it is usually a variable commission multiplied by the value of your trade.
Trading commissions are always charged on a "variable" basis, i.e., you pay when you buy a cryptocurrency and sell it. Therefore, the larger the trade, the more you pay.
eToro is the only exception to the rule of trading commissions, as you can buy and sell digital currencies without paying commissions. As a result, you pay only the spread, i.e., the difference between the buying and selling price of the crypto-asset in question.
Aside from commissions and deposits/withdrawals, one must also take into consideration the cryptocurrency trading platform fees that may intervene in the market.
- Markup for cryptocurrency: Many cryptocurrency trading platforms charge a markup fee. This is not dissimilar to your bank's foreign exchange fee when you use your debit card abroad.
- Margins: you should always be aware of the spread, especially when trading less liquid cryptocurrency pairs. As mentioned above, this is the difference between the bid and ask price.
-Margin costs: If you plan to trade cryptocurrencies with leverage, you will need to consider margin fees. These are the interest you pay for trading more than you have available in your account on the platform.
79% of retail investor accounts lose money when trading CFDs with this provider. You should consider whether you can afford to take the high risk of losing your money.
Trading Tools & Features
We have found that the best cryptocurrency trading platforms provide many useful tools that can suit investors of all classes and sizes.
Support for Crypto Trading Robots
Recent years have seen tremendous growth in cryptocurrency bots.
This robot buys, sells, and trades cryptocurrency on your behalf based on an algorithm that reacts to market conditions. You need not intervene at all during this process.
To understand how the robot works, you need to know that the process is as follows:
You join a third-party cryptocurrency robot platform.
You buy a previously programmed bot from the marketplace can build one from scratch.
You then connect the bot to your preferred cryptocurrency trading platform via an API code.
The bot will trade on your behalf.
Of course, there's a good chance that your cryptocurrency robot will end up losing money, so it's best to start in demo account mode.
And in such a case you want to invest, do it with small amounts to decrease the risks.
Copy Trading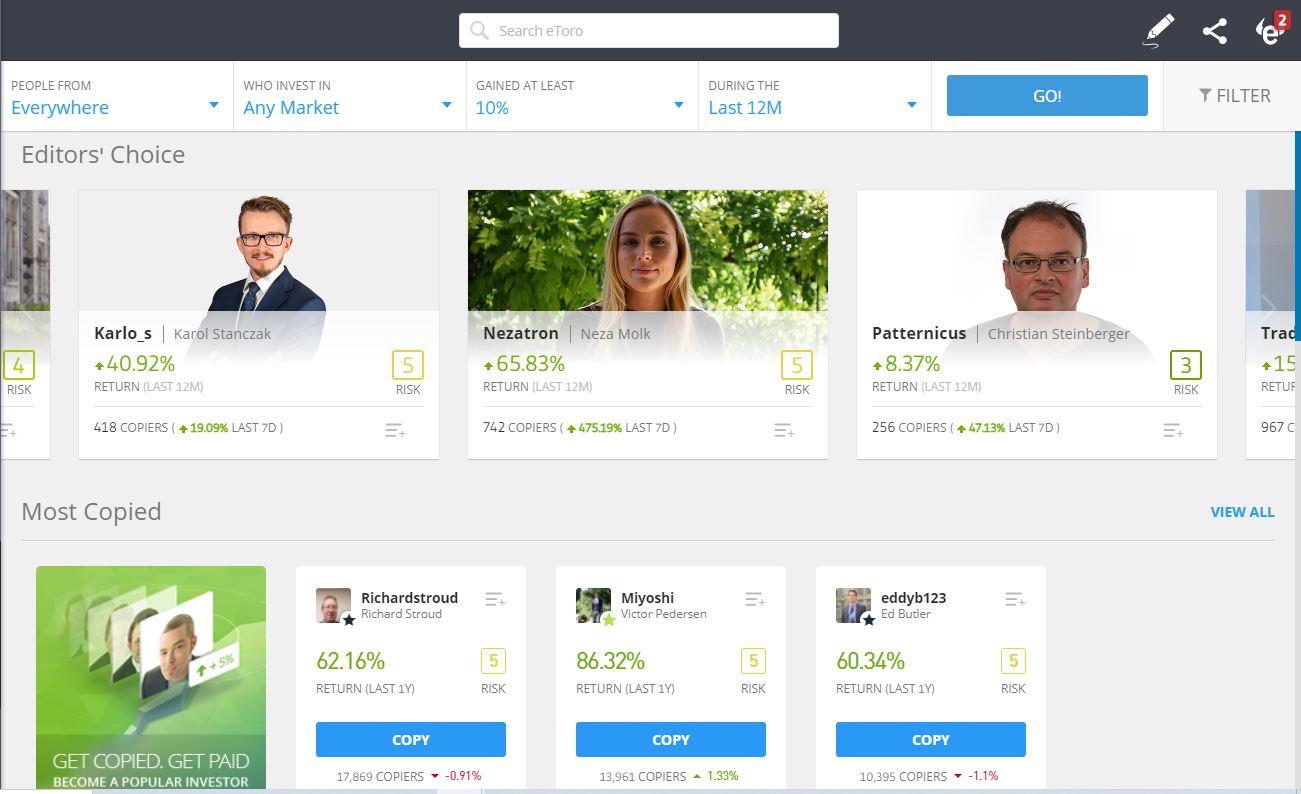 If you enjoy automated cryptocurrency trading, we'd say it's best to use the Copy Trading feature offered by eToro. This way, you can select a more experienced and successful cryptocurrency trader. Then, you can copy trade on a peer-to-peer basis in a fully regulated environment.
All trades are proportional to the amount you invest in the trader.
This is a safer alternative for several reasons. First, you will be relying on a proven human trader, so there is no chance of the individual not performing correctly, as can happen with a robot.
Secondly, the human trader is fully updated with important news, whereas robots rely solely on technical aspects. Also, eToro offers you the possibility to invest only $200 in each crypto trader. Thus, with an investment of $1,000, you could diversify among five experienced professionals.
Leverage and Short-Selling
Beginners are usually interested in investing in their chosen cryptocurrency for the long term. It is better to choose a platform that offers sophisticated trading tools in case you consider yourself a beginner trader or someone with more experience. In this situation, you can leverage your cryptocurrency trading on platforms such as eToro and Kraken.
Education, Research & Analysis
The best UK cryptocurrency platforms we have reviewed provide a wide variety of educational resources. These resources are very useful for those with little or no experience in the cryptocurrency industry.
Trading manuals and videos are available, for example, at eToro. Social trading functions, including webinars and podcasts, are also included. This feature enables you to communicate with other eToro traders in an environment similar to Facebook. In addition, you can use fundamental and technical analysis tools when researching cryptocurrency trading platforms.
For example, if you are planning to trade actively, it is in your best interest to choose a provider that provides tools for the analysis and interpretation of charts and indicators. In addition, it is recommended that the provider includes market commentary and trading tips.
Liquidity
Suppose you sign up for a cryptocurrency trading platform that you are unfamiliar with and completely unfamiliar with the cryptocurrency world. In that case, it is almost obvious that liquidity rates will be below. This can be detrimental, as it could be quite difficult to enter and exit your chosen cryptocurrency market.
For those who don't know, liquidity is defined as the capital held by a Bitcoin exchange in a given pair. In other words, if there is a lot of liquidity, the platform benefits from large trading volumes.
Therefore, it will have access to much smaller spreads, which will reduce its trading costs. More importantly, when you use a bitcoin trading platform with high liquidity levels, you will always be able to find a buyer when you are thinking of exiting a position.
User Experience
We reached several providers that didn't offer the most favorable user experience while searching for the best cryptocurrency trading platforms. In addition, sometimes it isn't easy to locate the preferred marketplace, as the search system is not working.
Also, we were confronted with providers that offered a trading platform for bitcoin that was too complicated, especially when it comes to placing orders. Do not forget that you will risk your hard-earned money, so you need to choose a cryptocurrency trading platform that will make the investment process simple and not a hassle.
We find that eToro offers an excellent user experience. For example, you need to enter it in the search box to trade BTC. You will then be presented with a drop-down box asking you to enter your trade details. However, if you are looking to stick to the basics, all you need to enter on eToro is the amount of your bet in US dollars and click on the "Open Trade" button.
 Mobile App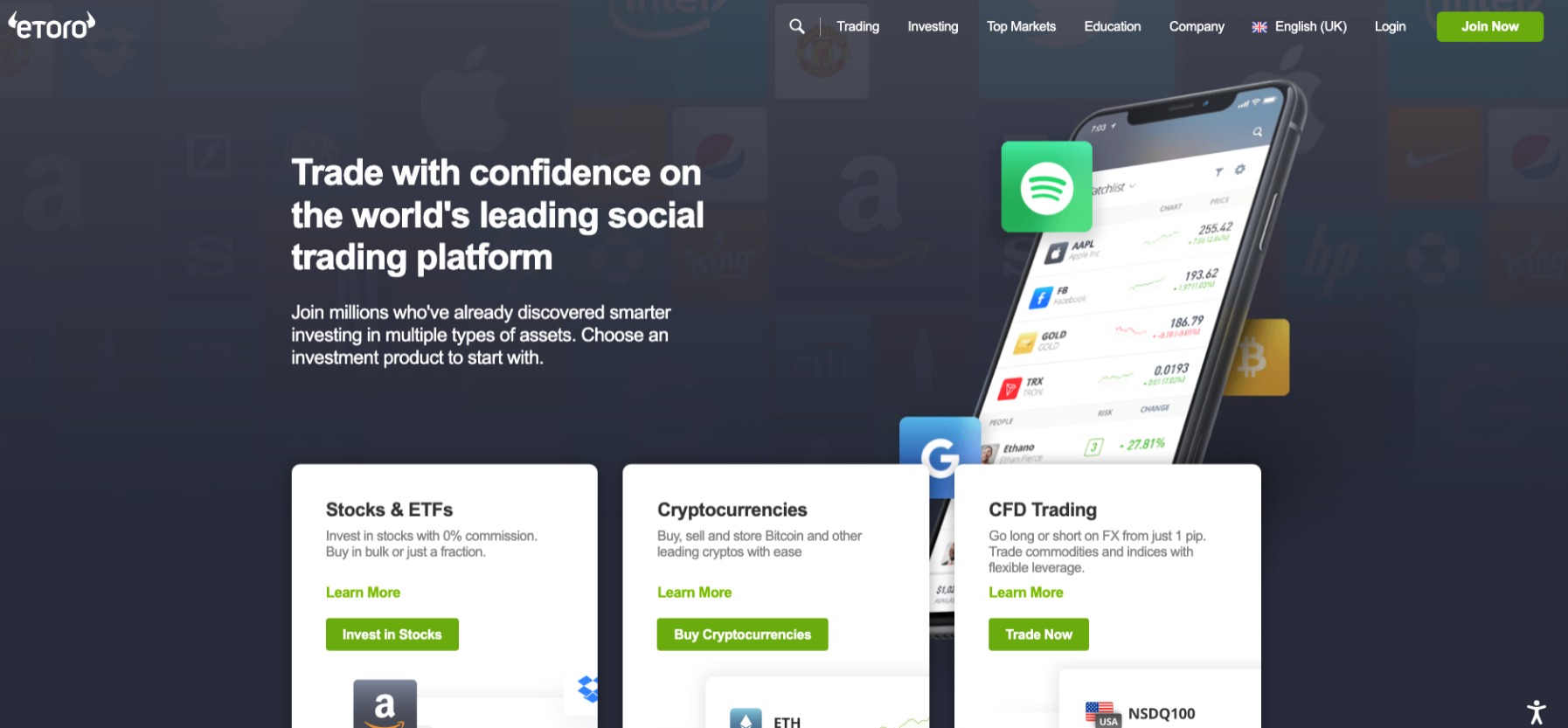 79% of retail investor accounts lose money when trading CFDs with this provider. You should consider whether you can afford to take the high risk of losing your money.
The UK's largest and most popular cryptocurrency trading platforms have a native mobile app. Typically, this allows you to access the same features and tools that can be found on the main desktop trading platform.
The eToro app, for example, allows you to deposit funds instantly with a debit card or e-wallet and check the value of your wallet in a matter of seconds.
In addition, you can buy, sell and trade cryptocurrencies seamlessly, even on a small mobile screen.
If the cryptocurrency trading platform you have selected offers an app, it is usually compatible with iOS and Android operating systems.
That said, you should check what the mobile trading experience is like, as there are also apps that are not very helpful when it comes to using them.
Payment Methods
This guide provides detailed information about payment methods. Top crypto trading platforms accept debit cards and eWallets, but you must add funds to your account in order to trade crypto online.
Other platforms only accept deposits from bank accounts. Many platforms only support crypto as a means of depositing and withdrawing money. There are some reasons for this, such as the provider does not have the legal authority to accept fiat currency.
Customer Service
Millions of traders are active on some cryptocurrency trading platforms. However, this does not imply that the provider offers excellent customer service. This is because some trading platforms do not have the resources to employ a full-time customer support team.
In this case, email may be the only support channel available. Therefore, you may have to wait a few days for a response. You will access eToro's live chat support service when you log into your account.
How to Start Crypto & Bitcoin Trading – eToro
There is a great chance that you've been itching to trade crypto from the comfort of your home - but aren't sure exactly where to start. In this article, we will offer you an in-depth walkthrough of how it works with eToro.
In less than 10-15 minutes, you will be able to place your first cryptocurrency trade by following the information below.
Step 1: Open an Account
You can join eToro online or through your mobile device by clicking on the 'Join Now' button on the website.
The next step is to provide some personal information. You must provide your name, residence, date of birth, mobile number, and email address.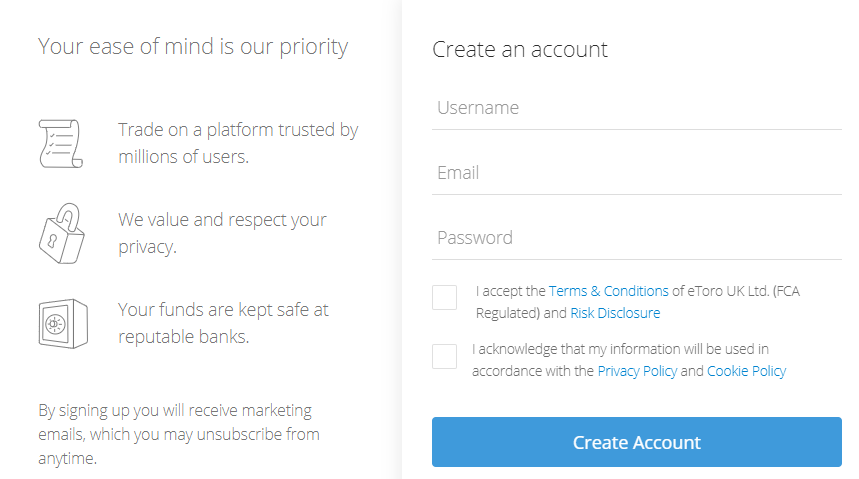 79% of retail investor accounts lose money when trading CFDs with this provider. You should consider whether you can afford to take the high risk of losing your money.
Step 2: Upload ID
A deposit can be made once you have registered. The minimum deposit at eToro is $50 for US residents and $200 for those outside the United States.
The following payment options are available to you:
Debit Cards
E-wallets (Paypal, Skrill, Neteller)
Bank Wire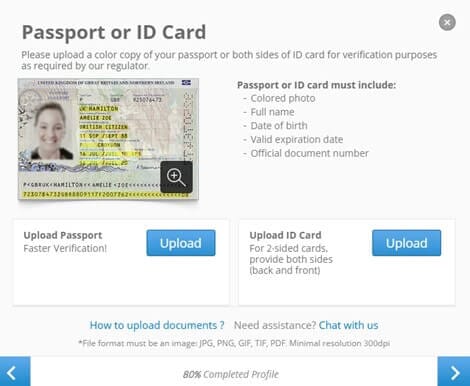 Step 3: Deposit Funds
eToro allows you to search by market, so you should search for the crypto asset you want to access once you have funded your account. You're sure to find a market on eToro that interests you given that it supports many crypto-to-fiat and crypto-cross pairs.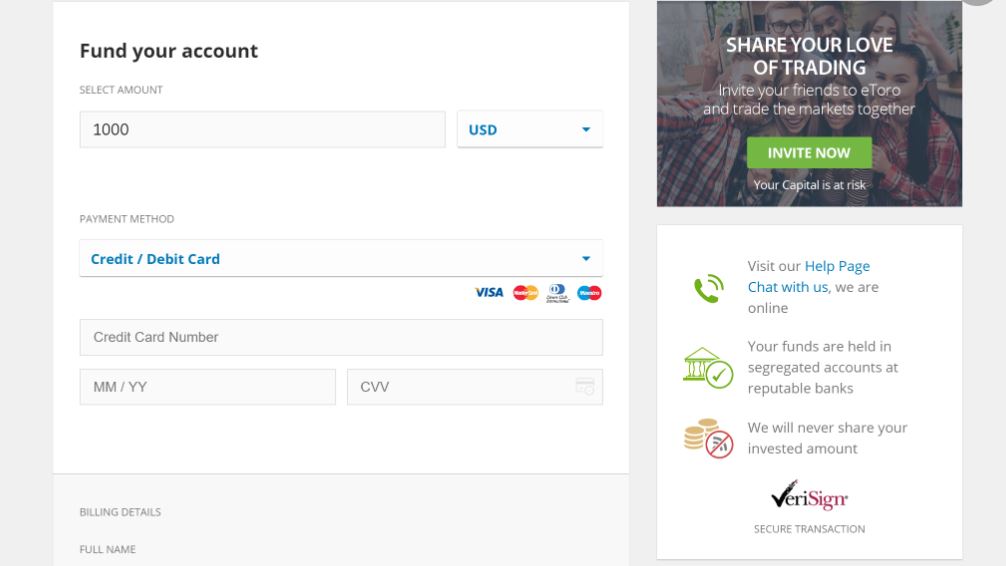 Step 4: Trade Cryptos
Now you have to decide whether you want to buy or sell, based on if you think the pair will rise or fall. If you want to short, you must change this to a sell order on eToro, default set as a buy order.
Your next step is to enter your stake - ensuring you meet a $25 minimum. Setting up stop-loss, limit, and take-profit orders might also be helpful if you want to enter and exit the trade at a specific price.
Click on the 'Open Trade' button on eToro to complete your commission-free trade.
79% of retail investor accounts lose money when trading CFDs with this provider. You should consider whether you can afford to take the high risk of losing your money.
Conclusion
This guide explains that there are currently about 200 cryptocurrency trading platforms on the market, so choosing the most suitable provider for you is essential. However, you should not be guided by low commissions alone, as there are many more important factors to consider, for example, security, customer support, tradable markets, payments, etc.
In conclusion, we have found eToro to be by far the best platform for trading cryptocurrencies in the investment market. This provider, which three agencies regulate, allows trading cryptocurrencies without commissions. Furthermore, the minimum investment is only USD 25, and this provider allows you to deposit funds immediately with a debit card or e-wallet.
79% of retail investor accounts lose money when trading CFDs with this provider. You should consider whether you can afford to take the high risk of losing your money.
FAQs
Which crypto trading platforms offer the most leverage?
Whether or not you plan to use a regulated crypto trading platform depends on whether or not you are planning on trading. As a result, your access to leverage will be determined by the country in which you live. In addition, there is now a possibility to get leverage of up to 1:100 if you choose to use a provider that is not licensed.
What is the cheapest crypto trading platform?
The Binance platform is often regarded as a low-cost trading platform, as it has a commission rate of just 0.10%. However, when using a debit card to deposit funds, you will have to pay a fee of up to 4.5%. Therefore, one of the most cost-effective options is to use a regulated exchange like eToro, which does not charge any commissions for cryptocurrencies. As a result, deposits made using debit cards will cost you no more than 0.5%.
What is the best crypto exchange for British citizens?
Since you are a British citizen, it is advisable to stick to crypto trading platforms registered with FINRA. An example of this is eToro. Not only is the provider commission-free, but you can also purchase any amount of cryptocurrency for just $25 and upward.
How do I start crypto trading?
When using a regulated platform such as eToro, you can start trading crypto in as little as 10-15 minutes. To get started, you only have to log in, upload your ID, and make a deposit immediately with your debit card or an e-wallet. Once you do that, you will start trading crypto immediately.
Can I trade Bitcoin using CFDs?
The UK recently banned crypto derivatives trading, including using CFDs to trade Bitcoin. So, you must use a cryptocurrency exchange in order to buy and sell Bitcoin in the UK.
How much money do I need to trade Bitcoin?
The minimum amount of money you need to trade Bitcoin is just your exchange's minimum required deposit. However, you should plan to set aside at least 500 GBP to trade Bitcoin and earn a reasonable amount from your trades.
Do I need to verify my identity to trade Bitcoin?
Although Bitcoin can be bought and sold anonymously, most trustworthy Bitcoin brokers follow Know Your Customer (KYC) rules. So, you will need to verify your identity to trade Bitcoin.
What are maker and taker fees?
You are considered a 'maker' when you add liquidity to an exchange's order book. You are considered a 'taker' when you remove liquidity from the exchange.
Do I need a cryptocurrency wallet to trade Bitcoin?
Yes, you need a crypto wallet to buy and sell Bitcoin. Many of the best Bitcoin brokers in the UK have their own built-in wallets. Alternatively, you can download a third-party wallet for free.