Best Bitcoin Wallet UK – Pros & Cons
Fact checked
Fact Tooltip Text
Disclosure
Disclosure Tooltip Text
If you're looking to invest in Bitcoins in the UK, then you need to understand the different wallets that are available to you for this purpose. Some trading platforms only allow you to trade CFDs, so you don't really need to have a crypto wallet for this since you do not own the underlying asset anyway.
In this case, it is important for you to be aware of the different crypto wallets that are available for you to choose from, in addition to knowing the various peculiarities of different Bitcoin wallets that you can choose from. In this guide, we review the various Bitcoin wallets and provide you with a bit of background information on how these Bitcoin wallets work.
How to Sign Up for a Bitcoin Wallet UK – Quick Guide
You can sign up for a Bitcoin wallet in the UK in just 3 quick steps:
Choose a Wallet: While there are a lot of different wallets that you could choose to use for the purpose of storing your Bitcoins, we recommend using eToro's cryptocurrency wallet as it is the overall best Bitcoin wallet available out there. It supports over 150 currencies and allows you to interchange between them using eToro's exchange service.
Download the Wallet: Once you have selected the wallet that you wish to use, the next step is for you to search for 'eToro Wallet' in the Apple App Store or Google Play and download it to your mobile device.
Create a Wallet Account: Once you have downloaded the app, then all that is left for you to do is to create a new eToro wallet account with your email. Once your wallet is set up, you're ready to start storing and sending Bitcoins and the other supported cryptocurrencies through your wallet.
7 Provider that match your filters Providers that match your filters
Bitcoin Wallets UK 2023 – List
Bitcoin Wallets UK 2023
In order to buy Bitcoins and store them, the first thing you need to do is to identify a good wallet provider. Often, wallet providers are also trading brokers, and you can simply trade through them, upon which point your cryptocurrencies will be stored on their wallets. On the contrary, some crypto trading platforms do not have their own wallets, and you can connect your own wallets to their platform and trade through that. A list and a detailed review of some of the top Bitcoin wallets that you can trade through have been given below.
1. eToro
eToro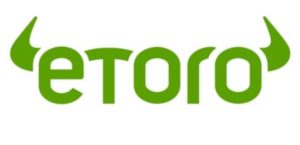 is easily the best overall Bitcoin trading platform and wallet in the UK for 2023, and this is for a variety of reasons. Firstly, the platform is very heavily regulated, by both the CySEC and the UK's FCA. This is particularly important for the cryptocurrency markets since this means that any cryptocurrencies you trade through eToro are done in a secure manner so as to not risk your capital. In addition to Bitcoins, the platform provides you with the option of buying around 17 altcoins, including ETH, BNB, ADA, XRP, etc.
When it comes to storing the Bitcoins that you buy, you have two options. If you buy Bitcoin directly via the eToro platform, then you can simply entrust eToro to look after them on your behalf through your wallet. However, if you do not wish to buy Bitcoins via eToro, then you can simply make use of their eToro wallet to store your Bitcoins. Its proprietary digital wallet supports over 120+ cryptocurrencies – including Bitcoin. The wallet can be downloaded as a mobile app and is compatible with both iOS and Android. This makes it really convenient, as you don't need to be sat at your desktop device to be able to send and receive funds. The eToro Bitcoin wallet is also useful for exchanging cryptocurrencies. In fact, the wallet supports over 500 crypto-pairs, so you don't need to worry about using a third-party exchange if there is a particular digital coin you are interested in.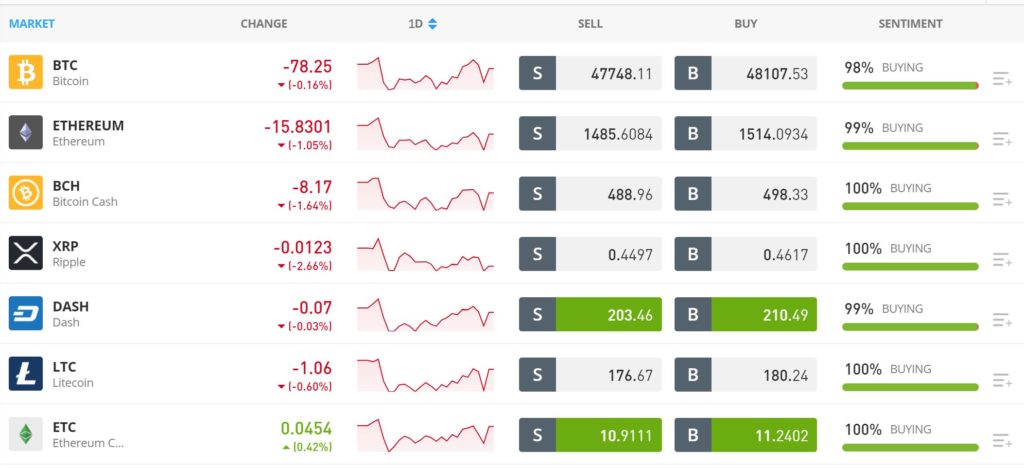 Depending on the location where you live, you might also be allowed to trade Bitcoin options, however, this is only available for the more popular cryptocurrencies such as BTC, ETH, ADA, and BNB. you can trade crypto-fiat pairs, and exchange fiat currency for BTC. At the same time, you can also trade crypto pairs, where you exchange one cryptocurrency for another. eToro is also a complete commission-free site, and the only fees they charge are their spreads. This means that you can enter and exit a trade whenever you wish to do so, without having to incur any additional charges. 
eToro also offers a variety of passive trading tools that you can use to trade BTC. This includes a variety of traders that you can choose to copy or mirror through the platform's social trading tools. However, in addition to this, they also have a curated CryptoPortfolio, which is a basket of bitcoin alongside several prominent altcoins including Bitcoin that are given varying weights. This portfolio is managed by the eToro investments team, so you do not have to worry about rebalancing the portfolio regularly. You can get started with an eToro trading account in minutes – and deposit methods include debit cards, bank transfers, and e-wallets like Paypal.
79% of retail investor accounts lose money when trading CFDs with this provider. You should consider whether you can afford to take the high risk of losing your money.
2. ZenGo – Best Bitcoin Wallet With Strong Security Level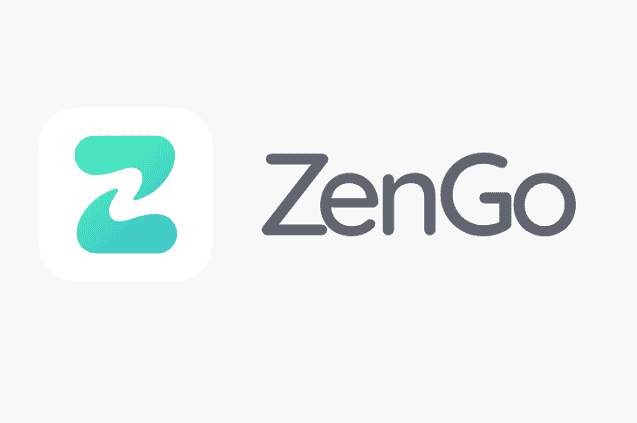 Our second option behind eToro is ZenGo, a non-custodial mobile wallet that operates on the Ethereum network. There are about 70 cryptocurrencies that can be operated in this wallet, and of course, within these available cryptocurrencies, you could not miss Bitcoin. On this platform, you can use Bitcoin to get up to 8% APY in a savings account.
The big difference between ZenGo and other wallets is that this wallet does not require a password to access your digital assets, so the holdings of cryptocurrencies such as Bitcoin can be at your fingertips. In addition, the platform implements a three-factor authentication system (3FA), which includes facial detection and backs up the decryption code in the cloud to provide greater security to its users and prevent fraudulent activity.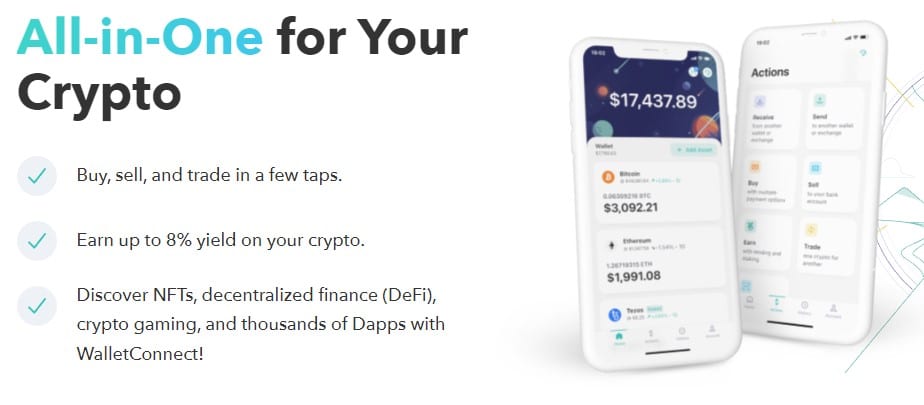 Some transactions with ZenGo carry fees, although they are minimal. For example, with ZenGo, you can buy cryptocurrencies with a bank transfer for 1.99% or with a credit or debit card for 5.99%. Trading and selling cryptocurrencies carry a commission fee of 1.99% and 0.75%.
We recommend that you calculate these fees before investing so that you are not taken by surprise. Finally, it is important to emphasize that ZenGo has a mobile application available for all operating systems. Therefore, you can constantly track, buy, sell bitcoin and receive money in just a few seconds.
Your money is at risk.
3. Crypto.com – Top Crypto Exchange Bitcoin Wallet UK

As one of the world's most secure and fast cryptocurrency exchanges, Crypto.com was founded in 2016. Thanks to a strong marketing team and several developers, Crypto.com has grown rapidly over the past few years. There are more than 250 currencies that can be traded on Crypto.com, and holders of its token (CRO) can benefit from reasonable fees and discounts.
It is an ideal place to invest in cryptocurrencies because Crypto.com provides multiple ways to store digital assets. Users can link their Crypto.com accounts to multiple digital wallets at once. One such wallet is DeFi. Moreover, this app will offer users the opportunity to earn rewards by utilizing tokens or coins, similar to those associated with decentralized financial applications built on blockchain technology.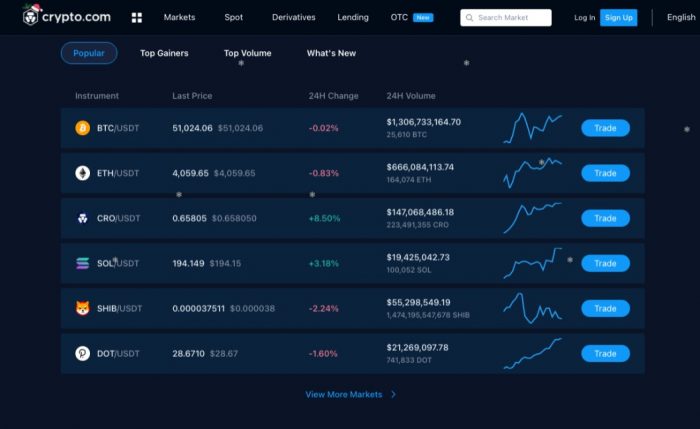 Because Crypto.com only requires a $1 deposit to open a position, it is one of the most accessible cryptocurrency trading platforms. In addition, those who wish to leverage their position on the platform can also access cryptocurrency trading and derivative products.
Your money is at risk.
4. Alvexo – Best Bitcoin Wallet Platform For All Traders In The UK

Traders at this broker will enjoy a friendly and convenient trading environment. Moreover, by taking part in such an endeavor, they will be able to learn new skills and learn things that will be beneficial to them. Based in Paris but with offices in Cyprus, it was founded by Alvexo in 2014. Trades can be executed quickly and efficiently through a platform that Alvexo provides to its traders.
CFDs can be traded via Alvexo's platform by foreign-exchange traders. In addition to mobile applications and web-based platforms, the platform has many of the same features as a stockbroker. Because Alvexo is a CFD platform, commissions are deducted from the spread on every asset based on the fact that it is a CFD platform. For Classic Accounts, there are a variety of spreads available. Despite this, Classic Account spreads start as low as 2.9 pips. The spread is the only fee assessed, and no other charges are imposed.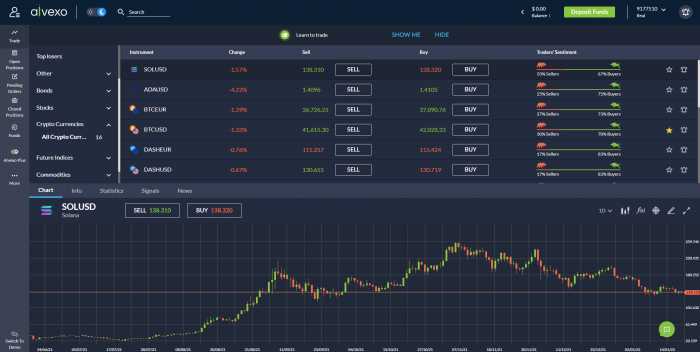 We make learning and trading as easy as possible with Alvexo. There are a variety of educational services and trading signals available on the platform and news, webinars, eBooks, economic calendars, and even financial TV channels. In addition, the platform is licensed and regulated in the EU, which means traders can benefit from CySEC's reputation for security.
76.22% of retail investor accounts lose money when trading CFDs with this provider. You should consider whether you can afford to take the high risk of losing your money.
5. Margex – Best Bitcoin Wallet For Beginners With Educational Material In The UK

Margex has been providing cryptocurrency brokerage and trading services globally since its founding in 2020. Because of this, Seychelles is an ideal market for launching this platform. You do not have to provide KYC information to operate the exchange, but there is another important point you should know.
Because you can access the service from anywhere globally, it is more convenient and helps keep your financial information private. Margex's security program offers users the unique capability to create a personal MP Shield (Listener Protection Shield) with data encryption to protect themselves from financial risks. It is also important to note that the platform does not keep track of crypto assets that have been impacted by price manipulation in terms of liquidity trading pairs. In addition, several security options are available for withdrawals and deposits to ensure the security of your account.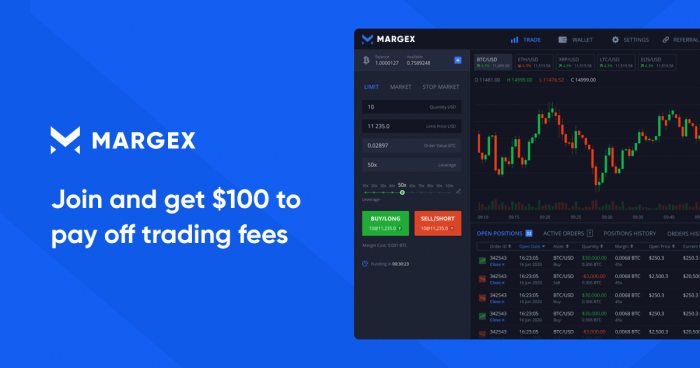 The verification of step two is not required for other similar platforms. However, this will prevent you from taking advantage of some of the benefits when using the service.
Margex's trading website has an intuitive interface that novice cryptocurrency traders can use for gaining information. Of course, this is before they start trading immediately. Furthermore, beginners can also benefit from reading material, such as articles and video guides, from helping them succeed in crypto trading. In case you are a beginner cryptocurrency trader, you can use Margex's website for information before you begin trading. Margex's trading website has an easy-to-use interface. It is possible to find a variety of useful reading material, such as articles and video guides, for beginners interested in crypto trading.
Your Money Is At Risk.
6. Huobi – Excellent Trading Platform and Wallet to Buy Bitcoin in the UK

Huobi is the world's largest cryptocurrency exchange and online financial services provider. It was established in Singapore in 2009. Users can participate in initial coin offerings with Huobi before a coin is mainstreamed, in addition to offering a wide range of crypto assets. Founded in Beijing, China, Huobi is one of the world's largest cryptocurrency exchanges. In 2017, cryptocurrency exchanges grew rapidly following the expulsion of the government from the Chinese market.
The relocation was a result of Singapore's crypto law. The largest cryptocurrency exchange in the world, Huobi supports over 355 types of cryptocurrency. Approximately five million people live in 130 countries, using the platform. The Coinmarketcap daily volume index places Huobi third among top cryptocurrency exchanges.
Huobi's popularity can be attributed to the fact that it is so easily accessible. In other words, it has proven quite convenient for both new and experienced traders to use, which shows that it has proven to be quite useful for both groups alike.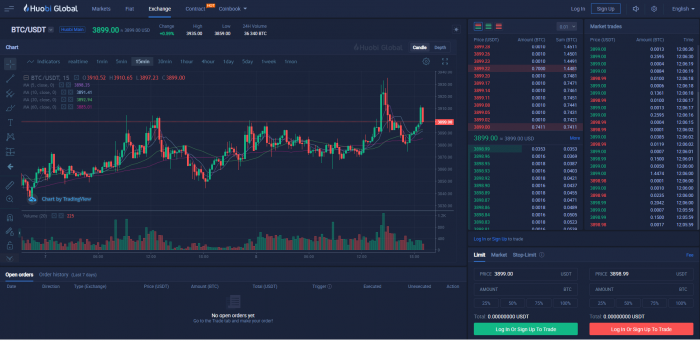 You will be able to create your own account in less than two minutes. Do not hesitate to take advantage of this opportunity since you shouldn't have any difficulties taking advantage of it.
The wallet was launched last year, and there has never been a security breach. Achieving such an enviable record was possible only because of several strict security protocols. Huobi's crypto funds are held in cold storage, which means that bad actors cannot hack the funds since the funds are off of the blockchain. Huobi's security framework ensures that bad actors cannot access Huobi's funds.
Your Money Is At Risk.
7. Binance – The Best Bitcoin Wallet for Android Devices
Binance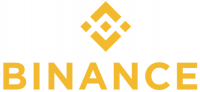 is one of the most popular cryptocurrency platforms in the world, and it boasts of the highest selection of altcoins. If there is any altcoin you wish to invest in, whether it is small-cap or large-cap, there is a very high chance that Binance will have it. It allows you to exchange BTC not just for fiat currencies but also with BNB, ETH, and a variety of other cryptocurrencies. The platform also deals with billions of dollars in trading volume every day. Usually, you will be able to deposit funds into Binance via credit/debit card or a bank transfer, making for a convenient experience.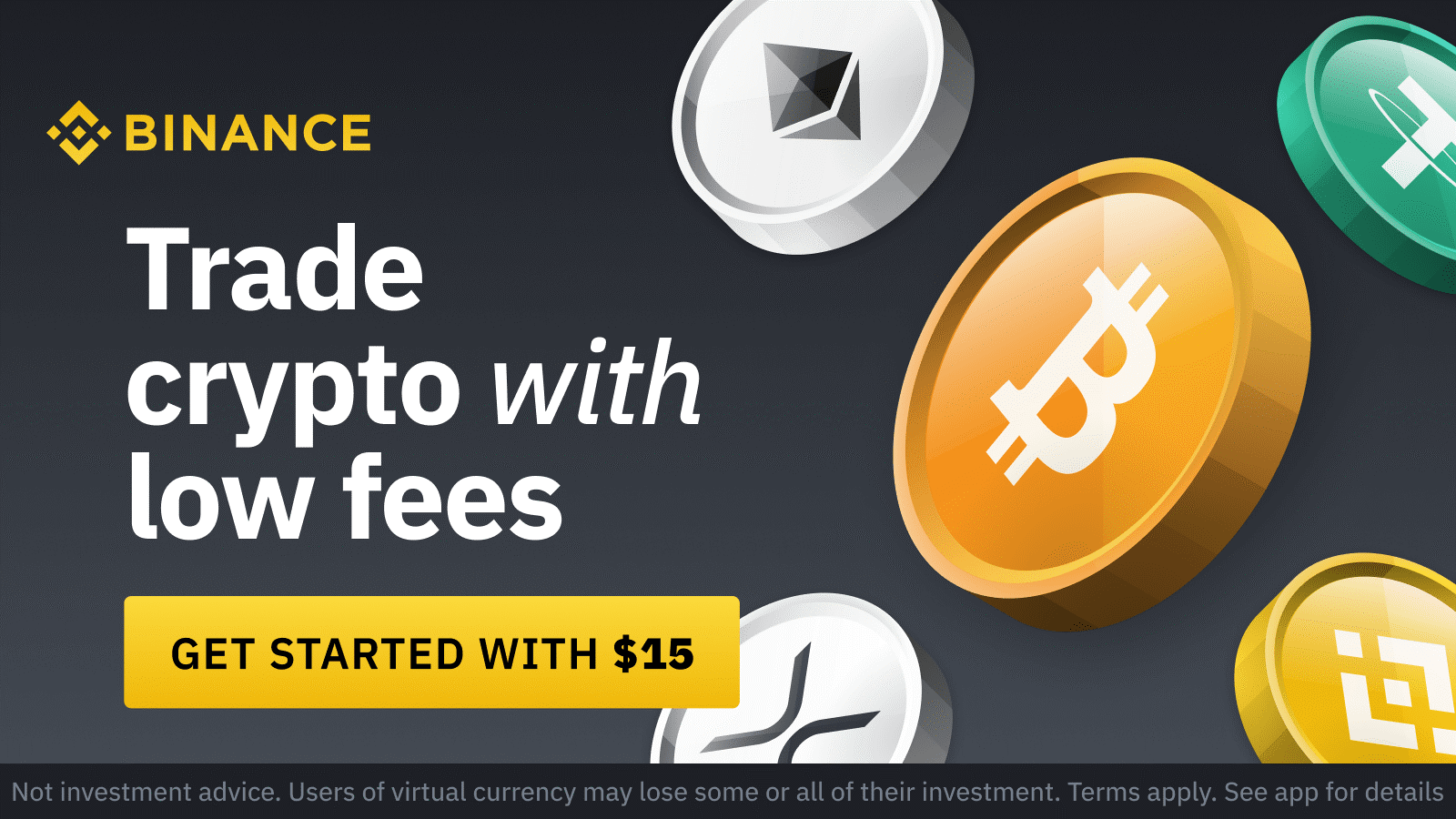 If you wish to store your cryptocurrencies through the Binance wallet after buying them through the platform, you can do this directly. If you do, you won't control your private keys. You will, however, benefit from a range of safeguards. This includes the vast majority of client funds being held in cold storage, alongside two-factor authentication and email confirmation on key account features being accessed. However, if you feel more comfortable having full control over your private keys, you might want to consider the Binance Trust wallet, which is downloadable as a mobile app. This will allow you to store your Bitcoins on the app in a completely decentralised manner, wherein even Binance itself will not have access to your funds. 
The platform charges high fees for deposits and withdrawals – between 2% and 3%. However, they have very low trading fees and are known for being one of the cheapest crypto trading platforms in terms of their fees. Usually, the fee is 0.1%, and it is even lower if you have an allocation of the Binance Coin (BNB). They also have a wide variety of tools and technologies available specifically for cryptocurrencies, which makes them a suitable option for highly experienced crypto traders.  
Your money is at risk.
8. Coinbase – The Best Bitcoin Wallet for iPhones and iOS Devices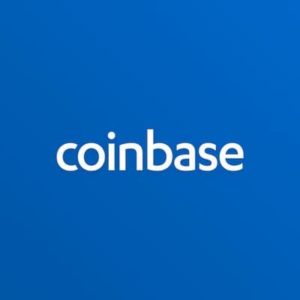 Over 100 tradable cryptocurrencies such as Bitcoin, Ethereum, and Cardano are offered through Coinbase, a cryptocurrency trading, and investing platform. Over 73 million users access Coinbase, which has more than $255 billion in assets under management. You can use Coinbase primarily for its digital wallet. This is available in two forms – through the Coinbase website or via a native mobile app. If opting for the former, it's just a case of sending your Bitcoin into the unique wallet address that Coinbase gives you.
Alternatively, if you want the convenience of being able to access your Bitcoin on the move, then the Coinbase wallet app is likely to be more up your street. You can download the wallet onto your Android or iOS phone free of charge. The wallet is backed by heaps of security features – including two-factor authentication. This requires you to enter a code that is sent to your mobile phone before you can access your Bitcoin wallet.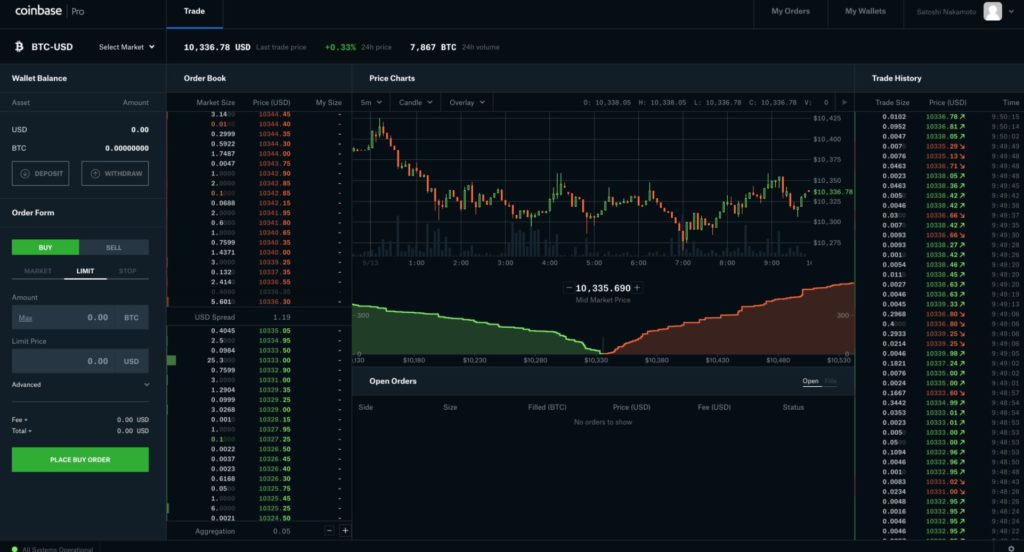 Simple buy and sell orders are likely to be preferred by beginners on the original Coinbase platform. However, Coinbase Pro, available to all Coinbase users, offers more advanced features and order types.
In general, digital currencies are an emerging asset class that can be risky and volatile, making them unsuitable for all investors. Nevertheless, if you're into cryptocurrencies and wish to trade Bitcoin in the UK, Coinbase is an excellent option for both beginners and veterans.
Your money is at risk.
9. Kraken – The Safest Bitcoin Wallet and Platform For Investing With More Than 60 Digital Assets Available

As one of the first cryptocurrency exchanges in the United States, Kraken was founded in 2011 in San Francisco. Just a decade after it was launched, it has been used by more than 4 million users in many countries all around the world.
The platform allows traders to trade cryptocurrencies in the future, which is not available on most other trading platforms. As a result, Kraken is a very popular choice among traders, as you can get a high margin based on the currency you prefer, and it is extremely user-friendly.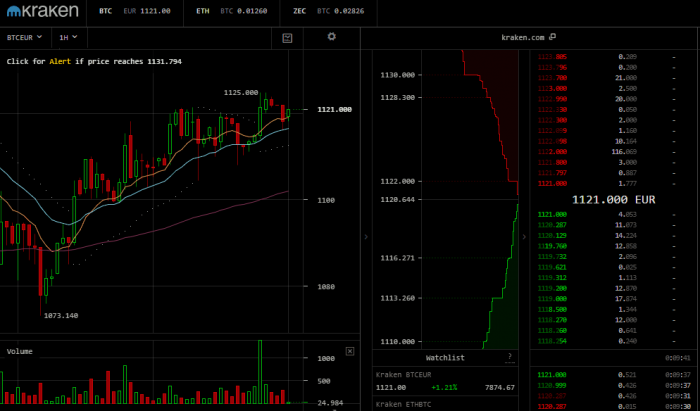 The Kraken and Kraken Pro exchanges offer the ability to buy cryptos depending on your needs, and you can choose either an advanced or a basic interface. Moreover, all versions are mobile-friendly to use on your Android or iOS device. In addition to Kraken's no minimum deposit policy, if you run into any issues with the platform, the company's 24/7 customer support team will be available to assist you as soon as you log on to it.
Your money is at risk.
10. Coinjar – Best Bitcoin Wallet UK for Long-Term Investors

Coinjar's global cryptocurrency platform has won numerous awards over the years. The company is still the largest digital currency broker in Australia despite entering the market. Users can purchase and sell Bitcoin and other cryptocurrencies through Coinjar.
Also available on the site are 24-hour cryptocurrency exchanges. A full-featured Bitcoin wallet in the United Kingdom is also offered by Coinjar, including the ability to buy cryptocurrencies on the platform. The app is currently available for Android and iOS.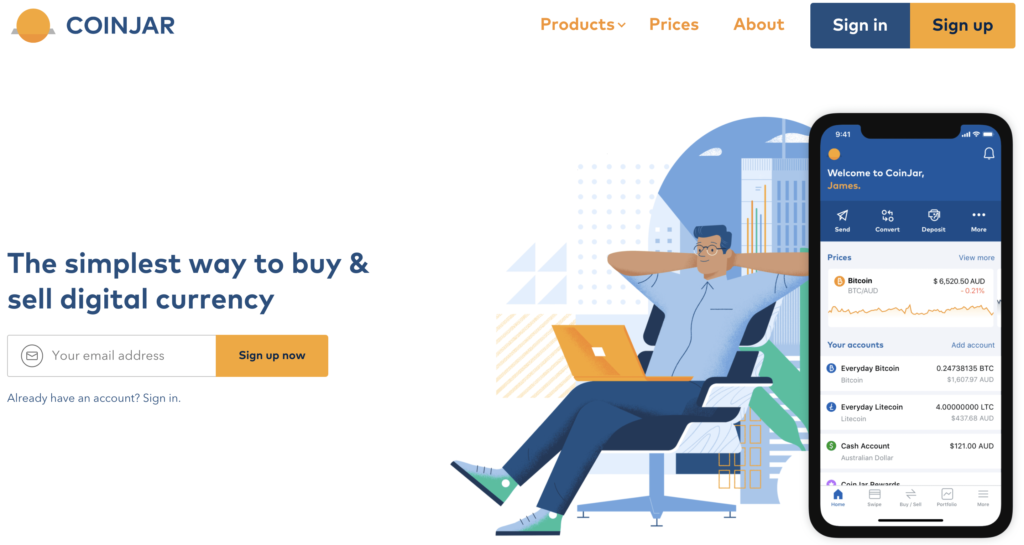 All the aspects are optimized for your particular operating system, so it is very straightforward. Your cryptos will be sent to your wallet address once the application has been installed.
Your money is at risk.
11. CoinCorner – The Best Bitcoin Wallet UK for Beginners

If you are a beginner and have little to no knowledge of how wallets or cryptocurrencies work, then CoinCorner is the perfect platform for you. This is because the platform has been designed specifically with beginners in mind, who might not be very aware of the peculiarities that afflict the cryptocurrency world. The platform also serves as both a broker and a wallet, with you being allowed to purchase Bitcoins through a UK debit/credit card or bank account transfer, and providing the functionality of being able to store it on the CoinCorner wallet app. 
The app can be downloaded from Google Play or Apple Store. Whilst this is likely the be the most convenient option on the table for beginners, the CoinCorner wallet isn't as secure as the other entrants we have discussed thus far. As such, for the benefit of increased convenience and ease of use, there is a slight trade-off with security.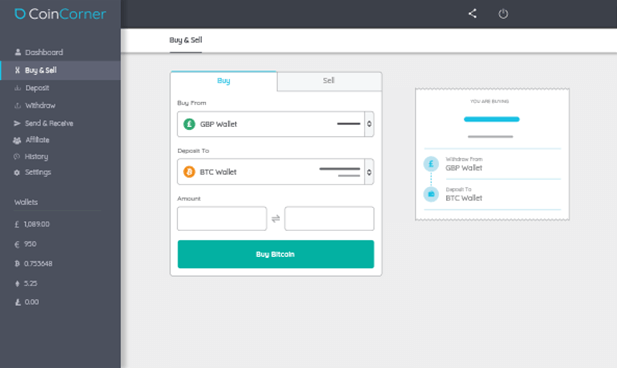 Finally, we should also mention that CoinCorner is worth considering if you are looking to make small but regular Bitcoin investments. This is because it supports recurring payments that are automated to your preference – for example, £20 per week or month.
Your money is at risk.
What is a Bitcoin Wallet?
If you are looking to invest in Bitcoin, then one of your biggest considerations should be about how you plan to keep your coins safe. In this regard, you need to understand that, unlike traditional money, Bitcoins cannot be stored in a bank account. Instead, they have to be stored in a 'digital wallet'. There are several Bitcoin wallets that you can use for this purpose, and each of them differs from the others in its own way. Some people might choose to go for a mobile wallet since it allows them to monitor and manage their cryptocurrency investments on the move. On the other hand, some people might choose to have a wallet that is only available on desktop devices.
Regardless of the different types of wallets, which are discussed below in detail, the primary purpose of the wallet is to allow you to send, receive, and store digital currencies. Each of these wallets has a unique address that you can use in order to send and receive cryptocurrencies from other wallets. When you want to send funds to your personal Bitcoin wallet, you will need to enter your public address. In terms of safety, your Bitcoin wallet is protected by a 'private key'. This is like the password and pin codes that you use to access your online bank account.
Most Bitcoin wallets in the UK allow you to easily access your wallet without having to remember the private key, simply by setting up a password or a biometric login for your convenience.
Bitcoin Paper Wallet vs Bitcoin Hardware Wallet
As mentioned above, there are several types of Bitcoin wallets that you can use in order to store your Bitcoins. Each of these has its own set of advantages and disadvantages, and therefore are chosen by different people based on their preferences. For example, two of the biggest categories of Bitcoin wallets are paper wallets and hardware wallets. Both of these categories have been discussed below in detail.
A Bitcoin paper wallet is an old-school way of storing cryptocurrencies because your Bitcoin wallet address will be printed onto a piece of paper in the form of a QR code. In order to do this, you will need to use an online platform that has the capacity to generate a free Bitcoin wallet address. Then, it's just a case of transferring the Bitcoin to the respective address, and printing the credentials. In theory, it's virtually impossible for somebody to hack your Bitcoin paper wallet. After all, the funds are kept offline at all times. However, the main drawback here is that when it comes to transferring your Bitcoin out to another wallet (for example, if you wanted to cash out your coins), the process can be cumbersome.
On the other hand, on a hardware wallet, your coins are stored via a physical device. Hardware wallet providers offer top-notch security on your Bitcoin funds. To get started with a hardware wallet, all you need to do is to buy a Bitcoin hardware wallet from your chosen provider, set up a PIN number via the device that arrives with your wallet, and transfer the Bitcoin to your unique hardware wallet address. Opting for a hardware wallet to store your Bitcoin is a really safe option to consider. For example, funds can only be sent if you have access to the physical device – which requires your PIN for authorization. If you forgot your PIN or the device was stolen, you can remotely access your Bitcoin wallet with the previously mentioned passphrase.
79% of retail investor accounts lose money when trading CFDs with this provider. You should consider whether you can afford to take the high risk of losing your money.
How to Choose the Right Bitcoin Wallet for You
As mentioned earlier, there are a variety of factors to consider when you are trying to choose to right kind of wallet for your needs. In this regard, each of these factors has been discussed below in detail.
Wallet Type
When trying to choose the right kind of wallet for yourself, it is important for you to understand what the different types that are available are. These can be discussed as follows:
Web-Wallet: This means that you will be keeping your Bitcoin funds with the exchange or broker that you used to make the purchase. This is usually the least secure option among all the other options that are available for you. The one exception to this rule is eToro – which is authorized and regulated by the FCA.
Desktop-Wallet: There are lots of Bitcoin wallets in the market that can be downloaded to your desktop device. Although these are a little more secure than a mobile wallet, you will need access to your desktop software wallet every time you wish to send funds, which makes it a tad inconvenient as compared to the other types of wallets.
Mobile-Wallet: This wallet type offers the perfect balance between convenience and security. Regarding the former, you can send, receive, and trade cryptocurrencies by simply opening the wallet app. In terms of security, the best mobile wallets offer two-factor authentication, biometric login, and email confirmation on withdrawals.
Hardware-Wallet: Hardware wallets offer the highest level of security on your Bitcoin funds. Not only are the funds kept offline, but to transfer funds you need to physically enter your PIN onto the device. On the flip side, hardware wallets are the least convenient when it comes to transfers. Some providers will offer a few of these, like the exodus wallet as a mobile, desktop and hardware wallet.
Custodian or Non-Custodian
There are two types of Bitcoin wallets that are available: custodian and non-custodian wallets. They differ solely in the sense that custodian wallets are responsible for keeping your Bitcoins safe in the wallets, whereas when you use a non-custodian wallet, the onus is on you to keep the crypto you store in the wallet safe and sound. In other words, when you use a custodian wallet, you don't need to worry about storage as this role is reversed for the entity behind the wallet. Crucially, if you do go the custodian route, consider an FCA-regulated broker like eToro.
Features
Most Bitcoin wallets only offer the bare minimum when it comes to services, in that they allow you to store your crypto safely with them, and transfer it whenever you wish to do so. On the contrary, some other crypto wallets, such as the eToro Bitcoin Wallet specifically, allow you to even buy and sell cryptocurrencies without paying any commissions. They also allow you to buy shares, ETFs, commodities, and all the other products that are available on the eToro platform. At the same time, another benefit is that these platforms usually allow cross-currency transactions, meaning you can easily change one cryptocurrency to another.
Supported Coins
While at present your main focus might be on storing Bitcoin, there might come a time when you decide to invest in other cryptocurrencies. This is an important consideration to make, as some online wallets only support Bitcoin. As such, if you then decided to buy Ethereum or Litecoin, you would need to obtain a secondary wallet. This is why the best Bitcoin wallets in the UK offer support for heaps of other digital coins. In the case of our top-rated UK wallet provider eToro – you can store over 120 different cryptocurrencies. This allows you to build a diverse portfolio of digital assets and keep all of your coins in a single wallet.
How to Get a Bitcoin Wallet – eToro
Step 1: Open a Trading Account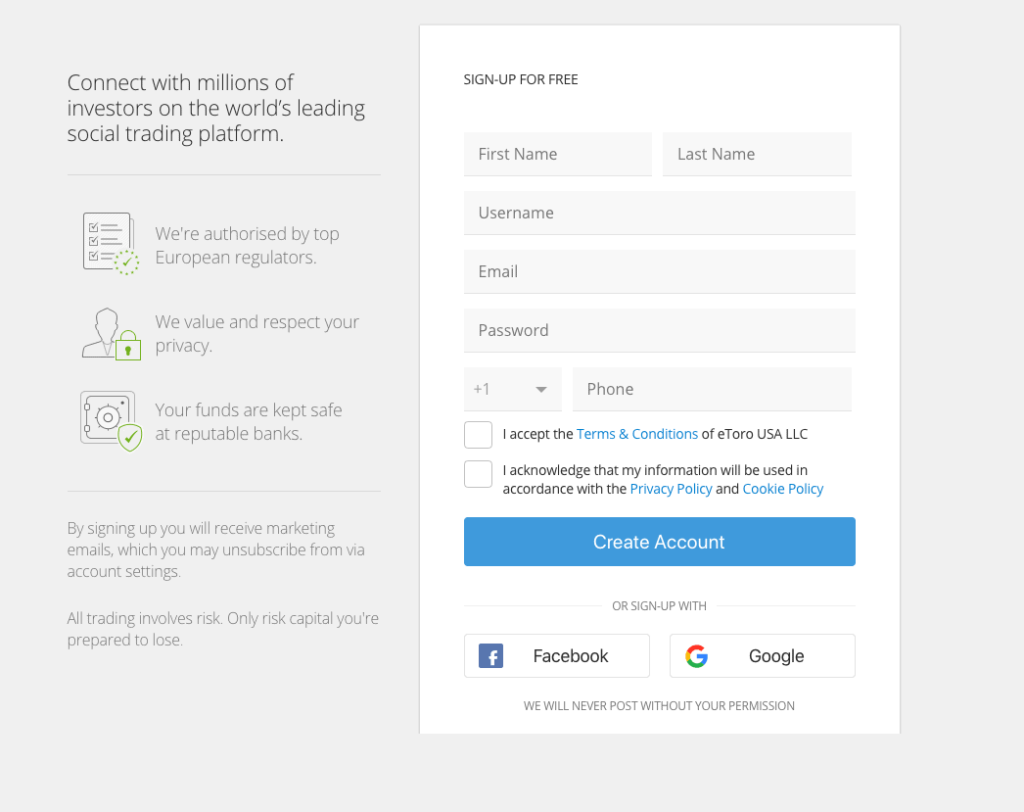 79% of retail investor accounts lose money when trading CFDs with this provider. You should consider whether you can afford to take the high risk of losing your money.
The first thing that you need to do is to navigate to the eToro homepage and click on "Join Today". Then, you will be asked to fill a short form that asks for your contact details and makes you set up your login credentials. Alternatively, you can also sign up via your Facebook or Google account for easier sign-ins and to avoid having to remember your username and password. 
The next step is for you to verify your identity by uploading a copy of your ID. Since eToro is a regulated platform, they have to complete the KYC (Know Your Customer) process before they allow you to trade. This verification process has two parts to it. The first part involves verifying your identity. For this, you can upload a copy of any government-issued ID, such as a passport, driving license, or visa. The next part is an address proof, for which you can either upload a bank statement or utility bill. Once you have uploaded the documents, eToro has a quick response time, and will usually verify your account in a few hours. 
The third step is to then deposit funds into your account. The minimum deposit on eToro is 200 GBP. This can be done in a variety of ways. For starters, you can add money to your eToro account via bank transfer or via credit/debit cards. They also accept a variety of e-wallets such as PayPal and Skrill. You can add funds in different currencies too, such as USD, GBP, and EUR. There are no fees or charges associated with depositing funds into your account, and they show up almost immediately. 
Step 2: Download the eToro Wallet to Your Phone
Once you have registered with the eToro app, then the next step for you is to download the eToro wallet app. You can easily download it from either the Google Play Store or the Apple Store by clicking the link on the app. Once the app has been downloaded, you can then sign in to your wallet using your normal eToro credentials. 
Step 3: Add Bitcoins to your eToro Wallet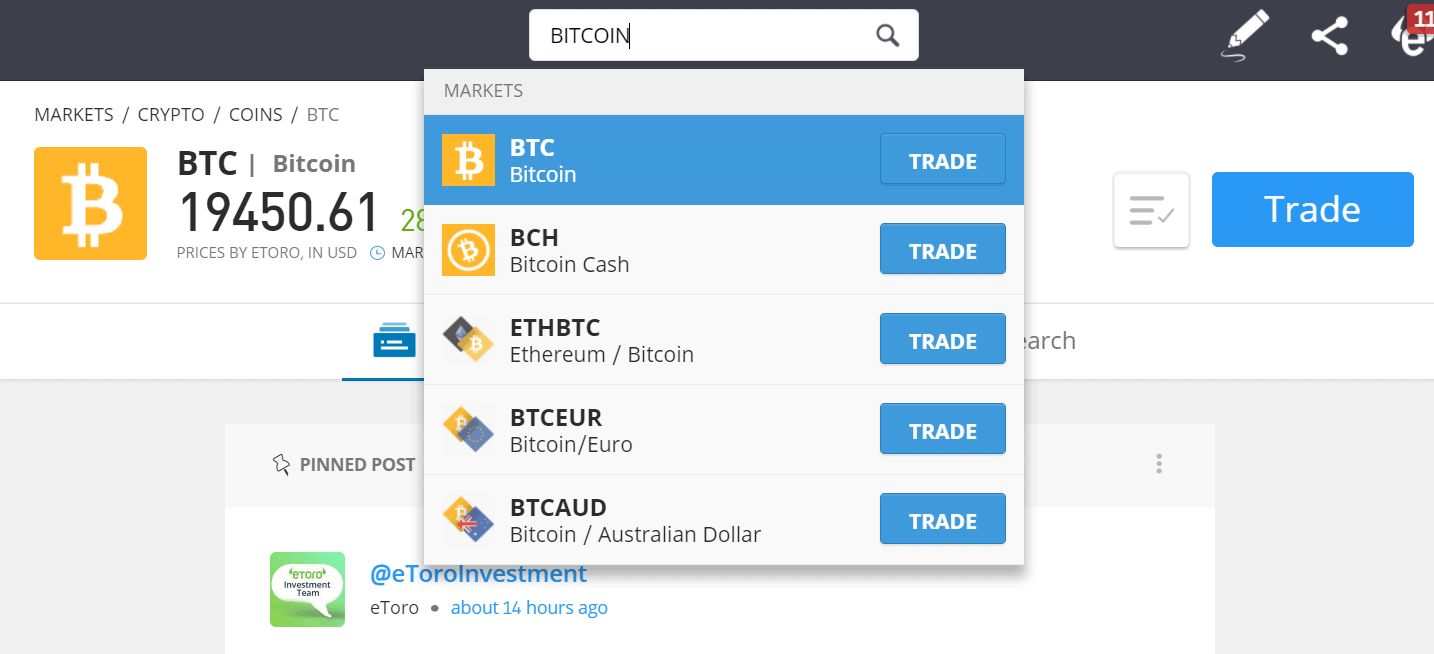 Now that you have access to your eToro wallet, you need to transfer your Bitcoin. If at this stage you do not have any Bitcoin, you can buy some directly from within the eToro app. If, however, you already own Bitcoin, you will need to locate your unique wallet address from within the app. Copy it to your clipboard and then head over to the wallet in which the Bitcoin is currently stored. Then, you simply need to paste the wallet address and specify how much Bitcoin you want to transfer. The funds should appear in your eToro Bitcoin wallet in less than 20 minutes.
Step 4: Sell Your Bitcoins
At some stage – whether that's in weeks, months, or years to come – you will want to cash out your Bitcoin back to pounds and pence. eToro allows you to do this at the click of a button. As soon as you confirm the sale, the cash will be placed into your eToro account. Then, you can withdraw the funds back to your debit/credit card, e-wallet, or bank account.
79% of retail investor accounts lose money when trading CFDs with this provider. You should consider whether you can afford to take the high risk of losing your money.
FAQs
What is the best Bitcoin wallet for iOS?
The best Bitcoin wallet for iOS will differ largely based on your requirements and trading preferences, but overall, Coinbase is definitely the platform most optimised for iOS use.
What is the best Android Bitcoin wallet?
The best Bitcoin wallet for Android will differ largely based on your requirements and trading preferences, but overall, Binance is definitely the platform most optimised for Android use.
How do I check my Bitcoin wallet address?
This depends on the type of wallet you have opted for. If it's a mobile wallet, then you can usually view your address as soon as you load the app up. If opting for a web wallet, you can find your address from within your account dashboard.
What is the safest Bitcoin wallet?
The safest Bitcoin wallet is clearly eToro, as in addition to its other features, the platform is also FCA approved, making it the most secure place to store your funds.
What is the best anonymous Bitcoin wallet?
The vast majority of Bitcoin wallets allow you to store your funds anonymously. The exception to this rule is if you are using a wallet provider that also supports purchases with a debit/credit card or other fiat currency method. If it does, you will be required to verify your identity before you can start using the wallet.
How do I keep my wallet private keys safe?
The easiest way to keep your wallet safe and secure is to write down your private keys on a piece of paper and keep them securely somewhere.
Can you store Bitcoin and Ethereum in the same wallet?
Yes, if you are using a multi-currency wallet, then you can store Bitcoins, Etheruem, and a variety of other cryptocurrencies in the same wallet.