Pepperstone Review UK 2023 – Should You Consider This Platform?
Fact checked
Fact Tooltip Text
Disclosure
Disclosure Tooltip Text
Pepperstone Review UK – Overview
Key Takeaways
Rated one of the leading brokers in the UK for its trading experience

Offers competitive forex spreads along with a simple and reliable user interface

Allows you to invest in multiple asset classes, including CFDs, ETFs, commodities and traditional stocks.

Offers a competitive fee structure divided into multiple trading accounts and tiers

Leverages some of the top trading tools in the industry


74% of retail investor accounts lose money when trading spread bets and CFDs with this provider. You should consider whether you understand how spread bets and CFDs work and whether you can afford to take the high risk of losing your money.
Are you looking for an online broking platform with all the features and functionality you expect from a top-tier service provider?
If so, Pepperstone can be the right choice for you. The platform offers numerous trading accounts, features, and low commissions. Since its inception in 2010, Pepperstone has experienced exponential growth in terms of liquidity and has over 110,000 active retail investors worldwide.
In this Pepperstone review UK, we will cover everything there is to know about the platform, explore the features, and highlight the pros and cons while showing you the steps to open an account with the broker. Let's get started!
Why Might You Consider Using Pepperstone?
Pepperstone broker is one of the best platforms for beginners for various reasons. It combines a variety of tools and user-friendly features that make it reliable and easy to use. Furthermore, new users may find its tiered level fee structure and no maintenance fee an appealing reason to sign up. But wait, there's more!
Continue reading as we look at the many different aspects of the Pepperstone trader and explain why you might want to use it.
What is Pepperstone?
Pepperstone is one of the industry's best forex brokers that offer CFDs. It allows users to make the most of their trading journey over a user-friendly and reliable platform. Since its inception in 2010, the platform has emerged as one of the top-tier online broking platforms in the landscape. It has successfully developed a full-featured, highly competitive trading portal focusing on forex, metals, commodities, shares, indices, and spread betting.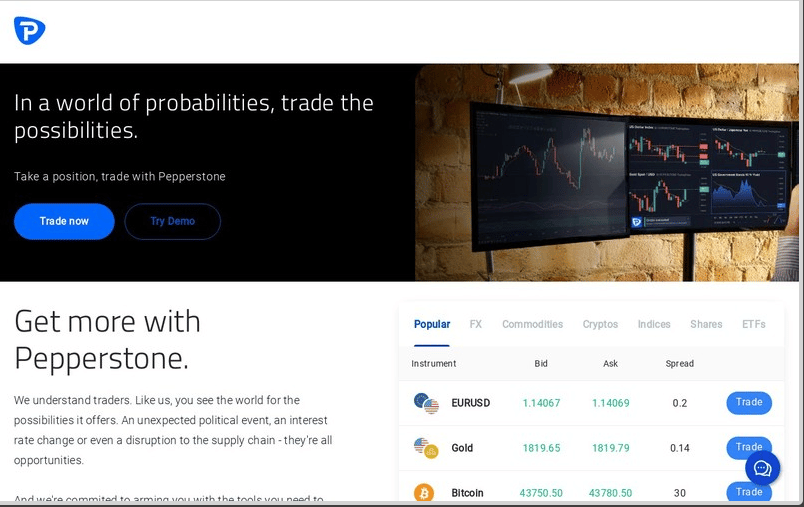 Pepperstone web trader has continued to make massive developments with its operations for over a decade. It started its first London office in 2015 to serve its European clients and is currently extending its services to Cyprus and German residents. The company is backed by regulations from the United Kingdom under FCA (Financial Conduct Authority #684312) and ASIC (Australian Securities and Investments Commission #147055703) and DFCA in UAE. 
74% of retail investor accounts lose money when trading spread bets and CFDs with this provider. You should consider whether you understand how spread bets and CFDs work and whether you can afford to take the high risk of losing your money.
Customers signing up to the platform have their accounts segregated from companies' funds, adding a cushion of safety in an industry prone to massive fluctuations. In terms of its features, the platform offers several customer options, highlighted by functional FAQs, 24/5 chat/phone support, and a connected trading ecosystem that comprises web-based platforms, a desktop, and a mobile application. 
But like many other forex providers, Pepperstone broker doesn't accept U.S. traders on its platform. 
Is Pepperstone A Legit Broker?
Pepperstone broker has been active in its operations for over a decade, making it one of the oldest brokers in the industry. The broker has regulatory status in Tier 1 jurisdictions, including Australia, the EU, and the UK. In addition, the platform also has Tier 2 and Tier 3 licenses. Adding to it's website, Pepperstone also offers an £85,000 compensation scheme under FSCS (Financial Services Compensation Scheme Protection) for its UK-based users. These factors, plus Pepperstone's $9.2  billion daily trading volume, make it a legit broker to hold your investments.
What Are The Pros and Cons of Pepperstone?
What We Like
Trade with a broker licensed and regulated 7 major regulatory bodies including the FCA (UK), ASIC (Australia), DFSA (Dubai), CySEC (Cyprus) and BaFIN (Germany).
Trade on over 1200 different markets, including Forex, indices, stocks, commodities, and cryptocurrencies (crypto assets are for professional traders only).
The cTrader platform provides ultra-fast execution speeds of less than 30ms and institutional grade spreads and market depth. Users can also access MT4, MT5 and TradingView and choose the best platform to suit their needs.
Enjoy a pleasant trading experience by choosing from various cTrader account types for commission-free, high-volume, and swap-free trading
Pepperstone provides desktop, web, Android, and iOS access to the powerful cTrader platform
Pepperstone offers spread betting in the UK.
What We Don't Like
Not available for US or Canada residents.
Is limited in courses, educational quizzes, or progress tracking
74% of retail investor accounts lose money when trading spread bets and CFDs with this provider. You should consider whether you understand how spread bets and CFDs work and whether you can afford to take the high risk of losing your money.
Pepperstone Broker Review- Key Features 
Pepperstone Demo Account
The demo account is preferably one of the most competent features on the Pepperstone platform. This user-friendly feature is a major draw for new users who join the platform. You will be given access to a demo trading account with 'fake' funds that allow you to trade in the real market. The only difference in using the account is that your money is safe, even though it is entirely dependent on market conditions.
Beginner users can quickly get started by simulating real-world trades and placing 'fake' funds on or against them. Once completed, these funds will move in accordance with the real-time market, indicating the success or failure of your strategy. This way, the demo account feature of Pepperstone allows users to simplify their trading experience and make the most of their journey. 
Platform Fees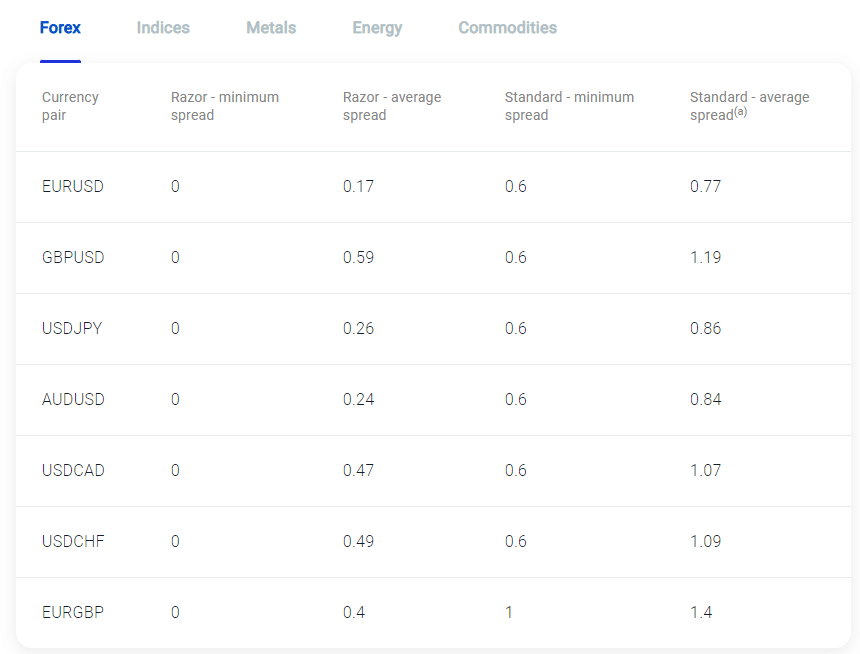 Pepperstone revolves around a unique agency-execution broking format, allowing the broker to offer competitive rates for every type of user. Users signing up over the platform can leverage the excellent pricing via its Razor account or get more affordable trades with the Active Trader program, designed to serve high-volume traders. Meanwhile, you might not be able to get the best spreads when using the Standard account over Pepperstone. 
To give you a better idea, here's an overview of the different fees on Pepperstone based on the account type and location: 
Razor account:

Pepperstone's Razor account is a console for advanced traders. This account can access features of the MetaTrader (MT4 or MT5) platforms. Traders can also integrate the account with cTrader platforms to leverage its commissioned structure for pricing (besides the prevailing spreads). As of November 2021, Pepperstone registered an average spread of around 0.59 pips for GBP/USD transactions.

Standard account:

Next up, we have the platform's Standard account, which offers a unique commission-free structure. Like its Razor counterpart, this account offers an average spread of 1.19 pips on the GBP/USD.

Active traders:

Third, we have the Active Trader program, which is popular on Pepperstone. An account designed, keeping in mind active traders who are invested in high volumes. This account type offers a rebate on the overall spread spent, based on the tier of the trader and its monthly trading volume. 

The United Kingdom and EU:

The fees and commission structure for professional clients is completely different from the average. Traders who can trade up to $10 million per month in over 100 standard lots are eligible for a rebate of 5% per lot (Tier 1 account type). Besides, the platform also offers Tier Four discounts on traders who do over 500 lots every month.

Australia:

For professional traders accessing the platform from Australia, Pepperstone requires you to complete a minimum of 100 lots (across three months) to qualify for the Pepperstone program's lowest tier. 
Given the number of tiers and the disparity in the spread, it's understandable that you'd be perplexed by the charges. As a result, to assist you further, here is a summary in tabular format:
| | |
| --- | --- |
| Fees | Sum |
| Average Spread GBP/USD - CFD Standard Account | 1.19  |
| Execution: Agency Broker | Yes |
| Execution: Market Maker | No |
| All-in Cost GBP/USD - Spread Bet | 1.49 |
| Active Trader or VIP Discounts | Accessible |
Minimum Deposit
Users signing up for the Pepperstone need a minimum of £500(or an equivalent unit of the base currency) to get started. Once done, they'll be ready to access all the available platform features, including scalping and optional leverage to their trades. 
Besides, users can fund their accounts using several options like PayPal, Bank Transfer, Visa and MasterCard. In addition, as per this Pepperstone review UK, the funding options are primarily free for traders in most countries. In addition, there are no dormant or inactivity fees over its accounts, making it a unique offering in this industry. 
Regulation and Security
Safety and security are two of the most important considerations for any user before signing up for a brokerage platform.
When it comes to Pepperstone, the platform's professional indemnity insurance through London's Lloyd is what sets it apart. The broker is one of the few companies regulated by the ASIC (Australian Securities and Investment Commission) under AFSL 414530 and ACN 147055703.
In addition, users in the UK might also find its FCA (United Kingdom's Financial Conduct Authority) and FRN regulations as sound measures for their investments. Not to forget, ASIC requires these financial firms to meet the capital requirements and comply with and implement the multiple aspects of accounting, audits, risk management, and staff training.
Besides, as a safety measure for U.K. traders, Pepperstone adds a safety net of up to £85,000 under FSCS (Financial Services Compensation Scheme Protection). Adding to it, the Pepperstone Group is audited by Ernst & Young.
To provide safety to the traders, Pepperstone utilizes multiple features like automatic stop-out systems to ensure no account reaches negative balances. But the broking website also mentions that loss can be greater than the total deposit under volatile market conditions. 
In addition, while the broker does adapt to the latest security measures like 2FA (two-factor authentication), it is yet to offer biometric authentication for the mobile version of the Pepperstone application.
Pepperstone Customer Support
Customer support is another excellent feature of the Pepperstone broker. It provides traders with several options to reach the platform in an emergency. Along with the 24/5 chat/phone support, the platform offers additional email support and help across multiple social media portals via its online form.
Additionally, every client signing up on Pepperstone is assigned to an account manager that assists them with matters concerning their trading accounts. While these were some online measures to seek help, local clients signing up with Pepperstone trader can walk into the company's only physical office in Melbourne, Australia. 
Is Pepperstone a Good Broker For Beginners?
Besides access to a multitude of offerings over a simple-to-use interface that connects users, here are a few features as per our Pepperstone review UK that make it a reliable platform for beginners: 
MetaTrader ⅘
Pepperstone broker provides its users with an exhaustive range of offerings to ensure a seamless trading and investment experience. It offers white-label, third-party offerings as customers can choose between the MetaTrader (MT 4/5) or cTrader to initiate trading with better liquidity and advanced tools. 
These features include algorithmic strategy support, back-testing, and detachable charts. In addition, users have access to 'Smart Trader Tools' to include in their MT4 functionality, accessing a wide range of applications to assist with market analysis, trade execution, and market research.
cTrader
The cTrader interface is an easy-to-operate program that allows beginners to simplify the complex research process while trading. Users can easily set up multiple watchlists, monitor or place trades, and even analyze charts while testing new strategies. 
In addition, cTrader provides access to "depth-of-market" instruments, keeping the traders aware of the upcoming events per the market calendar. Users also have the option to expand their technical analysis charts to full screen and utilize over 70 technical indicators across multiple time frames, from monthly charts to per tick. All of these features over cTrader help simplify the overall appeal of trading over Pepperstone web trader for beginner traders. 
TradingView
For advanced traders who want to conduct technical analysis, Pepperstone provides access to the TradingView platform. TradingView is a popular tool used by traders worldwide to analyze price move and use indictors to determine trade entry points.
TradingView offers a wide range of tools that can be used to analyze the market and make informed trading decisions. TradingView is entirely web-based and requires internet access to access it. This means that you do not need to download any software in order to start using the tool for your trading.
Autochartist program 
Autochartist is another beginner-friendly tool that generates trade ideas based on different technical analysis patterns. It allows users to follow one single trade by eliminating all the market noise and highlighting data intervals, currency pairs, and technical indicators that will highlight crucial market events.
Other reliable trading tools over the Autochartist program include a risk management tool to guide the volume of your trades. In addition, volatility analysis determines the profit and stop-loss levels based on the market's volatility. Besides, traders also have the option to execute their trades directly via emails over this program.  
Connected ecosystem
Pepperstone's website's simple application development and clean UI are visible across all of its applications on various platforms. So, whether you're a beginner or an experienced trader, once you download the web or mobile application and connect with Pepperstone trader, you'll have instant access to trading anytime and from any location.
Seamless charting experience
Charts are one of the most compelling features for any trader or investor. If they aren't clear, it generally becomes challenging for the traders. However, things are different over Pepperstone as it offers a reliable trading experience over MetaTrader and cTrader. In addition, both platforms support algorithmic trading based on weaknesses and strengths. 
Overall, Pepperstone web trader is a great alternative for beginners. It has all the necessary tools and features to ensure success in your trading journey. Besides, access to features like 'copy' or 'social' trading only becomes better for beginners in the industry. 
74% of retail investor accounts lose money when trading spread bets and CFDs with this provider. You should consider whether you understand how spread bets and CFDs work and whether you can afford to take the high risk of losing your money.
How Long Does It Take To Withdraw Funds From Pepperstone?
It generally takes up to one working day to withdraw funds from Pepperstone. To initiate the same, you must log into your Pepperstone client area and select the 'Funds' tab. Once done, click the 'withdraw funds' tab and access the different withdrawal options. 
The different methods to withdraw your funds at Pepperstone include bank transfer, MasterCard, Visa, and multiple eWallets like Union Pay, Skrill, PayPal, and Neteller, among others. In addition, if the withdrawal requests are received within 07.00 AEST, the NDD broker initiates the transactions on the same day or moves to the day after.
Besides, once you've initiated a withdrawal request, there's a request generated which needs to be confirmed within an hour. It can be done by clicking on the "Accept Withdrawal" link embedded within the confirmation email. Or, if your account has an active 2FA (2 Factor Authentication), simply enter the received code over your Authenticator app and confirm the withdrawal step. 
Now, while the entire withdrawal process is seamless, there are some exceptions to the process. For example, it can take over five business days for the funds to get highlighted in your account. 
This situation could result from several situations, including your payment provider rejecting the funds, incorrect details, or the intermediary bank causing delays due to their regulatory processes. 
So if the withdrawal takes over five business days since its processing and you're unable to locate the funds, consider mailing '[email protected]' to get a receipt of your withdrawal and enquire further. 
Can You Use Pepperstone In the UK?
Yes, the residents of the UK can sign up with Pepperstone's services. The platform is backed by regulations under FCA (United Kingdom's Financial Conduct Authority) and FRN, adding to the safety net of investments for the locals. 
However, you can't possibly trade over Pepperstone if you're a user from the USA. Due to the stringent regulatory frameworks in the country, limited forex brokers are operating in the country. So if you're a user from the States, you might want to sign up with a different forex broker.
How To Use Pepperstone?
Step 1: Register for an account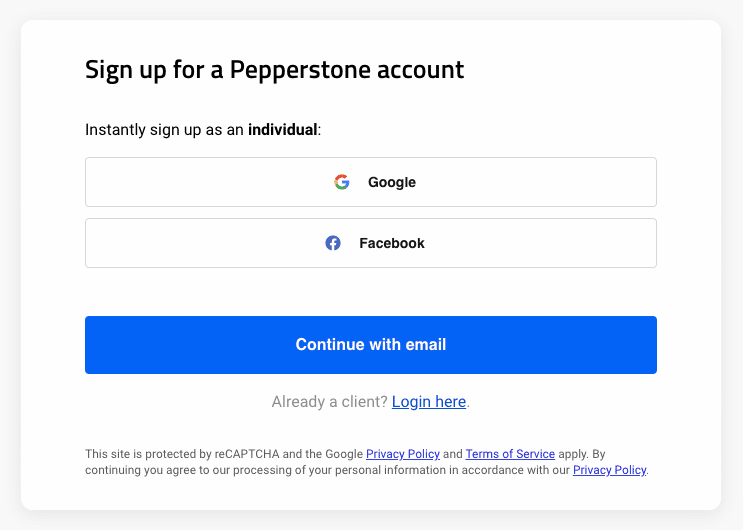 If you're interested in signing up with Pepperstone broker services, you can start by visiting their website and heading towards the 'Join Now' button at the top corner of the page. Upon clicking, you'll be asked to instantly sign up over the platform via your Google or FB account or continue with an email. 
Remember if you want to opt for a demo account, click on the demo account section in the middle of the landing page.
74% of retail investor accounts lose money when trading spread bets and CFDs with this provider. You should consider whether you understand how spread bets and CFDs work and whether you can afford to take the high risk of losing your money.
Step 2: Verify ID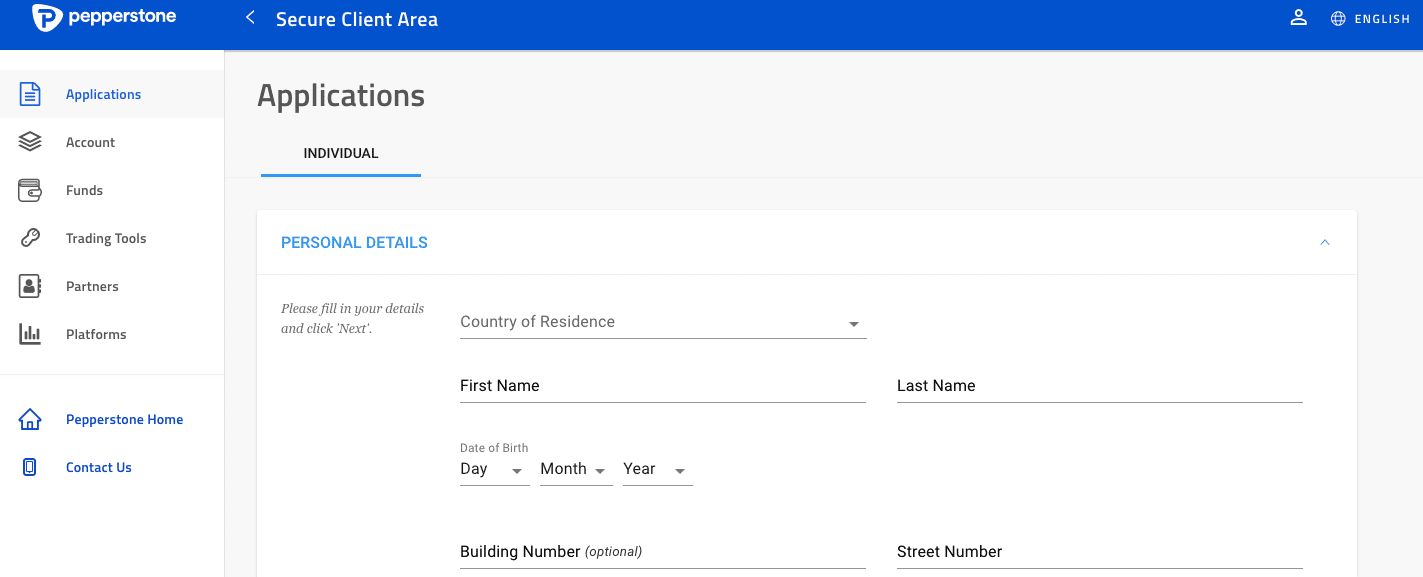 After you've manually entered all your details and registered yourself via email id, the next step requires you to verify your email. You need to do this by clicking on a link sent to the email. After you've verified your email, you will be required to upload supporting photos and documents required to verify your account with Pepperstone web traders. 
Step 3: Complete trader experience survey
Before moving to the final step of adding funds to your account, Pepperstone requires its new users to complete a trader experience survey. Then, based on your overall trading experience, the platform will present you with a list of possible trading account solutions to get started. 
Step 4: Deposit funds

The fourth step in the trading process is to deposit your funds over Pepperstone web trader. Here, you need to go to the deposit menu and click on the 'Deposit Funds' button on the webpage. Once done, all you need to do is deposit the minimum ($200 of your base currency) and select among the multiple means of payments like debit/credit card, PayPal, wire transfer, or another e-wallet.
Step 5: Practice with a demo account
Now that you have a ready and funded account, we suggest you hold back and first practice your trade strategies over a demo account. When trading over Pepperstone's demo account, you'll have access to fake funds that can be used to test your trading strategies over stimulated market conditions (influenced by real-time market movements). This way, you'll have a better chance of improving your chances of trade profit in real market conditions.  
Step 6: Start live trading

Now that you know what trading in actual market conditions would be like, it's time to test the strategies in the real market and earn profits from your investment. All the best!
74% of retail investor accounts lose money when trading spread bets and CFDs with this provider. You should consider whether you understand how spread bets and CFDs work and whether you can afford to take the high risk of losing your money.
Pepperstone Review UK- Our Conclusion
This brings us to the end of our Pepperstone review UK. In the sections featured above, we've highlighted every platform's quality, feature, and fee structure. In addition, we've also covered the steps to get started with Pepperstone trading in minutes. 
Overall, the broker is a great option for users of every type! The numerous trading features, competitive spreads, and no maintenance fees make it one of the most reliable and unique options to get started.
FAQs
What is the minimum amount you can trade with Pepperstone?
The minimum amount to start trading over Pepperstone is £500 (or an equivalent unit of the base currency). However, per our Pepperstone UK review, you could get started with a sum lower than the set amount.
Is Pepperstone a legit broker?
Pepperstone is regulated under FCA (United Kingdom's Financial Conduct Authority) and FRN. Not to forget, the platform also provides insurance of up to 85,000 pounds to its users.
What is the withdrawal limit on Pepperstone?
When withdrawing your funds from Pepperstone trader, you'll only be allowed to withdraw up to 90% of their funds at any given time.
Is Pepperstone regulated in the UK?
Yes, Pepperstone is regulated under FCA (United Kingdom's Financial Conduct Authority) and FRN. Not to forget, the platform also provides insurance of up to £85,000 to its users.
Is Pepperstone trader a good platform to consider?
Yes, Pepperstone is a great platform, no matter the type of trader or investor that you are. The platform introduces some of the best and most reliable tools and features to allow users to make the most of their journey. Plus, the platform also has a competitive fee structure to get started.