Plus500 Review UK
Fact checked
Everything you read on our site is provided by expert writers who have many years of experience in the financial markets and have written for other top financial publications. Every piece of information here is fact-checked. We sometimes use affiliate links in our content, when clicking on those we might receive a commission - at no extra cost to you. By using this website you agree to our terms and conditions and privacy policy.
If you're looking for a secure and efficient multi-asset Contract for Difference (CFD) trading platform, then look no further than Plus500. Touting itself as the leading provider of CFDs, the platform is a rapidly growing CFD broker in Europe and Asia and currently offers its portfolio of over 1000 instruments to over a million clients.
In this Plus500 review, we'll go through the key features and aspects of the broker along with its proprietary web platform. We analyze important metrics such as fees, commissions, financial instruments, payment methods, regulations, and more.
What is Plus500 UK?
Founded back in 2008, Plus500 envisions being both a CFD provider and a frontrunner in technology and innovation. The company values transparency, professionalism, and the human side of trading.
We've found in our Plus500 broker review that the broker makes it clear to its clients what exactly they're getting when it comes to the services provided alongside its fees. Plus500 doesn't charge its clients commissions and earns mainly through the bid/ask spread of trades.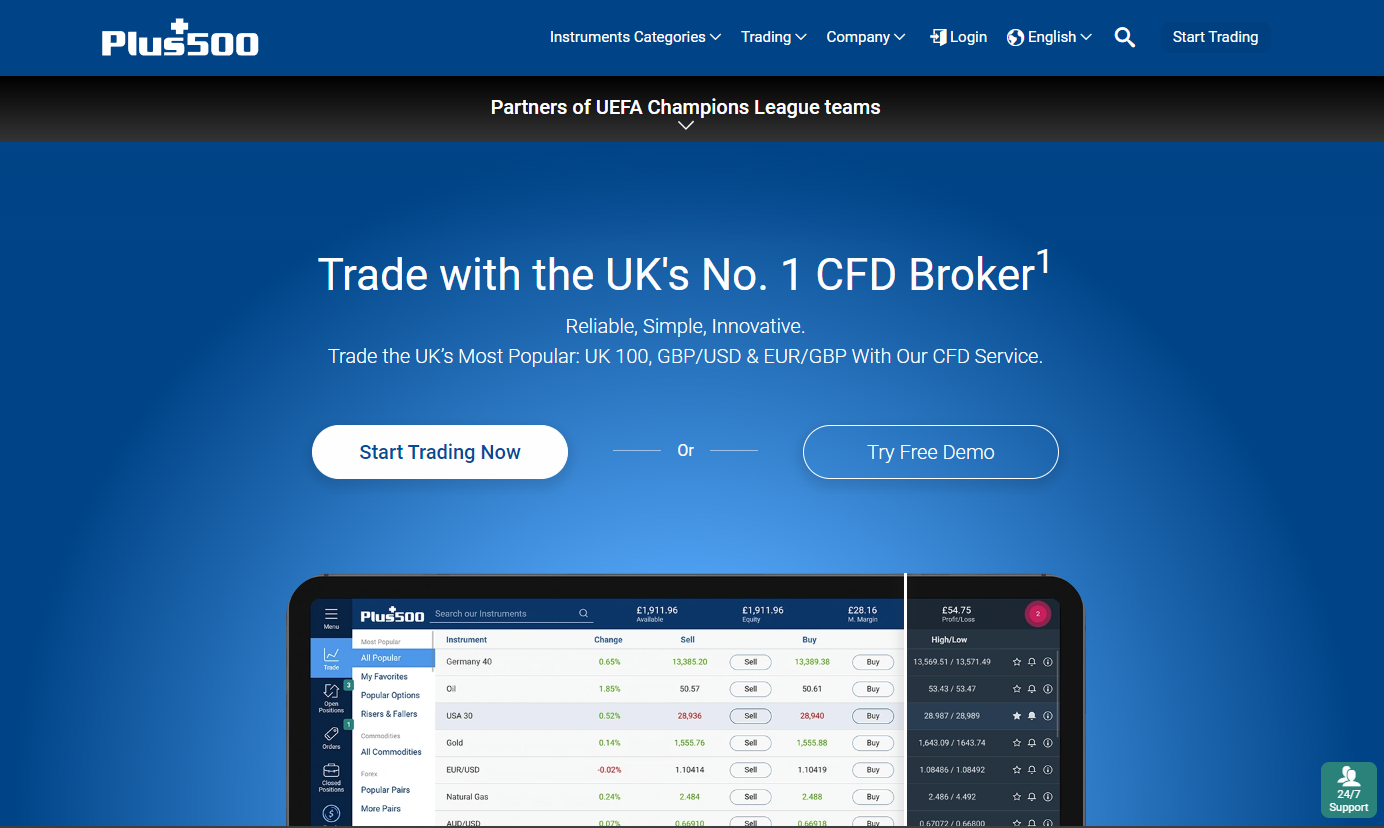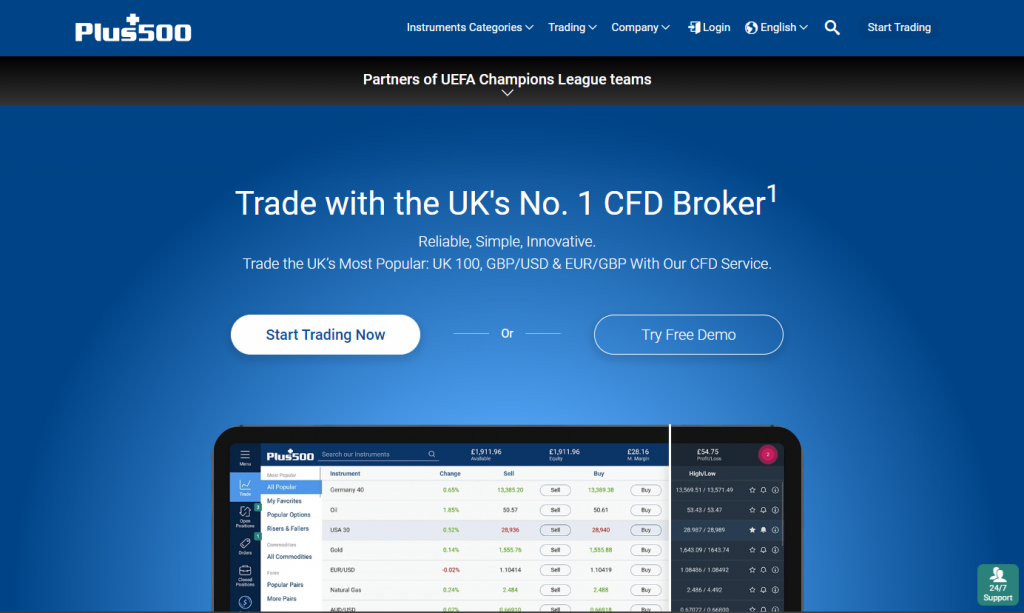 Furthermore, their product is designed with enhanced security that ensures safe and seamless trading. Aside from this, the company also holds professional 24/7 customer support for its clients to ensure that they have a smooth experience using the platform.
75.26% of retail investor accounts lose money when trading CFDs with this provider. You should consider whether you can afford to take the high risk of losing your money.
With over 430 thousand active customers, $1.7 trillion worth of traded value, and 82 million positions opened all in 2020 alone, there's a lot to show for the reliability and popularity of Plus500.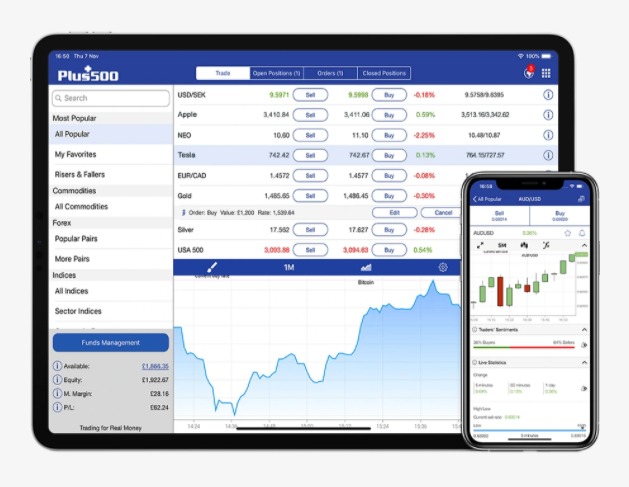 Although buying and selling financial instruments aren't traditional in the sense that all trades are done through CFDs, Plus500 offers its users the option of trading price movements and even using leverage to increase potential gains without much capital to start with.
Other Plus500 reviews UK also highlight the presence of a demo account. Having a demo account is a huge advantage as anyone can start familiarizing and using the Plus500 platform without having to spend any money. Creating a demo account is simple and doesn't require any verification as well. The account starts with £40,000 in virtual equity.
Sponsored ad. Your capital is at risk.
What Can You Invest in and Trade on Plus500 UK?
As a multi-asset CFD trading platform, there are plenty of financial instruments to trade from in Plus500 across global markets. With a live trading account, you can access seven different financial instruments including:
Cryptocurrencies
Indices
Forex
Commodities
Shares
Options
ETFs
CFDs are contracts between an investor and the CFD broker. It's the exchange in the difference in value from the time that asset was bought to the time the contract ends. You do not own the underlying asset.
Invest in Forex


Featuring over 60 major, minor, and exotic forex pairs, Plus500 is a suitable place to start forex trading. The maximum leverage for forex trading on Plus500 is 30:1 which means that starting with a small £100 investment can yield purchasing power worth £3000 – 30 times the initial amount.
There are three primary markets in the forex world:
Spot Forex Market – The physical exchange of a currency pair that takes place on a spot date (referring to the day of the trade plus 2 days – "T+2").
Forward Forex Market – Involving an Over the Counter (OTC) contract to Buy or Sell a set amount of a currency for a future date.
Forex Futures Market – This features a forex futures contract which is an exchange-traded contract to Buy or Sell a specified amount of a given currency at a predetermined price on a set date in the future.
Plus500 offers 24 hour CFD trading on forex pairs including popular pairs such as EUR/USD, GBP/USD, and EUR/GBP. In this Plus500 forex review, a key feature that the platform offers is risk management. These include Stop Limits and Stop Loss orders that are added parameters in forex trading with Plus500. These types enable users to set certain rates where positions will automatically close – a way of safeguarding profits and minimizing losses.
One thing to understand especially in the forex market is that these risk management tools do not guarantee that your position closes at exactly the price that's set. This is because volatility can create rapid price fluctuations that can cause price changes that exceed many stop limits and stop losses. This is known as slippage and can change the outcome of any trade.
In terms of the Forex market, Plus500 traders can expect to CFD trade popular currency pairs with the world's largest financial businesses and banks. More than $6.6 trillion worth of transactions and trades happen every day in Forex. And users can find the price movements and liquidity among popular currency pairs on the platform.
Trade Stocks


As we move along with this Plus500 trading review, we can't miss out on the stock trading on the platform. Plus500 offers access to shares from all major exchanges including the US, UK, Europe.
Stock trading can reach maximum leverage levels of 5:1, meaning an account with £200 equity can make trades with a £1,000 buying power. There is also no stamp duty tax and zero commissions at competitive market-leading spreads.
In this Plus500 review forum, we found that the broker features stocks from companies listed in the biggest exchanges. A few examples are:
UK
USA
Ireland
Australia
Germany
France
Italy
Hong Kong
75.26% of retail investor accounts lose money when trading CFDs with this provider. You should consider whether you can afford to take the high risk of losing your money.
Invest in Indices


There are over 60 indices available for CFD trading on Plus500, among them the USA 500, US-Tech 100, UK 100, ASX 200, and Germany 30. As with other financial instruments, trade them with 0% commission and enjoy the leverage of up to 20:1.
In the platform, get free real-time streaming quotes on all indices. This means that you can also set price alerts and notifications on live quotes and it's all free of charge. There's even the option of getting email notified when prices and news of certain industries have changed.
Index CFDs offer clients a way of diversifying their portfolios by investing in industries, communities, and a culmination of different stocks and assets. As such, fluctuations in indices are less volatile overall.
Individual stocks or even cryptocurrencies in contrast often see large bouts of volatility as a result of overleveraged positions, PR problems, poor sales, or various other factors. In this vein, index CFDs can be a more stable investment and even a hedge for some investors.
Trade Commodities CFDs


Plus500 offers 22 different commodity CFDs such as popular Gold, Oil, and Silver. Furthermore, different agricultural products, energies, and precious metals such as wheat, sugar, corn, soybeans, EUA, Live Cattle, Copper, and Natural Gas are also available on the platform.
Commodity CFDs with Plus500 are available to trade with leverage up to 1:20. Remember that in CFD trading the difference in price is what the agreement is all about and not about purchasing the actual underlying asset. Use CFDs to your advantage not just through leveraged trades but also by possibly going short when the opportunity arises.
Trade Cryptocurrencies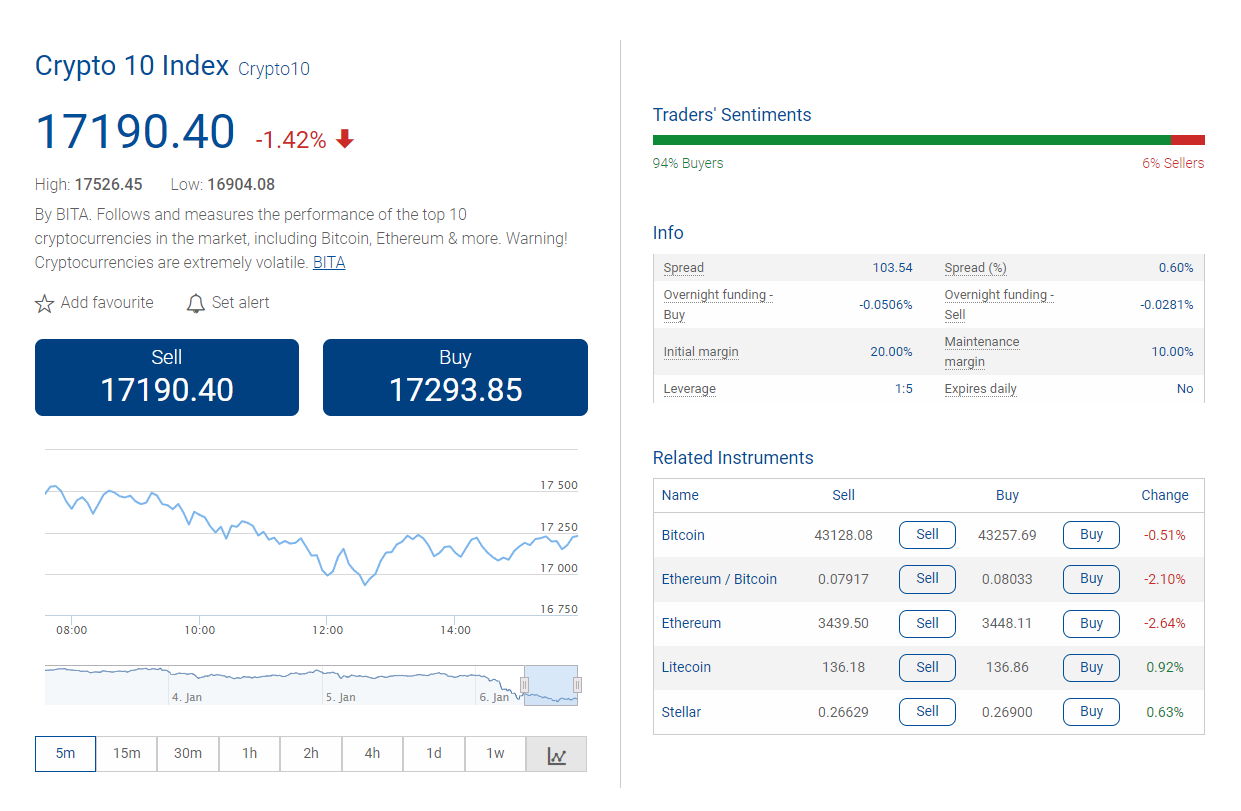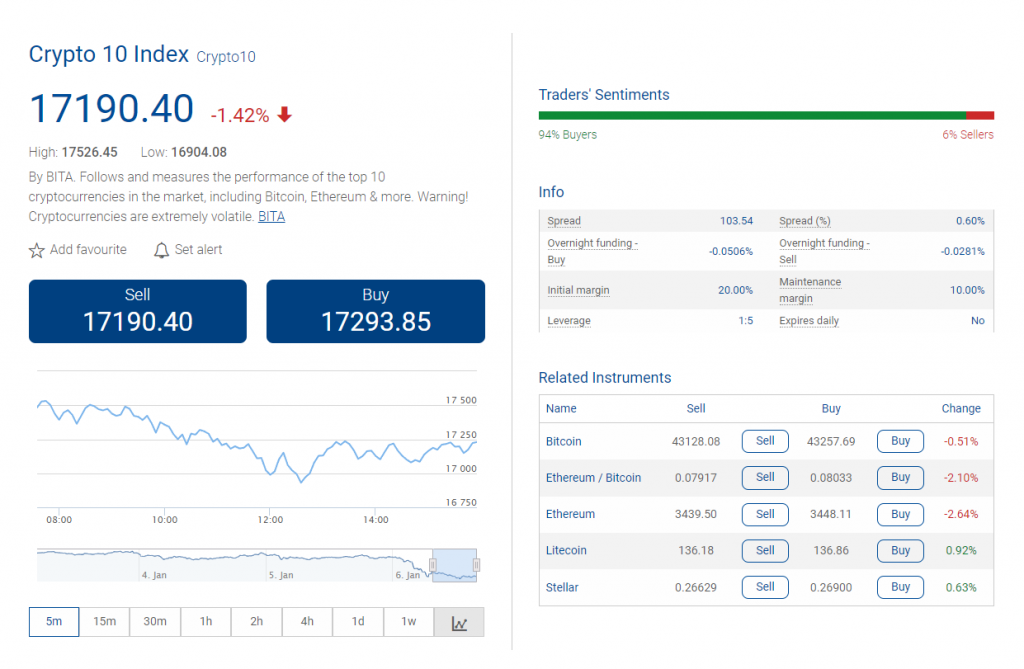 Popular, controversial, and volatile can all be used to describe the recent cryptocurrency run in the past year. These digital assets are in fact so controversial that cryptocurrency CFDs are not available to retail clients after the FCA banned cryptocurrency derivatives starting January 6, 2021. Though crypto CFD trading on Plus500 is still available for non-UK residents.
As found in our Plus500 cryptocurrency review, an advantage of trading crypto CFDs is being able to trade the price action without the need for a Bitcoin wallet. As the underlying crypto assets are not owned or traded by the investor, the trade involves purchasing or selling contracts based on price movements of the digital assets instead.
If trading individual cryptocurrencies seems a little too daunting for you, Plus500 also offers CFD trading for the BITA Crypto 10 Index. This index tracks the top 10 cryptocurrencies such as Bitcoin, Ethereum, Litecoin, Binance Coin, Polkadot, and more. As an index, Crypto 10 is available for UK residents as per the Plus500 bitcoin review.
75.26% of retail investor accounts lose money when trading CFDs with this provider. You should consider whether you can afford to take the high risk of losing your money.
Plus500 UK Fees & Commissions
From our Plus500.com review, it's important to know the different fees and commissions that come with trading on the platform. Note that there are mainly two types of fees that you'll encounter in any trading platform – the actual fees associated with trading and the administrative fees that have to do with account maintenance.
Here we have listed Plus500's key fees and commissions below:

| | |
| --- | --- |
| Trading Fee | Charge |
| CFD trading | 0% Commission; Fees are built into spread |
| Forex trading | 0% Commission; Tight Spreads; Overnight on leverage is not included in the spread |
| Crypto CFD leverage | Up to 5:1 |
| Share CFD leverage | Up to 5:1 |
| Indices CFD leverage | Up to 20:1 |
| Commodities CFD leverage | Up to 20:1 |
| Forex CFD leverage | Up to 30:1 |
Here's a breakdown of the non-trading fees:

| | |
| --- | --- |
| Non-trading fees | Charge |
| Overnight Fee | For all CFDs, Plus500 UK charges an overnight fee based on the asset, amount, and leverage |
| Deposit Fee | 0% |
| Withdrawal Fee | 0% |
| Inactivity Fee | $10 per month after three months of inactivity |
| Minimum Deposit | £100 for debit cards, credit cards, and e-wallets. £500 for bank transfers. |
75.26% of retail investor accounts lose money when trading CFDs with this provider. You should consider whether you can afford to take the high risk of losing your money.
Plus500 UK User Experience
The main medium for Plus500 is its webtrader or its browser-based platform where all trading features can be accessed including charting, educational resources, and risk management tools. In our Plus500 webtrader review, we found the user experience for the platform to be clean and straightforward. Any beginner looking to start trading with Plus500 will be able to enjoy a smooth and direct trading experience.
Plus500 offers a range of usability. Users can sign up for a demo account without putting in any money to try their trading strategies on the platform. There are also different investment options as mentioned previously. This offers users to be more diverse with their portfolios.
Additionally, Plus500's platform has a user interface that lets you customize what you see. For example, users can create watchlists that help keep track of what you are currently investing in or interested in. The platform also provides charts to analyze and monitor trades along with the watchlist.
Plus500 UK Features, Charting, and Analysis
One of Plus500's main features as a CFD broker is having risk management tools. We mentioned earlier in the Plus500 affiliate review that the problem with having Stop Limits and Stop Losses is the prevalence of slippage. Again, this occurs when markets are so volatile that price movements instantly exceed Stop Limit or Stop Loss levels.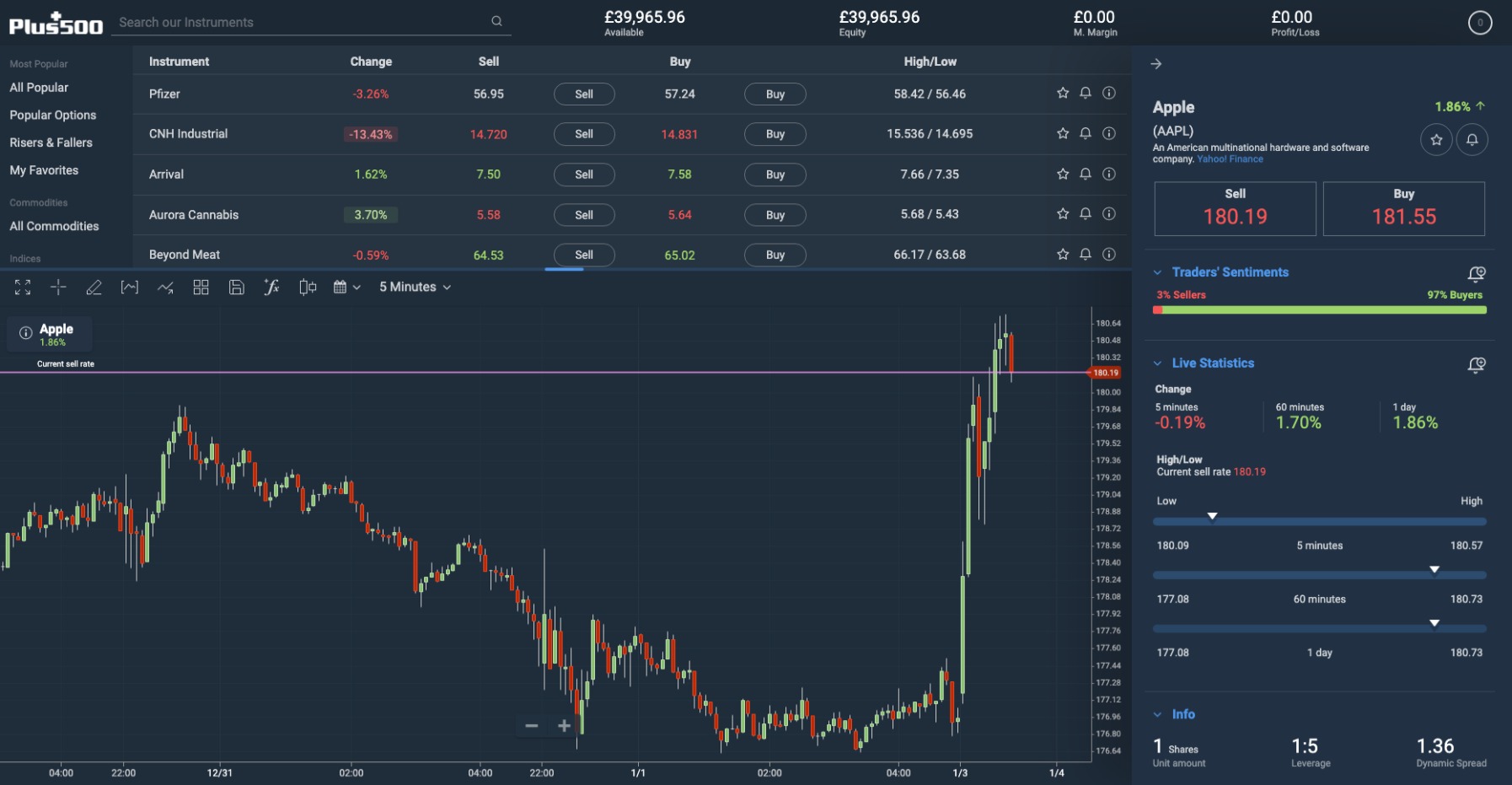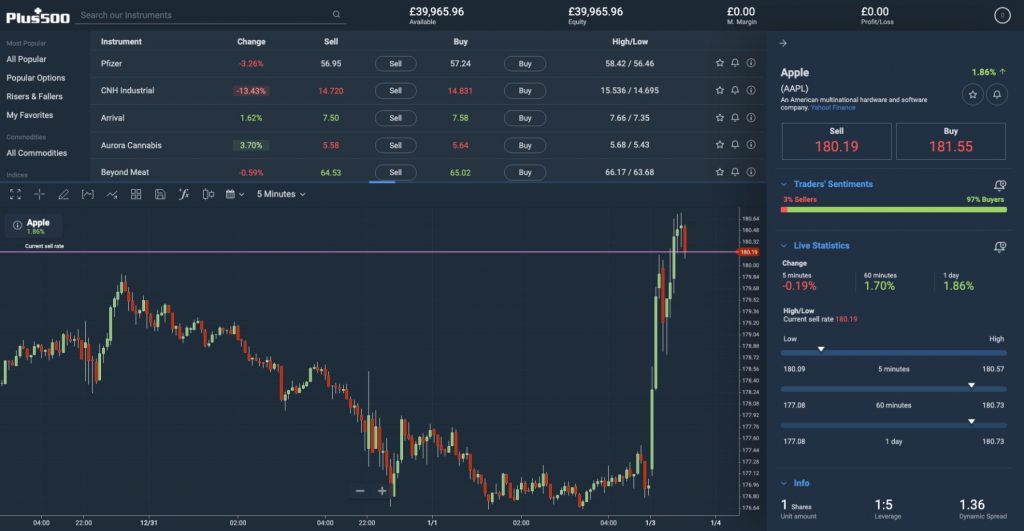 Thankfully, Plus500 offers a Guaranteed Stop order to your trading position which puts an absolute limit on your potential loss. Even if the price of the instrument moves significantly against you, your position will automatically be closed at the specified price, with no risk of slippage. Guaranteed Stop is only available for certain instruments and has other caveats, but the option to use it remains.
In terms of charting, Plus500 offers a view of any asset's history via candlestick, baseline, line, and other chart types. Other common indicators available are Moving Averages, Bollinger Bands, MACD, Relative Strength Index, and Volume Underlay. With this wide array of tools and technical indicators even seasoned traders would be able to properly utilize the Plus500 webtrader platform.
Plus500 UK Account Types
Plus500 offers three different CFD account types each with different purposes and varying degrees of features. Let's take a look at the three account types and what they have to offer in the following table:

| | | | |
| --- | --- | --- | --- |
| Features | Demo Account | Retail Account | Professional Account |
| Leverage | 30:1 maximum leverage | 30:1 maximum leverage | 300:1 maximum leverage |
| Minimum deposit | None | £100 | €500,000 |
| Negative Balance Protection | Yes | Yes | Yes |
| Client Money Protection | Yes | Yes | Yes |
The demo account allows for a very straightforward way for beginners to start trading. Given that the normal retail account requires a £100 minimum deposit, the demo account helps lower the barrier for entry for many users.
In order to avail of a professional account according to our review Plus500, users must meet two of the three following criteria:
Sufficient trading activity in last 12 months – You have performed an average of at least 10 transactions per quarter, of significant size, over the previous four quarters on the relevant market1 (with Plus500 and/or other providers).
Financial instrument portfolio of over €500,000 (including cash savings and financial instruments) – You will not be required to deposit this amount. The size of your financial instrument portfolio2 exceeds €500,000.
Relevant experience in the financial services sector – You work/have worked in the financial sector, for at least one year in a professional position that requires knowledge of the related transactions or services.
75.26% of retail investor accounts lose money when trading CFDs with this provider. You should consider whether you can afford to take the high risk of losing your money.
Plus500 UK Mobile App Review
Since several markets run 24/7 such as forex and crypto markets, it's important to be able to access your Plus500 account on the go. The Plus 500 mobile app is intuitive and responsive. Users have the option of setting notifications and alerts for certain industries and can be alerted for incoming trends.


As the self-proclaimed largest CFD provider in the UK, Germany, and Spain, Plus500's app offers an elegant and intuitive user interface suitable for CFD stock trading anytime, anywhere. •Stock market quotes of popular stocks and indexes are available in Plus500 quotes. Live Quotes for Commodities such as Oil and Gold are also available in real-time.
Just like in the web platform, users can also avail of the multi-language 24/7 professional support as seen in our Plus500 app review.
Plus500 UK Deposit and Withdrawal Methods
In this Plus500.co.uk review, we've discussed that the minimum deposit to fund a Plus500 account is £‪100 for bank cards and e-wallets and £500 for bank transfer. We've also mentioned that there are no deposit and withdrawal fees associated with Plus500. On the other hand, there is a limit of £‪35,000 per deposit.
The full list of payment methods are:
Credit/Debit Card
PayPal
Trustly – Instant Bank Transfer
Bank transfer
Plus500 UK Contact and Customer Service
Another area where Plus500 shines is its customer service which is offered 24/7. Unlike trading platforms that operate at the industry standard of 24/5 customer support, Plus500 provides round-the-clock customer service.
Is Plus500 UK Broker Safe?
Plus500 is regulated by the UK's Financial Conduct Authority (FCA), a reputable organization that's tasked to oversee financial trading in the region. As the platform follows the FCA's rules and guidelines, users are protected and can trust that the broker has certain account safeguards. For one, user funds are kept in segregated bank accounts. Secondly, protocols happen through a Secure Sockets Layer (SSL) which ensures encryption of data between the clients and the server.
Plus500 UK Review – Conclusion
Plus500 is a suitable CFD trading platform for a wide variety of traders, including beginners. The platform comes packed with an intuitive user interface and dozens of features. It's also regulated by the FCA.
Plus500 Alternatives
If you're looking for an alternative to Plus500, eToro is another all-in-one regulated trading platform. eToro offers thousands of different assets with 0% commission, and also accepts United Kingdom based traders.
FAQs
What is cryptocurrencies trading?
Can I trade with leverage in Plus500 UK broker?
Can I open an account with Plus500 in the UK?