Best Options Trading Platform UK 2023
Fact checked
Everything you read on our site is provided by expert writers who have many years of experience in the financial markets and have written for other top financial publications. Every piece of information here is fact-checked. We sometimes use affiliate links in our content, when clicking on those we might receive a commission - at no extra cost to you. By using this website you agree to our terms and conditions and privacy policy.
Increasing interest in options as a means of leveraging investment has led to an increasing number of brokerage firms focusing on this market area. In this article, we will provide you with a summary of the best options trading platforms in the UK so that you can make an informed choice when choosing the right platform for your needs.
What Is Options Trading?
When you trade options, you are buying a contract that gives you the right to buy an underlying asset at a pre-arranged price at a set date in the future. Traditionally, these options were traded in person, but are now traded mostly online. However, the fundamental concept remains the same.
If the buyer of the option wishes to realize the contract, the seller of the option is the contracting party who needs to fulfill his contractual obligation. Option buyers are entitled to exercise their options but are not required to do so, meaning they may give up on their obligation to execute the deal.
If an option represents the right for the holder to purchase a certain asset, it is referred to as a call option, and if it represents the right for the holder to sell a certain asset, it is referred to as a put option.
The underlying asset of the option is the subject of the contract contained in the option. The asset can be commodities, forex, cryptocurrencies, interest rates, futures contracts, or stock indices.
The premium, the strike price, and the expiration date are the three components of an option contract, and they are all equally important. A premium is a fee you pay when you enter any options trade, which is the cost of the options contract itself. As for the strike price, it is the amount at which you agree to pay if you exercise your option. Finally, when it comes to a contract's expiration date, this is the date by which you are permitted to exercise your right to terminate the contract. Upon expiration of this date, the options contract is no longer valuable and becomes valueless.
As an options trader, you should remember that you are not required to hold your contracts through expiration. The option contracts you own can also be sold to another trader in exchange for the current premium price. If the contract's value increases or decreases since you purchased it, you can exit the trade and generate profit or loss.
Best Options Trading Platform Uk 2023 (List)
Best Options Trading Platform Uk 2023 – Reviewed
1. Ava Trade – Best Options Trading Platform For Forex Pairs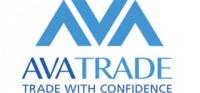 Besides being very popular in forex options trading, AvaTrade is a widespread trading broker in the UK. There are more than 40 different forex pairs available for trading with this broker, for instance.
The broker allows you to buy and sell options directly, although it is primarily a CFD trading platform for most other asset types. So, if you wish to exercise a contract, you will have the option to do that instead of speculating solely on premiums.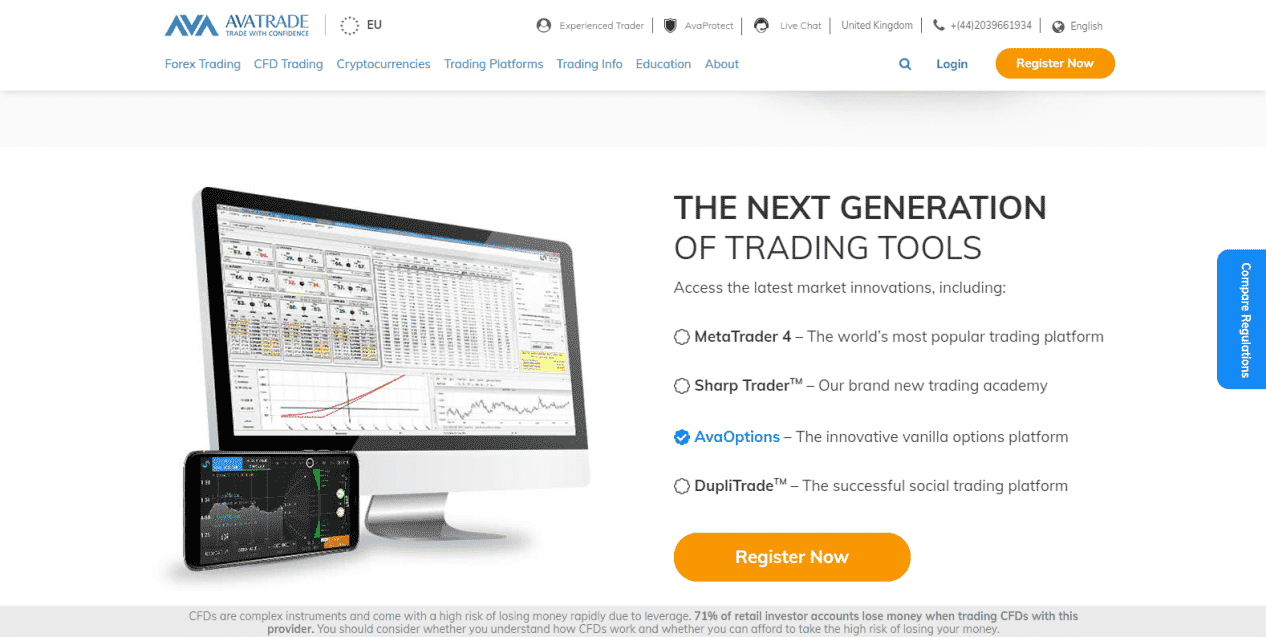 AvaTrade has a platform dedicated to the trading of options called AvaOptions. Using the platform, you can calculate your profit, loss, and breakeven price and evaluate various options trading strategies. Stop-loss orders for option trades are also available from AvaOptions.
You can access the platform from your computer, mobile phone, or tablet. In addition, the commission-free trading of options through AvaTrade is guaranteed on all trades. Nevertheless, if you are planning to sell your positions instead of exercising your contracts, then you should be aware that the spreads can be high.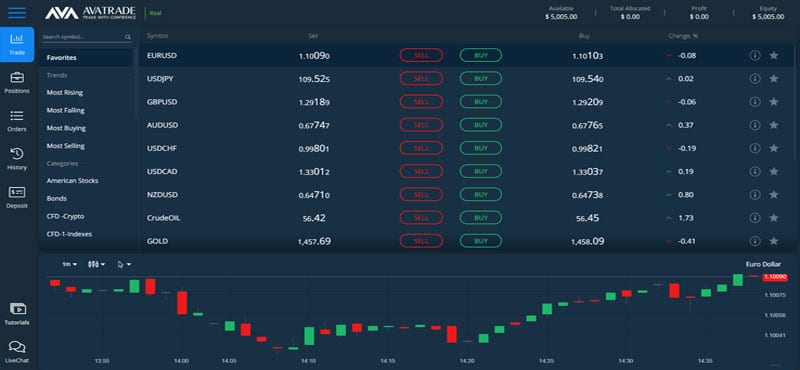 Pros:
More than 40 pairs are available for options trading
Professional tools for risk management and strategy analysis for options traders
Trading without commissions
In contrast to CFDs, this offers the possibility of buying and selling actual options contracts
There are stop-loss options available
Cons:
Compared to the industry average, there are higher spreads
There are no other options besides forex options
Your capital is at risk.
2. Alvexo - Overall Best Options Trading Platform In The UK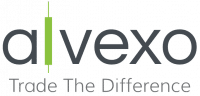 It is no surprise that Alvexo is at the top of our list of best options trading platforms. Investing with this European broker is a great way to get access to competitive spreads, a choice of trading platforms, and a variety of tools designed to help you time the markets.
Among the over 450 assets that can be traded in Alvexo, there are currency pairs, indices, commodities, stocks, and cryptocurrencies. By selecting a broad range of assets from which to choose, retail traders can diversify their portfolios adequately.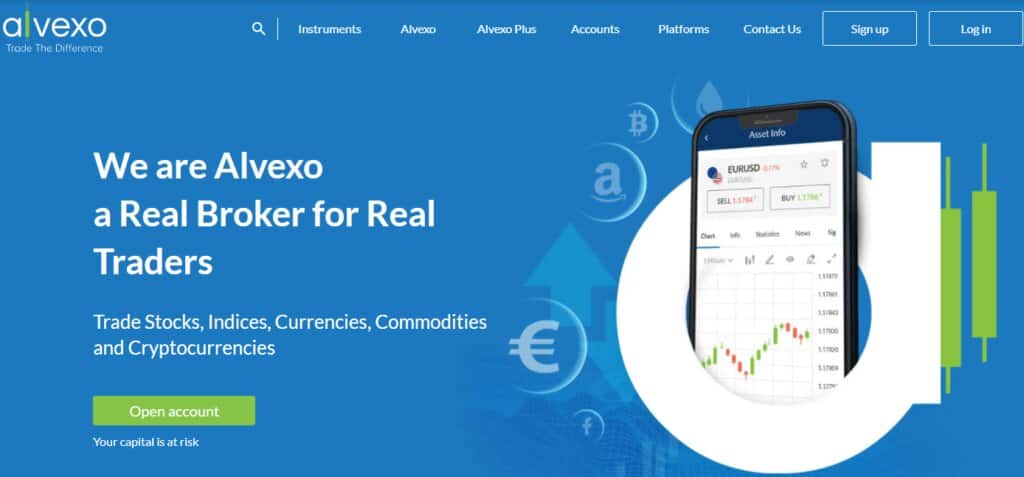 When you trade with Alvexo, you can choose between utilizing the company's proprietary web trading platform and MetaTrader 4. With Alvexo's Web Trader, you can access a wide variety of features that will assist you in analyzing price movements and putting orders. It is also possible to trade on the go with Alvexo's mobile app on iOS and Android devices.
It should be noted that Alvexo also offers a premium service known as Alvexo Plus. With this service, traders have access to daily trading signals, market news, webinars, and an economic calendar, providing them insight into the market.
It is important to note that Alvexo is regulated by the Financial Services Authority of Seychelles.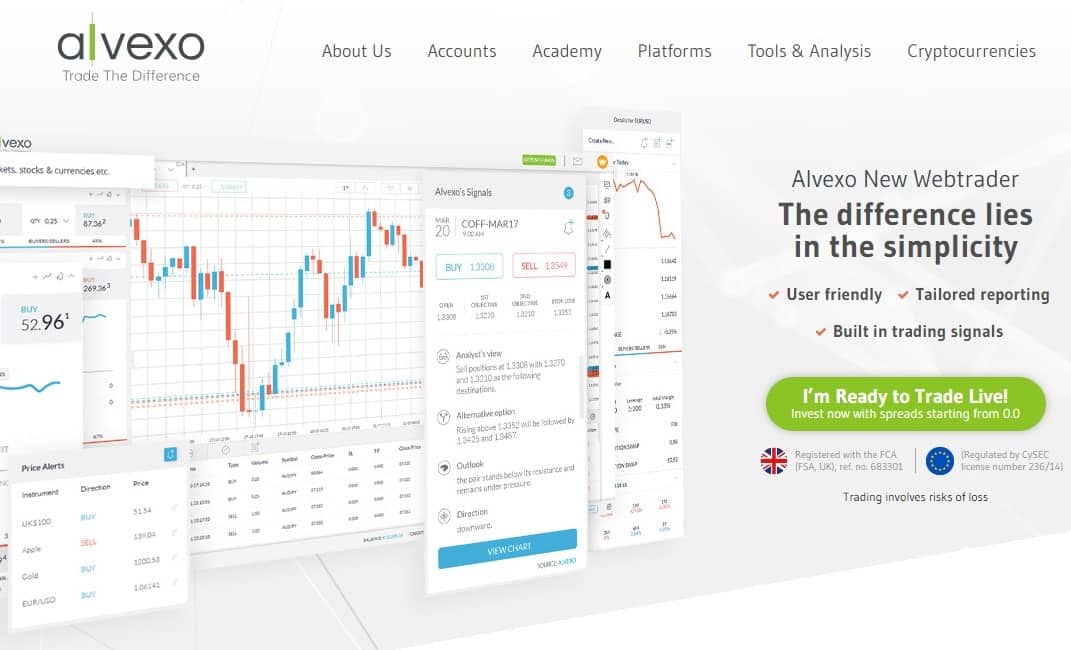 Pros:
Negative balance protection
Commission-free trading
Traders' academy
Tools to enhance your trading
A diverse portfolio of assets
Integration with MetaTrader 4
Cons:
Spreads without a fixed price
Only CFDs can be traded
A minimum deposit of $500 is required
69.80% of retail investor accounts lose money when trading CFDs with this provider.
3. Plus500 - Best CFD Options Trading Platform
Plus500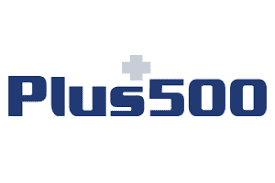 is one of the most well-known UK options trading platforms available. In addition to CySEC, it has been regulated by the FCA, both of which are Tier-1 regulators for trading platforms. Additionally, their options trading in UK includes a wide range of assets.
Options trading on this platform is commission-free in various markets, including indices, stocks, and commodities. However, you can only trade options through CFDs, which is why you do not hold one option contract outright. Instead, you're speculating on price changes in the options premiums for these assets.
Additionally, as Plus500 offers a wide range of expiration dates and strike prices, you can still exercise your options in the most convenient way.
This options broker offers a convenient charting interface, which comes pre-configured with a wide variety of technical indicators and drawing tools. It is also possible to monitor the stock market while trading with Plus500, which has a mobile trading app that you can download and use on the go.
Pros:
Opening large positions at a low cost
Trading strategies with high levels of customization
Potentially high returns due to built-in leverage
Choose between binary options and traditional options
Cons:
The risk of losing your entire investment is high
Beginners may find it difficult
Your capital is at risk.
4. XTB- Best Platform With Low Fees and No Minimum Deposit
In Europe, XTB Broker is a well-known trading platform for stocks, currencies, and commoditi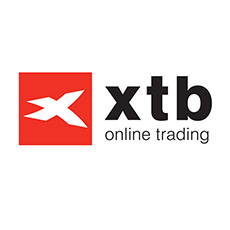 es that accepts a variety of assets. The platform has more than 400,000 subscribers worldwide and has been available for more than 15 years.
In total, XTB offers more than 2100 trading instruments. For anyone looking to diversify their portfolio and broaden their market exposure, this makes it an alluring option. Additionally, XTB guarantees fair spreads and fees. The website states that overnight fees apply to anyone who hold positions after the market shuts.
If a member of XTB is new to trading, they can use a variety of teaching resources. A whole trading academy and a ton of tutorials are also available. Users of XTB can also access extensive market analysis to aid in their trading decisions.
Another benefit offered by XTB is a sample account, which is a great method to test out the program without having to pay anything. The two trading platforms offered by XTB are XStation 5 and XStation Mobile. The second option is the ideal for trading on the go.
Scaling using XTB works incredibly well because of the platform's quick execution speeds. Since XTB has no minimum deposit requirements, you can begin trading with as little as you desire.
Your money is at risk.
5. IG - Options Trading Platform With One Of The Most Comprehensive Asset Offering
IG

offers over 17,000 markets, so it does not surprise that the company's coverage of the options market is one of the most comprehensive in the industry. In order to trade options with IG, you have two options: to trade CFDs or spread bets. Using one of these methods lets you predict the trend in option premiums instead of directly buying and selling options. This way, you can decrease the overall risk associated with your investment.
Aside from US and UK stocks, you can also speculate on global indices, commodities, forex, and many other assets. As a result of the wide selection available, you have the opportunity to trade in several markets based on market conditions. In addition, you will never be charged commissions for trades on CFDs and spread betting, although you may have to pay the spread for these transactions.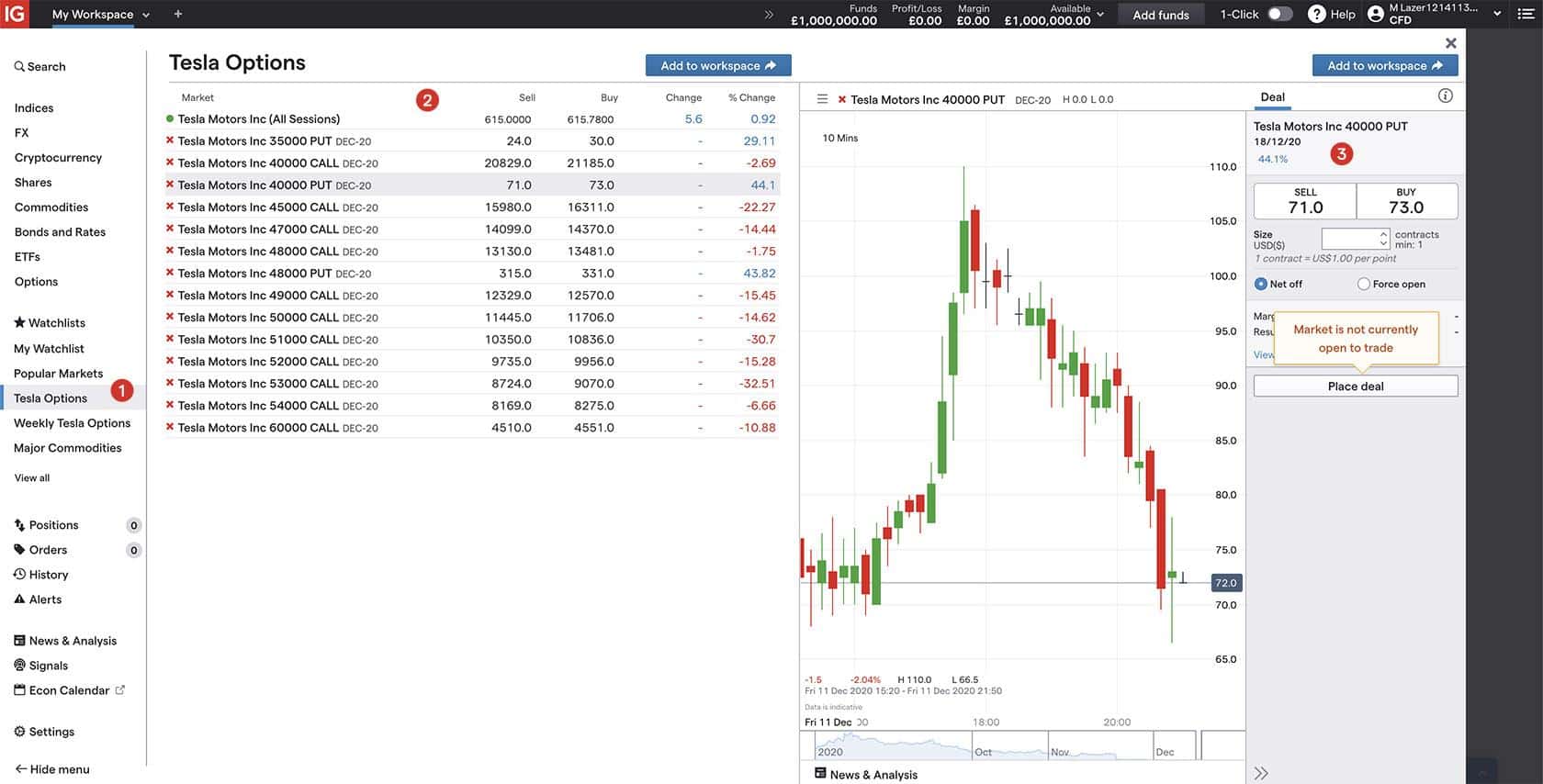 Pros:
Since 1974, a trusted and active broker
The broker is licensed by seven regulatory bodies
Trade over 17000 instruments
Protection from negative balance
Traders in the UK can place spread bets
Resources for education on a variety of topics
Cons:
Compared to other brokers, spreads can be a little higher
Your capital is at risk.
7. CMC Markets - Top-Notch & Established Options Trading Platform For UK Traders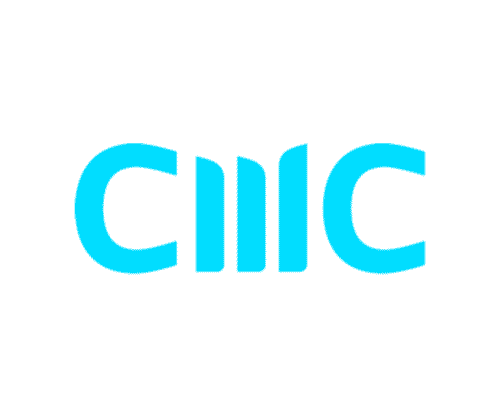 Due to its three decades of operation and more than 11,500 trading instruments, CMC Markets is well-established as a broker and one of the best options trading platforms on the market today.
It is possible to trade options, international shares, and other share trading products on the CMC Markets platform using one account, either the standard account or the Pro account. In addition, the Pro platform also offers different tools to assist the trader in creating and executing different options strategies depending on their needs. As a result, the platform can be tailored to meet users' needs according to their trading style.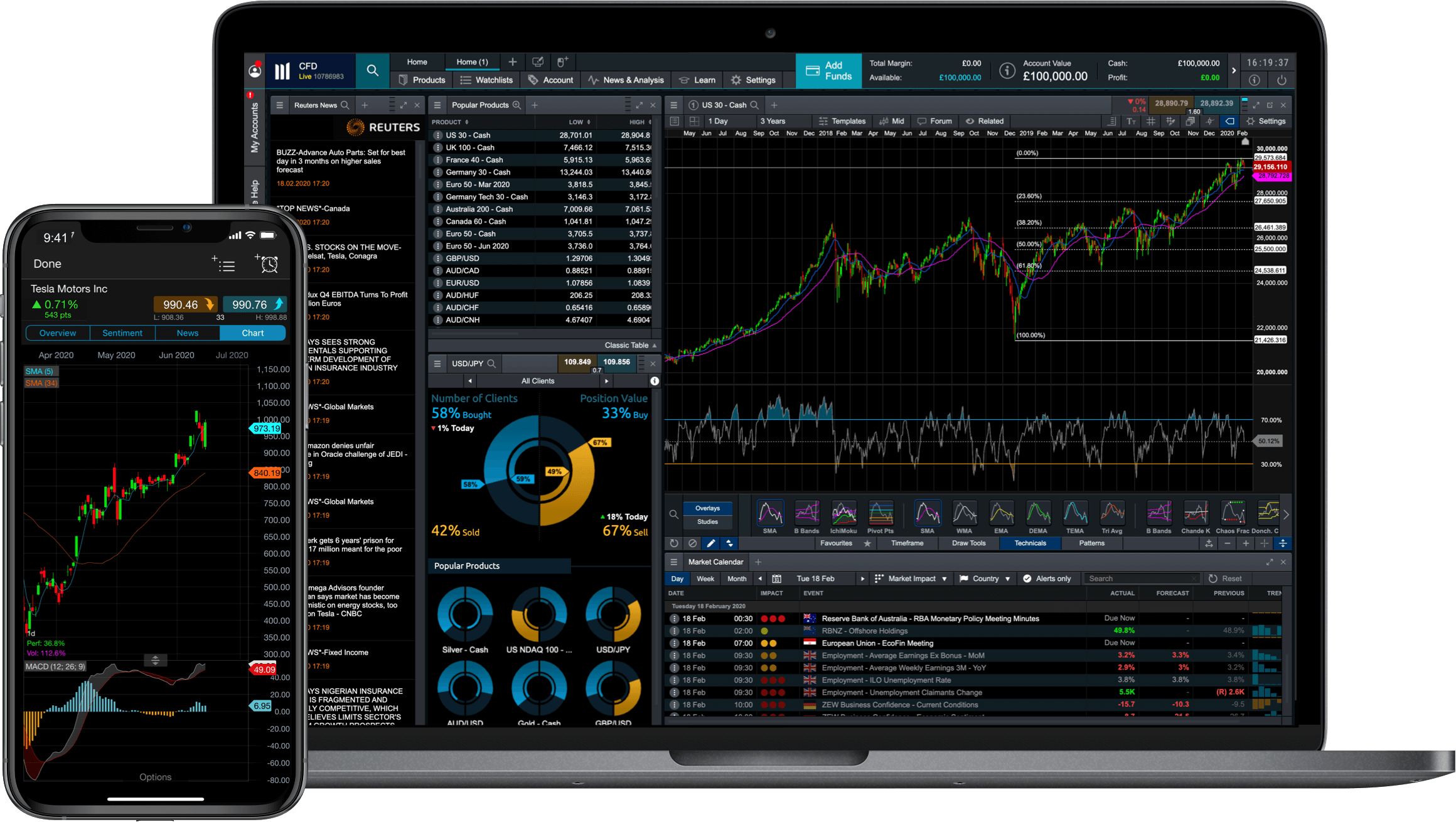 The tools and software offered by CMC make it one of the leading next-generation platforms when it comes to trading tools. As a result, there are more than 115 technical indicators and drawings to choose from, along with 70 chart patterns and 12 types of charts built-in for the user. The variety of features CMC Markets offers, as well as a variety of industry awards, have contributed to the company's success.
Pros:
Regulatory-compliant FCA-regulated broker
With over 30 years of experience - established in 1989
Supports chart analysis, technical indicators, and drawing tools
For Android and iOS mobile devices, there is mobile trading available
Risk management features are extensive
Support is available 24/7
Cons:
Your capital is at risk.
8. Webull - Exceptional Commission-Free Options Trading Platform In The UK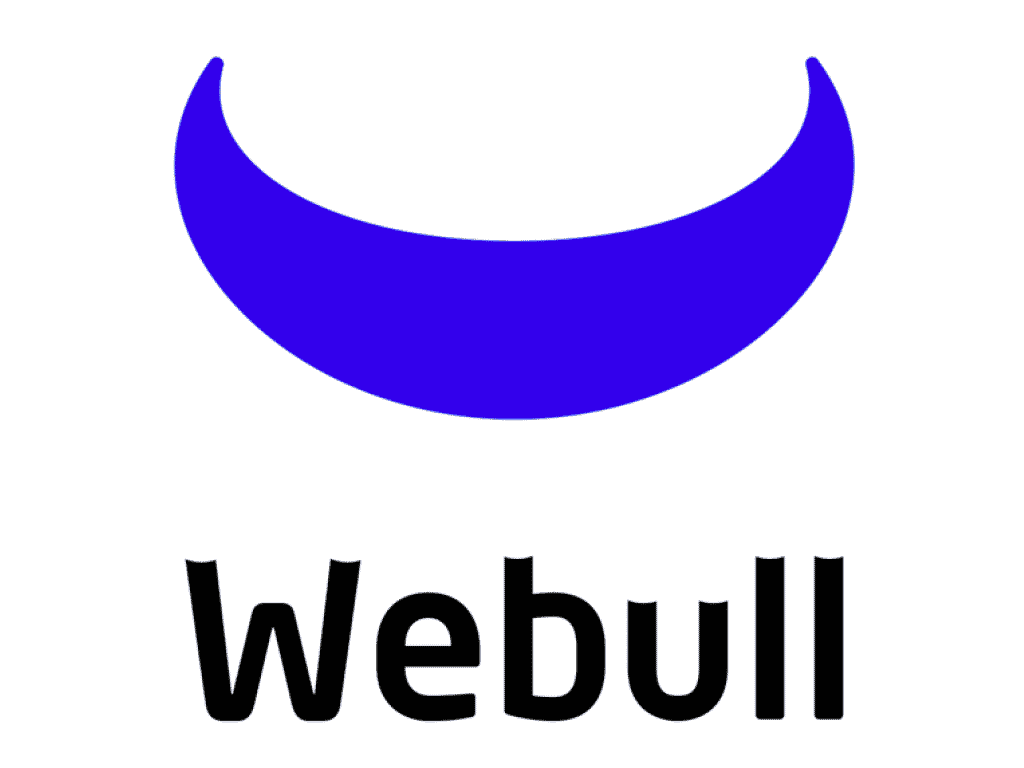 One of the most widespread options trading platforms in the UK is Webull. There is no need to have a lot of technical knowledge to use the Webull app, and you can invest small amounts in it.
In contrast to other top brokerage apps, Webull's selection of assets is not as wide as that of other top apps in its class. Nevertheless, if you are primarily interested in stocks as a trading method, you will find more than enough to trade. In addition, you can trade stock options, although they are largely restricted to US stocks.
Few brokerages offer free options trades, and Webull is one of them. Neither a per-trade commission nor a per-contract fee is charged to customers. Additionally, it is crucial to note that there are no assignment or exercise fees. As a result of these factors, Webull is a solid broker to trade options through.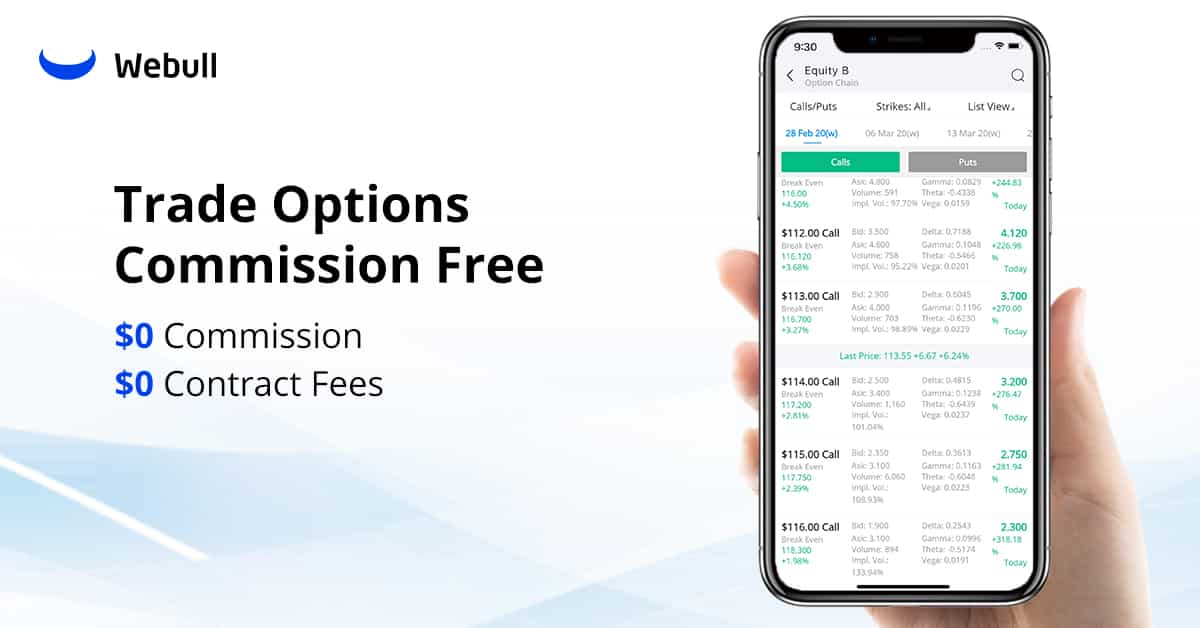 A large range of technical indicators and drawing tools is also available for experienced traders in Webull. It is possible to select from many 50 indicators, including moving averages, momentum studies, and other commonly used indicators. Likewise, indicators can all be customized to allow you to select the time window during which you would like them to be calculated.
For beginners and experts alike, Webull stands out since it doesn't require any minimum deposits.
Pros:
Commission-free trading
Technical charts with high levels of detail
Indicators are fully customizable
Watchlists and alerts of all types can be set up
Includes recommendations from social networks and analysts
Cons:
Bank transfers or wire transfers are the only methods of payment
Resources for education are limited
Your capital is at risk.
How To Choose The Best Options Trading Platform UK
Regulation
Options trading platforms are regulated much like other types of trading platform in the UK. Trading options is typically conducted on a separate platform dedicated solely to options, where traders can perform complex analyses. For example, there are various ways to determine whether a particular trade is profitable. These include analyzing the profitability of options in diverse situations to gain a deeper understanding of the profitability or ascertaining the breakeven point of this trade.
Regarding beginning trading options in the UK, you should partner with a broker registered with the Financial Conduct Authority (FCA) and offers outstanding investor protection.
Due to this, it's advisable to check whether your trading options platform has been authorized by this body prior to using it. The reason for doing so is that you can ensure that you are trading options within fair terms in the market.
Asset Availability And Supported Markets
There are many options brokers available to choose from, so it is important that you choose a broker that supports a wide range of assets.
There are usually options available on stocks, indices, commodities, and forex on the most popular options trading platforms. For instance, trading through options for stock trading and forex trading is particularly prevalent due to the volatility of these asset classes and the potential for price movements that can be strong.
In addition to these, some brokers may also offer access to options on cryptocurrencies and exchange-traded funds in some cases.
Trade Fees
In order to be able to trade options online, it is always necessary for you to pay a fee of some kind. This is what we have discussed throughout this guide on the best options trading platforms UK.
There is a wide range of fees that can be charged by providers. Therefore, we have listed a brief guide to the main fees that you should think about before choosing a provider.
Commissions: the commissions you pay to perform a trade ultimately determine your profit or loss. When a trade is made where the only likely winner is the platform, it makes very little sense to place the trade. There are a few platforms that allow you to trade options without a commission, but others charge per-contract commissions.
Exercise fees: When you buy or sell options, sometimes options brokers charge a fee. However, some brokers charge a fee if you exercise or assign the option you sell.
Spreads:  Depending on the platform, the asset class, and the platform you are trading, there can be a big difference between spreads. If the spread is low, then it means you will be able to earn more profit from your trading. Basically, regarding the trading platform you have chosen, the spread is the difference between the bid price and the ask price the platform offers you. The spread should be as tight as possible. As a result, you want the price to be competitive.
Overnight Financing: An options trader is responsible for paying daily overnight financing fees on every position they hold while it is open.
Payment options: There may be a fee that you will have to pay when you deposit or withdraw funds when you use an options trading platform. However, as bigger the number of different payment methods available, it enables users to fund/withdraw from their accounts with little to no fees and with more flexibility.

Research Tools
Since options are derivative products, they are subject to a wide range of factors that standard securities are not, which is why they are more volatile.
Therefore, it is very important to have an online broker that provides you with a comprehensive set of educational and research offerings if you are new to trading, such as articles, videos, and webinars. However, traders at all experience levels should also look for a robust trading platform and a suite of options-specific tools and resources to take advantage of the market's opportunities.
Additionally, a suitable platform should also act as a kind of assistant - providing you with all the critical information when you need it - to make your life easier.
Minimum Deposit
Before registering an account with your chosen trading options platform, it is wise to check the minimum deposit required.
If the platform's minimum deposit is too high for you, you might be trading with more than you can afford to lose in the long run.
Withdrawal Fees
Besides the fact that fees are an extremely significant consideration for most investors, and they mostly prefer to find brokers that charge low fees or do not charge commissions on trades, withdrawal fees are also a crucial factor to consider.
When it comes to this aspect of the trading platforms we have reviewed, the majority of them don't charge any kind of fees. Anyway, you should make sure that you do as much research as possible before signing up for an options trading platform so that you can make informed decisions.
Demo Account
A good way to practice options trading is to open a demo account before deciding to open a live account. This means that you can trade without risking any money of your own.
However, you will only invest with paper funds in the demo account, despite trading under simulated market conditions. Nevertheless, if you are a beginner learning how to trade options for the first time, you might find this useful since it will allow you to learn the ropes while you trade.
User Experience
Even though there may be traders who don't consider this to be important, it is nonetheless vital. As a result of an outstanding user trading experience, users can place trades easily, quickly, and without needing outside assistance. On the other hand, if a trading platform is complicated, users can have a hard time opening new trades, making investing much more difficult, especially for new traders who are trying to learn how to invest.
Support
The most effective way to ensure you have the support you need with your trading account is by accessing professional and dedicated customer service. Several options trading platforms in this field offer 24-hour support regularly.
Both live chat support and telephone support are two methods through which you can access help in real-time when you need it. However, if you contact support by email, you will need to wait several hours before getting a reply to your inbox if you cannot reach them by phone.
What Is The Best Options Trading Platform in The UK?
There are a number of excellent options trading platforms available to UK traders. The best choice will depend on your needs, experience and the amount of funds that you have available.
However, a good place to start is to look at our recommended platform AvaTrade. AvaTrade is a good choice for both advanced and less-advanced traders, it offers a wide range of research and analysis tools and has competitive fees. AvaTrade is a good platform to start with because it covers everything that you need to get started with options trading. As you become more experienced, you may want to look at more advanced UK trading platforms such as IG or CMC Markets.
You can learn how to start using AvaTrade for options trading in the UK by following the guide below.
How To Start Options Trading In The Uk
Step 1: Open A Trading Account
The first step in opening an AvaTrade account is to visit the AvaTrade website. Once there, you can click on the "Sign Up" button at the top right-hand side of the page to get started. Next, you will be asked to enter your name and email address on the following screen before creating a password.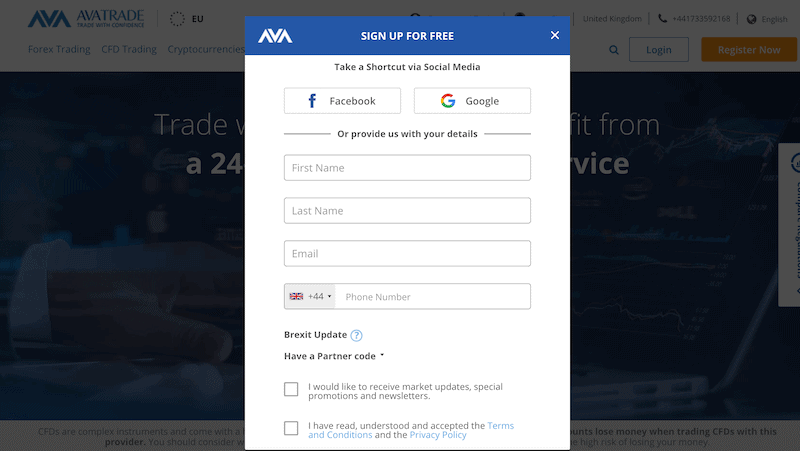 69.80% of retail investor accounts lose money when trading CFDs with this provider.
Step 2: Provide Identity Verification
The next step is to visit the account dashboard and fill out the personal information required for AvaTrade's KYC checks. Upon signing up for a new trading account, you will be asked to upload a photo ID and proof of your address so that AvaTrade can verify your identity.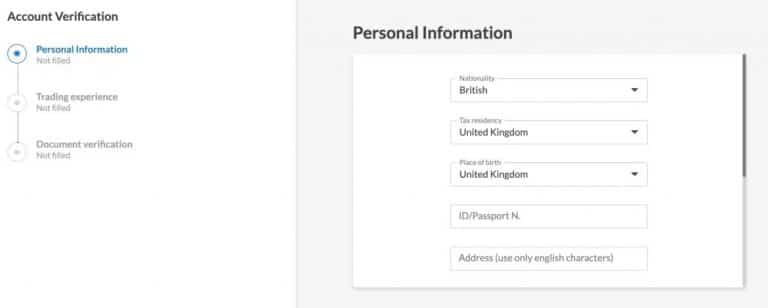 Step 3: Deposit Funds
On the top right side of your screen, you will see a button that says 'Deposit Funds,' which will take you to the deposit menu. Once you have entered an amount for your deposit, you are prompted to choose whether you would like to deposit your funds via credit/debit card, wire transfer, or a wide range of e-wallets such as PayPal.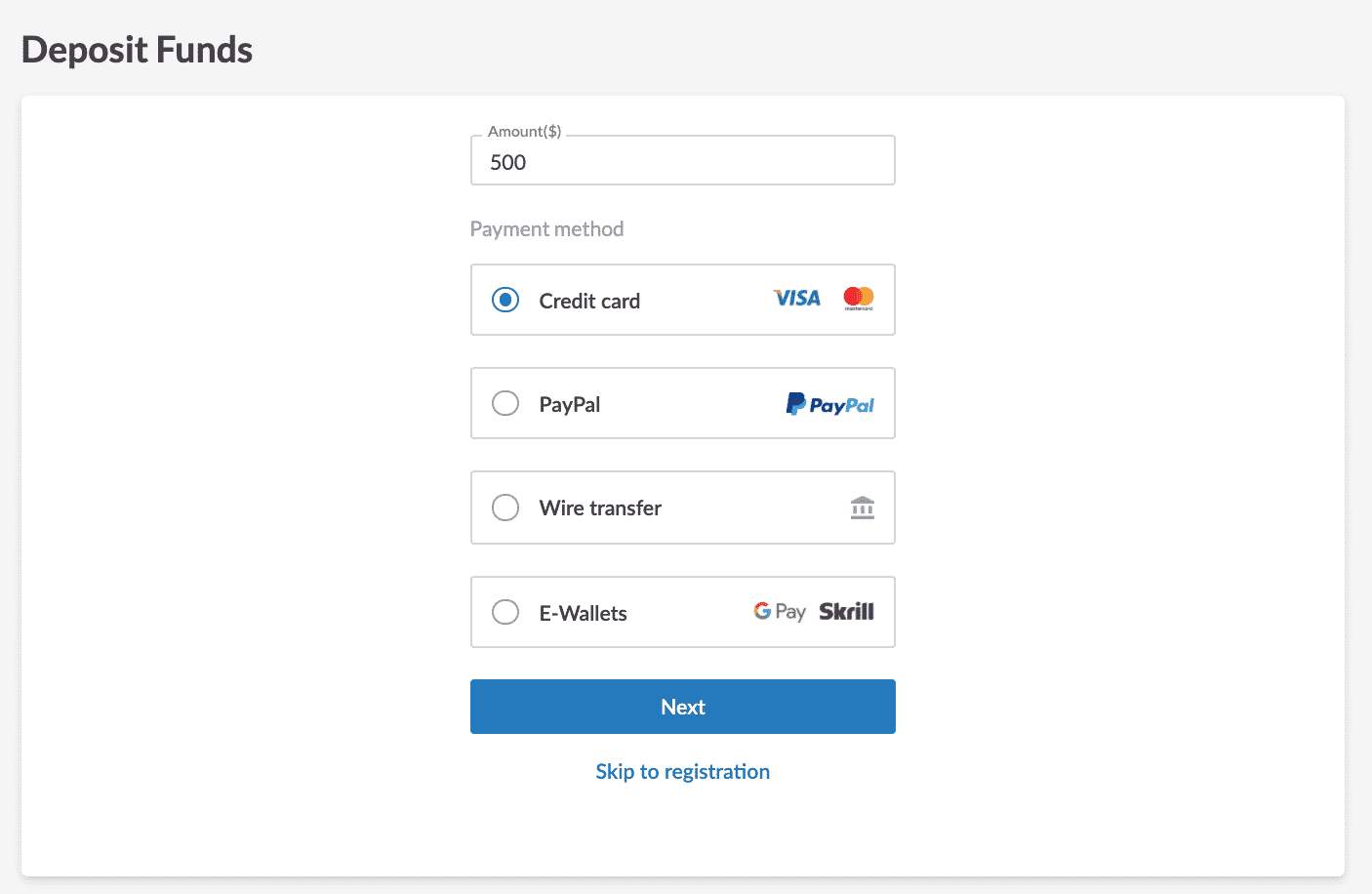 Step 4: Choose Options To Trade
Once you have completed your deposit, you will be able to begin trading right away. First, using the asset list or search bar, you can search for the assets of your choice and click on options. From there, you can choose based on your strategy from all the different strike prices and expiration dates listed in a table. Then, click on the 'Buy' button to open the order form.
Step 5: Predict The Strike Price
The choice of a strike price for a covered call is a subjective decision that has to be made by each investor on an individual basis. There is no right strike price. As a general rule, an investor should match aspects such as the likelihood that the call will be assigned to the option or their willingness to sell it.
Step 6: Choose A Time Frame
An expiration period is attached to every options contract, indicating the date you can exercise your option. Dates aren't just made up. If you call up an option chain, there are only a few options that you can choose from.
Depending on the expiration date, it can be a couple of days, a few months, or even several years. Options on a daily or weekly basis tend to be the riskiest and should only be employed by traders with extensive experience. Monthly and yearly expiration dates are the most suitable choices for long-term investors. Therefore, the longer the expiration period of the option is, the higher the cost of the option will be.
Best Options Trading Platforms UK - Conclusion
The market has a wide range of platforms available that traders can use to trade options. Still, the best platform you can use for this purpose is AvaTrade since it provides a wide range of features and has a quick and easy interface.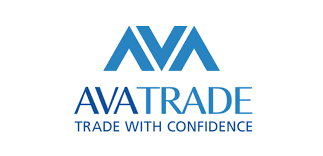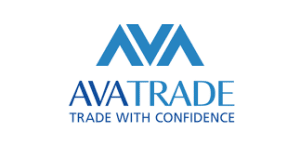 69.80% of retail investor accounts lose money when trading CFDs with this provider.
FAQs
Can you trade options in the UK?
Can you trade options on eToro?
What is the best options trading platform in the UK?