XTB Broker UK Review – Pros and Cons
Fact checked
Everything you read on our site is provided by expert writers who have many years of experience in the financial markets and have written for other top financial publications. Every piece of information here is fact-checked. We sometimes use affiliate links in our content, when clicking on those we might receive a commission - at no extra cost to you. By using this website you agree to our terms and conditions and privacy policy.
XTB is a well-known online broker with over 20 years of experience in the industry and offices in over 13 different countries around the globe. Over the past two decades the company, founded in Poland, has built a competitive track record for offering traders a wide range of tools to facilitate their trading strategies, as well as offering a cutting-edge platform called XStation 5 that offers traders a wide array of tools to facilitate their trading strategies. As a result, XTB boasts an impressive userbase of 495,000 customers worldwide.
This XTB Broker review will explore the key aspects of the broker that you should keep in mind before considering whether or not to invest with them. This includes its available instruments and important issues such as security, customer support, and other features that stand out among a broad range of trading possibilities.
What Is XTB Broker UK?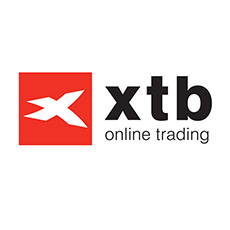 XTB Broker is a leading online CFD and forex brokerage platform that was established in Warsaw, Poland, in 2002. When it was launched, this was the first forex broker in Poland to offer leveraged trading to its clients. With the company's rapid growth, it went public on the Warsaw Stock Exchange in 2016.
XTB has now become a global player in the online trading sector. Amidst the highly competitive and ever-changing landscape of online brokerages, XTB has steadily made inroads and established itself as an industry leader. Many markets are accessible to users through this site, such as forex, shares, indices, metals, and commodities.
UK traders can open trading accounts from dozens of other countries that XTB supports. There are now over 140,000 clients worldwide that trade with XTB across 13 countries, including the United Kingdom.
79% of retail investor accounts lose money when trading CFDs with this provider.
XTB Broker UK Platform Features
Technology
XTB is one of the leading online brokers in the industry because, in contrast to many other top brokerage houses, it offers traders a large choice of what tools to use for trading. XTB broker also offers two online trading platforms.
The term trading platform refers to software tools that allow you to place trades with one another through an interface. As a result, trading platforms are often equipped with tools to help traders chart, conduct research, and process orders.  The proprietary platform used by the broker XStation 5 is a suitable example of one of these solutions.
Many powerful tools are built into this platform, making trading forex and CFDs a breeze- even for beginners.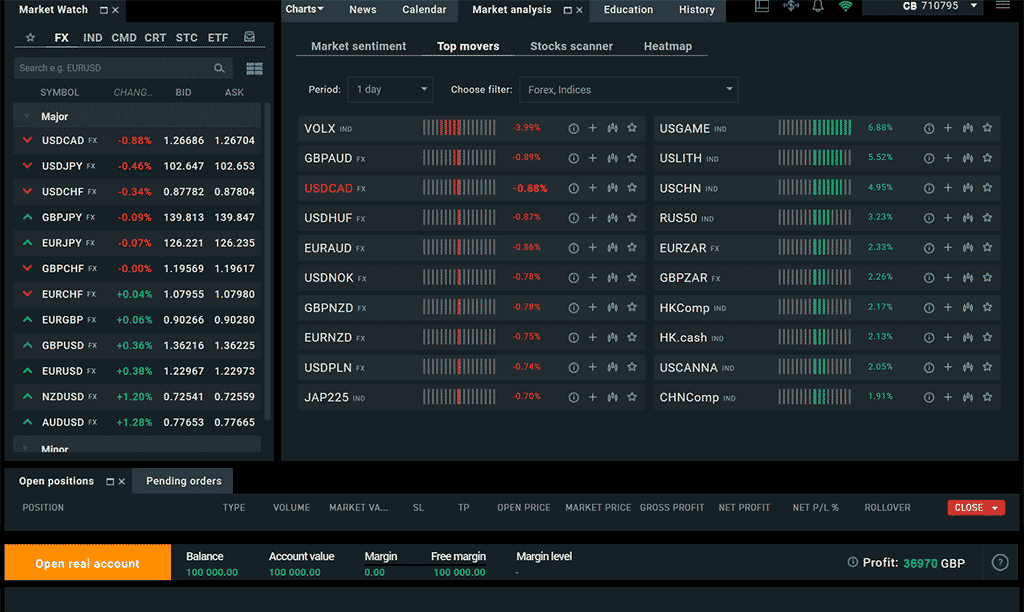 XStation 5 features a redesigned user interface that puts technical charts at the forefront. There is a wide variety of charting options available to you as well as 29 drawing tools and 37 technical indicators.
As an xStation user, you can easily customize the appearance of charts to fit your exact needs according to the appearance you want. As soon as you right-click on a chart and select "Personalize Chart View," a new window will appear where you can completely customize the charts according to your preferences by modifying the settings.  You can resize the chart window however you wish, open multiple charts side-by-side for comparison purposes, or use a tab window to keep as many charts close at hand as you wish. In addition to standard candlestick charts, several other chart styles can be selected.
Aside from the thousands of different instruments available at XTB broker online, you can also incorporate a range of tools that will increase your profitability during your trading process including automated trading tools, different types of orders, indicators, and drawing tools that will help you to maximize your profits.
As well as providing an array of educational tools including almost 200 articles and eBooks, the platform also provides insights into news and market analysis, as well as regular webinars and live events with market experts. In addition, it is easy to switch from mobile to desktop, view the trade history insights in real-time, and the integrated heat map gives you a more comprehensive understanding of the trade history.
Autonomy
Aside from the high level of competition in this highly specialized industry, XTB offers over 2100 trading instruments including forex, stocks, commodities, metals, and indices for its clients in an easy-to-use and own proprietary interface.
Because XTB broker UK is regulated to provide its traders with a wide range of over 2100 trading instruments, excellent educational materials, and comprehensive market analysis, it is a popular and autonomous broker among traders. With XTB, traders can easily trade, customize charts, and intuitively build watchlists.
Support
XTB is very aware of the importance of good customer services. As far as getting in touch with the broker is concerned, there are many ways in which you can do that. These include email support for existing and coming clients, local phone support available 24/5, and live chat support. XTB's extensive range of customer support options are multilingual making them accessible for all traders. The clients are also assigned an account manager responsible for handling any account-related issues that may arise.
Moreover, on the xStation 5 platform, you can easily find a phone number and a chat support option that can be launched directly from the platform. This makes it very convenient to contact support. In addition, many languages are available for customers to contact XTB online, making them more appealing to a wider audience. The broker also operates satellite offices supporting licensed operations in several regions.
However, you should be aware that customer service does not work on weekends. Therefore, you must submit a query through the contact form if you want to be notified.
Security
In protecting user information, XTB follows a strict set of standards. It is important to mention that the official website of XTB has a secure SSL connection, which is a good thing.
Moreover, the safety of funds is one of XTB's top priorities. As a result, all traders' funds are kept in separate, segregated client accounts at all times to ensure the funds' safety. In addition, as part of XTB's regulatory obligations, all funds are kept in ring-fenced accounts following its regulatory requirements.
XTB is regulated by the FCA, KNF, CySEC and IFSC. These regulatory bodies regularly check whether the monitoring is conducted under their rules and regulations to ensure compliance.
Demo Trading
The XTB's demo trading account feature offers a virtual representation of a live trading account, that can be used to test strategies before deciding to deposit funds and trade in live conditions. The demo account emulates real-world markets and allows traders to make the same trade as they would if they were using their own capital in the real world. The XTB practice trading account uses the same software as the live account and replicates the markets, instruments, prices, and trading platform features perfectly.
As a result, traders can view live markets, consult charts, and make the same kinds of trades they would if they were trading live in a real-time environment. The XTB demo account can also provide you with the opportunity to simulate the broker's trading platform, the xStation, which is available for users as well. In addition, virtual currency worth £100,000 will be provided to investors to invest in any way they like without any risk involved. So even though the results are based on real-life data, the funds they use are entirely virtual.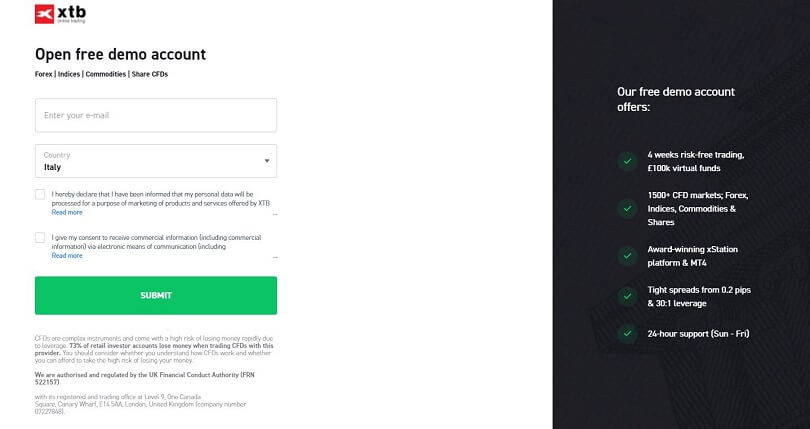 Providing a safe environment for casual or novice traders to try trading without risking any real capital helps XTB boost its reputation as a trustworthy broker. Moreover, using the platform's demo account is free of charge or risk, making it a great choice for traders of all backgrounds, from novices to experienced traders. Finally, as an added feature, XTB offers traders a platform for testing their strategies or practicing techniques they have learned using the XTB training resources and educational tools.
Live Trading
XTB offers one type of live trading account to clients in the UK.
With the Standard account, you'll be able to trade currencies, markets, commodities, and indices with zero commissions on all instruments.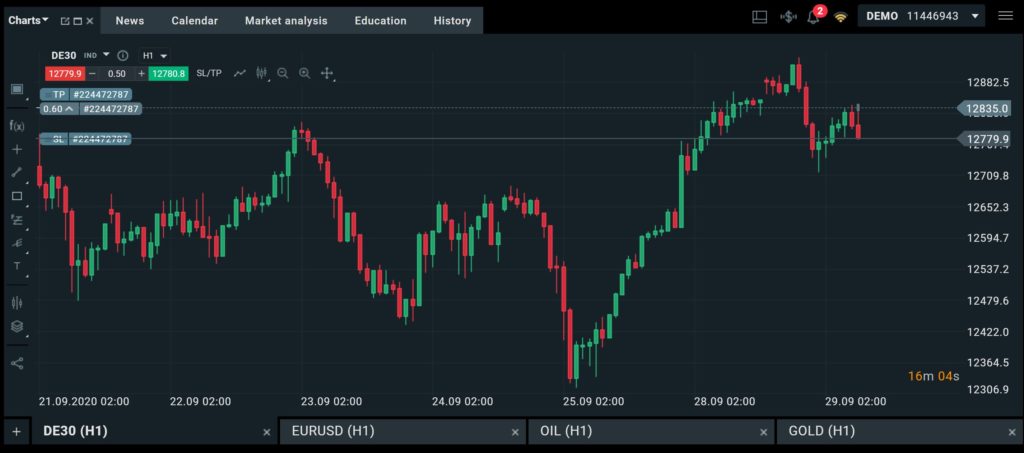 The most relevant thing to note about thee is that it's free.
Similarly, there is no XTB broker minimum deposit requirement for a customer when opening a live account. However, this amount is subject to the margin requirements of the smallest trade size the customer wishes to place when setting up the account.
Registration
Opening an account with XTB is a hassle-free, digital process. It takes a few minutes to fill out the application forms and submit all the required documents. In order to comply with regulations, traders must verify their accounts before they can trade. This is done by sending a copy of their ID and proof of residency.
Once you have completed the steps, it will take no more than a day for your account to be verified. In addition to keeping you safe, these guidelines prevent the broker from accidentally facilitating illegal practices such as money laundering by placing you in a vulnerable position.
Analysis And Indicators
The XTB's XStation 5 platform provides a few tools to help you make better trading decisions. In addition, it is equipped with all of the essential tools that can be found on any known financial service, such as a news feed and an economic calendar.
It pulls headlines from most of the main media outlets in the UK, Europe, and the United States, so you always have the latest information. It is particularly useful to filter the news feed by asset class and search for any asset type that you were interested in. By doing this, you can find the relevant news relevant to the assets that you are trading at the moment much easier.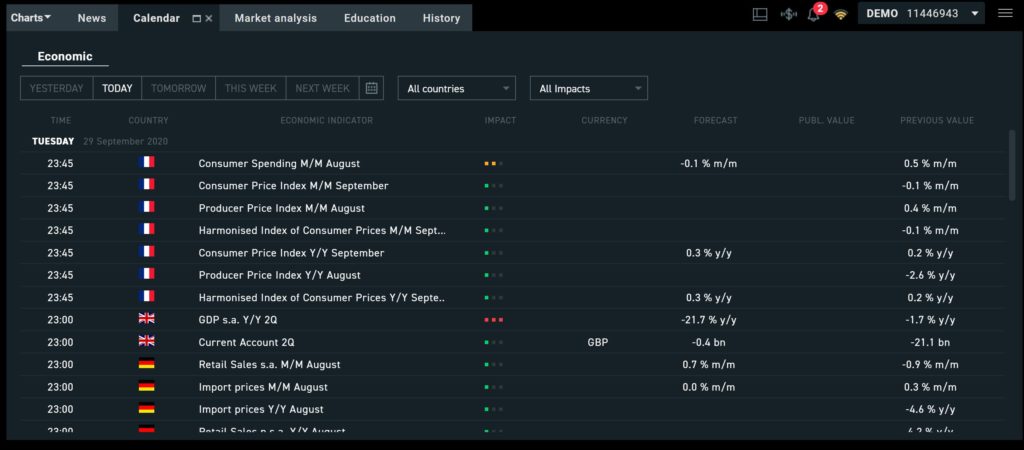 It is also straightforward to filter and similarly search the economic calendar. Moreover, it also provides an estimate of the impact of each event according to a scale. This calendar shows the forecast value for some economic releases on the release day. It compares the forecast value with the previous value that was released for that economic metric in the past.
The market sentiment indicator with xStation 5 is one of the most useful tools within the software. This allows you to increase your accuracy in predicting the market's behavior. Furthermore, you can also use the software to determine which asset classes are gaining or losing the most. In addition, there is a tab dedicated to market analysis, which offers options to filter stock scanners, and heat maps. In terms of XTB's analytical tool offerings, this is by far the most impressive feature. There is a great deal of data in each section, which can add value for traders if presented in an appealing, actionable, and at the very least interesting manner.
Trade Recommendations
Like other brokers, XTB does have a signals or custom indicators service, called trade recommendations, that can help you develop your trading strategy based on its features.
What's more, XTB offers a feature that can be found in the platform's news flow, which provides trading ideas to its users. They are generated by a team of specialists within the broker that works on a short-term basis and are based on technical analysis tools.
Mobile App
XStation 5 can be accessed through mobile applications for Android and iOS from XTB broker UK.
With the xStation 5 mobile app, you can view and manage your Forex and CFD accounts from your mobile device. On this trading platform, you can access your account information, view charts, and perform other analytical tasks. Moreover, it is achievable to log in using one-step and authenticate with a fingerprint. In terms of convenience and ease of use, this is a great feature.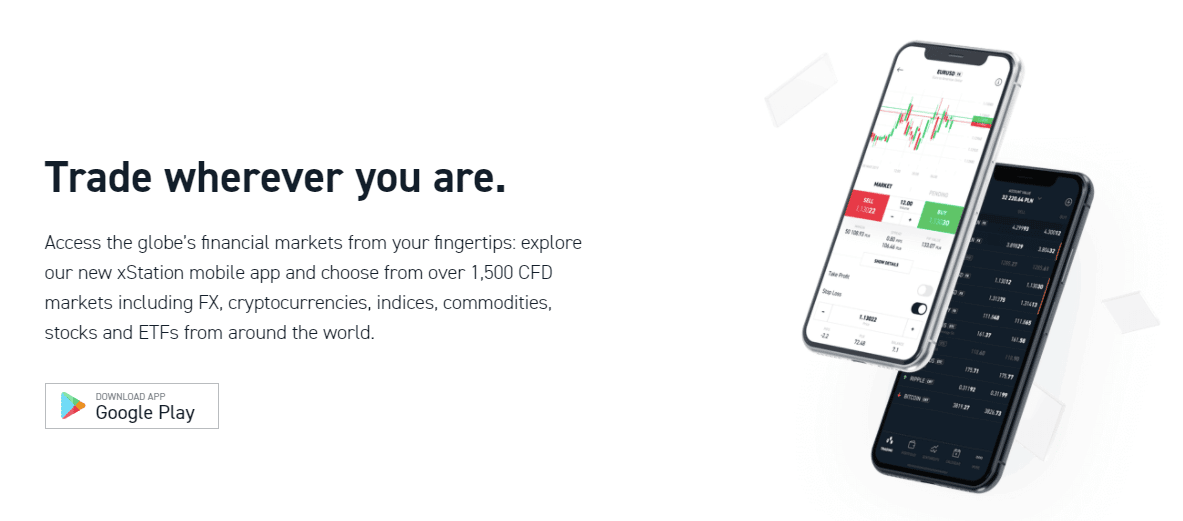 It is also interesting to note that several different alerts can be set up, including price alerts, important market news alerts, and other types of notifications. The search function on the xStation is also a very useful part of the app. It helps you to explore an asset by typing its name in the search bar or browsing the categories to find the particular one you are looking for.
Additionally, you can choose between the dark and light versions of the xStation mobile app to customize it to your liking. Several technical indicators, charting tools, strategy testers, order management, and other features are available to users on its interface.
XTB Broker UK Pros And Cons – List
Pros:
CFD trading on over 1,500 stocks from European and US markets
Regulated by the Financial Conduct Authority
Fully segregated client accounts
24/5 Customer Service
Trading on CFDs is commission-free
Free educational such as reading materials, live events, webinars
Several technical indicators and charting features are available
Cons:
Limited to mostly CFDs as a product portfolio
What Can You Invest In With XTB Broker as UK Trader?
Even though XTB was founded as a forex broker, it has expanded into a range of extremely diverse markets. Therefore, it is not surprising that until recently, the broker has been primarily known for its forex trading capabilities. However, it is now becoming increasingly recognized for its CFD trading capabilities.
XTB offers UK traders a wide selection of assets to trade. So let's take a look at them.
Forex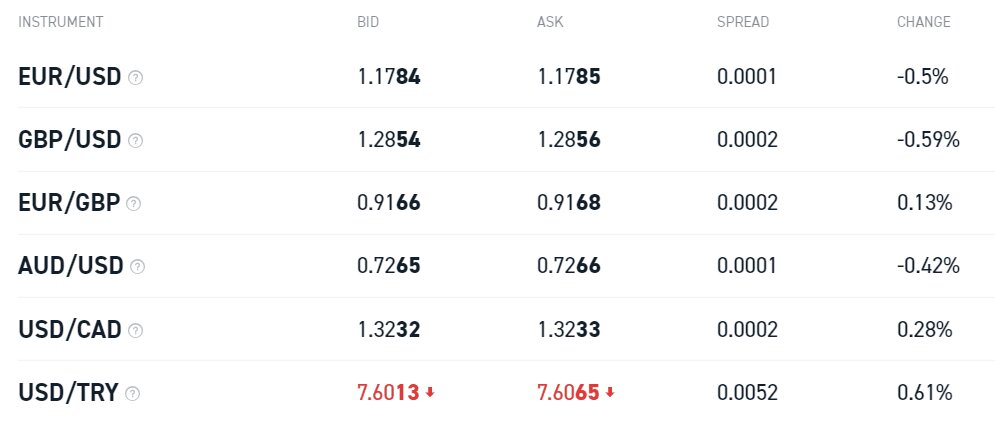 As the main focus of XTB broker online is on forex, 48 currency pairs are available for you to trade. There are majors, minors, and exotics included in this group of instruments, and the spreads for all of these instruments begin at just 0.1 points. In the UK, forex trading comes with leverage up to 30:1, which is the maximum level of leverage trading allowed by government regulations.
Stocks, ETFs & Index CFDs
With the broker, you will be able to trade more than 1,500 CFDs on stock market indices covering markets in the UK, US, and Europe. There are very few brokers in the UK that are able to offer you the wide range of stocks you can access from 17 different countries. This is what sets XTB apart from the rest. Trading CFDs on stocks can be done with leverage up to 5.1 when used with stock CFDs.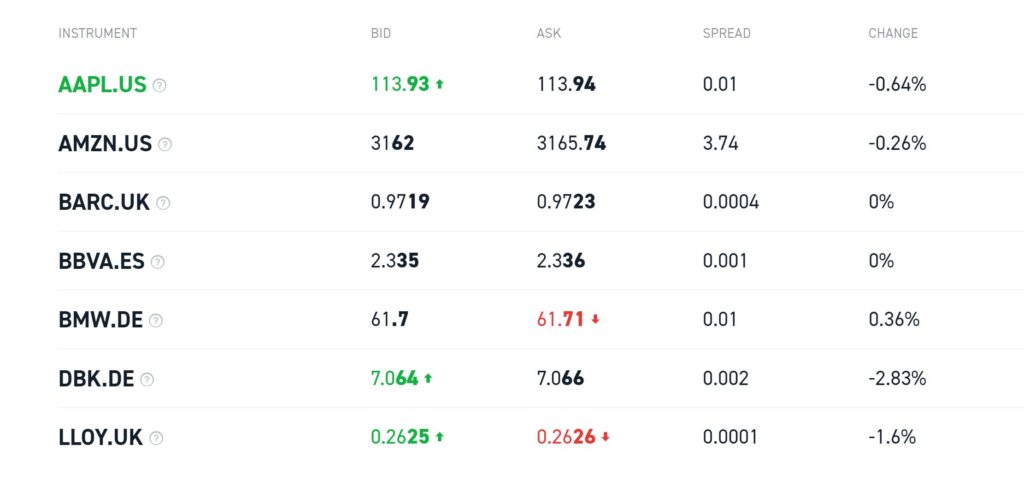 Around 60 ETF CFDs are available at the broker, most covering US stock market sectors. It covers 42 index CFDs across 42 countries, which is a much wider range of stock markets. The leverage on ETFs is 10:1.
Commodities
With XTB, you will have access to various CFDs for commodity trading, including 22 popular commodities. Among the platform's features, you will be able to trade gold and oil using CFDs and several agricultural products through the platform. Of course, the leverage depends on the product that you are trading. For instance, it is as high as 30:1 for gold trading.
Is XTB Broker Safe?
XTB has earned a reputation as a reliable and reputable multi-asset broker for various market instruments, and deservedly so, as well as maintaining an exemplary track record with top regulators in the world.
In addition to its headquarters in Poland, XTB has a presence in many countries worldwide. Therefore, several different authorities closely regulate XTB. The UK's own Financial Conduct Authority and the Cyprus Securities and Exchange Commission are among them. In addition, a negative balance protection feature protects trading with leverage with XTB. In other words, if you lose more money in your account than you have, you won't lose more.
It is worth mentioning that British traders are covered under the UK's Financial Services Compensation Scheme if the company goes bankrupt. Under this insurance policy, you are covered up to £85,000 in your trading account.
The Warsaw Stock Exchange is also one of the markets where XTB is listed. In other words, the broker must provide public disclosures about its finances every year so that if any financial trouble arises, there can be a warning.
How To Use XTB Broker
Are you interested in trading with the XTB broker? If so, then you are in the right place. As you follow the instructions below on our XTB review UK, you will be guided through the process of registering an account with this platform. You will also be able to place your first trade as soon as you have signed up.
1. Open An Account
As long as you do not already have an account with the XTB broker, you can create one on their website. First, please fill in your email address and create a password for your account. Next, enter your personal information in the spaces provided, such as your name, phone number, and date of birth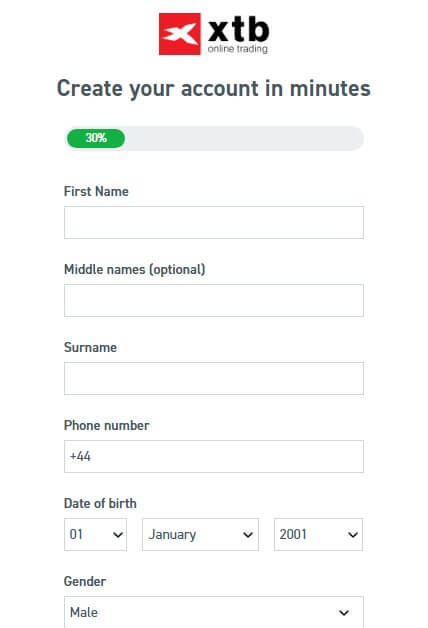 79% of retail investor accounts lose money when trading CFDs with this provider.
2. Verify ID
Before starting trading, you should also be required to verify your identity to be able to do so. You can complete the verification requirement by uploading a scanned copy of your driver's license or passport.
3. Deposit Funds
Opening an account with a new broker might require that you make a minimum deposit before you can trade. Bank transfers, credit cards, and Skrill, are the most common methods of payment that brokers accept.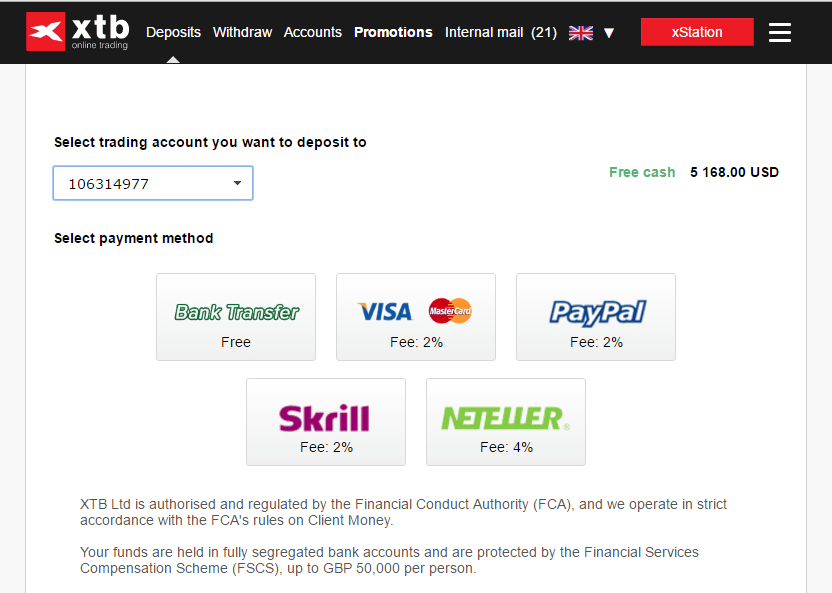 4. Start Trading
As soon as you have funded your XTB trading account, you can begin trading. Click on the 'Buy' or 'Sell' button next to the asset you wish to trade in your dashboard once you've found it. As soon as you have entered your position size, you will have the option of confirming the transaction.
XTB Broker UK Review – Our Conclusion
In summary, with XTB broker you will find a simple and easy-to-use CFD and forex trading platform. It has a wide range of instruments to choose from, offers educational tools, allows quick and easy withdrawals, and has a responsive customer support team. This company also offers very low stock index CFD and forex fees compared to others in the industry.
Aside from being a listed company on the Warsaw Stock Exchange, the company is regulated by many financial authorities worldwide, including the UK's Financial Conduct Authority. Moreover, with the negative balance protection, clients will have peace of mind and a sense of credibility.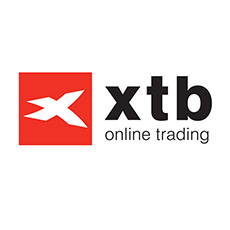 79% of retail investor accounts lose money when trading CFDs with this provider.
FAQs
Is XTB a good broker for UK Traders?
Is XTB regulated in the UK?
Is XTB Broker good for beginners?
What kind of broker is XTB?