Alvexo Review UK – Pros & Cons
Fact checked
Everything you read on our site is provided by expert writers who have many years of experience in the financial markets and have written for other top financial publications. Every piece of information here is fact-checked. We sometimes use affiliate links in our content, when clicking on those we might receive a commission - at no extra cost to you. By using this website you agree to our terms and conditions and privacy policy.
Suppose you are looking for an online broker that provides a wide variety of asset classes and low commissions while offering extensive learning material for traders. In that case, Alvexo may be worth considering. Founded in 2014, Alvexo has experienced exponential growth and currently has clients in over 100 countries across the globe.
In this Alvexo review, we will cover all the things you need to know about this broker, highlighting its pros and cons and showing you how to create an account in a few minutes, all from your computer, smartphone, or tablet.
What is Alvexo UK?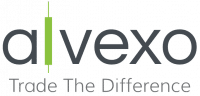 Alvexo is a regulated trading platform that emphasises providing a friendly trading experience while offering traders a place to learn and hone their knowledge with their skills. Alvexo was officially founded in 2014 and currently has offices in Cyprus and Paris. By offering traders leading trading technology, Alvexo aims to ensure that trades can be executed instantly, something that will appeal to traders of all types of experience.
Alvexo is primarily a CFD broker and provides many of the same services as stockbrokers, including a web-based trading platform, a mobile app, and even MT4 support for forex trading. As Alvexo essentially offers CFDs, the platform's commissions are built into the spread quoted for each asset. Spreads can change depending on the type of account used but can be as low as 2.9 pips on the classic account. In particular, the spread is the only commission charged; no additional transaction fees apply.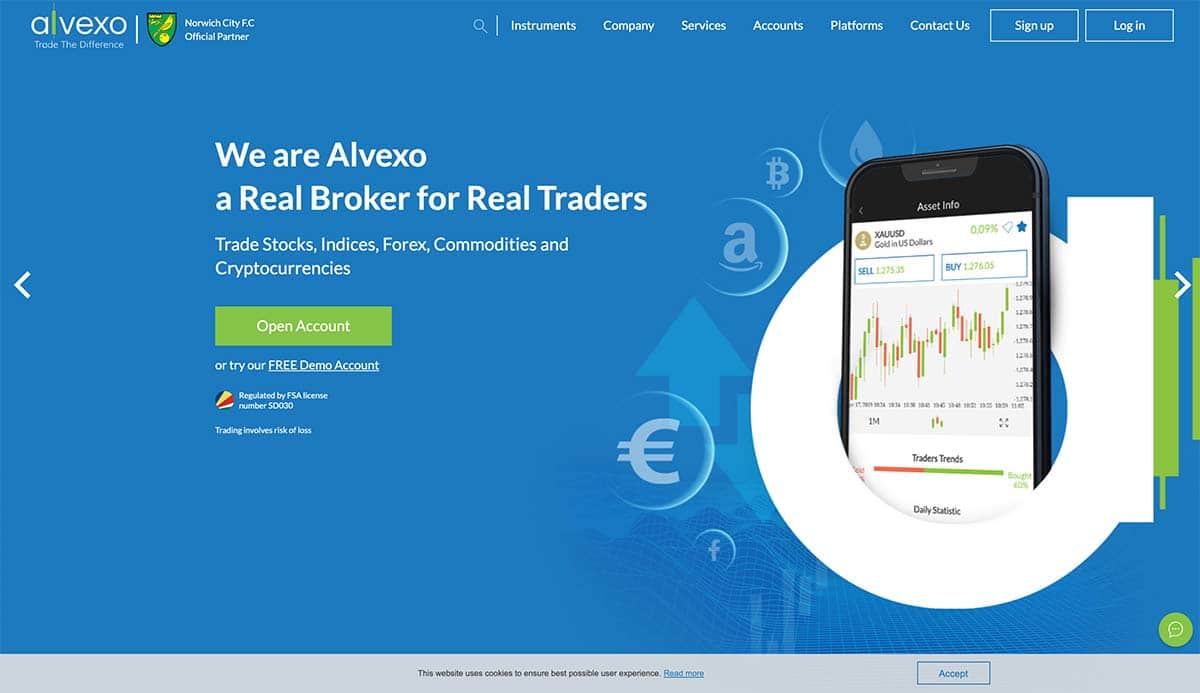 70.81% of retail investor accounts lose money when trading CFDs with this provider.
As noted earlier in this Alvexo Review, Alvexo is honored to offer traders a platform to trade and gain knowledge simultaneously. It does so from various educational resources, including trading signals, news, webinars, eBooks, economic calendars, and even Financial Web TV. Finally, as Alvexo is regulated by CySEC and is licensed to operate in the EU, traders can benefit from the platform's reputation for security.
Alvexo Broker UK Pros & Cons
What we like
Separated client funds
Protection from negative balance
Trading without commissions
Traders' academy
Additional tools for trading
What we don't like
No clients in the US
Accounts without fixed spreads
Live Chat is not available online
Deposit of $500 minimum
69.80% of retail investor accounts lose money when trading CFDs with this provider.
What Can You Invest in and Trade on Alvexo UK?
Over 450 assets are available in Alvexo, including currencies, indices, commodities, equities, and cryptocurrencies. This robust asset selection allows retail traders adequate diversification of their portfolios, although the downside of asset selection is unacceptable spreads and commissions.
Additionally, they are sorted by asset class, and there is a search function; the list only includes five major assets, and traders have to scroll through a sometimes-extensive list at times. Clicking on "View all details" opens a new tab and displays the exchange rates of the asset.
Invest in Forex
For those who have the desire to get started in forex trading, you will be pleased to know that Alvexo has a large selection of currency pairs to trade. More than 58 pairs are included, among which there are major pairs such as EUR/USD and minor pairs such as NZD/JPY. Notably, Alvexo also offers a range of niche pairs for trading, including USD/SAR and USD/RON.
Trade Stocks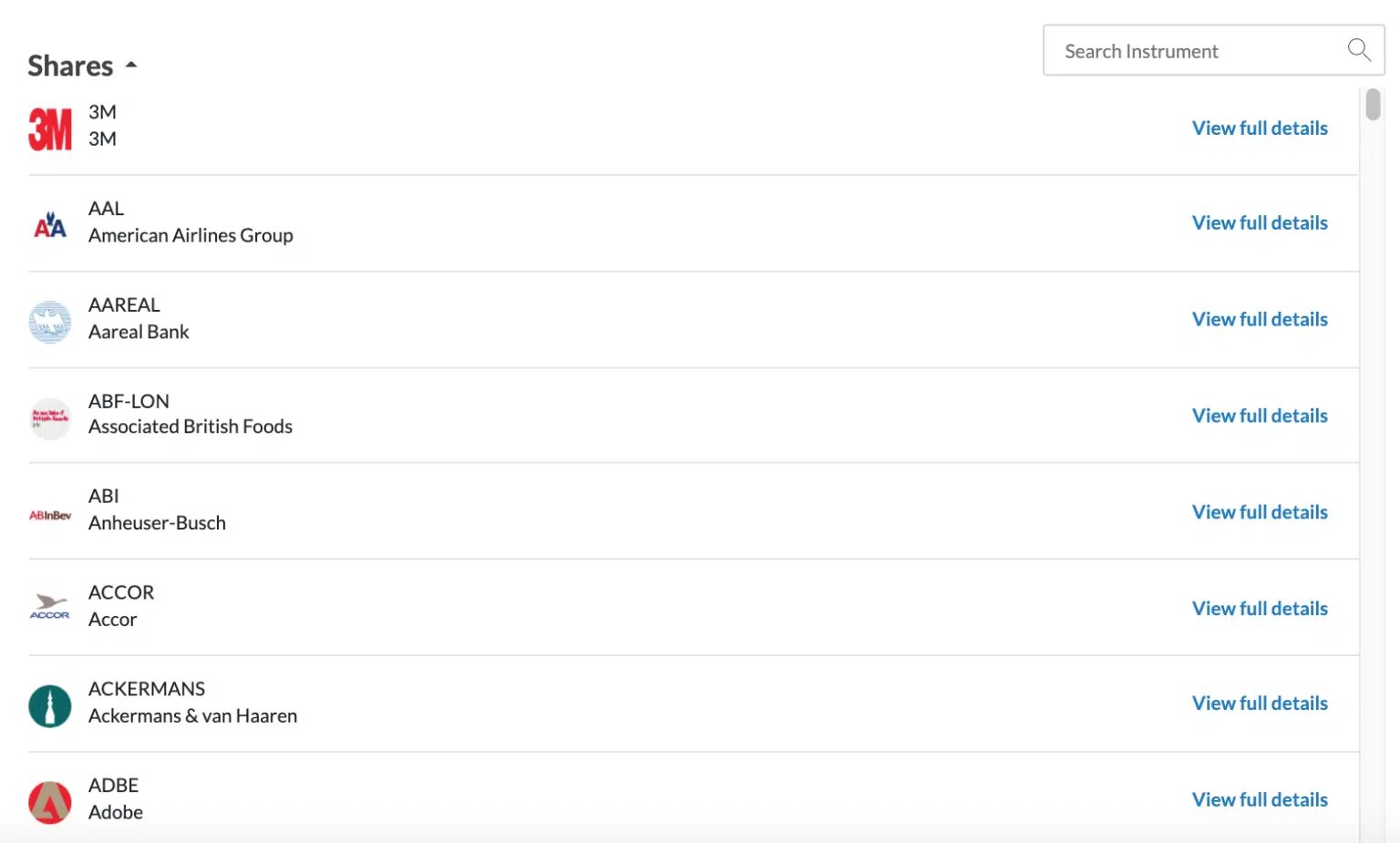 Alvexo offers users a wide range of stock CFDs for trading, including many well-known companies such as Apple, Amazon, and Tesla. Each of these stock CFDs comes complete with a detailed price chart and complimentary analysis options if you are a member of Alvexo+. In addition, since these stocks are intended as CFDs, retail traders can benefit from up to 1:30 leverage on these products with additional leverage possibilities for more experienced traders.
Invest in Indices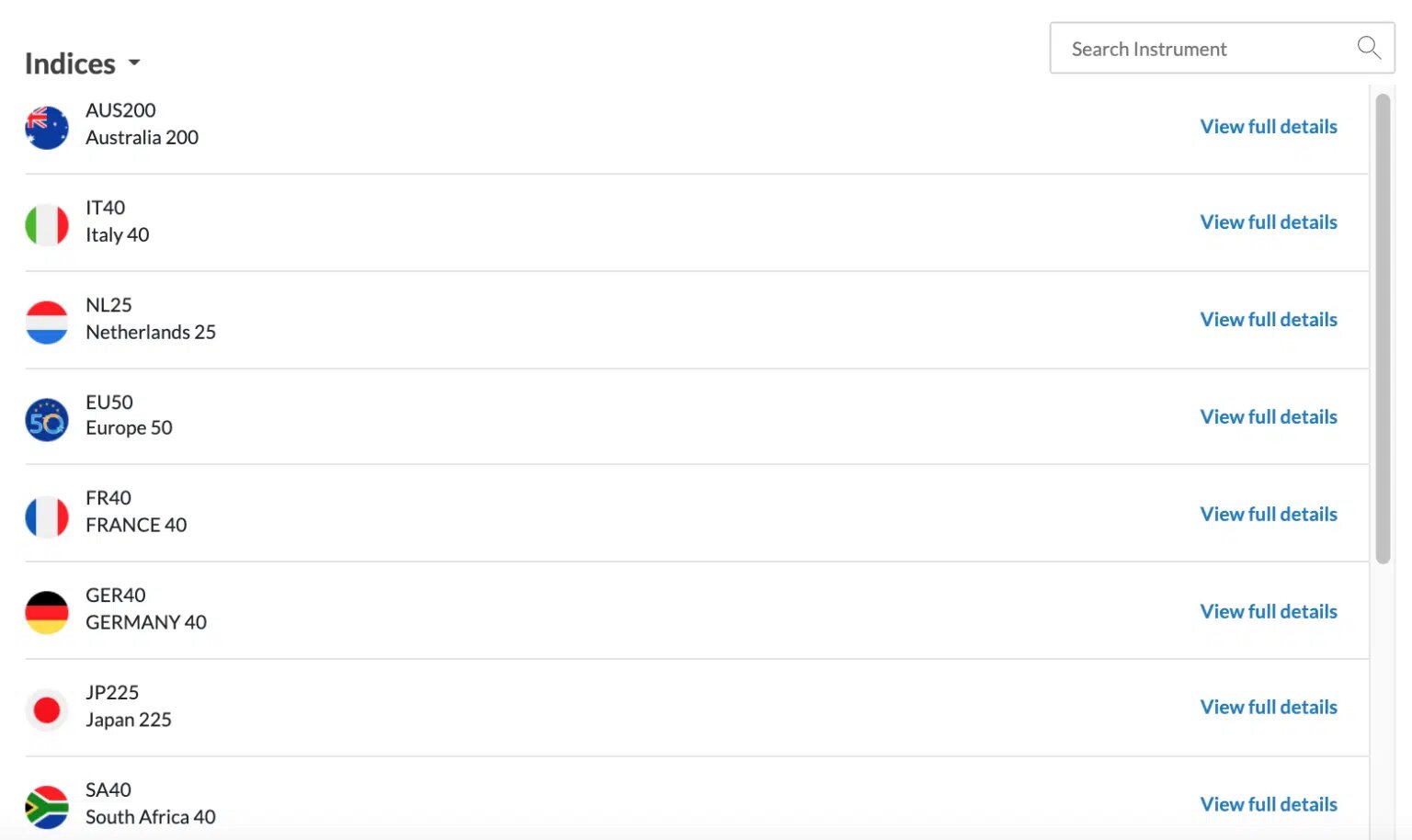 The UK trading platform, Alvexo, has a wide selection of major indices in which investments can be made for those who desire and are looking to participate in index trading. The selection is broadly diversified internationally to invest in indices located in Australia, Italy, France, and Japan. There are even multiple U.S.-based indexes, including a "United States Tech 100" index that tracks the top 100 technology stocks listed on the NASDAQ.
Trade Commodities CFDs
In order to avoid claiming ownership of assets and securities, you must keep in mind you are not directly acquiring them.
To give a brief definition of what CFDs are, they are called contracts for difference, which means you can only make predictions about price movements. A total of 450 assets are traded on the Alvexo platform. These assets comprise commodities, equities, cryptocurrencies, and currencies, traded with a minimum deposit. This wide variety of assets makes it possible for traders to diversify their trading portfolios. However, the spread and commissions associated with the assets make it difficult for traders to diversify their portfolios.
If you want to join the Alvexo forex broker, the "Account Builder" tool helps you choose a suitable account type for you. The Alvexo com feature will prompt you for some general information as below:
Investment Style
Risk tolerance range
Experience level
Level of trading knowledge
Based on all these criteria, Alvexo will provide you with its respective recommendation on the account that suits you with minimum deposit options. The Alvexo platform will also advise you on the amount of money you should invest at the beginning. Alvexo's recommendations receive a lot of very positive feedback from traders, and therefore these recommendations are trustworthy. The calls are adjusted so that new traders should get an idea on how to start trading, while in the case of experienced level traders, it helps an advanced level of skill set.
Trade Cryptocurrencies
In this Alvexo Broker review, it is time to talk about the cryptocurrencies offered on the Alvexo platform. Among the main cryptocurrencies offered are ETH, BTC, LTC, XRP, and DASH. These cryptocurrencies can be traded in crypto vs. fiat format. In addition, the Alvexo platform also offers the alternative to trade the Litecoin and Bitcoin currency pair through a fair-trading policy.
Trading cryptocurrencies do not require holding the actual trading asset, as there is no need to create a portfolio on the exchange. Cryptocurrency traders will appreciate its CFD trading.
69.80% of retail investor accounts lose money when trading CFDs with this provider.
Alvexo UK Fees & Commissions
Alvexo's commissions are very competitive. While the company does not charge a penny for making deposits and withdrawals, it does charge fees for commissions and spreads on available tradable assets. The fees charged by Alvexo are somewhat high in contrast to other brokers in the foreign exchange industry. Commission costs for trading stock CFDs can range from $0.015 to $0.025 per share, while for other assets, the costs can be up to $50 per lot.
The broker is a market maker that makes additional profits from the losses of its traders by acting as a counterparty to open positions. Spreads may differ depending on the type of account but are highly competitive. Spreads on classic accounts start at 2.9 pips and go down to 0.1 pips for Elite account holders. Spreads on indices such as the FTSE 100 start at 3.5 pips for the Classic account and 0.88 pips for the Elite account.
The portal provides a commission-free trading structure for all Classic, Prime, and Gold members. In addition, an inactivity fee equal to 10 units of the base currency may apply. Alvexo also charges exchange commissions on overnight positions or positions left overnight.

69.80% of retail investor accounts lose money when trading CFDs with this provider.
Alvexo UK User Experience
In this part of our Alvexo review, we are going to talk about the user experience when using this platform.
To begin with, you can find that Alvexo has a research and teaching initiative for its traders. The research is mainly focused on the following features, explained below:
Market Updates: Market updates comprise the recent week's market trends and corresponding daily and weekly analyses for trading. They are short content on market trends, although Alvexo's professionals and platforms offer very concrete and well-presented documents.
Trading signals: Alvexo provides trading signals for free, which are announced with 82% accuracy. Even with such a high rate, the trading signals maintain their accuracy rate at 79%, which is a recommendable rate for a trading system.
Economic calendars: There is a blank section attached to the economic calendar. Trade can be scheduled based on these blank pages. This enables the system to be more diverse. Alvexo, a safe financial group, is unique among its competitors because of these features.
Trading calculator: There are four trading calculators and an MT4 plug-in. All of the trade calculators accurately calculate brokerage, profit, and loss. Manual trading is also possible. These features are beneficial to users.
Blogs: The blogs cover many useful topics in trading and trading guidelines for the platform. Blogs are presented very attractively with different font sizes, colors, and images. Additionally, this blog updates customers on what is happening in the market to achieve a better trading experience with this system.
Alvexo UK Features, Charting, and Analysis
It's time to mention some of the features offered by the platform with their respective analysis.
In this review, you will find all the information you need.
Negative Balance Protection
One of the notable features of Alvexo is negative balance protection. This feature ensures that clients never lose more money than they initially invested with this platform.
Leverage
The leverage for Alvexo's European trades is 30:1, although users trading under Financial Services Authority regulations can benefit from a high leverage level with a limit of 300:1. It should be noted that leverage should only be used when users understand the risks involved in Forex and CFD trading.
Customer Support
Alvexo's multilingual customer support team operates from Monday to Friday, 9:00 am to 6:00 pm. In addition, users can contact the support team by phone or email. There is no live chat function on Alvexo's official website.
Regulations
Alvexo is a legal broker. Therefore, it is 100% safe to trade CFDs and Forex on this platform. The broker is owned and operated by VPR Safe Financial Group Limited. By regulation, the Cyprus Securities and Exchange Commission (CySEC) provides financial services. Under the Seychelles Financial Services Authority (FSA), HSN Capital Group Ltd operates Alvexo's international business. Although plans and leverage rates differ slightly, negative balance protection is available at both branches.
Clients
Alvexo Brokers has over 450 financial tools with thousands of registered traders worldwide, including the UAE, Singapore, and France.
Demo account
A free demo of the Alvexo web platform is available. The demo includes a virtual account of 50,000 euros. With this simulator, traders can test strategies and platforms without risk. This is a suitable option especially if you are a beginner as you can familiarize yourself in a simpler way. Additionally, this allows you to understand the operation better.
Alvexo Trading Academy
One of the unique features of the Alvexo trading system is that the trading academy is also educational for a broker. This user interface is loaded with a lot of videos and educational material. All you have to do is click on "start learning to trade" and open the tab full of articles and video tutorials. The material is very educational.
Alvexo Plus
All Alvexo users can also take advantage of Alvexo Plus services. They can also access Trading Central Academy Financial Web TV to keep up with the latest news, webinars, trading signals, e-books, economic calendar and economic events. In addition, traders can take advantage of the Alvexo Plus service based on account type.
More specifically, Classic account holders have access to Alvexo Plus for 30 days with a personal consultation. Gold account holders have access to Alvexo Plus for 60 days with three monthly consultations with a specialist. Alvexo Plus members can receive up to 5 personal consultations per month for 120 days. In addition, the Alvexo Elite program offers life consultations.
MT4
Along with the web platform, Alvexo has full MT4 support, making it a popular MT4 broker for Forex traders. Once you have registered a live account with Alvexo, you can download the MT4 application in just a few clicks and log in with your Alvexo login details.
Once logged in, users can employ all the eye-catching features that MT4 is known for, such as numerous order types, 30 different technical indicators, and nine chart timeframes. Users can also customize the interface to make trading strategies more convenient to apply. Finally, Alvexo users in turn can download the MT4 app on their smartphone or tablet and log in with their own credentials, enabling smooth trading when they are on the go.
Alvexo UK Account Types
Five different account types are available at Alvexo,  all these provide more than ideal trading conditions.
Classic accounts require a minimum deposit of €500 and start at 3.3 pips. You can trade only Forex, commodities, indexes, and cryptocurrencies in this account type. As a result, the available assets have been significantly reduced from the 450+ advertised ones. According to the broker, its Gold account is the "most popular" but requires a minimum deposit of €5,000. Only the spread minimum has changed from 2.2 pips to 2.2 pips. In addition, there are no equity CFDs, the minimum trade size was increased from 0.01 lots to 0.05 lots, and the stop-out level was lowered from 50% to 15%.
On the Prime account, a minimum deposit of €10,000 is required to receive a spread reduction of 1.8 pips. Apart from the 0.25 lot minimum, no other conditions have changed.
A minimum deposit of €20,000 is required for trading equity CFDs in the ECN Gold account. Spreads are listed as 0.0 pips on the account page, though the information in other sites seems to contradict this information. There is a commission of $18 per lot with a minimum lot size of 0.05 lots on EUR/USD with a trading spread of 1.4 pips.
All assets are available on the ECN VIP account. Deposit sizes are available upon request only, but given the structure implemented, they will likely exceed €50,000 since the minimum lot size was increased to 0.25 lots.

69.80% of retail investor accounts lose money when trading CFDs with this provider.
Alvexo UK Mobile App Review
Platforms are increasingly using mobile applications to communicate with their users. The majority of platforms provide an application for iOS as well as Android, allowing customers to stay connected wherever and whenever they like.
This is the case of Alvexo, which through its mobile app, Alvexo makes it simple for its clients to negotiate on different assets. In addition to the app being available for iOS and Android, the App Store and Google PlayStore are offered for free download.
After receiving your login details as a member, you can immediately start trading.
Here are some of the application's features:
Daily signals
Charting suites
Real-time alerts
Risk management tools

69.80% of retail investor accounts lose money when trading CFDs with this provider.
Alvexo UK Deposit and Withdrawal Methods
Alvexo offers traders the option to choose from a wide variety of methods for deposit and withdrawal of the amount. To do this, the user must log in to the trading account and choose the deposit fund, for the deposit activity, which is located at the top of the dashboard in the menu section.
Alvexo provides a limited withdrawal possibility to the trader's account with strict verification. The verification requires the presentation of the following documents in order to be able to trade:
Photocopy of ID card
Utility bill
Bank account details
Government-issued identity card
Moreover, the EU directive requires brokers to subscribe to investor compensation funds or CIF for their trading history. The CIF provides client protection coverage, which states that in the event of any default by the brokerage firm, Alvexo, for up to €20,000.
Additionally, the regulatory rules followed by Alvexo require it to keep client deposits in a separate bank account with negative balance protection. Thus, Alvexo offers proper security of client funds.
The Alvexo com platform has lowered the minimum account amount to $250. One thing to note is that the Alvexo com platform does not charge any commissions or fees for deposit or withdrawal of funds, so if any amount is charged by intermediaries, it can be declined.
Alvexo UK Contact and Customer Service
If you need to contact the Alvexo customer support or compliance department, you can do so through their live chat function that can be found at the bottom of the page. Also, on the company's official website, there are contact numbers for the different branches, which can be found in the United Kingdom (UK), France, Romania, Spain, South Africa, Italy, and Sweden.
Let's suppose a trader has any questions about the platform's features, fees, bonuses, or functionality.  Traders in this situation need to contact the customer support department of their broker, which will gladly assist them. When it comes to resolving problems, the support staff is generally helpful, extremely responsive, and efficient in solving issues.
Is Alvexo UK Broker Safe?
Alvexo Brokers is owned and operated by VPR Safe Financial Group Ltd., a Cyprus investment company, under registration number HE 322134. License number 236/14 is the number assigned to the broker company by the Cyprus Securities and Exchange Commission.
When you start using this type of platform to embark on a cryptocurrency journey, you should take into consideration that you should be careful if you have no previous experience in using these platforms.
As this platform is a regulated broker, you can feel confident that your money will always be in a safe place and that you will be able to handle it with peace of mind. Being a regulated broker, you will always have an important support when trading. There will never be a situation where your money is at risk and you will not have to worry about being scammed and losing all your money.
How to Start Trading with Alvexo UK
Step 1: Open a Trading Account
If you wish to open a trading account with Alvexo, you can start by visiting the Alvexo website and clicking on the "Sign Up" button located at the top right of the page. You will be asked to enter your name and email address on the following page before choosing a password for your account.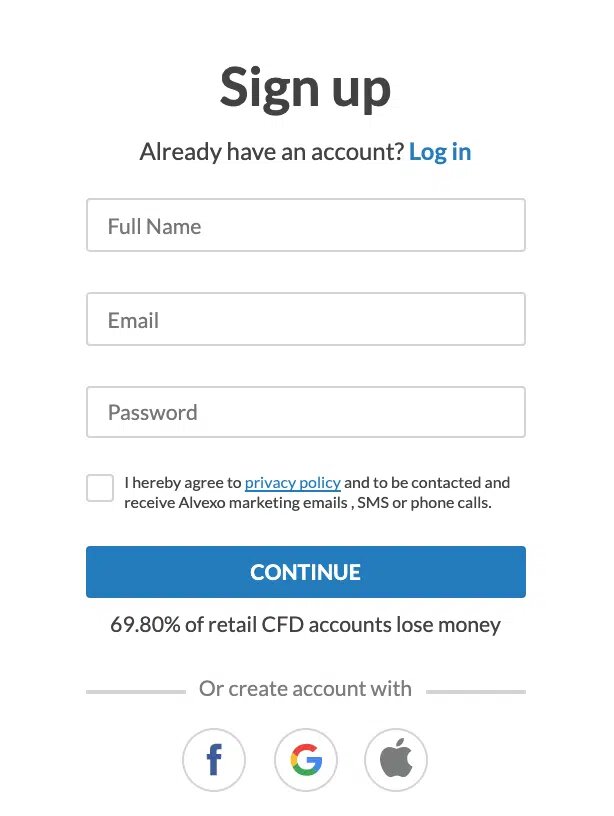 69.80% of retail investor accounts lose money when trading CFDs with this provider.
Step 2: Verify Your Identity
You must first complete the account registration process before making a deposit. Next, you will need to visit your account dashboard and enter the personal information required for Alvexo's KYC checks. After you register for an account, you will be required to upload a photo ID and proof of address in order to verify your account.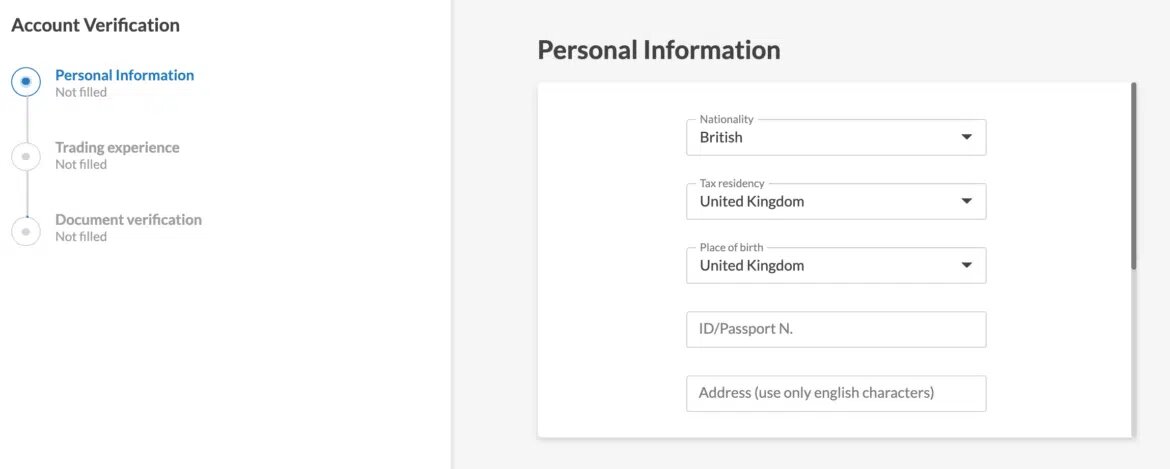 Step 3: Deposit Funds
To go to the deposit menu, click on the 'Deposit Funds' button in the top right corner. After that, all you need to do is enter the amount you'd like to deposit (€500 for Classic accounts) and then select whether you'd like to deposit by credit/debit card, wire transfer, PayPal, or another e-wallet.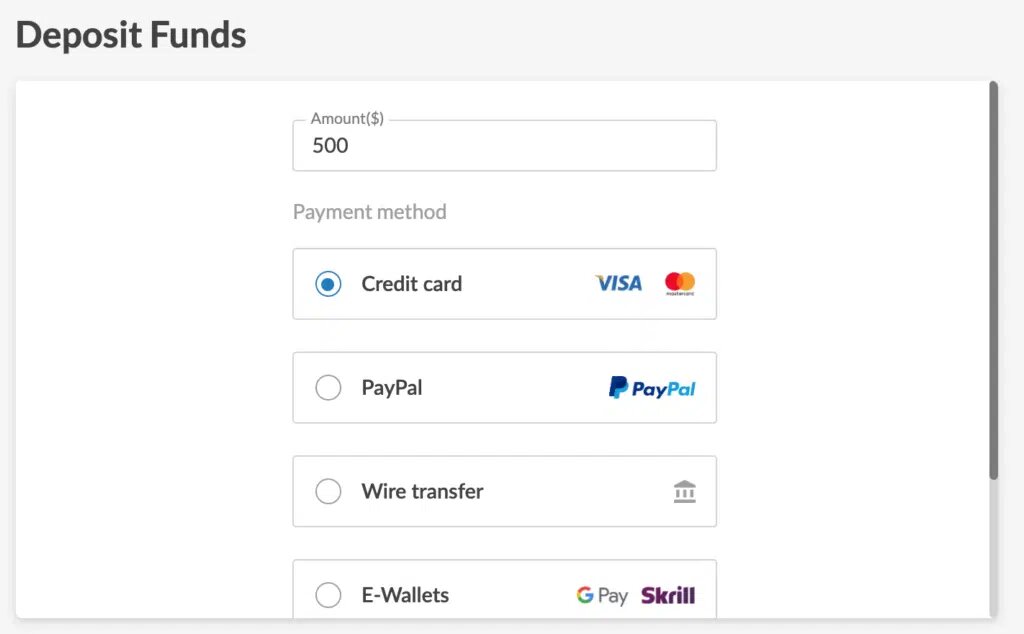 Step 4: Start Trading with Alvexo UK
You can begin trading as soon as your deposit has been completed. First, you can search for the asset of your choice in the asset list or the search bar and click the 'Buy' button. After that, an order box will appear on the right side of your screen. Using this box, you will need to enter your position size (in lots), select your stop loss or take profit level if you wish to do so, and click 'Buy.'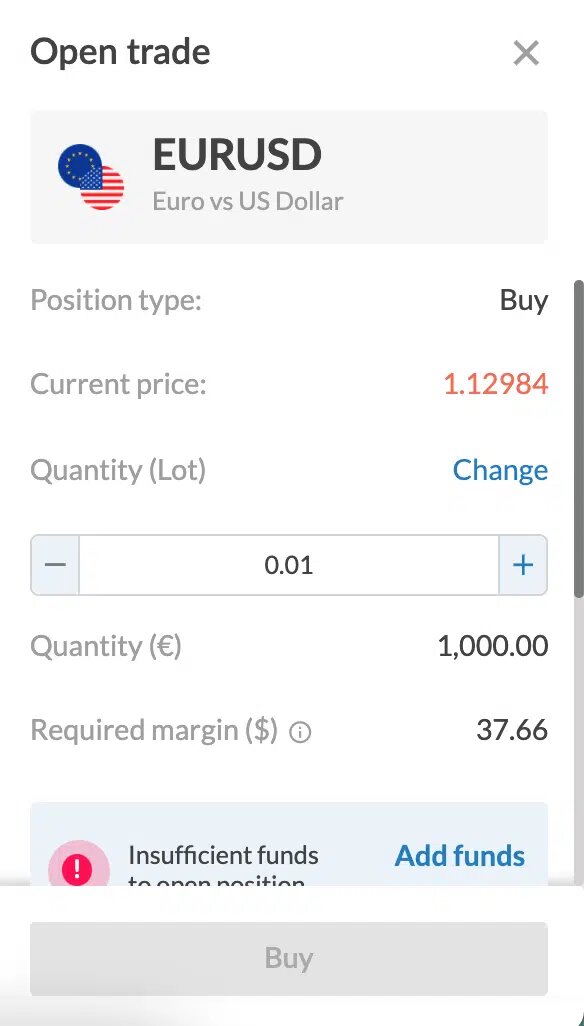 69.80% of retail investor accounts lose money when trading CFDs with this provider.
Alvexo UK Review – Conclusion
To conclude, this Alvexo review has covered everything you need to know about the trading platform, highlighting its qualities and fee structure and showing how to create an account in minutes. With strict CySEC supervision and a range of educational materials, Alvexo is undoubtedly a better brokerage option for beginners and advanced users alike.
The account creation process is extremely streamlined and can be completed on your mobile device, laptop, or tablet. The process of creation can be completed in less than ten minutes.
FAQs
What is cryptocurrencies trading?
Can I trade with leverage in Alvexo UK broker?
Can I open an account with Alvexo in the UK?