Best NFT Platform UK in 2023 – Top NFT Marketplace UK Review
Fact checked
Everything you read on our site is provided by expert writers who have many years of experience in the financial markets and have written for other top financial publications. Every piece of information here is fact-checked. We sometimes use affiliate links in our content, when clicking on those we might receive a commission - at no extra cost to you. By using this website you agree to our terms and conditions and privacy policy.
In the world of cryptocurrencies and blockchain, NFTs are the latest that is making headlines and drawing the attention of investors and speculators alike. Whether you are a content creator, a cryptocurrency trader, or simply interested in the new and exciting world of NFTs, it is important for you to be aware of what NFTs are, how they work, and the different strategies as well as platforms that you can use in order to trade them.
In this guide, we go over trading platforms and best practices that you can use for NFT Trading Platforms & NFT Marketplaces UK. Read on to learn more.
NFT Trading Platform List 2023
NFT Platform & Marketplace 2023 Review
While there are different NFT trading platforms available in the market, some of the best NFT trading platforms that you should consider have been reviewed below.
1. NFT Launchpad

NFT Launchpad is the name given to the new marketplace where users can acquire non-fungible tokens (NFT) in order to buy, sell, or create them.
NFT LaunchPad, which was introduced in early 2022, provides lovers of NFT with the most convenient, secure, and convenient platform. In addition, the first phase of the launch of Polygon and Binance Smart Chain has been integrated. More integrations will follow.
It is possible to generate customized NFTs based on various formats using Streamline. Among these formats is the MP4 format. The price you pay for your NFTs is completely within your control, no matter what you choose to do with them. You can make your creation as common or uncommon as you wish, as well as how many NFTs you wish.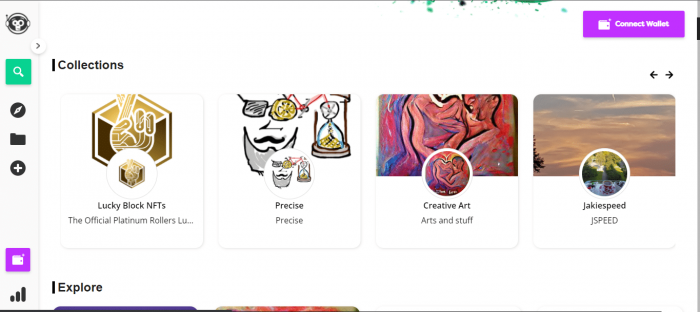 NFT LaunchPad allows you to invest in and trade in NFTs. Additionally, you can purchase gaming NFTs, digital artwork, videos, and other memorabilia using this secure platform.
As the leading NFT marketplace, NFT Launchpad will benefit traders, investors, and creators.
Your money is at risk.
2. Binance NFT Marketplace
Binance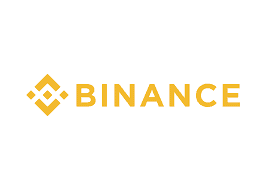 is one of the most popular cryptocurrency platforms in the world, and it boasts of the highest selection of NFTs and altcoins. If there is any NFT or altcoin you wish to invest in, there is a very high chance that it can be bought through the Binance NFT Marketplace. The platform also deals with billions of dollars in trading volume every day. Usually, you will be able to deposit funds into Binance via credit/debit card or a bank transfer, making for a convenient experience.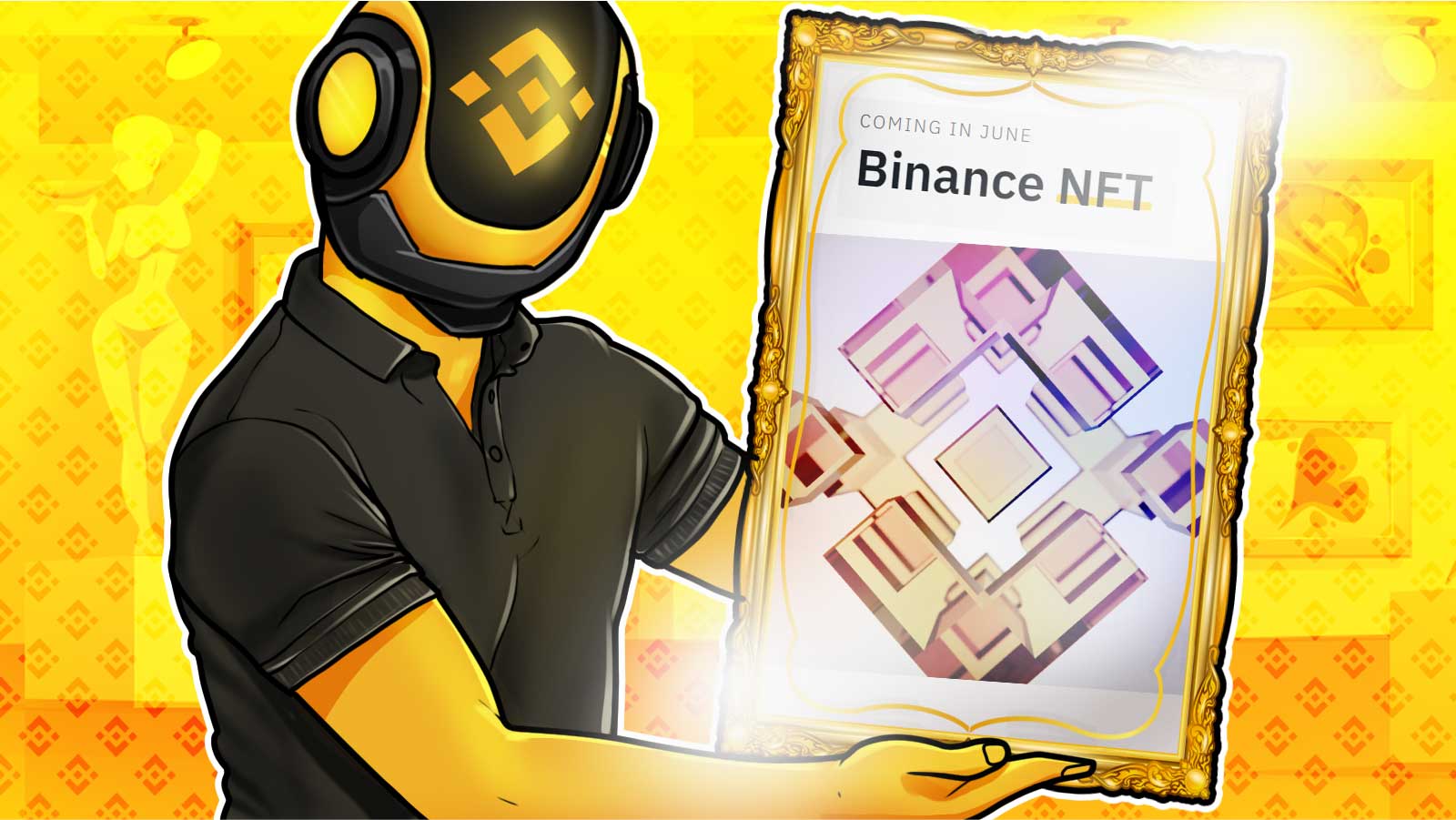 The platform charges high fees for deposits and withdrawals – between 2% and 3%. However, they have very low trading fees and are known for being one of the cheapest crypto trading platforms in terms of their fees. Usually, the fee is 0.1%, and it is even lower if you have an allocation of the Binance Coin (BNB). They also have a wide variety of tools and technologies available specifically for cryptocurrencies, which makes them a suitable option for highly experienced NFT traders.
Your capital is at risk.
3. OpenSea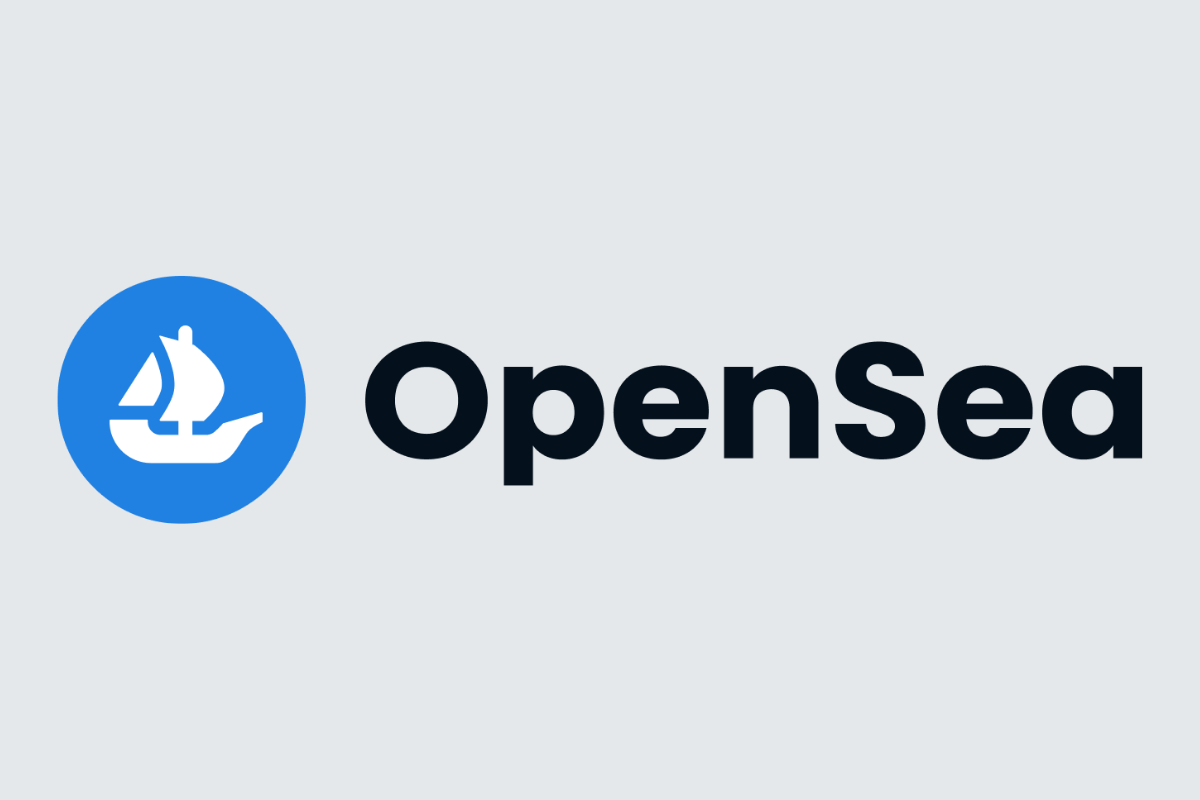 OpenSea is also a very popular NFT trading platform that allows users to trade on a variety of NFTs. it is quite popular because it offers the largest collection of NFTs and among the lowest gas fees in the industry. It supports payments in a variety of cryptocurrencies, including BTC major altcoins such as ETH and ADA. however, it does not support payments in fiat currencies such as USD or AUD. In addition to this, the platform allows you to list your NFTs on a variety of blockchains, such as Etheruem, Polygon, as well as Klaytn.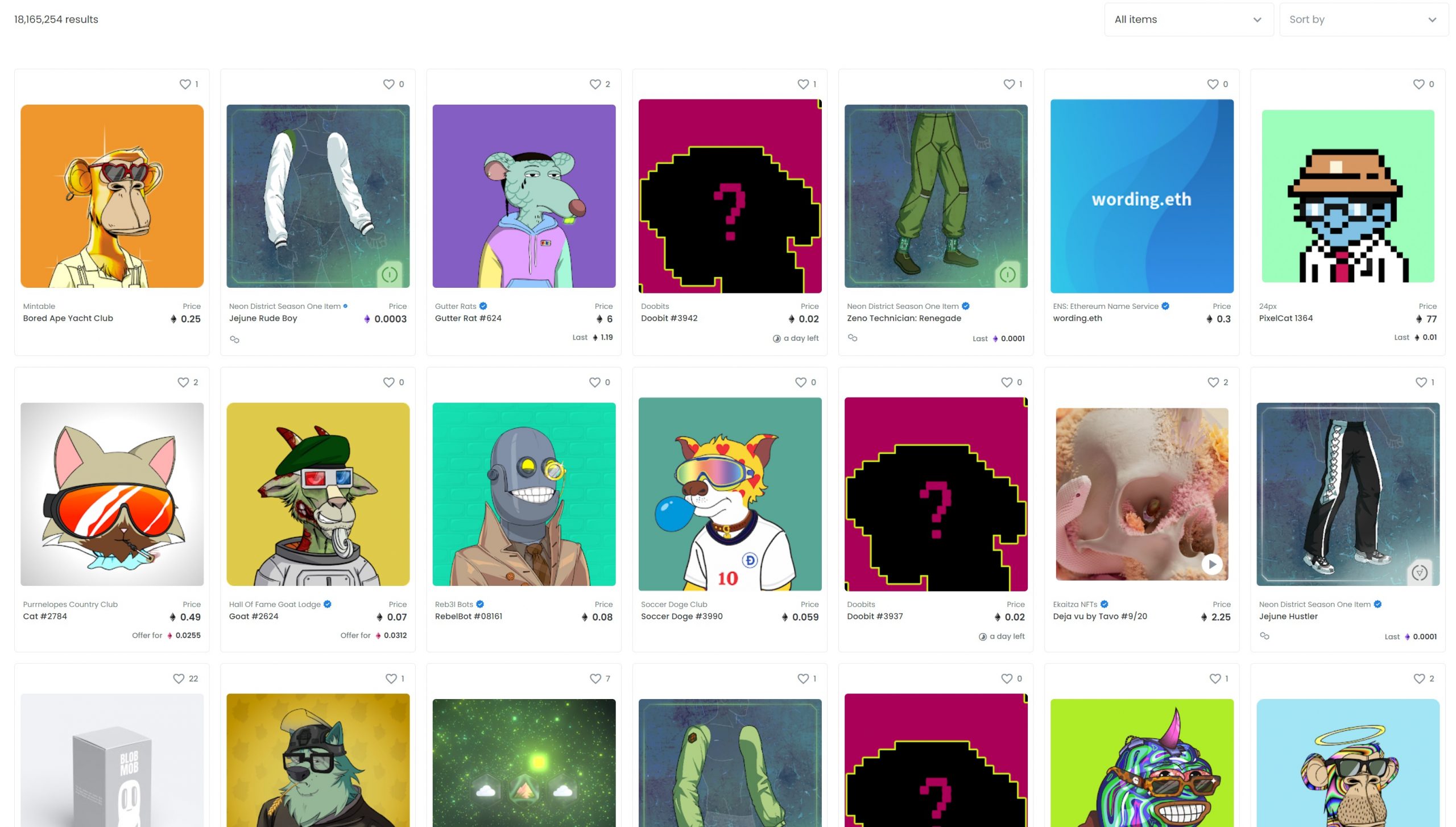 Another advantage that the platform has over others is that in addition to charing only a 2% buyer's and 2.5% seller's fee, it also allows you to mint NFTs through the platform, thereby allowing you to sell your artwork and other digital as well as physical assets through its marketplace.
Your money is at risk.
4. Axie Marketplace – Best NFT Gaming Platform

The game Axie Infinity is based on the fantasy creatures Axie. Vietnam is where the game originated. AXS (Axie Infinity Shards) tokens are used to reward players in Axie Infinity. It was claimed that the website had more than 19,000 monthly active users when writing this review (30 March 2021).
Earlier this year (9 February 2021), an NFT from Axie Infinity Marketplace – an in-game virtual land – was reportedly sold for 888 ETH at CoinDesk (roughly $1.5 million at the time). It's amazing!
Each player owns an entire piece of the Axie Infinity ecosystem. They can exchange digital currencies for their in-game assets and NFTs. This game is like an imaginary pet universe since it revolves around imaginary creatures. At least three axes are required for each player to start.
The Axie Infinity Marketplace does not offer anything other than characters and items of the Axie Infinity ecosystem. So you'll need to look elsewhere if you'd like to use your iPad to display a digital art motif on your living room wall.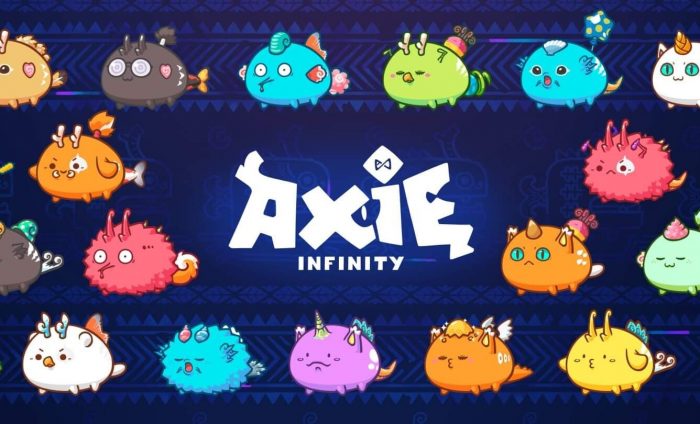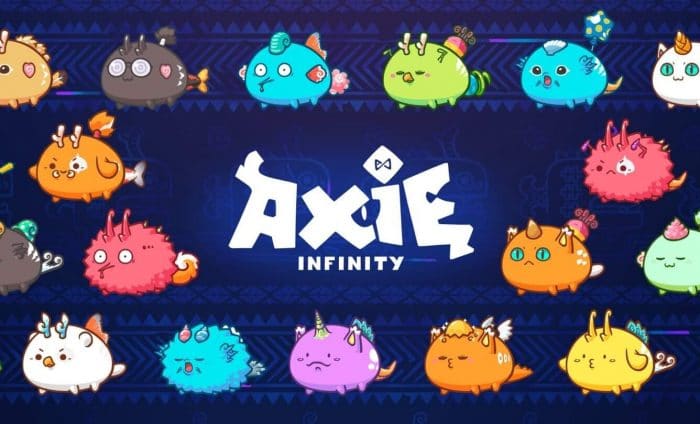 The seller pays 4.25% of the transaction price to the marketplace (but not the buyer). Therefore, you will only receive USD 95.75 if you sell an Axie Infinity NFT for 100 USD. As a commission, we pay the remaining portion of the sale price to Sky Mavis, the developer of Axie Infinity. In addition, AXS token holders will receive rewards from The Community Treasury starting in 2021.
Gas fees are the only fees that a buyer needs to consider. Fees are divided into four categories depending on the vehicle's speed – Slow, Standard, Fast, and Rapid. Various fees are charged for different categories and types of transactions. The following is a snapshot. So, if you are wondering where to buy NFTs of Axie Infinity, Axie Marketplace is the most efficient of the platforms for NFT trading to check.
Your money is at risk.
5. Crypto.com – Best NFT Platform for Music

Several milestones have already been achieved since Crypto.com's launch of its crypto.com NFT platform in March 2021.
As part of their collaboration with artists, musicians, brands, celebrities, and more, they launched many notable NFT collections, such as Snoop Dogg's "A Journey with the Dogg," Aston Martin Cognizant F1 Team's "A New Era Begins," and BossLogic's "Greater Heights."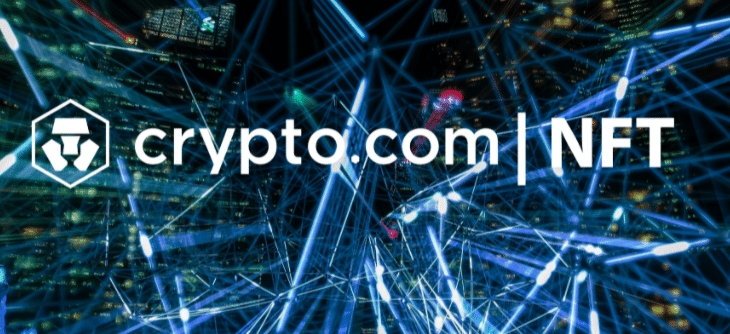 Through the release of NFTs such as Ugonzo's "PsychoKitties: The New Era" and Morysetta's "Collage Mirage: Morysetta," they have worked closely with creators to accelerate the growth and distribution of their work.
Along with its extensive partnership with the UFC and Philadelphia 76ers, Crypto.com has partnered with the 76ers and Philadelphia 76ers to create a sports history collection that fans can own, collect, and share.
Your money is at risk.
6. Magic Eden – Best Solana NFT Marketplace

For NFTs on Solana, the Magic Eden platform is the leading platform. Using their Launchpad, their Reselling Act allows individual NFTs to be resold and entire collections to be listed and minted on their official website.
Magic Eden does not have a curated marketplace, so you will have to go through an application process to get listed. However, having curated collections gives you more control over the content that is displayed, resulting in a higher-quality collection.
As mentioned earlier, Magic Eden offers a variety of features, including auctions, collection stats, filtering by price and collection traits, and even a browser game called "Mini Royal" that you can play for free for a limited time. The game also allows users to trade in-game items, such as skins, for NFTs, an homage to popular Battle Royale games (Fortnite, COD Warzone, etc.). However, the game is still in the early stages of development.
Magic Eden is a complete marketplace reminiscent of the most popular NFT marketplace, Opensea.
Your money is at risk.
7. Nifty Gateway – Best NFT Platform for Photographers

Nifty Gateway is a blockchain-based online marketplace that allows users to purchase and sell non-fungible tokens (NFT) as requested.
Nifty Gateway's USP is exclusivity. Unlike some platforms that allow content to be placed for sale for free, Nifty Gateway's team exclusively only allows content to be placed for sale via Nifty Gateway's service.
The cryptocurrency exchange was founded by the Winklevoss brothers – of Facebook fame and The Social Network fame – on their cryptocurrency exchange Gemini.
There are bars to cross for anyone wishing to sell their products on the platform, as Nifty Gateway has created a curated, "walled garden" service of its own.
This rigor has led many prominent musicians and artists to use the platform, including Deadmau5 and Carl Cox and Grimes, Lil Yachty, and more, even including figures from the traditional art world, such as Trevor Jones and Kenny Scharf.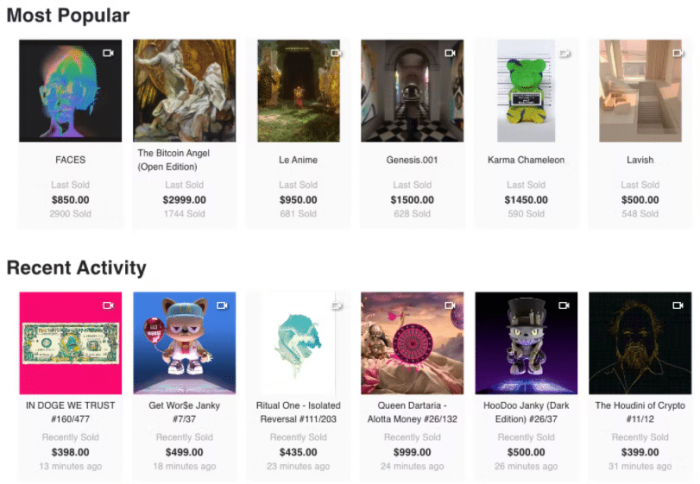 As a result, it is not uncommon for figures like these to participate in "drops," where buyers can exclusively purchase content through Nifty Gateway.
It's worth noting that Nifty Gateway accepts both credit cards and debit cards if you reside in the United States. It's a very unusual option for an NFT market to offer such fiat accessibility. Of course, if you are based somewhere else, you will need a Gemini crypto exchange account if you want to buy bitcoin.
Aside from that, as you might expect from its high-profile creators, as well as the founder's description of it as the "premier digital art marketplace," it tends to lean towards the more expensive end of the market.
Your money is at risk.
 8. Rarible – Best NFT Platform for Artists

Rarible allows creators to create NFTs, which collectors can purchase. This digital marketplace features a variety of items, including art featuring "Bored Elon," original songs, and Tupac art.
Rarible accepts only Ethereum (ETH). You must have a cryptocurrency wallet to buy or sell on the site. Therefore, Rarible uses blockchain technology. As a result, buyers are assured they own NFTs.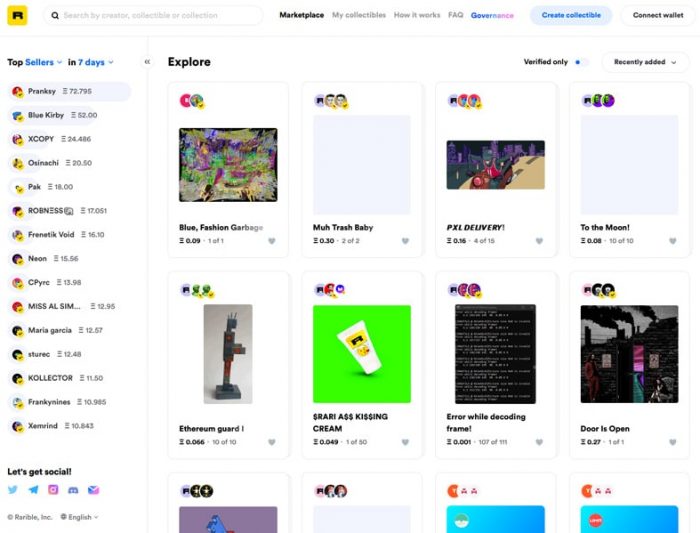 Rarible only displays NFTs from its marketplace, whereas Opensea allows you to filter out NFTs. In contrast, Opensea displays files from many sources. That means that Rarible NFTs cannot be found on Opensea, but they can be found on the other hand.
Rarible received an undisclosed investment from CoinFund in September of 2020. A total of over 100,000 items were minted on the platform throughout the year, resulting in more than $24 million being traded.
Your money is at risk.
What is an NFT?
Non-fungible tokens are unique digital assets that contain identifying information that is recorded in smart contracts. To understand them better, let us split the sentence and understand each of these words.
NFTs are non-fungible, in that they are unique and not replaceable. What makes an NFT unique is the information that identifies it, which is contained in smart contracts. No 2 NFTs are alike, and therefore they cannot be swapped for each other. This is in contrast to, for example, a $1 bill. If you had a $1 bill and someone else had another $1 bill, you would have no problem swapping them for each other since they are basically the same and indistinguishable. This is not the case with NFTs, since their smart contracts state that each NFT is unique, and therefore, cannot be exchanged with other NFTs.
An additional characteristic of fungible tokens is that they can be sold or transferred in parts. For example, you could send someone $100, and they could send you $100 back. At the same time, you could also send them only a small part of $100, and that small part would have some inherent value in itself. The same applies to Bitcoins, and you can transfer smaller units of Bitcoin, which are measured in satoshis. One satoshi is the equivalent of 0.01BTC. Of course, the value of what a BTC is worth in terms of US$ might change over time, but what remains constant throughout is the fact that fractional bitcoins can be transferred. This is not the case with NFTs usually. In this regard, they are not very different from a concert ticket. Similar to how a part of a concert ticket wouldn't mean anything, a fraction of an NFT doesn't mean anything either. However, investors have been experimenting with the idea of fractionalized NFTs in recent times, though most experts say fractionalized NFTs are a legal grey area and could be classified as a security, under which case they would be subject to supervision and regulation by the appropriate agencies.
One of the first NFTs ever produced was the CryptoKitties collectibles. These were launched as a part of the game. If you were to send someone one CryptoKitty and receive another one back from them, they would not be alike in any way. Therefore, the purpose of the game was to collect different kinds of CryptoKitty tokens. The information that identifies an NFT and makes it unique is recorded inside a smart contract and is recorded on the blockchain of the token. This way, irrespective of who owns the NFT, its unique identifying information is still there, and it can be authenticated. In this regard, an NFT is like a work of art. This is also what prevents people from being able to copy an NFT because the smart contract that is stored and registered on the blockchain cannot be copied, and thus the fake NFT will always stand out as a copy.
Your capital is at risk.
NFTs have become popular in recent times because they have a variety of special attributes, one of them being that they are usually linked to specific assets. They can be used to prove ownership of these assets, and thus they serve as a form of ownership proof. The assets that they are linked to could include, for example, digital game skins. However, they are also occasionally used to prove the ownership of physical assets.
As well as representing digital collectibles like CryptoKitties, NBA Top Shot, and Sorare, non-fungible tokens can be used for digital assets that need to be differentiated from each other in order to prove their value or scarcity. In the past, they have primarily been used to prove the ownership of digital assets, however, these days they are used for a variety of other purposes in the physical world too. They can represent everything from virtual land parcels to artworks, to ownership licenses.
They're bought and sold on NFT marketplaces. While dedicated marketplaces such as OpenSea and Axie have hitherto dominated the field, recently some of the leading cryptocurrency exchanges have begun to muscle in on the space, including Binance.
The process of how an NFT works is that the information of whoever owns an NFT is stored on the blockchain. For this purpose, the creators can either use an Ethereum blockchain, which is most commonly used, other blockchains such as Solana, Flow, TRON, or NEO, or create their own blockchain space. The smart contracts can be filled with detailed attributes, which include information such as the identity of the owner. However, they might also occasionally include rich metadata or secure file links. In a world that is becoming increasingly digital and is suffering from outdated copyright laws, the promise of immutable identity and ownership proof by the use of NFTs is fast gaining popularity.
However, just as is the case with most other products involving the use of blockchain, the technology is still under development and is being updated almost every day. Creating decentralized applications and platforms for the management and creation of non-fungible tokens is still relatively complicated. There is also the challenge of creating a standard. Blockchain development is fragmented, many developers are working on their own projects. To be successful there may need to be unified protocols and interoperability.
How to Trade NFTs?
If you are interested in the concept of NFTs, a collector, or you're simply looking to profit off of speculating on NFTs, the first thing you need to do is to understand how to trade NFTs. The process is relatively simple, though it can appear complicated to outsiders. Therefore, we have listed down every step of the process to make it easier for you.
Step 1: Select a broker
The very first step that you need to take is to select a platform that allows you to trade NFTs. While there are several such platforms, it is important for the platform you choose to be suitable for your trading requirements. The different criteria that you should look at include the fee structure of the platform, the non-trading fees such as the withdrawal and deposit fees, the range of products that they allow you to purchase, as well as the general usability of the platform. There are 2 types of NFT platforms that you can choose from: NFT marketplaces and cryptocurrency exchanges. Each of them has its own set of advantages and disadvantages. While NFT marketplaces offer a wider variety of products to choose from, crypto exchanges have their own crypto wallets, making it easier for you to trade on NFTs without having to link your crypto wallets from other platforms and paying transfer fees.
Some platforms, while providing low fees and a wide product variety, are designed in a way that makes them difficult to navigate. Therefore, you will end up spending several months just getting used to the platform and its navigation. In addition to this, it is preferable for the platform that you use to have a mobile app as well, so you can monitor and manage your positions on the move. This will also allow you to participate in NFT auctions and bid on items even when you are not close to your computer.
Your capital is at risk.
Step 2: Create an account and connect it with your wallet
The next step, once you have identified what platform you will be using to trade, is to create an account with this platform. This is usually a straightforward and simple process. It usually involves creating an account by filling up a form and getting this account KYC verified. After this, the next things you will do depend on the type of platform that you have chosen.
If you have chosen a crypto exchange, your next step will be to purchase cryptocurrencies on this platform. You can purchase any major cryptocurrency including BTC and ETH. this will then automatically be stored in your crypto wallet. You can store multiple cryptocurrencies in your crypto wallet, and this will then be used to buy and sell NFTs through the platform.
On the other hand, if you have chosen an NFT marketplace, then you also need to open an account with a crypto wallet provider and deposit cryptocurrencies into it. Once you have done this, you will have to link this crypto wallet to your NFT marketplace account. Then, you will be able to buy and sell NFTs easily through the use of this crypto wallet. Before depositing your crypto into a wallet, you need to make sure that it is compatible with whatever marketplace you are using.
Linking your account to a crypto wallet, whether on the platform or externally, is important for two reasons. One, the money you need to buy NFTs and the proceeds from their subsequent sale will be debited and credited to your crypto wallet in crypto. At the same time, for the time that you choose to hold the NFT, it will be stored and held in your crypto wallet itself.
Step 3: Identify an NFT trading strategy
The next step for you is to identify an NFT trading strategy. There are several trading strategies that have been discussed below that you can choose from.
Step 4: Choose an NFT that you wish to buy
Once you have completed all these steps, the only thing left for you to do is to head over to the NFT marketplace and identify the NFT you wish to buy. There are two forms of NFTs: those that are available for outright purchase and those that have auctions. If your NFT is available for outright purchase, all you need to do is click on buy, follow the instructions on the screen, and confirm the transaction. The amount of purchase will be taken from your crypto wallet, and the NFT you purchased will be added to it. It is best for you to not trade NFTs during periods of high volatility because the fees are much higher. Sometimes, the fee can be high enough so that you end up paying more in fees than you did for the NFT itself.
Risks of Trading NFTs
There are a variety of risks associated with trading NFTs, and some of the biggest ones have been discussed below.
NFTs are largely speculative and derive their value from what buyers deem them to be worth. This means that you could easily find an NFT you are holding to be worthless.
The market for NFTs is not very liquid, and it might not always be very easy to find a buyer.
Different NFT marketplaces and trading platforms have very limited supported wallets, so if you are planning to trade NFTs on multiple platforms, you might have to split your crypto holdings among multiple wallets and platforms, which is quite cumbersome and confusing.
The fees that platforms charge for the trading of NFTs, called gas fees, can be quite high, especially for NFTs that are in demand or highly valuable. There have been numerous instances of gas fees being 10xthe value of the NFT itself, or even more. This makes trading them an attractive proposition since it would be like paying $1000 in commissions to buy $100 worth of shares.
The technology is still developing, so there is always a risk of tomorrow's technology making any and all NFTs developed today obsolete, which would make the value of the NFTs you own to be 0 and worthless.
NFT Trading Strategy
In order to trade NFTs profitably, it is important for you to have a strategy that you can use. While there are several different strategies available that have been proven to be profitable, the 2 most common ones have been discussed below.
Buy the Floor
NFTs are still in their early stages and shall continue to be here for quite a while. Therefore, a smart strategy would be to buy NFTs at their floor price, which is the lowest price of a non-fungible token within a given category. Although this should not be your only reason for buying an NFT, you could select a branch you are passionate about and buy NFTs related to it at floor prices. For instance, you may choose rare NFTs over others and select the token with a floor price within that category. Buying the floor is a good trading strategy that positions you for enormous growth should the token become more popular in the future.
Search for Google Trends
Even if you are a beginner to the world of NFT trading, you can easily determine if an NFT is popular by looking at the Google Trend results. The Google trend is used to measure public opinion toward a particular topic or keyword and searches for the word are scaled in a range of 0 to 100. When the rating is high, it indicates that many people are getting involved with NFT collectibles and it indirectly signifies a good buy time. However, when the search for NFT-related keywords is low, it means you will need to tread carefully as fewer people are showing interest in the market.
Your capital is at risk.
Are NFTs Regulated?
No, NFT trading is not regulated. While there is a possibility that they might be regulated in the future, so far the vastness and the general inaccessibility to blockchain technology for regulatory agencies have made it impossible for them to regulate the trading of NFTs. However, some particular NFT marketplaces and exchanges are regulated by agencies in a few countries.
How to Get Started with an NFT Trading Platform – Binance NFT
The process of opening an account on the best NFT trading platform, Binance NFT, is relatively simple and straightforward and incorporates 4 steps. These have been discussed below in detail.
Step 1: Open an Account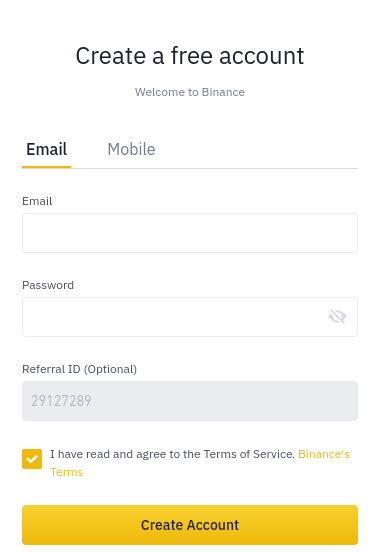 The first step is to open a Binance account. This can be done by simply heading over to their website and clicking on the "Join Now" button. You can either create an account from scratch or log in using your Gmail account. Initially, you will only be asked to enter your email address and to create a strong password. If you are planning to deposit funds with cryptocurrencies only – there is no other information that you need to provide.
Your capital is at risk.
Step 2: Upload ID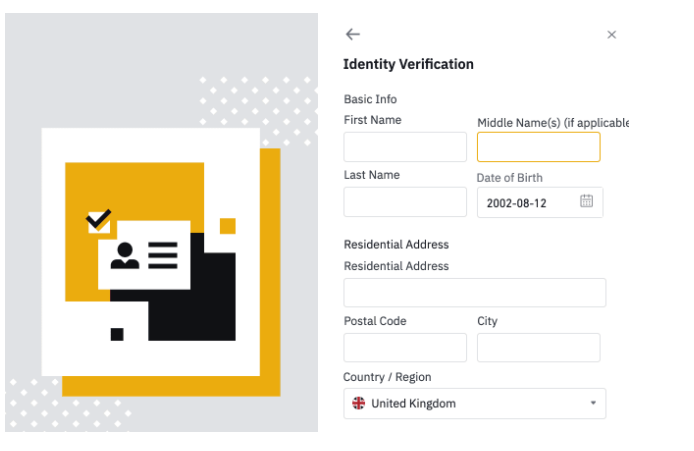 If you want to fund your Binance account with a debit/credit card or bank transfer – you will need to complete a KYC process.
First, you need to enter your personal information – such as your name, country of residence, date of birth, and home address. You also need to supply your mobile number. Next, you need to upload a copy of your government-issued ID. This can be a passport or driver's license. In some countries, you might be able to use a national ID card.
Step 3: Deposit Funds
The deposit process on Binance will depend on the payment method you wish to use.
Crypto Deposit
If you are depositing funds with cryptocurrency – you will need to head over to the deposit page from within your account dashboard. Look for the digital asset that you wish to use and click on the 'Deposit' button. You will then be shown your unique wallet address for the respective digital currency.
Copy it to your clipboard, head over to your private wallet, paste in the address, and confirm the transaction. The funds should arrive in your Binance account in approximately 20 minutes.
Debit/Credit Card Deposit
If you want to deposit funds with your Visa or MasterCard – hover your mouse over the 'Buy Crypto' tab and click on 'Credit/Debit Card'. Then, decide whether you want to fund your account with fiat money or directly purchase a cryptocurrency. Follow the on-screen instructions by entering your card details and confirming the transaction.
Bank Account Deposit
If eligible, you might also be able to deposit funds by performing a local bank transfer. Hover your mouse over the 'Buy Crypto' tab and click on 'Bank Deposit'. Then, Binance will display the bank account details and reference number that you need to use.
Head over to your online or mobile banking app and complete the transfer. In some countries, such as the UK, the deposit will be processed in a matter of minutes.
Step 4: Trade Altcoins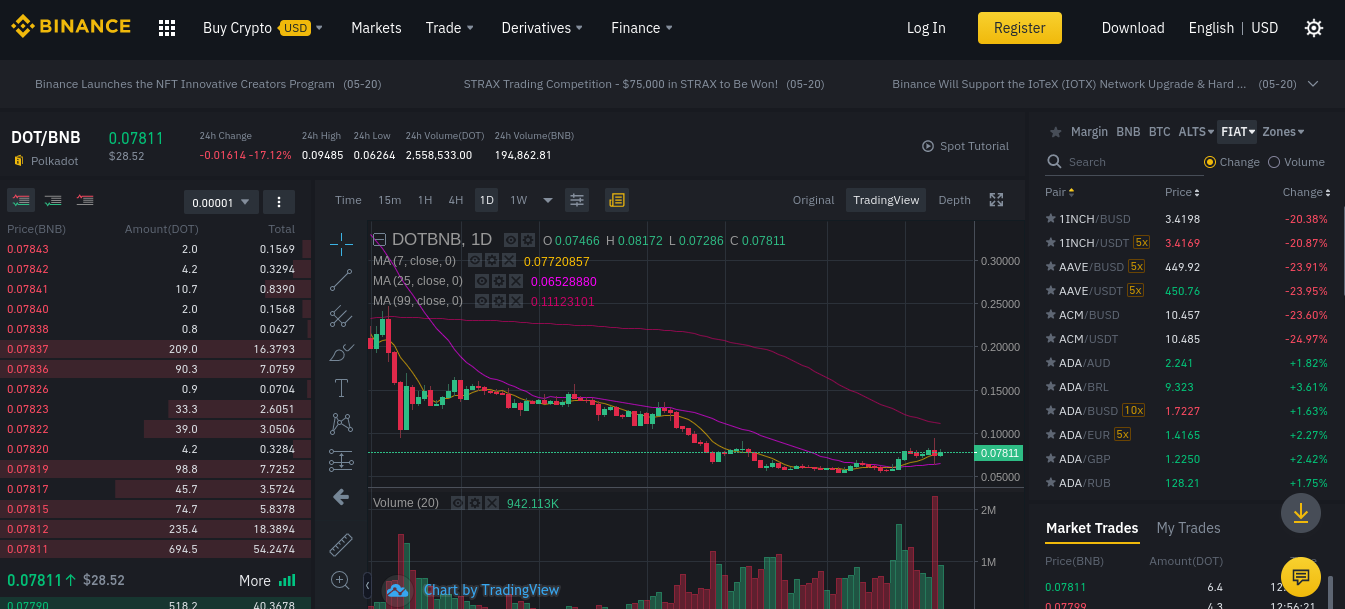 Once this process has been completed, you can then easily head over to their NFT marketplace, where you will be able to view, bid on, buy, and sell NFTs with ease.
Your capital is at risk.
eToro – Buy Cryptocurrencies to Acquire NFTs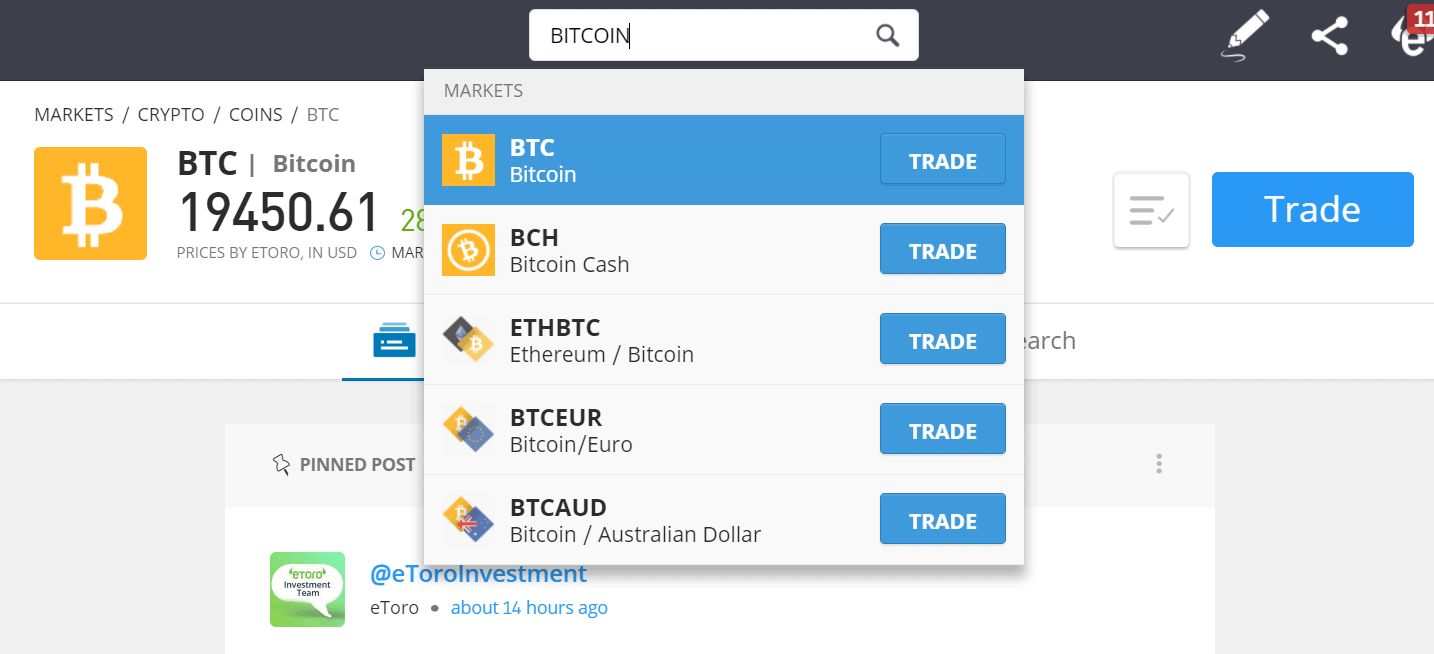 The NFT sector can no longer be dismissed due to some recent events. Established artists and publicly traded companies are increasingly using NFTs.
Currently, investors have great growth potential in terms of returns. If this is the case, then getting set up now will serve you well in the future when NFT investments become more common.
In any case, you should store your NFTs and cryptos safely and securely. Using the eToro Money Crypto Wallet is the best way to accomplish this.
As soon as you are ready to invest in NFT, you can purchase your cryptocurrency using eToro and store it securely within the eToro wallet until you are ready to transfer it and invest in NFT.
Now you can open a free account and see how easy it is!
74% of retail investor accounts lose money when trading CFDs with this provider. You should consider whether you can afford to take the high risk of losing your money.
FAQs
Which are the best NFTs to trade?
What are the best NFTs trading platforms in the UK?
Do I need a crypto wallet to trade NFTs?
Are NFTs legal in the UK?
How much money do I need to trade NFTs?