How To Invest In Roblox Stock- Best Places To Buy 2023
Fact Checked
Everything you read on our site is provided by expert writers who have many years of experience in the financial markets and have written for other top financial publications. Every piece of information here is fact-checked. We sometimes use affiliate links in our content, when clicking on those we might receive a commission - at no extra cost to you. By using this website you agree to our terms and conditions and privacy policy.
In 2004, Roblox Corporation was founded as a video game developer in the United States. The company is well known for developing the game Roblox, which was released in 2006. As of 2021, it employs almost 1,600 people and generates almost $2 billion in revenue. As of March 2021, the company first floated its shares on the market for a price of $45 per share. After the IPO, the shares soared to over $70, rewarding early investors. Is now still a good time to invest in Roblox, even though its share price has fallen in 2022?
In this guide, we will examine how to invest in Roblox stocks  and if Roblox stock is a good investment in 2022. Additionally, we discuss Roblox's price history, the best places to buy Roblox stock with low fees, and our top recommended broker to invest in Roblox stock. Afterward, we take you through a step-by-step guide to help you acquire Roblox stock.
1 Provider that match your filters Providers that match your filters
Fixed commissions per operation
Total Fees (for 12 months)
$ 0
What we like
Buy shares and ETFs with 0% commission

Social and copy trading network

Invest and trade crypto with low fees
Fixed commissions per operation
Mobile App
Features
Payment methods
Total Fees (for 12 months)
$ 0
74% of retail investor accounts lose money when trading CFDs with this provider.
Account Info
$10/month after 12 months
Maximum 1:30, minimum 1:2
Fees per operation
Spread – Currency from 1 PIP, commodities from 2 PIPS, indices from 0,75 points, stocks and ETFs from 0,15 %
Yes, depending on the market that you trade
Roblox Overview
How To Invest In Roblox Stock 2023
Here is a step-by-step guide to setting up an account and adding Roblox stock to your portfolio.
Step 1: Open a brokerage account
First, you must visit the eToro.com website and create a free account there. In order to get your account up and running, follow the instructions on the screen. A few basic personal details will need to be entered at this point.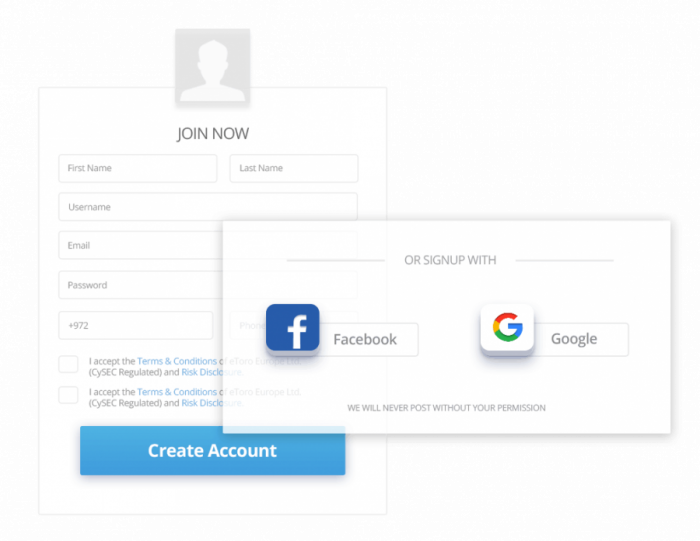 Step 2: Verify your account
Now that you have set up an account, you need to verify it to be able to add funds to it. You will have to provide eToro with two forms of government ID to complete this process. A driver's license or passport is a form of proof of identity, while a utility bill or bank statement is a form of proof of address. Within minutes of receiving these documents, eToro aims to have them verified.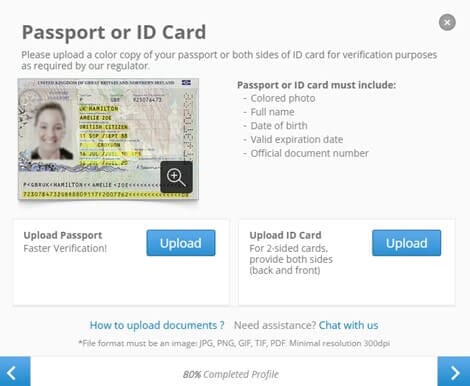 Step 3: Fund your account
Your account will be able to receive funds as soon as you have successfully verified it. The minimum deposit amount is only $10, and no maximum amount can be deposited. Click on the 'Add funds' button in the left drop-down menu to open the deposit page. Several payment methods are available, including debit/credit cards, bank transfers, and e-wallets like PayPal and Skrill.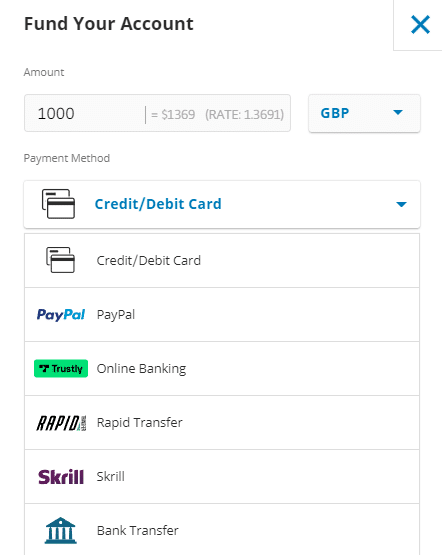 Step 4: Search for Roblox ticker
The Roblox ticker can be searched in the eToro search bar by simply typing Roblox or the ticker RBLX. This is where you can find the latest news related to Roblox, statistics, charts with the live performance of the stock, and more.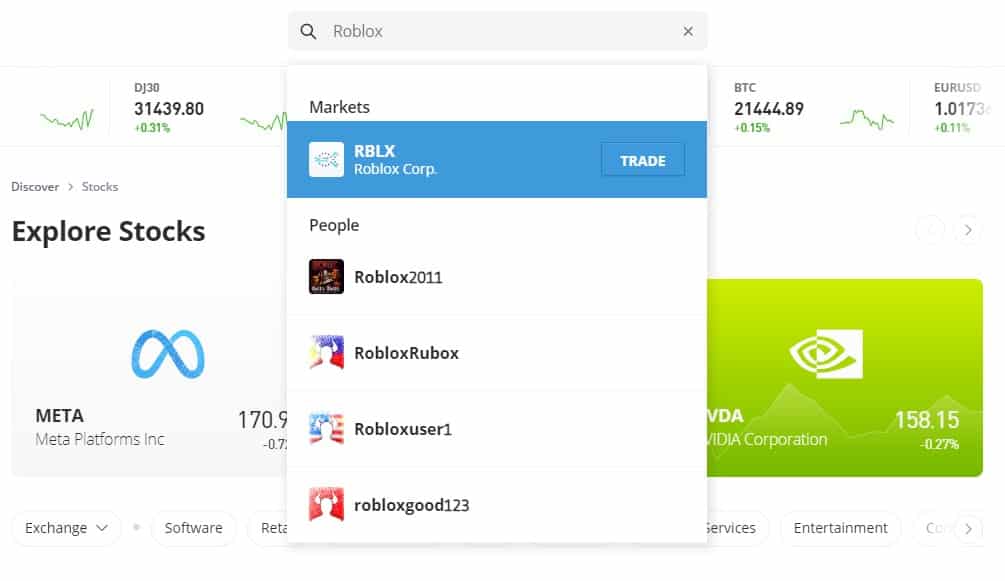 Step 5: Place an order
Once your Roblox account is funded, you can open a position. You can do this by typing Roblox into the eToro search bar. After selecting it from the drop-down list, you must click on the blue button that says 'Trade' to place your order. Then, fill out the order form, and your Roblox position will be added!
67% of retail investor accounts lose money when trading CFDs with this provider. You should consider whether you can afford to take the high risk of losing your money.
5 Best Places To Invest In Roblox Stock- Reviewed
Opening an account with a broker is the first step to purchasing Roblox stock. Each broker offers unique features, and thousands of them are out there. Choosing the right one can therefore be a daunting task. Below, we have reviewed our top two brokers to save you the hassle of researching yourself:
1. eToro – Best Roblox Stocks Buying Platform
We recommend investing in Roblox on eToro, which we consider the best place to do so. Due to its user-friendly interface, this is a great platform for beginners, as it has been created to provide them with a great trading experience.
Additionally, it is available on both iOS and Android platforms, making it accessible to a wider audience. You can easily set up an account by visiting the website and following the on-screen instructions.
With eToro, users can paper trade with a $100,000 virtual portfolio. This makes it an ideal way to test new trading strategies or teach beginners how to trade correctly without putting any money at risk. On eToro, users can start trading for as little as $10 once they feel comfortable with the platform.
This platform allows users to access over 2000 financial assets, including 60+ cryptocurrencies. It is, therefore, an excellent platform for building portfolios with a high level of diversification. With over 140 countries in operation and 30 million users, eToro is a popular platform.
Its unique trading tools are one of the reasons why eToro is such a great platform. The user experience is greatly enhanced by copy-trading and social trading. Users can copy prebuilt portfolios directly from other users using copy trading. Then, filtering these by risk, return, and asset allocation is possible.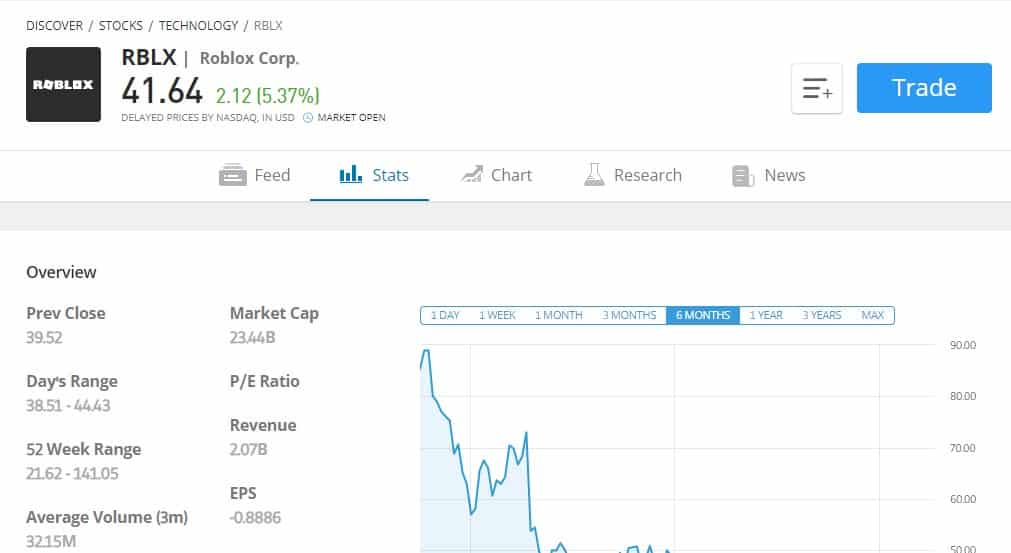 Copy trade can only be used by users who have deposited a minimum of $200. On a community board, social investing connects investors and allows them to share posts. Often, these posts include tips, stock news, and recommendations, which can be useful for keeping up to date with the market as it changes. There is also a fractional stock function on eToro. This allows users to buy portions of shares (i.e., 1.5 shares) based on their available funds.
eToro is a low-cost option regarding the fees it charges its users. eToro charges zero commissions on all non-leveraged trades and 1% on cryptocurrency trades. The company makes money instead by charging fixed spreads on all trades. In addition, inactivity fees of $10 and $5 apply if accounts remain untouched for more than 12 months.
Last but not least, eToro is one of the best options when it comes to security. The FCA regulates insurance coverage up to £85,000 in the UK. In addition, the FDIC offers up to $250,000 of insurance in the US. In addition to the cryptocurrency wallets, numerous blockchain protocols are built into them to prevent scams and fraud.
Pros:
An engaging community experience is provided
Copy trading is available
Cryptocurrency holdings can be transferred off the platform
A comprehensive set of educational resources
Paper trading allows you to try out strategies
Cons:
Spread fees are relatively high
In New York and several other states, it is not available
67% of retail investor accounts lose money when trading CFDs with this provider. You should consider whether you can afford to take the high risk of losing your money.
2. IG – Regulated Broker To Buy Roblox Stocks

In 2019, IG Markets US was officially launched. This broker is regulated by the Commodity Futures Trading Commission (CFTC). Additionally, it is a CFTC-created National Futures Association (NFA) member. IG Markets US follows US regulations as an industry-standard but has also suffered criticism in 2021.
Due to a spike in market volatility in January of 2021, IG Markers US experienced outages, and traders were unable to manage their positions; as a result, resulting in losses that could have been avoided. According to two sources, IG Markets US failed to provide customer support and did not answer customer phone calls. Meanwhile, it reacted quickly to comments to protect its image and deny accusations made by clients.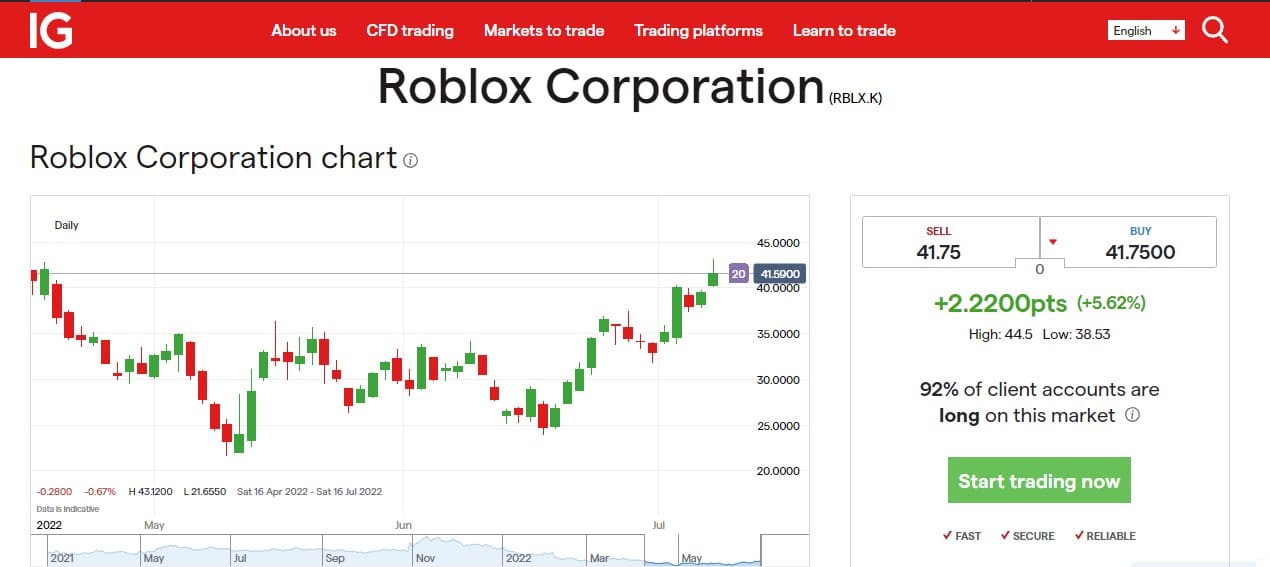 It should be noted that since IG Markets US is a Forex broker, it does not offer investors Securities Investor Protection Corporation (SIPC) protection, which does not cover currency trading. However, as IG Markets US is part of IG Group, listed on the London Stock Exchange (LSE), and a member of the FTSE250 index, we do not consider this an issue. As a result, IG Markets US is a reliable broker trader can trust with their deposits and portfolios.
Pros:
IG's website is easy to navigate for new traders, and trading forex is easy.
Mobile and tablet versions offer the same functionality as the desktop version
It is easy to understand IG's margin rates, and all traders can afford them
More than 80 currency pairs are available to traders
Cons:
US traders can only trade Forex at the moment.
The customer service needs to be improved.
Mobile versions do not support two-factor authentication.
Your Money Is At Risk.
3. Interactive Brokers – Broker with a Vast List of Markets Including Roblox Stocks

Suppose you are an active trader looking to place regular trades on exchanges listed in the US and on international markets. In that case, Interactive Brokers may pique your interest. . Through its trading access to more than 150 markets in 33 countries, you can invest in stocks, options, mutual funds, ETFs, cryptocurrencies, futures, bonds, and currencies.
Additionally, Interactive Brokers offers retirement accounts, cash management accounts, market research, and mobile apps. Aside from that, the brokerage also recently launched IMPACT, a mobile app that helps investors find companies that align with their values regarding socially responsible investing.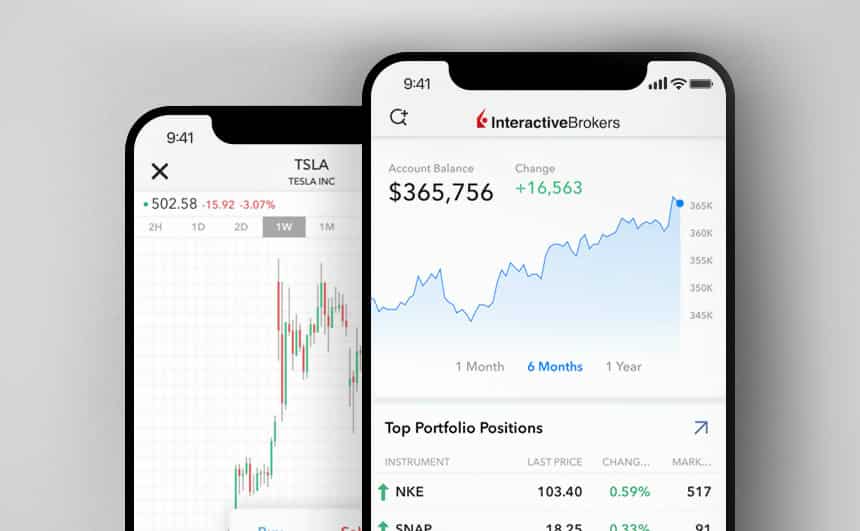 According to its website, it runs more than 2.5 million daily trades and manages more than $10.48 billion in equity capital.
Pros:
There is a large selection of investments available
Research and tools that are of high quality.
There are over 17,000 mutual funds with no transaction fees.
IBKR Pro users get a 0.25 percentage point discount on margin rates when they sign up.
Cons:
It isn't easy to navigate the website.
Your Money Is At Risk.
4. Webull – Zero-commission stock investments
Webull has grown to accommodate millions of users since it was founded in 2017. Beginner investors will appreciate its easy setup and simplicity. Android and iOS versions are also available.
All stocks and ETFs on the platform are commission-free, which is a great feature. ADRs and futures contracts are also available to more experienced investors. There are currently 2085 financial assets available on Webull, including 11 cryptocurrencies.
In addition to charting tools, technical indicators, advanced orders, and much more, the site seems geared toward more experienced traders. The platform includes all of these features. Unfortunately, mutual funds are not available, and there are very few educational videos. Webull lacks the basic features that exchanges usually provide, which isn't very pleasant.

Webull accounts are very secure, which is a great thing to note. Accounts with two-factor authentication and biometric recognition can be accessed using finger and face recognition on supported devices. Webull has been without a data breach for four years due to this high level of security. In addition, besides FCA and FDIC insurance, Webull offers private insurance, which protects individual accounts up to $37.5 million. As a result, it stands out from many other brokers.
Visit the Webull website and follow the instructions on the screen to set up an account. Webull provides you with 5 free shares when you set up an account, which can be a great way to start your portfolio! In case of problems setting up your account, Webull's customer service team is available 24/7 to assist you. Additionally, a chatbot is available 24/7 to answer any questions you might have.
Pros:
There is no minimum deposit or annual fee
Trade stocks, ETFs, and options without commissions
An easy-to-use mobile app
New account holders receive two free stocks
Traditional and Roth IRAs are available
Trading cryptocurrencies
Trading during extended hours
Cons:
Mutual funds, bonds, fixed income securities, futures, and foreign exchange trading are not allowed
There are no automated investing options available
There are very few educational resources available
There are fewer tools for research and analysis than at other major brokerages
Your Money Is At Risk.
5. TD Ameritrade – Broker with Self-Directed Trading Account
As a leading online brokerage, TD Ameritrade offers a wide range of services, including self-directed brokerage accounts, professional investments, retirement accounts, education savings accounts, and more.
Even though Charles Schwab acquired TD Ameritrade in 2020, which means that both platforms will eventually have the same product offerings as one, they offer many of the same services, including a wide range of trading platforms and tools, investment research, and educational courses and webcasts.
With TD Ameritrade's brokerage accounts, there is no minimum opening deposit required, and commission-free trades can be made on stocks, ETFs, and options listed on US exchanges. There is, however, a cost associated with options contracts of $0.65 per contract.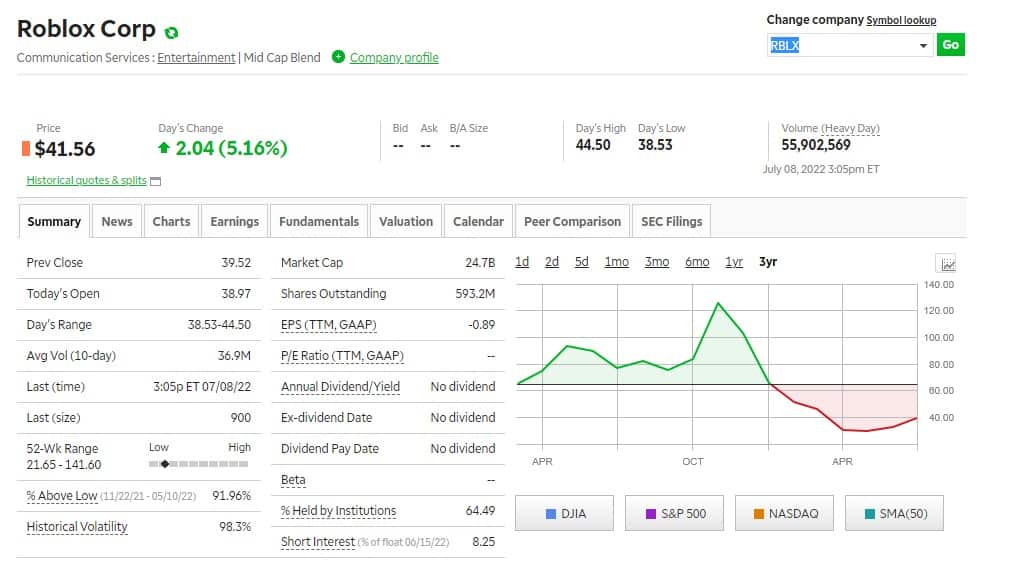 Trading accounts are also available for individuals, joint tenants with survivorship rights, tenants in common, community property, guardianships, and conservatorships. In addition, TD Ameritrade offers market analysis from Morningstar Investment Management for research-oriented traders.
As part of its investment selection, TD Ameritrade offers stocks, bonds, mutual funds (more than 13,000 to choose from), ETFs, options, futures, annuities, IPOs, and foreign investments (Forex), and other fixed-income securities.
Pros:
Trade stocks, ETFs, and options with no commissions charged
To open an account with a brokerage firm, there is no minimum requirement
The selection of investments is large
Resources for research and education
Cons:
There are no fractional shares available
Investing with robo-advice or a managed portfolio is more expensive
There are no cryptocurrencies
How Much Is Roblox Stock Worth?
The Roblox Corporation is a multinational game development company. In 2006, Roblox Corporation created a game platform and game creation system called Roblox. In the second half of 2010, Roblox took off, gaining millions of users in a short amount of time. IOS was released in December 2012, Android in July 2014, and Xbox in November 2015. With over 22 million daily players, it is a widely accessible game.
Roblox hugely benefited from the Covid-19 pandemic. Since it is a software-oriented business, it has limited capital expenditures and little physical property. The result was that it was relatively untouched by the hardships caused by the pandemic. In addition, since global lockdowns were enforced, users began spending more time online, increasing the number of Roblox accounts. As a result, the stock was able to launch a successful IPO.
Additionally, the company is known for its online activism. Roblox co-founder Baszucki has declared a number of anti-racism and climate change movements on the platform. Also, Roblox takes its customer experience very seriously, closely monitoring and banning offensive content or accounts affiliated with extremist groups. Roblox currently employs 1,600 people to monitor this problem and censor such content from other users. Keeping the community safe and strong is important.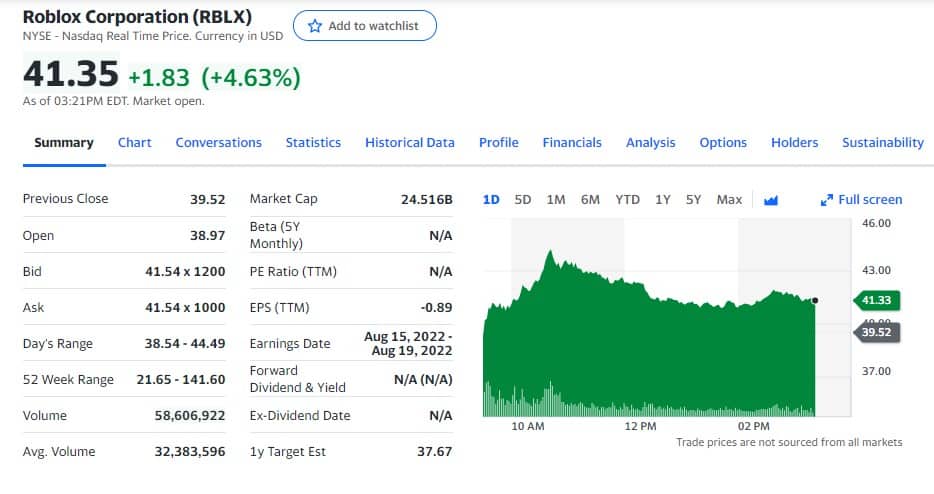 Roblox is a loss-making company, recording a loss of $503,000 for the year 2021. As a result, it does not have a price-to-earnings ratio. Additionally, the company had a net loss per share of $0.97 at the end of FY2021. Despite this, Roblox's forward P/E ratio is 71, which is extremely high. As a point of reference, good value stocks tend to operate with a P/E value under 10.
According to other financial metrics, the stock has a price-to-book ratio of 31, which is very high. The P/B ratio compares a firm's market cap with its book value, representing its assets. Compared to Unity Technologies, which operates on an 8.2 P/B ratio, Roblox seems expensive. Roblox, however, has a much lower price-to-sales ratio (P/S) of 8, which is half that of Unity Technologies. Market cap is divided by sales over the past 12 months to calculate the P/S ratio.
However, these numbers do not consider other tangible factors that Roblox has. On its balance sheet, it has negative 25% profit margins and over 1.2 billion in debt. With a debt-to-equity ratio of 1.75, the company may be unable to pay back its debts. It doesn't bode well for this in an environment of rising interest rates.
Although these numbers are pretty high, the tech sector tends to command higher multiples than traditional industries due to the lack of tangible data. In light of these metrics, Roblox stock appears to be at a fair value of $41.
67% of retail investor accounts lose money when trading CFDs with this provider. You should consider whether you can afford to take the high risk of losing your money.
Roblox Stock Dividends
In 2021, Roblox went public for the first time, so the company has only been trading on the stock exchange for a short time. It has not paid dividends in this period since it is a loss-making company. As far as the most recent results are concerned, they don't seem to indicate any signs of a rapid change in profitability in the near future. Since Roblox does not currently pay a dividend, it will likely continue to do so for a long time.
How To Invest In Roblox Stock- Conclusion
We have examined Roblox stock closely throughout this article. Founded in 2006, the platform has gained a huge amount of popularity in the past few years, with over 50 million. It has produced some great results and has serious metaverse capabilities. This stock, however, seems to have the potential to suffer a slowdown as a result of rising inflation at the moment. Because of this, we recommend Roblox as a selling opportunity to you.
eToro is a great place to buy Roblox stock if you want to invest in it today. The platform is easy to use, quick, and easy to set up an account. In addition, it has a cheap pricing system, a wide range of financial assets that can be traded, copy and social trading functions, and a high level of security, regulated by the FCA and FDIC. You can set up an eToro account today by clicking the link below.
eToro – Best Trading Platform To Buy Roblox Stock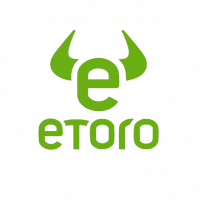 67% of retail investor accounts lose money when trading CFDs with this provider. You should consider whether you can afford to take the high risk of losing your money.
FAQs
How do I invest in Roblox?
Where can you buy Roblox Stock?
Is Roblox a good investment?
How much is Roblox Stock worth?