How to Buy Tron – Beginner's Guide
Fact Checked
Everything you read on our site is provided by expert writers who have many years of experience in the financial markets and have written for other top financial publications. Every piece of information here is fact-checked. We sometimes use affiliate links in our content, when clicking on those we might receive a commission - at no extra cost to you. By using this website you agree to our terms and conditions and privacy policy.
Disclosure
The investing information provided is for educational purposes only. Trading platforms does not offer advisory services, nor does it recommend or advise investors to buy or sell stocks, securities or other investment vehicles. Some or all of the products displayed on this page are from partners that compensate us. It may influence the products we cover and the location of the product on the page. Nevertheless, our research and analysis is unaffected by our partners.
Tron (TRX) is a popular cryptocurrency that used to rank higher in previous years than it does at the time of writing, but it still has a very strong and powerful community, as well as a good underlying technology. All of this makes many want to buy Tron coin, especially since its price has been gradually growing ever since July 2021.
Not to mention that earlier this year, it reached levels that were not seen since January 2018. If you asked yourself "Should I buy Tron coin?" or where to buy Tron coin, then keep reading, and we will explain everything.
How to Buy Tron – Step by Step Guide 2023
If you want to learn how to buy Tron crypto, the first thing that you will need is a reliable broker that will help you access it and purchase it. Our research into brokers suggests that eToro is the best choice, even among the highest-rating social trading platforms. All you need to do is follow 4 simple steps, and you can have TRX in your Tron wallets by the end of the day.
Register an account with eToro: Start by going to the eToro website and registering for an account.
Upload a valid ID: Your next step will be to verify your identity, which you can do by uploading your ID, passport, or driver's license.
Make an initial deposit: After that, deposit some money on the platform that you will use for buying TRX. eToro lets you deposit as little as $50.
Buy Tron: Finally, all that remains is to use the broker's platform to buy Tron crypto. And don't worry, it is all 100% commission-free.
67% of retail investor accounts lose money when trading CFDs with this provider. You should consider whether you can afford to take the high risk of losing your money.
What is Tron?
Tron is a cryptocurrency that originally launched on Ethereum's blockchain before creating its own and migrating away from Ethereum in mid-2018. Since its creation, the project has focused on revolutionizing the entertainment industry and decentralizing the web, mostly by bringing solutions that would allow users to connect directly with their favorite content creators, pay them for the content they provide through tipping and micro-transactions, and alike.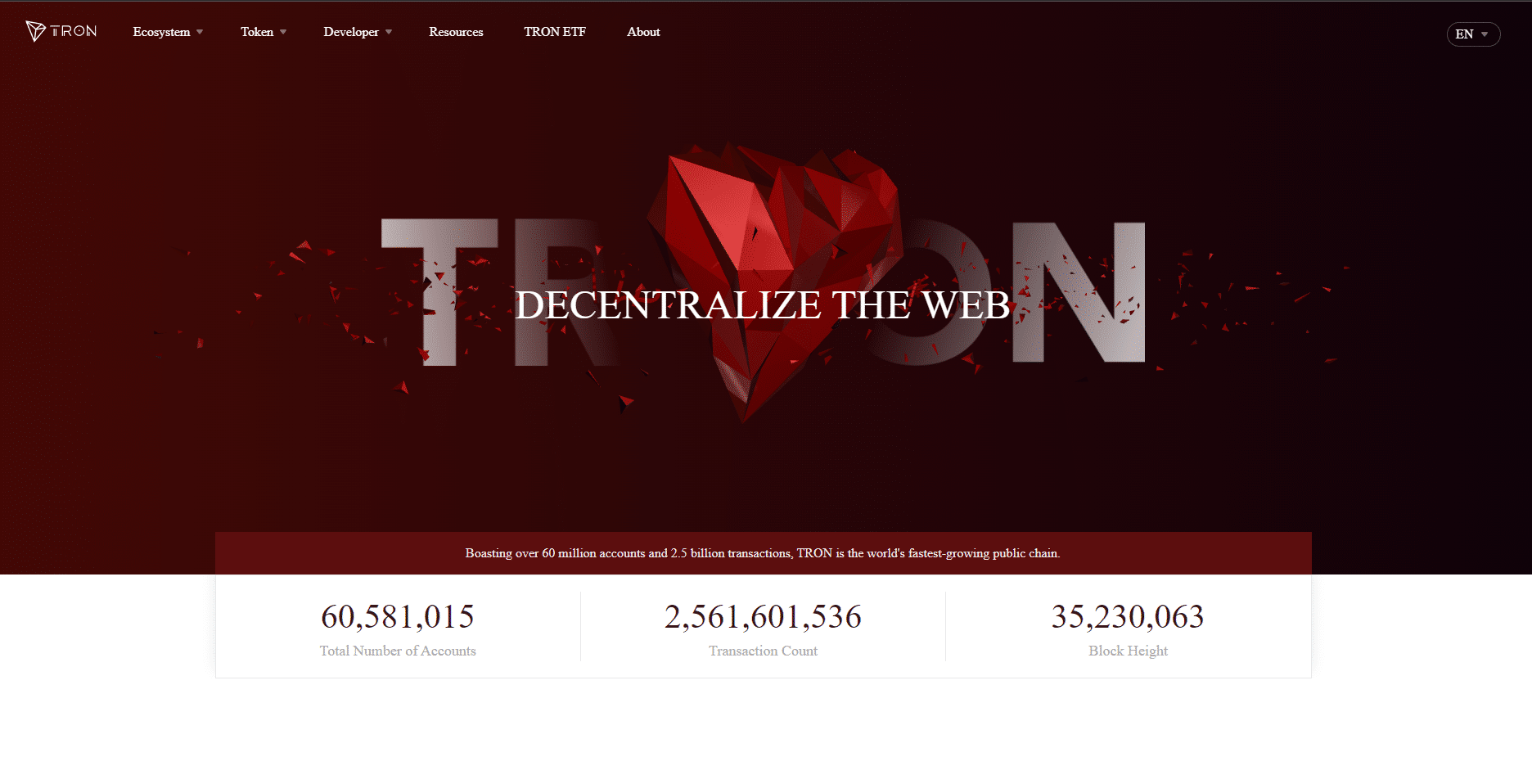 Tron's goal is to remove middlemen between content creators and their fans, thus allowing fans to pay less, while simultaneously, content creators would earn more for their effort and dedication to their art.
While developing its blockchain, Tron made sure that its technology would be better than Ethereum's, which struggles with scalability, transaction speed, high fees, and a number of other issues that make it seem outdated in this day and age. Despite the technological advantages, however, Tron never managed to outperform Ethereum, but it still has quite a developed and rich ecosystem. From gaming and gambling dApps to DeFi projects, NFTs, and more, Tron does have everything that anyone looking for a network to settle in could need, be they a developer, entrepreneur, app user, or investor.
Why Buy Tron?
Reasons to buy Tron crypto are many, from the fact that it is among the 30 largest cryptocurrencies in a market that features nearly 14,000 of them, to the fact that its price has been growing in recent months. Tron has come a long way since its launch.
From having a price of only $0.002 to skyrocketing to an all-time high at $0.30 in 2018, crashing down to $0.1 later that same year, and recovering to $0.16 in 2021. Then it crashed again, this time to $0.05, only to once again recover and reach $0.10 at the time of writing. Tron has great potential as a cryptocurrency of its own ecosystem, where it numbers countless use cases.
It is not exactly a controversial coin, although its founder, Justin Sun, was often criticized for using every opportunity to raise hype about his project. Tron's mission of revolutionizing the entertainment industry is also a worthy goal to follow, especially these days, when the portion of entertainment belonging to individual creators, rather than major companies, continues to grow.
67% of retail investor accounts lose money when trading CFDs with this provider. You should consider whether you can afford to take the high risk of losing your money.
As regular people are getting a platform where they can freely create and distribute the content that they love, supporting them directly and allowing them to continue to grow as creators at basically no cost for the community is the true representation of decentralization and support.
It is also worth mentioning that Tron, while still suffering from crypto volatility, tends to be less volatile, or rather, to have less sudden and softer price changes, giving its investors plenty of time to react.
How Much Does It Cost to Buy Tron coin?
If you wish to buy Tron crypto, you can do it at a variety of brokers or cryptocurrency exchanges. Of course, since there are no two platforms that are exactly the same, the rates and fees that you will encounter will vary.
That is why it matters very much where you go to buy Tron. eToro, for example, charges no commission for purchases, but there are still spreads that you have to pay. Alternatively, platforms like Binance charge a spot trading fee, which can vary depending on the platform.
Binance will charge a 0.1% spot trading fee, and if you go for the instant Buy/Sell option, then the fee will jump to 0.5%. This can be rather cheap if you are investing in small amounts, making it the best place to buy Tron among crypto exchanges. eToro, however, is the best place to buy Tron if you wish to use a broker.
The coin's own price should be taken into account when calculating how much you would have to pay, and at the time of writing (November 6th, 2021) it sits at $0.1005 per coin.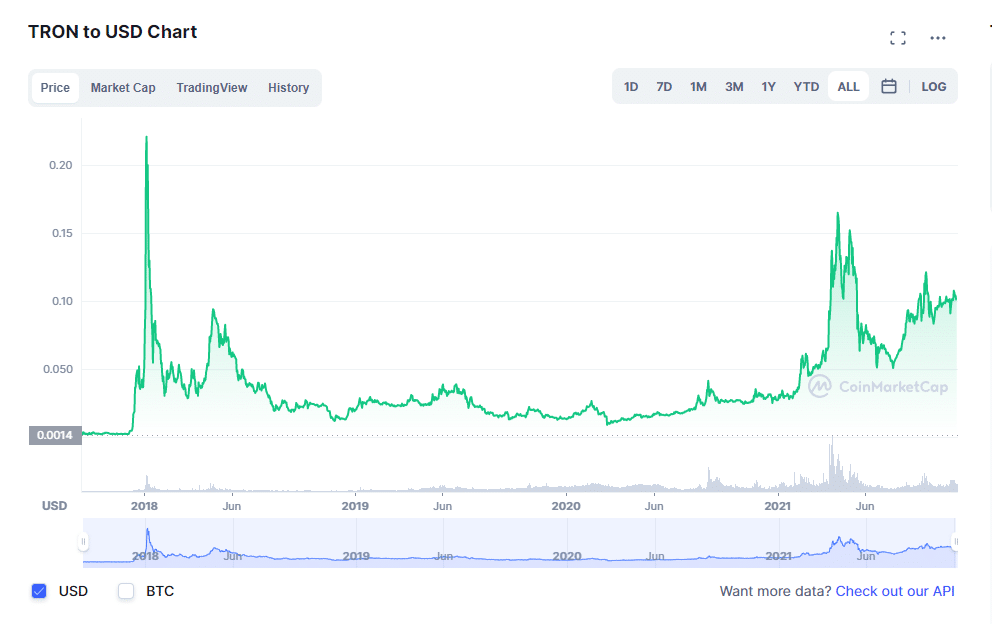 67% of retail investor accounts lose money when trading CFDs with this provider. You should consider whether you can afford to take the high risk of losing your money.
How to Buy Tron (TRX) with PayPal
While PayPal did start supporting cryptocurrencies about a year ago, its crypto offering is still very limited, and Tron is not among the supported coins. Even if it was, PayPal currently only services the US and the UK, meaning that people in most other countries would not be able to buy cryptos on its platform.
The only other way to use PayPal for buying Tron would be to do it indirectly, via P2P platforms. These platforms allow you to make a deal with TRX sellers and have them send you the coins, while you use PayPal to send a payment to their own PayPal directly.
Alternatively, you can use it to send your money to the eToro broker, and buy Tron on this platform.
Someday, PayPal might add support for Tron, but until then, this remains the only way if you wish to use this online payment processor.
How to Buy Tron with Bitcoin
If you were wondering if you can buy Tron with Bitcoin, the answer is yes, and that is something that is much easier to do. All you need to do is find an exchange that supports both coins, which includes most of them these days. The same can be done on certain brokerage accounts.
You will then have to fund your exchange wallet or brokerage account with Bitcoin and use them to purchase TRX. Since TRX and BTC operate on different chains, you cannot use DEXes at this point, unless if you can find a Tron-based DEX that features Wrapped Bitcoin (wBTC). In any event, you should also set up one of Tron wallets in order to withdraw your coins to safe storage after purchasing them.
Buying Tron Safely
The most important thing about buying Tron is not where to buy Tron coin, but how to ensure that your Tron coin buy is as safe as possible. You can ensure the maximum safety of your Tron coin buy by using only regulated brokers and exchanges. Granted, cryptocurrency regulations are still basically non-existent, and even what little laws are there are mostly vague and borrowed from other assets. But, in a lot of countries, exchanges have to be regulated in order to be allowed to operate, and using those platforms would ensure the maximum safety of your investment.
Another thing to do to boost security is to not leave your assets in the platform's wallet after buying it. While exchanges and brokers invest massive amounts in security, they can still be hacked, and your assets might be stolen. The best thing you can do is to set up one of many Tron wallets and withdraw your coins after you buy them.
That would ensure that you are the only one who will have access to them by holding both private and public keys yourself. That way, your funds also won't be confiscated or your account is frozen, as your wallet is your own to manage and use.
Risks of Buying Tron
Learning how to buy Tron is important, but learning of the risks that come with buying it is even more crucial to prevent financial losses. To be clear, Tron is not a scam. However, it is a cryptocurrency, and as such, it comes with several types of risk. There is always the risk of its price suddenly crashing and you losing your investment, which is why you should never buy it with money you can't afford to lose.
There is also the mentioned risk of losing money to hackers, although if you heed our advice of using regulated platforms, you will most likely get compensation for your losses. No, the biggest risk still lies in volatility, and it is even greater if you engage in trading with leverage.
Trading with leverage means that you buy a certain amount of Tron and pay only a fraction of the full amount with your own money. The rest you get to borrow from the platform you are using. This is usually done by trading CFDs (Contracts For Difference) that use TRX as an underlying asset.
67% of retail investor accounts lose money when trading CFDs with this provider. You should consider whether you can afford to take the high risk of losing your money.
When you trade CFDs, you essentially bet which way the price will go. If you are correct, you earn money, even if the price itself has gone down. This is possible because trading CFDs does not include actually buying TRX, so you don't own the asset that had its value decrease — you are just making a Tron price prediction. The thing is, however, that your predictions need to be extremely accurate if you trade with leverage, as your window for making an error gets smaller and smaller as the leverage grows.
If you are correct, your reward will be grand, but if your Tron price prediction is even a little bit off, it will cost you your investment.
Selling Tron
Selling Tron does not differ much from buying it. It is done when the price reaches the height that you feel is its upper limit, and when you wish to make a profit. Also, if you expect an incoming price correction, that is the right time to sell. This is another situation when Tron price prediction comes in quite handy. Selling your coins in that situation is done by going to your exchange or broker of choice, finding the Sell option, and filling in the sell order.
Where to Buy Tron coin
Before we explain how to buy Tron, we should first cover where you can do it. And, if your question is "should I buy Tron coin," we leave that to you to decide.
1. eToro

eToro is our top choice for an online broker service for buying Tron, or cryptocurrency, in general. Obviously, that means that it supports crypto trading, in addition to things like forex, stocks, equity, and more.
eToro was founded in 2007 as an online broker for traditional assets, but it greeted cryptocurrencies with open arms a few years ago, when it became clear that they are not just some passing trend. The company now services over 20 million users, allowing all of them to engage in crypto purchases if they want to.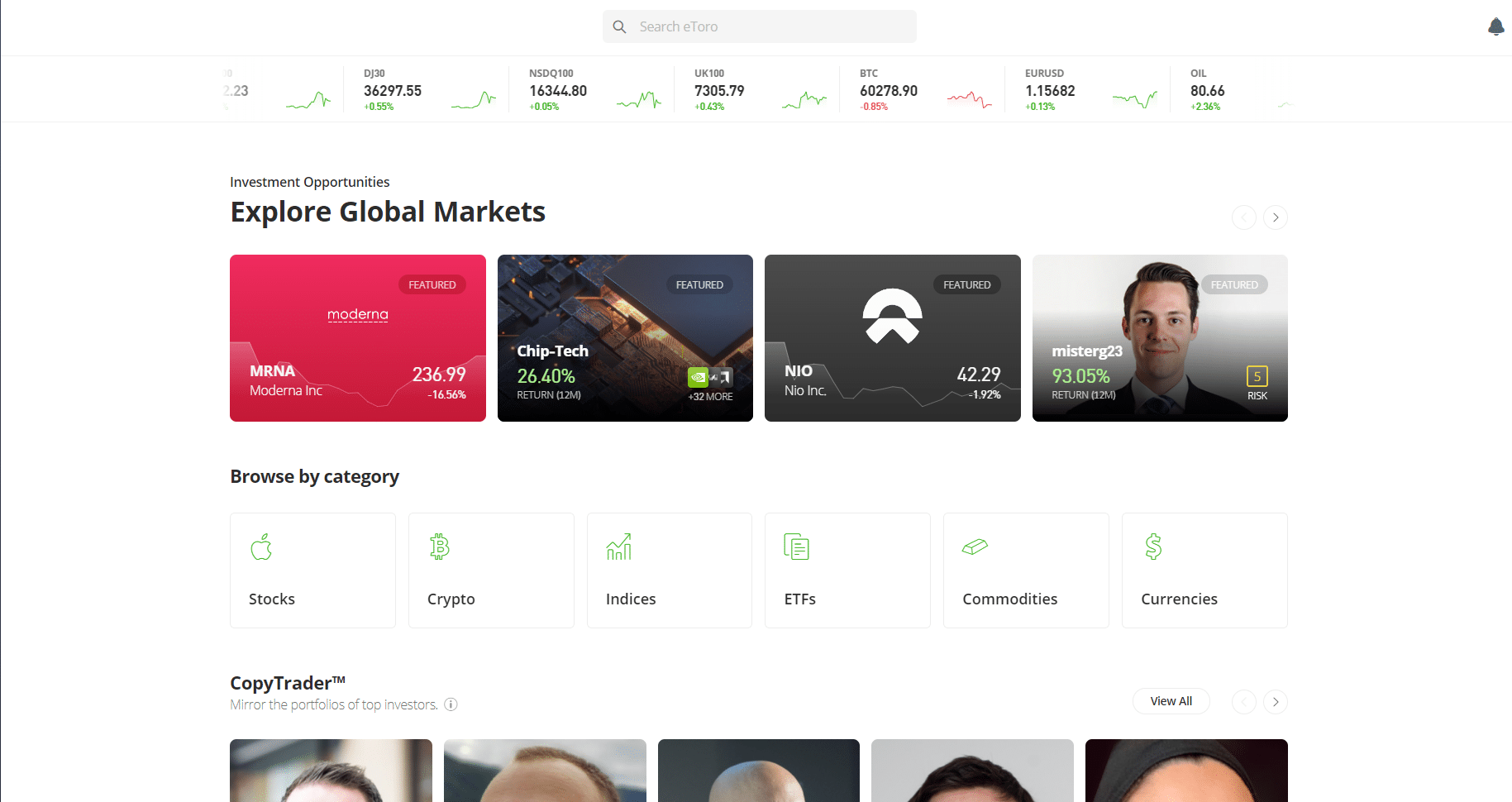 eToro is a particularly popular broker among retail traders, as it made an effort to be affordable and approachable. Its platform is very easy to navigate, its minimum deposit is only $50, and all tools are very simple to use, which makes them great for novice traders, although not that good for expert investors who need more advanced things for their trades.
The platform also features a Demo account, which new traders can use to study crypto trading without risking real money.
Another great thing about eToro is that it offers commission-free trading for all assets. It still has spreads that traders need to pay, but they are very low and affordable. On top of all that, it is regulated by multiple regulatory bodies around the world, including the FCA, ASIC, CySEC, and more. Lastly, eToro also offers social trading, and its copy-trading feature allows any trader to copy the moves of an expert that trades the same asset as the one they wish to engage with.
So, if you don't know how to make a proper Tron price prediction or even how to buy Tron, you can just copy an expert's moves and do the same thing they do in real-time and achieve the same results.
eToro supports various payments methods, so you can buy Tron with a credit card, debit card, PayPal, Skrill, bank transfers, and more.
Pros:
Commission-free trading
Heavily regulated
Available in over 140 countries
Offers Demo account
Low minimum deposit
Features multiple popular coins
Has a mobile app
Offers copy trading
Lets you buy Tron with debit card or credit card for quick deposits
Cons:
Spreads could be lower
Small coins are not available
67% of retail investor accounts lose money when trading CFDs with this provider. You should consider whether you can afford to take the high risk of losing your money.
2. Binance

If you wish to buy Tron on a cryptocurrency exchange instead, we can recommend Binance as our top option. Binance is the world's largest cryptocurrency exchange by trading volume, and likely one of the largest crypto-related companies in the world.
It was launched in 2017 when cryptocurrencies were rushing towards their biggest milestones for years to come, and it quickly gained popularity. It used its earnings wisely, launching subsidiaries all over the world, listing coin after coin, and launching services that blew up in years to follow, such as its Binance Launchpad, which started the IEO (Initial Exchange Offering) by launching another Tron-based coin, BitTorrent (BTT) token in January 2019.
Binance has been a major supporter of Tron over the years, so naturally, that means that the coin is available on its platform. Binance is also an exchange that is significantly more complex and built for veteran traders who know what they are doing. But, that doesn't mean that beginners cannot use it, as the exchange does a good job at balancing user-friendliness with advanced tools.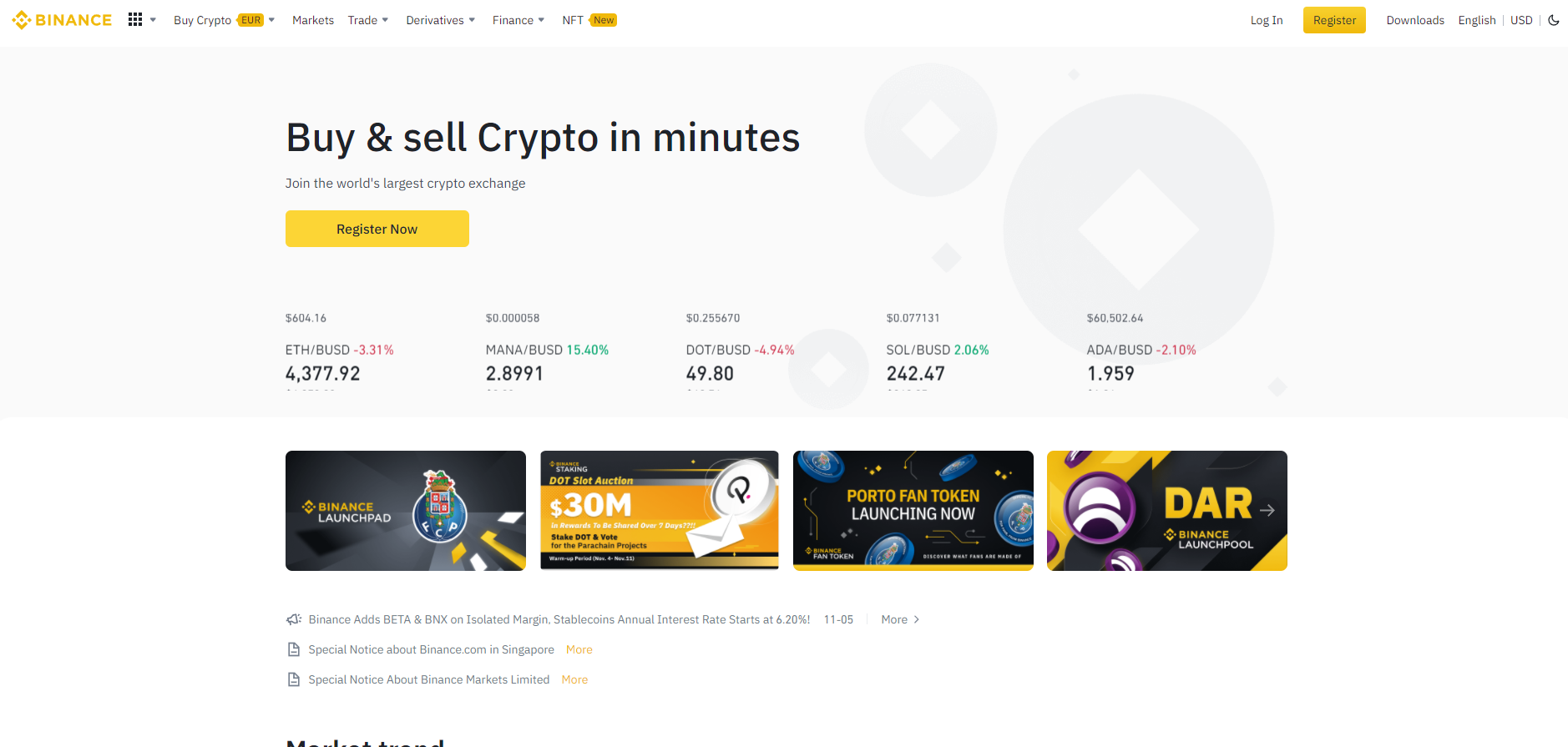 At the time of writing, Binance's main platform offers 1324 trading pairs, while Binance.US — its US-based subsidiary designed for American users — offers up to 50 coins and 591 cryptocurrency pairs. With such numbers, it is clear why Binance is the most popular exchange — it simply has a pair for everyone. The main exchange, for example, has around 17 Tron pairs including major and some smaller coins.
It is also relatively good when it comes to fees, with executions costing around 0.10% per trade, and the ability to reduce the fees by as much as 40% if you use its native Binance Coin (BNB). And, its minimum deposit is even lower than eToro's sitting at £15 for debit and credit cards. However, it does have a minimum investment amount as well, which is $10 per trade.
Pros:
Offers plenty of advanced trading tools
Low spreads
Has a mobile app
Biggest exchange in the world in terms of volume
Over 1,300 available pairs
17 pairs that include eToro
Has a platform for US traders
Offers tutorials for novice traders
Cons:
Not designed for beginners
Involved in controversies and regulatory issues
Your capital is at risk.
Best Way to Buy Tron – eToro Tutorial
Once you make your Tron price prediction and decide that it is the right time to buy Tron, you will also need the knowledge of how to buy Tron. This is what we are about to explain now, using eToro's platform as an example. The process is simple, and there are only a few steps to take.
Step 1: Open an Account
The first step is to go to eToro's platform and open a free account. This is very simple to do, and you can choose to make a new account from scratch, which will require only your email and password. Alternatively, you can log in with your Google or Facebook, and skip this step entirely.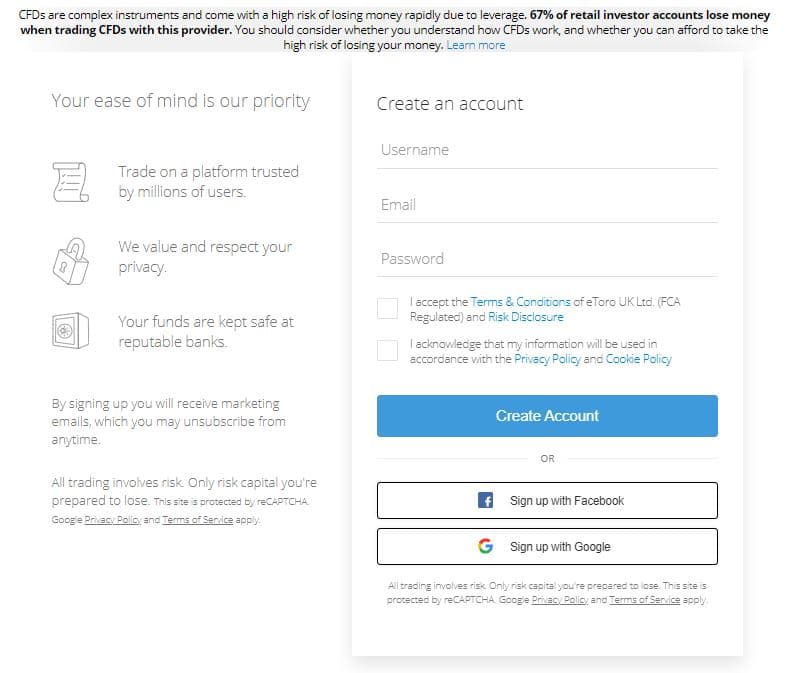 67% of retail investor accounts lose money when trading CFDs with this provider. 
Step 2: Upload ID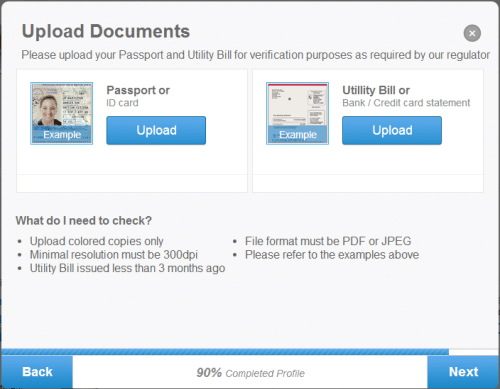 After creating an account, however, you will also have to verify your identity. This is necessary as it is required by regulators all over the world, and since eToro is regulated and regulatory compliant, it echoes this requirement, and you won't be able to start trading unless you do it.
Don't worry, however, as all you need to do is upload your ID, driver's license, or passport, and you will be ready to start trading. eToro might also ask you for a proof of address, such as your bank statement.
Step 3: Deposit Funds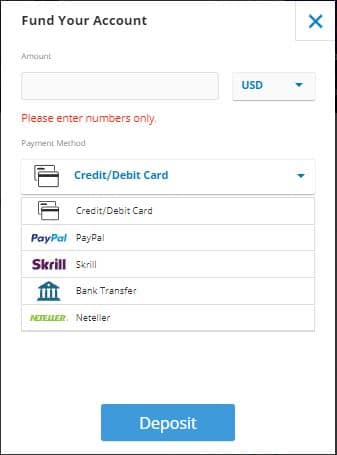 With your account created and verified, your next step will be to deposit funds that you will use to buy Tron. As mentioned before, eToro supports a number of payment methods, and you can deposit as little as $50.
You can deposit funds by clicking the "Deposit Funds" button in the bottom-left corner of the platform's dashboard. A new window will open up, offering you to select the amount, your payment method, and enter the payment details.
Step 4: Buy Tron
With that, all that remains is to buy Tron. You can find the coin by utilizing eToro's search function and typing in "Tron" or "TRX." Both will lead you directly to the coin's page on the platform, where you can click the trade button and make your purchase within seconds.

67% of retail investor accounts lose money when trading CFDs with this provider. 
Conclusion
Cryptocurrencies are once again rallying as the year is approaching its end, and that means that there is a high chance that Tron's price will skyrocket once again. If you wish to get in on the action, your best bet is to buy Tron on eToro's brokerage platform, which offers crypto purchases with no commission. eToro is a preferred broker of over 20 million people from all over the world, and if you try it out, it might become yours, as well. Just remember that crypto purchases carry a risk, as they are still well-known for great price volatility, so be sure to keep an eye on any changes in the market, and never trade with the money you can't afford to lose.
eToro – Best Crypto Exchange to Buy Tron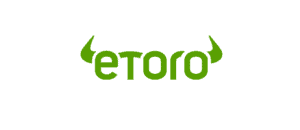 67% of retail investor accounts lose money when trading CFDs with this provider.
FAQs
Who is the founder of Tron?
What is the market cap of Tron?
Do I need a crypto wallet to buy TRX?
How much money do I need to buy TRX?