Lucky Block Price Prediction 2023- 2030
Lucky Block (LBLOCK) is a decentralized lottery platform developed using blockchain technology. It aims to address several issues plaguing the current system, including security, liquidity, and delayed payouts.
Despite Lucky Block's early success, the cryptocurrency still has a long way to go; launching only in late January 2022, it has completed payments for daily draws for the $1m regular jackpot and the $1m NFT jackpot.
The crypto project has attracted a significant amount of attention and users. Lucky Block price predictions believe that this trend will continue. Let's take a look at Lucky Block's price prediction until 20230.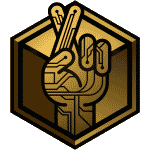 Lucky Block Price Prediction- 2022- 2030
| | | |
| --- | --- | --- |
| Year | Minimum Price | Maximum price |
| 2022 | 0.000202 | 0.000300 |
| 2023 | 0.000269 | 0.000335 |
| 2024 | 0.000402 | 0.000469 |
| 2025 | 0.000536 | 0.000570 |
| 2026 | 0.00067 | 0.000737 |
| 2027 | 0.000803 | 0.000870 |
| 2028 | 0.000937 | 0.00200 |
| 2029 | 0.001071 | 0.00114 |
| 2030 | 0.00121 | 0.00132 |
Lucky Block Price Prediction 2022
With only 2 weeks left of 2022, it is unlikely that the price of LBLOCK will experience much movement. However, it should be noted that gambling and lottery participation increases around the festive period which could drive more users to the platform.
Nevertheless, the price of Lucky Block is not predicted to increase by that much and some even think that it may fall. This is due to the fact that the current price chart looks bullish and the token has seen a drop over the last few weeks.
On the other hand, if things turn to the upside, it could be possible for LBLOCK to return towards the 0.003 level and possibly push higher!
Lucky Block Price Prediction 2023
During 2023, Lucky Block tokens will undergo an Ethereum bridge in which the tokens will move to the new proof-of-stake mechanism. Once this has been completed, the tokens should be able to sustain a higher price point and offer seamless transactions to investors.
Furthermore, the Lucky Block project has recently launched the brand new Lucky Block Casino which is expected to erupt in 2023. This new development will draw more attention to the project and increase demand for LBLOCK tokens. As a result, the price of LBLOCK could be pushed upwards.  Some investors are hopeful that the price may one day reach $1 however, the price prediction suggests that a rice of around $0.003 is more plausible.
Lucky Block Price Prediction 2025
Assuming that Lucky Block continues to receive positive media coverage, the token has the potential to rise significantly by 2025. In fact, the token is predicted to reach a value of around $0.02 by the end of 2025.
However, this value could only be reached if the project continues to expand and develop and assuming that the token keeps getting positive attention amongst investors. A slip up in the development of the Lucky Block project could see the token take a completely different direction in 2025. The current downside prediction for this year is $0.0005.
Lucky Block Price Prediction 2030
By 2030, cryptocurrency will have  gained adaption and it is likely that the market in general will rise from what it is now. The LBLOCK token has strong utility which means that it could be an attractive investment for many new investors who want to invest into penny cryptos at the beginning of their crypto journey.
Therefore, it is likely that we will see an increase in the value of Lucky Block. However, the market is highly volatile and cryptocurrencies can be effected by a number of external factors. To see a rise in the price of LBLOCK, the project would need to continue expansion, remain competitive and maintain a good reputation.
Your capital is at risk.
Lucky Block Token Analysis
Each token cost $0.000206, had a daily volume of $68,534.20 and had a maximum supply of 100,000,000,000. As a result, LBLOCK's price increased by 8.26% over the past 24 hours.
| | |
| --- | --- |
| Current price | 0.0002364 |
| Market cap v1 | $5,631,066 |
| Circulating Supply | 40,773,243,175 LBLOCK |
| Maximum Supply | 100,000,000,000 LBLOCK |
| Total supply V1 | 99,600,521,808 LBLOCK |
| Daily trading volume | $26,633 |
| All-time high | $0.009617 (17/02/22) |
The Best Alternative Cryptos To Invest in 2022
In addition to LBLOCK, there are several other exciting crypto investments to consider in 2022. Listed below are a few examples.
Fight Out
Dash2Trade
RobotEra
Calvaria
Fight Out | FGHT
By forming positive, healthy, and active lifestyle habits, Fight Out offers its users a way to earn income. Rather than counting steps, the platform's Fight Out app tracks the user's movements. As a first step, players must acquire FGHT, the platform's native token.
In 2023, the FGHT token could be listed on Binance, according to crypto analysts. According to the Fight Out website, investors can purchase Fight Out tokens using Ethereum or USDT. Pre-sales began on December 14, 2022, and have already raised over $1.2 million.
FGHT tokens will be used to purchase Fight Out's app by Q2 of 2023. You will be able to access a variety of workout plans, nutrition and sleep metrics, and social accountability through the app. In addition, users will receive REPS tokens as they complete workouts or challenges using the Fight Out app.
You can buy gym memberships, workout equipment, shoes, or NFT accessories using REPS. Players can also create their web3 avatar when setting up the app, which will be a unique NFT.
A web3-integrated gym is also on Fight Out's roadmap. As a result, Fight Out users can show off their NFTs and maximize their move-to-earn opportunities. Based on user demand and community interest, Fight Out aims to open 20 gyms worldwide.
The whitepaper for Fight Out describes a unique proposition that rewards its users for adopting a healthy lifestyle. Furthermore, unlike other move-to-earn crypto projects, Fight Out does not just reward users based on activity or steps. Instead, this app offers users many ways to track their progress and earn rewards.
As soon as Fight Out is released, users can participate in competitions, leagues, and tournaments to win titles and prize pools. Leading brands will partner with us to offer these services.
Future additions to Fight Out's FGHT token will include more utilities. In addition, users can stake FGHT and trade it on other crypto platforms to earn passive income. These factors suggest that FGHT could be one of the new Binance listings to watch.
Your capital is at risk.
Dash 2 Trade | D2T

Check out Dash2Trade if you're looking for a new crypto investment. Only launched on October 19, it has already made waves as one of the best upcoming trading platforms.
Users can make informed cryptocurrency market decisions using Dash2Trade's social trading and analytics features. Among its features are trading tools, AI-driven signals, market news, social trading, listing alerts, and on-chain analytics.
Dash2Trade's native token is currently on pre-sale. The Ethereum blockchain has a limit of 1 billion D2T tokens. Despite its deflationary nature, the token could generate excellent returns over time.
For subscriptions, competitions, and advanced platform features, Dash2Trade tokens will be used. In addition, a tax-free utility token is also available.
During the presale, 750 million tokens will be available. The remaining ones will be listed on exchanges. It has already raised six million dollars, and the presale will end in 2023.
Your capital is at risk.
RobotEra | TARO
As a new crypto presale project, RobotEra provides players with an exciting investment opportunity with the chance to see huge returns.
TARO is the native token of the RobotEra ecosystem and is rewarded to players who play as Robot avatars to rebuild the planet Taro. To rebuild Taro, players must mine resources and build their own digital assets.
To play RobotEra, you do not need any coding knowledge, and you can add dynamic 3D scenes, sounds, user interactions, and physics at any time to the land.
There are few restrictions on what players can build, so new revenue streams should emerge over time.
It is also possible to earn rewards by staking TARO. The presale event for the token is expected to end soon, after which the price of TARO will rise.
Your money is at risk
Calvaria | $RIA

In addition to facilitating stakes, governance, and NFT purchases, Calvaria's native token, $RIA, has good growth prospects.
By investing now, you can make next year's play-to-earn game cheaper.
$RIA is the only way new users can access Calvaria's features. In addition to the game interface, tokens can be purchased through third-party exchanges.
In-game resources can be purchased from the store. Energy replenishment packs, decks, and cards can be purchased in the game. NFT tokens are the only resources except for a few rare exceptions. You can use the $RIA token to increase its value. The game's economy can be stabilized by purchasing $RIA tokens.
Every day, $RIA stake platform users receive passive income rewards. In addition, participants holding $R1A in their stake accounts will also vote on the project's governance issues.
Cryptoassets are highly volatile unregulated investment products.
Lucky Block (LBLOCK)- A Closer Look
What is LuckyBlock (LBLOCK)?
Based on Binance Smart Chain, Lucky Block is a crypto lottery token that implements blockchain protocols. Scott Ryder is the CEO of the LBLOCK project in these cryptocurrency markets. Online gambling should be more transparent and fair, according to the project. With the advent of the internet and smartphones, online wagering has become more accessible.
In addition to creating a better lottery system for players, the team is working to develop a solid strategy for token holders contributing to the Lucky Block community. By doing so, the crypto lottery project can also begin to compete with local financial systems for gaming, enabling further transparency.
Your capital is at risk.
Lucky Block Lottery
Based on the Binance Smart Chain, Lucky Block is a fast-growing lottery platform. In contrast to current lottery systems, the Lucky Block platform's developers identified numerous areas for improvement. System developers often ignore the user experience – and miss out on the 'digital' nature that contemporary society expects.
A blockchain lottery increases transparency in all aspects of the lottery process for Lucky Block's developers. As an added benefit, entrants in the Lucky Block platform are not restricted to local or national lotteries.
Additionally, Lucky Block has changed the frequency of prize payouts. Like most major lottery companies, Lucky Block offers daily prize draws instead of weekly or bi-weekly drawing. Thus, Lucky Block is an appealing alternative to these legacy systems because it increases the odds of winning for each entrant.
Every aspect of Lucky Block aims to benefit charity, as noted in the whitepaper. As a result, 10% of all prize pools will be donated to charitable organizations – and the development team has already contributed a significant amount to the British Red Cross in January. Lucky Block's stakeholders will be able to positively impact communities in their local and national communities as the platform grows.
Lucky Block Casino
With its NFT games and daily giveaways, Lucky Block made a big splash in the crypto world, but now this fast-moving project is launching a crypto casino and sportsbook – positioning itself as the industry's leader.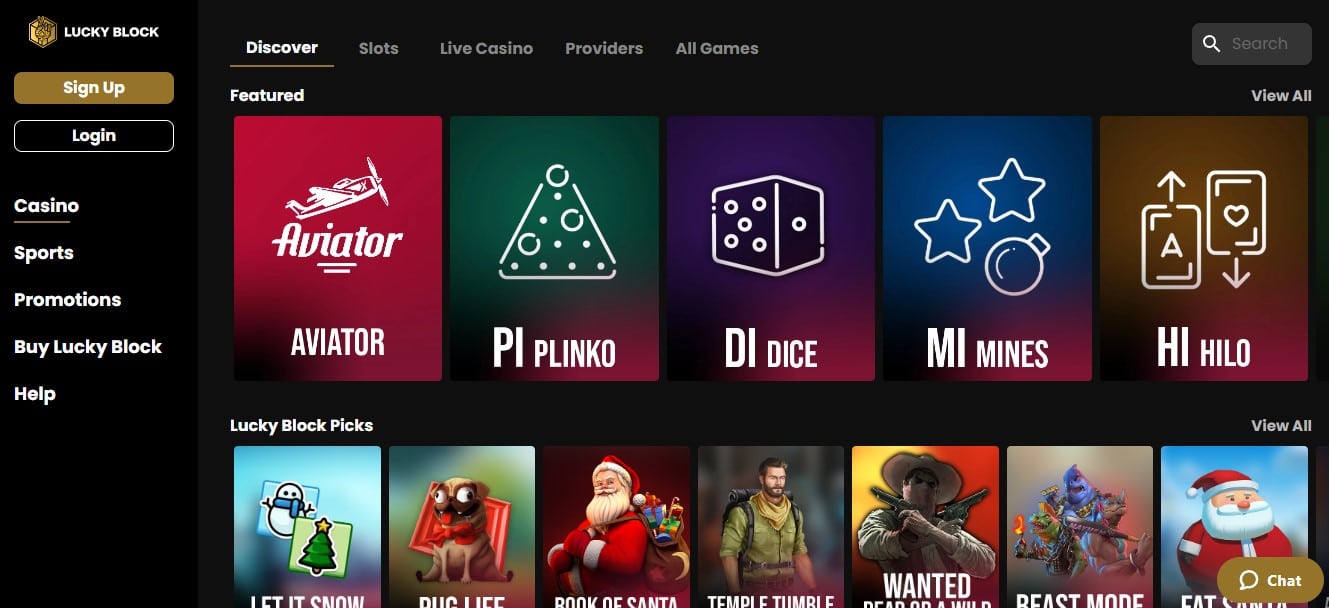 There are nearly 3,000 casino games and more than 35 sports betting markets at the Lucky Block casino and sportsbook – and new players can claim a 15% cashback welcome bonus on losses.
Your capital is at risk.
Are Crypto Games Profitable?
Gaming is growing faster than ever. There is a strong likelihood that gaming will surpass $300 billion within five years, with a current value of $173 billion. In addition, gaming has become more accessible and practical due to an influx of new players, particularly on mobile platforms.
Many people, however, no longer use the internet solely for fun. In virtual experiences, players undoubtedly invest a lot of time with little return, as the cliché goes. This has led them to explore ways to monetize their passion. Unfortunately, until now, casual players have had few options to profit from their gaming efforts outside of eSports.
Due to crypto games, players make most gaming decisions rather than developers. Therefore, it is important not to ignore the growing trend of play-to-earn (P2E) crypto gaming. However, before getting into the details, it's important to understand how everything works.
Why Was Lucky Block Created?
Originally, Lucky Block was intended to serve several purposes. First, transparency and ethics were issues with other online and offline gambling and lottery options, and the founder wanted to improve these areas.
The goal of Lucky Block is to increase its participants' chances of winning and profiting. Moreover, it strives to foster gambling and lottery communities by providing its players with helpful financial advice.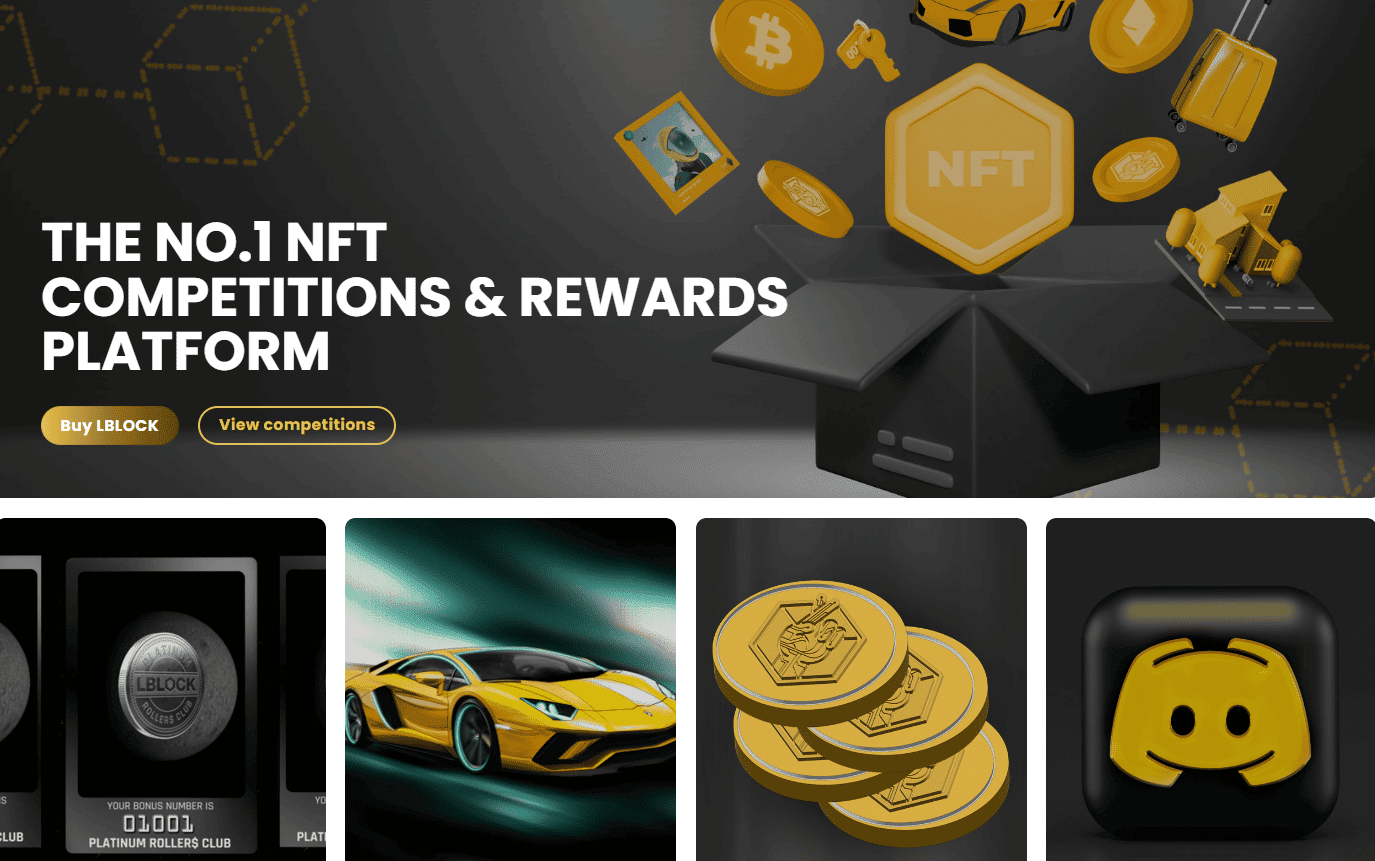 These goals are supported by the Lucky Block platform's design. It makes payouts faster and more transparent by using an advanced ledger system. In addition, data loss and manipulating tickets can be prevented by validating players and tickets.
Through the decentralized platform, the ledger is accessible to all users and is distributed for optimal transparency. Furthermore, due to decentralization, players' funds are protected from cyberattack losses.
Your capital is at risk.
LBLOCK Tokenomics
LBLOCK tokens are available for distribution in the amount of 100 billion. 10% of these were sold in private sales, while 22.5% were sold during the pre-launch sale. PancakeSwap has been allocated 2.5% of the tokens for liquidity pools. Tokens were given to developers at a rate of 2.5%. 20% of each token was given to partners, and the remaining 22.5% was allocated to centralized exchange listings and marketing.
As mentioned above, Lucky Block has a new burn mechanism. To reduce the supply of tokens in circulation and to raise the token's value, approximately 1% of a 6% transaction fee will be burned.
LBLOCK V1 vs LBLOCK V2
After debuting its $LBLOCK V1 currency on the BNB Smart Chain, Lucky Block experienced a sharp rise in price to offer early investors nearly 6,000% returns. Meanwhile, the Metaverse and almost all other cryptocurrencies have struggled since 2022. Since the Lucky Block token's market capitalization is now under $500 million, this project has enormous upside potential.
However, regardless of whether an investor bought or sold LBLOCK V1, a 12% tax was applied. As a result, it wasn't easy to list on centralized exchanges despite being based on Binance Smart Chain BSC.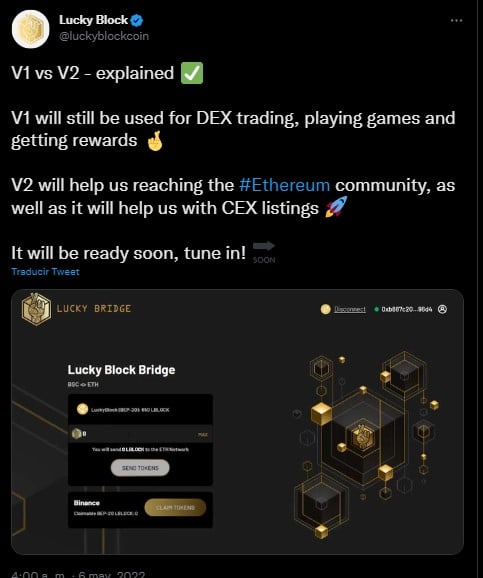 LBLOCK V2 was released, as a result of eliminating transaction fees and making it possible to trade on centralized exchanges. Following its listing on the centralized exchanges MEXC and LBank, LBLOCK V2's price increased by more than 200%.
After listing Gate.io, the fifth-largest cryptocurrency exchange in terms of volume and pricing, the price of LBLOCK continued to rise.
Who Is The Team Behind Lucky Block?
Lucky Block (LBLOCK) was created by Scott Ryder, the project's CEO. He joined the CryptoGo exchange in 2017 as the head of sales. According to his LinkedIn profile, Scott Ryder manages three roles: CEO of Lucky Block, co-founder of DeFi Coins, and CEO of StakeMoon Coin.
LBLOCK Use Cases
The best way to earn money with cryptocurrency is to invest in a token with several appealing uses. As the token's primary use cases are outlined below, Lucky Block meets this criterion effectively:
?Speculation
Many investors purchase the Lucky Block token to gain exposure to its price movements. Due to its quadruple-digit returns, LBLOCK has already been purchased by many investors in the hope of generating similar returns in the near future.
LBLOCK now has over 51,700 holders, with daily trading volumes exceeding $1 million, according to BscScan. The popularity of Lucky Block tokens among speculative investors is clear – and this trend will likely continue.
?Lucky Block's Prize Draw
In Lucky Block's ecosystem, LBLOCK purchases lotto tickets for the daily prize draws. LBLOCK also distributes jackpots faster than legacy lotteries, so winners receive their prizes much sooner.
Once Lucky Block's prize draws go live, LBLOCK will likely grow in demand. Since jackpots are paid in LBLOCK, winners can hold their tokens or exchange them for FIAT.
?Regular Dividend Payments
LBLOCK holders will also receive regular payments simply for holding the token, similar to the best dividend stocks. However, once the lotto draws go live, holders must connect their crypto wallets to the Lucky Block app to receive their payments.
According to a recent press release from Lucky Block, those holding $1,000 worth of LBLOCK can expect a yield of over 19% per year. This yield is conservative, so it may increase as Lucky Block's user base grows.
Lucky Block NFTs
Some critics argue that NFTs offer little value. In contrast, Lucky Block NFTs offer financial gains based on a portion of each competition's pool. Additionally, they offer players a chance to win incredible prizes. There are several NFT collections available at Lucky Block. Lucky Block's first and largest NFT collection is the Platinum Rollers Club. These Lucky Block NFT collections will likely increase substantially in value and provide potential reward prizes and passive income.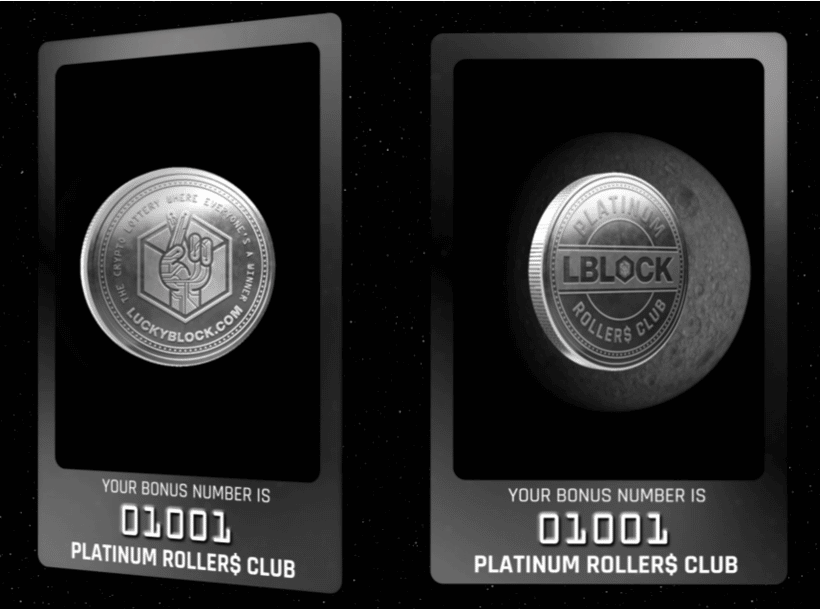 LBLOCK tokens are required to purchase all Lucky Block NFTs through the NFT Launchpad.
Lucky Block (LBLOCK) Price History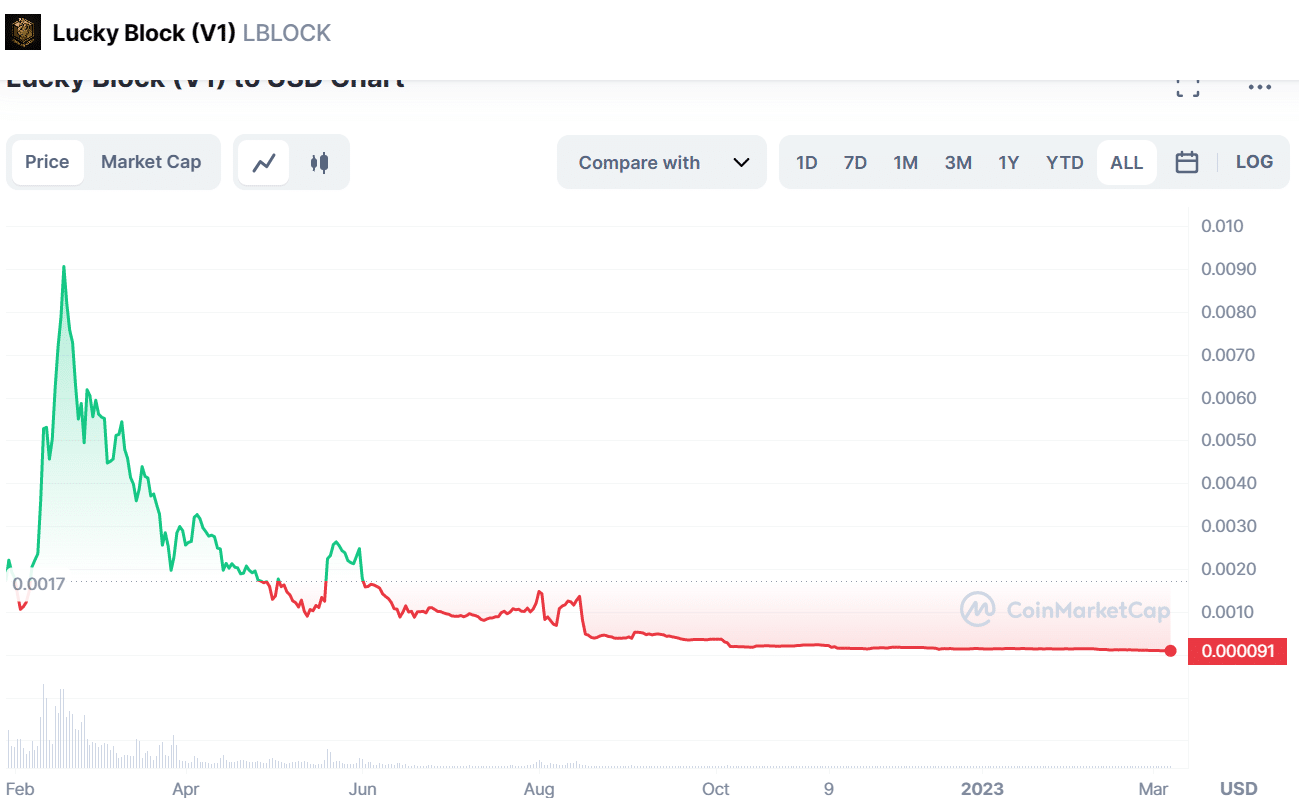 Let's take a look at LBLOCK's price history. Of course, the past performance of a token cannot be taken as an indication of future results, but we can use it to provide context when making or interpreting a lucky block price prediction.
Since its launch on January 28, 2022, at $0.0009315, LBLOCK has surged by 907.7% to reach the all-time high value of $0.009387 three weeks later.
In addition to being featured by several media outlets, the platform was listed on the CoinSniper crypto exchange and acquired more than $6 million for the lottery pool.
Despite the uptrend in the lucky block token price, it was short-lived. In the six days following the Russian invasion of Ukraine, the coin declined twice – by 42% on February 20, 2022, to $0.005444, and by 34.4% to $0.003569 four days later.
The downward price movement did not last long. As the platform announced a collection of non-fungible tokens (NFTs), the cryptocurrency gained momentum in the following days, rising to about $0.006 on February 27, 2022.
It lost more than 70% of its value in March 2022, falling from $0.005849 on March 1 to $0.00171 on March 27, its lowest value of the month.
With the launch of the NFT collection, the token surged over 107% over the next 24 hours to reach $0.003542.
It then dropped to $0.001056 on May 12, 2022, following the collapse of the associated LUNA cryptocurrency and the depegging of the UST stablecoin.
On June 14, more market problems caused it to sink to $0.00101. Despite the launch of the Ethereum version of the token on August 15, the price of the original token fell, and by September 29, 2022, it was worth about $0.0003578. By the end of November 2022, the Binance LBLOCK had dropped to $0.0001316 after the collapse of the FTX exchange.
On August 16, the newer version of the token traded for $0.002125 before reaching an all-time high of $0.002518 on August 31. However, it plunged to a low of $0.001253 the following day before stabilizing around $0.001465 on September 2, 2022.
After reaching an all-time low of $0.0003862 on September 25, Lucky Block announced that it would initiate a token-burning program on October 3, which helped the price recover to $0.0004808. However, following the self-destruction of FTX, the price fell to a low of $0.0001334 on November 23 before moving back up to around $0.00026 on November 30, 2022.
Your capital is at risk.
Why Has Lucky Block Dropped in 2022?
As soon as it went live on PancakeSwap in January 2022, LBLOCK produced quadruple-digit returns. On February 17, 2022, LBLOCK reached an all-time high of $0.009617, giving it a market capitalization of more than $750 million. This peak, however, was short-lived, and LBLOCK gradually descended.
Lows followed by highs have been seen since early April for LBLOCK, which has been consolidating around $0.0018. As a result, a rebound could occur in this area due to significant buying pressure. Despite a difficult few months for the Lucky Block coin, it is on the verge of a reversal.
To give you an overview of Lucky Block and its history up to this point, here are a few key points:
In January 2022, it was launched on PancakeSwap
The token's pre-sale price gained over 3,000% immediately
In February 2022, it reached an all-time high of $0.009617
Currently consolidating around $0.0018 after descending from all-time highs.
 Will LuckyBlock rise again?
This is likely given the listings that Lucky Block has had and the way the market has expanded. Furthermore, Lucky Block V2 might be a bug for the token due to its implementation.
What Is The Current Price of Lucky Block (LBLOCK)?
The current value of Lucky Block is $0.00009152 USD.

Lucky Block Project Roadmap
With Lucky Block, the online lottery space was taken to a whole new level. Due to its security, fairness, and transparency, blockchain technology has garnered plenty of attention. As a result of its great playing structure, it also has increased popularity among lottery enthusiasts. Platinum Rollers Club NFTs are available on the platform, and sub-NFT collections are related to competitions.
The winner is announced as soon as the collection of 10,000 or 25,000 NFTs sells out. Thus, the odds of winning even the biggest prizes are better than astronomical. The Lucky Block development team continues to enhance the player experience and sell its remaining NFTs.
Lucky Block Latest News
The price of Lucky Block is set to rise by 25x following the launch of Lucky Block Casino
On November 30, Lucky Block saw a surge of over 30% following announcing a new betting venture.
Sports betting is at its peak during the FIFA World Cup when millions of fans worldwide support their countries.
While the $58 billion online gambling industry continues to grow, Lucky Block intends to continue its trend.
This launch is the perfect time for traders who want to make huge gains before the end of 2022. LBLOCK's price could easily increase by 25x in the next few weeks, according to analysts.
Binance may List Lucky Block in 2023
With Binance, users have access to a wide range of cryptocurrencies. This crypto exchange, however, has a reputation for only listing high-quality digital tokens and selecting them with rigorous diligence.
In other words, listing a crypto project on Binance gives it credibility. The Lucky Block project will be listed on Binance in 2023 after originally being listed on Gate.io, MEXC, LBANK, Uniswap, and Pancakeswap.
Upcoming Events That Could Affect The Price of LBLOCK?
Due to several factors that favorably impact its price, LBLOCK is a cryptocurrency with the highest upside.
Developments
As Lucky Block evolves, investors will enjoy more returns, and competition participants will receive bigger prizes. A 1% token burn is the company's latest development. Over time, this will significantly reduce the coin's supply, which will take place monthly.
Lucky Block's partnership with major Web3 projects was among the CEO's announcements. In addition, the Lucky Block V2 token was also listed on more exchanges.
LBLOCK V2 is a major update to the Lucky Block network's ERC-20 token. At launch, participants could enter draws and receive payouts instantly with Lucky Block's BEP-20 token.
While transaction fees for purchasing tickets with the BEP-20 were not applicable, investors were subject to a 12% sales tax when they traded the coin. To provide a tax-free sales token, Lucky Block developed LBLOCK V2.
ERC-20 tokens, which are proof-of-stake cryptos, have facilitated centralized exchange listings. A Lucky Block listing is available on LBank, MEXC, Uniswap, and Gate.io as of Q3 2022.
Speculation
There was a lot of speculation behind the bull runs of most of the fastest-growing cryptos. Investors believed that altcoins would pump, so they purchased them, thereby driving up prices.
The Lucky Block altcoin has also been a subject of speculation. Certain fundamental changes to Lucky Block's platform were believed to result in price increases. Investors profited from those movements by buying Lucky Block, fueling further speculations about price spikes.
LBLOCK is an undervalued crypto asset, according to the latest speculation among investors. There is a bearish market sentiment toward Bitcoin, but many investors predict that a rally will follow any price rally in Bitcoin in altcoins.
Lucky Block's price has proven to be able to pump massively. As long as the crypto community continues to change its sentiment to bullish, altcoin bull runs are likely to follow.
Effective Marketing Strategy
Elon Musk and other celebrities endorsed some of the best meme coins. To broaden its exposure, Lucky Block has partnered with several celebrities.
One of Lucky Block's key partnerships was with heavyweight boxing champion Dillian Whyte. As a result, millions of viewers were exposed to Lucky Block's brand through the 12-month contract with the heavyweight champion.
The weigh-in of Whyte's fight with Tyson Fury was accompanied by Lucky Block merchandise. With Whyte's endorsement, Lucky Block solidified its reputation as a legit crypto project.
It wasn't just Whyte who joined Lucky Block. The NFT competition platform also signed Florian Marku and Savannah Marshall. In addition, Love Island's Jamie Lewitt also teamed up with Lucky Block.
The result was the launch of the boxing podcast Fighting on the Inside. Whyte and Marku have signed on to appear on the podcast, which is available on YouTube.
Your capital is at risk.
Will LuckyBlock Go Up in 2023?
Several factors could lead to a further price pump for LBLOCK in 2023. Bitcoin's price action is one of them. Altcoins follow Bitcoin, as has been proven. It is generally believed that Bitcoin is in a bear market short-term but will reach a new high in the long run.
Despite the bear market, Bitcoin has not had a significant short-term rally since crashing from its ATH, similar to the 2018 bear market.
When Bitcoin reached its ATH in 2018, it crashed but bounced back to Fibonacci retracement level of 0.702. However, after that, the bear market resumed. Having fallen from its all-time high of $69,000 in 2022, Bitcoin has not rallied to the 0.702 Fib as expected.
If Bitcoin reached that price target, the altcoin market would also rally to $53,000. By the end of 2023, LBLOCK will likely hit its next resistance, $0.005.
LBLOCK token burn is also a key development that will make Lucky Block more appealing to investors and possibly result in higher demand.
In September 2022, Lucky Block CEO Scott Ryder announced a monthly token burn. It is intended to increase the coin's value. Since Terra LUNA and LUNC have been burned, many cryptos have seen their value rise dramatically.
In the three days following the announcement of the token burn, Lucky Block's price spiked by 60%. Ryder plans to burn 1% of LBLOCK tokens every month starting September 30, 2022.
It will therefore be more difficult for investors to purchase Lucky Block tokens in 2023, leading to a rise in the price of LBLOCK tokens.
✅Why Might Some Investors Consider Investing in LBLOCK Right Now?
In this project, a lottery system is created using a simple method. Lottery tickets cost $5 and are paid with Lucky Block (LBLOCK) tokens. Lottery tickets can be purchased worldwide, and users can compete for the jackpot. Starting with daily draws, users progress to two draws per day. The lottery prize is then assigned to a winning ticket using a random number generator.
The business model for the project is simple. Ticket sales and transaction fees fund the jackpot scheme. All sales on decentralized exchanges are subject to a 12% transaction fee. Since the cryptocurrency does not need to report user-sensitive data to the anti-money laundering authorities, the transaction fee bypasses regulatory hurdles.
Your capital is at risk.
❌Why Might Some Investors Avoid LBLOCK Right Now?
Investors and users alike find investing in crypto quite exciting. However, before investing in crypto, one should assess their risk tolerance and adjacent variables to earn promising returns.
Due diligence should be conducted before investing in cryptocurrencies.
The fear of missing lucrative investment opportunities should not influence investment decisions. Cryptocurrency is a highly volatile market, and before making an investment decision, you should analyze all relevant factors, including business model, team, whitepaper, website, and existing partnerships. Considering these factors, an investor can minimize investment risk and maximize return on investment.
How To Buy Lucky Block (LBLOCK)
BNB is required before purchasing Lucky Block. Here's how you can accomplish this.
Step 1: Buy BNB from eToro
You can purchase LBLOCK tokens using BNB at its pre-sale website. BNB tokens can be purchased on centralized crypto exchanges using fiat currency and then transferred to crypto wallets. With eToro, you can deposit as little as $10.
Sign up for eToro
The first step is to create an account. The process is quick and simple at eToro.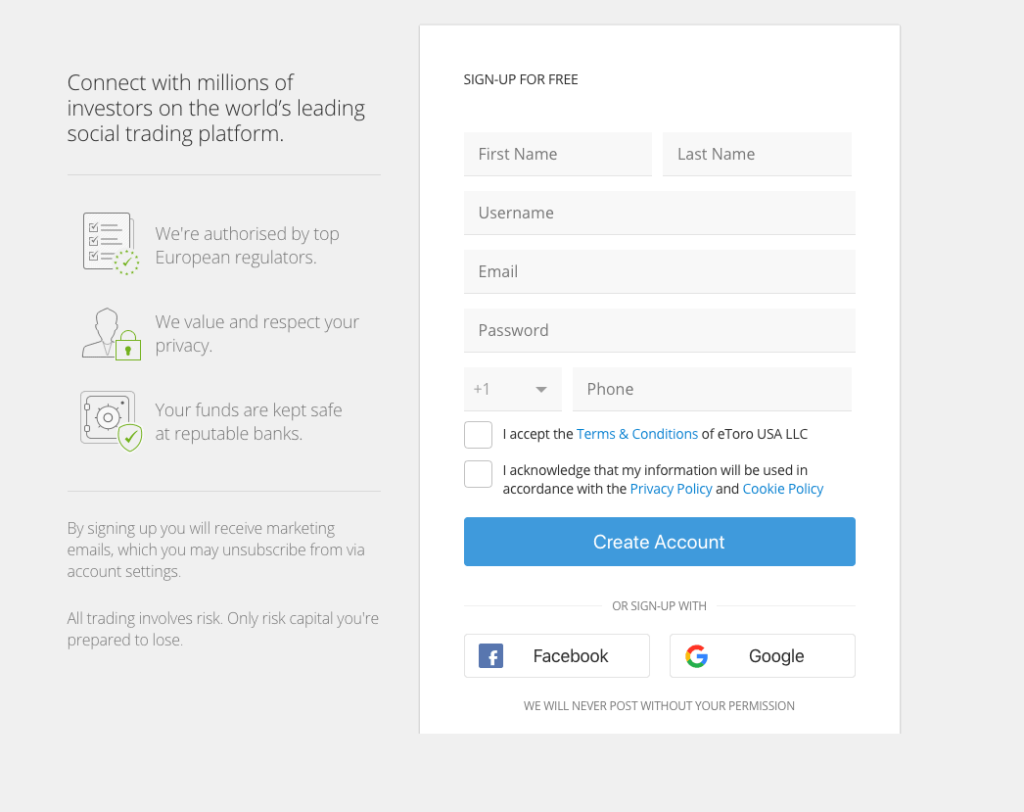 Joining eToro is as easy as clicking the 'Join Now' button. Next, you will be asked to enter your name, nationality, address, date of birth, phone number, and email address.
Verify ID
ASIC, CySEC, FINRA, and FCA regulate eToro.
You must provide proof of your identity if you wish to withdraw funds from your account. Therefore, the verification process must be completed as soon as possible. Uploading the following two documents is required:
A passport and a driver's license
An up-to-date utility bill or bank statement
eToro will most likely verify your documents automatically
Deposit funds
Depositing the funds is the next step. PayPal, Skrill, Neteller, and debit cards are all accepted for instant deposits with a minimum deposit of $10. Bank transfers will also take a few days to appear in your account.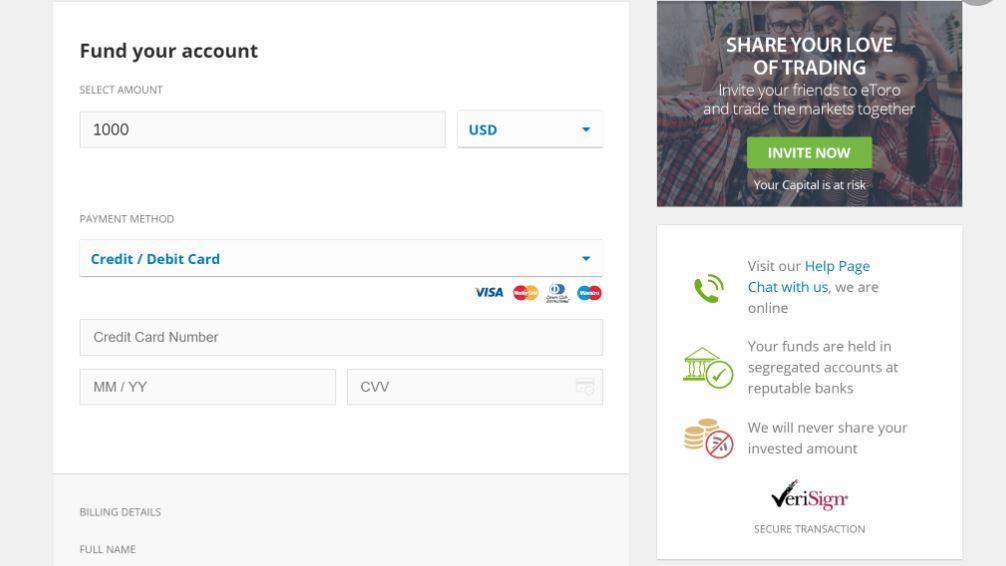 Buy BNB
You must place a buy order on all cryptocurrency trading sites. You must enter your stake in the 'Amount' box. There is a minimum requirement of $10 in USD.
Click the 'Open Trade' button to purchase Ethereum commission-free. You can then add BNB coins to your portfolio. Your coins can then be cashed out commission-free at any time.
Step 2: Transfer BNB into a crypto wallet
After purchasing BNB, you should transfer your holdings to your crypto wallet.
Step 3: Connect wallet to PancakeSwap
The next step is to connect your BNB wallets (Metamask and Trust Wallet) to the PancakeSwap DEX.
Step 4: Swap BNB for LBLOCK
Under the 'From' tab, select your crypto token. BNB will be selected by default. No matter which token you choose, ensure you have enough tokens to begin trading. For example, select the Lucky Block token in the 'To' section. Following current market conditions, the amounts of the 'To' and 'From' tokens will be automatically calculated.
Your capital is at risk.
Lucky Block Price Prediction 2023– Conclusion
Lucky Block's platform has offered incentives such as Lamborghinis and $1 million homes to encourage participants to enter draws. It is necessary to own the coin to participate in Lucky Block's NFT competition, which benefits LBLOCK investors.
As a result of LBLOCK's presale and ICO, investors have gained a significant amount of capital. In addition, investors and competition participants benefit from constant new developments on the network. Lucky Block will likely become more in demand due to its increased utility, so investors shouldn't sleep on it.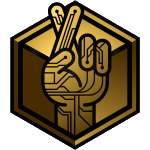 Your capital is at risk.
Frequently Asked Questions
Will Lucky Block go up next year?
By 2023, the price of Lucky Block (LBLOCK) is expected to reach $0.000335.
Is LuckyBlock a good investment in 2022?
Perhaps Lucky Block's unique proposition of decentralizing the lottery system is attracting media attention and investors. However, since LBLOCK is still a young token, it's hard to judge its potential.
What is the future of Lucky Block?
In the years to come, Lucky Block plans to expand rapidly once the lotto draws begin. The development team seeks several centralized exchanges (CEXs), including Crypto.com and FTX. In addition, as an ERC-20 token, LBLOCK V2 can facilitate Lucky Block's sales tax since it is an ERC-20 token.
Is LBLOCK a good long-term investment?
A long-term investment in LBLOCK could see its price rise to $0.00087 within 5 years due to the rising popularity of cryptocurrency and Lucky Block.