Vanguard vs TD Ameritrade – Cheapest Broker Revealed
Fact Checked
Everything you read on our site is provided by expert writers who have many years of experience in the financial markets and have written for other top financial publications. Every piece of information here is fact-checked. We sometimes use affiliate links in our content, when clicking on those we might receive a commission - at no extra cost to you. By using this website you agree to our terms and conditions and privacy policy.
If you're looking to buy and sell stocks and ETFs online without paying a cent in commissions then you will need a top-rated broker to do so. But how do you know which trading platform suits your investment needs and goals?
In this Vanguard vs TD Ameritrade comparison, we explore all the key metrics from fees and commissions to payments and safety. So, keep reading this review as we reveal our number one recommended broker for 2023.
Vanguard vs TD Ameritrade Comparison
No. of shares
Most of US-listed companies
N/A
Fixed commissions per operation
Funds
Free for Vanguagrd funds
N/A
What are Vanguard and TD Ameritrade?
In short, both TD Ameritrade and Vanguard are online discount brokers that enable you to trade and invest in financial assets from the comfort of your own home. To get started, you simply need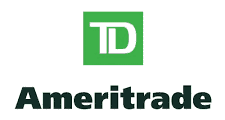 to create a brokerage account, deposit funds, and then you will have access to thousands of financial instruments and markets.
For example, both Vanguard and TD Ameritrade provide commission-free stock and ETF trading. You can also trade options, mutual funds, and bonds with either broker. However, it must be noted that TD Ameritrade also offers forex trading and futures trading.
Furthermore, both online brokers do not offer CFD trading which means that when you buy ETFs, shares, and other assets you gain ownership of the underlying security. With contracts for difference, you have the benefit of being able to speculate on future price fluctuations of the underlying asset. All in all, both trading platforms are user-friendly, facilitate traditional investments,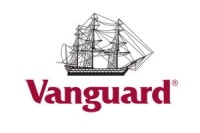 and allow you to buy and sell financial instruments with the click of a button.
In terms of the fundamentals, Vanguard was launched in 1975 and is a US-based stockbroker that is regulated by the US Securities and Exchange Commission, and the Financial Industry Regulatory Authority. Vanguard is now home to more than 20 million active traders and has built up a reputation for offering heaps of low-cost ETFs, mutual funds, and other financial services.
In addition, TD Ameritrade is also listed on the NASDAQ exchange under the ticker symbol AMTD. The majority of publicly listed brokers are regarded as safe trading platforms as they disclose their financials quarterly, and are monitored by top financial regulators.
Vanguard vs TD Ameritrade Tradable Assets 
As we have already mentioned in the previous section, both US-based brokers do not offer CFD trading and therefore only offer traditional investment assets. With this in mind, we will now examine the tradable assets that are on offer.
Stocks and ETFs
Starting with Vanguard, the online broker only gives you access to US markets and around 2,300 ETFs. There are 82 Vanguard ETFs that are traded on US markets and have a mean expense percentage of 0.09%. This means that you can buy and sell popular stocks such as Apple stocks without paying a penny in commissions.
Vanguard traders have had access to commission-free ETF trading since 2018, but as of January 2020, the previous pricing model has been eliminated. The previous pricing model set varying commission fees depending on the account balance amount.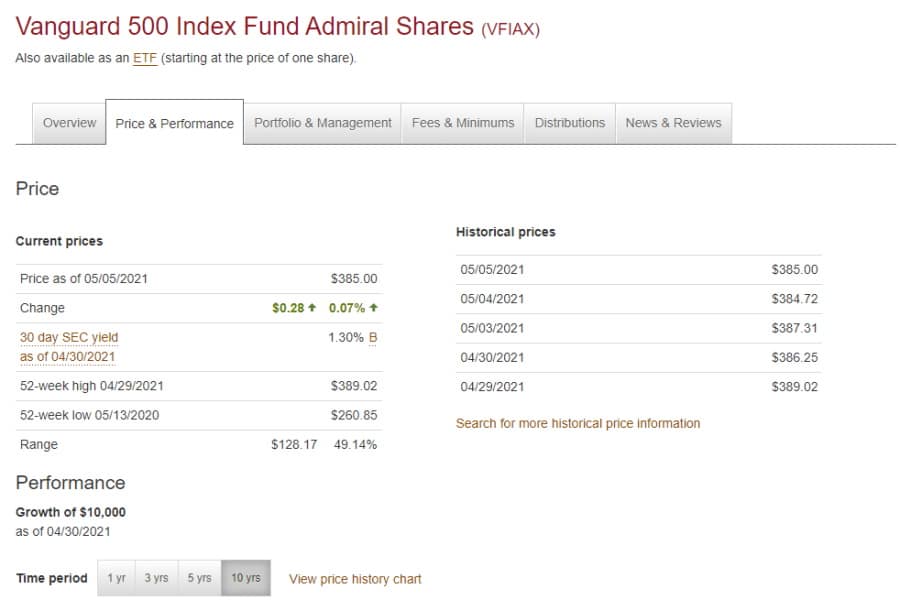 Similarly, TD Ameritrade only provides access to US markets, which makes investing in shares of stock that are listed on international stock exchanges impossible with either broker. Having said this, TD Ameritrade offers 0% commission on stock and ETF trading, as well as low fees for forex trading, bonds, futures, and options. It is worth noting that there is a $6.95 commission charged for online trades of OTC stocks. Simply put, over-the-counter stocks are non-US listed stocks.
TD Ameritrade also offers around 2,300 ETFs to choose from which can be traded without paying a single cent in commission.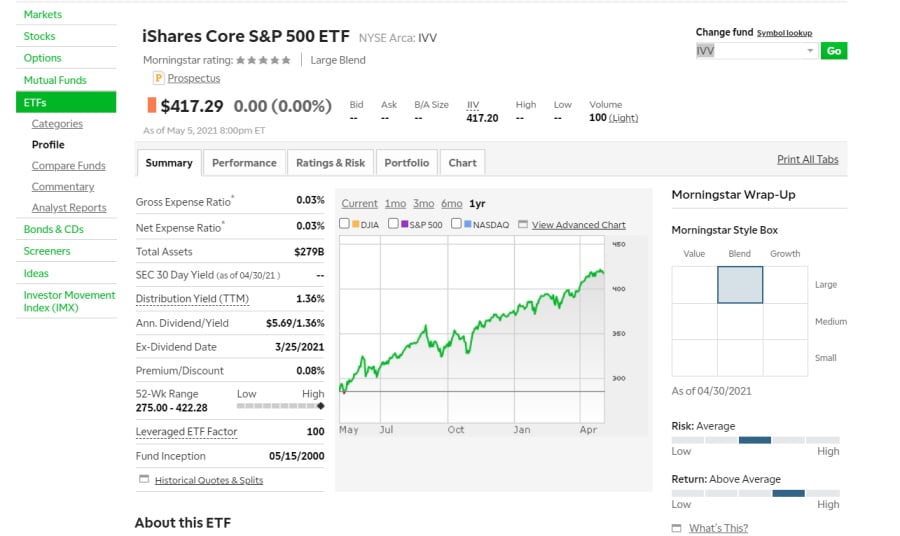 Forex trading 
TD Ameritrade provides forex trading from 6:00 pm to 5:00 pm ET Sunday through Friday. With TD Ameritrade you can access more than 70 different forex pairs covering majors, minors, and exotics. Currency pairs are traded in increments of 10,000 units and on a 100% zero-commission basis. The cost of each trade is included in the spread. Vanguard does not offer forex trading.
Automated trading 
Vanguard offers a personal advisor service that is great if you need extra support with your investment goals and strategies. Both a financial advisor and Vanguard's robo-advisor software chip in to offer investment management services. Once you have specified your trading objectives, the advisor suggests a portfolio that is automatically rebalanced.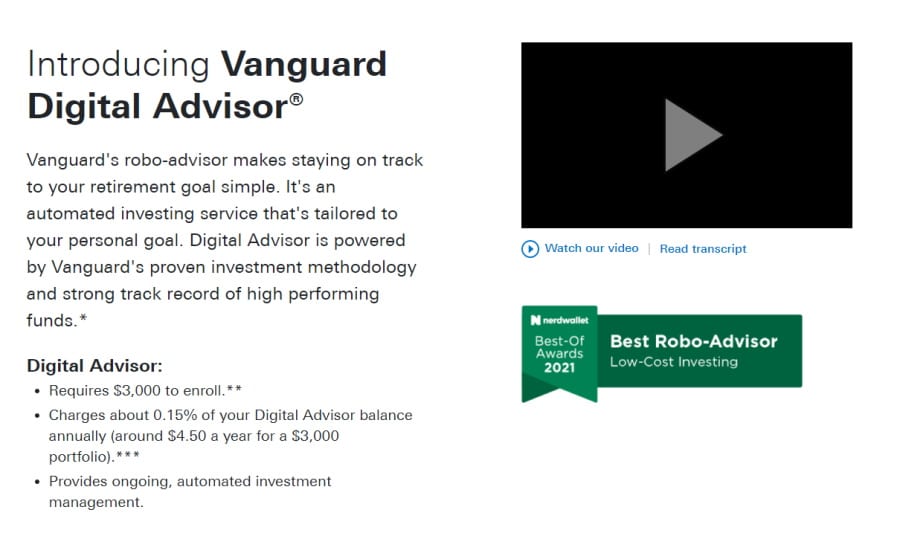 There is a $3,000 minimum deposit to enroll in Vanguard's personal advisor services, as well as 0.15% net advisory fees.
TD Ameritrade provides social trading services through its desktop investment platform known as Thinkorswim. By navigating to the tools menu, you can create a public profile, follow and interact with other investors, and even share your trading strategies and portfolios.
Social trading is perfect for new and experienced traders to discover new trading ideas, as well as to compare their trades with other investors.
Alternatively, if you need support with investment management then TD Ameritrade also provides three different managed portfolios. These include:
Personalised Portfolios – are portfolios managed by financial experts and have a minimum investment of $250,000
Selective Portfolios – this personalized portfolio has a minimum deposit of $25,000
Essential Portfolios – this is a robo-advisory portfolio that has a $500 minimum deposit to start. After filling out information regarding your trading objectives, risk tolerance, you will be able to pick from five different ETF portfolios that are rebalanced automatically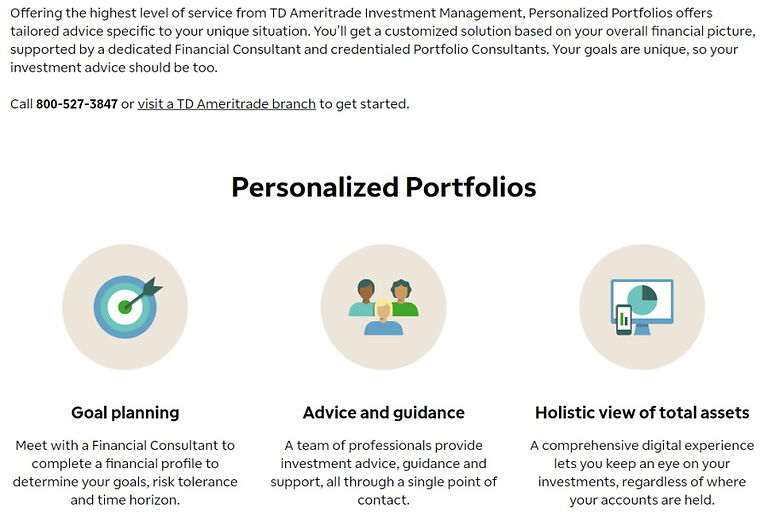 Vanguard vs TD Ameritrade Account Types
There are no minimum deposits for basic trading accounts with either Vanguard or TD Ameritrade, however, as we have already revealed, the minimum deposit varies depending on the type of account you choose. For example, there is a $2,000 minimum deposit for margin trading accounts with either broker.
When we compared Vanguard and TD Ameritrade we found that both US-based platforms offer a wide range of account types.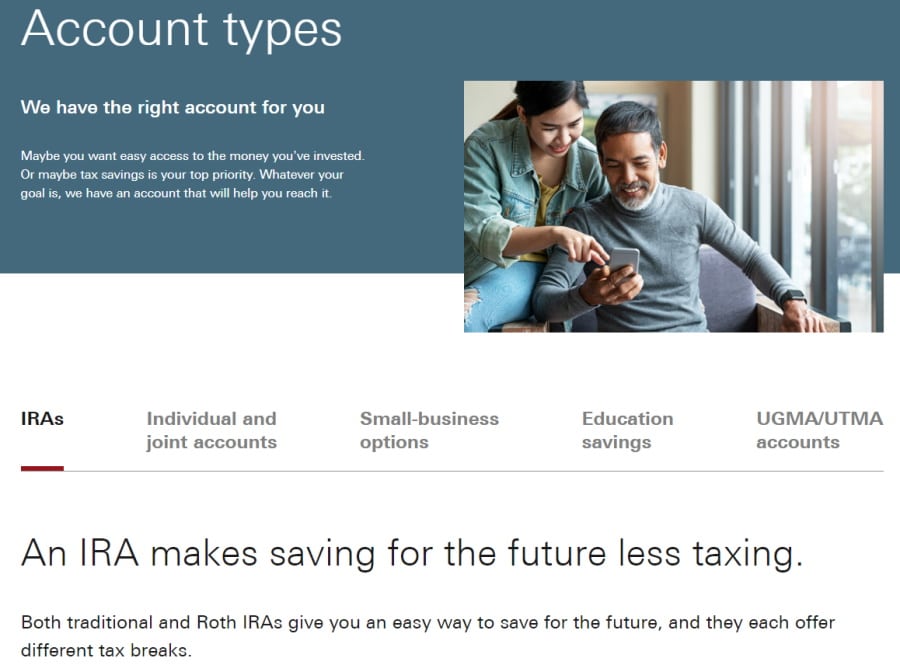 Vanguard offers the following account types:
Individual brokerage account: This is a basic brokerage account that allows you to buy and sell financial instruments on a zero-commission basis
Joint brokerage accounts: is an account shared by two or more traders
Business accounts: are accounts that are owned and managed by legal entities
Retirement planning accounts such as Roth IRA accounts, Traditional IRA accounts, Rollover IRA accounts
Education savings account
Trust account
Vanguard Personal Advisor Services – these are robo-advisory services
TD Ameritrade offers the following account types: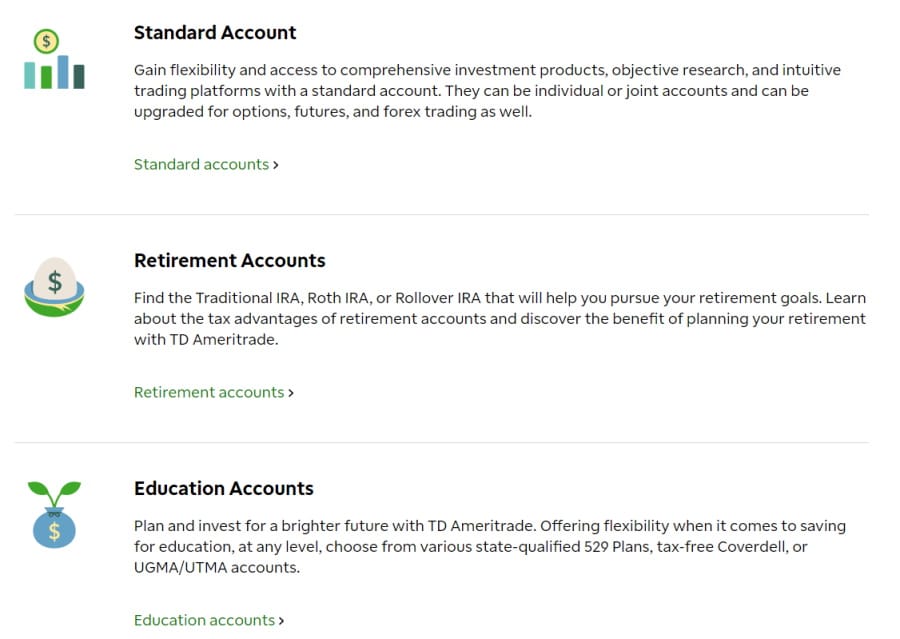 Individual brokerage accounts
Business accounts
Retirement accounts – Roth IRA, Traditional IRA accounts, SEP IRA accounts, Solo 401(k) for small businesses accounts, Simple IRA, Pension or profit plan, Rollover IRA accounts
Joint accounts
Margin accounts
Managed portfolios
Specialty accounts – trust accounts, Sole Proprietorship accounts, etc.
Education accounts – 529 Plans, Coverdell Education Savings Account, Custodial Uniform Gift to Minors Act (UGMA)/Uniform Transfer to Minors Act (UTMA)
Vanguard vs TD Ameritrade Fees & Commissions 
Most traders will pick a broker based on the fees and commissions charged. In short, you will want to keep your trading and non-trading costs as low as possible to maximize your returns. This isn't just limited to trading costs and commissions, but other potential fees including withdrawal and deposit fees, just to name a few.
Therefore, in this section of our Vanguard vs TD Ameritrade review, we will explore the different types of fees you are likely to encounter.
Trading fees
TD Ameritrade and Vanguard offer free US stock and ETF trading. With this offering, you have access to thousands of shares of US stock listed on US exchanges.
TD Ameritrade also supports forex trading with the trading fees being included in the spread, with an average spread of just 1.2 pips during peak hours.
As for mutual funds, TD Ameritrade charges $49.99 per transaction of no-load mutual funds. On the other hand, Vanguard charges $0 commission on over 160 Vanguard mutual funds as well as 3,000 no-transaction fee funds from third-party providers.
Several Vanguard mutual funds incur redemption and purchase fees that are directly paid to the funds themselves as a way of covering transaction expenses and safeguarding long-term traders by dissuading speculative, short-term investments. These fees fall between 0.25% and 1.00% of the transaction total, which again depends on the type of fund.
Margin trading
In short, margin trading is when you borrow money from your chosen broker to trade and invest in assets. The interest rate that you pay back is known as the margin rate. Vanguard's annual margin base rate is 6% whereas TD Ameritrade's margin base rate is 8.25%.
Here's a quick breakdown of the different margin rates charged depending on the margin amount:
| | | |
| --- | --- | --- |
| Margin Balance | Vanguard margin rate | TD Ameritrade margin rate |
| $250,000–$499,999 | 6.50% | 7.50% |
| $100,000–$249,999 | 7.00% | 7.75% |
| $50,000–$99,999 | 7.50% | 8.00% |
| $25,000–$49,999 | 8.00% | 9.00% |
| | Up to $19,000 – 8.50% | Under $10,000 – 9.50% |
Non-trading fees
We compared Vanguard vs TD Ameritrade in terms of non-trading fees and found that both have competitive fees. For example, both brokers have no account minimums and do not charge an account fee, inactivity fee, deposit, or withdrawal fee.
| | | | | | | | | |
| --- | --- | --- | --- | --- | --- | --- | --- | --- |
| | Inactivity fee | Deposit fee | Withdrawal fee | Account fee | US Stock fee | ETF fee | USD margin rate | ACAT Transfer fee |
| Vanguard | No | $0 | $0 | $0 | 0% | 0% | 6.0% | $0 |
| TD Ameritrade | No | $0 | $0 | $0 | 0% | 0% | 8.25% | $0 for partial account transfer and $75 for full account transfer |
Vanguard vs TD Ameritrade User Experience
Our TD Ameritrade vs Vanguard review found that the former is a great option for both beginner and advanced traders, whereas the latter is a better match for long-term investors.
The fact that Vanguard is aimed at more long-term investors is made clear when it charges a special purchase and redemption fee for several Vanguard mutual funds. These special charges are paid directly to the funds to cover transaction fees and to support long-term investors by deterring speculative, short-term investments.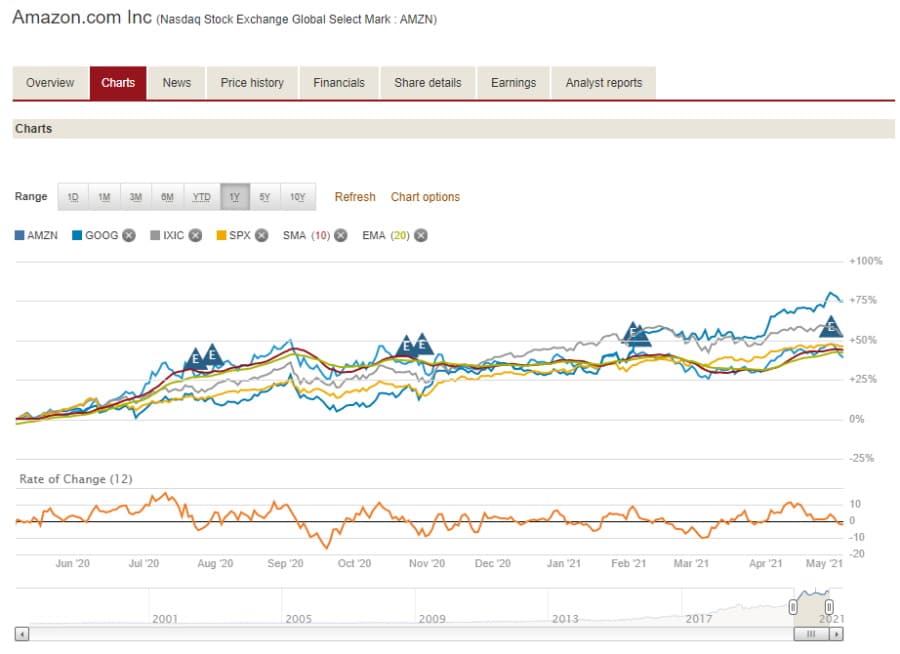 As for TD Ameritrade, the platform is well designed and user-friendly, making it great for new traders. It's a similar story when it comes to searching for a particular financial instrument and trading assets. All you need to do is search the company name or ticker symbol and both trading platforms will bring up a list of relevant suggestions.
Furthermore, the user experience at TD Ameritrade is particularly good with regards to placing order types. Vanguard does offer basic order types such as market orders and stop orders, but TD Ameritrade goes that extra step and offers everything from stop-limit orders to good 'til canceled extended hours orders.
Both brokers allow you to set alerts and notifications to help you monitor real-time market data. While Vanguard gives you the option to set price alerts for popular assets such as ETFs and stocks, only email alerts are supported and the process of configuring the price alerts is rather cumbersome as you have to click through multiple tabs to set the alert.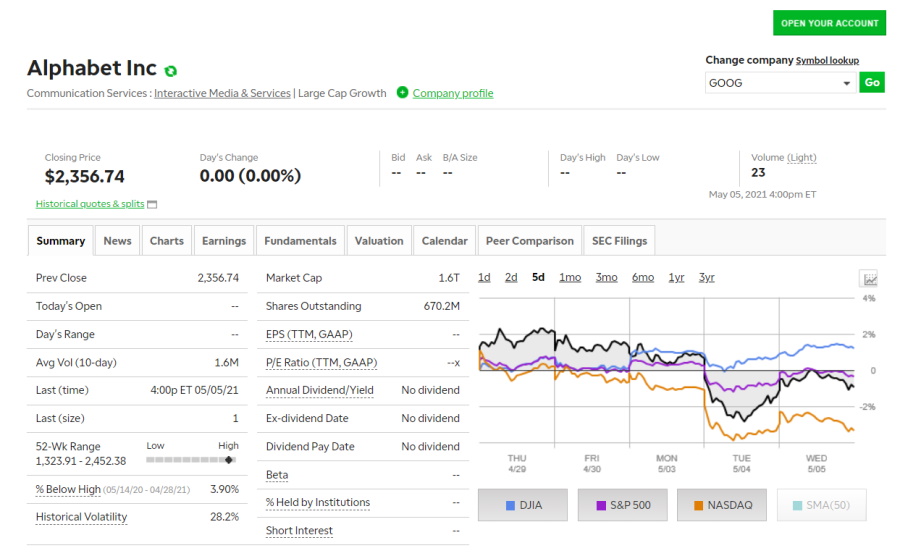 With TD Ameritrade you can set a wide variety of notifications and alerts by navigating to the research and ideas menu at the top of the screen. You can configure alerts on as many as two separate emails and two mobile phones.
Vanguard vs TD Ameritrade Mobile App 
Both Vanguard and TD Ameritrade allow you to buy and sell assets from your iOS Apple and Android mobile devices. With regards to user experience, both mobile trading apps are similar to their web and desktop platform counterparts.
You can choose between two mobile investment apps with TD Ameritrade, each designed to suit varying levels of experience and trading objectives. The two options are the TD Ameritrade Mobile app and the Thinkorswim TD Ameritrade Mobile Trader. The latter of the two provides forex and futures trading, as well as a demo account, sophisticated charting, and research tools.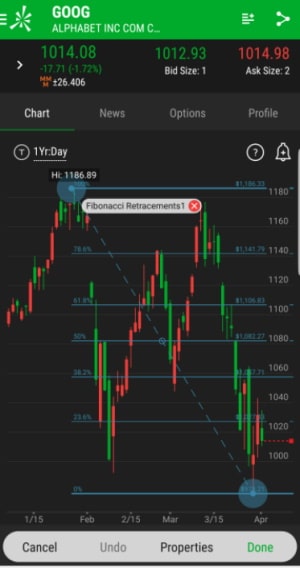 Turning our attention to the Vanguard mobile trading app, this is user-friendly and simple which is a contrast to the web trading platform that can be rather difficult to navigate especially for beginner investors.
Both US-based brokers offer mobile trading apps that are well designed, allow you to place order types, set an array of push notifications and price alerts, buy and sell financial instruments with the click of a button, deposit funds, monitor portfolios, and more.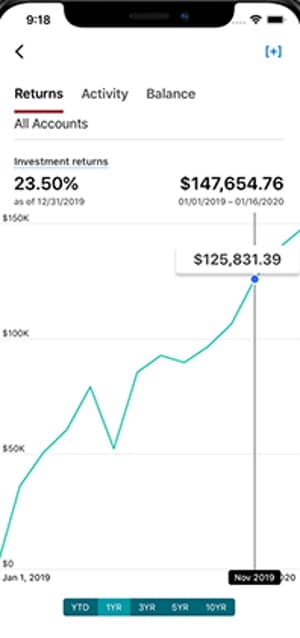 Mobile trading is constantly evolving and makes up a huge percentage of the trading sector. It is therefore reassuring that both platforms offer mobile trading as it allows you to place trades even while you are out and about.
Vanguard vs TD Ameritrade Trading Tools, Education, Research & Analysis
To sum up, so far in our TD Ameritrade vs Vanguard comparison, we have looked at several key metrics including fees and commissions, payments, mobile trading, user experience, tradable assets, and account types.
In this section, we will examine the different tools and features that are designed to help you build a better knowledge base and develop your trading expertise.
Automated Trading
For experienced investors, automated trading is a tool that is not of much use. On the flip side, if you are a beginner trader with little to no experience in online trading then automated trading could help you to manage your investments.
With automated trading, you can passively place trades and invest in portfolios with the help of robo-advisors and expert recommendations. These services do come at a cost, which typically involves annual management fees and minimum investments.
Educational materials and resources
Both brokers give you access to trading ideas from third-party providers including Morningstar, MarketGrader, Argus, Thomas Reuters, TD Group, and more. In terms of fundamental data, both platforms provide an abundance of data from previous financial statements, to basic performance and rating metrics.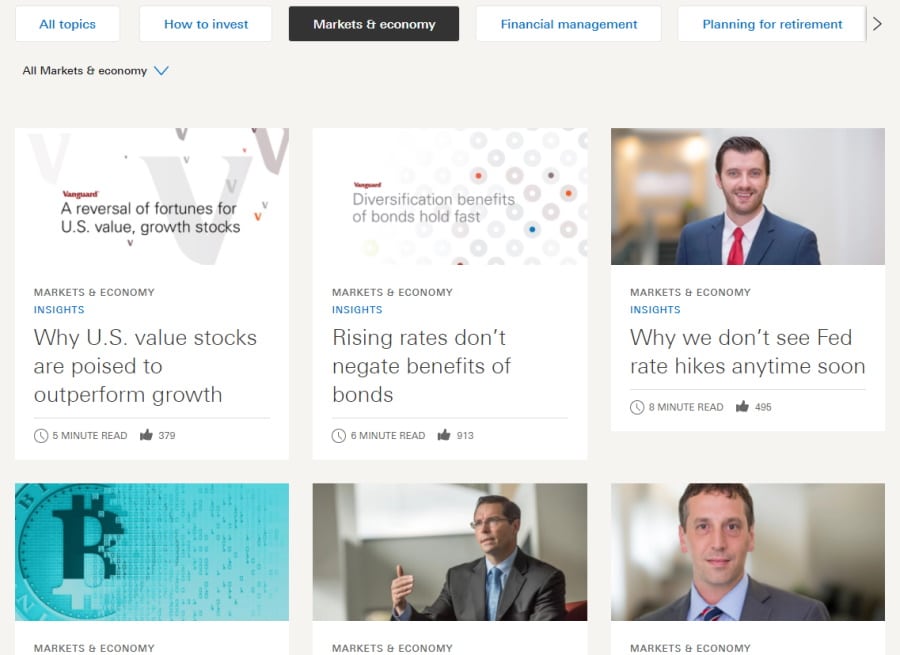 TD Ameritrade has heaped on offer when it comes to charting tools and screeners, with over 400 different technical indicators and fully customizable charts, this trading platform is well-equipped to meet the needs of both new and seasoned traders. Vanguard, on the other hand, has limited charting tools with just 15 different technical indicators to choose from.
Nevertheless, if you are just starting out, then both platforms have enough to meet your initial trading needs. With that said, if you are looking for a more comprehensive set of analysis, research, and educational tools, then TD Ameritrade is the best choice for you.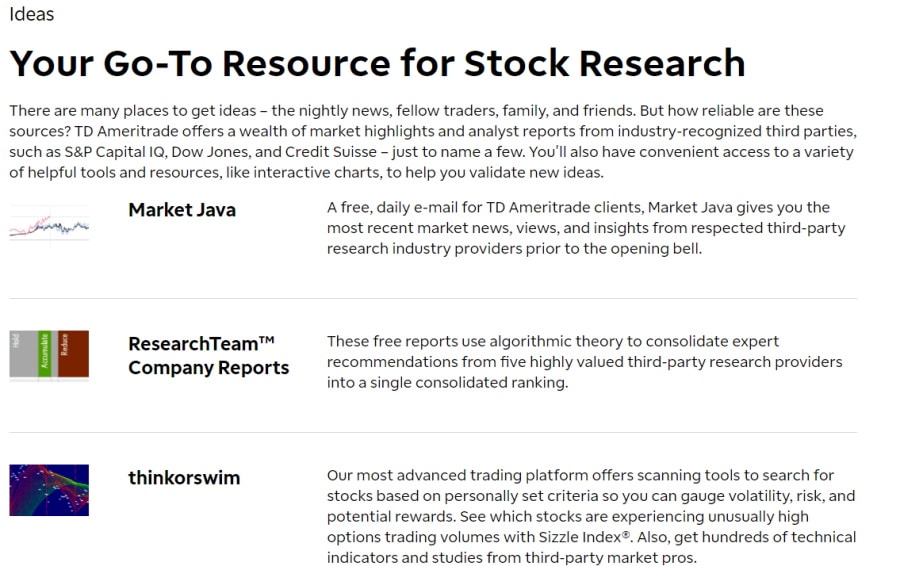 Vanguard vs TD Ameritrade Demo Account
Demo accounts, or paper trading accounts, are simulated market environments that are designed to mirror real online trading without the risk of losing real capital. Demo accounts are perfect for both experienced and new investors who want to familiarize themselves with a particular investment platform, and practice using their trading strategies in a risk-free setting.
Typically, when you open a paper trading account, by default you gain access to the trading platform with a set amount of virtual funds which can vary between $100,000 and $10,000.
During our Vanguard vs TD Ameritrade review, we found that the former does not provide a demo account. TD Ameritrade, on the other hand, does offer a demo trading account, called paperMoney which can be located on its Thinkorswim platform. When you sign up and create a paperMoney account you can start practicing with $100,000 worth of virtual funds.
Vanguard vs TD Ameritrade Payments
While there are no deposit fees or withdrawal fees when you use ACH withdrawals, the only available payment option to use with both brokers is via bank transfers as credit cards, debit cards, or electronic wallets are not supported payment methods.
Depositing and withdrawing funds via ACH transfer typically takes between one and two business days.
| | | | | |
| --- | --- | --- | --- | --- |
| | Minimum Deposit | Deposit Fee | Deposit Processing Time | ACH Withdrawal Fee |
| Vanguard | $0 for standard brokerage accounts | $0 | 2 business days | $0 |
| TD Ameritrade | $0 for standard brokerage accounts | $0 | 1 – 2 business days | $0 |
Vanguard vs TD Ameritrade Customer Service 
TD Ameritrade stands out in this section because you can contact customer support 24 hours 7 days a week via live chat, phone, and email. The responses are prompt and relevant, and if you don't want to speak to an agent, you can access the platform's virtual agent known as AskTed that can direct you to useful FAQ pages.
As for Vanguard you can contact support via email and telephone, however, depending on whether you want to speak to a personal investor, retirement plan participants, institutional investors, financial advisors, the times vary.
Vanguard vs TD Ameritrade Safety & Regulation
In terms of the fundamentals, TD Ameritrade is regulated by the US Securities and Exchange Commission, the Hong Kong Securities and Futures Commission, the Financial Industry Regulatory Authority, the Commodity Futures Trading Commission, and the Monetary Authority of Singapore.
TD Ameritrade clients are protected by the US Investor protection scheme known as the Securities Investor Protection Corporation. This covers you up to $500,000 including $250,000 for cash claims if the brokerage firm liquidates.
Vanguard is also regulated by the US Securities and Exchange Commission, and Financial Industry Regulatory Authority which offers client fund protection up to $500,000 which includes $250,000 for cash.
Neither broker offers negative balance protection, which means that you could lose more capital than you have deposited.
Vanguard vs TD Ameritrade vs eToro
All in all, we would recommend TD Ameritrade as it offers a demo account with $100,000 of virtual funds, tons of technical indicators, user-friendly web, desktop, and mobile trading platforms, and a wide range of financial instruments including forex trading with tight spreads.
However, there is a third option that was designed specifically for beginner traders and offers 100% commission-free trades. Launched in 2007, and regulated by the UK's FCA, ASIC, and CySEC, eToro is now home to well over 20 million traders worldwide and counting.
eToro keeps things simple and offers two accounts; a live brokerage account and a demo account that gives you $100,000 worth of paper funds to practice online trading in a risk-free environment.
67% of retail investor accounts lose money when trading CFDs with this provider.
In terms of tradable assets, with eToro, you can access 49 different currency pairs including majors, minors, and exotics. For example, if you wanted to trade the EUR/USD pair this would cost you $0 in commissions and a spread of just 1 pip.
eToro also offers social trading tools including CopyTrader that allows you to copy the trades of other experienced traders, and CopyPortfolios which enables you to invest in a portfolio or a theme.
Furthermore, eToro also offers heaps of CFD derivatives such as stock index CFDs, stock and ETF CFDs, as well as commodity CFDs and 19 cryptocurrencies. This is great for investors interested in Bitcoin trading with spreads as low as 0.75%.
Here's a breakdown of eToro's trading and non-trading fees:
| | |
| --- | --- |
| Fee | Amount |
| Stock trading fee | Free |
| Forex trading fee | Typical spread for EUR/USD: 1 |
| Crypto trading fee | 1.90% spread for Ethereum |
| Inactivity fee | $10 a month after 12 months |
| Withdrawal fee | $5 |
| ETF trading fee | Free |
| Account fee | No |
| Deposit fee | $0 |
Vanguard vs TD Ameritrade – The Verdict 
In summary, this Vanguard vs TD Ameritrade review has examined everything there is to know about the two US-based trading platforms. We have looked at all the key metrics to help you choose the right broker for your trading goals and needs.
All in all, we recommend eToro as the best overall broker in 2023, as it not only supports traditional investments such as ETF and stock trading, but you can also access CFD trading, forex trading, and 19 different cryptos with the click of a button on a commission-free basis.
With this in mind, if you want to start copy trading with a top-rated broker from the comfort of your own home, then follow the link below and start trading with eToro today!
eToro – Best Copy Trading Platform in 2023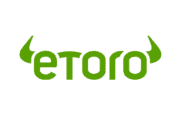 67% of retail investor accounts lose money when trading CFDs with this provider.  
FAQs
What is the Vanguard 500 index fund?
What is a Vanguard brokerage account?
Who bought TD Ameritrade?
How much does TD Ameritrade charge per trade?