How to Buy Stock in Silver 2023
Fact Checked
Everything you read on our site is provided by expert writers who have many years of experience in the financial markets and have written for other top financial publications. Every piece of information here is fact-checked. We sometimes use affiliate links in our content, when clicking on those we might receive a commission - at no extra cost to you. By using this website you agree to our terms and conditions and privacy policy.
The use of silver is invaluable for many industrial applications as it is a unique precious metal. In addition, among all metals, silver is the best electrical and thermal conductor, making it highly valued for electrical applications. Consequently, silver's demand is primarily driven by the industrial sector.
As with gold, investors highly value silver due to its similar investment characteristics. Investors can use silver as a haven metal to hedge against inflation and weather an economic downturn. In early 2022, silver was used as an inflation hedge. Despite inflationary and geopolitical concerns, it exhibited double-digit growth. So let's get into how to buy stock in Silver 2023.
How to Buy Stocks in Silver – Quick Guide
First: Create an account with eToro – To open a new trading account, visit the official eToro site and click on 'Start Investing.' Enter your login information.
Second: Verification – eToro complies with the most current KYC standards set by top-tier financial authorities, so be prepared to provide identification and proof of address.
Third: Deposit – You can deposit funds into your new account with a debit card, credit card, e-wallet, or bank transfer.
Fifth: Identify your favorite Silver Stocks instantly by typing 'Silver' in the top toolbar or clicking the 'Discover' tab in the navigation menu.
Sixth: Buy- At the top right-hand corner of the screen, click on the 'Trade' button to buy Silver stock for as low as $10.
Best Brokers To Buy Silver Stocks
There are many companies in the metals sector that mine silver. However, most mining companies tend to concentrate on producing industrial metals such as iron ore, copper, and aluminum. Mining companies often produce silver as a byproduct of their primary products. Meanwhile, precious metal companies tend to specialize in the production of gold. Although many companies mine silver, the amount of silver they contribute to their revenues is often very small.
Even though these factors limit the range of silver investment options, a few silver stocks are well worth considering.
There are two stock trading platforms out there that we have picked out as the best available in the market. First, it is possible to buy Silver stocks from eToro at zero commissions, as these companies are properly regulated.
eToro offers a greater choice of US stocks and the chance to buy into financial options. Additionally, eToro offers a wide range of powerful social trading tools perfect for those just starting.
1. eToro — Where to Buy Silver Stocks Cheaply and Safely
When it comes to where to buy Silver stocks, top broker eToro has the ready-made answer for you. With eToro, you can purchase Silver shares with no commission for as little as $10. In addition, there is only a 0.24% spread fee.
Over 3,000 stocks are available to trade at eToro. More than 900 are traded overseas on exchanges such as the London FTSE, Euronext Paris, and the Hong Kong Stock Exchange. Additionally, eToro provides its users with access to the best biotech , the oil, and the most undervalued stocks, to name a few.
Various commodities including silver and silver stocks, indices, forex, 67+ crypto coins, and 264 Exchange Traded Funds (ETFs) are also available. Beginner investors may find ETFs particularly interesting because they enable them to invest in many stocks. In addition, you should give ETFs a look since they are a low-cost way of spreading investment risk, which makes them a worthwhile option.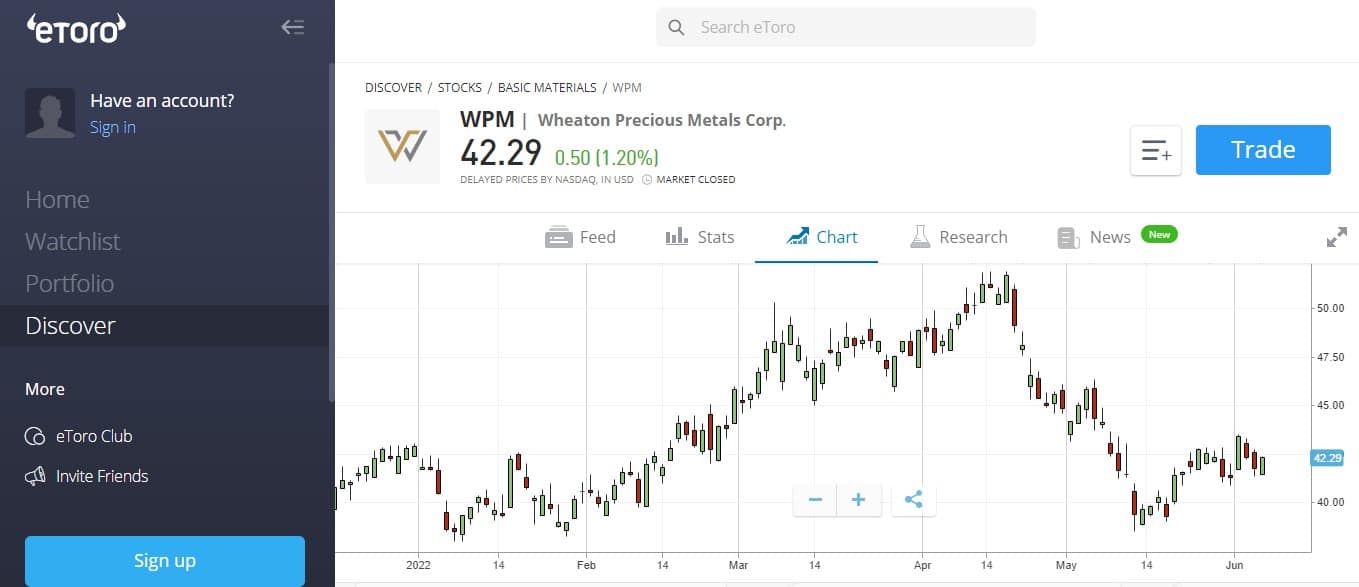 As a result of its regulation, eToro stands out as one of the best stock apps on the market. FinCEN and FINRA regulate eToro in the US. Additionally, the broker is regulated in Europe and Australia.
eToro has pioneered two great ways of social trading for beginners; Social trading is the concept whereby investment newbies can benefit from the experience and insight of others.
eToro's CopyTrader software lets you select from thousands of traders and automatically copy their trades for free. eToro offers 70 Smart Portfolios with which you can get access to a strategic position in a market in one go.
Here are some reasons to choose eToro:
More than 25m verified users
It is regulated in the US by the SEC, FinCEN, and FINRA
Investors are insured for up to $500k with SIPC
A great selection of 3,000 international stocks to choose from
There is no commission on stock trades
Spreads on NASDAQ stocks are tight
USD deposits free of charge
The smartphone app is available for free
Crypto/personal finance wallet for eToro Money
There is a Smart Portfolio option and a CopyTrader option available
| | |
| --- | --- |
| Number of Stocks: | 3000+ (international) |
| Pricing System: | No commission. Spread fee only |
| Cost of Buying Silver stocks: | A spread fee of just 0.24% |
67% of retail investor accounts lose money when trading CFDs with this provider. You should consider whether you can afford to take the high risk of losing your money.
Silver Stock Price
The Silver Institute noted that some geopolitical and economic factors, including the Russian invasion of Ukraine, the multi-decade high inflation rate, lower growth projections for the global economy, and rising interest rates, pose challenges.
On 12 May, Canada's TD Securities analysts said: "With the Fed telegraphing its every move, positioning analytics will be key as the market continually squeezes participants after bearish sentiment builds."
Silver's underperformance relative to the yellow metal should ease as CTA short acquisitions in silver slow, just as the base metal indicators also point to a near-term bottom.
In 2022, silver prices could stabilize at $26.70 per ounce until the end of September, then fall to $26.40 until the end of the year, according to analysts at the Australian bank ANZ. According to the bank's silver forecasts, the price of silver is expected to drop to $22.0 per ounce by the end of 2023.
According to Scotiabank's silver price prediction for 2022, silver will average $24.50 per ounce in 2022 and decline to $23 per ounce by 2023.
Considering the growth in the solar PV sector over the coming years, there is a possibility that silver demand will increase over the coming years. In turn, this may help support the price of silver in the future.
The President of the European Commission announced a mandate mandating that rooftop solar panels be installed on public and commercial buildings in the next five years. This strategy aims to boost the solar capacity target of the European Union by 10% over the base-case projections.
Heraeus Precious Metals analysts point out that the mandate at hand is intended to assist the region in fulfilling its new ambitions to become independent of Russian fossil fuels as soon as possible Additionally, the move could increase the amount of silver required for fabricating photovoltaic (PV) panels, which are largely imported from China.
In addition, it should be noted that a Global PV demand (127 moz) is expected to be 12% of total silver demand by 2022. While metal thrifting has significantly reduced the silver content of PV cells by 80% in the last decade, the demand for silver is expected to grow over the next five years. As a result, silver has followed gold higher but cannot return to that level following a decline below a support level at $22/oz.
According to the Silver Institute, the demand for silver used in electric vehicles is also expected to grow significantly by 2030, with 70 million ounces from 45 million ounces in 2017.
There are a number of factors to keep in mind when making predictions about silver prices, like high market volatility, which makes it more difficult to give long-term estimates. Because of this, analysts often make mistakes.
Over the past 12 months, these silver stocks have had the highest total return. As a result, over 2,500% of total returns have been excluded from the analysis as outliers.
| | | | |
| --- | --- | --- | --- |
| | Price ($) | Market Cap ($B) | 12-Month Trailing Total Return (%) |
| MAG Silver Corp. (MAG) | 18.51 | 1.8 | 12.6 |
| Discovery Silver Corp. (DSVSF) | 1.58 | 0.5 | -4.7 |
| Pan American Silver Corp. (PAAS.TO) | CA$35.35 | CA$7.4 | -8.6 |
| Russell 1000 | N/A | N/A | 8.3 |
| Global X Silver Miners ETF (SIL) | N/A | N/A | -6.7 |
Buy Silver Stocks with eToro
Below is an overview of how to invest in Silver stocks with eToro- our recommended broker. However, the process can be applied to any broker that you wish to use. Always be sure to read through instructions carefully and conduct thorough research before making any investment decisions.
Step 1: Create an Account and Upload your ID
The first step is to complete the online registration form. Here, you will be asked to fill in basic personal details such as your name, mobile number, address and email. You will also be prompted to create a password.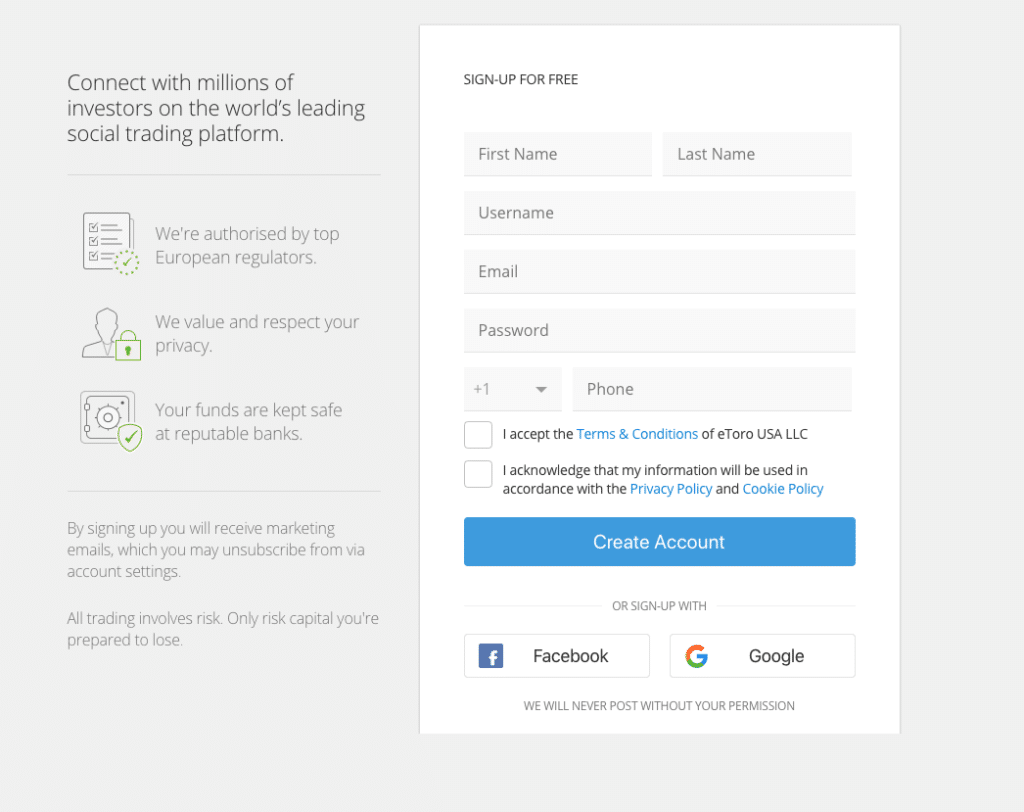 Step 2: Confirm your identity
Regulated brokers require KYC information to protect users. This means that you will have to submit two forms of identity to the broker which can include a passport, drivers license, birth certificate and proof of address.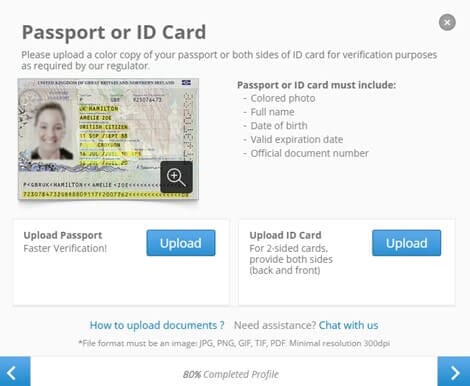 Step 3: Deposit Funds
Once your account has been verified, you will be able to deposit minimum funds. eToro's minimum deposit requirement is $20 but this will change depending on the broker that you use. You can use credit card, debit card, bank transfer, Skrill and Neteller to deposit funds into your eToro account. You can also use PayPal.
Step 4: Search for Silver Stocks
After you have funded your account, you should use the platform's search bar to look for silver stocks or any other stock you wish to purchase. Once you have entered the amount you wish to credit into the trade, you must confirm the transaction.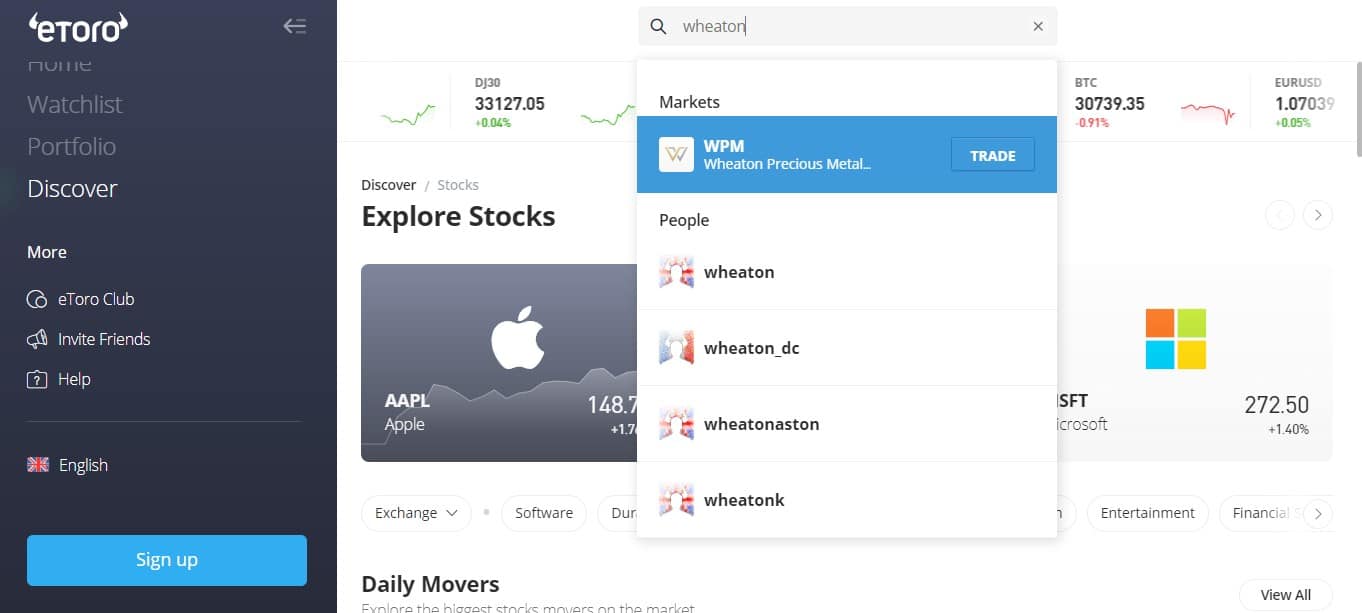 Step 5: Place a Trade
Silver stocks can be researched on your Silver stock homepage before buying them. In addition to reading your chatfeed, where recent news and comments about silver will be listed, you can check your profile. Additionally, you can also access powerful charting options here to apply your knowledge of technical charting and make your prediction about the Silver price.
Click on the blue 'Trade' button when you are ready to begin trading. This will open the buying dialogue box that appears below.

All you have to do is enter the amount of USD you want to spend here. In addition, you can set leverage on your purchases, but this can get complicated (not to mention risky), so it is not recommended for beginners.
Set Stop Loss
The stop loss prevents you from losing too much money if your trade is a mistake or the price drops dramatically. In addition, the software will automatically exit the trade when the price drops to a certain level.
Set Take Profit
In addition, you can set a 'take profit price level to benefit from price increases. The software will also automatically terminate the trade at this level if the price increases.
Open your Silver Position
If you decide to set your stop loss and take profit levels later, you can do so, or you can ignore them entirely. As soon as you are satisfied with the details of your trade, click the blue 'Open Trade' button. (If the NASDAQ is not yet open, you can 'Set Order' instead, which will activate your trade instructions as soon as the NASDAQ opens).
Almost certainly, your trade will be executed immediately. Upon receiving your eToro notification, you will be able to view your trade-in in your eToro portfolio.
What Silver Stock to Buy?
There is a widespread belief that the price of silver is likely to rise in the near future. There's a concern that the Federal Reserve's easing of economic stimulus measures enacted during the pandemic will create headwinds for the stock market. As a result, safe-haven investments – such as precious metals such as gold and silver – are becoming a hot topic of conversation.
However, which are the best stocks in the category?
Majestic Silver Stock
First Majestic gets about half its revenue from silver and half from gold, making it one of the purest silver plays in the mining sector.
Despite being a Canadian company, First Majestic focuses on Mexico since Mexico produces more silver than any other country. The company operates three mines in Mexico and is developing several other silver mines.
First Majestic also operates Jerritt Canyon Gold Mine. First Majestic purchased this mine in 2021 as part of its diversification strategy. As a result, it has more exposure to silver than any of its peers, even after adding a primary gold mine.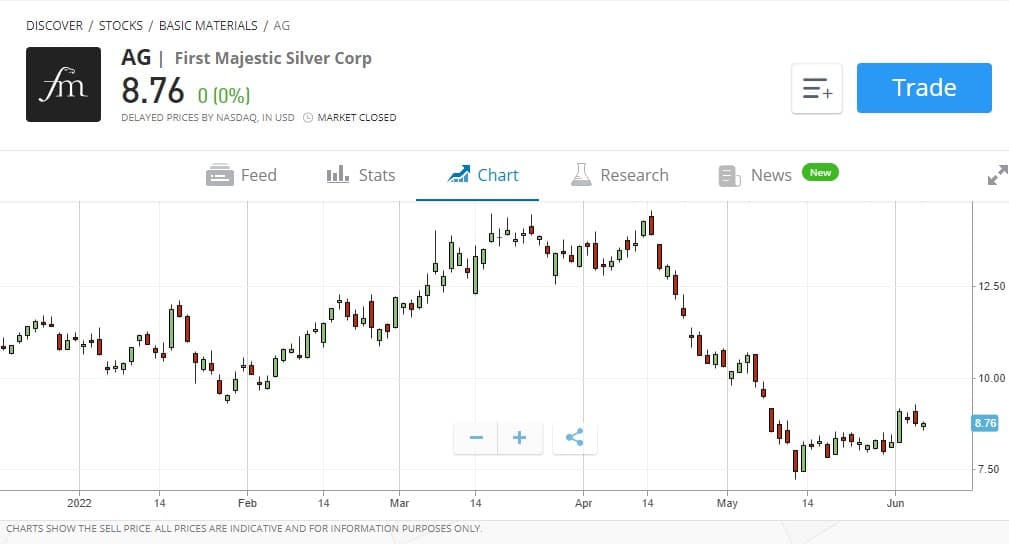 As a producer of silver, First Majestic is positioned to outperform the precious metal's price. That should increase profits faster than silver prices since it can increase productivity while reducing costs. However, it is also susceptible to operational issues and cost overruns due to this business model. The performance of a silver mining company's stock can be affected by mining issues, management mistakes, and exposure to other commodities.
First Majestic believes that it can be a long-term outperformer. The company hopes to become the world's largest primary silver producer. The company invests millions of dollars each year to find and develop new silver mines.
67% of retail investor accounts lose money when trading CFDs with this provider. You should consider whether you can afford to take the high risk of losing your money.
MAG Silver Stock
MAG Silver Corp (MAG) is an exploration and development company that explores gold, lead, and zinc deposits. Additionally, MAG owns 44% of the Juanicipio project in Zacatecas, Mexico's Fresnillo District. Founded in 2003, the company has its headquarters in Vancouver, Canada.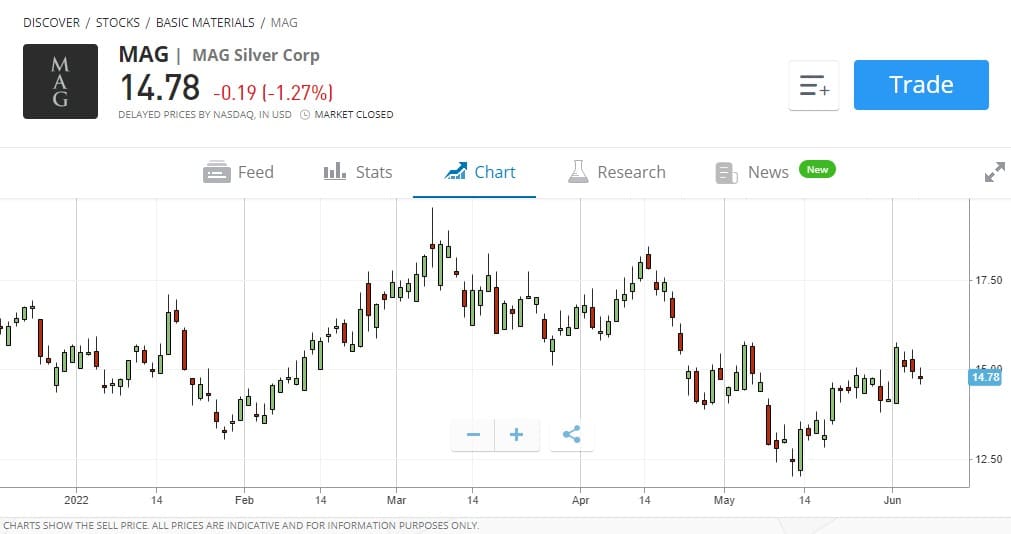 Despite MAG's leading Momentum Grade rating, investors should be aware that MAG receives an 'F' grade by Seeking Alpha for Valuation.
67% of retail investor accounts lose money when trading CFDs with this provider. You should consider whether you can afford to take the high risk of losing your money.
Wheaton Precious Metal Corp
Wheaton Precious Metals is a company that streams precious metals. Wheaton does not operate physical mines. Instead, it gives mining companies cash to cover some of the costs associated with mine development. The company receives rights to buy some of the metal produced by the mines at fixed prices in exchange.
Between 2022 and 2026, Wheaton expects its silver streams to account for approximately 40% of its production mix. Silver is the company's highest exposure among its streaming and royalty competitors.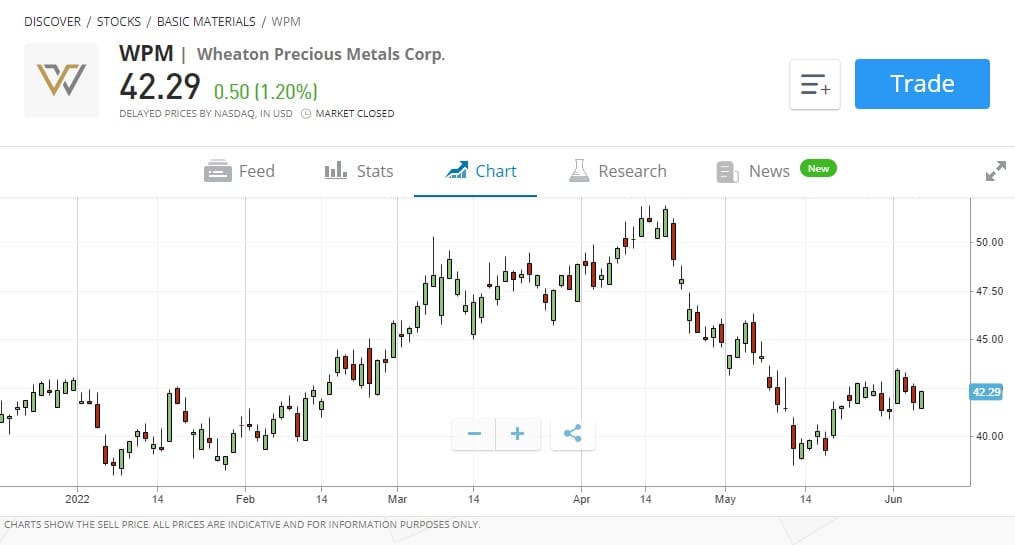 Wheaton has a contractual obligation to purchase the precious metal up until 2025 for an average price of $5.81 per ounce. Therefore, silver prices above that level generate profits for Wheaton.
Due to its focus on streaming, the company is able to generate a lot of cash. This money is used by Wheaton to invest in new streams and to pay dividends to its shareholders. In addition, due to Wheaton's business model, it can benefit from rising silver prices in the same way as mining companies. In contrast, it does not come with the risks or potential cost overruns associated with physical mining.
67% of retail investor accounts lose money when trading CFDs with this provider. You should consider whether you can afford to take the high risk of losing your money.
How To Buy Stocks in Silver – Conclusion
Silver's price can fluctuate a lot. Over the past decade, silver price rose more than 45% in 2020, giving some of those gains back in 2021, declining about 10% in 2021, then rallying by double digits in early 2022. Silver prices fluctuated in response to economic, inflationary, and geopolitical factors. Cryptocurrencies and precious metals were affected by those factors.
Despite the inflation-protection properties of silver, there is more to it than that. Metal has important industrial applications. For example, it is essential for the production of clean energy. As a result, solar energy and electric vehicles (EV) are the two fastest-growing industries.
The growing demand for silver could continue to drive its price higher in the coming years. In addition, silver could provide a way to profit from the growth of clean energy.
Most investors prefer silver stocks over physical metals such as coins and bars. Silver companies can often seek growth opportunities as silver demand rises, allowing them to achieve greater profits faster than silver prices increase. In that case, they should outperform silver. In addition, investors can avoid the hassles and risks that come with acquiring, storing, and insuring physical assets by not owning the physical metal.
Silver, a unique precious metal with the consumer, industrial, and investor demand, is playing a growing role in the economy. As a result, silver mining stocks and silver-focused ETFs may make an attractive addition to many portfolios.
We recommend eToro to perform all your silver stock investments. You can start trading with a minimum investment an all the benefits of the best regulated platform on the market.
eToro – Overall Best Platform to Buy Silver Stocks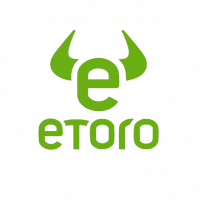 67% of retail investor accounts lose money when trading CFDs with this provider. You should consider whether you can afford to take the high risk of losing your money.
FAQs
Is a silver stock a good investment?
Is it better to buy silver or gold?
What are some popular silver mining stocks?
Is there a silver mining stock with dividends?