Best Gold Trading Platform 2023 – Invest in Gold
Thousands of years have passed since Gold was a store of value. Investing in Gold will not only protect you against falling stock markets and rising inflation rates, but it will also allow you to grow your capital. This makes it one of the most popular commodity for investors and traders alike.
You'll find everything you need to know to invest and trade in Gold in this guide on the best gold trading platforms if you're interested in adding it to your trading portfolio.
Best Gold Trading Platforms Reviewed
1. eToro – Overall Best Gold Trading Platform

With eToro, you can trade Gold online in most cases. In addition, the broker – which has over 13 million clients – lets you invest in Gold via an ETF. This platform offers the best SPDR ETFs, although the SPDR Gold Shares market is by far the most popular. Newmont Corporation is another gold mining company on the platform.
Commissions do not apply to the purchase or sale of shares and ETFs on eToro. Additionally, there are no monthly fees, so you can keep your gold investment for as long as you like. You can also invest in Gold in other markets at eToro. You can, for example, trade gold CFDs – which means you can use the leverage of up to 1:20. In addition to shorting Gold, you can also sell it if you think it is overpriced. At eToro, gold CFDs are available commission-free as well.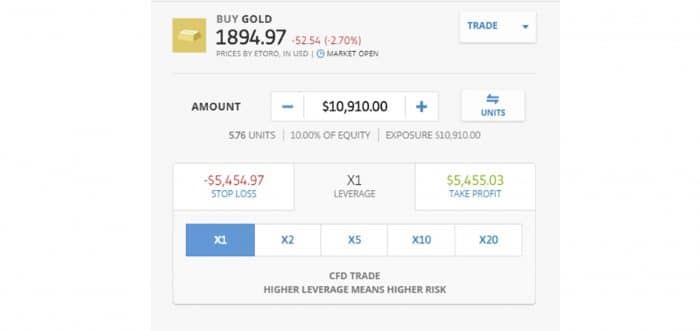 eToro accounts require a minimum deposit of $50. The cost of shares and gold ETFs on the UK stock market starts at $50. Investments in non-UK ETFs start at $500. On the other hand, CFDs can be accessed with even less capital – especially if leverage is used. eToro accepts UK debit/credit cards, e-wallets, and bank transfers for depositing funds. FCA-licensed and regulated the broker. eToro's excellent mobile investment app allows you to invest in Gold on your mobile device.
eToro fees
| | |
| --- | --- |
| Fee | Amount |
| Stock trading fee | Free |
| Forex trading fee | Spread, 2.1 pips for GBP/USD |
| Crypto trading fee | Spread, 0.75% for Bitcoin |
| Inactivity fee | $10 a month after one year |
| Withdrawal fee | $5 |
Pros:
Simple to use
Regulating intensively
Copy-trading
The spreads are low
Commission of 0%
Diversified assets
Funds can be deposited easily
Cons:
The platform is not suitable for advanced traders
67% of retail investor accounts lose money when trading CFDs with this provider. You should consider whether you can afford to take the high risk of losing your money.
2. Webull – Excellent Broker To Find The Best Gold Companies To Invest In

In 2017, Webull, a user-friendly brokerage platform, was launched and accessed online or mobile apps. Thousands of US-listed stocks and ETFs, options, cryptocurrencies, and ADRs (American Depositary Receipts) are available on the platform.
The reasons for Webull's popularity in the US are numerous. The main interface of the Webull app or online investing is simple and easy to use. That is a great choice for beginners.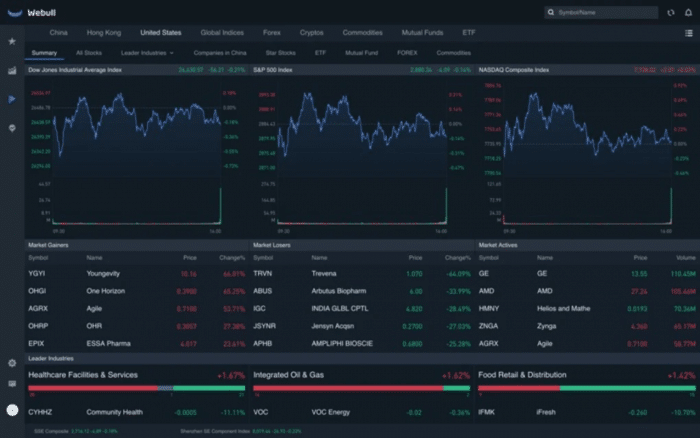 Small investors also use Webull. A trade starts at $1 on the platform. There are no commissions with Webull. It competes directly with other no-fee platforms like Robinhood, eToro, and CedarFX.
There is, however, a monthly subscription fee for Webull's Level II market data, just like Robinhood. $1.99 is the monthly fee. As a member of the SIPC, Webull is also registered with the SEC and FINRA
Webull fees:
| | |
| --- | --- |
| Fee | Amount |
| Stock trading fee | 0% |
| Forex trading fee | Not Supported |
| Crypto trading fee | 0% |
| Inactivity fee | No |
| Withdrawal fee | $25 |
Pros:
Trading thousands of stocks and ETFs
ADR support for foreign companies
Investing in cryptocurrencies and stock options
0% commission trading
User-friendly interface
There are iOS/Android apps available
Cons:
The platform fee for Level II pricing data is $1.99 per month
PayPal and debit/credit cards are not supported
Your Money Is At Risk.
How to get started with Gold Trading Platforms?
We will show you how to invest in gold right away. Since there are no trading commissions to pay, we will show you how to trade with gold broker eToro. Additionally, you'll be able to choose from a wide range of gold markets, including ETFs, mining shares, and CFDs.
Step 1: Open an Account with eToro
eToro requires your name, email address, and password to create an account before you can invest in Gold.
Step 2: Upload ID
Whether you created your account through Facebook, Gmail, or scratch, the next step is mandatory. KYC is a requirement for all regulated platforms.
Verifying your account will require you to provide your private information and upload photos of your ID, driver's license, or passport. In addition, a copy of your bank statement may also be requested by eToro to verify that the address on your application matches the address on your bank statement. Once this is verified, you may invest in Gold.
 Step 3: Deposit Funds
In order to invest in Gold on eToro, you must first deposit funds into your account. Additionally, you can fund your trading account with credit cards, debit cards, and PayPal.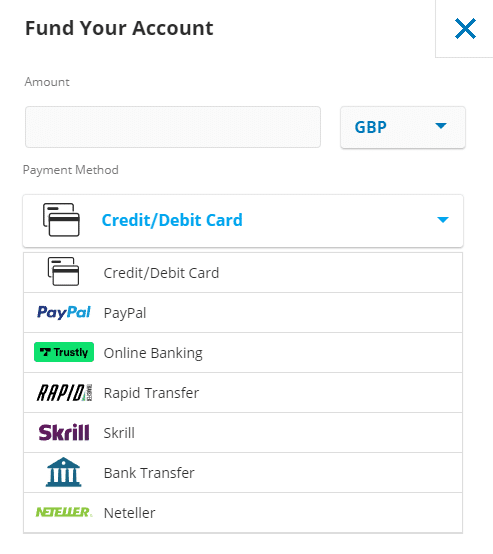 Step 4: Buy Gold
When your account is funded, you can then invest in Gold on eToro. BP is a good example. First, we will open a new order by typing 'BP' into the search box and clicking 'TRADE.' Next, we will enter an amount for our first gold trade and click 'OPEN POSITION.'
67% of retail investor accounts lose money when trading CFDs with this provider. You should consider whether you can afford to take the high risk of losing your money.
Learn the basics of Buying Gold in the US
What is Gold?
Gold is shiny. It is glamorous. Bank heists in movies often revolve around Gold. In summary, Gold is considered one of the world's most precious metals. However, it's more than just wedding bands or bricks stolen by a villain from a movie.
Gold is in the same column as silver and copper as a transition metal in the periodic table. As a result, Gold is often referred to as a 'coinage metal' since its members are frequently used to produce money. According to the Egyptians, Gold was one of the first metals known to man, dating to 3400 BCE. Wealth and beauty have always been associated with Gold. The Egyptians often acquired enormous amounts of Gold to cover the coffins of deceased pharaohs during the reign of Pharaohs.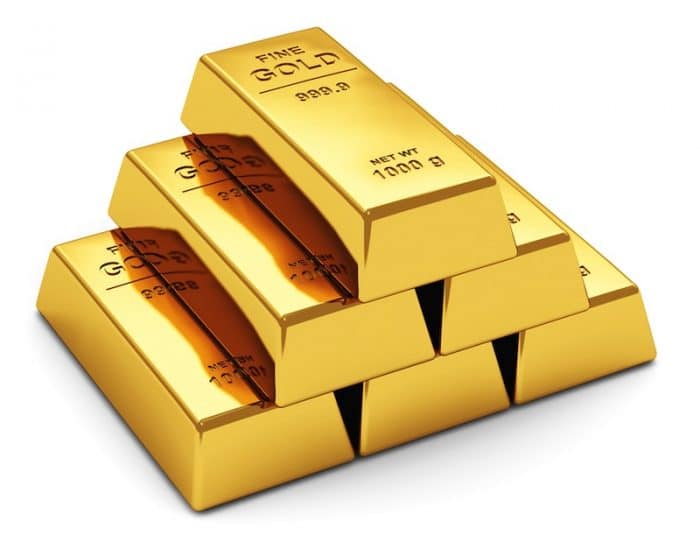 As an interesting side note, King Tutankhamun's coffin contained approximately 112 kg of Gold when he died. 112 kg is approximately 247 lbs in the metric system. That is more Gold per pound than a typical NFL running back! Furthermore, during the California Gold Rush in the late 1800s, many people moved to California due to the discovery of Gold.
How to Make Money from a Gold Investment
Below are five ways to invest in Gold and some of the risks involved.
1. Gold bullion
Invest in Gold in bars or coins is one of the most emotionally satisfying ways to own it. However, it's satisfying to see and touch; owning more than a little bit has serious drawbacks, too. Physical Gold must be insured and safeguarded, one of the biggest drawbacks.
A physical gold owner is entirely dependent on Gold's price rising to make a profit, as opposed to owners of a business (such as a gold mining company), which can produce more gold and make more profit, driving the investment in the company higher.
In addition to online dealers such as APMEX or JM Bullion, you can invest in gold bullion from a local dealer or collector. You can also invest in Gold from a pawnshop. Make sure you know Gold's spot price – the price per ounce right now in the market – as you buy so that you can make a fair deal. If you transact in bars rather than coins, you will likely pay more for the collector value of the coin than for its gold content.
Risks: If you don't protect your gold holdings, someone can physically take it from you. Having to sell your Gold is the second-biggest risk. Your holdings may not receive the full market value, especially if they are coins and you need the money quickly. Thus, you may end up selling your holdings for much less than they would otherwise fetch on a national level.
2. Gold futures
You can speculate on gold futures to see if the price will rise (or fall), and you can even take physical delivery of Gold if you wish, but physical delivery isn't what motivates speculators.
The biggest advantage traders have to invest in Gold using futures is the amount of leverage you can use. A relatively small amount of money can be used to buy a lot of gold futures. You can quickly make a lot of money if gold futures move in the direction you think they will.
Leverage is a risk for investors in futures contracts, however. When Gold goes against you, you will have to put up substantial amounts of money to maintain the contract (called margin), or your broker will close the position, and you will lose money. You can make a lot of money on the futures market, but you can also lose it just as quickly.
As a general rule, futures trading is reserved for sophisticated investors, and not all major brokers offer futures trading.
3. ETFs that own Gold
An exchange-traded fund (ETF) that tracks Gold is a great alternative to owning physical Gold or dealing with the fast pace of the futures market. SPDR Gold Shares (GLD), iShares Gold Trust (IAU), and Aberdeen Standard Physical Gold Shares ETF (SGOL) are three of the largest gold ETFs. These ETFs are designed to match the price performance of Gold minus the ETF's annual expense ratio. As of September 2021, the expense ratios for the funds above were 0.4 percent, 0.25 percent, and 0.17 percent, respectively.
Besides being more readily exchangeable for cash at market prices, an ETF has another big advantage over bullion. The fund can be traded every day the market is open for the prevailing price, just like stocks. In addition, you can invest in gold ETFs from the comfort of your home, as they are more liquid than physical Gold.
Risk: The ETF gives you exposure to Gold's price, so if it rises or falls, the ETF should perform similarly, again minus the cost of the fund. Sometimes Gold fluctuates like stocks. You can, however, avoid the biggest risks of owning Gold with these ETFs: protecting your Gold and obtaining the full value of your holdings.
4. Mining stocks
Owning mining companies that produce Gold is another way to take advantage of rising gold prices.
Investors may find this the best alternative because they can profit in two ways from Gold. First, a miner's profits increase when Gold's price rises. In addition, the miner can increase production over time, giving the miner a double whammy.
Risk: When investing in individual stocks, you must thoroughly understand the business. You will want to be cautious when selecting a proven player in the industry since some extremely risky miners are out there. You should probably avoid small miners and those without a producing mine. Mining stocks can also be volatile.
5. ETFs that own mining stocks
You don't want to dig too deeply into individual gold companies? Then, investing in Gold ETFs may make sense. ETFs that track gold miners will expose you to the biggest gold miners. In addition, because these funds are diversified across the sector, you won't be negatively affected by underperformance by anyone miner.
Among the larger funds in this sector are VanEck Vectors Gold Miners ETF (GDX), VanEck Vectors Junior Gold Miners ETF (GDXJ), and iShares MSCI Global Gold Miners ETF (RING). As of July 2021, their expense ratios are 0.51 percent, 0.52 percent, and 0.39 percent, respectively. A fund like this combines the benefits of owning individual miners with the safety of diversification.
Risk: Although you will be protected from one particular company doing poorly if you own diversified ETFs, you will not be protected from something that negatively affects the entire industry, such as sustained low gold prices. Make sure you choose a fund carefully. Not all funds are created equal. Other funds invest in junior miners, which are riskier.
67% of retail investor accounts lose money when trading CFDs with this provider. You should consider whether you can afford to take the high risk of losing your money.
What to Consider Before You Trade Gold
Despite Gold's age-old allure, it isn't always the sound investment you are led to believe from movies and TV shows.
Smith advises all his clients to stay away from gold investments. Investments in Gold are speculative and have a poor track record for long-term returns. The process of incorporating Gold into a portfolio is much easier and cheaper if you purchase it as a tradable security
Smith admits the physical metal can be attractive, even if he doesn't think investing in Gold is a good idea. It's comforting to be able to touch the things you own. If you own a part of Johnson & Johnson, you won't get that
Greg Young, a certified financial planner and founder of Ahead Full Wealth Management in North Kingstown, Rhode Island, agrees. He says that people like Gold because it's easy to understand. But whenever someone insists on a particular asset, there's an emotional element to it.
Fear of stock market fluctuations is a common emotion associated with that emotion. Nonetheless, just because Gold can be physically held doesn't mean it is smarter. When you feel nervous about the stock market movements, remember that volatility is normal and take a long-term view. In most cases, sticking to your investment plan is better than rushing out to invest in gold bars.
Best Gold Companies to Invest In
Best Overall: Money Metals Exchange
MMX offers new buyers direct storage and premade portfolios alongside various precious metals. Unfortunately, payment method restrictions and transaction fees may impact the checkout process, and customer support is unavailable on weekends.
Best Comprehensive Offering: APMEX (American Precious Metals Exchange)
Gold and Silver investors can turn to APMEX, the leading Precious Metals dealer in the United States. With over 20 years of experience, APMEX distinguishes itself through exceptional customer service, unmatched product quality and options, and a wealth of resources to help investors develop their ideal investment portfolio.
Best Customer Experience: JM Bullion
Established in 2011, JM Bullion is an online retailer of precious metals products. Gold and silver are delivered directly to your door, as we deal exclusively in physical bullion.
Providing quality products is one of the top priorities. Using direct contacts with mints and distributors, JM Bullion inspects all new inventory carefully, ensuring that their customers receive only the best products.
Best Low-Price Option: SD Bullion
Gold & Silver News is a highly popular website started in 2011 by two doctors with one dream: Educate the masses on the value of hard assets and prepare for them. In March 2012, SDBullion.com was launched following the rapid success of that website. "Nothing Fancy" was the motto of all telephone sales. Just a Telephone and Low Prices."
SD Bullion has since transacted more than $1 billion in sales and has been named to Inc. Magazine's list of the 500 Fastest Growing Companies in the United States twice. Yet, at the same time, they remained true to our original mission of offering the absolute lowest Gold and silver bullion prices in the industry, guaranteed.
Best Reputation: Golden Eagle Coins
Golden Eagle Coins offers a wide range of gold bullion products. Both bullion investors and collectors can choose from the large inventory. As well as American Gold Eagles, it carries Canadian Gold Maple Leafs, Gold Krugerrands, and Gold Bars in large quantities. Please visit its website to get updates on the spot gold price. The quotes are derived directly from the commodities exchange and are updated in real-time.
67% of retail investor accounts lose money when trading CFDs with this provider. You should consider whether you can afford to take the high risk of losing your money.
Invest in Gold in the Long-Term
We tend to focus on debt and equity when discussing asset classes in investment. However, these days, your financial plan may also include a portion of hybrid products, which combine the benefits of debt and equity in a more tailored way. But should Gold be included in your financial plan? When we talk about Gold, we're not talking about the Gold in your jewelry, but Gold as an investment. Gold can be in gold bars, gold e-gold, or even gold bonds. As a result, any product that allows you to mimic the price of Gold can be considered a gold investment.
But isn't gold a languid product?
It's a standard refrain. What role does gold play in wealth creation? After all, Gold rarely changes over long periods. Historically, Gold has only provided attractive returns during limited periods, such as 1971 to 1979 and 2006 to 2011. If Gold has outperformed only twice in 50 years, is it worth considering Gold as an asset class?
What's more, should you include Gold in your financial plan? Yes, you should. It is not the intention to outperform the market by including Gold in long-term portfolios. Diversity is more important than enhancing returns or creating wealth. Gold does not earn any income or generate any returns, so it has no intrinsic value. Price movements are normally influenced by demand and supply.
In turbulent times, gold is your best bet
Gold has typically outperformed during turbulent and uncertain times based on historical data. For example, between 1971 and 1979, there was tremendous economic and geopolitical turmoil. There were wars in the Middle East. Israel had collapsed the Gold Standard, Saudi Arabia had placed an oil embargo on the US, Iran was fighting Iraq, and Russia had invaded Afghanistan. Nevertheless, the gold price rose from $35/oz to $800/oz during this period. A subsequent period of gold appreciation occurred between 2006 and 2011, when the Lehman crisis, the sub-prime crisis, and the European debt crisis made Gold extremely valuable. Even if we ignore these periods of outperformance, Gold holds its value best during times of political and economic uncertainty.
Gold protects you from the risk of fiat currencies
There are a few more details to this argument. A fiat currency is issued by a central bank, such as a dollar, euro, rupee, or yen. It is almost impossible for these central banks to print a finite amount of currency. In the last 9 years, major central banks have printed these currencies left, right, and center. The result has been a significant devaluation of these currencies. Although the impact of this debasement may not be immediately apparent, it will show up in the value of your currency as well as your portfolio at some point.    Gold, however, is a non-fiat currency with a limited supply. As a result, its value does not depreciate much. Therefore, having Gold as part of your portfolio makes sense again.
You can hedge your portfolio with gold
Gold has an important role in the economy because of its low correlation to debt and equity movements. The relationship between equity and debt is unusually complex. When the economy is healthy, equity and bond prices tend to diverge, while when the economy is distressed, both equity and debt prices crash. Gold has a low correlation to equity and bond prices, making it a natural hedge for your portfolio. In addition, due to Gold's low correlation with other asset classes will provide a natural hedge, even a 10% exposure to Gold.
Gold has the longest surviving secondary market
Gold has an interesting aspect. Since the secondary market for Gold has existed the longest, it has managed to survive. Gold is a global product that never goes out of demand in the true sense of the term. Over the last 70 years, the Dow Jones index and the Sensex have had vastly different components. Along the way, new stars have emerged, and old stars have fallen. As a result, any equity or mutual fund investment is subject to market churn. Probably the only asset without churn risk is Gold. Gold will continue to have a strong secondary market even after 30 years.
You must have 8-10% of your long portfolio invested in gold; ideally, it should be Demat Gold. That will provide your portfolio variety and act as a low correlation addition. In addition, its stability has endured over the years as a hard asset!
67% of retail investor accounts lose money when trading CFDs with this provider. You should consider whether you can afford to take the high risk of losing your money.
Invest in Gold in the Short-Term
Fed interest rates are expected to increase in 2023, making Gold less attractive. In addition, since Gold does not pay dividends or interest when interest rates increase, the relative cost of investing in gold increases. As a result, the rising interest rate environment may make gold unattractive for investors to hold in their portfolios, affecting future investor holdings of Gold putting downward pressure on its price.
Wade Guenther, a partner at New York's Wilshire Phoenix investment firm, says inflation and inflationary expectations can support gold prices despite rising 10-year Treasury yields. Inflation has proven to be less ' transient ' than expected with ongoing problems such as supply chain issues, rising energy prices, etc. Further, potential volatility in the equity markets might shift the spotlight back to Gold, proving a portfolio diversifier and a hedger.
According to Agrawal, healthy demand can boost gold prices in India and China.
Indian gold demand is rising, and China is the world's fastest-growing gold market. In addition, the World Gold Council reports gold buyers in China to see drops in Gold's price as opportunities to buy, another factor that could support gold prices.
Risks of Gold Investing
Investing in Gold has its limitations. Some of them are as follows:
1. Security Concerns
Physical gold assets like jewelry are always prone to theft because of their high price and value. However, digital Gold could be an option for investors who want to get the same benefits as Gold without security concerns.
2. Storage Concerns
Keeping physical Gold in the form of jewelry or coins can be difficult since:
Robbery and theft are always a possibility
A dedicated safe may be needed
A paper gold investment, such as digital Gold, gold ETFs, etc., poses no storage concerns.
3. Making Charges
The price of Gold may be low, but commissions are high. Therefore, buying gold jewelry may cost you more if you pay commissions. In addition, selling Gold may also require fees.
In this regard, gold ETFs perform better. An ETF that invests in gold bullion can be bought and sold like a share. Generally, ETFs are low-cost.
If you wish to invest in Gold without making any charges, you can choose from options such as Gold ETFs, sovereign gold bonds, and digital Gold, among others.
4. Purity Concerns
Gold's real value lies in its purity, measured using the karat (K) unit. The purest form of Gold is 24K. If you invest in Gold from a reputable and trustworthy seller, you won't have to worry about purity concerns.
Additionally, you won't have to worry about purity concerns since paper gold simply tracks the price of gold bullion.
5. No Passive Income
In contrast to stocks, mutual funds, and peer-to-peer lending, gold investments do not generate passive income. If you're considering retiring early or hoping to supplement your income with investments, this could be a concern.
Selling your physical gold investments is the only way to earn a profit.
Taxes and Regulations Regarding Gold Investments in the US
The Internal Revenue Service (IRS) considers physical holdings of precious metals such as Gold, silver, platinum, palladium, and titanium capital assets specifically classified as collectibles. Therefore, Gold and silver coins, gold bars, rare coins, and ingots are all subject to capital gains tax, regardless of their form. In addition, if such holdings are sold after more than a year of holding, capital gains tax must be paid.
The sale of precious metals is taxed differently from many other tradable financial securities, such as stocks, mutual funds, and ETFs. The capital gains tax rate on physical Gold and silver equals your marginal tax rate, up to a maximum of 28%. Accordingly, individuals in the 33%, 35%, and 39.6% tax brackets only have to pay 28% on their physical precious metals sales. In addition, precious metals are subject to ordinary income tax rates for short-term gains.
Best Gold Trading Platforms Conclusion
Compared with traditional assets like stocks and bonds, Gold offers many benefits. The primary advantage is its ability to store value. In addition, Gold's price has held steady for thousands of years. Therefore, it does not depreciate and is finite. Investing in Gold can also protect you from falling stock markets or rising inflation rates.
Gold can be invested in various ways, as discussed throughout this guide. You can invest in Gold ETFs, buy shares in gold mining companies, and even trade gold CFDs. The FCA broker eToro allows you to access these gold markets with the click of a button.
Within minutes you can open an eToro account, and all financial assets are accessible commission-free without any monthly fees!
eToro – Best Trading Platform to Invest In Gold With Tight Spreads in the US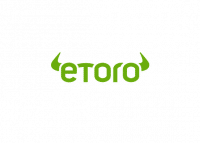 67% of retail investor accounts lose money when trading CFDs with this provider. You should consider whether you can afford to take the high risk of losing your money.
FAQs
How much to invest in Gold?
A financial adviser usually recommends that you invest no more than 10% of your savings in Gold because Gold is volatile in the short term and will not appreciate in the long term like a stock or a bond.
How many people are investing with Gold Trading Platforms?
Gold has also become more popular with investors. Commodities, particularly Gold, are increasingly viewed as an investment class for which funds should be allocated. SPDR Gold Trust became the world's largest holder of gold bullion as of 2019, making it one of the largest ETFs in the US.
How to learn to invest in Gold?
Gold bars and coins can be the most direct way to own Gold, but they can be illiquid and need to be stored safely. Aside from ETFs and mutual funds that track gold prices, you can also use gold futures and options if you have access to derivatives markets through your brokerage account.
How to invest in Gold?
ETFs and gold funds may be purchased online via a Gold Trading Platform or through a mutual fund distributor. These funds can also be purchased through a mutual fund distributor. Alternatively, you may consider investing in gold funds or gold ETFs through an automatic investment plan. The minimum investment is Rs 500 per installment.
Can I invest in Gold in a US Trading Platform?
The best way to include Gold in your portfolio is to invest in gold stocks, ETFs, or mutual funds. To invest in gold stocks and funds, you'll need a brokerage account, which you can open online