Immediate Future Review 2023 – Complete Review
Fact Checked
Everything you read on our site is provided by expert writers who have many years of experience in the financial markets and have written for other top financial publications. Every piece of information here is fact-checked. We sometimes use affiliate links in our content, when clicking on those we might receive a commission - at no extra cost to you. By using this website you agree to our terms and conditions and privacy policy.
Disclosure
The investing information provided is for educational purposes only. Trading platforms does not offer advisory services, nor does it recommend or advise investors to buy or sell stocks, securities or other investment vehicles. Some or all of the products displayed on this page are from partners that compensate us. It may influence the products we cover and the location of the product on the page. Nevertheless, our research and analysis is unaffected by our partners.
Immediate Future is a new automated crypto trading platform that has made waves amongst crypto traders. The software promises great returns to users and allows traders to completely automate the trading process so that they can trade around the clock.
In our, Immediate Future review, we decrypt the reality behind the trading software. Continue reading as we look into the different aspects of the Immediate Future and find out whether it matches the strong claims.
Immediate Future Crypto Trading Review – Overview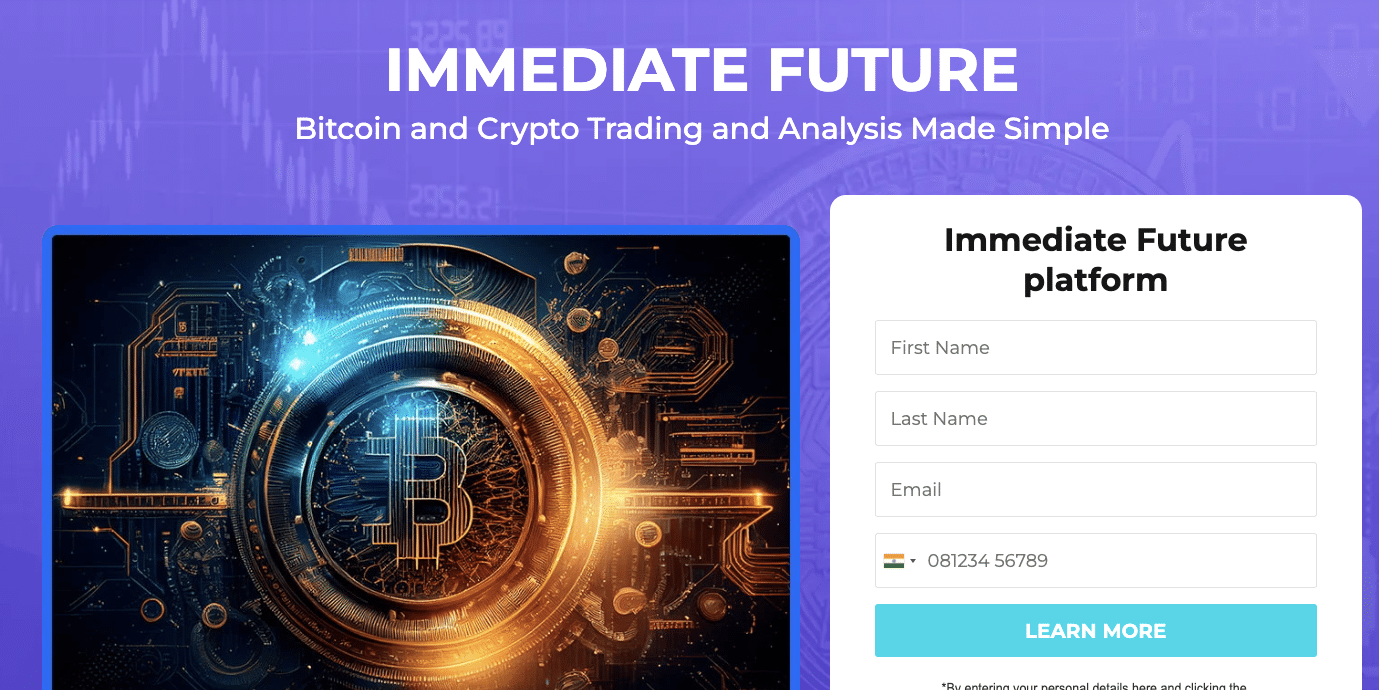 Immediate Future claims to be a simple, powerful, and intuitive crypto trading platform. The software offers users a secure and simple trading experience at every level of their journey. Once signed up, you can easily invest in and track many digital assets from its unified dashboard.
The platform has numerous features that we'll cover throughout our Immediate Future crypto trading review. But before we begin, let's look at an overview of Immediate Future to see how it stands against the best automated trading platforms:
Platform Type:
Trading platform
Cost:
$250 sign up
Regulation:
Unregulated
Type Of Assets:
Cryptocurrencies, Stocks, ETFs, Mutual funds
Primary Pros:

Supports manual and automated trading.
Supports trading across various assets.
Offers over 10+ types of drawing tools. 
Claims to provide over 100+ research tools.

Primary Cons:

Scarce information present on the website.
Requires a $250 deposit to get started.
Customer support is limited to registered users.
Crypto trading can put your capital at risk.
Immediate Future- Full Review 2023
Now, let's dive into a full review of Immediate Future. Here, you will find everything you need to know before using the platform for your trading.
What Is Immediate Future?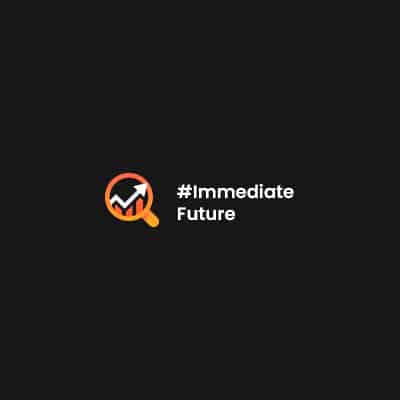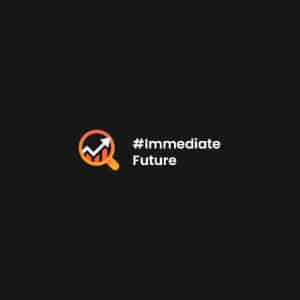 As per its website, Immediate Future is a platform designed to track and securely manage different virtual assets, including stocks, ETFs, and cryptocurrencies. This algorithmic trading tool claims to be a robust and seamless platform for modifying and managing your cryptocurrency portfolio on a single, convenient platform.
Immediate Future also claims to take cues from other social trading platforms to provide users with an immersive trading experience. The platform empowers its users with the latest insights and technical analysis of the market, allowing them to invest while the assets are cheaper.
What's more? It offers various tools to assess market conditions and make sound trading decisions for better profits. The website claims to provide its registered users with more than 100 technical studies to educate and allow them to make profitable trades.
Once signed up, you'll find some unique tools like a risk-reward ratio calculator, options trades, and a deep insight into the market to spot a profitable entry and make informed decisions. This will allow you to make significant profits while minimizing market volatility. All these features make Immediate Future a unique algorithmic trading tool that caters to both beginners and expert traders.
The platform has three key features to add to its claim as a premier crypto-tracking provider:
Automated Trading Technologies
Immediate Future is a trading platform designed to keep traders at every level in mind. It leverages advanced research and analysis to streamline the investment process for beginner traders.
Once signed up, you'll have access to in-depth charts and analysis to gain complete transparency into the current market. Its real-time updates, intuitive UI, and various tools make Immediate Future crypto trading an excellent option for beginners who want to earn via calculated risks.
Multi-Platform Support
Another incredible highlight that adds to Immediate Future's USP is its multi-support functionality. The team behind the tool aims to facilitate its users' use with a simplified approach to crypto trading.
Once signed up, you can easily track and manage multiple portfolios with over 85% accuracy in just a few clicks. Besides, the seamless UI allows you to monitor price changes across different assets quickly.
However, as per our research on the platform and the information available on its website, the claims made by Immediate Future are mostly statements.
Crypto trading can put your capital at risk.
How Does Immediate Future Work?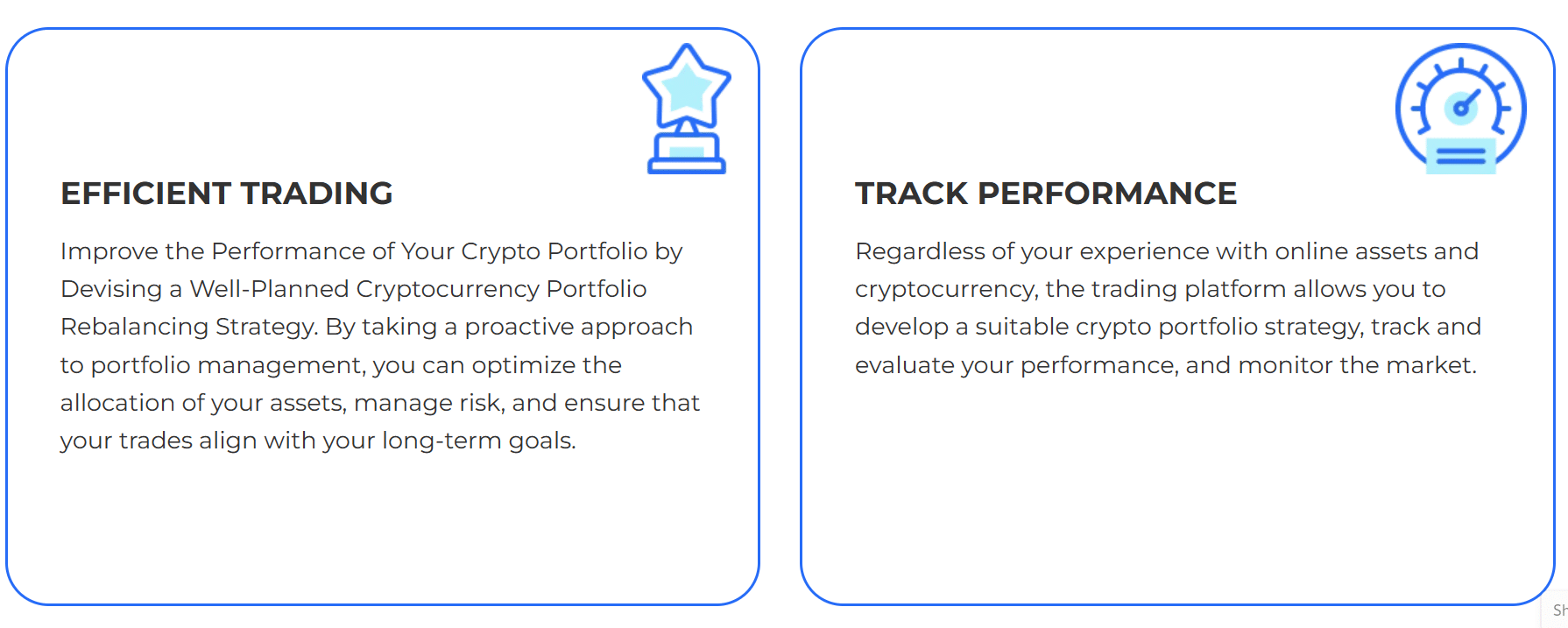 Immediate Future is a proprietary automated crypto trading platform that aims to simplify trading for investors at all stages of their learning curve. The platform initiates the trading journey once users deposit a minimum of $250, which, according to the site, is necessary to access all the trading and analytical tools.
So once you've provided the necessary details like name, email, and phone number, Immediate Future starts creating a streamlined trading experience to suit your strategies. Once you've successfully created your account, the on-call support team will help you with the account setup process.
After verifying and activating your account, Immediate Future customizes the trade mechanics per your expertise. Once you've created your account and customized your trade setup, Immediate Future scans different markets to bring you a list of the best cryptocurrencies and other assets to consider.
These digital assets are currently at a lower price point and can potentially move into recovery. In other words, the automated crypto trading platform implements several technical analysis tools to scout the market for opportunities to help you buy the dip.
Since these trading techniques can take some time for investors to get used to, Immediate Future offers a demo trading account for beginners to practice with.
However, we were unable to find this feature during our research. This could be mainly because the demo account is locked behind the payment screen. Moreover, the platform website provides little information about its trading framework and algorithm.
Due to the lack of details available on the website, we suggest you exercise caution before signing up for the trading platform.
Crypto trading can put your capital at risk.
Immediate Future Platform Key Features
Like other automated crypto trading platforms, Immediate Future has several key features that add to its operations. Listed below are some primary functions that add to the algorithmic trading tool:
✔️ Crypto Portfolio Management
Immediate Future's crypto profile management feature is among its most unique highlights. The platform introduces you to a simple dashboard that gives you real-time insight into the market movements of different digital assets.
This way, it becomes easier for cryptocurrency experts and novices to monitor their selected digital assets and get an overview of the market's movement. What's more? The dashboard also gives you insight into digital assets other than cryptocurrencies.
✔️ Crypto Analysis Tools
Crypto analysis tools are a crucial component of any trading platform. These tools are a definite guide for expert traders to analyze the market and enter potential trades. The developers at Immediate Future understand the importance of this feature like no other.
The platform is filled with over 100+ research tools to allow users to make the most of their trading experience. No matter whether you're a novice or an expert trader, Immediate Future has a number of tools to back your research and give you detailed insight into market movements.
✔️ Trading Success Rate
The high success rate is another unique factor that adds to Immediate Future's popularity. Their real-time tracking of market movements makes the automated crypto trading platform a huge success. This accuracy often results in high profitability claims.
Now, talking of Immediate Future, the platform claims to offer 85% accurate results. Considering the market's volatility, this feature is a great measure to ensure that you stay profitable in most trades.
✔️ Customer Service
The customer service of a platform can be its making or breaking point. For instance, if a platform is good but has poor customer support, it automatically receives low ratings. Automated trading is a fresh concept for many so, it's good to have experts on hand to consult your problems and find solutions in real-time.
Immediate Future offers customer service that's available 24/7. Once signed up, you can seek help via live chat, email, or phone.
✔️ Demo Account
Immediate Future's demo trading account is another unique aspect of the platform. A demo account is a great feature for beginner traders, allowing them to practice and improve their trading skills.
Moreover, demo trading is also a great option for advanced traders. Expert traders can devise and measure new strategies' success with a demo account. Once successful, they can employ these strategies in the live market to increase their trade returns.
✔️ Platform Fees
As per its website, Immediate Future doesn't charge any hidden fees from its users. The only commission charged by Immediate Future is 1% of the profits gained by users of the platform. However, apart from the fees, traders must have a minimum balance of $250 to initiate trading.
Here's an overview of the different fees charged by the platform:
| | |
| --- | --- |
| Trading Fees | None |
| Account Fees | – |
| Commision | 1% |
| Withdrawal/ Deposit Fees | None |
✔️ Account Registration Process
Immediate Future has a relatively straightforward account registration process. To streamline the signup process for its users, its website has a simple dialogue box that requires you to input your details (name, email, and phone number). Once done, you need to make the minimum deposit of $250 to get started.
This no-hoops sign-up procedure at Immediate Future adds to its list of features. The Immediate Future crypto trading platform allows you to get started in the shortest possible time.
✔️ User Interface
Crypto trading is often touted as a significant challenge. This is primarily because cryptos are relatively new, and the steps involved in trading them can be complex. However, trading cryptos becomes relatively simpler when your trading platform has a clean, intuitive UI that is clear about the steps required to execute a trade.
Immediate Future is also touted for its clean, engaging UI. Several reviews across different websites suggest that the platform has an engaging interface that makes it easy for beginner traders to navigate crypto trading.
✔️ Asset Availability
The availability of different classes of assets is another unique factor of Immediate Future. The platform allows investors to put their money into various digital assets, making it one of the best trading platforms to consider.
The algorithmic trading tool allows investors to diversify their portfolios by segregating their funds across different asset classes, including cryptocurrencies and traditional stocks.
The features provided in our review result from extensive research on the Immediate Future platform. While the website claims to offer most of these features, none are accessible beforehand.  There's no definite proof or a particular demo of its tools and features to back its claim. These features can only be availed once you've paid the minimum of $250. Therefore, we suggest you do some research before signing up for the platform. 
Crypto trading can put your capital at risk.
Immediate Future – Pros & Cons
Much like other crypto platforms, some pros and cons define the platform. Before you sign up for this automated crypto trading platform, ensure that you check out these pros and cons:
 Pros: 
The platform leverages the most advanced automated trading technologies.
Supports fully managed and semi-managed trading.
Offers a demo account to practice trading risk-free.
Doesn't charge any account fees
Offers real-time market analysis for different digital assets.
Cons
The platform keeps most of its information under wraps.
Not available in the US.
Demo is only available once users register themselves and deposit $250.
Crypto trading can put your capital at risk.
Is the Immediate Future Safe?
Immediate Future claims to have checked all the important aspects required to develop a reliable crypto exchange. This trading platform leverages the best programs to allow users to navigate and trade across different markets.
Moreover, it also claims to be backed by advanced mechanics that allow it to predict market movement in real-time, offer complete security to its users' funds, and have a competitive win rate.
However, much like the other features of this platform, the security aspect of Immediate Future isn't transparent. Our research on the platform resulted in insufficient information to decide whether the algorithmic trading tool is safe for use.
The website also states that it shares information with other third-party trading services. This makes Immediate Future a platform limited to users who are okay with data sharing. It should also be noted here that Immediate Future is not regulated by any regulatory body. Therefore, Immediate Future isn't available to US traders.
Based on our research around the trading tool, we are unsure about the safety of users signing up for the platform. So ensure that you have a complete idea of your trade settings and a sound understanding of the platform.
Finally, to ensure complete safety, start by investing a minimum sum and increase it as you gain profits and confidence in the platform.
Crypto trading can put your capital at risk.
How To Use Immediate Future In 2023
Immediate Future offers a simple sign up process that can be completed in minutes. Once you visit the website, you only need to undergo a few steps before you're set to start trading in different digital assets.
This section walks you through the sign-up process to start with Immediate Future. Let's understand the different steps in detail:
Step 1: Create An Account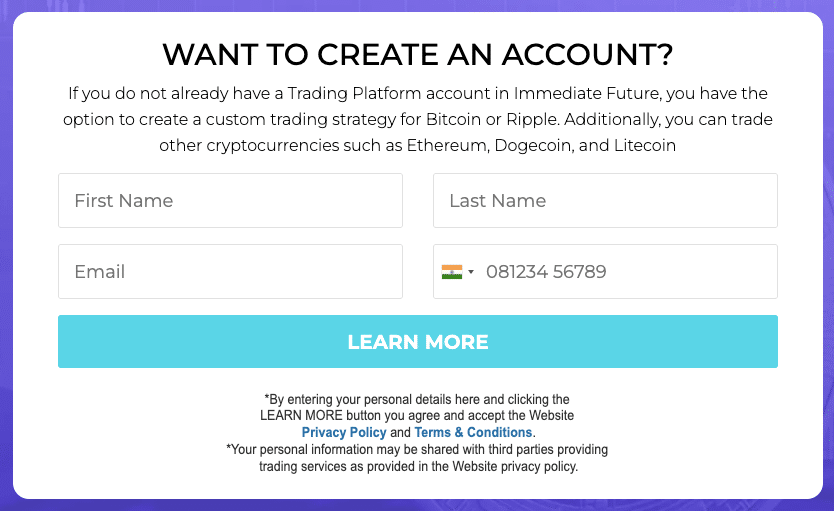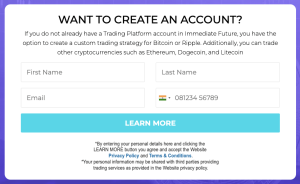 To get started, you first need to visit Immediate Future's official website and look for the registration form that can be found in the site's header. Now that you're here, fill out the form by providing your name, email, and phone number.
The signup process is streamlined and takes only a few minutes to complete. However, while you're at it, you must follow a password creation guide to ensure the complete security of your account.
Step 2: Deposit Funds
Once registered, the platform requires you to deposit $250 to start. You can use different payment methods, including debit, credit cards, bank transfers, and e-wallets, to initiate the payment. Please note that the trading software implements top-level security measures to ensure the safety of your billing information.
Moreover, it should be understood that the deposits happen via a broker, which the platform assigns upon registration. This broker keeps a tab on your trading efforts to ensure high-level transparency while operating under strict regulatory guidelines for your account.
Step 3: Use Educational Materials To Learn About Trading
The educational tools on Immediate Experience make it one of the most beginner-friendly trading platforms today. Once signed up, you can access several educational tools that teach you about the crypto market, depending on your expertise.
Go through these tutorials and practice your trading skills with a demo account to understand the market's movement. Once you've acquired enough knowledge, you can apply it to live trading to reap profits. Since these tutorials are easy to follow for newbies, it shouldn't take you more than a week to get started.
Step 4: Automate Your Trading
Now that you've created your account and have an idea of the crypto market, it's time to proceed with the setup of your algorithmic trading tool. Immediate Future's user-friendly trading interface has accessible settings to set your trade.
Once done, the tool starts analyzing the markets based on your recommendation and gives you an insight into all the possible trade entries.
Crypto trading can put your capital at risk.
Immediate Future Customer Reviews
You will find a lot of Immediate Future customer reviews on the internet. Some reviews of Immediate Future claim that it comes in semi- and fully-automated versions. This allows expert traders to switch modes and streamline trades according to their requirements. Our research fact-checked these claims and found that these reviews are accurate.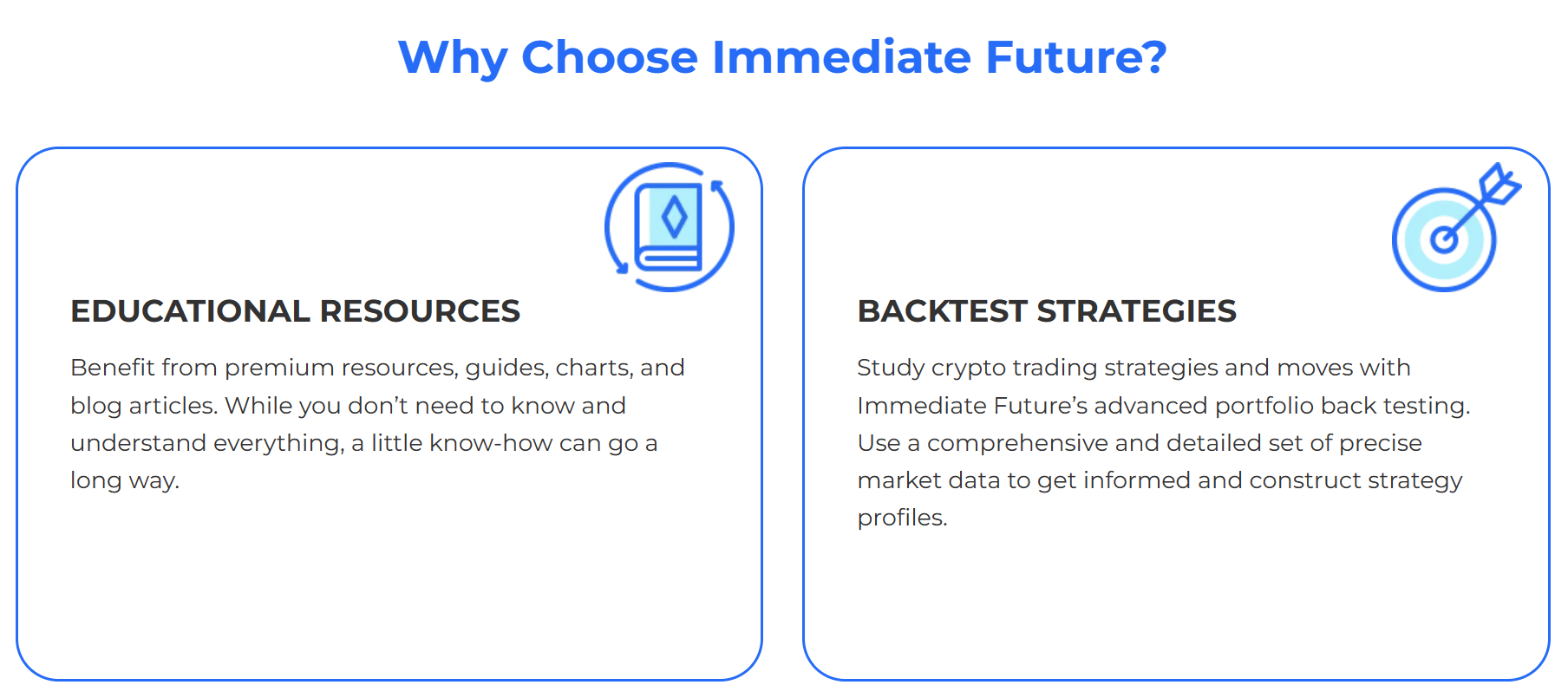 Other reviews of the trading software suggest that this tool offers enough tutorials to allow users to master the features of the platform. Another unique feature suggested in many reviews is the demo account function, which allows you to test your strategies before running them in live market conditions. Our research found that the claims are true, as only a legit platform could offer such a powerful demo tool.
But, similar to its positives, we also came across some negative reviews about Immediate Future. We came across many reviews that pointed out that while the platform has a great UI, it lacks in terms of approach. The platform might be easy to use, but it has a limited set of tools for research. Additionally, other reviews also refer to Immediate Review as a scam.
Looking at the different reviews, we have a mixed impression of Immediate Review as a platform. The platform seems legit but fails to back its claim with substantial proof. Other third-party sites also need more information about the website, leaving us in splits about the platform's authenticity.
Therefore, we suggest users analyze and research the project before signing up for the platform.
Immediate Future Full Review 2023- Final Thoughts
This brings us to the end of our Immediate Future review. Based on our findings, it is a premium trading platform for crypto and other digital assets. The platform aims to simplify crypto trading and generate significant returns for its users.
The platform claims to be one of the best trading tools today. This is mostly because of its wide range of tools, demo accounts, and the possibility to automate your trade. The platform also boasts about its low commissions and high profitability rate.
However, since the platform keeps most of its information under wraps, giving a green light to Immediate Future crypto trading is difficult. Therefore, we suggest that readers conduct a thorough research about the platform and not risk significant capital simultaneously. Invest once you're aware of the volatility of the market.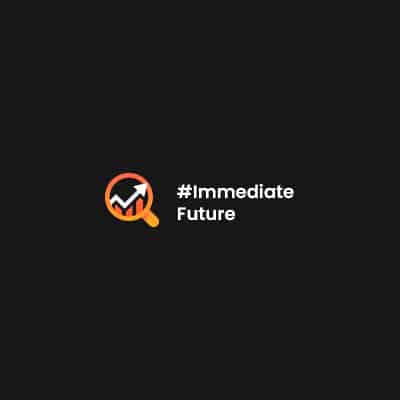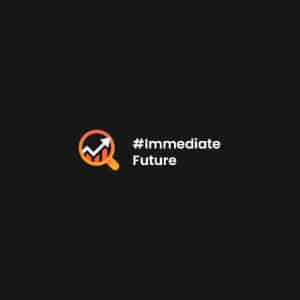 Crypto trading can put your capital at risk.
FAQ
Is Immediate Future a trading bot?
Is Immediate Future a scam?
What is the Immediate Future success rate?
Can you trade crypto with Immediate Future?
Is Immediate Future good for beginners?