Bitcoin Superstar Review December 2023 – Is it Legit?
Fact Checked
Everything you read on our site is provided by expert writers who have many years of experience in the financial markets and have written for other top financial publications. Every piece of information here is fact-checked. We sometimes use affiliate links in our content, when clicking on those we might receive a commission - at no extra cost to you. By using this website you agree to our terms and conditions and privacy policy.
Disclosure
The investing information provided is for educational purposes only. Trading platforms does not offer advisory services, nor does it recommend or advise investors to buy or sell stocks, securities or other investment vehicles. Some or all of the products displayed on this page are from partners that compensate us. It may influence the products we cover and the location of the product on the page. Nevertheless, our research and analysis is unaffected by our partners.
Automated crypto trading platforms have become more and more popular in the volatile digital currency market. New projects are appearing every day, and each new platform promises a revolutionary way for investors to trade and profit. Still, how many of these platforms are actually legitimate and deliver what they promise?
Bitcoin Superstar is the latest automated trading tools to spark interest amongst traders. The platform has launched as a crypto trading app, designed mainly for Bitcoin, but also supports other popular cryptocurrencies. Its goal is to educate investors and give them all the necessary tools to make inspired decisions when it comes to their finances.
This article will focus on a full review of the tools and capabilities offered by Bitcoin Superstar to help you decide whether it is a suitable trading platform for you.
Your capital is at risk.
Bitcoin Superstar Overview
Below is an overview of the Bitcoin Superstar platform based on our research. Bitcoin Superstar is a Bitcoin trading tool that uses algorithmic technology to analyze the market and place trades.
| | |
| --- | --- |
| 💠 Supported cryptocurrencies | BTC |
| 🏺 Platform type | Automated crypto trading platform |
| 💵 Minimum deposit | No |
| 🕘 Transaction processing time | 2 – 3 working days |
What Is Bitcoin Superstar?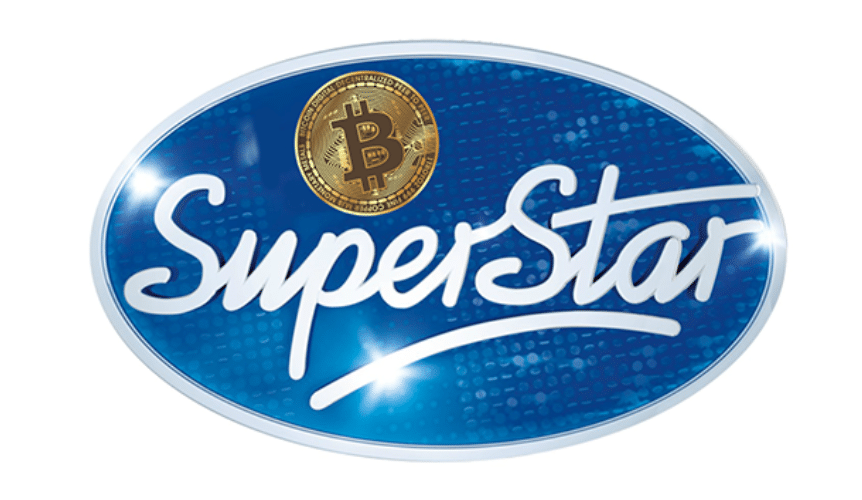 To put it simply, Bitcoin Superstar positions itself in the market as a trading platform that operates based on an internal algorithm. In other words, the platform uses artificial intelligence to analyze price movements in the crypto market. Its goal is to detect as early as possible potential moves that could generate profits for investors. The trading process is entirely automated, meaning that the platform is designed primarily for beginner investors.
Moreover, Bitcoin Superstar claims that it can be used for free, meaning there are no commissions or fees for investors. One other aspect that makes the platform attractive to people looking to enter the crypto market is that there's no minimum deposit requirement mentioned on the website.
Those who are interested can access the platform via a browser and a mobile app, which is available for iOS and Android. Testing the platform's capabilities is also possible via a demo account, which we recommend you use before you put your finances in the hands of this trading robot.
Pros and cons of Bitcoin Superstar
Pros:
It claims to offer fully automated transactions;
Available demo account;
Customizable algorithm for crypto trading;
No minimum deposit mentioned;
Available on both mobile and desktop.
Cons:
There's no mention of past robot performance;
No clear regulatory body.
How Does Bitcoin Superstar Work?
As previously mentioned, Bitcoin Superstar is based on an internal algorithm guided by artificial intelligence to make the most accurate market predictions.
According to the information available on the platform's website, the software behind this algorithmic trading platform was developed by specialists in the field. Such information should be treated with caution, since no names of the so-called specialists involved in the project are given. This lack of transparency is quite common in the crypto market, because the industry isn't regulated.
To be able to trade via Bitcoin Superstar, users need to create an account on the platform and indicate their preferred way of trading. To create an account, users must enter their name, email address and phone number.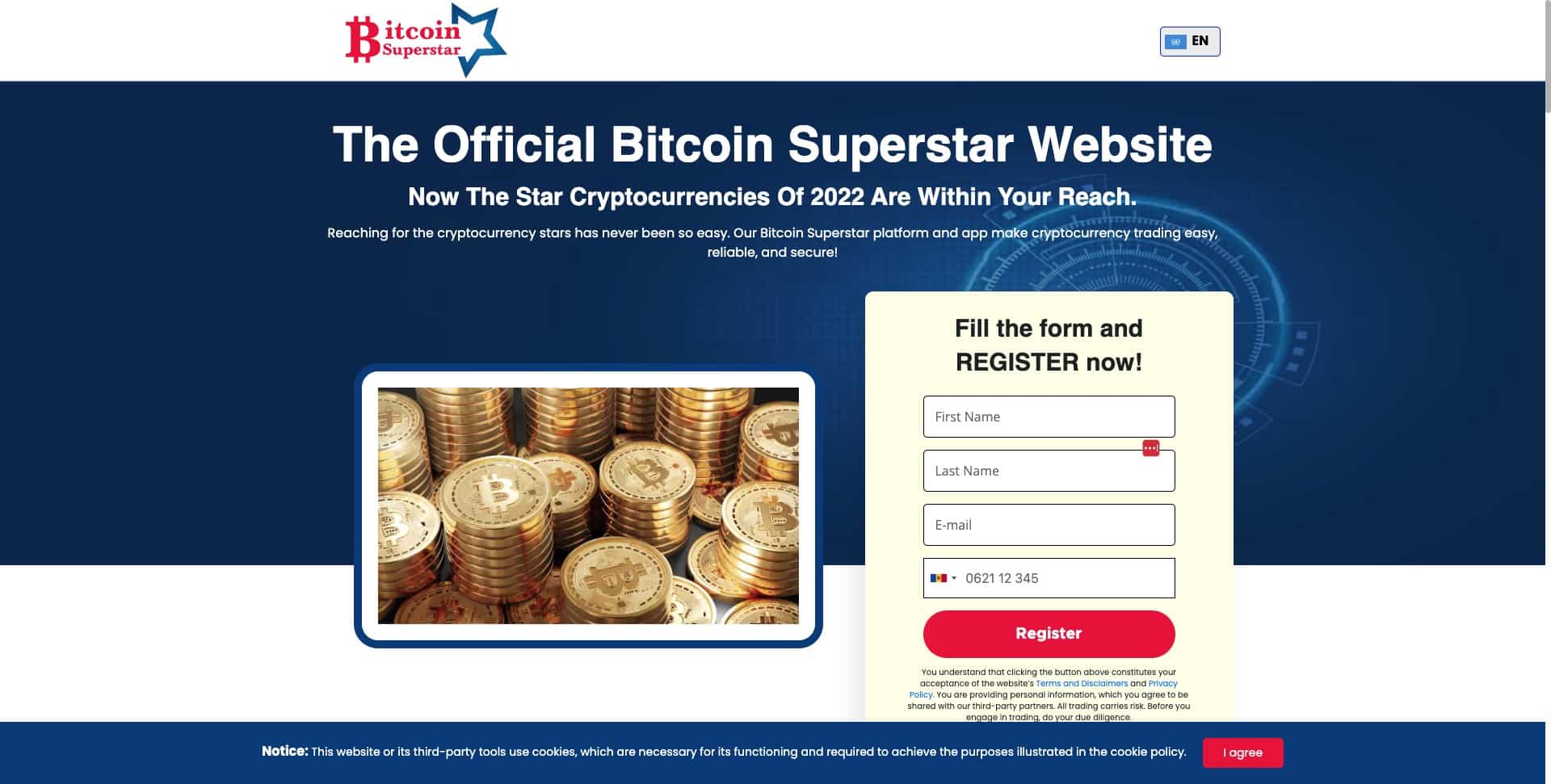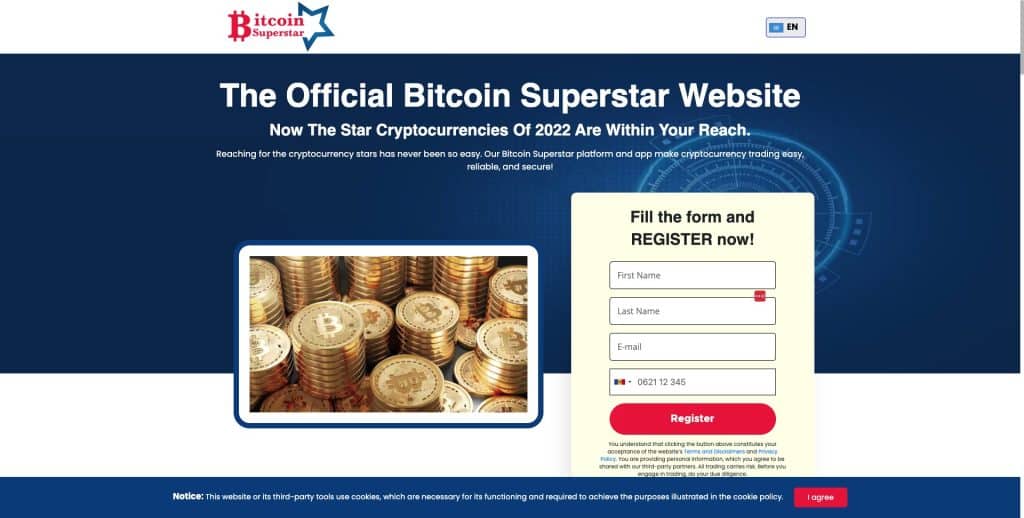 After these steps, the platform should start trading automatically, based on past analytics, in order to make the best investment decisions. For trading, the platform will use the funds deposited by the user, and any profit made will be returned to the user's accounts.
Nevertheless, it's worth noting that returns are never guaranteed and the entire amount wagered by the robot from the user's account may be lost. Furthermore, crypto markets are highly volatile, and losses can be quite steep.
Key features of Bitcoin Superstar
To get a clearer picture of Bitcoin Superstar's features, here is an overview of the key features that are offered by the platform. Understanding each aspect of the platform could help you to get a better understanding of whether or not Bitcoin Superstar is a suitable auto trading platform for you.
✔️ No fees
Among the most attractive features of the platform is the fact that Bitcoin Superstar is a free trading platform, meaning investors don't have to pay account management fees on the profits that they make. Plus, the platform doesn't impose a minimum deposit requirement on investors who want to trade using Bitcoin Superstar.
It is likely that the platform charges a spread on trades instead of commissions and account fees. However, we could not find any information about possible spreads that are charged on the website.
| | |
| --- | --- |
| Account administration fees | No |
| Deposit and withdrawal fees | No |
| Fees | No |
Your capital is at risk.
✔️ Automated trading robot
Bitcoin Superstar can be used as an automated trading robot that provides passive trading. Bitcoin Superstar claims to work 100% automatically. This means that investors don't have to place trades themselves or do market analysis to determine what is the next profitable move to generate profit.
✔️ Demo trading account
If users want to test the platform's capabilities before they start trading for real, Bitcoin Superstar also offers a demo account. With it, users can familiarize themselves with the tools available within the platform and determine whether the bot delivers what it promises or not. We recommend all investors to use the paper trading account before starting live trading with every robot of this kind on the market.
✔️ Browser and mobile app
Bitcoin Superstar has adapted its offering over the years to meet all users' needs. As such, the trading robot can now be accessed via both a browser and a mobile app. The app can be installed on both iOS and Android devices.
✔️ Fully customizable experience
Bitcoin Superstar assures all potential users that their experience on the platform can be entirely customized to meet their needs. This makes it possible for traders to implement a variety of strategies to meet their individual goals. 
Is Bitcoin Superstar a Legitimate Trading Robot?
As mentioned at the very beginning, the most important question we want to answer is whether Bitcoin Superstar is a legitimate trading robot or not.
To establish this, it's important to find out if this trading robot is regulated, what its past performance is, and whether previous users have achieved their goals using Bitcoin Superstar or not.
On the robot's official website, there's no mention of it being a regulated platform. Moreover, there's no information about the robot's past performance.
On top of that, the fact that Bitcoin Superstar is completely free of charge raises questions about how the platform actually makes money. Reviews of the platform couldn't be found on Trustpilot either, which further increases concerns when it comes to the robot's legitimacy.
The platform offers customer support via an online contact form. In this form, users must enter their full name, email address and the question that they seek an answer to. The waiting time for a response is usually about 24 hours after the request has been registered.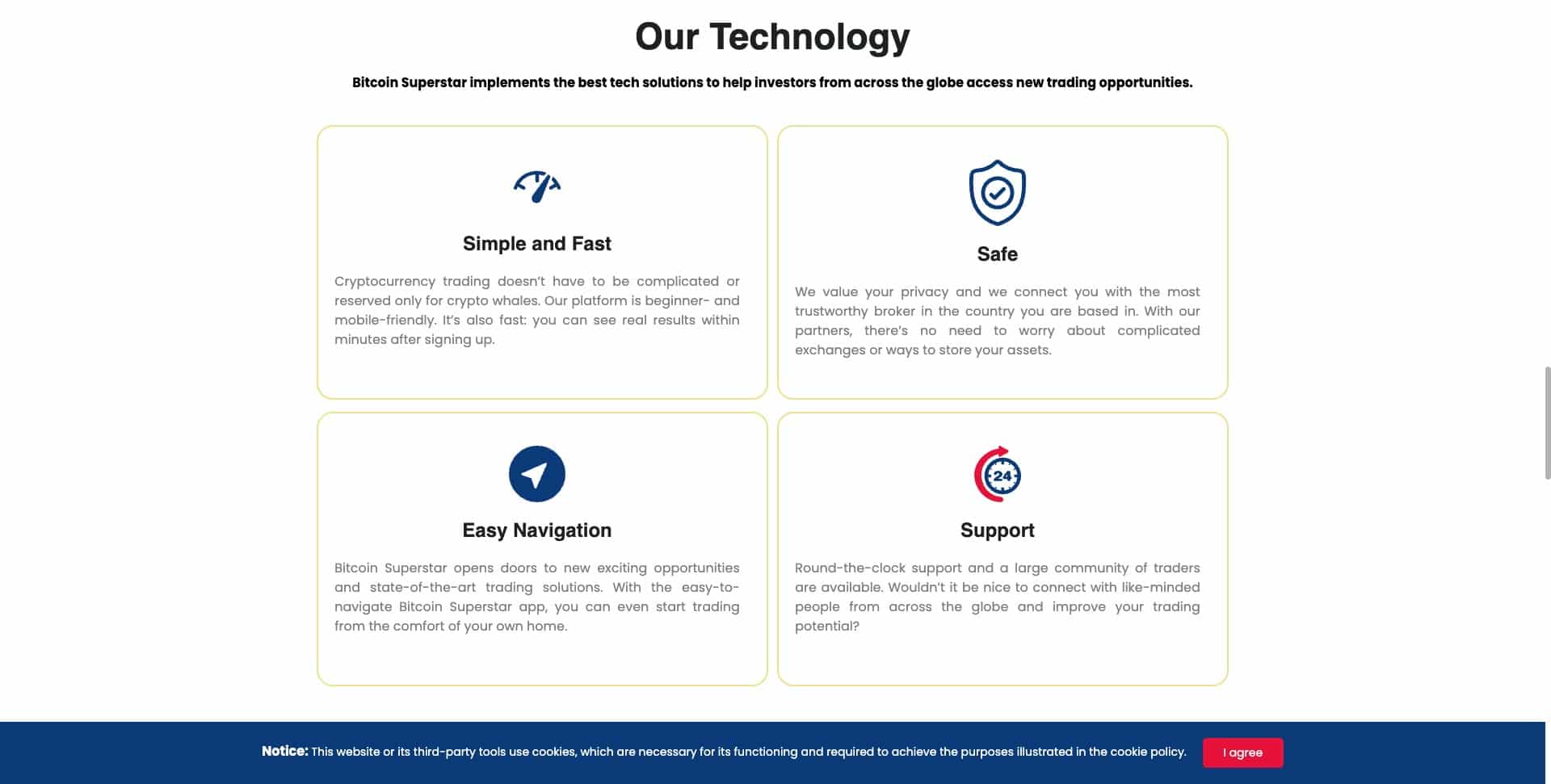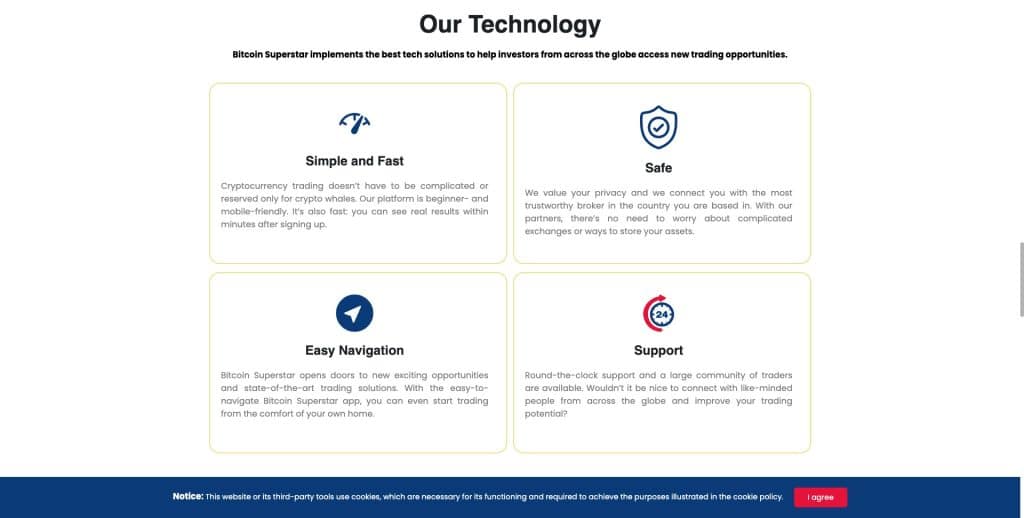 Minimum Deposit on Bitcoin Superstar
Based on the information available on the official website, Bitcoin Superstar doesn't impose a minimum deposit on investors to start trading. However, most automated trading tools require traders to deposit around $250 in order to make any profits.
Funds can be withdrawn at any time and will appear in the investors' accounts within 3 working days, according to Bitcoin Superstar.
To make sure the platform works as promised, we recommend depositing a tiny initial amount so you can test the platform's functionality and see what the actual withdrawal processing time is. Never invest more than you can afford to lose.
How To Use Bitcoin Superstar
For those who wish to trade using Bitcoin Superstar, we've prepared a step-by-step guide that will help you to create an account on the platform and start automated trading.
Step 1: Create an account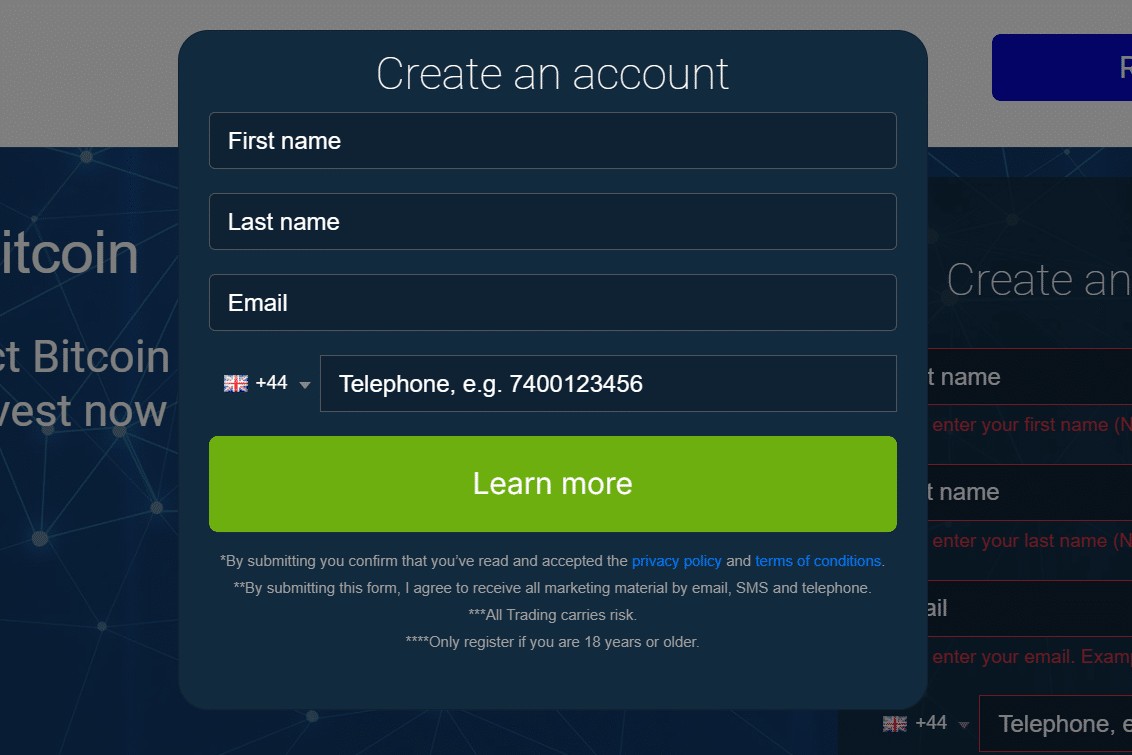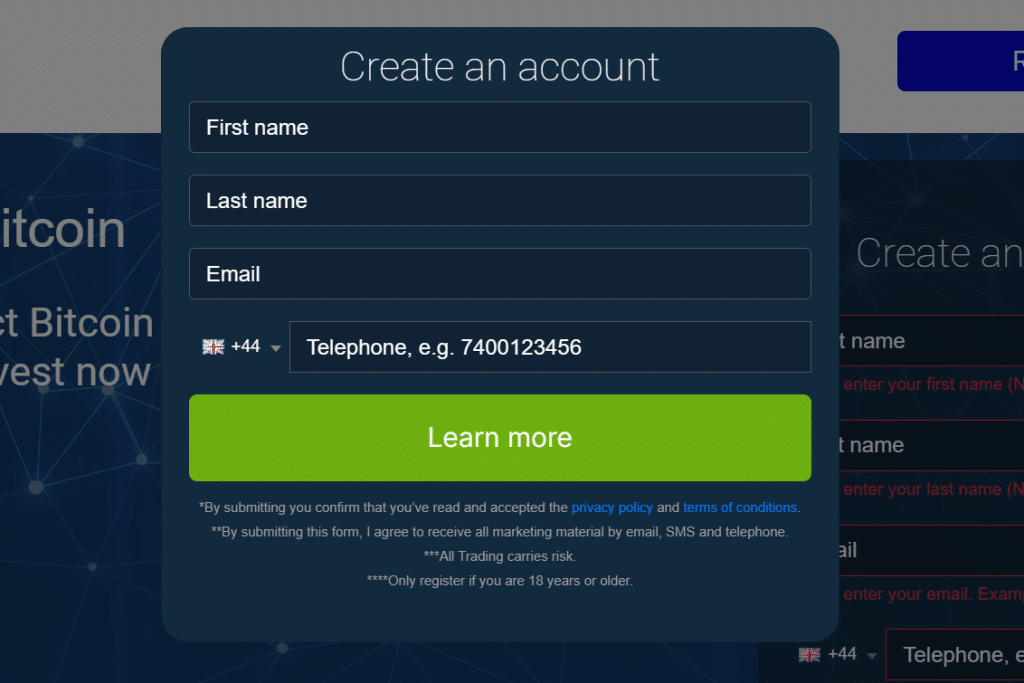 To create an account on this trading platform, you need to go to the official Bitcoin Superstar website and fill out the registration form. Enter your full name, email address and phone number.
Step 2: Start demo trading
Before trading with real funds, we recommend that you give the demo account a try to see if the platform works as promised and if it actually suits your needs.
During our Bitcoin Superstar review, we could not determine whether or not it is possible to switch from live trading to demo trading throughout the process. Therefore, it is a good idea to use the demo trader as much as possible during the initial stages.
Step 3: Make a deposit
If you're happy with how the platform worked in its demo version, then it's time to make a deposit. Enter your financial information and make a transfer. We recommend starting small. This money will be used for the Bitcoin Superstar robot to make transactions on your behalf.
Step 4: Start live trading
After you've made your deposit, you can start the final setup process. Customize your trading robot in accordance with your needs.
Conclusion
Bitcoin Superstar claims to be a legitimate trading robot that can assist traders in making informed decisions. However, the website lacks some transparency around regulation, minimum deposit requirements and customer support. Never the less, during our Bitcoin Superstar review we found the platform to be everything that it claims. 
If you want to use this platform for crypto trading, we recommend you to access the demo account first so you can see if the robot delivers what it promises. By using the demo trading account, it is possible to test out the platform without putting any real money at risk.
Your capital is at risk.
FAQ
What is Bitcoin Superstar?
Is Bitcoin Superstar a legitimate platform?
How can I trade on Bitcoin Superstar?
Who owns Bitcoin Superstar?
Does Elon Musk own Bitcoin Superstar?
Is there a Bitcoin Superstar app?
How much does Bitcoin Superstar cost?