Trader's Way Review 2023 – Everything you need to know!
Fact Checked
Everything you read on our site is provided by expert writers who have many years of experience in the financial markets and have written for other top financial publications. Every piece of information here is fact-checked. We sometimes use affiliate links in our content, when clicking on those we might receive a commission - at no extra cost to you. By using this website you agree to our terms and conditions and privacy policy.
Trader's Way is a popular forex broker that provides access to a range of markets including metals, cryptocurrencies, energies, and forex trading. This online trading platform supports MT4, MT5, and cTrader and does not charge commission as the fees are included in the tight spreads.
In this Trader's Way review 2023 we cover all the key metrics from payment types, mobile trading, fees and commissions, security, and much more. So, keep scrolling to find out more.
Trader's Way History & Background
Launched in 2008 Trader's Way was created by a group of financial market experts determined to spread the values of accessible, free online trading. Trader's Way prides itself on the fact that it gives its users a wide range of unique opportunities available in the financial markets.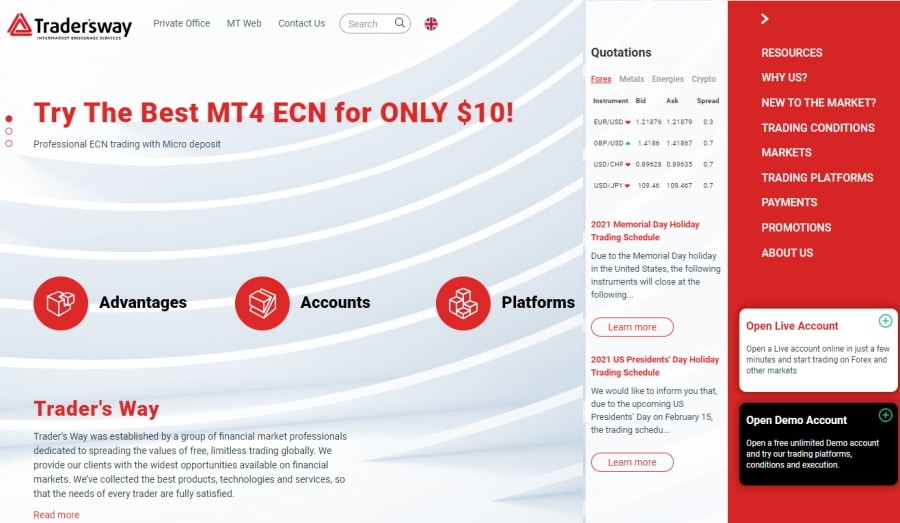 With Trader's Way you can trade and invest in currencies, forex, energies such as oil and gas, metals, and commodities via the popular and top-rated trading platforms MetaTrader 4 and MetaTrader 5. Furthermore, for those of you who travel a lot or use anything other than Microsoft operating systems, Trader's Way compensates for almost every trader's needs. The Trader's Way Web Trader, which is only available on the cTrader platform, allows you to stay connected to your investment account regardless of the time, place, and operating system. This free trading platform also supports a mobile trading app so you can trade wherever you are with the tap of a button.
Trader's Way Pros & Cons
Before we get into more details about this online broker, here are some quick-fire advantages and disadvantages that we found during our broker review research.
Pros:
You do not have to pay a penny in commissions as the fees are included in the spreads
Trader's Way supports forex trading with tight spreads
Access to crypto trading, commodity trading, and forex
Supports MetaTrader 4, MetaTrader 5, cTrader, and mobile trading
Provides access to ECN trading
Offers a demo account and a live trading account
Cons:
Client fund protection and safety are grey areas as this broker is not regulated by any financial authority
Does not offer other tradable assets such as bonds, mutual funds, futures, or ETFs
Your Capital is at Risk.
What Can You Invest in on Trader's Way?
As we have already mentioned, Trader's Way is primarily a forex and CFD broker that offers 0% commission trading with tight spreads. In this section of our broker review we will cover the types of financial instruments you can buy and sell on Trader's Way with the click of a button.
Forex trading on Trader's Way
The foreign exchange market is the largest and most popular market in the world. With such high levels of liquidity the average daily trading volume often exceeds $4 trillion. Forex trading is where a given currency is traded for another currency at a set rate. This currency pair rate constantly fluctuates as global demand and supply for currencies are always changing.
Trader's Way supports a variety of currencies for forex trading. You can buy and sell major and minor currency pairs as well as exotic pairs. You also have the option to pick between accounts with a fixed or floating spread. Either way, Trader's Way clients take advantage of competitive trading conditions. You can begin trading with just a few dollars as the minimum transaction is $0.01 of a Standard lot, moreover, the maximum leverage ratio is 1:1000.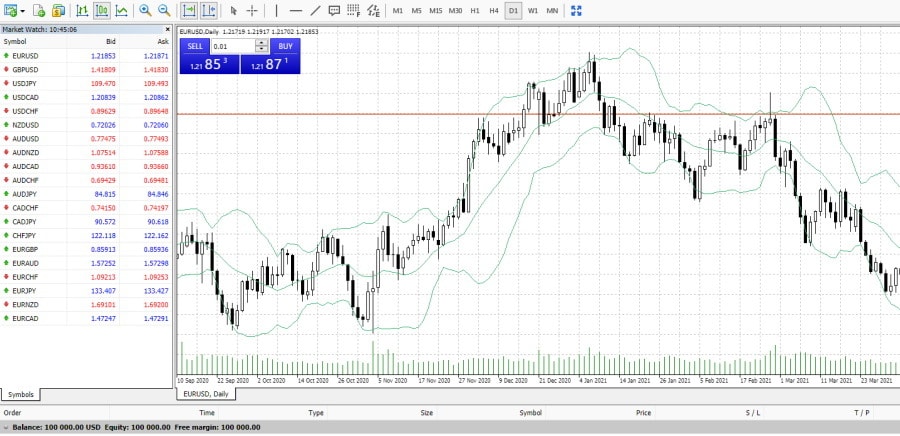 Furthermore, for experienced traders, there is the option to pick the ECN (Electronic Communications Network) account with unfettered access to interbank liquidity. Trader's Way offers this option via industry-leading trading platforms MetaTrader 4, MetaTrader 5, and cTrader.
It is worth noting that with an ECN account you will be required to pay commission fees, however, you gain access to tight spreads as low as 0 pips. Consequently, for active traders with large turnovers, a portion of the commission is refunded on your monthly returns which means that the higher the trade volume the lower the commission.
There are 42 different forex currency pairs to sink your trading teeth into including EUR/USD, GBP/USD, EUR/JPY, AUD/USD, and EUR/GBP just to name a few.
Metals (Gold and Silver)
In recent times more and more investors have started buying and selling gold and silver CFDs. During economic and financial uncertainty investors and traders throughout the world consider paper money as less valuable than other tradable assets.
For this reason, precious metals such as gold and silver have been growing in popularity. Perhaps the most flexible way to buy, sell, and invest in precious metals is through CFDs or contracts for difference as it offers high levels of liquidity and competitive spreads. The potential profits or losses depend on the price movements of the metals regardless of the size of the CFD, therefore, you do not need to worry about owning the underlying asset or storing the metal.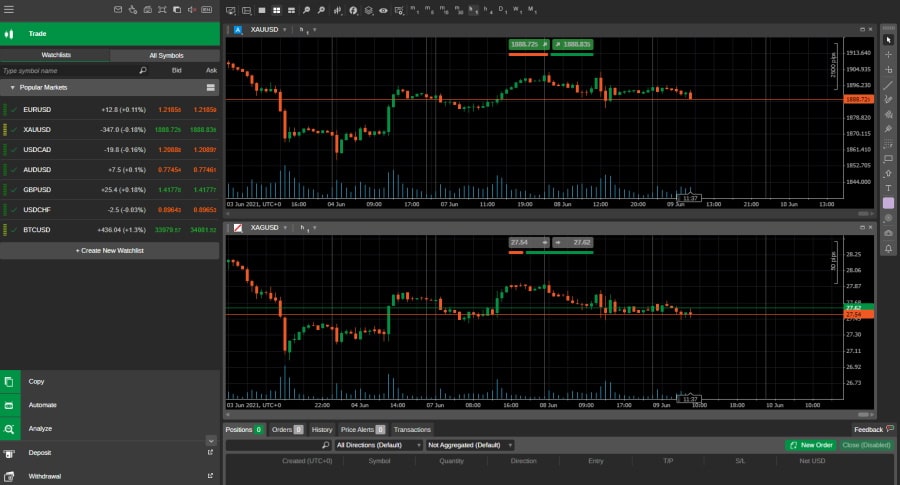 With Trader's Way you can trade gold and silver CFDs with fixed or variable spreads, Micro, ECN, or Standard trading accounts. Metals trading is executed through the top-rated and trusted MetaTrader 4 trading platform which is compatible with any device as a result of the Trader's Way Web Trader. The Spot Metal CFDs available with Trader's Way include XAU/USD and XAG/USD.
Energy Commodities (Oil and Gas)
Consistent gas and oil price movements make these energy commodities attractive instruments for quick-paced trading. The most common and popular type of gas and oil trading is CFD trading as it provides high levels of liquidity, flexibility, allows you to trade using leverage, and gives you access to the underlying asset at a cheaper cost when compared to purchasing the asset outright. Additionally, with CFD trading you can also go long or short.
Trader's Way supports natural gas and crude light oil CFD trading via the convenient MetaTrader 4 and MetaTrader 5 trading platforms with their easy-to-use interfaces, sophisticated charts and fundamental data, technical indicators, and Expert Advisors.
You can trade oil and gas CFDs with or without commission, with a variable or fixed spread, or straight on the interbank market. Simply add oil and gas to your investment portfolio with the click of a button.
Crypto Trading on Trader's Way
As we continue to progress in the constantly evolving digital age, cryptocurrency trading is gaining traction as traders are adopting this digital form of money to trade and transact cheaply and effectively. With key features such as decentralization and anonymity propping up the cryptocurrency industry, it is becoming an increasingly traded financial instrument.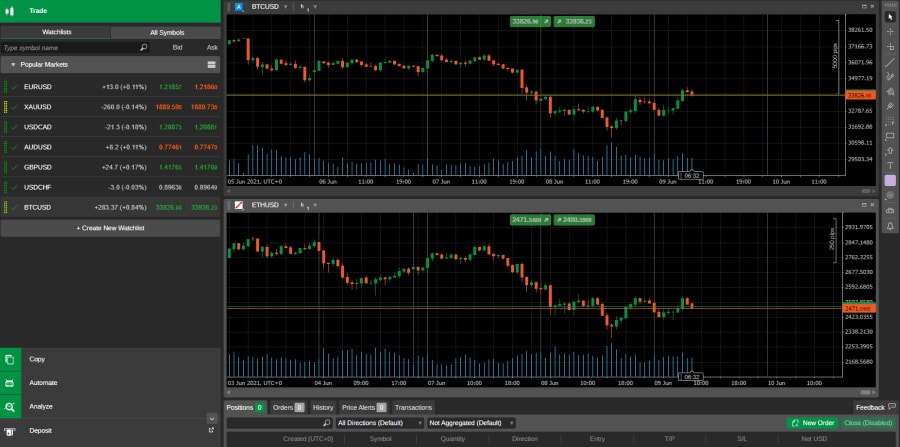 So, what are some of the advantages of trading cryptos on Trader's Way?
High levels of liquidity lead to industry-leading low spreads
Leverage of up to 1:20 on cryptocurrencies
Fast trade execution 24/5
Multiple withdrawal and deposit options without additional or hidden fees
You can choose from any of the following fiat-based crypto pairs on cTrader through Trader's Way:
BTC/USD
DSH/USD
ETH/USD
LTC/USD
XRP/USD
Trader's Way Fees & Commissions
Here's a useful breakdown of the fees and commissions you are likely to encounter when trading with Trader's Way:
| | | |
| --- | --- | --- |
| Trading fee | Commission  | Spread |
| Crypto fee | 0% | Spread of 0.9 pips for LTC/USD |
| Forex fee | 0% | Spread of 0.2 pips for EUR/USD |
| Metals CFD fee | 0% | Spread of 0.23 pips for Gold |
| Energies CFD fee | 0% | Spread of 0.07 pips for Crude Oil |
When it comes to non-trading fees that you need to be aware of just refer to the following table.
| | |
| --- | --- |
| Fee Type | Charge |
| Conversion fee | 1.5% |
| Minimum deposit | The minimum deposit for ECN accounts is $10 |
| Deposit fee | $0 |
| Withdrawal fee | 0 – 0.25% for bank transfer or 1% for Skrill and Neteller |
| Inactivity fee | No |
What commission does Trader's Way charge? 
Trader's Way does not charge any added commission for MT4.VAR trading accounts. For these accounts, the commissions are built into the spread. The added benefit of using a MT4.VAR account is that the spreads shift based on the market conditions. As for ECN accounts, the spreads are tight, however, the commission is charged separately.
How is the commission for ECN accounts determined? 
Transactions on the interbank market are typically charged with a commission per traded volume. Trader's Way ECN accounts give access to the interbank market. This way you get the tightest spreads and incur a relatively small service commission.
To calculate the commission you need to find your deal volume in USD, divide it by 100,000, and times it by the commission fee.
Trader's Way User Experience
When it comes to the overall user experience we found that Trader's Way offers a lot for all types of traders and investors regardless of the level of expertise. This forex and CFD broker offers a wide range of account types for nearly every trading goal and need. These include the popular MetaTrader 4, MetaTrader 5, and cTrader trading platforms. The account types are as follows: MT4.VAR., MT4.ECN., MT5.ECN., and CT.ECN.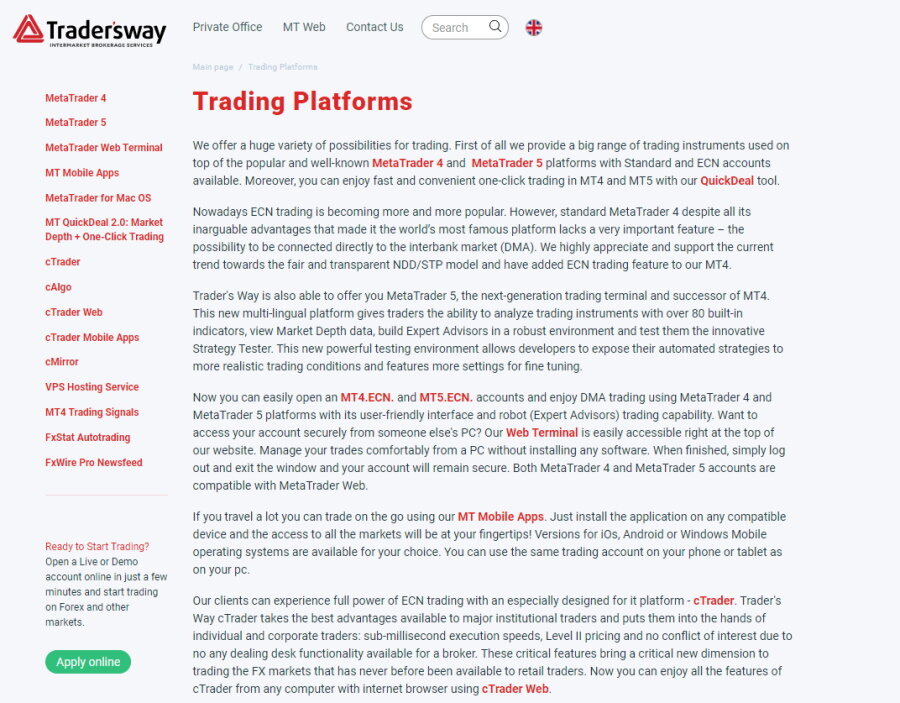 You can either open a live trading account or a demo account online with just a few clicks. Navigating your way around the tradersway.com website is easy and user-friendly and the interface is well designed and simple.
Trader's Way clients also have access to leverage of up to 1:1000 for both Standard and ECN accounts. As a result, the margin rate for such leverage would be 0.1% of the volume of opened positions.
Trader's Way Features, Charting, and Analysis
As we have already discussed, Trader's Way supports the top-rated and popular trading platforms including MT4, MT5, and cTrader. As a result, the charting features, tools and options will vary depending on the trading platform type you prefer.
MetaTrader 4, MetaTrader 5, and cTrader charts and tools
MT4 charts have several settings that allow investors to customize and tailor their charting experience to meet their needs and goals. The MT4 platform provides three different charts: the broken line, Japanese Candlesticks, and a sequence of bars.
The standard MT4 trading terminal offers 38 technical indicators including Bollinger Bands, Moving Average, and Standard Deviation. There is also an unlimited number of third-party technical indicators that can be downloaded from the Code Base.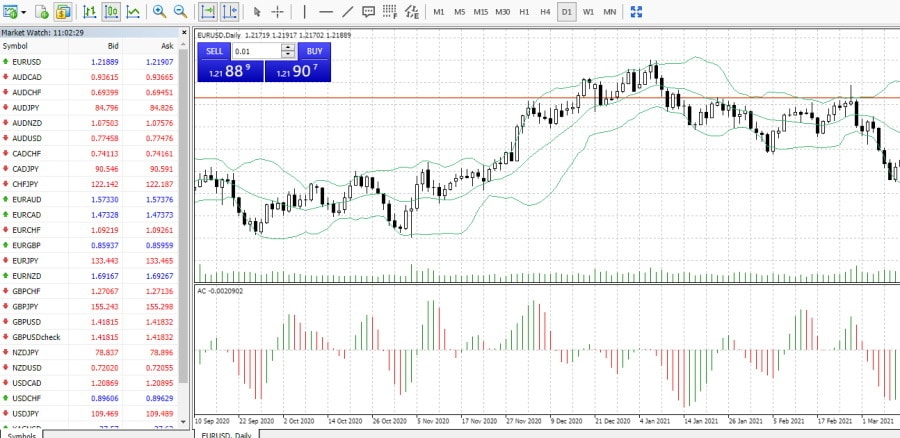 The variety of analytical tools have also been upgraded in the fifth edition of the trading terminal which now covers 46 objects such as Elliot, Fibonacci, and Gann tools, shapes, channels, lines, and more.
cTrader also offers three different chart layout modes which include Single Chart, Free Chart, and Multi Chart modes. In terms of technical indicators, there are 58 standard indicators in cTrader charts. By simply hovering over the Indicators button, you can select the desired indicators from the drop-down menu.
When it comes to fundamental analysis the MT4 trading platform supports financial news from third-party reputable sources. This helps you to analyse relevant financial news that can directly impact the price of tradable assets and instruments.
Additionally, there is an Economic Calendar that presents publications of macroeconomic indicators which are great for determining the current and potential state of the economy. Economic indicators such as the NFP report give insights into the level of economic activity and help analysts to forecast either economic decline or expansion. Macroeconomic indicators are typically used to gauge future price trends.
Trader's Way Account Types 
The 4 different account types are as follows:
| Account type | MT4.ECN. | MT4.VAR. | MT5.ECN. | CT.ECN. |
| --- | --- | --- | --- | --- |
| Description | MetaTrader 4 ECN account with tight variable spread and commission | Standard account with variable spread | MetaTrader 5 ECN account with tight variable spread and commission | cTrader ECN account with tight variable spread and commission |
| Minimum Deposit | 10 USD | 10 USD | 10 USD | 10 USD |
| Maximum Balance | No limitations | No limitations | No limitations | No limitations |
| Account Currency | USD, EUR, CAD, GBP | USD, EUR, CAD, GBP | USD, EUR, CAD, GBP, BTC | USD |
| Spread Type | Variable | Variable | Variable | Variable |
Trader's Way App Review
Mobile trading enables you to manage and monitor your trading account from your mobile devices. Trader's Way offer's its services through third-party trading platforms including MT4, MT5, and cTrader, all of which are compatible with Apple and Android mobile devices.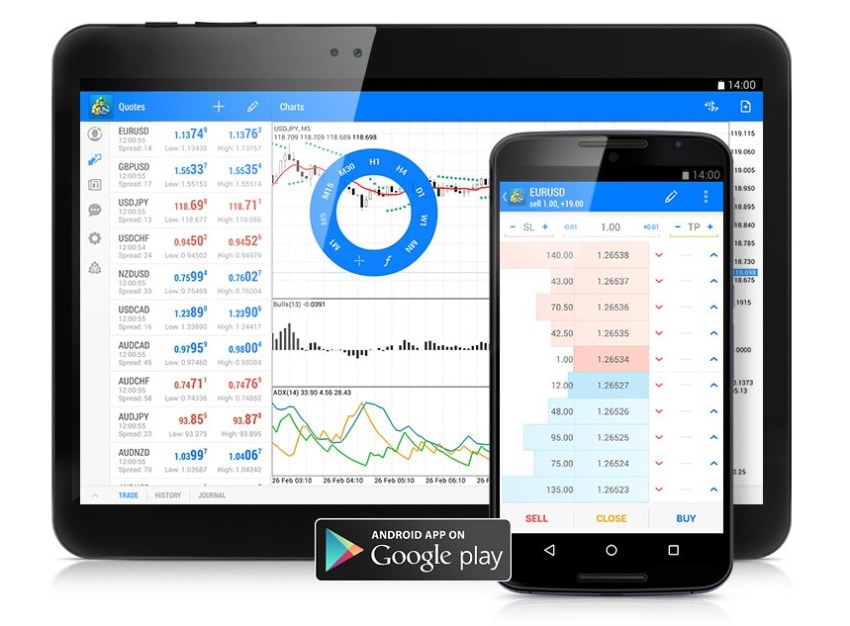 MetaTrader mobile trading provides a range of analytical options and charts as well as the standard trade account management services that can be found on web platforms. Executing online trades through mobile terminals offers a great way to manage your accounts when you do not have direct access to a desktop PC.
The MetaTrader mobile trading platform allows you to stay updated with the latest market trends and news, as well as buy and sell financial instruments with the click of a button 24 hours a day.
Trader's Way Payments
An integral part of the way Trader's Way was designed is that of accessibility and convenience; to this end, this online broker tries to ensure that its traders can deposit and withdraw funds as easily and quickly as possible with their preferred payment methods.
Making a transaction on the Trader's Way platform couldn't be more straightforward; simply login to the Private Office, and click on the Deposit/Withdraw Funds button, then select your preferred payment method and follow the prompts.
The supported payment methods are as follows:
TC Pay
Credit cards and Debit cards via VLoad
Bank transfer (Abra)
Trader's Way accepts withdrawals and deposits by Bitcoin, Ether, Litecoin, Ripple, USDC (USD Coin), Tether, TrueUSD
eWallets such as Skrill, Neteller
Perfect Money and FasaPay
Trader's Way 100% Deposit Bonus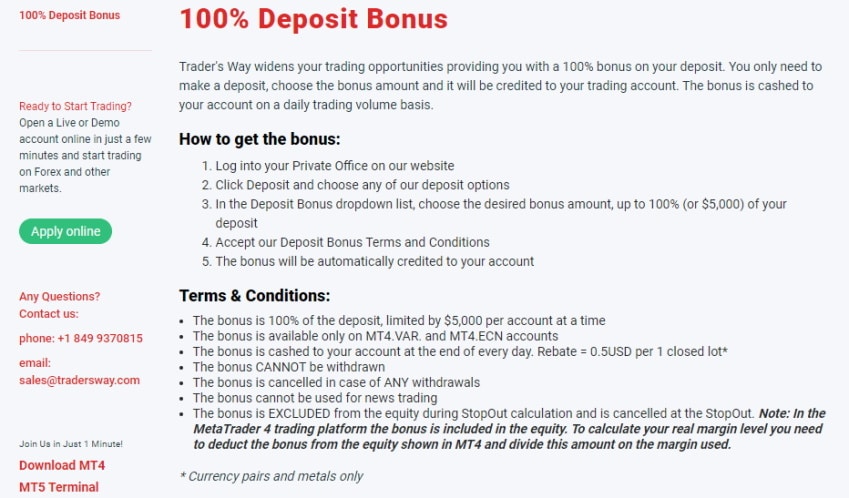 Trader's Way broadens your trading opportunities with a 100% bonus when you deposit funds into your account. All you need to do is deposit funds, select the bonus amount and it will be credited to your brokerage account on a daily trading volume basis. There are, however, a few key points to keep in mind: the bonus is 100% of the deposit and is limited to $5,000 for every individual trading account. Furthermore, the deposit bonus is only available on MT4.VAR and MT4.ECN accounts.
Trader's Way Contact and Customer Service
You can contact Trader's Way customer support via telephone, email, and live chat. You can expect a response within 24 hours on business days.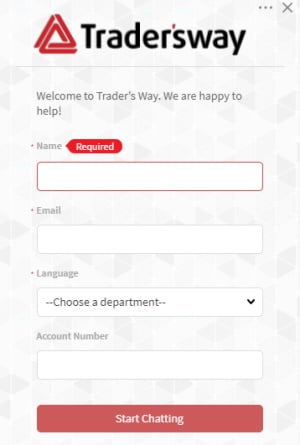 Is the Trader's Way App Safe?
Trader's Way is an unregulated broker which means that it does not comply with stringent regulations set by top-tier financial authorities such as the UK's FCA or the US Securities and Exchange Commission.
However, Trader's Way claims to adhere to strict KYC and AML policies that are aimed to support international efforts against money laundering and fraudulent usage of funds. Furthermore, Trader's Way also adopts a NDD model to ensure that its clients do not experience dealing manipulation, as well as the trading accounts being STP and ECN.
Trader's Way also only provides brokerage services. Things such as trading signals, recommendations, and asset management are not offered by this broker. Consequently, Trader's Way offers full transparency and security when it comes to its clients' trades and its own activities.
How to Start Trading with Trader's Way
Step 1: Open a trading account
To start trading with Trader's Way simply click on the Open Live Account tab on the right side of the screen. During the registration process, you will be required to fill out personal information, the type of account you want, your date of birth, and contact details. After you have agreed to and accepted the customer agreement click on the Open account now button at the bottom of the registration form.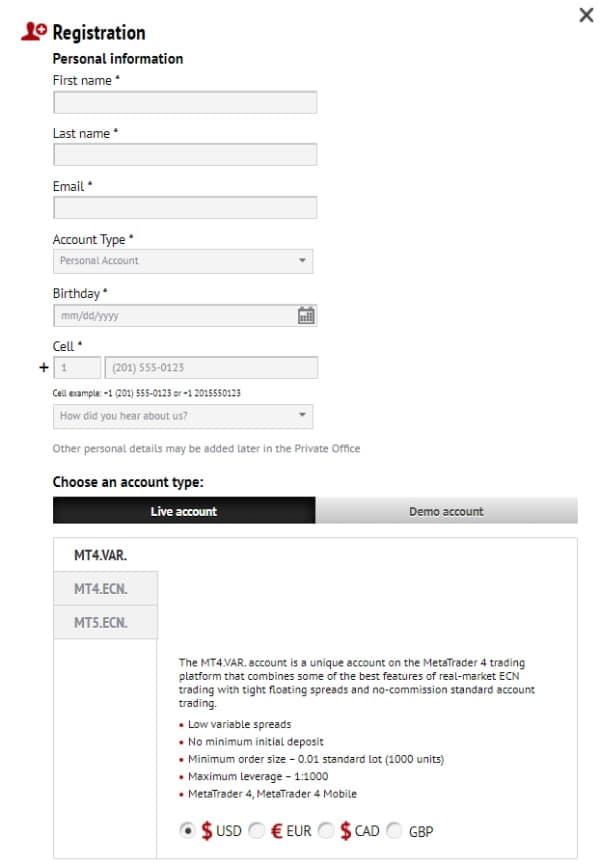 Step 2: Deposit funds into your account
Assuming that your Trader's Way account has been verified by providing proof of identity and address, you can deposit funds into your trading account by clicking on the deposit button under the live accounts tab on the homepage.
Then you can choose from a multitude of deposit methods ranging from credit/debit cards via VLoad, to Bitcoin and eWallets. For example, to deposit $100 via debit card you would click on the VLoad option and enter the $100 amount that you would like to deposit, and tap the Buy voucher button. Then you would follow the instructions on the VLoad website to confirm the deposit.
Step 3: How to buy and sell financial instruments on MetaTrader 4 
To buy or sell forex on the MT4 trading terminal, simply right-click on the currency pair you wish to trade and select new order. Then you will need to fill out the transaction form, including the volume, stop loss, and whether you wish to buy or sell.
Trader's Way vs eToro
Upon closer inspection, it is clear that there are better alternatives when it comes to online free trading platforms. One such option is eToro as it is now home to more than 20 million traders worldwide.
eToro traders have access to 17 different international stock exchanges as well as fractional stock trading. Simply put, this means that you can invest in shares of stocks for as little as $50 to buy a portion of a share whose price per unit is more than the sum of your investment. eToro also supports CFD trading allowing you to open short positions and access leverage. Investing in international stocks is an effective way to diversify your investment portfolio.
67% of retail investor accounts lose money when trading CFDs with this provider.
eToro has gained a reputation for being one of the best social trading platforms out there. With that said, eToro facilitates passive trading in the form of Copy Trading and CopyPortfolios.
Copy Trading allows you to copy the buy and sell orders of your favourite eToro investors. Furthermore, you can open either a demo account or a live account in a matter of minutes.
Paper trading with eToro starts with $100,000 worth of virtual funds for you to practice your trading strategies in a risk-free simulated trading environment that uses real-time market data to give you the most practical experience of online trading without putting your own capital at risk.
Trader's Way Review: The Verdict
When it comes to selecting an online broker one of the most important metrics to consider is that of regulation and security. During our research, we found that Trader's Way is completely unregulated, whereas eToro is regulated by top-level financial authorities including the UK's Financial Conduct Authority, CySEC, and ASIC.
Therefore we recommend eToro as the best online trading platform in 2023 because it offers commission-free stock and ETF trading, is regulated by industry-leading financial authorities, and provides copy trading tools to enhance passive trading.
eToro – Best Trading Platform with Zero Commission to Trade Stocks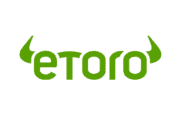 67% of retail investor accounts lose money when trading CFDs with this provider. You should consider whether you can afford to take the high risk of losing your money.
FAQs
How do I add Trader's Way to MT4?
How do you deposit funds via bitcoin wallet on Trader's Way?
What does leverage mean on TradersWay?
How long does TradersWay take to verify my account?
Where is Trader's Way located?