Nadex Review 2023 – Pros & Cons Revealed
Fact Checked
Everything you read on our site is provided by expert writers who have many years of experience in the financial markets and have written for other top financial publications. Every piece of information here is fact-checked. We sometimes use affiliate links in our content, when clicking on those we might receive a commission - at no extra cost to you. By using this website you agree to our terms and conditions and privacy policy.
Based in Chicago, Nadex is a top-rated exchange for binary options, call spreads, and knock-out contracts. Nadex is regulated by the Commodities Futures Trading Commission (CFTC) and thus offers its traders security when trading derivatives.
Are you looking for a regulated exchange to trade forex contracts, stock index futures, commodities, and economic event contracts? In this Nadex Review 2023, we cover all the key metrics from fees to payment methods so you can reach your trading goals faster.
What is Nadex?
Nadex, which is short for the North American Derivatives Exchange, was founded in 2004 and has become a competitive US exchange for knock-outs, call spreads, and binary options contracts, offering secure ways to gain exposure to the markets.
Nadex is regulated by the CFTC (Commodity Futures Trading Commission), and all client funds are held in segregated accounts in top US banks. Nadex traders have access to several markets and an ongoing series of short-term trading opportunities.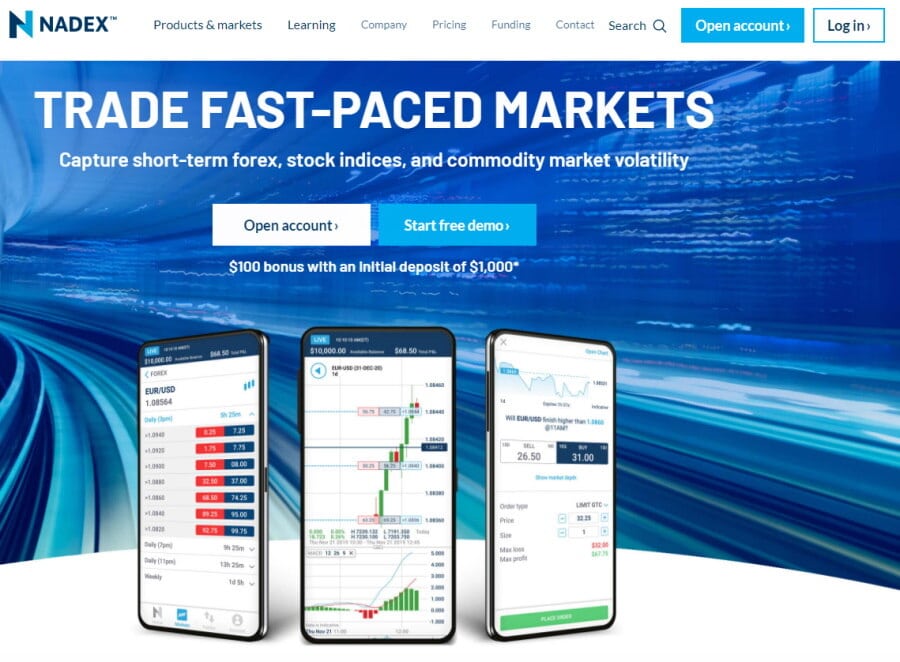 While Nadex does not support traditional investments such as stock trading, ETFs, or mutual funds, you can buy and sell commodities, stock indices, forex and economic events via options contracts. When it comes to fees and commissions, Nadex's pricing model is simple; you pay a $1 trading fee per contract for entry or exit before the expiration, or a $1 settlement fee per contract when exercising a contract that is in-the-money.
Deposits and withdrawals made via ACH transfers are free of charge and setting up an account is fully digital and simple. Overall, if you acknowledge the underlying risks associated with these types of derivatives, Nadex is a suitable choice. However, if you are new to online trading, it may be a better idea to stick with more traditional brokers.
Nadex Pros & Cons
Before we move onto a thorough review of Nadex, let's take a brief look at the top pros and cons that we found during our research.
What we like
No ACH withdrawals and deposits fees
Deposits made with debit cards are instant and Nadex does not charge fees for this payment method
Transparent trading fee structure
Unfettered access to speculate on forex, stock indices, economic events, and commodities contracts through several options contracts
Regulated by the CFTC
Client funds are held in segregated accounts in leading US banks
Heaps of educational resources including webinars, blog, and platform tutorials
Practice your trading strategies with a Nadex $10,000 demo account
You pay a trading fee on each side of the trade
The minimum tick size for trading spot forex through binary options is 0.25
What we don't like
No mobile trading app available
Traders only have access to derivatives
Traditional securities such as stocks, ETFs, and other assets are not supported
$25 for wire withdrawals
Minimum first deposit of $250
Your capital is at risk. 
What Can You Invest in and Trade on Nadex?
You cannot buy or sell traditional financial instruments such as stocks, ETFs, cryptocurrencies, or bonds with a Nadex account, however, you can gain exposure to various markets via options contracts.
You can trade stock indices, spot forex, commodities, and economic events through binary options, knock-outs, and call spreads.
With that said, let's take a quick look at the three trading instruments provided by Nadex: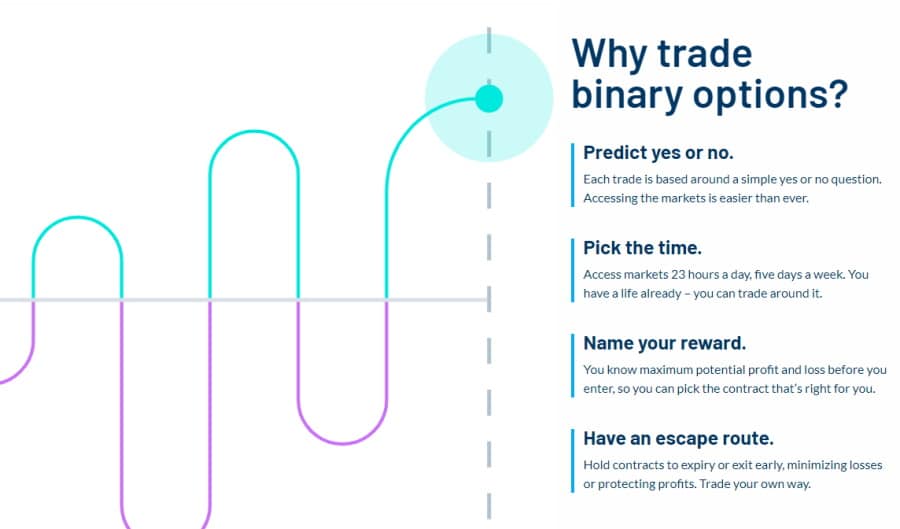 Binary options are contracts which only lead to 2 potential results based on a yes or no question. For instance, will the price of crude oil fall below $38 per barrel by August 2021? When held to expiration, the binary options contract can expire OTM (out-of-the-money) with a return of $0 per share, or they can expire ITM (in-the-money) with a return of $100 per share. This dual outcome is the reason they are referred to as binary options.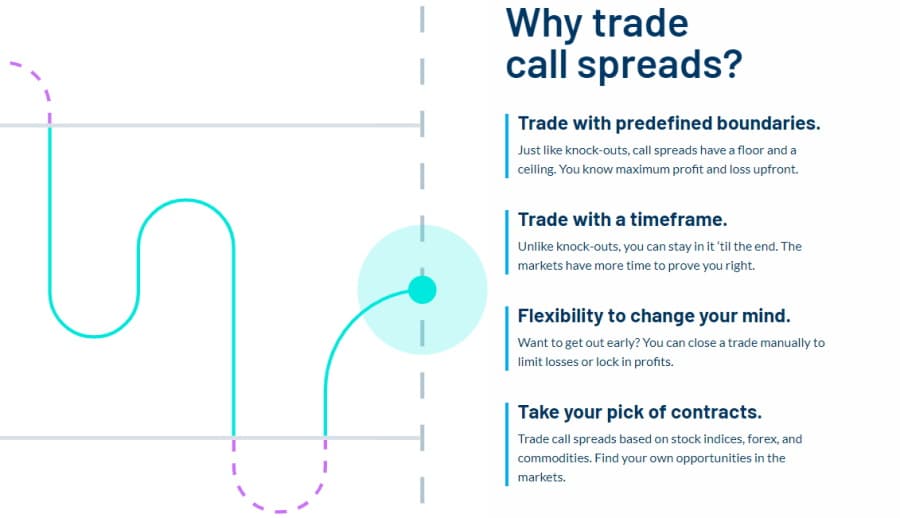 Call spreads require you to set a floor and ceiling as the trade parameters, however, you do not have to worry about being knocked out of a call spread trade. You are allowed to stay in the trade for more than 7 days or closeout prematurely to maximize profits and minimize potential losses.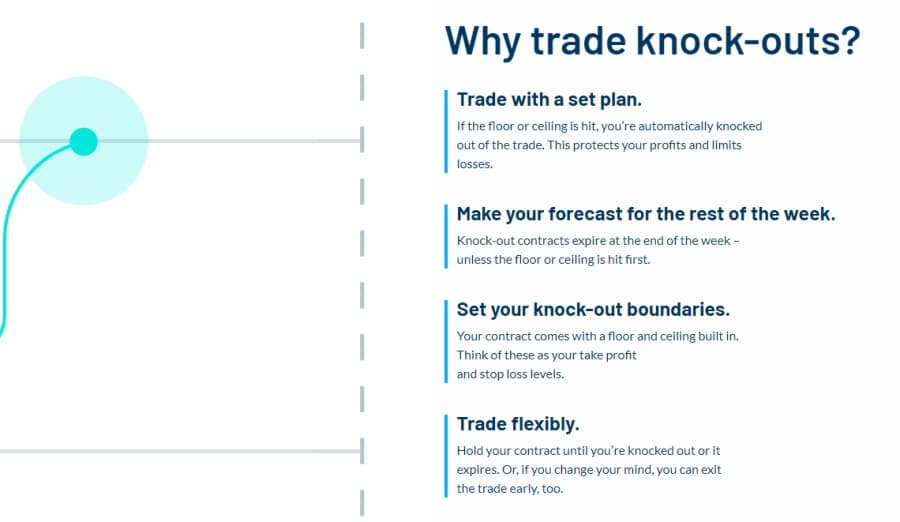 With knock-outs contracts, investors can set weekly ceilings and floors as the trade parameters, which will knock out the trade if they are met. The ceiling and floor parameters act as take-profit and stop-loss orders. Knock-outs contracts can be held until the expiry date or can be sold early if neither floor nor ceiling is reached.
Forex trading 
Nadex traders can gain exposure to the high liquidity of the forex market with low-cost options contracts on major currency pairs. Nadex users can trade 11 different forex pairs including:
EUR/USD
USD/JPY
USD/CHF
AUD/USD
GBP/USD
EUR/GBP
USD/CAD
GBP/JPY
AUD/JPY
EUR/JPY
USD/MXN
Nadex supports several time frames when it comes to trading. These include short-term intraday contracts, to weekly and daily durations which offer enough flexibility to meet your trading needs and requirements.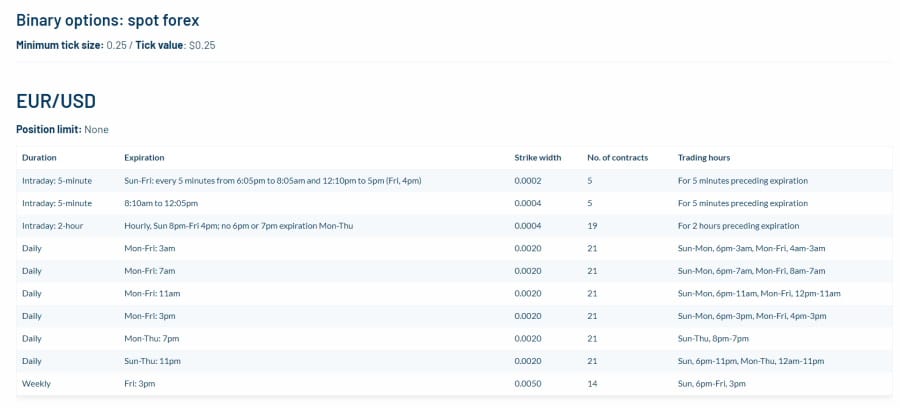 With Nadex some contracts are perfect for day trading strategies, as there are no pattern day trading rules. This means you can trade the markets 23 hours a day as often as you like, regardless of your account size.
Stock Index Binary Options
With Nadex you can speculate on multiple indices markets such as the US 500 and the FTSE 100 with set risk levels, and competitive trading fees.
Binary options are financial instruments that allow investors and traders to speculate on markets without having to take ownership of the underlying assets. A stock index binary option is a contract used to speculate on a given stock index, for example, the futures derivative of the FTSE 100 or the Nikkei 225. Investors trade binary options contracts based on whether they speculate the underlying market will either rise or fall.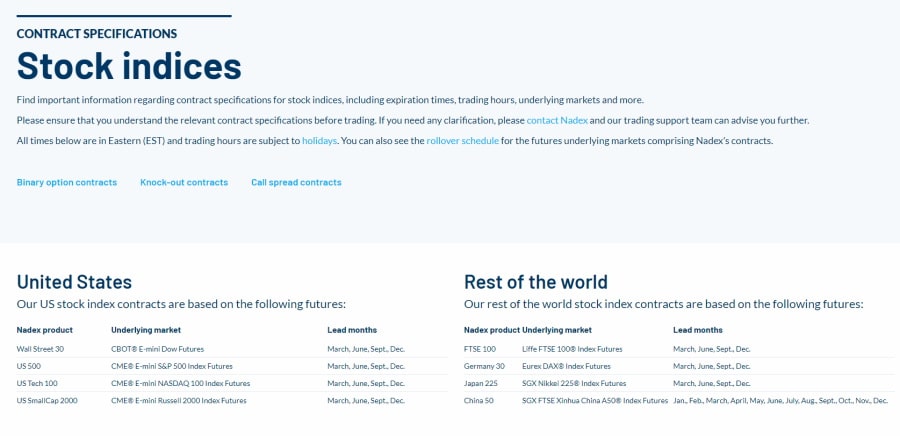 You can trade the following stock index markets on Nadex:
Wall Street 30: based on the CBOT E-mini Dow Index Futures which tracks the performance of 30 top US companies.
S&P 500: based on the CME E-mini S&P 500 Index Futures, tracking the performance of 500 major-cap common stocks on the NYSE and NASDAQ exchange.
FTSE 100: based on the Liffe FTSE 100 index futures which track the top 100 UK companies by market capitalization.
US Tech 100: based on the CME E-mini Nasdaq 100 index futures which track 100 major non-financial US equities.
Japan 225: based on the SGX Nikkei 225 index futures which track the activities and sentiment of the stock market in Japan.
US SmallCap 2000: based on the CME E-mini Russell 2,000 index futures which track 2,000 small-cap US companies.
Germany 30: based on the Eurex DAX index future which tracks the 30 major German companies on the Frankfurt Stock Exchange.
China 50: based on the SGX FTSE Xinhua China A50 index futures tracking 50 companies on the SSE and Shenzhen exchanges.
Commodities trading
Nadex traders have access to the commodity markets, covering crude oil, natural gas, precious metals such as gold and silver, corn, and more with fixed-risk contracts offering competitive trading costs.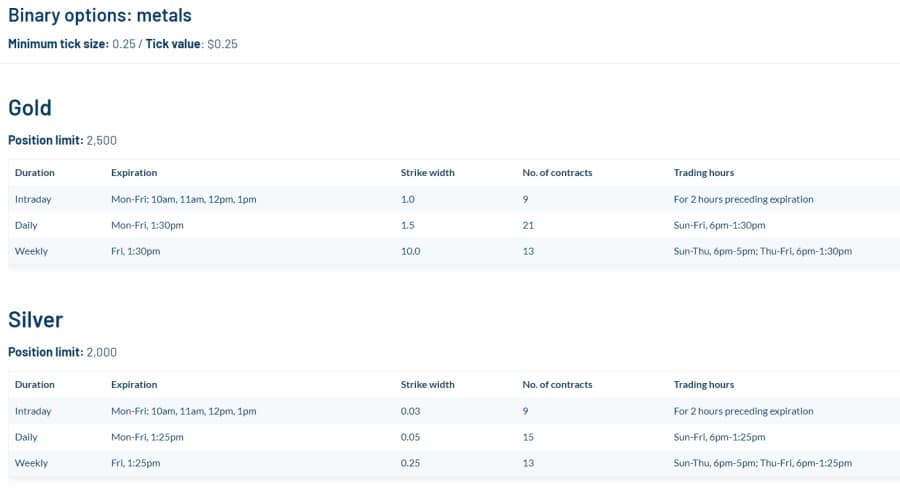 Simply put, commodities trading is when you sell and buy raw materials including energy, precious metals, and agricultural products. The majority of commodities are traded through futures contracts which involve a mutual agreement between the buyer and seller to settle a predetermined price at a future date. Traders speculate on the price movements of a commodity, forecasting whether it will rise or decline without ever taking ownership of the underlying commodity.
Nadex also offers traders the opportunity to participate in the commodities markets through binary options, knock-out, and call spread contracts. Similarly, traders speculate on the price of a commodity without owning the actual commodity.
You can trade the following commodities on Nadex:
Precious Metals – Based on COMEX/NYMEX futures prices, Nadex offers binary options, call spread, or knock-out contracts in gold, silver, or copper.
Energy – based on NYMEX® futures prices, Nadex offers binary options, call spread, or knock-out contracts in crude oil or natural gas.
Agricultural – based on CBOT® futures prices, Nadex offers call spread contracts in corn and soybeans.
Trading macroeconomic events with Nadex
Economic events help analysts and economists gauge the overall macroeconomic health of a nation. Economic events have a direct impact on the financial markets which explains why the investing community monitors economic indicators closely. Major events are published in economic calendars and traders can speculate on the events directly or trade on relevant markets.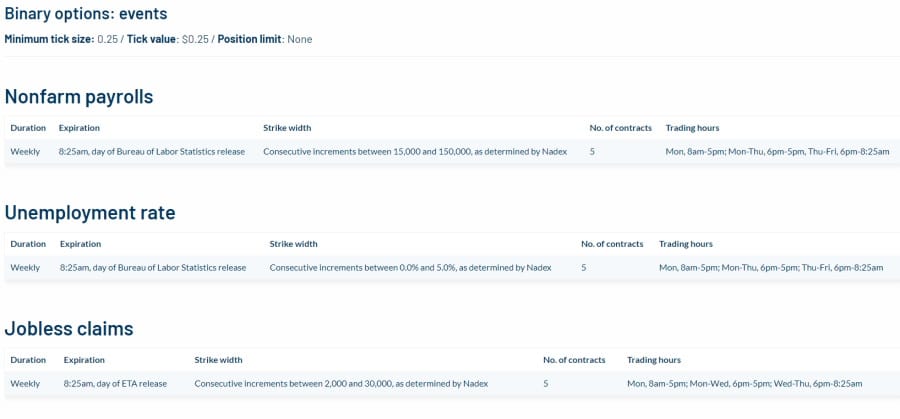 Nadex allows you to trade the NFP (nonfarm payrolls) report, the weekly jobless claims report, US GDP, and the unemployment rate. Whether you speculate that the economic figures are increasing or decreasing, you can turn your forecasts into trades.
Nadex Fees & Commissions
The fees and commissions structure at Nadex is transparent and straightforward. You pay a $1 trading fee per contract on either side of your trade; once when opening a trade and once when closing a trade. When entering a trade you will be charged $1 per executed contract.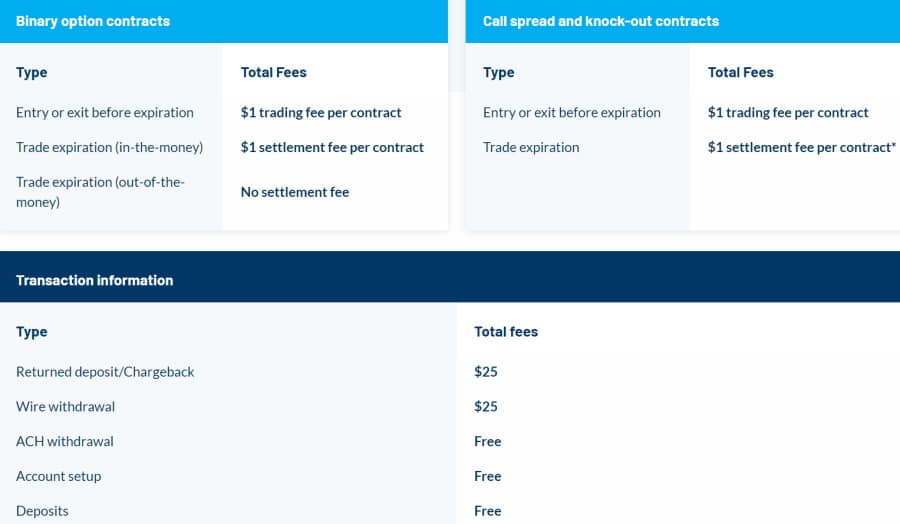 If you decide to exit the position prior to its expiration date, you will incur a $1 trading fee per lot. There is also a settlement fee to take into account, which means that if you hold a position until expiration you will incur a $1 per contract settlement fee. On the other hand, if you hold the position until expiration and it closes OTM you will not incur a settlement fee.
Here's a quick rundown of the key trading fees charged at Nadex:
| | |
| --- | --- |
| Binary Option Contracts  | Fees |
| Exit or entry before the expiration | $1 per contract trading fee |
| Trade expiration (ITM) | $1 per contract settlement fee |
| Trade expiration (OTM) | $0 |
| Call Spread and Knock-Out contracts | Fees |
| Exit or Entry before the expiration | $1 per contract trading fee |
| Trade expiration | $1 per contract settlement fee |
Non-trading fees
| | |
| --- | --- |
| Type | Non-trading fees |
| Chargeback / Returned deposit | $25 |
| Wire withdrawal | $25 |
| ACH withdrawal | None |
| Account setup | $0 |
| Deposits | None |
| Withdrawal via debit card | None |
| Minimum deposit | The initial deposit is $250 and the minimum incremental deposit thereafter is $100 |
| Inactivity fee | $10 per month after one year of inactivity |
Nadex User Experience
Opening a live account or demo account with Nadex is free and easy, and doesn't require you to have decades of experience with the derivatives markets. However, it is recommended that you know how these complex financial instruments function and an awareness of what your risk tolerance is to put appropriate measures in place to hedge against substantial losses.
As far as binary options are concerned, there are only two possible outcomes: you either make a profit or you don't. Nadex has designed its platform and offerings to help new and experienced traders start trading on derivatives markets.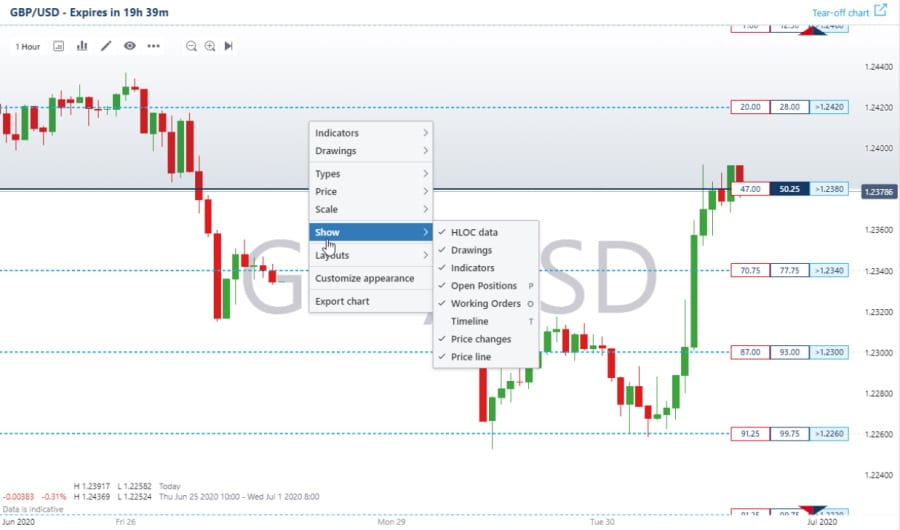 Registering and opening a new trading account with Nadex is a streamlined process that is fully digital and can be completed in a matter of minutes. When it comes to the trading platform, Nadex offers a single web-based trading platform. Arguably a disadvantage of this is that there is no desktop platform or mobile platform for clients to access their accounts and make trades.
Nadex also offers a paper trading account and platform tutorials for beginner and intermediate traders who are new to derivatives trading. Demo accounts are great for practicing online trading in a risk-free simulated environment with virtual funds commonly called paper funds.
The charts are customizable and placing an order can be completed in a couple of clicks. The layout and user interface are user-friendly and well designed, which is in keeping with its accessible and simple-to-use structure.
Nadex Features, Charting, and Analysis
Nadex charts are user-friendly and highly customizable as they allow traders to select and populate charts for the specific markets, apply a range of technical indicators and drawing tools. Once you have logged into your Nadex account you can pick from one of the three trading instruments: binary options, knockouts and call spreads.
After you have chosen the market class and expiration option this will populate a price chart and order ticket. When it comes to customizing the Nadex charts this can be done by:
Adjusting the size of the chart by clicking on the double blue arrows
Tweaking the time interval via the dropdown menu in the upper left-hand side of the screen
Modify the date range
Expand or condense the price range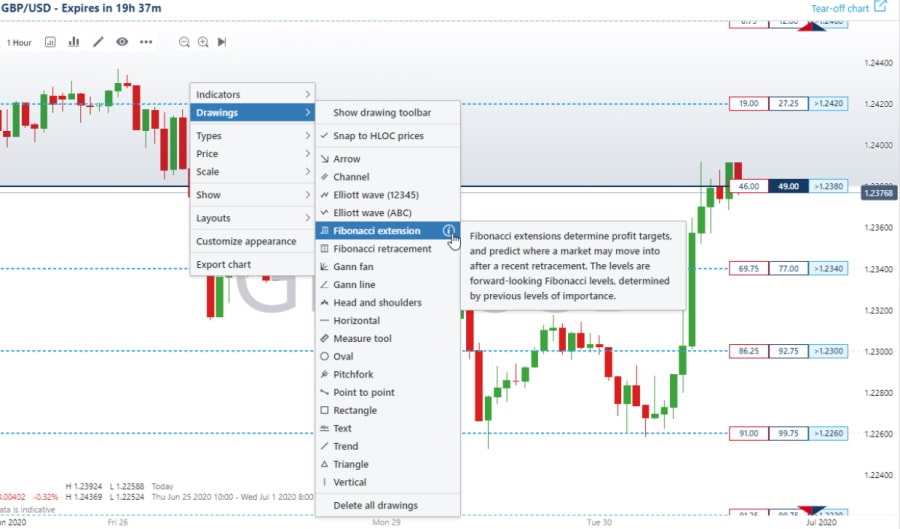 Nadex provides access to a wide range of technical indicators including the top 5 most important technical indicators when trading binary options contracts including moving averages, stochastics, relative strength index, average true range, and moving average convergence/divergence (MACD).
Do you want to know how you can use an Elliot Wave and Fibonacci extension? The answers can be found without having to leave the Nadex trading platform. The inbuilt educational materials display a concise summary of the various indicators and drawing tools to maximize the effectiveness of your Nadex charting experience.
Additionally, you can also use Heikin-Ashi candlesticks on your charts, as they offer clear readability for trend analysis as they use a modified COHL (close-open-high-low) structure.
Nadex Account Types
Opening an account with Nadex is essentially a simple process. There are three account types to pick from:
Standard trading account for call spreads, knock-outs, and binary options.
Free demo account with a starting virtual balance of $10,000
Business trading account
Nadex Mobile App Review
During our research, we found that Nadex does not offer a mobile trading app. This is a disadvantage, especially when you compare other brokers and exchanges on the market that offer mobile trading apps, alongside desktop and mobile trading platforms.
Mobile trading apps make online trading accessible to traders even when they are not on a desktop. This means that you can monitor and manage your investment portfolios whenever and wherever you happen to be. The majority of mobile trading apps nowadays are also compatible with both iOS Apple and Android mobile devices.

Nadex Payments
US residents can deposit and withdraw funds into and from their Nadex account via ACH bank transfer, wire transfer, and debit cards. Additionally, you can use paper checks to deposit funds into your account.
As for non-US clients, you can deposit and withdraw funds using a debit card or international bank transfer. While there are no deposit fees, there is a $25 processing fee for international bank transfers, and domestic wire withdrawals.
| | |
| --- | --- |
| Deposit fee | $0 |
| Wire Transfer fee | $25 |
| International Bank Transfer fee | $25 |
Nadex Bonus
There are currently three bonus offers available at Nadex to help you trade more without having to pay more.
Bonus offer: refer-a-friend
Existing Nadex account holders and traders can earn a $100 account credit per successful referral. You can refer a maximum of 10 friends which means that you can earn up to $1,000.
Initial deposit bonus program
For those who open a live trading account with Nadex for the first time and deposit a minimum of $1,000, and place 5 trades within 30 days of funding your account, you will be eligible to receive $100 in account credit.
Furthermore, if an existing Nadex trader refers you to the exchange, both parties receive the refer-a-friend bonus as well as the initial deposit bonus.
10% bonus on reactivation deposit
For those with inactive accounts, when you fund your account with a reactivation deposit of at least $250 you will receive a 10% bonus up to $100 on your funds.. This means that the larger the deposit amount, the larger the bonus. To be eligible for this bonus offer you will also need to place 5 trades within the first 30 days of having placed funds into your account.
Nadex Contact and Customer Service
When it comes to contacting customer support you can do this via telephone, email, live chat, or by submitting a request which involves filling out details of the reason for contacting customer services including the subject, email address, phone, and case reason.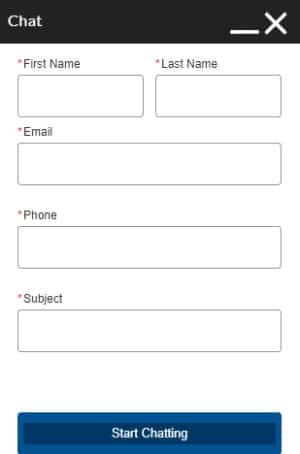 Nadex customer service representatives are available during trading hours (Sunday 18:00 – Friday 16:00 ET. This excludes end-of-day processing hours (Monday – Thursday 5 – 6 pm and holiday hours.
Is Nadex Safe?
Nadex is regulated by the US Commodity Futures Trading Commission (CFTC) and all client funds are held in major US banks in segregated accounts.
What are the main benefits of funds being held in segregated accounts? Simply put, the key advantages of using segregated accounts are:
They allow companies to automate inbound and outbound wire transfers
They create a certain degree of security so that client funds are protected if a broker or exchange goes into insolvency
How to Start Trading with Nadex
Step 1: Open an account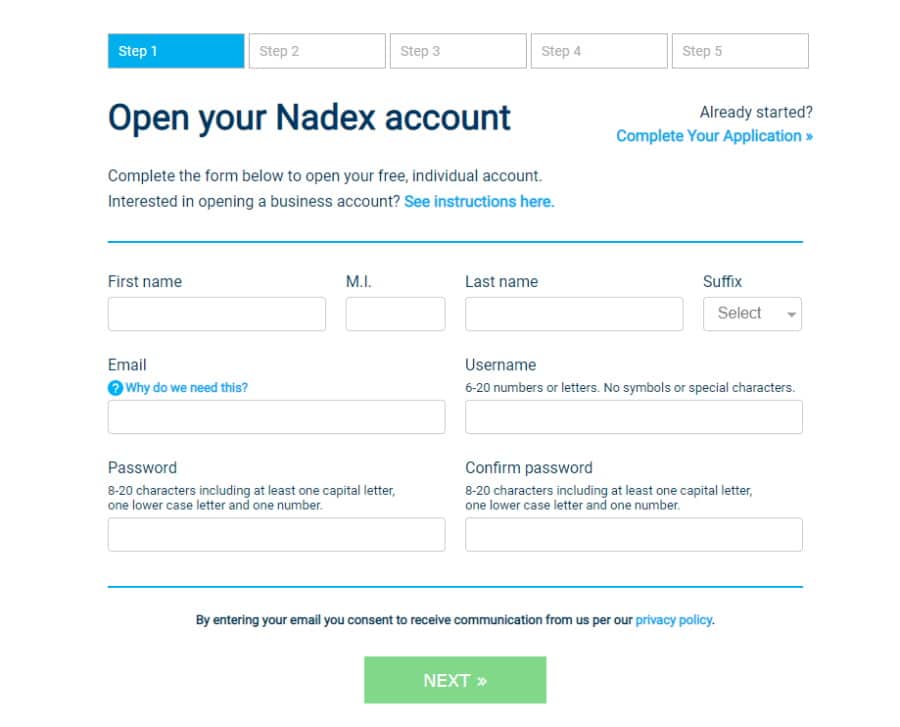 The minimum initial deposit to open a live trading account at Nadex is $250 and the minimum incremental deposit thereafter is $100. You can open a Nadex trading account for free, online in around 5 minutes whenever you want. Simply choose the account you want and follow the onscreen instructions.
Step 2: Provide your personal details for verification
Following stringent KYC policies, you will be required to upload copies of your ID documents and proof of address which can be in the form of a bank account statement or utility bill. Once you have successfully opened your verified Nadex trading account, you can deposit funds via any of the aforementioned payment methods.
Step 3: How to start trading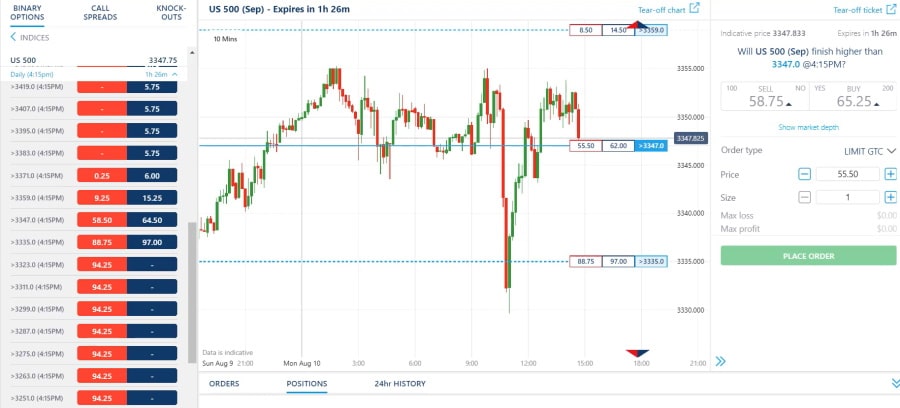 Once you have logged into your Nadex trading account, choose from one of the three trading products: binary options, call spreads, knock outs. Then select one of the market classes, and choose an expiration option underneath one of the markets. For example, you could choose binary options, forex, and daily under EUR/JPY.
Then select the specific contract you are interested in to bring up a price chart as well as to populate an order ticket. From the right-hand corner of the screen, you can either buy or sell the chosen contract by specifying the order type, price, and size of the transaction.
Nadex vs eToro
In summary, if you are interested in trading a variety of global markets, from a single account, such as forex, indices, commodities, and economic events via binary options, call spreads, or knock outs then Nadex is a great choice for this.
However, Nadex only offers derivatives, which means that if you wanted to trade stocks and ETFs the traditional way you would need to look for another online broker. But with so many options out there how do you decide which broker suits your trading needs and investment goals?
Launched in 2007, eToro has amassed over 20 million worldwide traders and is one of the top-rated and trusted social trading platforms of our era. Not only does eToro offer access to CFDs, and forex trading, but also cryptocurrencies such as Bitcoin trading.
67% of retail investor accounts lose money when trading CFDs with this provider.
Furthermore, when it comes to ETF and stock trading when you purchase shares without leverage, you buy the real asset, not a CFD. eToro provides access to 17 international exchanges including the NYSE, Nasdaq, LSE, and Hong Kong stock exchange just to name a few. You can also trade fractional shares with as little as $50 to invest in a portion of a share whose price per unit is much higher than that.
Are you interested in passive trading features? eToro has two trading features called CopyTrader and CopyPortfolio. With copy trading tools you can copy the trades of other eToro investors after browsing through their public profile and statistics. The minimum investment for CopyTrader is $200 with a cap of $500,000. Moreover, you can copy the trades of up to 100 different traders at one time. CopyPortfolios, on the other hand, allows you to invest in a theme such as a cryptocurrency portfolio or a collection of top eToro investors.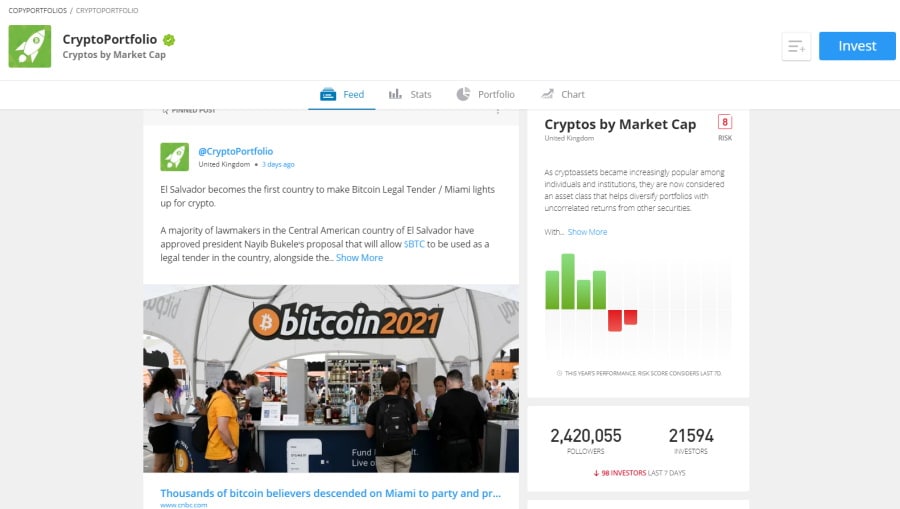 In terms of the fundamentals, eToro is regulated by a bunch of top-tier financial authorities including the UK's Financial Conduct Authority, the Australian Securities and Investment Commission, and the Cyprus Securities and Exchange Commission, as well as the US Securities and Exchange Commission. This means that all clients onboarded to eToro's services are eligible for its private insurance which covers up to $1 million for cash, securities, and CFDs.
Additionally, eToro waives the 0.5% stamp duty tax when you invest in shares of stock listed on the London Stock Exchange. In terms of trading fees, eToro traders benefit from commission-free ETF and stock trading, as well as industry-leading competitive spreads for forex and crypto trading.
Nadex Review: The Verdict
This extensive Nadex review has examined everything from fees and commissions to payments and regulations. All in all, we recommend eToro as the best free trading platform in 2023 as millions of traders benefit from commission-free stock trading, low non-trading fees, and a mobile trading app.
New and seasoned investors are drawn to eToro by its social and copy trading features, in addition to the broker's strong regulatory compliance. So, to start trading heaps of assets with eToro just follow the link below today!
eToro – Best Social Trading Platform with Commission-free Stock Trading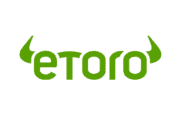 67% of retail investor accounts lose money when trading CFDs with this provider.
FAQs
How do you trade binary options on Nadex?
How do you open a demo Nadex account?
How do you reset a Nadex demo account?