Moomoo Review 2023 – Pros and Cons Revealed
Fact Checked
Everything you read on our site is provided by expert writers who have many years of experience in the financial markets and have written for other top financial publications. Every piece of information here is fact-checked. We sometimes use affiliate links in our content, when clicking on those we might receive a commission - at no extra cost to you. By using this website you agree to our terms and conditions and privacy policy.
Free trading apps are online platforms that allow people to trade financial assets like stocks, bonds, and options for free. With free trading platforms, you can trade with low or no fees, and have access to a wide range of assets. The ease of use and cost savings appeal to traders. That said, Moomoo can offer all the previously mentioned and more.
Moomoo, despite being a relatively new player in the online trading market, Moomoo is gaining popularity among long-term investors and active traders alike. It offers free trades on a wide variety of US stocks, ETFs, and bonds. In addition, Moomoo offers a wide range of educational resources on stock trading and a user-friendly app with great visuals.
Moomoo is a great platform for trading emerging markets or executing trades efficiently. The purpose of this Moomoo review is to explore the features and benefits of the platform in more depth.
Your money is at risk.
Moomoo Review 2023 – Pro's and Con's
 Overview
| | |
| --- | --- |
| Regulation | USA |
| Trading fees | Low |
| Inactivity fee | No |
| Withdrawal fee | $0 |
| Minimum deposit | $0 |
| Demo account | Yes |
| Products Offered | Stock, ETF, Fund, Options, Futures |
| Mobile Platform | Yes |
What is the Moomoo trading platform?
In recent years, Moomoo has become a top choice for traders looking for a well-regulated and cost-effective trading platform.Moomoo Financial Inc. is a member of SIPC, which protects securities customers of its members up to $500,000 (including $250,000 for claims for cash). Explanatory brochure available upon request or at www.sipc.org.Unlike other free trading apps, Moomoo's low-cost trading technology expands beyond US markets and crypto to other emerging markets as well. By using Moomoo, traders can access a broader range of investment opportunities, such as the Chinese and Hong Kong stock exchanges, allowing them to diversify their portfolios and trade beyond the US. Traders looking to optimize their returns while minimizing expenses will appreciate this feature, combined with the platform's low-cost trading technology.
How does Moomoo work?
Understanding how Moomoo works is crucial to our review. Traders can access various investment channels through the mobile trading app available for iPhones and Android phones. Besides buying and selling traditional US stocks and Hong Kong stocks, users can also access the following:
Exchange-traded funds (ETFs): Rather than buying shares of a single company, these assets provide exposure to many companies at once. On the exchange, ETFs can trade like traditional stocks and provide exposure to stocks, bonds, or commodities.
Options: Users can buy or sell an underlying asset, such as a stock, at a set price through these contracts. Alternatively, the user can let the option expire without exercising it. In addition to trading options, buying and selling actual contracts is possible.
American depository receipts (ADRs): Foreign equities can be purchased through ADRs without dealing with foreign stock markets. A US bank holds the stock of a foreign company, thereby providing exposure to the company.
With Moomoo, you can trade ETFs, options, and ADRs easily. An easy-to-use interface makes the app suitable for novice and experienced traders alike. Unfortunately, as of right now, Moomoo does not allow you to trade crypto or forex. Although these markets are limited, users can still view data and quotes.
A major advantage of Moomoo is that US residents don't have to worry about paying commissions on trades in US securities made through the app. However, other small fees, including regulatory fees, may also apply when selling. In addition, options contracts are also charged a contract fee, even though there is no commission fee for trading options.
Moomoo provides users various technical indicators and tools in addition to its trading capabilities. You'll be able to access live quotes, the latest news, insights, and analyses. For example, the New York Stock Exchange Arcabook is a popular tool among professional traders because it provides real-time bids and asks.
Your money is at risk.
What can you trade on the Moomoo app?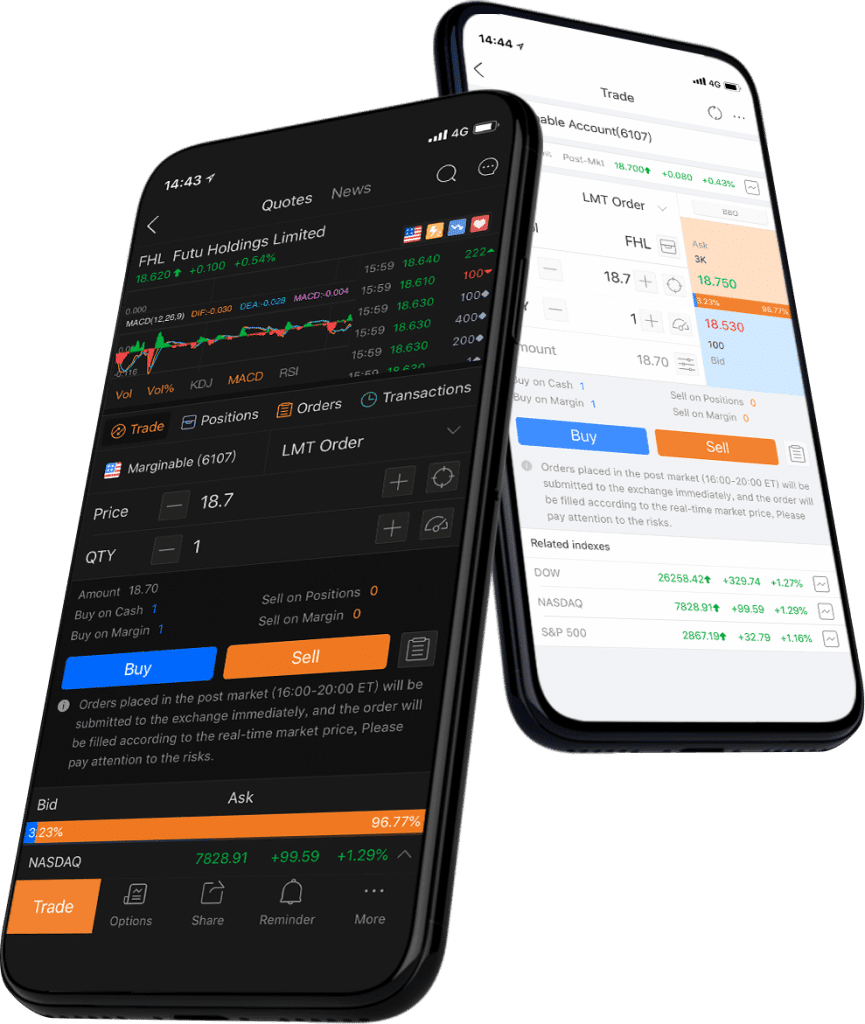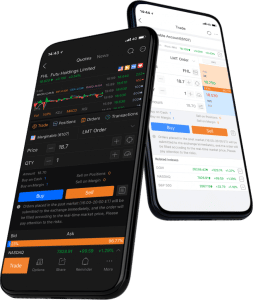 On Moomoo, you can buy securities and ETFs in markets, including:
Through several tools, it is possible to analyze some of the world's biggest global brands.
There is also the option of trading futures through Moomoo Financial Singapore. Users must make a cash transfer and select a futures account in order to create a new profile. After entering the relevant futures contract code, the trade can be placed by clicking "Place Trade."
Moomoo – Pros and Cons
Pros:
There is no charge for the data at level II for US brokerage account customers
A comprehensive charting tool and stock screening are included
It allows you to invest simultaneously in multiple markets
During premarket and postmarket hours, trading is available
There is the option of paper trading
Cons:
Currently, cryptocurrency, mutual funds, bonds, and CDs are not supported.
Your money is at risk.
Moomoo Features
As one of the many trading apps and brokers catering to active traders, Moomoo aims to disrupt the industry by offering free data and powerful charting tools.
Website
Moomoo provides brokerage and trading services through its website. Recently, some improvements have been made to the website.
Market news is a key feature of the website, which displays categories such as volume rankings and top gainers. You can also find a lot of security information on a new page when you click on an entry. That includes financial statements, a list of company executives, indicators, short-selling data, company valuation, news articles and more.
An account icon can also be found in the upper-right corner of the website. Hovering over this icon brings up a drop-down menu with options for transferring money and downloading account documents. The company also added paper trading, which lets users practice trading on exchanges, including:
Singaporean exchange
Chinese mainland
Hong Kong exchange
It would help if you used the correct ticker symbols when using the demo trading feature on Moomoo.
Moomoo recently added a community forum to their website, which is another recent addition. Moomoo has developed a platform that allows users to share and discuss market news and their trades with other community members. Users can follow recommended users and hot topics on the forum. Additionally, users can share, like, and comment on posts. In addition to being easy to navigate, the forum is a great source of information about current market trends.
Advanced Charting Tools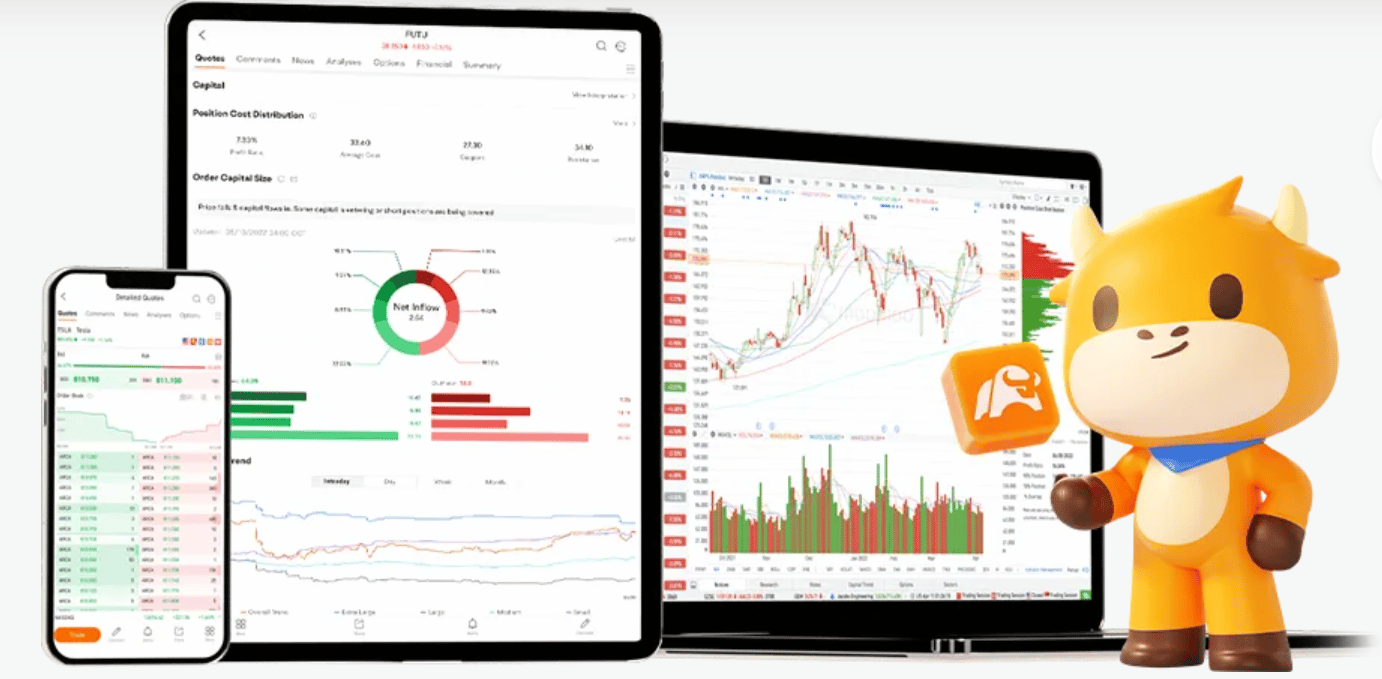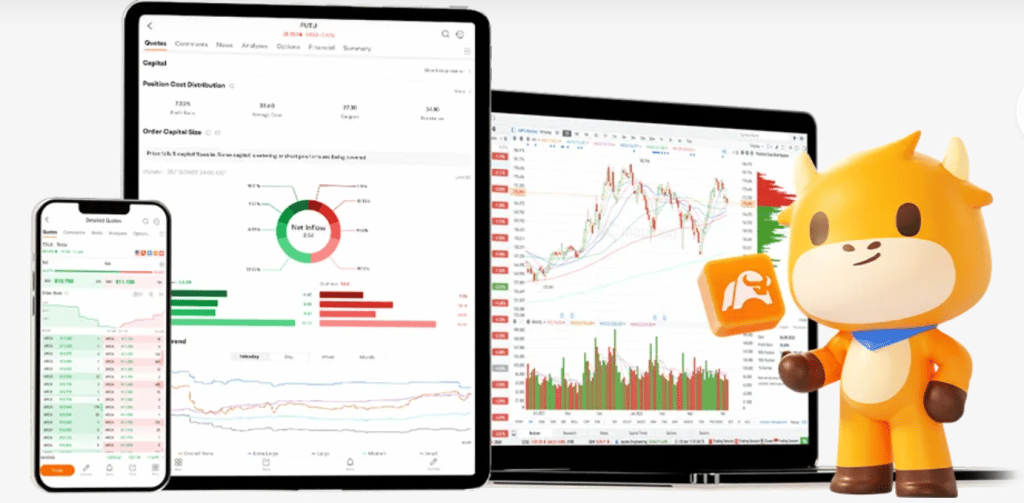 With more than 60 technical indicators and over 30 drawing tools, Moomoo can provide its users with a wide range of technical analysis tools. In addition, the tools allow users to create custom charts on both desktops and mobile devices. This is particularly useful to investors who study technical analysis instead of just fundamental analysis of companies.
There is no doubt that Moomoo's advanced charting capabilities will be a steep learning curve for new investors. Still, the company's target audience is primarily active or advanced traders looking for an alternative to the traditional. However, even if you're new to stock investing, you can still learn how to use these tools thanks to Moomoo's paper trading feature, which allows practice trading without risking real money.
Advanced Order Types
To give you more control over when orders are executed, Moomoo currently supports several order types:
Limit order
Limit if touched
Market order
Stop limit
Trail limit
Market if touched
In addition to these more advanced order types, you can also take advantage of extended trading hours.
Moomoo Stock Screener
Using Moomoo's stock screener on your mobile device or desktop, you can search for stocks that match certain conditions and indicators, such as these:
Market cap
P/E ratio
Stock price
Bid/ask ratio
Trading volume
Net income
Gross profit margin
Operating cash flow
You can narrow a group of stocks using dozens of different filters. The Moomoo screener is a great place to start your research, as it doesn't take a lot of time to update and is easy to use. As a result, it is similar to screeners offered by stock picking services like Seeking Alpha.
Free Level II Data
From Moomoo, you can access level II market data, which includes order book information, such as:
Sizes of recent bids
Current highest and lowest bid prices
Orders that have been placed but have not been filled
Traders cannot see order book depth in level I data since it only shows the best recent bid and ask prices. Because of this, it is difficult to determine a security's bid-offer spread or the depth of the market as a whole.
For beginners who dollar-cost average into index funds periodically, this probably isn't a problem. However, it is crucial to have access to as much data as possible when actively trading stocks or using margin to make informed decisions and properly time and price trades. The data provided by Moomoo is also free of charge for US brokerage account customers.
Multiple Markets To Trade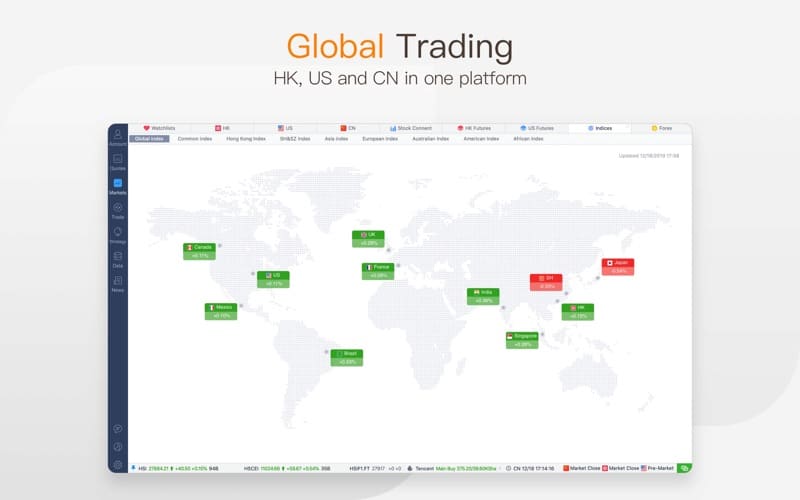 With Moomoo, you can trade stocks from Hong Kong, China, and the United States. Therefore, it would be advantageous if you intend to invest internationally and expand beyond US-listed companies.
Premarket and after-hours trading is also available for US securities, while Hong Kong is open from 8:30 pm to 11 pm and 12 am to 3 am. ET.
Community Portfolios
The strong community that Moomoo has established among its users is one of its key strengths. For example, in the Moomoo portfolios section, you can find the top portfolios from other traders on the platform by day, month, and year. This feature allows you to learn from other Moomoo users and potentially discover new stocks.
Another feature of the Moomoo community is its general chatroom, which users can use to ask questions and discuss topics. You can also keep up with breaking market news through a news feed. There are also many tutorials on using Moomoo's features and investing in the platform. It's a great way to learn from other traders and stay informed. This feature is interesting to explore because of the diversity of the portfolios and the ability to follow a specific theme, such as biotech or energy stocks.
Demo Trading
Moomoo offers a demo trading account for anyone who wants to practice trading without risking real money. Trading on markets such as New York, Hong Kong, Singapore, and China A-Shares is possible with an account funded with $1 million in virtual dollars. Paper trading is also available for options and futures, although options trading is limited to the US and Hong Kong markets.
It's uncommon for online brokers to offer paper trading, so this is a notable selling point for Moomoo. Investing skills can be enhanced without spending real money. Traders new to the market will benefit from this feature as they can practice and gain experience before investing their own money.
Mobile App
Moomoo's mobile app does offer trading capabilities. Order tickets have the following trade types:
Market
Limit
Stop limit
Stop
Limit if touched
Market if touched
Trailing stop limit
Trailing stop
Moomoo's trading platform offers eight different order types, a good selection for users. However, the software has limited duration options, with only day and GTC (good till cancelled) being available. The trade ticket interface has been recently updated to include bracket orders, which can be found in the "attached order" section. Additionally, the trade ticket will note if a trade results in a margin being used on the amount line.
When you scroll down on the trade ticket, you will find an order book with a depth chart that displays the price on the horizontal axis and share amounts on the vertical axis. The chart also includes a graphical representation of bid and ask prices, allowing you to compare the number of bids against the number of asks. Up to 60 rows of bids and asks can be displayed, and multiple exchanges can be displayed on the same chart. Examples of exchanges include:
NYSE ArcaBook
CBOE Direct Edge
NASDAQ TotalView
Moomoo's mobile app offers improved charting capabilities compared to its website, with features such as technical studies and drawing widgets. The app also provides access to stock histories dating back at least 25 years. However, the charts can become cluttered when using multiple tools and rotating them horizontally.
The app's main menu is located at the bottom of the screen, with the watchlist page being a useful feature. Users can create multiple lists, and the app also includes pre-installed lists for assets that can't be traded, such as crypto and futures. Tapping on an entry generates the asset's profile, which includes an options tab, but it is limited to trading call and put options only, with no spreads or multi-leg trade options.
The mobile app has many useful features, simulated trading, and a high degree of customization, but it lacks mobile check deposit and streaming video news. Despite these limitations, the app is still a good option for traders who want to access their accounts on the go.
Bonus and Promotions
Promotions and bonuses aim to attract new clients and keep existing ones. There are many ways to provide these incentives, including cash bonuses, fee reductions, or other rewards. As a result, brokers can distinguish themselves from their competitors by offering bonuses and promotions to their clients. Moomoo stands out in this matter by offering excellent bonuses and promotions. Let's check some of them in detail:
Welcome Bonus
Moomoo is currently offering a promotion for new users who open a brokerage account during the promotion period, which runs from November 17, 2022, at midnight Eastern Time to February 28, 2023, at 11:59 pm Eastern Time. During this period, new users will receive a chance to draw a free stock worth between $3 and $2,000. Additionally, those who complete a net deposit of $100 during the promotion period will receive 4 draws for a free stock, while those who complete a net deposit of $1,000 will receive 10 draws.
The deposit must be made via ACH or wire transfer to qualify for these deposit bonuses. After receiving the free stocks, users will need to maintain average assets of $100 or $1,000 for 60 days to unlock the stocks. "Net deposit" is the total deposit minus the total withdrawal.
To be eligible for the account opening bonus, individuals must be US residents with a valid Social Security Number (SSN), be at least 18 years old, and not already have a Moomoo US brokerage account. To qualify for the deposit bonus, clients must not have deposited this promotion and must also meet the same requirements of being a US resident with a valid SSN and at least 18 years old. It's important to note that any account opening and deposit bonuses will only be awarded to participants who have an active brokerage account with Moomoo Financial Inc. Individuals who no longer have an active brokerage account with the company will not be eligible for any bonuses.
Customer Service
Moomoo provides a variety of support options for its customers. One option is phone support, which is available during weekdays from 8:30 am to 4:30 pm Eastern Standard Time. During our testing, we found that it was easy to reach a human agent who spoke North American English.
Another support option is the chat widget, which is available on desktop and mobile platforms. This service is a combination of robo-human chat and is staffed by both types of associates 24/7.
In addition, the company's website has a Help page that provides answers to many common questions traders may have. However, it's worth noting that Moomoo does not have any physical branch locations and does not offer investment advice.
Your money is at risk.
Moomoo Fees & Cost
US residents can trade US stocks, ETFs, and options commission-free with Moomoo. Regulations may, however, apply. For example, there is a small charge for stock sell orders imposed by the US Securities and Exchange Commission (SEC), not exclusive to Moomoo but standard in the industry. Currently, the rate is negligible at 0.0000229 x transaction amount.
A minimum of $0.01 per order is charged for trading activity fees, which are $0.000145 per share or $0.00244 per options contract. Additionally, regulatory options fees are $0.01815 per contract, and OCC fees are $0.02 per contract (for contracts between 0 and 2750) or $55.00 per trade (over 2750).
A commission fee of 0.03% is charged for Hong Kong stocks and China A-shares or a minumum of 3 HKD/3 CNH per order (whichever is higher). In addition to regulatory fees, Moomoo charges a platform fee of 15 HKD/15 CNH per order, along with trading tariffs, exchange settlement fees, and stamp duty.
Payment Methods
A broker must have a variety of payment methods in order to serve as wide an audience as possible. Brokers can attract and retain clients by offering them various payment options when funding their accounts. For example, Moomoo offers different options for its clients regarding deposits or withdrawals.
Deposits
Unlike some other brokers, Moomoo does not have a minimum deposit requirement, which is ideal for those who are just starting. CNH, HKD, and USD are the currencies used to fund accounts.
Moomoo offers several options for funding your account, including the following:
Automated Clearing House (ACH) Transfers: This option is available for US bank accounts only, with no deposit fee and 5 business days settlement. The maximum deposit per transaction is $5,000.
Domestic Bank Wire Transfer: This option comes with a $10 fee plus additional bank charges (estimated at no more than $50) and has a 1-3 business days settlement.
 International Bank Wire Transfer: This option also has a $10 fee plus additional bank charges (estimated at no more than $70) and has a 1-3 business days settlement.
Moomoo also offers instant buying power on US stocks and IPOs, with an initial limit of $1,000 which can be increased if sufficient assets are in your account. You will have access to this feature when your deposit clears or within seven days of the initial grant.
Withdrawals
For ACH transfers, there is no fee, but for bank wire transfers, there is a $20-$25 fee plus any bank charges. In addition, bank wire transfers can only be made in USD. Before withdrawing money, clients must convert the currency using the platform's currency exchange.
There is a maximum withdrawal amount of $10,000. Traders may, however, initiate several transactions at the same time. The average processing time is five business days.
Your money is at risk.
Moomoo Security
Following the reviews on the internet, Moomoo's app is "professional, fast, and stable."
Android and iOS devices can use the app, and Windows and Mac desktops. Furthermore, the downloadable client offers features such as AI Monitor, Advanced Charts, and Custom Alerts.
In addition to promoting a stable trading environment, these features also provide users with the information they need to make valid trades. For example, the AI Monitor tracks market changes in volatile stocks without requiring manual configuration and finds trading opportunities. With Advanced Charts, users can find trends and opportunities for their investment strategies by using 63 technical indicators and 38 drawing tools. With customized alerts, users can receive notifications when indicators change, and prices move so that the app can work for them.
Moomoo User Experience
With Moomoo, you can enjoy various features that create a positive user experience. In addition to the features mentioned above, the app offers pro-level tools, trade notes, and earnings calendars. With Moomoo, users don't need to sacrifice functionality when it comes to mobile apps since it offers a variety of stock selection tools and trade notes that make it easy to track every trade. In addition, clients can learn continuously from their trades while earnings calendars track account growth. Moomoo's extensive features make it an easy-to-use, user-friendly trading app.
Your money is at risk.
Moomoo – Conclusion
The Moomoo platform offers US American investors a unique way to access Hong Kong and Chinese stock markets, which may appeal to traders who cannot trade directly. Traders are attracted to the platform due to its access to emerging markets and low fees. Before using Moomoo, consider whether you are comfortable trading in foreign markets. You will unlikely have an advantage in international markets since financial professionals spend their entire careers studying all major markets, including international markets. Further, it is crucial to understand other countries' regulatory and governance structures since you may be at a disadvantage if you are unaware of them. Last but not least, Moomoo can lead to a total loss in your portfolio if you take too many risks and bet on margins you can't afford.


Your money is at risk.
FAQs
Is it safe to use Moomoo?
How much does Moomoo cost?
Moomoo is a financial information and trading app offered by Moomoo Techonologies Inc. Securities are offered through Moomoo Financial Inc., Member FINRA/SIPC. The creator is a paid influencer and is not affiliated with Moomoo Financial Inc. (MFI), Moomoo Technologies Inc. (MTI) or any other affiliate of them. The experiences of the influencer may not be representative of the experiences of other moomoo users. Any comments or opinions provided by the influencer are their own and not necessarily the views of MFI, MTI or moomoo. They do not endorse any trading strategies that may be discussed or promoted herein and are is not responsible for any services provided by the influencer. This advertisement is for informational and educational purposes only and is not investment advice or a recommendation to engage in any investment or financial strategy. Investing involves risk and the potential to lose principal. Investment and financial decisions should always be made based on your specific financial needs, objectives, goals, time horizon and risk tolerance. Any images shown are strictly for illustrative purposes.