If we are talking about an online broker having a positive reputation, free of commissions, and with a platform that can satisfy the commercial needs of a community of traders composed of more than 20 million traders, this is what we mean when we say that eToro is exactly that.
Due to its growing acceptance, we decided to create a comprehensive eToro review with all the relevant information that you need to know. Learn about rates, account types, payment methods, and a lot more about this platform in our guide.
What is eToro Ireland?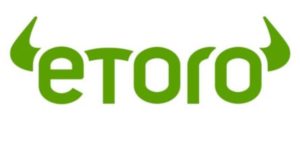 eToro is a trading platform that provides a comprehensive range of features that assist newcomers and professionals alike to become successful traders online. eToro was the first major player in online trading after it became popular in early 2007 as a social trading platform and copy trading platform. The popular trading platform offers users access to thousands of stocks, cryptocurrencies, commodities, foreign exchange pairs, indices, and exchange-traded funds to trade. On top of all that, eToro allows users to invest in any top markets, with absolutely no commissions, allowing them to trade any of the top markets with zero cost.
It is imperative that eToro does not just provide trading opportunities with so many different financial assets available but also provides excellent educational resources and market analytics to its users.
Suppose you are looking for a broker who prioritizes an enjoyable user experience. In that case, we think it is pertinent to highlight a fact behind eToro: the priority that this broker places on the performance and user-friendliness of its platform. Choosing which assets to trade is simple. The charts and tools provided are clear and sufficient for finding assets to trade.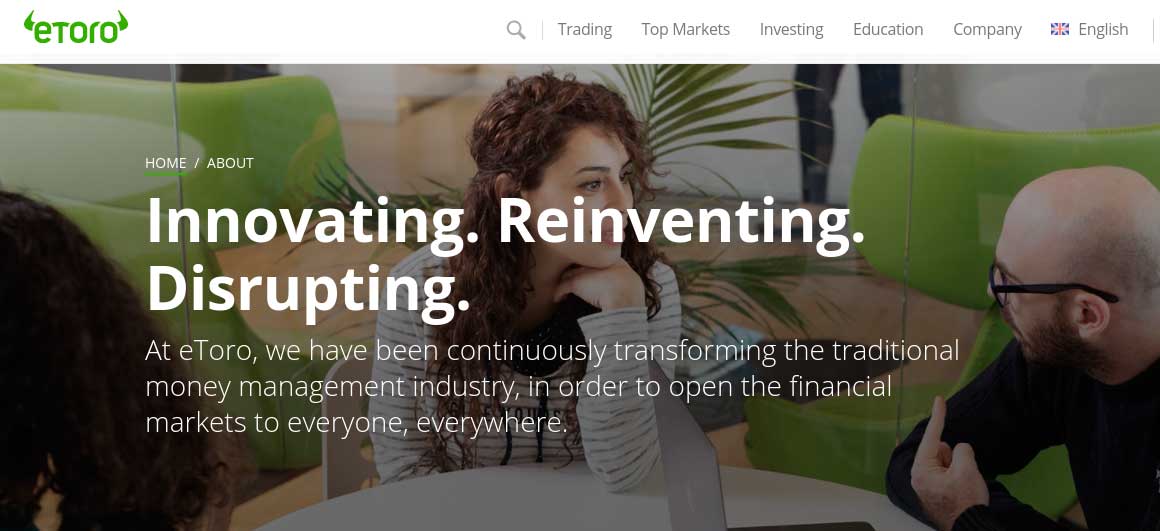 67% of retail investor accounts lose money when trading CFDs with this provider. You should consider whether you can afford to take the high risk of losing your money.
A further benefit of all accounts is that they all have a demo account that starts with $100 thousand in virtual equity, allowing anyone to learn how to trade or test new trading strategies without committing to a real money account.
There are so many trading strategies that can be performed through this platform because of the wide range of financial assets that are available with the option to copy trades, like automated trading, in addition to the capability of executing many different financial assets. eToro offers live trading makes it much easier for those who want to trade short-term and intraday. Users looking to hold their positions for longer periods can also do what they do best by investing in ETFs and copying traders who have long-term strategies.
eToro Broker Ireland Pros & Cons
What we like
Trading without commissions
The FCA regulates it in addition to the Cyprus Securities and Exchange Commission.
User-friendly app available for smartphones
There are hundreds of educational resources offered
Simple and informative research and analysis on equities and markets
Integrated copy trading features, including Copy Trader and Copy Portfolio
Live updates and news through a highly interactive social trading platform.
You can try it out with a demo account of $100k for free.
With a wide range of payment methods such as credit cards, debit cards, and Neteller, you can easily make payments. Furthermore, there will be no deposit fees on bank transfers.
Reliable and willing customer support at any time.
What we don't like
On certain instruments, the spread is higher than average.
There are no advanced technical indicators
67% of retail investor accounts lose money when trading CFDs with this provider. You should consider whether you can afford to take the high risk of losing your money.
What Can You Invest in and Trade on eToro Ireland?
Upon reviewing its capabilities for our eToro review Ireland, it turns out that it allows traders the possibility to trade 2,689 shares, 13 indices, 32 commodities, 49 forex pairs, and 42 different cryptocurrencies.
As a trading platform, eToro provides users with CFD and CFD contracts for difference options that can either be leveraged or without leverage. By making use of leverage, users will be able to place bets on the price difference of an asset and earn exponentially more than they would otherwise have been able to earn. The downside of this is that increased leverage means that the trades are riskier, and more likely to result in a loss of capital.
During this section of our eToro review Ireland, we will look more closely at all of the assets that this broker provides for its clients on its platform in Ireland. By doing so, you will be able to gain a deeper insight into its current offering.
Invest in Forex

There is more than $6 trillion worth of assets traded every day on the forex market, making it the largest traded market to date. Therefore, Forex is one of the most popular financial instruments available on eToro, namely 49 pairs of currencies that can be traded. Major pairs such as EUR/USD and GBP/USD are also part of this category, and more minor ones like EUR/CHF, GBP/AUD, CAD/JPY, and many others.
With an eToro standard account, customers have the option of trading forex with leverage of up to 20:1. Commissions, however, remain at zero. The spreads for eToro are one thing to keep in mind for those looking to trade Forex. EUR/USD is priced at 1 pip but increases with other currency pairs.
Another option is to find a copy trader or copy portfolio that trades currency pairs regularly, so a consumer interested in investing in Forex can find a copy trader who provides a suitable investment portfolio. For example, with eToro, all forex trading takes place through contracts for difference, and there is a fee for overnight and weekend trades.
Trade Stocks
According to our eToro review Ireland, stocks trading with eToro are available from 15 international markets, including the NYSE and NASDAQ, as well as other relevant ones. Markets from important European economic centers such as Frankfurt, London, Madrid, Milan, or Paris are just some of the markets on the list. Trading on these markets will, of course, only be possible when the respective markets are open.
With eToro, users can buy the underlying asset with their credit cards. Therefore, when trading stocks, users purchase the underlying asset instead of trading CFDs, where no actual asset is involved. By doing this, users can hold their purchased stocks without any additional fee even after buying the stock unleveraged.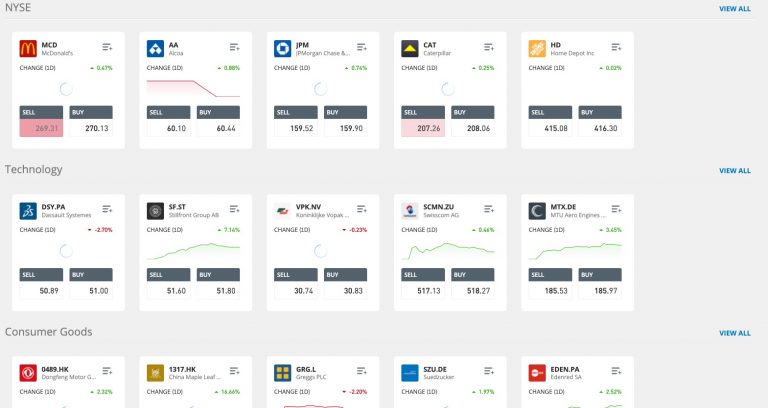 During our research for this eToro app review, we found that this online platform offers both leveraged and unleveraged trading and different trading strategies when it comes to trading stocks. Since eToro offers both leveraged and unleveraged trading for stocks, users have the option of using different strategies to trade shares. In this manner, they may move between buying stocks for the long term and buying for the short term, making better use of their leverage to increase their daily earnings.
Invest in Indices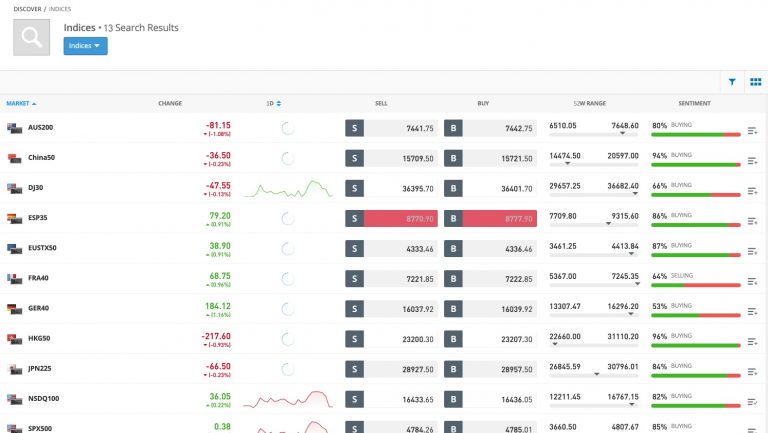 eToro gives you the option to trade 13 different types of indices. A standard account allows for maximum leverage of 10:1 when dealing with assets such as these. The only CFD option for indices is to trade them long or short so that users can put their money in either direction, but they must pay overnight fees if their positions are held overnight.
eToro offers a full selection of educational materials and analytics for index trading as part of their service. The platform provides information such as what drives prices, current volatility, demographics of the indices, and what to look for when trading them. While the content of this site is purely educational, it is important to note that it should not be construed as investment advice and should only be viewed as such.
According to a previous eToro copy trading review we did before this guide, it is also possible to find copy traders who invest in indices and other assets in eToro. Indexes are typically held for a long time, but they can be traded over a shorter period of time, depending on the news and the market in general.
Trade Commodities CFDs
The eToro platform offers 32 different commodities that can be traded, so for investors looking to diversify their portfolios, this gives them a wide range of choices.
eToro offers a wide array of commodities, which can be categorized into three categories as follows. First, as for the precious metals, there is a wide range of instruments to be found here, such as gold, silver, and platinum, to name a few. In a second instance are the energies where oil and natural gas stand out. Last but not least, agricultural products, such as sugar, corn, and wheat, are some of the most popular. Please note that the minimum trade size for both buying and selling commodity CFDs is $ 50.

The commodities traded on eToro are essentially CFDs that can be leveraged at 1:4, 1:5, and 10:1. If you feel a commodity is overvalued, then short-selling is also an option you may consider.
During our eToro copy portfolio review, we found out that some copy traders invest a portion of their portfolios in commodities in which users can make investments. However, there is still a risk if you use a copy trader and check for reputable copy traders.
Trade Cryptocurrencies
The boom in cryptocurrency has not been ignored by both the main and the more traditional brokers because its popularity has increased proportionally. It has long been the intention of eToro to stay on top of the latest trends and is one of the first companies to introduce digital currencies. Therefore, it has 42 cryptocurrencies within its trading platform, but not forgetting Bitcoin, which is considered the most positioned cryptocurrency.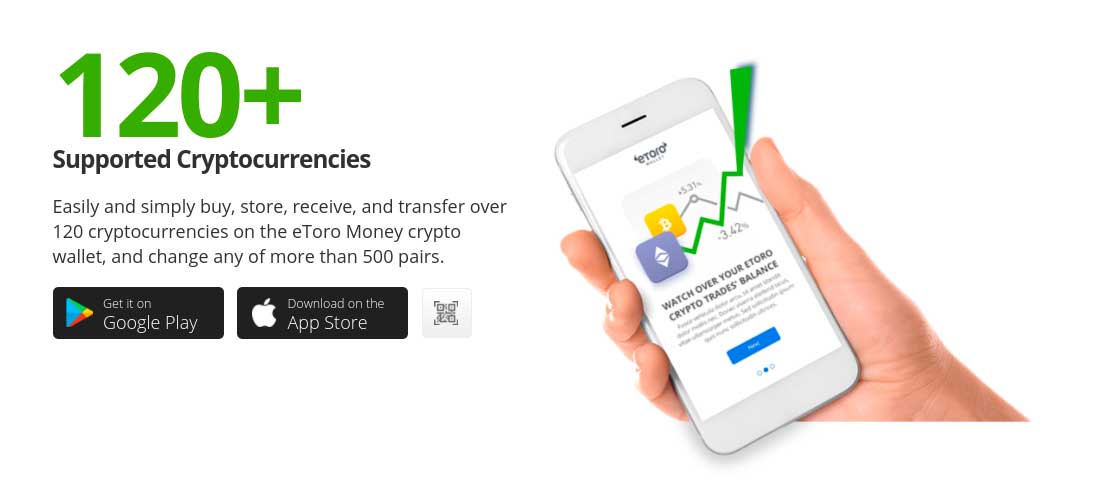 Along with cryptocurrency trading, eToro also has a crypto wallet that enables you to store your cryptocurrency, which is why we have also reviewed the eToro wallet, which is part of its features. Certainly, according to our eToro wallet review, it is among the safest cryptocurrency wallets on the market since it offers several high-level security features, including multi-signature functionality, DDoS protection, and a standardization protocol, which will allow the wallet to be protected from unauthorized attacks on its network.
The fact that cryptocurrency traders cannot currently choose CFDs when trading cryptocurrencies means that all digital coins sold as of right now are only available as long trades, with no option to short trade cryptocurrency at all. There are, however, hundreds if not thousands of copy traders who have incorporated cryptocurrency trading into their portfolios despite this. Moreover, since certain traders only invest in cryptocurrencies, there are plenty of ways to trade cryptocurrencies amongst copy traders.
67% of retail investor accounts lose money when trading CFDs with this provider. You should consider whether you can afford to take the high risk of losing your money.
eToro Ireland Fees & Commissions
In choosing the best trading app Ireland to entrust your investment, it is obvious that you should be looking at both the fees and commission structure of each one to ensure that you get the best possible results from your investment. To trade rationally, therefore, it is worth paying attention to each of these aspects associated with a broker's operation.
Here are the one-off eToro fees and commissions you should be aware of before you begin using the platform. This eToro fees review will be useful to help you avoid any unnecessary headaches.
| | |
| --- | --- |
| Trading Fee | Charge |
| CFD trading | 0% Commission; Overnight on leverage is not included in the spread |
| Forex trading | 0% Commission; From 1 pip spreads; Overnight on leverage is not included in the spread |
| Crypto CFD leverage | None |
| Share CFD leverage | Up to 5:1 |
| Indices CFD leverage | Up to 20:1 |
| Commodities CFD leverage | Up to 10:1 |
| Forex CFD leverage | Up to 30:1 |
Finally, a quick look at eToro's non-trading fees.
| | |
| --- | --- |
| Non-trading fees | Charge |
| Overnight Fee | The overnight fee charge of CFD traded stocks, indices, commodities, and forex is based on the total value of the position and amount of leverage used. |
| Deposit Fee | 0% |
| Withdrawal Fee | $5 |
| Inactivity Fee | None |
| Account Fee | $10 per month after 1 year of inactivity |
67% of retail investor accounts lose money when trading CFDs with this provider. You should consider whether you can afford to take the high risk of losing your money.
eToro Ireland User Experience
The neatness of the eToro platform has been one of their top priorities. With an attractive design and completely user-friendly, eToro stands out for being a broker that facilitates trading even for newcomers.
The simplicity of its platform has been very well received as a radical change from other online trading platforms containing too many complicated tools and features. If you're not interested, for example, in technical indicators or you're simply interested in buying a few stocks, you will become familiar with its operation without difficulty.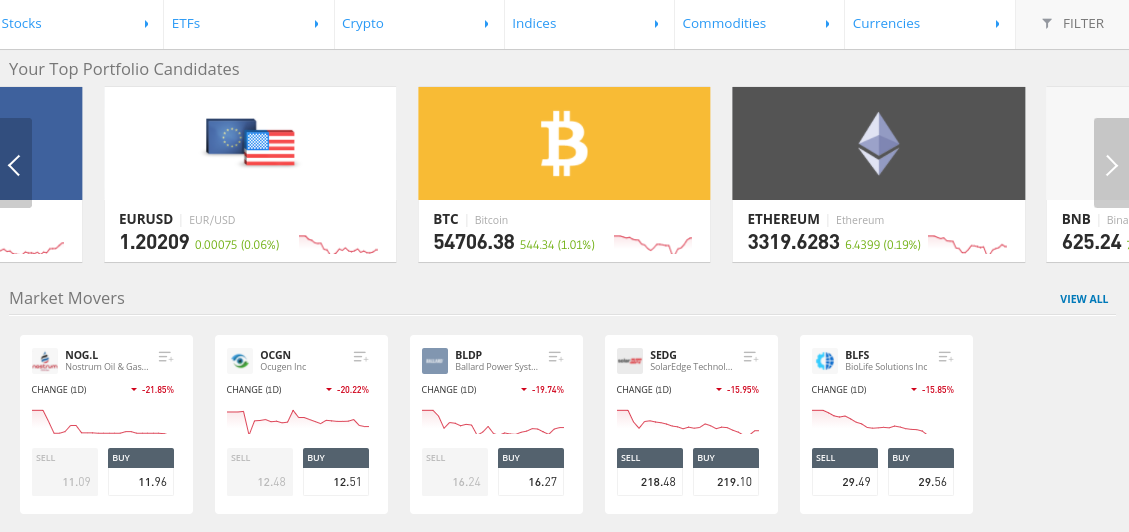 eToro is an online trading platform that presents users with a streamlined and easy-to-use home page highlighting the investment opportunities exposed to different global markets.
It is important to keep in mind, though, that eToro's search function does not only display relevant information on a particular asset but also shows the accounts of other users who may wish to trade that asset. In other words, users will be able to search for more than assets, but they will also find a suitable copy portfolio holder or a suitable copy trader.
Regarding the platform's security, you shouldn't feel worried about it since eToro offers two-factor authentication and multi-factor authentication. In this way, you will be safe against any attack that may happen to your account.
eToro Ireland Features, Charting, and Analysis
What makes eToro such an attractive trading platform is its copy trading option, allowing investors to copy other investors' portfolios that end-users can copy. Professional traders or investors with a financial background are usually interested in using this trading platform. Investing in this can allow anyone to earn without knowing much about the market or having to have much expertise.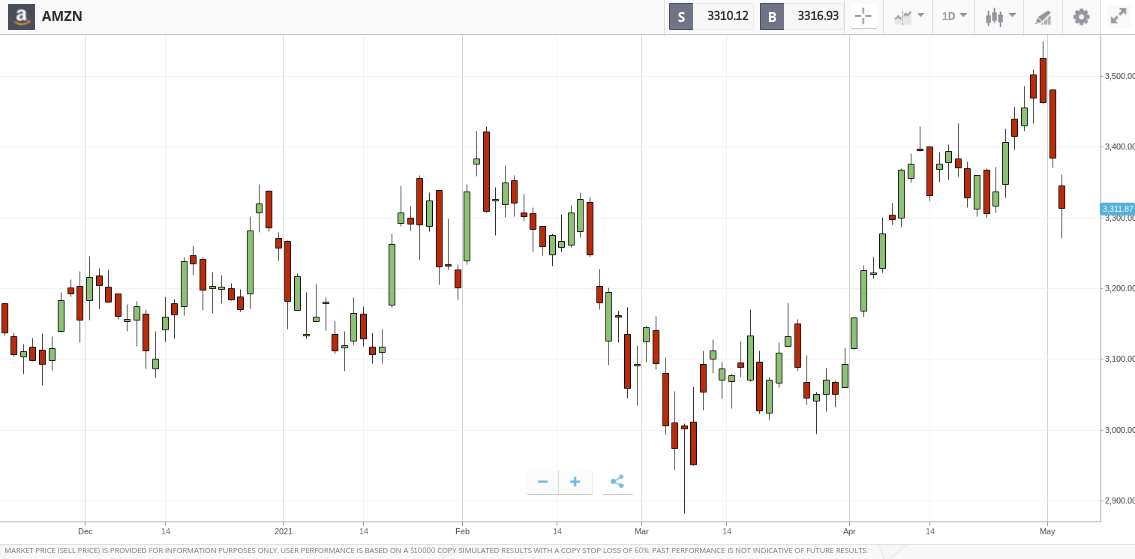 On the other hand, eToro has a wide range of charts with technical indicators, and eToro provides a range of tools for charting. The charts usually come in either the candlestick pattern or the simple line charts. However, aside from the ability to change the chart style, other tools are also available, such as the ability to view the Relative Strength Index (RSI), Moving Averages (MAs), and Fibonacci sequences name a few.
The fundamental research offered by eToro seems to be fairly comprehensive, with a handbook and extensive database. It is possible to view key metrics concerning the market's mood, such as analyst recommendations, where they express their opinions on whether those stocks should be viewed as a buy, sell, or hold. There is also the option to view hedge fund predictions and price targets.
eToro Ireland Account Types
Traders can choose from various accounts designed for their specific needs. After you register, you will choose from the following range of options. We will explain these choices below for each one to make an informed decision.
Also, we recommend creating a demo account to allow you to get acquainted with the platform before going to live trade.
| | | | |
| --- | --- | --- | --- |
| Features | Standard Account | Islamic Account | Professional Account |
| Leverage | 30:1 maximum leverage | 30:1 maximum leverage | 400:1 maximum leverage |
| Minimum deposit | $10 | $1,000 | Portfolio exceeding $500,000 |
| Dedicated account manager | Yes | Yes | Yes |
| Exclusive webinars | Yes | No | Yes |
There are two accounts specifically reserved for certain niches out of the ones described above. The first one is the Islamic account, which is a special account open only to Muslim traders who wish to trade swap-free on the different forex trading instruments available. Finally, it is also possible for companies to open a corporate account exclusively for their needs.
67% of retail investor accounts lose money when trading CFDs with this provider. You should consider whether you can afford to take the high risk of losing your money.
eToro Ireland Mobile App Review
With an intuitive, good design and a really impeccable interface, eToro offers its clients an app available for Android and iOS devices. With all of the same features as the main website, this app gives its clients full access. So regardless of where you are located, you will be able to buy, sell, and trade your favorite financial markets without any further issues.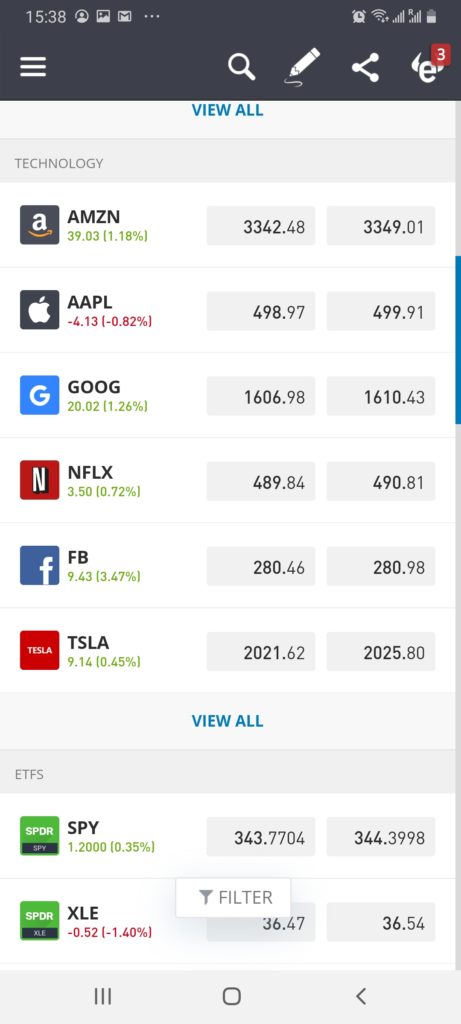 67% of retail investor accounts lose money when trading CFDs with this provider. You should consider whether you can afford to take the high risk of losing your money.
Prices, trends, and the latest news are the most popular features within the mobile app. When your positions reach their respective stop loss or take profit levels, you will be notified if you enabled notifications on your device in the later step when that happens.
The small screen won't restrict you from searching for an asset and placing an order, as you can focus on whatever you need to. Likewise, you can deposit or withdraw money easily using this app.
You might be thinking about the available payment methods and whether you need to fund or withdraw money from your account. If that is the case, stay with us as we explore this topic below in our eToro withdrawal review.
eToro Ireland Deposit and Withdrawal Methods
The minimum deposit may vary according to your location. For most users, it is $ 200, but US and UK citizens must deposit $10 when opening a standard eToro account. However, it would help if you kept in mind that the following deposits require a minimum of $50. As far as payment processing is concerned, credit cards and electronic wallets are the suggested methods for this purpose.
This broker offers you the following options for payment, which include: Visa, Visa Electron, MasterCard, Maestro, PayPal, Skrill, Neteller, Local Bank Transfer (in a limited list of countries), and International Bank Wire.
You can withdraw your funds using the same method of payment that you deposited with when you made your deposit. As far as withdrawal fees are concerned, you should remember that the rate is $ 5 for every withdrawal. You can only be exempt from these charges if you have a platinum account or higher, and if you do not, you should consider this. However, as a part of its customer rewards strategy, eToro will upgrade you as you earn higher profits over time.
eToro Ireland Contact and Customer Service
eToro has access to a skilled team of customer service agents that is available to address your concerns, inconveniences, and questions at any time regarding your experience with the service. Whenever you log into your account, you will be able to go to the Live Chat button to instantly contact an agent who will be willing to assist you right away.
It is possible for customers with premium accounts to schedule calls in advance in order to make contact with specialized customer service agents. In addition, eToro is also available on social media platforms like Twitter or Facebook.
Is eToro Ireland Broker Safe?
Yes, it is. It is regulated by the UK's Financial Conduct Authority as well as CySEC, which is the regulatory body in Cyprus. Clients in the United Kingdom are covered by up to £85,000 under the Financial Services Compensation Scheme (FSCS). In contrast, clients in the EU are covered by up to €20,000 under the Insurance Co-operation Scheme (ICS) if a broker goes into liquidation.
Since eToro offers negative balance protection according to regulatory requirements, all clients' funds are held in segregated bank accounts. eToro's negative balance protection policy ensures that in the unlikely event that accounts equity becomes negative on rare occasions, certain positions will be margin called to ensure that you do not have any negative equity on your account.
How to Start Trading with eToro Ireland
Step 1: Open a Trading Account
As soon as you open the website, you'll see a 'Join Now' option to register. You will need to click on this button to open an account. After you fill out the form, you will be asked to provide a username and password for your account. You may also sign up with an existing Facebook or Google account if you choose.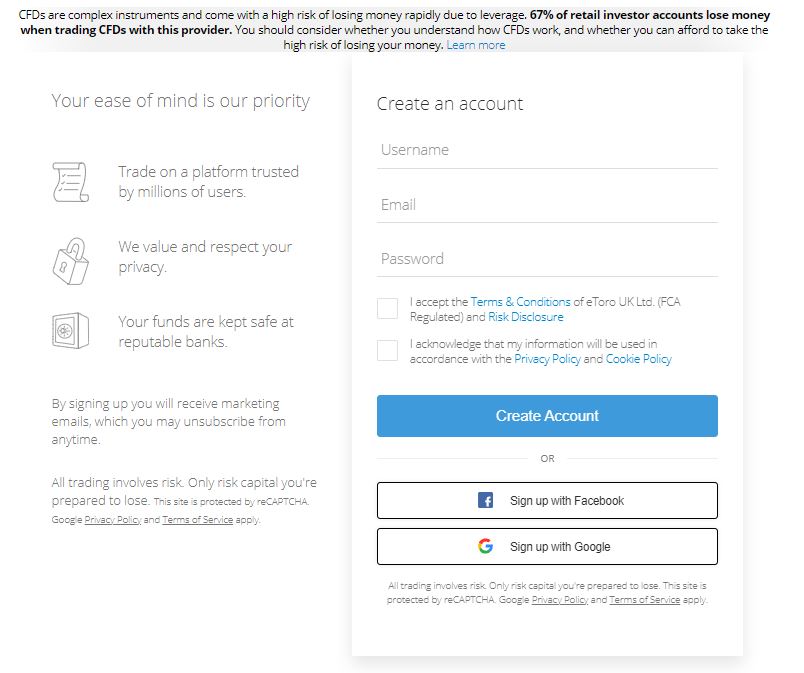 67% of retail investor accounts lose money when trading CFDs with this provider. You should consider whether you can afford to take the high risk of losing your money.
Step 2: Verify Your Identity
As part of the registration process, you will need to present a valid government-issued identification document as proof of your identity. These documents are required to validate your identity and facilitate the registration process. eToro users have the choice to use different forms of identification to log in, such as their passport, a driver's license, or proof of residency.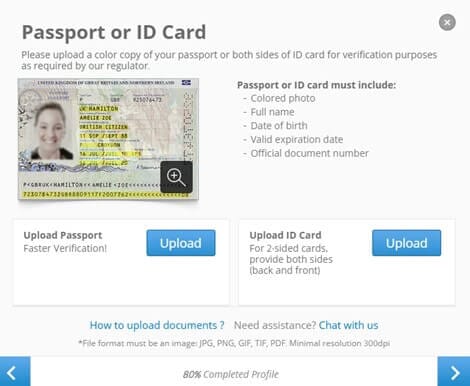 Step 3: Deposit Funds
With eToro, you can get started with a low $10 deposit before you can start trading. It can be funded using various payment methods, including credit cards, debit cards, bank transfers, or PayPal. However, you shouldn't feel worried about it since a wide selection of payment options is available to you, so you can choose the method that suits you best.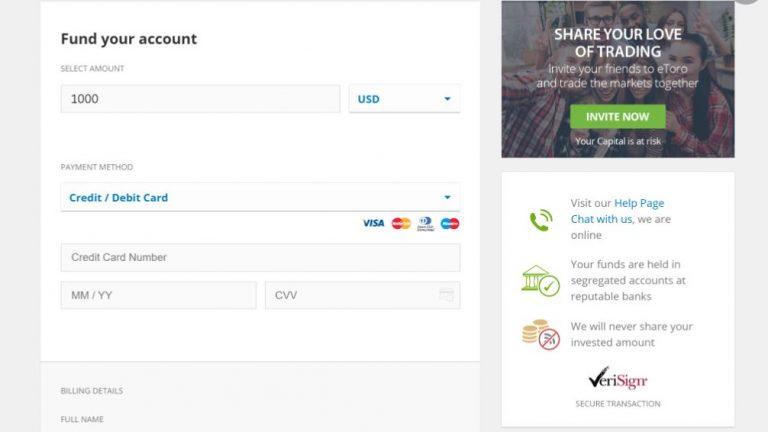 Step 4: Start Trading with eToro Ireland
You are almost ready to start trading at this point in the guide. It is as simple as typing in the asset you wish to trade in the search bar on the top of the page. Then, when you click on the Trade button in the upper left corner, you will be able to select an amount along with the leverage you wish to use to trade with. There is no need to manually fill in the stop loss and take profit levels because they are automatically calculated. You have executed your first trade when you've finalized the parameters for the trade and clicked on Open Trade once you have done so.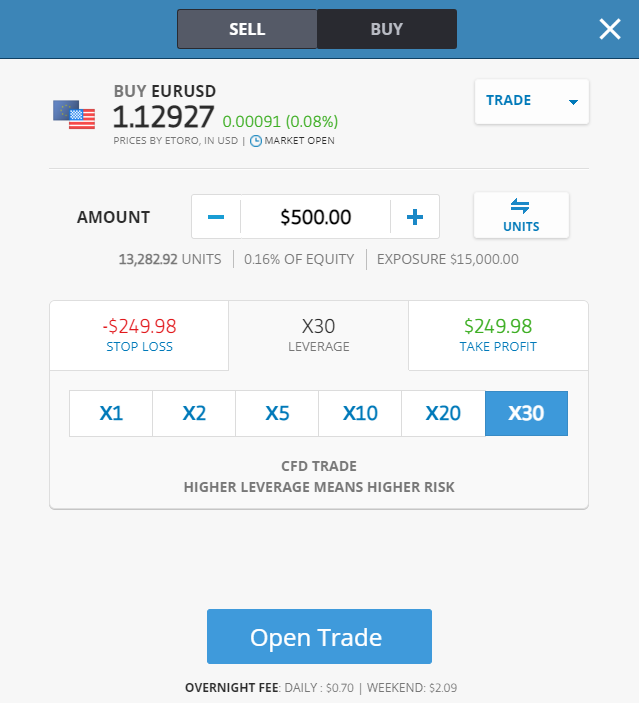 67% of retail investor accounts lose money when trading CFDs with this provider. You should consider whether you can afford to take the high risk of losing your money.
eToro Ireland Review – Conclusion
Whether you are an experienced trader or a newbie to online trading, at eToro, you will find many convenient tools to help you achieve your investment goals. With a broad community made up of more than 20 million clients, this broker confirms the growing acceptance of its friendly and comprehensive platform that has proven to meet the expectations of the global trading community.
Starting trading with eToro will only be enough with a simple registration that will take a couple of minutes. Still, it will be enough to open the doors to start your investment without commissions and with the possibility of diversifying your trading strategies in multiple markets under the supervision of reliable regulators that will maintain your money safe.
eToro – Best Ireland Trading Platform with 0% Commission to Trade Stocks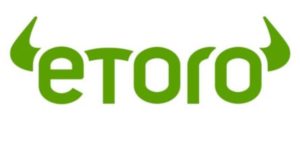 67% of retail investor accounts lose money when trading CFDs with this provider. You should consider whether you can afford to take the high risk of losing your money.
FAQs
It is a platform regulated by the Financial Conduct Authority. It offers users the opportunity to invest in stocks, cryptocurrency, forex, and many other financial instruments across various platforms and devices.
A foreign exchange trade, usually referred to as forex trading, consists of converting one fiat currency into another. There is more than $6 trillion worth of transactions made by businesses, investors, and major banks every day across the Forex market, the largest market in the world.
What is cryptocurrencies trading?
Bitcoin and other cryptocurrencies are digital assets backed by the blockchain system used to transfer funds and store value. Crypto trading is a process in which money is traded in real-time by buying and selling virtual currencies.
Can I trade with leverage in eToro Ireland broker?
In eToro Ireland, you have the option to trade with leverage. As you conduct a leveraged trade, you will need to choose the level of leverage that you will use before moving forward with the transaction.
Can I open an account with eToro in Ireland?
The answer to your question is yes, you can do that. Creating an eToro account is as simple as going to the eToro Ireland website and signing up.