Best Crypto Lottery Sites 2023 – List of the Best Crypto Lotteries
Fact Checked
Everything you read on our site is provided by expert writers who have many years of experience in the financial markets and have written for other top financial publications. Every piece of information here is fact-checked. We sometimes use affiliate links in our content, when clicking on those we might receive a commission - at no extra cost to you. By using this website you agree to our terms and conditions and privacy policy.
Disclosure
The investing information provided is for educational purposes only. Trading platforms does not offer advisory services, nor does it recommend or advise investors to buy or sell stocks, securities or other investment vehicles. Some or all of the products displayed on this page are from partners that compensate us. It may influence the products we cover and the location of the product on the page. Nevertheless, our research and analysis is unaffected by our partners.
A crypto lottery is a digitized version of the traditional lottery system that combines online casino experiences from various platforms with betting, wagering, and playing lottery games. Essentially, crypto lotteries are lottery games where players wager cryptocurrencies or add money to the prize pool to try their luck and win the prize.
Compared to conventional lotteries, crypto lotteries have various advantages and disadvantages nowadays. This guide reviews the best crypto lottery sites and explains why this niche market is poised to overtake traditional gaming providers.
Best Crypto Lottery Sites List 2023
Check out the list below for an overview of the best crypto lottery providers in the market.
Lucky Block –  Crypto Lottery Ecosystem Decentralized and Accessible Globally
Bitcoin Lotto – Play Traditional Lottery Games Using Bitcoin
PoolTogether – A Crypto Lottery Game Based on Premium Bonds
Keep reading if you're wondering which lottery platform is right for you.
Best Crypto Lottery Sites Reviewed
1. Lucky Block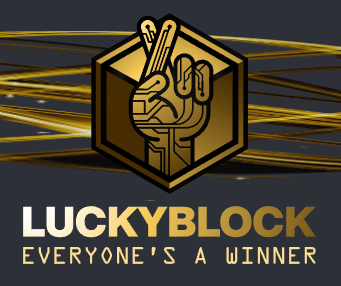 Lucky Block is a lottery platform based on the Binance Smart Chain that has shown rapid growth. However, in developing Lucky Block, the platform's developers found numerous areas that could be improved concerning the current lottery systems. The problem is that large corporations often run these systems with little attention to the user experience – but also lack the 'digital' nature that contemporary society demands.
Using blockchain technology to move the lottery process, Lucky Block's developers have significantly improved the transparency of all aspects of the lottery process. It is also worth mentioning that the Lucky Block platform is open to entrants worldwide compared to local and national lottery systems.
Another interesting change made by Lucky Block is the frequency of the prize payouts. The majority of major lottery providers conduct weekly or biweekly draws, while Lucky Block offers daily prize draws. Due to this, Lucky Block is an attractive alternative to these legacy systems by increasing the odds of winning for each entrant.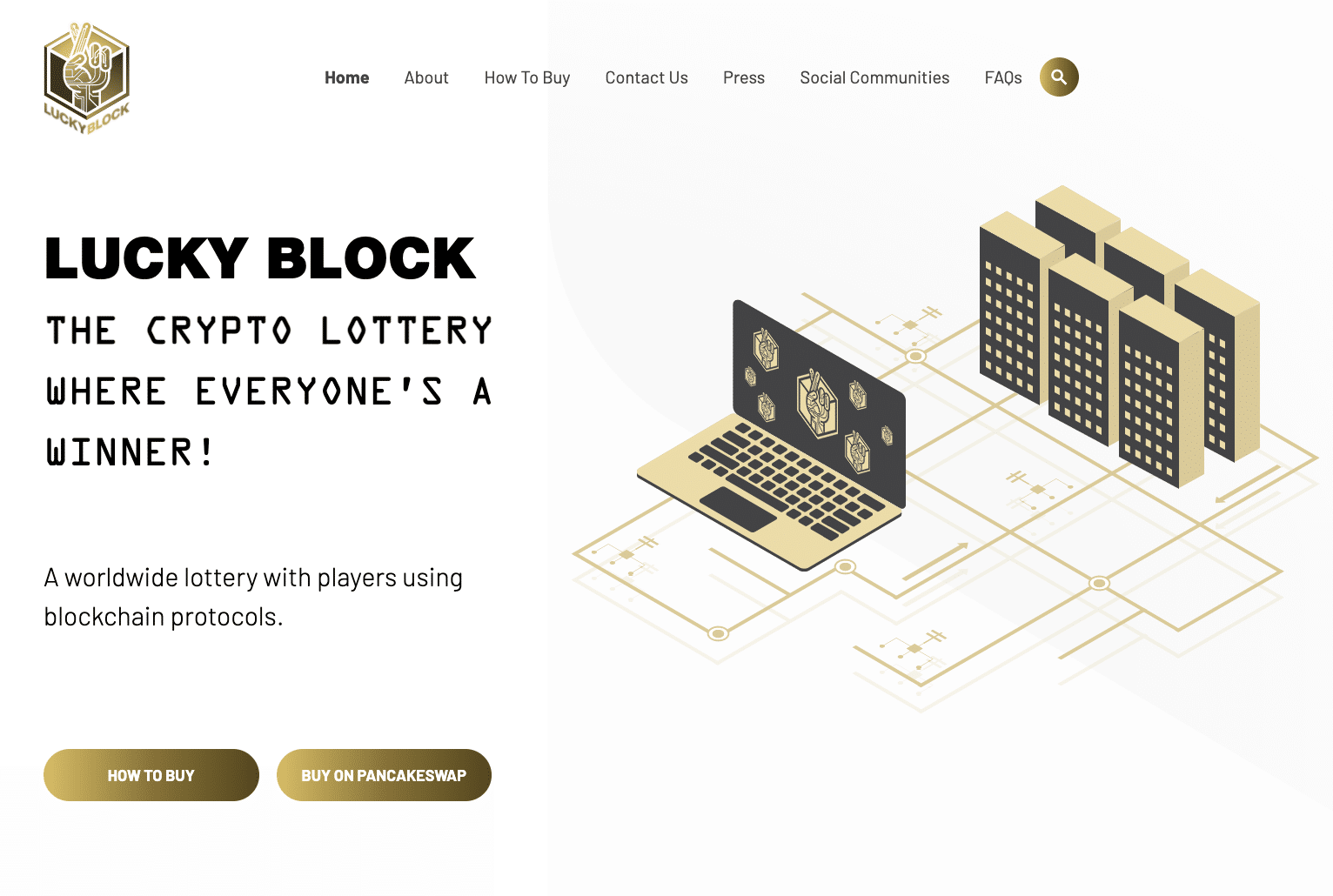 The Lucky Block app will be fully optimized for iOS and Android devices and offer its games via a dedicated crypto platform. As with the mobile app, a desktop version is also being developed. Interestingly, Lucky Block also has its native digital currency – LBLOCK – since it runs on blockchain.
Lucky Block tokens will serve as the primary currency to access its decentralized lottery ecosystem. In addition, you can buy Lucky Block tokens from an exchange like PancakeSwap to gain exposure to the project as an investor. As a final point, the Lucky Block Telegram group has amassed over 25k members since its launch, making it a great place to network with like-minded crypto enthusiasts.
Cryptocurrency markets are highly volatile and your investments are at risk.
2. Bitcoin Lotto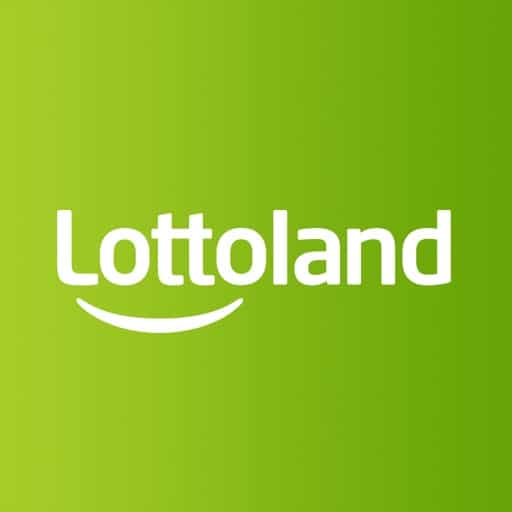 An innovative game called Bitcoin Lotto offers players the chance to win bitcoins as prizes. It is not necessary to own bitcoins before playing. Instead, you pay for your lines in fiat currency and try to predict the six numbers drawn correctly to win the jackpot of at least 1,000 BTC.
The Bitcoin Lotto works like a traditional lottery, with prizes increasing as more numbers are matched. The only thing you have to do is sign up and choose six numbers from a range of 49 for every line you wish to play. Alternatively, you can pick six numbers at random from Quick Pick.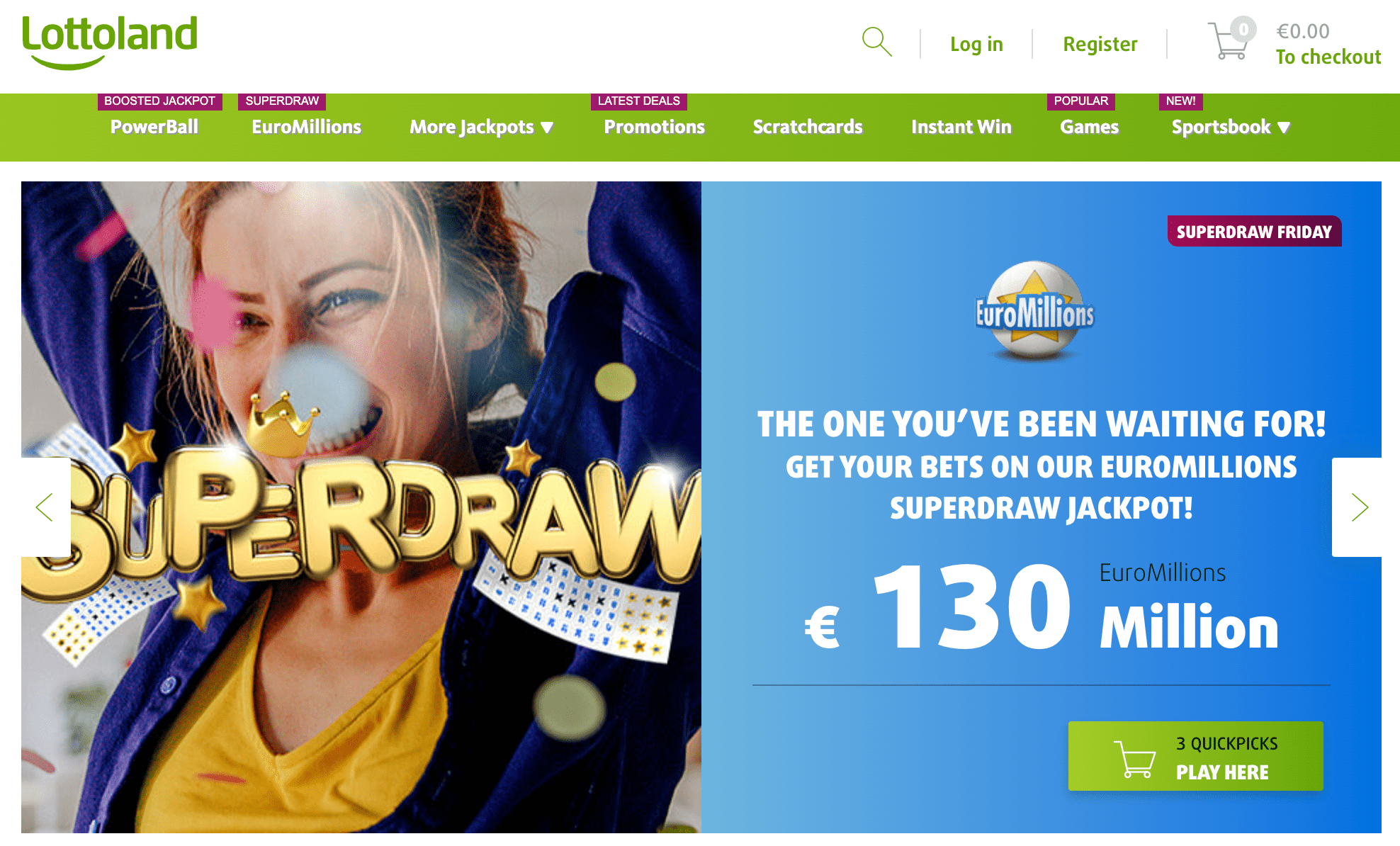 Each day except for Sunday, Bonoloto, a Spanish lottery, produces the winning numbers. It is possible to win prizes for matching just two numbers up to the jackpot for matching all six numbers.
Cryptocurrency markets are highly volatile and your investments are at risk.
3. PoolTogether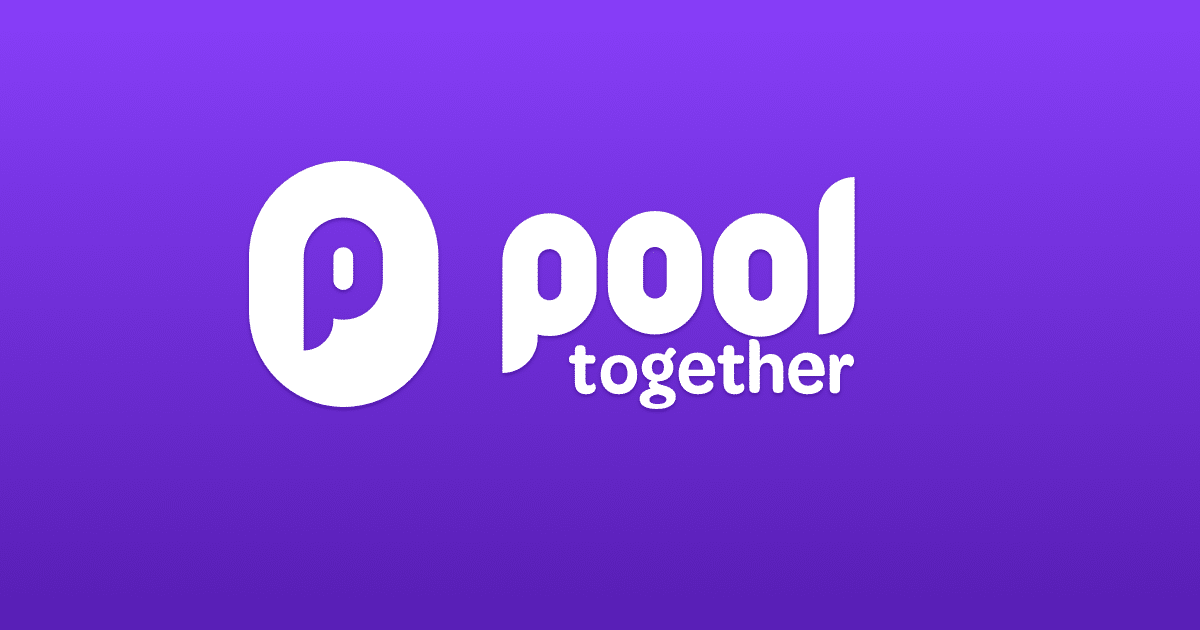 PoolTogether allows users to deposit cryptocurrency into pools to purchase lottery tickets on an Ethereum-based platform. Every week, a prize pool is awarded to up to five winners, but the tickets in each pool do not expire. Instead, they roll over to the next drawing until you win or withdraw your funds from the pool.
As such, it's a no-loss lottery: you can't lose even if you don't win. PoolTogether also describes it as a "prize savings" method since you could potentially earn rewards for not spending your cryptocurrency funds elsewhere.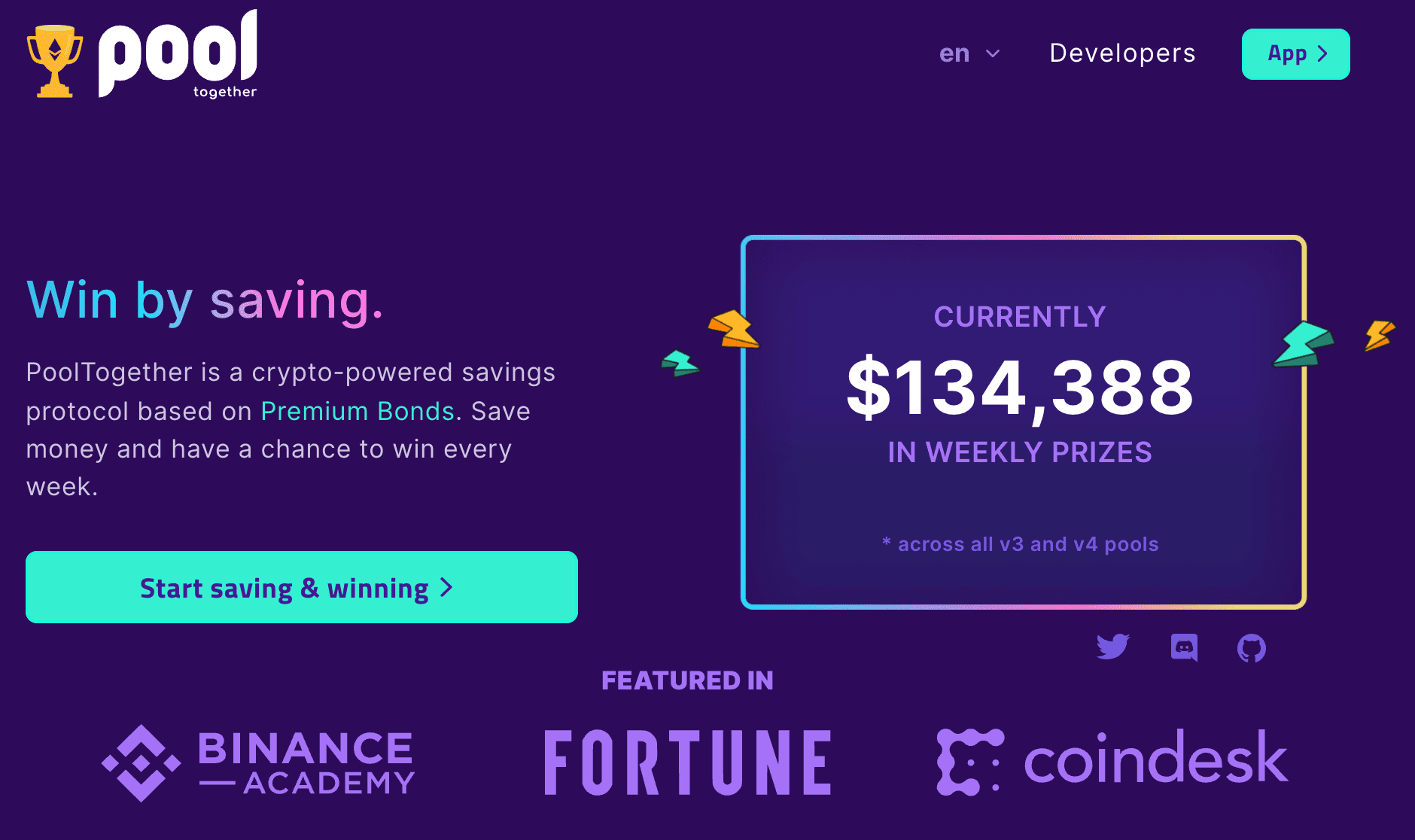 Like DeFi, PoolTogether has put a new twist on the traditional lottery. But you don't have to worry about the most troublesome aspect of playing the lottery, the sum of money you gradually spend on single-use tickets.
Whenever you enter or exit the pool, you will be charged a fee, but your money remains yours, and you will continue to be entered in the weekly drawings as long as you keep it in the pool.
Cryptocurrency markets are highly volatile and your investments are at risk.
4. Tether Lottery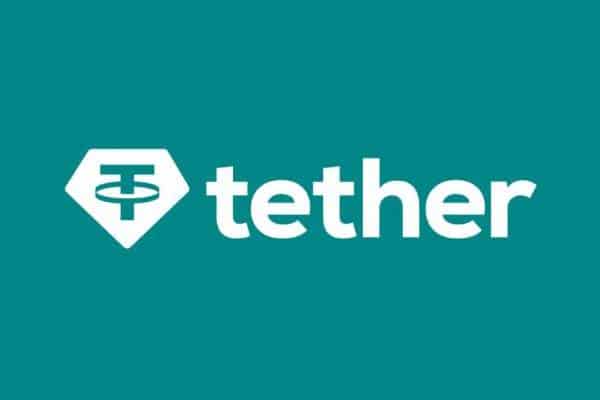 Based on Tether tokens, Tether is a crypto asset where the tokens are offered by the company that created the asset. A tether system may be less popular than most lottery games on the list that are provably fair. However, payment can be made with the asset, which is much cheaper than the bitcoin lottery, and prizes do not require much risk.
Tether tokens can be used to deposit or pay the desired amount on the best tether casino sites and bet in the prize pool that appeals to you the most. The winners can send the winnings as asset tokens to their respective wallet addresses as part of the withdrawal process. Due to the smaller user base of these websites, the minimum deposit is more common.
5. Bitcoin Cash Lottery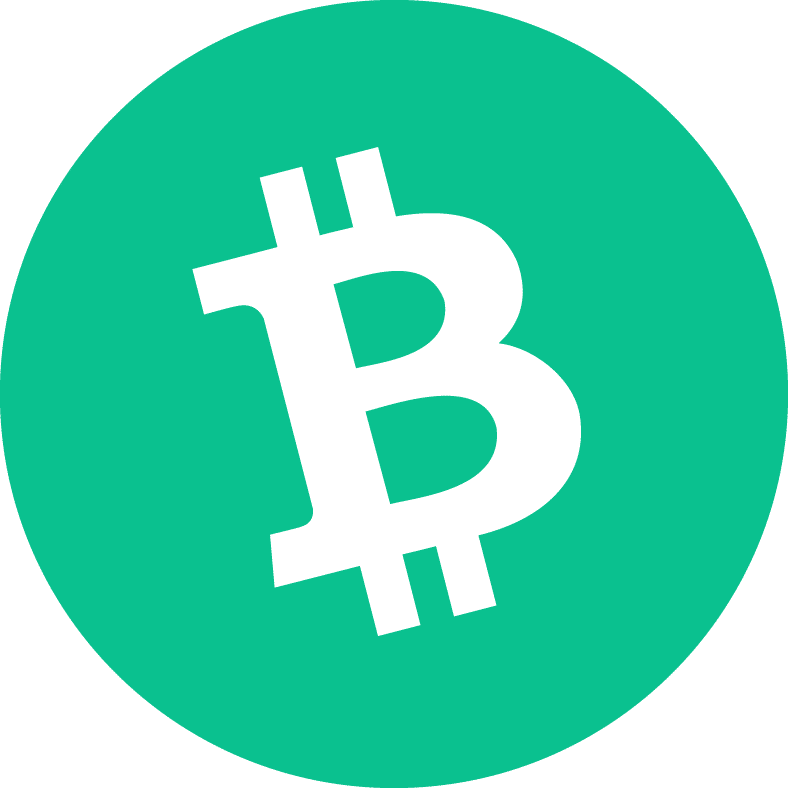 Bitcoin cash lottery is another of the most popular online lotteries powered by cryptocurrencies. In recent months, Bitcoin cash has gradually increased in value. The newer blockchain product is poised to generate a greater number of tokens due to its distance from the saturation point on the chain.
Bitcoin Cash Lottery is not as frequently observed worldwide as some other options. The Bitcoin lottery has been confused with Bitcoin Cash Lottery since the name might provide a false indication, only for the users to discover that their efforts were unsuccessful. The tickets for Bitcoin Cash games do not have the same variety, and some of the biggest pools at BCH casinos do not come from this Bitcoin lottery version.
Crypto Lotteries Explained
The basic concept of a crypto lottery is quite similar to the traditional lottery in that you can buy a lottery ticket with a specific number on it. As soon as the specified time arrives, a random selection of numbers is made, and the lottery with the highest similarity in the digits; wins the game. The chances of winning the lottery depend solely on the number mentioned on your lottery ticket. The more your lottery ticket's numbers match, the greater the chances you will win big.
There is only one major difference between the crypto and traditional lottery: digital currencies in the crypto lottery. Crypto lotteries are available on many websites, just as regular crypto trading is. As a result, Crypto lotteries are extremely likely to make a win-win situation for you regardless of whether you're a regular crypto trader or an enthusiast trying luck for the first time.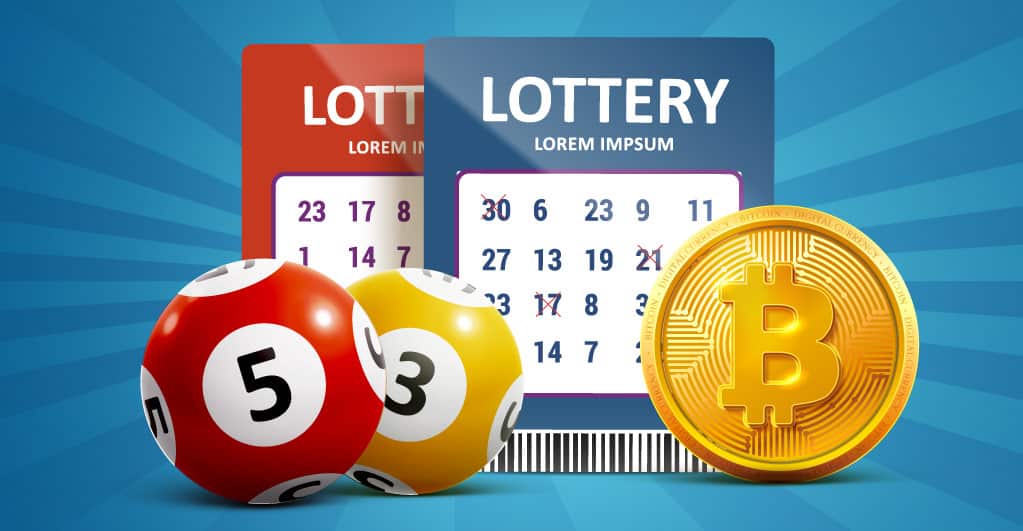 A lottery can be played anywhere regardless of time, location, capital, or confinement. It does not require technical analysis of the lottery for days nor the hassle of finding a trader and selling anything at the best price.
According to recent studies about cryptocurrency, Crypto lotteries are comparatively more profitable than investing in a single asset and waiting to see the returns. When you win a crypto lottery, your winnings are directly deposited into your wallet, unlike paying numerous transaction fees. However, the exception comes from the national lotteries, where the winning players receive a return of around 50%.
How Does A Crypto Lottery Work?
Let's examine how this industry works and what variations you can find to determine which crypto lottery game best suits your objectives.
Decentralized Crypto Lottery
It has been mentioned previously that Lucky Block is creating a decentralized lottery ecosystem. It simply means that no single authority or person will have control over the Lucky Block framework, compared with traditional lottery games, which government-backed organizations typically control; this is a notable difference.
Due to this, the odds are unfavorable for playing the National Lottery. For example, traditional lottery games involve no transparency regarding the number-drawing process. However, in Lucky Block, numbers are drawn using smart contract technology, ensuring that the outcome is 100% random.
Moreover, since smart contracts work on top of the blockchain protocol, the details of the drawing process are transparent. Finally, the decentralized lottery industry means that players are no longer limited to games in their home countries. Instead, Lucky Block lotteries can be accessed globally, resulting in large jackpot prizes.
Centralized Crypto Lottery
In the crypto lottery space, several providers offer games via centralized websites. It involves opening an account with the centralized provider in question, depositing crypto tokens, and purchasing lottery tickets.
When you buy a winning ticket, the crypto lottery platform is responsible for paying you. Unfortunately, it is inherently problematic, as you can never be sure the crypto lottery provider will pay what it owes you. If it does, it may take several weeks or even months for the funds to arrive. As a result, several crypto lottery providers distribute large wins in monthly installments rather than a lump sum.
This is another reason Lucky Block and its decentralized platform stand out: winnings are automatically distributed via smart contracts, which cannot be altered or manipulated. In other words, if you win a Lucky Block lottery, your winnings will be paid out immediately.
Cryptocurrency markets are highly volatile and your investments are at risk.
Crypto Lottery via Premium Bonds
One other concept that you may encounter in your search for the best bitcoin lottery game is a platform that mirrors the market for premium bonds.
As mentioned previously, you will need to deposit crypto tokens into the platform initially.
Your deposit will be credited with a small interest, typically generated by staking and crypto loans.
On top of that, the platform will automatically enter you into a daily, weekly, and monthly lottery draw. All winnings will be paid out in crypto. Nevertheless, it is important to remember that these crypto lottery platforms are largely centralized. Thus, you need to trust the provider to act in good faith when cashing out.
Are Bitcoin Lotteries Fair & Safe?
Two variables need to be considered when determining whether or not Bitcoin lotteries are fair and secure.
First, consider the actual purpose of drawing the numbers – in terms of randomness, transparency, etc.
Second, you also need to determine if the crypto lottery provider is legitimate to gain access to your winnings.
Below, we examine these two metrics in more detail to ensure you will be able to enjoy playing the best crypto lotteries in a secure and safe environment.
Number-Drawing Process
The numbers-drawing process has generated concerns from both traditional and crypto lottery players. It has raised the question of how do you know whether the drawing results were generated fairly and randomly or if the game was rigged?
When third parties determine the results of a lottery game, it is impossible to tell whether the game is fair because there is no transparency in the way the numbers are selected.
Nevertheless, suppose you are using a cryptocurrency lottery provider. In that case, regardless of whether or not the platform itself is centralized or decentralized, fairness can be ensured as long as smart contracts are involved.
Smart contracts run on top of the blockchain protocol – meaning the code is transparent and public.
Once smart contracts are deployed, they cannot be modified. The code itself is impenetrable. Therefore, players can rest assured that all games are random and fair.
The Credibility Of Crypto Lottery Provider
The next factor in evaluating whether crypto lotteries are fair is the provider's credibility. Even if you use a provider that uses smart contracts to generate gaming outcomes, risks are still inherent if the platform is centralized.
Imagine that you are playing a lottery on a crypto lottery website that utilizes smart contracts. Thus, you are certain that the outcomes are legitimate.
However, you will still need to deposit a crypto token into the provider's website to purchase lottery tickets.
Hence, you will see the proceeds in your account balance if you win.
After that, a withdrawal request will be submitted to the centralized provider.
This is where a problem may arise. Ultimately, you have to rely on the centralized crypto lottery platform to honor your withdrawal request and manually transfer your winnings without any problem.
Because of this, the future of crypto lottery games must include true decentralization. For example, a decentralized provider like Lucky Block ensures that players receive winnings immediately after deciding the outcome. However, lucky Block does not have any control over this because smart contracts are immutable.
Are Cryptocurrency Lotteries Legal in the US?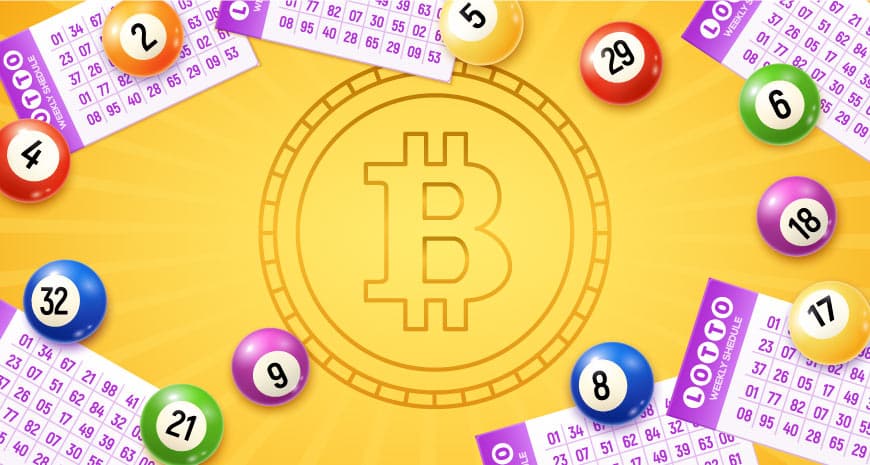 Cryptocurrency markets are highly volatile and your investments are at risk.
There are a variety of answers to this question. However, according to general overviews, the Bitcoin Lottery is legal in limited jurisdictions.
Governments of various nations are still unable to regulate Bitcoin. In addition, the lottery is not regulated at those locations either, which adds to the problem.
By following the policies drafted by Government officials, players can stay on the safe side. Additionally, they can read the conditions and terms of the platform. By doing this, they will better understand the legitimacy of the game and the platform.
Although the Bitcoin Lottery can be legal, the platform may operate without any regulations. As a result, there is a risk that money could be stolen in this way, making the Bitcoin Lottery insecure.
Nevertheless, the outcome has been fair for all players to date. In addition, platforms often incorporate third-party systems to avoid being accused of manipulating the results.
How to Enter A Crypto Lottery
Considering the decentralized ecosystem that Lucky Block is building and its fairness and transparency, this guide concluded it to be the best crypto lottery provider. Lucky Block launched its first lottery in March 2022.
If you want to enter a crypto lottery game, you can buy Lucky Block tokens now if you have available funds.
Let's check how you can buy Lucky Block tokens via the PancakeSwap exchange.
Step 1: Download Trust Wallet
As Lucky Block runs on top of the Binance Smart Chain (BSC), to buy or sell Lucky Block, it is necessary to have a crypto wallet that gives you direct access to the BSC and supports BNB tokens. The reason for this is that BNB pairs all tokens on the BSc.
So, to begin, you must download Trust Wallet to your phone. Then, if you already hold BNB tokens, you can transfer them to your Trust Wallet. Otherwise, you can purchase BNB with a debit or credit card using Trust Wallet.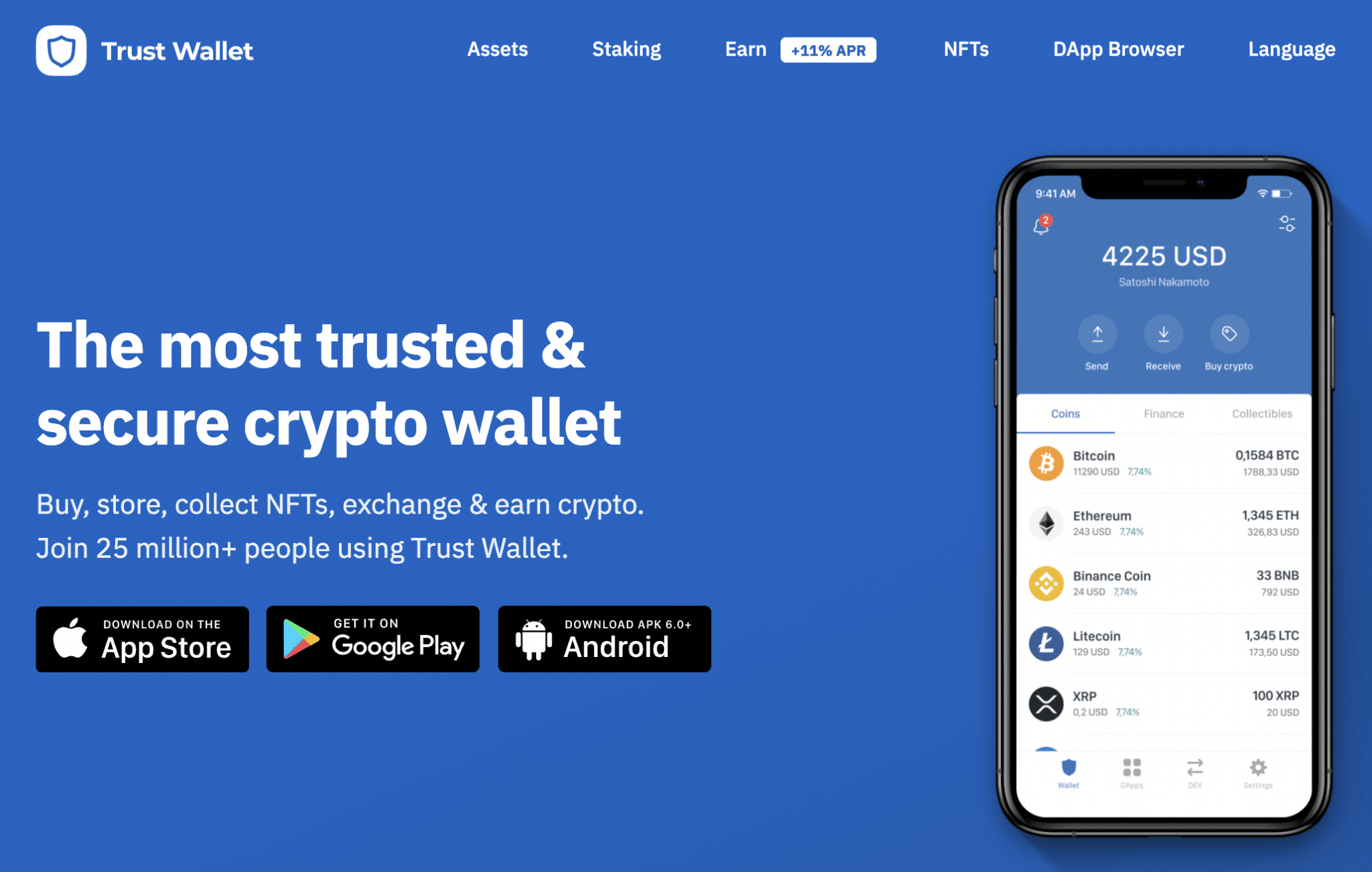 Step 2: Swap BNB To Binance Smart Chain
After funding your Trust Wallet with BNB, click on the 'Swap' button followed by 'Swap to Smart Chain.' This is because BNB operates on Binance Chain, a separate network from BSc.
Step 3: Connect To Pancakeswap
Lucky Block trades on PancakeSwap, a decentralized exchange that accepts BSC tokens. After clicking the 'DApps' button, select PancakeSwap, before allowing the exchange to connect to your Trust Wallet.
Then, click the 'CAKE' icon and paste your Lucky Block contract address. That can be found on the Lucky Block website.
Step 4: Buy Lucky Block
The number of tokens you wish to exchange for Lucky Block should be entered in the box next to BNB. The number of Lucky Block tokens will update by the current exchange rate at the swap.
Then, click the 'Swap' button to complete your purchase.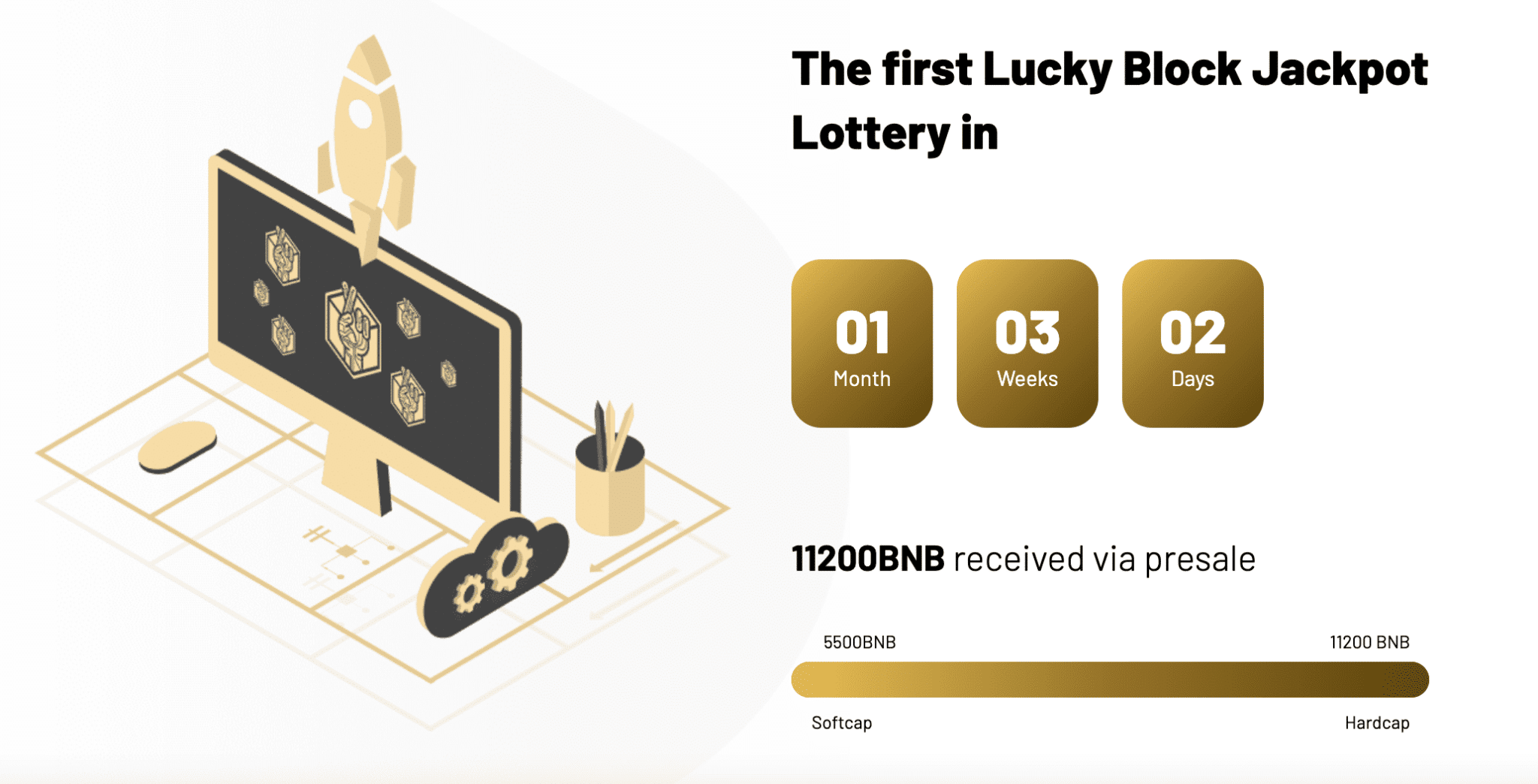 Best Crypto Lottery Sites – Conclusion
The global lottery industry will likely be powered by blockchain and smart contracts. As a result, lottery games can be played globally without jurisdictional restrictions. Furthermore, decentralized lottery games will ensure that all outcomes are fair, true, and completely random.
Lucky Block is at the forefront of this change, developing a highly innovative lottery ecosystem through its native mobile app and desktop software. Players can be sure that they are getting a fair deal as no centralized organizations are involved in the number-drawing process. If you wish to gain exposure to this project, you can buy the Lucky Block crypto token on Pancakeswap.
Cryptocurrency markets are highly volatile and your investments are at risk.
FAQs
Is there a Bitcoin lottery?
Are crypto lottery sites safe?
Are blockchain lotteries legal?
What is the best crypto lottery?