Coinmate Review – Pros & Cons
Fact Checked
Everything you read on our site is provided by expert writers who have many years of experience in the financial markets and have written for other top financial publications. Every piece of information here is fact-checked. We sometimes use affiliate links in our content, when clicking on those we might receive a commission - at no extra cost to you. By using this website you agree to our terms and conditions and privacy policy.
The London-headquartered company has exchanged more than EUR218 million worth of bitcoin since its launch in early 2014—a user-friendly site, which allows users to buy and sell bitcoin with real-time exchange rates.
Coinmate offers an advanced trading view for those who want to buy bitcoin quickly for users who want to keep track of market events. With Coinmate, you can deposit and withdraw using three major cryptocurrencies. Now check our Coinmate review.
What is Coinmate Exchange?
Coinmate hosts this website, a cryptocurrency exchange that has been active since 2014 and was previously registered here in the United Kingdom. In recent times, the platform has relocated to Slovakia. The platform took this step to ensure that Brexit would not impact its customers. The migration process began on January 7, 2020. It is important to note that all the platform's services and features will remain unchanged and the protection of all funds and personal information of its users.
The heart of the exchange's operations is in three key aspects: speed, stability, and security. It makes sense to emphasize these three factors since they are naturally extremely important for any cryptocurrency trading platform, so it makes sense to pay attention to these issues more specifically.
There is a wide variety of trading views among different exchanges. However, there is no universal "this is the best" view. In other words, it is up to you to choose the trading view that will work best for you. Most views have many other features, such as showing the order book or at least a portion of it, a chart showing the price of the chosen crypto, and a timeline showing all the orders placed during the time period displayed. Normally they also have boxes for buying and selling items. You should ensure that you take a look at the trading platform of a particular exchange before committing to one so that you can be sure that it feels right to you.
Coinmate Exchange Pros & Cons
Coinmate provides traders with a secure and low-cost way to trade multiple cryptocurrencies, while also supporting old favorites such as Bitcoin, Litecoin, Ethereum, XRP, Bitcoin Cash, Dash, and Dai. With the exchange's dedication to setting new standards in bitcoin trading and providing traders with top-of-the-line customer support, alongside multiple educational resources and advanced trading tools, this exchange is committed to establishing new standards in Bitcoin trading.
Pros:
User-friendly platform for trading
Trading tools that can prove useful to traders
Cryptocurrencies that can be traded online in various forms
Cons:
Unregulated exchange
Cryptocurrency trading only
There is no MetaTrader platform available
The company does not accept clients from the United States
You will not be able to use the live chat feature
What Can You Invest in and Trade on Coinmate Exchange?
Bitcoin

In January 2009, a decentralized digital currency called Bitcoin was created. Satoshi Nakamoto, the mystery and pseudonymous person who created this technology, laid out a series of ideas in a white paper. However, the identity of the person or persons who created the technology is still a mystery. In addition to offering a lower transaction fee than traditional online payment mechanisms, Bitcoin operates under a decentralized authority, which means the government does not control it.
A cryptocurrency such as Bitcoin uses cryptography to ensure its security, which is why it's called a cryptocurrency. In the end, it's crucial to realize that bitcoin isn't a physical currency, but rather a record of a balance on a public ledger which anyone can access, but it's encrypted.  A gigantic amount of computational power verifies approximately one-third of Bitcoin transactions via a process known as "mining." It is worth mentioning that Bitcoin was neither created nor backed by a bank or government, nor does it have any value as a commodity.  Even though Bitcoin is not considered legal tender in most parts of the world, it has become extremely popular. It has triggered the launch of hundreds of other cryptocurrencies, collectively known as altcoins. BTC is a commonly used acronym for Bitcoin when it comes to trading it.
Bitcoin (BTC) is available in Coinmate for you to trade it at your entire convenience.
Litecoin

A former Google engineer and former employee, Charles "Charlie" Lee, created Litecoin (LTC) in October 2011 as an alternative cryptocurrency to Bitcoin. Bitcoin's open-source code was adapted into the Litecoin code. However, several changes were made to it. Nevertheless, there is a similarity between Litecoin and Bitcoin is how it is completely open-source and is not controlled by any centralized authority. Regarding the differences between Litecoin and Bitcoin, a few of those are the speed of block generation and the use of Scrypt as the proof of work algorithm.
In addition to its original open-source code, it is considered one of the first altcoins to emerge from the Bitcoin ecosystem. You can trade Litecoin (LTC) at your convenience with Coinmate, available in several languages.
Ripple

A technology known as Ripple acts both as a cryptocurrency and a network for paying through digital means. Chris Larsen and Jed McCaleb co-founded the software back in 2012 when the first version was released. In essence, Ripple's primary function is to enable cross-currency payment and remittance settlements, somewhat similar to SWIFT, the international money and security transfer system used by banks and financial brokers to perform international currency transactions.
The XRP token used for this cryptocurrency is premined, and it has a ticker symbol XRP which stands for XRP. The company and network that Ripple operates under are called Ripple, while its cryptocurrency token, XRP, is called Ripple. It is intended to serve as an intermediary mechanism of exchange between two different currencies or networks-essentially, as a temporary layer of settlement for the exchange of digital currencies.
Ripple (XRP) is available in Coinmate for you to trade it at your entire convenience.
Dash

It was originally called Xcoin when Dash was launched in 2014, but it has since been named Dash. In addition, the name Darkcoin was rebranded into Dash in March 2015 after it had been rebranded as Darkcoin and had been known as Darkcoin. It was intended to ensure that users' privacy and anonymity were protected as soon as it was created. The White Paper, which Evan Duffield and Daniel Diaz co-authored, describes the cryptocurrency as a privacy-centric cryptocurrency that is based on the original work of Satoshi Nakamoto, the founder of Bitcoin.
Even though the company still has strong encryption features, it has had a change of heart since then and has recast its goals and intentions. A new digital currency called Dash now aims to become a common business medium used as a form of payment for daily transactions that can be used as cash, credit cards, or via PayPal. Dash is an open-source project which provides a decentralized payment network that can be used to make payments.
According to market capitalization, Dash has the 50th highest market capitalization in August 2021, as per the website. Dash currently has a value of $251.68 per unit.
Coinmate lets you trade Dash at your convenience so that you can trade the cryptocurrency at any time.
Ethereum

There is a platform called Ethereum that uses blockchain technology. It has its cryptocurrency called Ether (ETH) or Ethereum, and it has its programming language called Solidity.
As a blockchain network, Ethereum is a decentralized public ledger that facilitates the verification and tracking of transactions. In addition, it is a platform that enables its users to publish, market, use, monetize, create and publish applications, and accept payments via Ether, an open-source cryptocurrency. On the network, decentralized applications are referred to as dApps by insiders.
As of May 2021, Ethereum is the second most valuable cryptocurrency globally, right behind Bitcoin.
Ethereum (ETH) is available in Coinomi wallet for you to trade it at your entire convenience.
Coinmate Fees & Commissions
CoinMate Trading fees
For those unfamiliar with cryptocurrency exchanges, we can say that there are primarily two types of fees they charge: taker fees and maker fees. In the order book, the taker is the person who picks up an existing order from it. Unlike the maker who prepares an order which needs matching with an existing order on the order book, the maker is the one who creates an order that does not match with an existing order. Often the makers on the platform are rewarded for creating liquidity by getting a lower fee than the takers on the platform. The exchanges that do not distinguish between makers and takers charge what we refer to as the "flat fee." There is a fee of 0.25% for takers and 0.12% for makers when you use CoinMate.
There are many empirical studies on crypto exchanges' trading fees. Still, the biggest and most recent studies show that the average spot trading maker is currently in the neighborhood of 0.17%, and the average spot trading taker is in the neighborhood of 0.221%, according to the biggest and most recent studies.
As opposed to a trading fee which is average for the industry, CoinMate's taker fee is above the average for the industry, while the maker fee is below the average for the industry.
Coinmate Withdrawal fees
Withdraw BTC from this exchange, the exchange charges a withdrawal fee of between 0.00022 and 0.00006 BTC. Withdrawal fees are determined by how fast you need your withdrawal to be executed, as well as your withdrawal amount. We feel that these fees are significantly lower than the global industry average, which is 0.000643 Bitcoin per BTC withdrawal based upon a cryptowiser report, that we conducted.
Coinmate User Experience
The use of Coinmate is one of the most attractive advantages as it is incredibly user-friendly. A straightforward interface is one of the main things that make the trading platform simple to use and navigate. So even if someone is trading for the first time, it will not be difficult to make successful cryptocurrency exchanges using the site.
The Coinmate landing page has a nice night-sky picture with some current crypto pairs prices at the bottom, which makes a good first impression on the overall design of the exchange. You can easily navigate through the main menus at the top and select if you want to trade or buy and sell currencies. By clicking on the trade section, you will be directed to the trade page shown in the screenshot, which is overall easy to follow compared to other exchanges where the trade part is very crowded and difficult to follow. The page is available in German and English, driven by the fact that most CoinMate users are from Europe. The menus and overviews are very simple, making the usage quite convenient for beginners.
Coinmate Features, Charting, and Analysis
There are several valuable features and benefits that Coinmate comes with. In this Coinmate review, we have reviewed just a few of these features and benefits.
As a website, Coinmate is primarily known for being incredibly user-friendly, and this means that a novice trader would be able to use it without any hassle at all, helping them complete their trades.
You won't need much experience with bitcoin trading to make deposits and withdrawals on this site, and the process is quick and easy.
There are four different types of cryptocurrency pairs you will be able to trade on this website, for example. For example, you can trade:
– BTC/EUR
– LTC/BTC
– BTC/CZK
– BCH/BTC
A user can create 3 different accounts on Coinmate's website depending on the type of account they wish to create. These types of accounts include verified accounts, primary accounts, and VIP accounts.
A good team of support staff is available at the site to ensure that any issue that the users may experience during their use is resolved as soon as possible.
Coinmate Account Types
At The Exchange, there is only one option for Live Trading Accounts. A demo account can also be utilized for practice, but it is important to note that there is only one option for Live Trading Accounts.
Coinmate Mobile App Review
A new Android application called CoinMate, developed by Radek Majer under the category of Finance is now available for download. According to the developer, the Android application launched on April 27. The application is listed on Google Play as having over 1,000 installations. The application has currently received eight ratings with an average rating value of 3.4 stars.
Using Coinmate.io, you can trade Bitcoins and buy or sell them. As well as setting your application to notify you when the required expenditure is exceeded, you can set it to notify you about it as well.
The last version of the application was updated on 2019-04-27. In this version, you can find the most optimized features of the application. Moreover, it has the advantage of being compatible with a wide range of devices. This application can be downloaded for free directly from the Google Play Store and is suitable for both Android and iOS devices. You may also obtain other versions that we have posted on our site. In addition, you can download these versions without registering and without logging in.
It has a wide range of devices available, including Samsung, Xiaomi, Huawei, Oppo, Vivo, Motorola, L.G., Google, OnePlus, Sony, Tablets and so on, and the wide range of options makes it easier for you to select games and software that fit your device.
Coinmate Deposit and Withdrawal Methods
You can fund your account with Coinmate in a variety of different ways. You will be able to choose the verification methods available to you based on how high your account verification level is. In addition, you will be able to choose the basic account verification method for the basic account. Creating a basic account is a very straightforward process that requires a user to provide just an email address and a password. To trade through this platform, you will also have to provide your name, date of birth, and telephone number.
To deposit funds into your account using a basic account, you have the option of using OkCoin, MoneyPolo, or vouchers. In addition, there are several deposit options available for verified and VIP accounts, including OkCoin, MoneyPolo, Vouchers, SEPA, Sofort, and standard wire transfers. Unfortunately, even though the cryptocurrency exchange does not have restrictions on who can join, customers from the United States are not currently accepted to join the exchange.
Coinmate Deposit Options
Euro SEPA transfer Exchange accepts EUR deposits via SEPA transfers
Bitcoin
Ethereum
Dash
Bitcoin Cash
Ripple
Litecoin
Czech Koruna / CZK will be converted into EUR
Sofort
Coinmate Withdrawal Options
Euro SEPA transfer
Czech Koruna / CZK
Euro SEPA transfer Exchange accepts EUR deposits via SEPA transfers
Bitcoin
Ethereum
Dash
Bitcoin Cash
Ripple
Litecoin
Czech Koruna
Coinmate Contact and Customer Service
They have a team of professional customer service representatives who are always ready to assist traders with any inquiries. In addition, email and selected social media handles can contact them: Facebook, Twitter, and LinkedIn.
Is Coinmate Exchange Safe?
To open an account with CoinMate, you will need to specify the country in which you reside, enter your email address, and create a password. Once you have an account with CoinMate, you will be able to deposit and withdraw cryptocurrency.
By providing the following information, you will be able to increase your verification level and transfer limits:
Your name, address, contact information, and digital age.
You'll be asked for video verification using IDnow's Video-Ident application.
You'll also be asked to complete a KYC questionnaire.
Keeping your account secure can be enhanced with CoinMate's support for two-factor authentication through Google Authenticator. In addition to rewarding users for detecting and reporting bugs, the platform also helps identify possible security vulnerabilities.
Furthermore, CoinMate provides three types of bitcoin wallets: hot, cold, and super-cold. A limited amount of funds is held in the hot wallet, the only wallet that holds keys online. If CoinMate becomes insolvent, customer funds are kept separate from the company's funds.
How to Start Trading with Coinmate
Step 1: Open a Trading Account
The process of opening a trading account is straightforward; all you need to do is click on the 'Sign Up' icon and follow the instructions on the screen. To complete account opening, you will need to click the 'Agree and Sign Up button.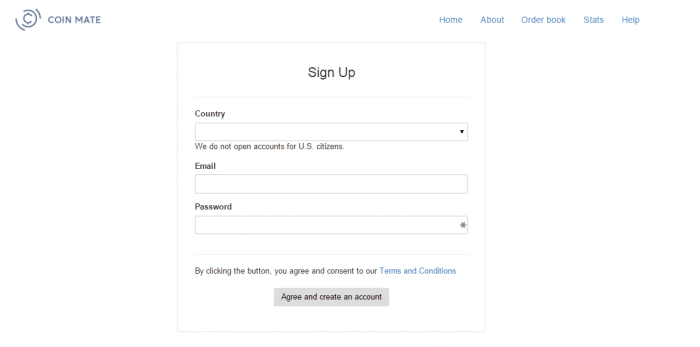 Step 2: Verify Your Identity
Verify your identity by uploading the required documents.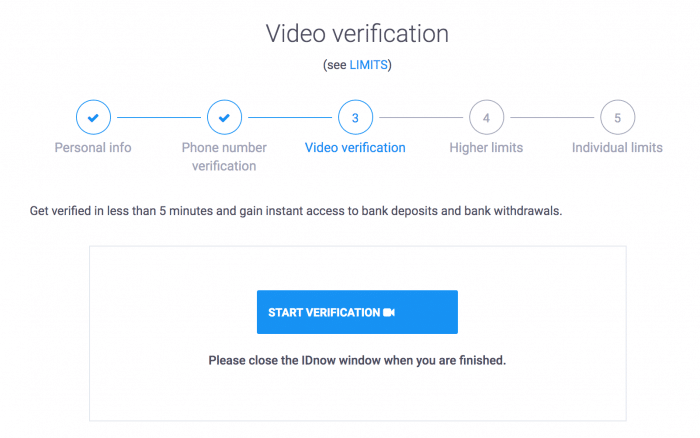 Step 3: Deposit Funds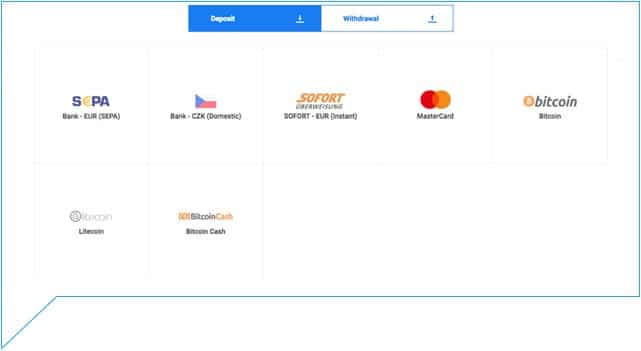 Step 4: Start Trading with Coinmate
Make sure you understand the broker's terms, conditions, and policies you are applying for before completing the application. That ensures that you are aware of all of the broker's policies and procedures. Only proceed if you are fully aware of the broker's policies and procedures.
Coinmate Exchange Review – Conclusion
It is important to note that it is ideally suited to meet your cryptocurrency trading needs if you are based in Europe. The exchange offers lower trading and funds transfer fees than the U.S. exchanges, complemented by high liquidity. The downside is that the number of cryptocurrencies on offer is rather limited, as there are only a few crypto pairs available. Also, the security does not seem to be too tight since clients are only provided with two-factor authentication security. Nevertheless, Coinmate is still an excellent choice for beginners looking for an easy-to-use trading platform to invest in cryptocurrencies.
eToro – Alternative for Coinmate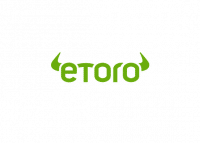 67% of retail investor accounts lose money when trading CFDs with this provider. You should consider whether you can afford to take the high risk of losing your money.
FAQs
What is cryptocurrency trading?
What are crypto assets available in Coinmate?
In which countries is Coinmate available?
Can I open an account with Coinmate in the U.S.?