How to Buy Bitcoin With PayPal – Beginner's Guide
Fact Checked
Everything you read on our site is provided by expert writers who have many years of experience in the financial markets and have written for other top financial publications. Every piece of information here is fact-checked. We sometimes use affiliate links in our content, when clicking on those we might receive a commission - at no extra cost to you. By using this website you agree to our terms and conditions and privacy policy.
For over 2 decades now, PayPal has been one of the most convenient and most popular methods of making online payments and managing your funds via the internet. The payments giant is definitely deserving of the name, and while it does have its flaws, many still find it too useful and convenient to ignore.
Last year, it even decided to add support for the cryptocurrency industry — only in the US, at first, and only for a few of the most popular and most trusted cryptos. However, it has already expanded to the UK as well, and it is only a matter of time before it starts offering its crypto services to the rest of the world, too. If you wish to learn how to buy Bitcoin with PayPal, keep reading and this guide will explain all you need to know about it.
How to Buy Bitcoin with PayPal – Step by Step Guide 2023
Buying Bitcoin with PayPal is best done via the eToro broker service, as eToro is one of the rare few services that actually managed to ink a deal with PayPal and get the payments giant to support it. If you only wish for a quick guide on how to get started on eToro, here is what you need to know.
Open an account. Go to eToro's website and open a free account by making a new one or logging in with Facebook or Google.
Upload ID. Verify your identity by filling out a form and uploading your ID, driver's license, or passport.
Deposit funds. Deposit funds on eToro's platform via PayPal. You can deposit as little as $50 per transaction.
Buy Bitcoin with PayPal. Finally, use the deposited funds to purchase Bitcoin on eToro.
67% of retail investor accounts lose money when trading CFDs with this provider. You should consider whether you can afford to take the high risk of losing your money.
Benefits of Buying with PayPal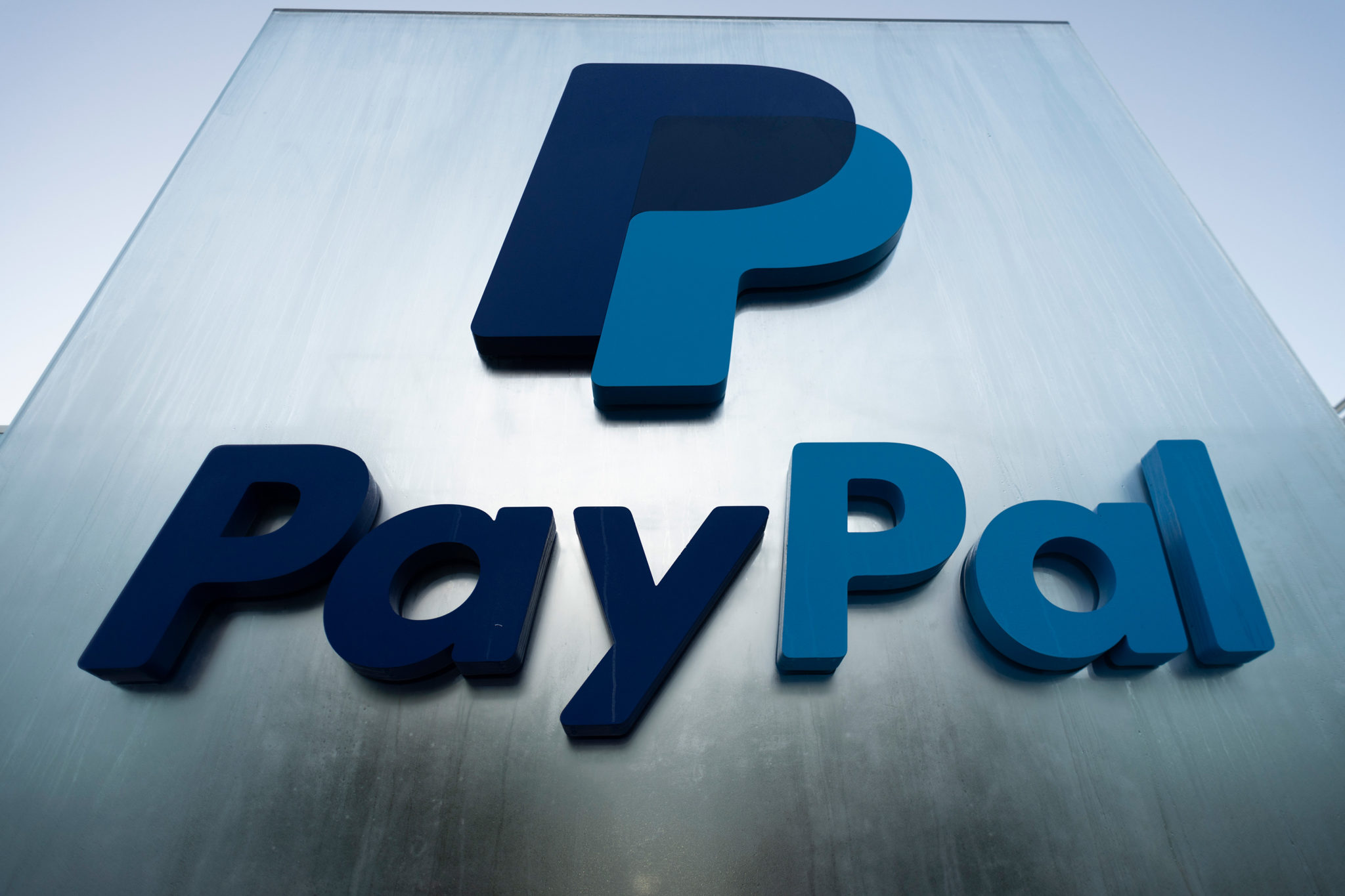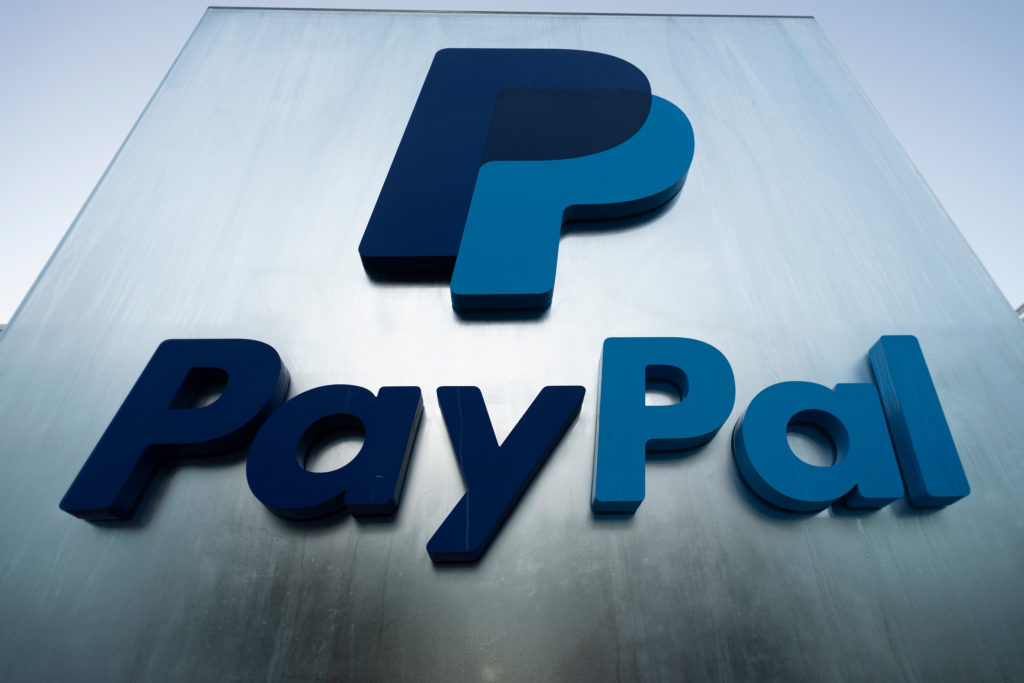 If you want to use PayPal to buy Bitcoin, you will likely discover that there are several advantaged to doing it. Not only can you buy Bitcoin on PayPal now, but you can also use it as a payment method when buying via P2P platforms or official brokers like eToro. Other than that, there are many other advantages such as:
Security
Security is, and should always be, your top priority when it comes to dealing with money. Banks, financial institutions, and every other company that handles large amounts of money are investing millions, if not billions into security on a yearly basis, and that is no coincidence. These firms know how easy it is to slip, and if they show any openings, hackers, scammers, and everyone else will be on them immediately. PayPal is no different, and it employs a variety of security features to protect its users and their funds, from 2-factor authentication (2FA) to encrypting all that is going on on its platform.
So, if you were wondering whether it is a good idea to buy Bitcoin with PayPal from the security's point of view, we can confirm that it is just as safe as using it for regular funds.
Instant Deposits
Another advantage when you use PayPal to buy Bitcoin is the fact that the service allows for instant deposits. While still a traditional payment method that uses traditional finance, PayPal is a lot more advanced than regular banks that require days to process international transactions. In this regard, PayPal is not too different from cryptocurrencies, and it allows for instant transactions to and from anywhere in the world.
The reason for this, of course, is the fact that the service itself is so huge and present around the globe, with millions of people using it, and countless companies as partners. With all that said, PayPal can afford to offer extremely fast speeds, which is perfect if you want to deposit payment on a brokerage platform such as eToro.
No Fees Charged by PayPal
If you opt to buy Bitcoin through PayPal, there is another great benefit to it, and that's the fact that the company charges no fees for it. PayPal won't make a big deal of sending money to the broker for instant purchases, so you won't lose a fortune simply on delivering the money to your brokerage service. The same is true when you make any purchase of goods and services — all you need to pay for is the price of what you are buying. This makes it a lot more convenient for making deposits, especially since, if you use eToro — you also get to buy Bitcoin on the platform with zero commission.
Ease of Use
Another great thing about PayPal is that it managed to stay very user-friendly over the years. There are many payment systems out there that are largely thought of as too complicated to be used. PayPal, on the other hand, is still quite cheap, global, convenient, and on top of all of that — very user-friendly.
It is quite easy to send or receive payments, and they will appear in your PayPal wallet immediately. Everything is clearly labeled and explained, and PayPal remains an excellent place to quickly and easily buy BTC.
Fast Withdrawals
If you want to sell or buy Bitcoin with PayPal instant, then you should also know that PayPal also supports rather fast withdrawals. Assuming that you wish to withdraw your money to your card, the company now has advanced technology that allows it to deliver your payment in 1-2 business days in most places.
While this doesn't sound revolutionary at first, keep in mind that the bank would probably take 3-5 business days to do the same.
The process is even faster when it comes to withdrawing funds from online brokers to PayPal itself, as there are no banks involved in the transaction, so there are a lot fewer bureaucratic things to take care of. As a result, there are fewer checks that need to be made, and your money is, therefore, ready for use in only a few minutes.
Bitcoin PayPal Regulation
Buying Bitcoin using PayPal is not available on most brokerages, and there is a good reason for that. It's not that they don't want to list it as a payment method — it's that PayPal, as a 100% regulated financial service, can only afford to work with other regulated firms. That is especially true when it comes to meddling with the cryptocurrency industry.
Brokers who want to be able to connect to PayPal have to obtain official licenses to work with cryptocurrencies, pass regulatory checks and be fully regulatory compliant with all the rules that are currently being enforced in the jurisdictions that they cover.
This is quite a lengthy list of requirements given that you only want to buy Bitcoin using PayPal, but even that is not all. To make matters worse, the crypto industry is still largely unregulated everywhere in the world, and that makes it difficult to play by the rules when using digital coins.
Where to Buy Bitcoin With PayPal
If you wish to buy Bitcoin using PayPal, you will be happy to know that there are two best places for you to do that. One of them is, of course, the eToro broker, as mentioned, while the other is the world's largest crypto exchange by trading volume, Binance. Here is why we recommend checking out these two services and buying BTC using any of them and PayPal.
1. eToro — The best traditional broker for making Bitcoin purchases with PayPal

The first of two is eToro, which has been around for nearly 15 years. During this time, it became a jack of all trades for all things tied to investing. While eToro's crypto offering cannot compare to that of any real exchange — the broker only offers 16 crypto assets — it is undoubtedly safer, more regulated, and more convenient to use.
eToro is fully regulated by not one, but numerous regulatory bodies. The likes of the FCA, ASIC, CySEC and many others have deeply inspected its services and have found the broker worthy of their license and support. Apart from crypto, eToro offers nearly 2,400 global markets. It offers everything, from stocks, ETFs, forex, commodities, and more, making it the go-to platform for over 20 million people in over 140 countries.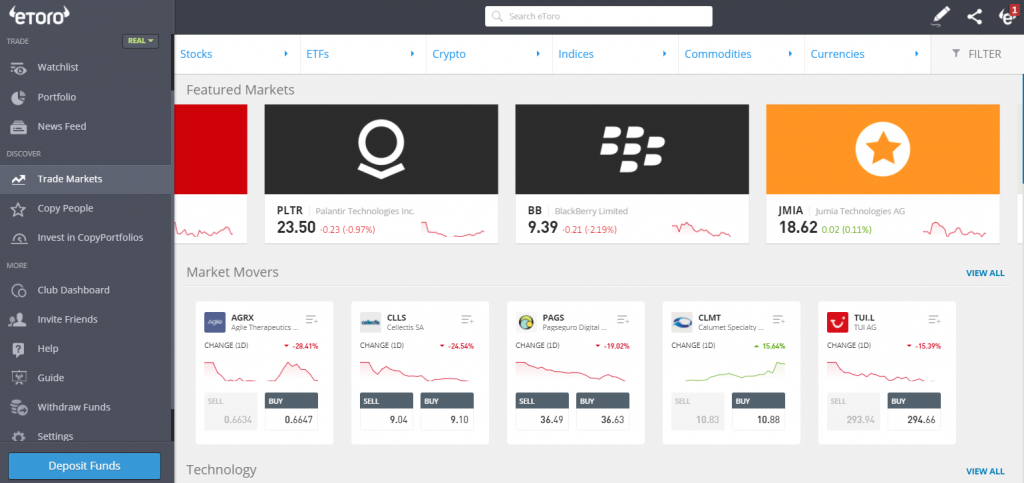 The platform is extremely user-friendly, tailored for novice investors instead of professionals. In fact, most professionals do not use it as they find it too simple. eToro has low minimum deposits of only $50 and even lower minimum investments of $25. It offers automated trading, where users can set up specific parameters to its software and have it do all the work based on those parameters.
However, its most attractive feature by far is its copy trading, which allows traders to find experts who trade in assets they are interested in, and then copy their moves. In doing so, every novice can start earning great profits, even though they lack the knowledge and experience to know what is really even going on. And, of course, eToro supports PayPal deposits and withdrawals, alongside credit and debit cards, bank transfers, Skrill, and more.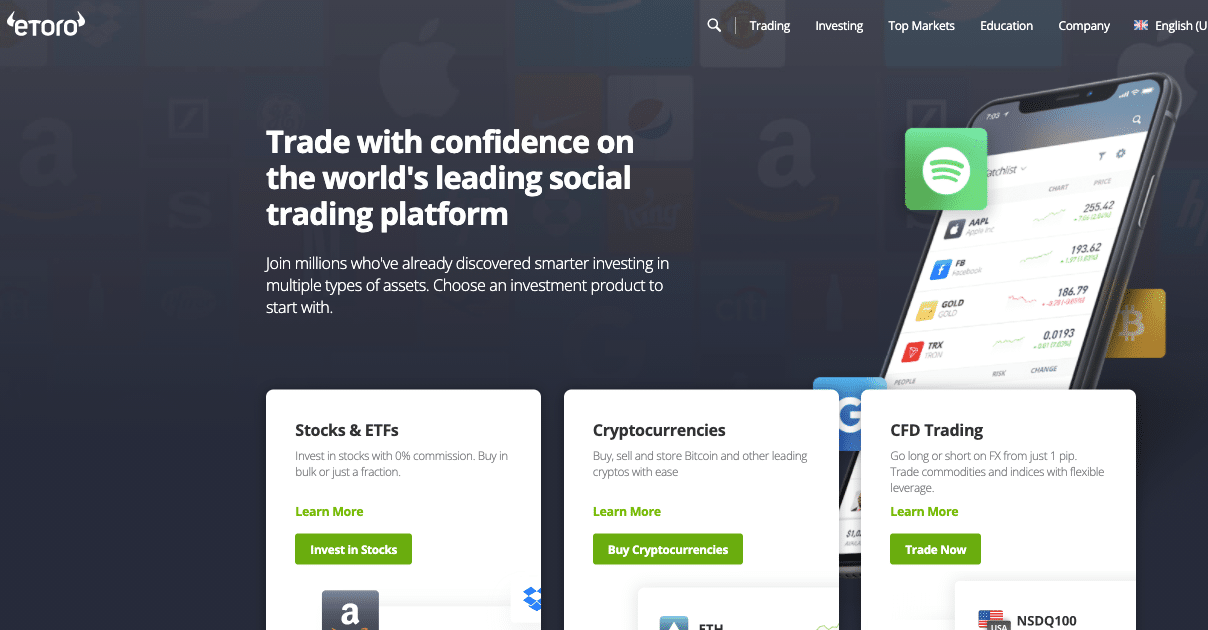 Finally, you can buy any asset on this platform with no commission. eToro only charges very low spreads, which makes it a great choice for investors and traders alike.
67% of retail investor accounts lose money when trading CFDs with this provider. You should consider whether you can afford to take the high risk of losing your money.
2. Binance — The world's largest crypto exchange by trading volume

The second option that we can recommend is Binance, which is the world's largest cryptocurrency exchange by trading volume, and one of the most popular places for crypto trading. Binance has been around for four years now, and during that time, it made a number of moves in order to become the biggest platform in the world, including expanding its ecosystem to massive proportions, as well as installing subsidiary exchanges all over the world.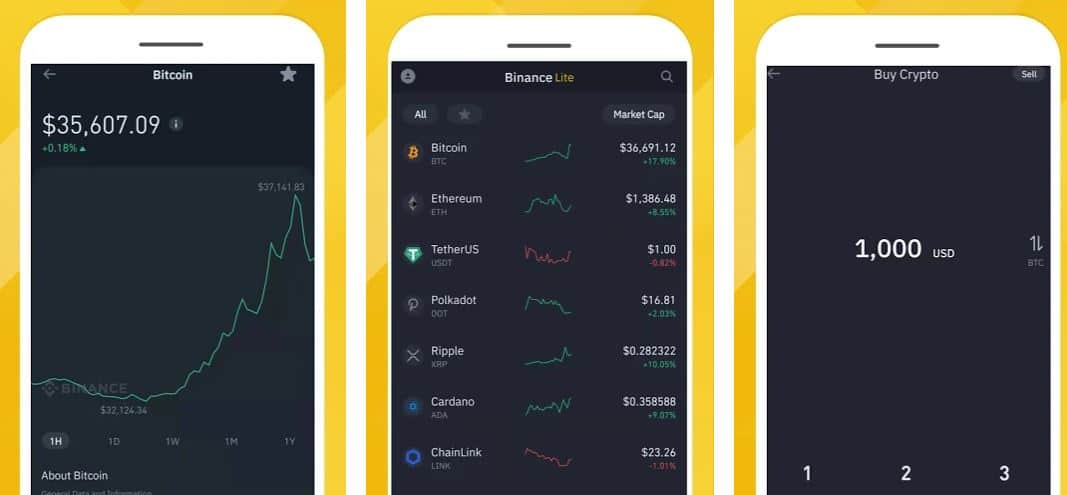 The exchange is also well known for having hundreds of cryptocurrencies listed, which make up thousands of trading pairs. It has its native cryptocurrency, the BNB token, which is used for interacting with all of its services, including both of its blockchains (Binance chain and Binance Smart Chain), its dApps, Binance Launchpad, and more.
The exchange has fairly acceptable fees, but if one owns Binance Coin, those fees are reduced by around 40%, making it that much more profitable to trade on this platform.
Your capital is at risk
Best Way to Buy Bitcoin With PayPal – eToro Tutorial
If you wish to use PayPal to buy Bitcoin on eToro, you can do it with ease simply by following this short instruction that only consists of 4 simple steps.
Step 1: Open an Account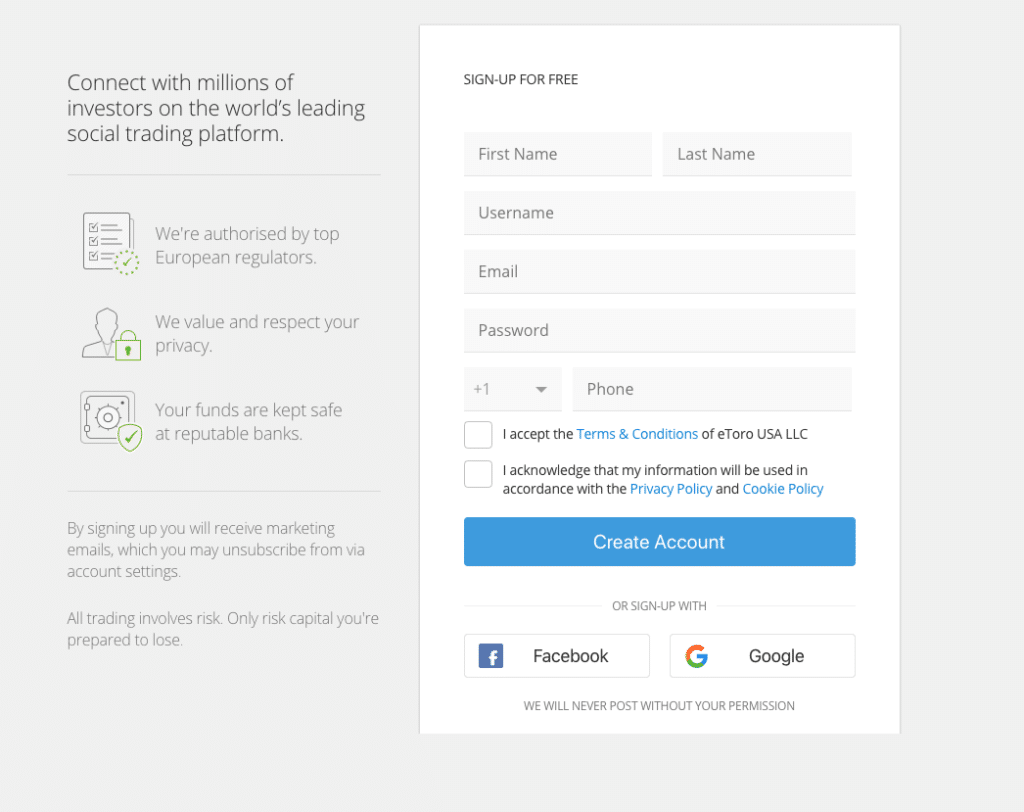 The first step is to simply go to eToro's platform and create an account. It is completely free, and all you need in order to do it is to type in your email and come up with a password. However, you can even skip this step completely by logging in with your Facebook or Google account, as mentioned earlier.
67% of retail investor accounts lose money when trading CFDs with this provider. You should consider whether you can afford to take the high risk of losing your money.
Step 2: Upload ID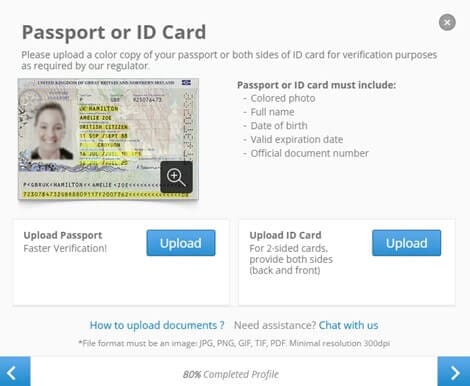 Next, you need to upload your ID. This is necessary in order to complete a KYC procedure, which is required by the standing laws and regulations. It helps prevent criminal activities by revealing the traders' identities, while it also protects traders at the same time by having them prove that they are actually who they claim to be. As such, KYC can prevent identity theft and cause issues for people who potentially never even tried trading.
Step 3: Deposit Funds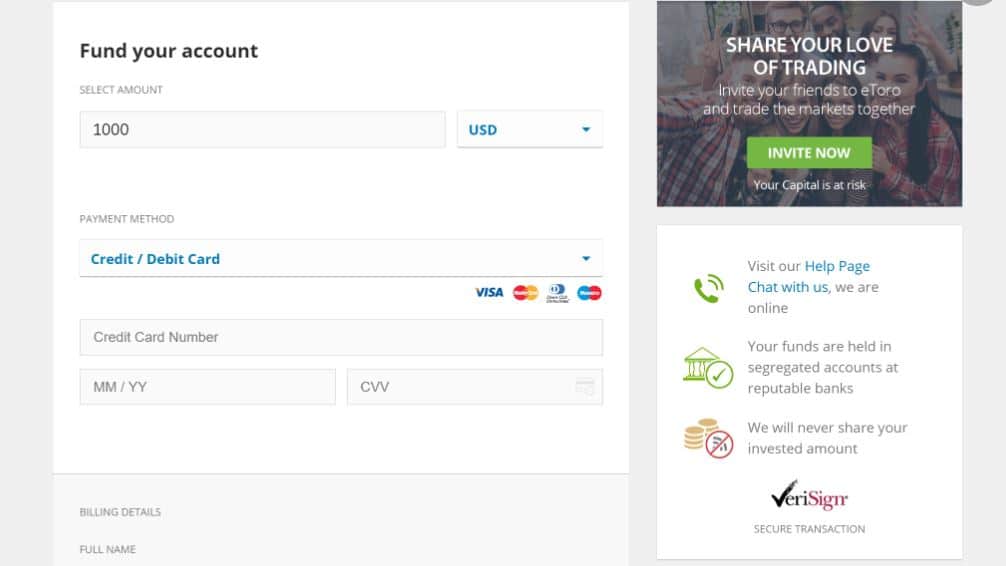 At this point, you should be ready to use PayPal to deposit some funds on eToro. To do it, click the "Deposit Funds" button in the bottom-left corner of your dashboard, and then select PayPal as a payment method. Add the amount you wish to deposit (at least $50) and fill in the rest of the details before clicking the Deposit button again.
Step 4: Buy Bitcoin with PayPal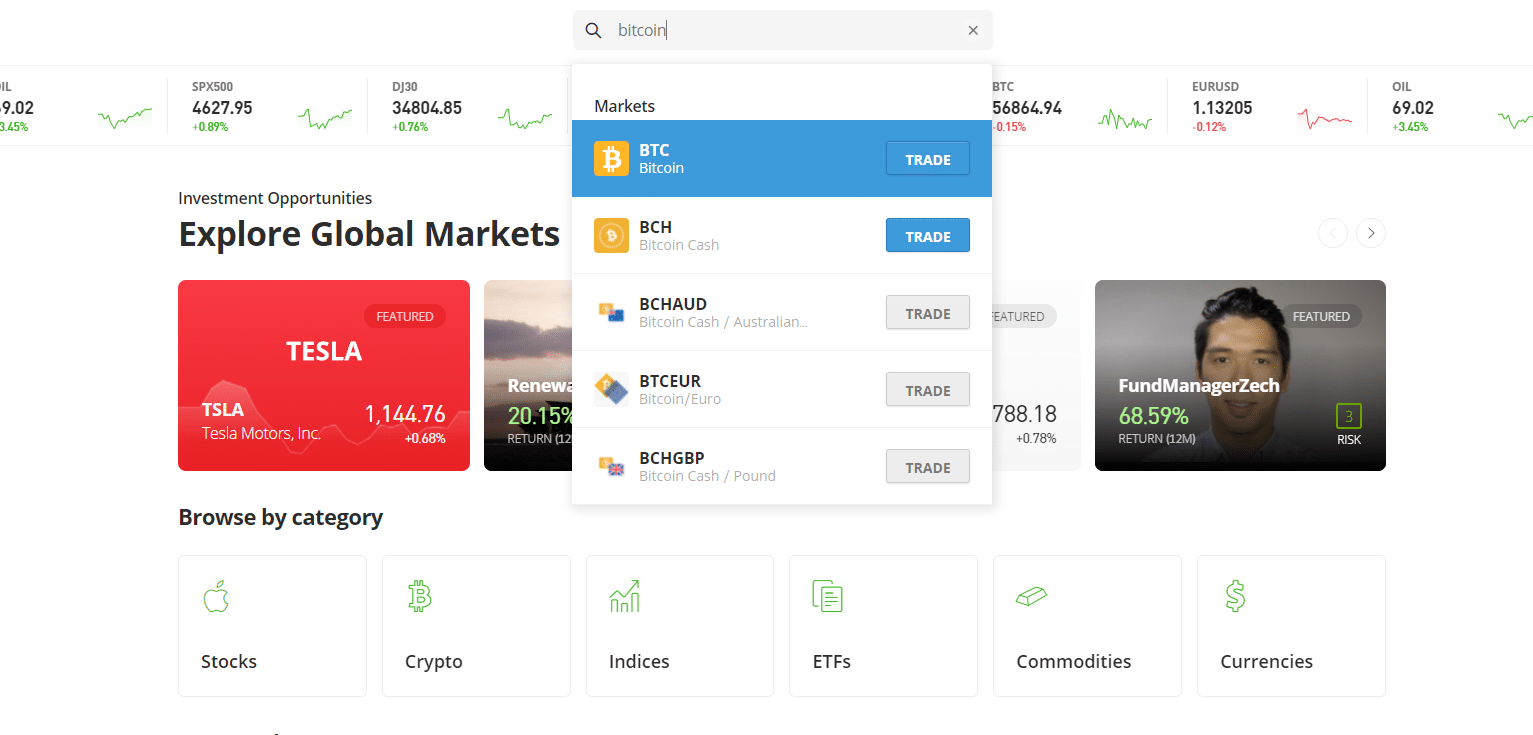 At this point, you are ready to finally buy Bitcoin. Simply use eToro's search function to look up the cryptocurrency on the platform, and click the trade button next to it, where you can decide whether to buy or sell and enter the other details of the transaction.
Conclusion
If you wish to buy Bitcoin with PayPal, the best thing you can do is use PayPal to deposit your funds to eToro's broker platform. eToro offers excellent trading conditions, very simple-to-use features and tools, and a fair selection of the largest and most popular coins. All trading on the platform is commission-free, and withdrawals and deposits are extremely quick.
eToro – Buy Bitcoin With PayPal Commission-Free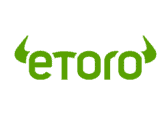 67% of retail investor accounts lose money when trading CFDs with this provider. You should consider whether you can afford to take the high risk of losing your money.
FAQs
What is the minimum PayPal Bitcoin purchase amount?
How do you sell Bitcoin with PayPal?
Is it legal to buy Bitcoin with PayPal?
Does PayPal accept Bitcoin?
How to buy Bitcoin with PayPal in the US?