Kraken vs Coinbase – Which Crypto Exchange is Best?
Fact Checked
Everything you read on our site is provided by expert writers who have many years of experience in the financial markets and have written for other top financial publications. Every piece of information here is fact-checked. We sometimes use affiliate links in our content, when clicking on those we might receive a commission - at no extra cost to you. By using this website you agree to our terms and conditions and privacy policy.
Looking for the best cryptocurrency exchange and trying to decide between Kraken and Coinbase?
In this guide, we'll compare Kraken vs Coinbase head-to-head to help you decide which is the best exchange.
What are Kraken & Coinbase?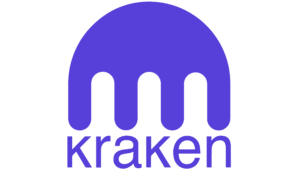 Kraken is a San Francisco-based cryptocurrency exchange launched in 2013. The platform was initially meant as an alternative and backup for the Japanese exchange Mt. Gox, which closed after a hack in 2014. Kraken ultimately benefited from helping return funds to Mt. Gox users, since users had to create an account with Kraken in order to make claims.
Today, Kraken offers trading on over 70 cryptocurrencies with low fees and simple fiat-to-cryptocurrency transactions. The exchange also supports margin trading, futures trading, and OTC trading for more experienced crypto traders. Kraken also stands out for offering 24/7 support and its track record of having never been breached by a hack.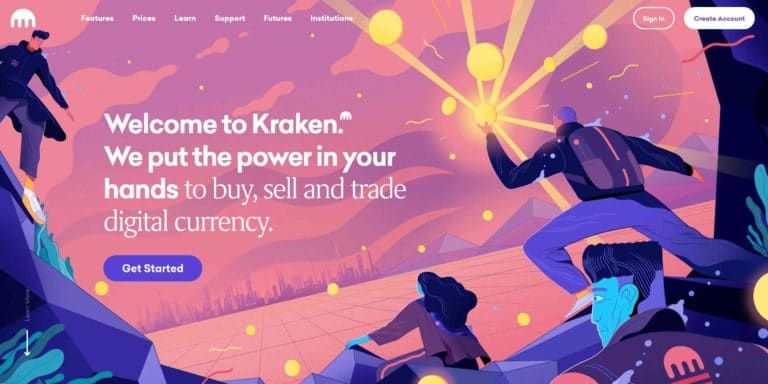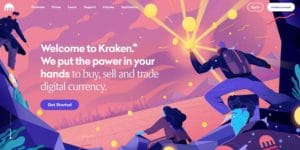 Coinbase is the largest cryptocurrency exchange in the US. The exchange offers trading on 64 cryptocurrencies and has distinct interfaces for instant buy/sell transactions and in-depth cryptocurrency trading. The exchange had previously offered margin trading, but has closed down this service due to new regulations from the US Commodities Futures Trading Commission (CFTC).
In addition, Coinbase serves as an infrastructure for cryptocurrency trading in the US. The exchange offers tools for businesses to accept payment in digital currency and offers an API for developers looking to build new cryptocurrencies or decentralized finance (DeFi) apps.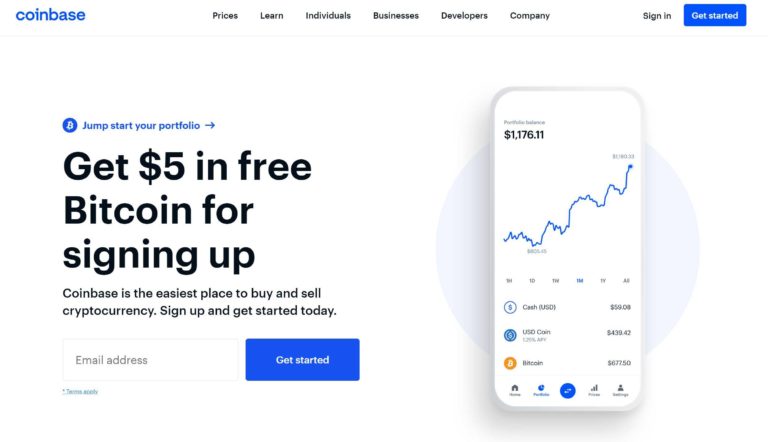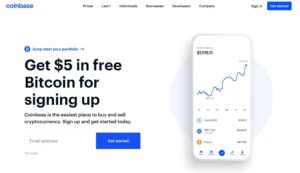 Coinbase went public via a direct listing on the NASDAQ exchange in April 2021. It is the only publicly traded cryptocurrency exchange in the US.
Kraken Pros & Cons
Pros:
Top-tier security that has never been breached
Trade more than 70 cryptocurrencies
Beginner-friendly trading tools
Supports margin trading with 5:1 leverage
Offers cryptocurrency futures trading
Accepts 7 different fiat currencies for payment
Regulated in the US and holds US banking license
24/7 live chat support
Cons:
Does not accept credit/debit cards for payment
Limited offerings beyond cryptocurrency trading
No wallet service
Customer support responses can be slow
Your capital is at risk
Coinbase Pros & Cons
Pros:
Trade 64 popular cryptocurrencies
Accepts credit cards, debit cards, and PayPal
Excellent security protocols in place
Simple instant buy or more advanced Coinbase Pro interfaces
Earn rewards for learning more about crypto
Tools for businesses and developers
Integrated cryptocurrency wallet
Regulated in the US and publicly traded on the NASDAQ
Cons:
No margin trading or crypto futures
Relatively high trading fees
Limited customer support
Your capital is at risk
Supported Coins
The selection of coins you can trade is one of the most important things to consider when comparing Kraken vs Coinbase.
For the most part, these two exchanges offer access to the same range of digital currencies. Kraken has just over 70 cryptocurrencies to trade, while Coinbase has 64. Both offer trading on highly popular coins including:
Bitcoin (BTC)
Ethereum (ETH)
Ethereum Classic (ETC)
Bitcoin Cash (BCH)
Litecoin (LTC)
Dogecoin (DOGE)
Cardano (ADA)
Polkadot (DOT)
One thing to note is that Coinbase has temporarily suspended trading on Ripple (XRP) due to a conflict with the US Securities and Exchange Commission (SEC) over this token. Kraken continues to support trading on XRP.
Coinbase only allows you to buy and sell cryptocurrencies outright. However, Kraken goes a bit further.
With Kraken, you can purchase cryptocurrencies on a margin up to 5:1. This exchange also offers cryptocurrency futures trading for Bitcoin, Ethereum, Litecoin, Bitcoin Cash, and Ripple. Crypto futures allow you to hedge risk, speculate on the timing of price movements, and access leverage up to 50:1.
Kraken vs Coinbase Fees
When it comes to comparing fees between Kraken vs Coinbase, Kraken is by far the cheaper platform. Let's take a look at the trading and non-trading fees that these two exchanges charge.
Trading Fees
Kraken offers highly competitive fees for trading cryptocurrency and the exchange is very transparent about how its fees are calculated.
With Kraken Pro, the Kraken trading platform, fees for spot trades start at 0.16% if you make liquidity with your order (the 'maker' fee) and 0.26% if you take liquidity (the 'taker' fee). If you trade more than $50,000 worth of cryptocurrency in a month, these fees are reduced by 0.02%. In fact, the maker fee drops to 0.00% if you trade over $10 million in cryptocurrency per month.
You can also place instant buy/sell orders with Kraken, although these are more expensive. The platform charges a 0.9% commission for trading stablecoins or 1.5% for any other cryptocurrency. There's also a 0.5% fee for processing your instant bank transfer for the transaction.
Futures trading fees at Kraken start at 0.02% for makers and 0.05% for takers. Like spot trading fees, futures trading fees are discounted based on your trading volume. The maker fee drops to zero if you trade over $100 million in crypto futures contracts per month.
Coinbase is significantly more expensive than Kraken, and it can be somewhat more tricky to figure out how all of the fees add up for your trade.
With Coinbase Pro, fees for spot trades start at 0.50% regardless of whether you make or take liquidity. This is discounted to 0.35% if you trade at least $10,000 in crypto per month, but there's no additional discount for making liquidity unless you trade at least $50,000 per month.
If you want to buy or sell cryptocurrency instantly with Coinbase, your fee depends on your payment method. If you pay using a bank account or Coinbase wallet, the exchange charges a 1.49% commission. If you pay using a credit card, debit card, or PayPal, the exchange charges a 3.99% commission.
Non-trading Fees
Kraken does not charge deposit or withdrawal fees for most deposit methods, including bank transfers, wires, and SWIFT transactions.
Coinbase does not charge deposit fees for bank transfers but charges a $10 fee for wires and a 2.5% fee for PayPal deposits. There are no fees for most withdrawals. However, if you want to make an instant withdrawal to a debit card or credit card, Coinbase charges a 1.5% fee.
Spot Trading Fee
Instant Buy/Sell Fee
Deposit Fees
Withdrawal Fees
Kraken
0.16% maker

0.26% taker

0.9% for stablecoins

1.5% for all other coins

None
None
Coinbase
0.50% maker or taker
1.49% using bank transfer

3.99% using debit/credit card or PayPal

None for bank transfers

$10 for wires

2.5% for PayPal

None for most withdrawals

1.5% for instant card withdrawals
Buying Limits
Deposit, withdrawal, and buying limits at Kraken vs Coinbase depend on your account level at each platform.
With Kraken, you can always make unlimited cryptocurrency deposits. Starter accounts can withdraw up to $5,000 in crypto per day, while Pro accounts can withdraw up to $10 million per day. If you want to deposit fiat currency, you are limited to $9,000 per day and $9,000 per month for Starter accounts or $10 million per day and $100 million per month for Pro accounts.
Coinbase doesn't offer clear guidelines for how Basic account holders can deposit or withdraw large amounts of funds. Limits are calculated on an individual account basis. For Pro accounts, there are no deposit limits for crypto or fiat currency. Withdrawals are limited to $50,000 per day.
With both Kraken and Coinbase, you must purchase at least 0.001 BTC, 0.01 BCH, 0.01 ETH, or 0.1 LTC per trade.
Kraken Wallet vs Coinbase Wallet
Another point on which to compare Kraken vs Coinbase is their wallet services. Here, Coinbase clearly has the upper hand.
That's because Kraken is clear with users that it is not a wallet service. The exchange does not offer a downloadable cryptocurrency wallet that you can take to any other exchange.
That said, Kraken does offer a built-in wallet as part of the exchange. In fact, you don't even need a separate wallet since Kraken will store your coins inside your account. Kraken keeps 95% of user funds in cold storage distributed around the globe, so it's incredibly safe.
Coinbase offers a more traditional software wallet that you can download and manage on your own. The Coinbase wallet allows you to store your own encryption key, so Coinbase never has access to your funds except when you're trading. In fact, you don't even need a Coinbase account to use the wallet.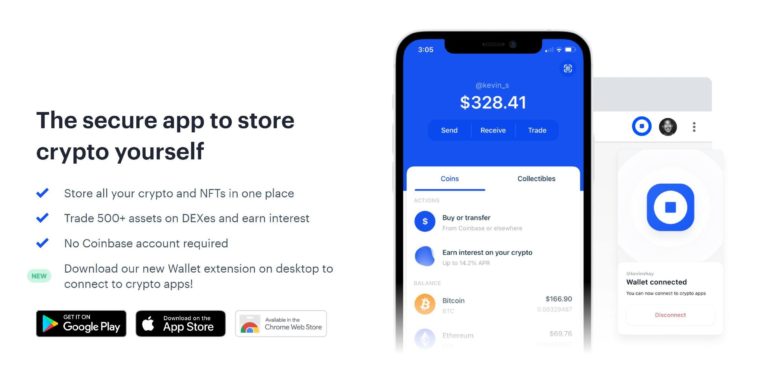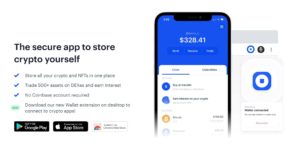 The Coinbase wallet is compatible with iOS and Android devices as well as with the Google Chrome browser. It supports over 500 cryptocurrencies as well as NFTs (non-fungible tokens). The wallet also supports DeFi apps, so you can lend out your cryptocurrency and earn interest in return. That's a major advantage of Coinbase vs Kraken for long-term investors.
Mobile App
Both Kraken and Coinbase offer mobile apps so that you can buy and sell cryptocurrency on the go. The apps are relatively similar in what they can do - both provide access to all of the main exchange features as well the platforms' key trading tools.
We especially liked the look and feel of the Kraken mobile app. It enables you to quickly buy crypto in pre-defined amounts such as $20 or $40, so you don't have to worry about manually entering orders when trading on a small screen. In addition, it offers a simple overview of your current positions and you can scroll through basic price charts as you look over your watchlist.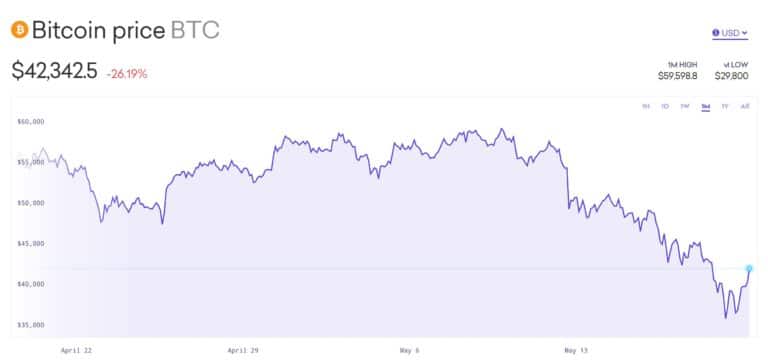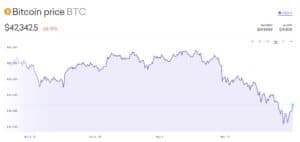 The Coinbase app is also extremely easy to use and provides a quick overview of the market. We appreciated that it shows top-moving coins on the homepage, so you can instantly see what's happening in the crypto market when you open the app. Another plus is that you can access Coinbase's learning tools, which reward you with cryptocurrency just for learning more about new altcoins.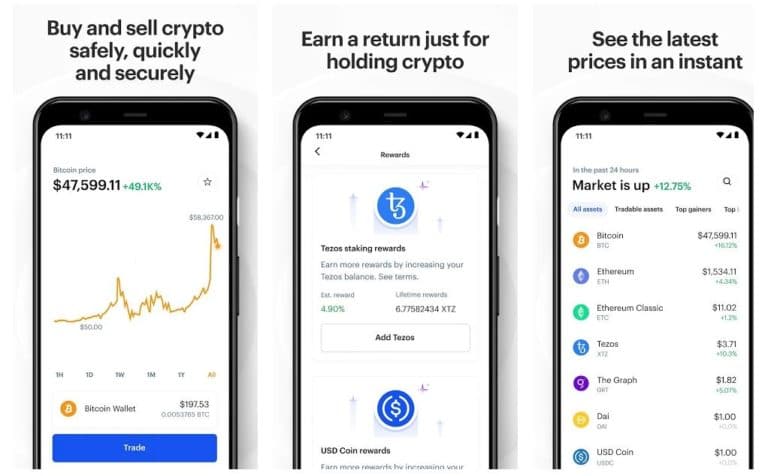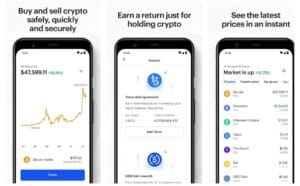 Both Kraken and Coinbase also offer mobile versions of their Pro platforms. These apps are more complex to get started with since they prioritize advanced technical charts instead of simple buy/sell interfaces. In general, the Coinbase vs Kraken Pro apps are very similar.
That said, we found that the Coinbase Pro mobile app is slightly easier to use and in many ways resembles the user experience of the Robinhood stock app. We particularly liked that you can pull up not only candlestick price charts, but also depth charts and the order book for any coin within the app.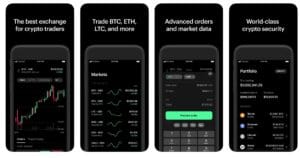 User Experience
Another important deciding factor when choosing between Kraken vs Coinbase is how easy the platforms are to use. We'll focus specifically on the instant buy or sell platforms here and go into detail on Kraken Pro vs Coinbase Pro in the next section.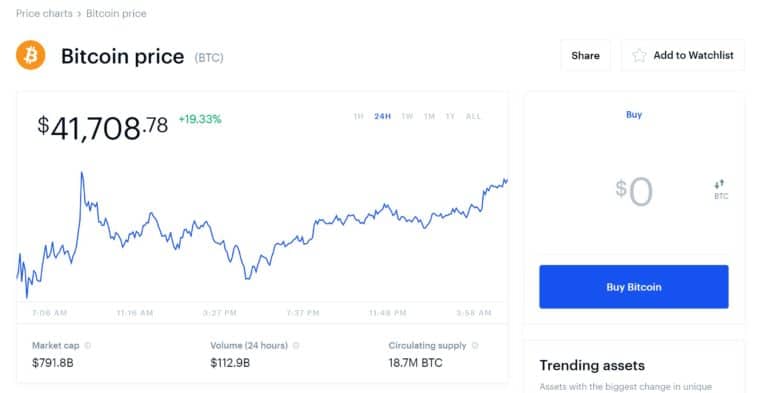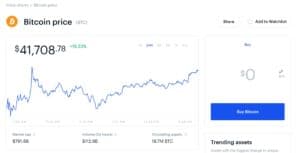 The good news is that if you simply want to buy and sell cryptocurrency, both Kraken and Coinbase trading platforms are extremely intuitive. Each platform gives you a quick overview of prices and the day's price changes for every coin offered, and you can easily search if you're interested in a specific token.
That said, we prefer the user experience of Coinbase vs Kraken. Coinbase's dashboard lets you see what coins are experiencing the most trading volume and biggest price movements, so you immediately know what to focus on.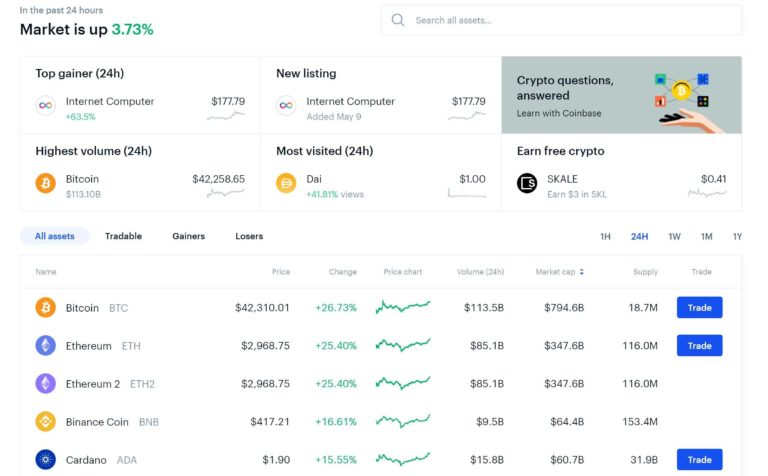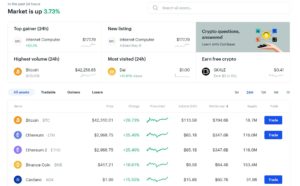 In addition, you can enter a buy or sell order right from the coin's chart page. With Kraken, you need to navigate from the chart page to an order page, which introduces more friction into the process.
Trading Tools and Features
Now let's compare the Kraken vs Coinbase Pro platforms, which are designed for advanced traders. Most of the two exchange trading features are in the Pro suites, so you'll need to upgrade from a standard account to access these tools.
To start, the Kraken Pro and Coinbase Pro trading platforms share a lot in common. Both give you access to detailed drawing and annotation tools so you can find trend lines and Fibonacci patterns. In addition, the two platforms each offer depth charts so you can easily see the full breadth of outstanding orders for a particular cryptocurrency.
One important difference, however, is that Kraken doesn't allow you to use technical studies while Coinbase does. This is a big deal for chartists who rely on indicators that are commonly used for stock analysis.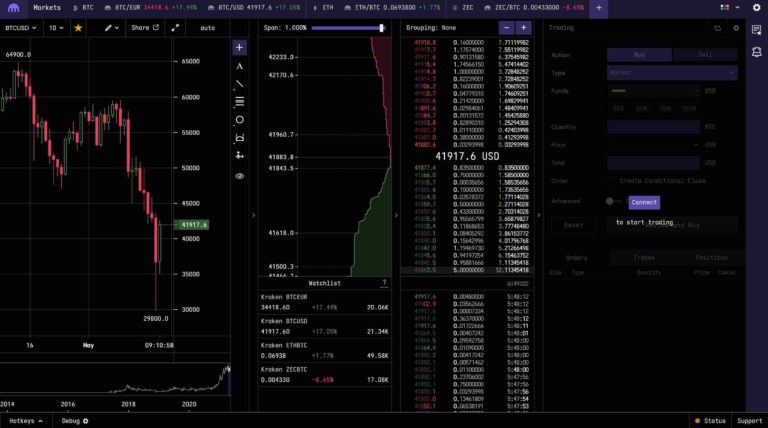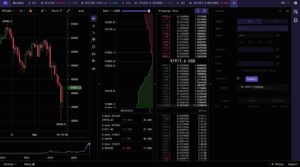 We also felt that the Coinbase Pro platform was easier on the eyes. The charting interface takes up more of the screen and you have complete control over how the various panels are sized. With the Kraken interface, you can collapse panels but not resize them. The constant flow of depth and price data is also placed so that it distracts from the price chart itself.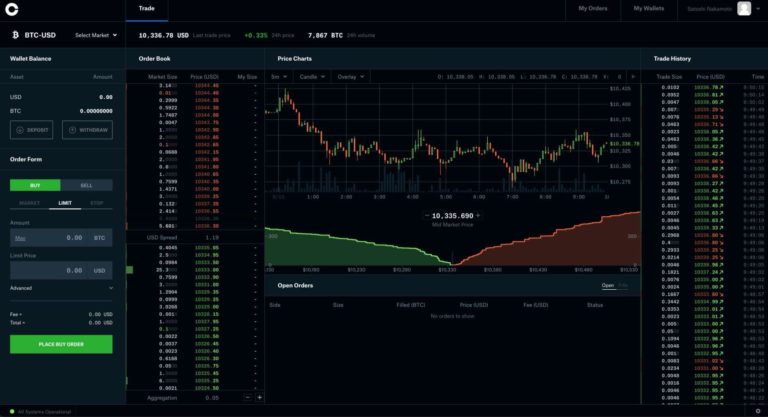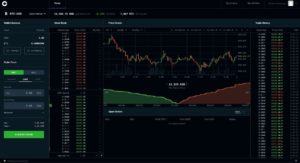 One key advantage that the Kraken Pro platform offers alerts. These can be based on price or trading volume, and you can give your alerts names so that it's clear what's happening when your alert goes off. The Coinbase Pro platform also offers alerts, but they can only be based on price and aren't quite as flexible.
Both platforms offer market, limit, and stop-loss order types. The order form is contained within the main trading platform, so you don't need to leave your charts in order to buy or sell cryptocurrency. Kraken makes the order process a bit faster since you can instantly commit 25%, 50%, 75%, or 100% of the funds in a chosen account to a trade (of course, you can also set your amount manually). However, the order process is overall very similar between the two exchanges.
Kraken vs Coinbase Payments
Kraken and Coinbase both accept bank transfers, wire transfers, and cryptocurrency deposits for payment. However, if you want to buy cryptocurrency using a debit card, credit card, or PayPal, you must use Coinbase - Kraken does not accept these payment methods. That's a major win for Coinbase vs Kraken as far as how easy it is to get into crypto.
One benefit that Kraken offers, however, is that it accepts a wide range of fiat currencies. With Kraken, you can fund your account in USD, GBP, EUR, CAD, JPY, AUD, and CHF. By contrast, Coinbase only accepts USD, GBP, and EUR.
Minimum Deposit
The minimum deposit at Kraken is typically 1 USD or 1 of whatever base currency you use. However, depending on the bank that processes your transfer or wire payment, the minimum deposit can be as high as 150 USD.
There is no minimum deposit at Coinbase. However, you must deposit at least $50 in order for Coinbase to verify your account. You will be subject to limitations on trading if you deposit less than this amount.
Kraken vs Coinbase Regulation & Licensing
Both Kraken and Coinbase are US-based crypto exchanges and as such are highly regulated. That said, there are some differences in how Kraken vs Coinbase are regulated.
Kraken is registered as a money services business with the Financial Crimes Enforcement Network in the US. It also holds a banking license from the state of Wyoming, which allows it to serve as a custodian for client funds. This is why you don't need your own crypto wallet to store coins with Kraken.
Coinbase is regulated by the US Securities and Exchange Commission (SEC) and is publicly traded on the NASDAQ stock exchange. As a result, the exchange is required to make much of its financial dealings and ownership structure public. Coinbase is also licensed as a Qualified Custodian under the New York Department of Financial Services.
Contact and Customer Service
When it comes to customer service, Kraken has a lead over Coinbase. Kraken offers 24/7 customer support by live chat, whereas Coinbase only offers support by email (you can reach Coinbase by phone only if your account is compromised).
That said, neither exchange is particularly great at customer service. Kraken has a track record of taking more than 24 hours to reply to customer chats, even though the support team is supposed to be available all the time. Coinbase is also notorious for not returning customer emails.
Both platforms have thorough online support centers and these are typically your best option for solving problems with your account.
Kraken vs Coinbase vs eToro

While Kraken and Coinbase are two of the most popular crypto trading platforms in the US, there's a third option that's worth considering: eToro.
eToro is a smaller exchange that currently offers trading on 16 of the most popular cryptocurrencies. If you're looking to trade hot coins like Bitcoin, Ethereum, Ripple, and Dogecoin, you won't find the selection on eToro lacking.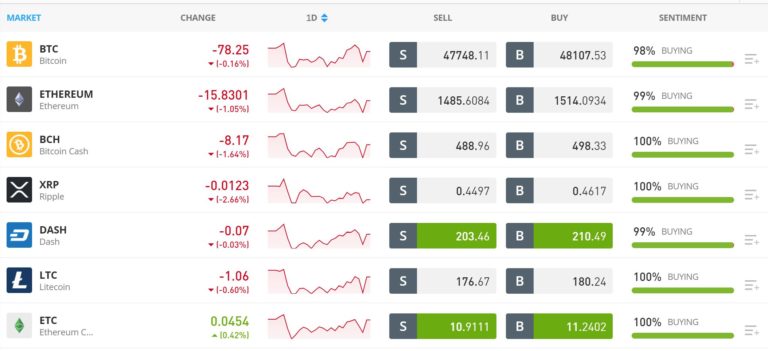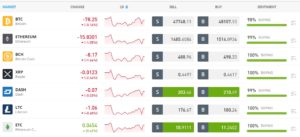 67% of retail investor accounts lose money when trading CFDs with this provider.
eToro's pricing is more expensive than Kraken but much more affordable than Coinbase. The platform charges a spread only on the buy-side of your crypto trades, and this spread can range from 0.90% for Bitcoin to 2.90% for Dash and Cardano. eToro doesn't charge deposit fees.
Trading Fee
Deposit Fees
Withdrawal Fees
Kraken
0.16% maker

0.26% taker

None
None
Coinbase
0.50% maker or taker
None for bank transfers

$10 for wires

2.5% for PayPal

None for most withdrawals

1.5% for instant card withdrawals

eToro
0.90%-2.90% only for buy orders (varies by coin)
None
$5 per withdrawal
Even better, you can buy cryptocurrency using a credit card, debit card, PayPal, Neteller, Skrill, bank transfer, or wire transfer. That's more options than either Kraken or Coinbase offers. eToro also has a crypto wallet available for iOS and Android devices.
eToro's trading platform isn't as advanced as Kraken Pro or Coinbase Pro. It includes detailed technical charts and analysis tools, but not depth charts or access to the crypto order book.
However, eToro does have a major advantage: it's a social trading platform. You can follow tens of thousands of crypto traders from around the world and exchange ideas in an instant. On top of that, eToro allows you to mimic the moves of more experienced crypto traders in just a few clicks.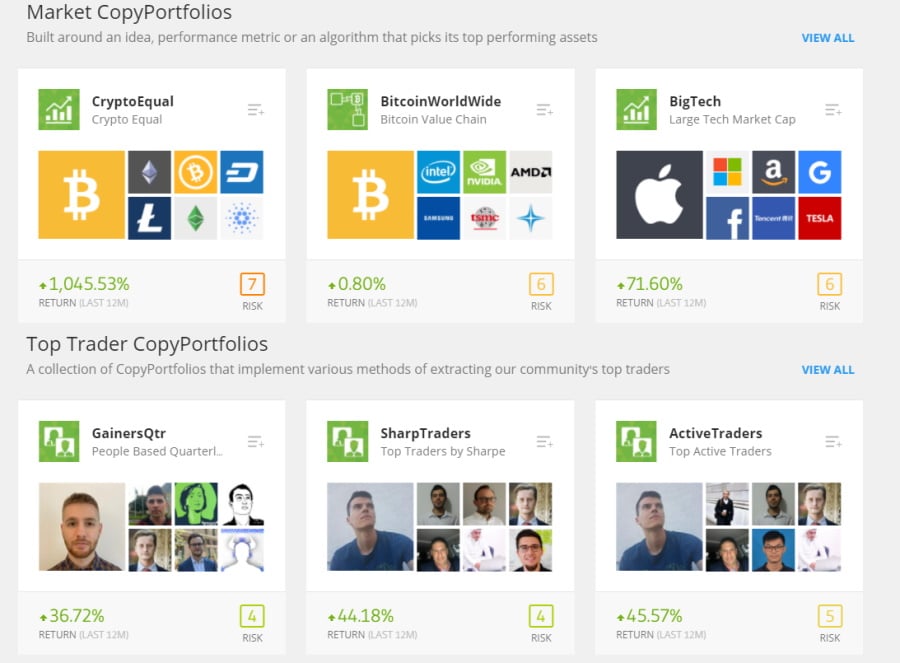 Past performance does not guarantee future results.
For traders outside the US, perhaps the biggest advantage to eToro is that it's more than just a cryptocurrency exchange. You can buy nearly 2,000 global stocks and ETFs, trade CFDs for crypto, stocks, forex, and commodities, and even buy and sell bonds. Stock and ETF trading is commission-free, so eToro is highly competitive as a stock trading platform.
The Verdict
Our Kraken vs Coinbase comparison found that both of these cryptocurrency exchanges have a lot to offer. They each have a simple instant buy interface for new crypto traders, and the Kraken Pro and Coinbase Pro platforms offer advanced trading tools for serious traders. Kraken's biggest advantage is its low pricing, while Coinbase stands out for the exceptional quality of its web and mobile platforms.
If you're looking for a low-cost cryptocurrency trading platform with outstanding trading tools, we recommend checking out eToro. This platform offers low spreads and accepts an incredibly wide range of payment methods. eToro is also a very comprehensive multi-asset broker that offers stock, ETF, forex, commodity, and bond trading for investors outside the US.
Ready to start trading cryptocurrency? Click the link below to sign up for an eToro account today!
eToro - Overall Best Cryptocurrency Exchange
67% of retail investor accounts lose money when trading CFDs with this provider.
Cryptoassets are highly volatile unregulated investment products. No EU investor protection.
FAQs
Should I use Kraken or Coinbase if I want to buy Bitcoin with a credit card?
How many cryptocurrencies does Coinbase vs Kraken offer?
Are Kraken and Coinbase regulated?
Do I need a wallet to trade crypto with Kraken vs Coinbase?
How do I get a Kraken Pro or Coinbase Pro account?