Bittrex vs Binance – Which Crypto Exchange is Best?
Fact Checked
Everything you read on our site is provided by expert writers who have many years of experience in the financial markets and have written for other top financial publications. Every piece of information here is fact-checked. We sometimes use affiliate links in our content, when clicking on those we might receive a commission - at no extra cost to you. By using this website you agree to our terms and conditions and privacy policy.
Wondering whether to choose Bittrex or Binance as your cryptocurrency exchange? In this guide, we'll compare Bittrex vs Binance head-to-head to help you decide which platform is best for you.
What are Bittrex & Binance?


Bittrex is a Bitcoin exchange founded in Seattle, Washington in 2013. At the time, it was one of the earliest cryptocurrency exchanges in the US. The platform is not regulated in the US but complies with all US laws and reports to the Financial Crimes Enforcement Network (FinCEN).
Today, Bittrex offers trading on over 250 cryptocurrency markets. The exchange has over half a million active users.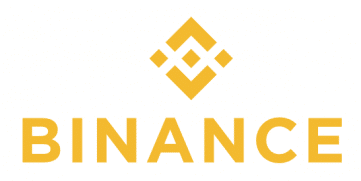 Binance came later to the cryptocurrency world, in 2017. The company was originally founded in China, but moved to Japan and then the Cayman Islands due to increasing regulatory scrutiny in those countries. Binance now has its main platform, as well as Binance.US for US traders and Binance Jersey for EU traders.
Binance offers cryptocurrency trading on more than 500 coins, including 2 coins it has developed itself (BNB and BSC). The platform has over 13.5 million active users and is the largest cryptocurrency exchange in the world by trading volume.
Bittrex Pros & Cons
Pros:
US-based cryptocurrency exchange
Over 250 cryptocurrencies to trade
Supports credit and debit card payments
No minimum deposit
Excellent security measures
Create an account in minutes
Cons:
Doesn't support margin trading or derivatives
Not regulated in the US
Mobile app is poorly designed
Binance Pros & Cons
Pros:
Trade over 500 cryptocurrencies
Commissions from just 0.1% per side
Instant fiat-to-crypto transactions
Easy to use trading platform for web and mobile
Pay with credit or debit card with no minimum deposit
Trade crypto futures, Bitcoin options, and leveraged tokens
Includes Binance Trust wallet
Cons:
Binance.US only supports 50 cryptocurrencies
Not regulated and under investigation in the US
High fees for instant credit/debit transactions
Supported Coins
Bittrex and Binance each offer a wide range of markets for cryptocurrency trading. To start, you can trade all of the most popular cryptocurrencies, including Bitcoin, Ethereum, Dogecoin, Litecoin, Ripple, Cardano, and more.
Bittrex offers over 250 cryptocurrency markets in all. This includes a number of crypto-crypto pairs, such as BTC-ETH or DOGE-BTC.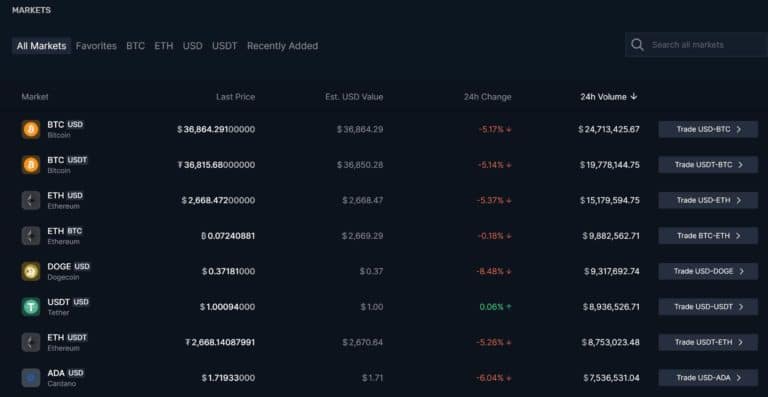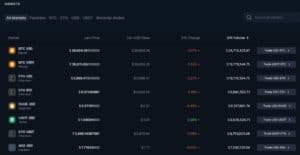 Binance offers over 500 cryptocurrencies to trade, including hundreds of little-known altcoins. However, it's important to note that Binance.US, the platform available to US traders, only offers 50 cryptocurrencies.
Bittrex stops at enabling you to buy and sell cryptocurrencies outright, but Binance doesn't. Binance lets you trade crypto on margin up to 10:1 for Bitcoin trading and up to 5:1 for many other coins. You can also trade cryptocurrency futures and leveraged tokens, both of which give you more buying power to speculate on the crypto market. For Bitcoin, Binance even offers options trading.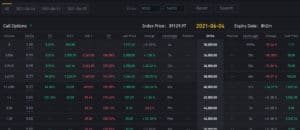 Bittrex vs Binance Fees
An important point of comparison between Binance vs Bittrex is how much it costs to trade. For the most part, Binance is cheaper.
Spot Trading
Spot trading at Binance costs just 0.10% per trade, regardless of whether you make or take liquidity on the exchange. Bittrex charges 0.35% per trade.
Notably, both exchanges offer discounts for high-volume trading. With Binance, you get a discount once you trade more than 50 BTC per month. With Bittrex, discounts start at a trading volume of $25,000 per month.
Binance also offers a 25% trading discount if you use BNB, Binance's custom cryptocurrency, to fund your transaction.
Instant Buy/Sell
Both Bittrex and Binance also enable you to buy crypto instantly using a debit or credit card, although this is significantly more expensive. Bittrex charges an instant transaction fee of 3%, while Binance charges 1.5%.
Deposit and Withdrawal Fees
Neither Bittrex nor Binance charge deposit fees or withdrawal fees, regardless of what payment method you use to move funds around in your account.
Just note that if you choose to withdraw crypto, there will be a transaction fee from the cryptocurrency's blockchain. This fee varies and is dependent on the token you withdraw, not the exchanges.
| | | | | |
| --- | --- | --- | --- | --- |
| | Spot Trading Fee | Instant Buy/Sell Fee | Deposit Fees | Withdrawal Fees |
| Bittrex | 0.35% maker or take | 3% | None | None |
| Binance | 0.10% maker or taker | 1.5% | None | None |
Buying Limits
Most cryptocurrency exchanges put limits on the minimum or maximum amounts of cryptocurrency you can buy per trade.
At Bittrex, the minimum order size is just $3. There is no maximum order size you're allowed, but the platform will impose restrictions if you exceed 1,000 open positions or 500,000 orders per day - a limit that few traders are likely to run up against.
At Binance, how much crypto you can buy or sell depends on how many account verification steps you have completed. When you create an account, you can only buy or sell up to $300 worth of cryptocurrency per day. If you add an ID to your account and take a photo of yourself to verify it, your buying limit will be increased to $5,000 of crypto per day. Finally, you can verify your address to raise your buying limit to $50,000 of crypto per day.
Bittrex Wallet vs Binance Wallet
One big difference between Bittrex vs Binance is how they manage your cryptocurrency. Specifically, to hold any cryptocurrency you buy with these exchanges, you will need a digital wallet.
On Bittrex, cryptocurrency wallets are built into the platform. When you buy Bitcoin, for example, you can create a new Bitcoin wallet inside your Bittrex account and transfer the coins there. The wallet itself is stored on Bittrex's servers and maintained by Bittrex on your behalf.
For every different coin you want to buy on Bittrex, you'll need a different wallet. Bitcoin goes in a Bitcoin wallet inside your account, Ethereum goes inside an Ethereum wallet inside your account, and so on. This means that if you trade many different coins, you could have dozens of different wallets linked inside your Bittrex account.
Does that sound confusing? It is. On the bright side, you only need your single Bittrex login to access all of these different wallets.
Binance takes a completely different approach. The platform doesn't offer storage directly inside your account. Instead, you have to bring your own cryptocurrency wallet and link it to your account. Binance offers the Trust wallet, which supports over 500 different cryptocurrencies, for exactly this purpose, but you can also use any third-party wallet you choose.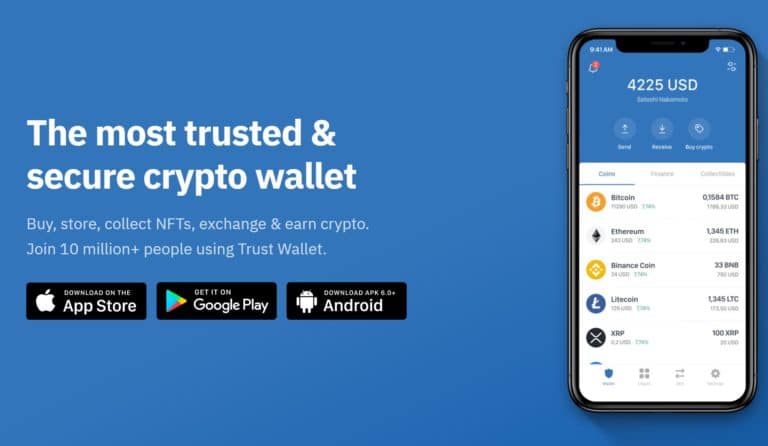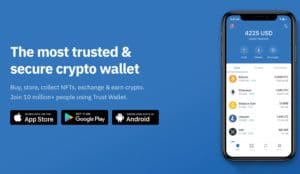 While it's good practice to keep your coins in multiple wallets for security reasons, linking one or more wallets to Binance is extremely easy. The fact that you can also mix different coins in a single wallet is a huge plus compared to Bittrex.
Mobile App
Bittrex also falls well short of the mark when it comes to mobile trading. The exchange only recently built a mobile app for iOS and Android devices, and the software could still use a lot of upgrades.
At first, the Bittrex mobile app looks like a lot of other cryptocurrency exchange apps. You can create a watchlist of coins, dive into technical charts for analysis, and place buy and sell orders right from your smartphone.


However, we found the app to be frustrating to use. Price data was slow to update, and we frequently received errors when trying to buy crypto or deposit funds. The app also requires you to authenticate your login every time you open the app, which makes it more difficult to use.
The Binance mobile app, on the other hand, was seamless. The app has a 'Lite' mode and a 'Pro' mode, so you can decide what level of detail you want when checking prices or trading.
The Lite mode gives you simple line price charts and is designed to make placing a buy or sell order as quick as possible. You can also monitor your open positions and deposit and withdraw funds.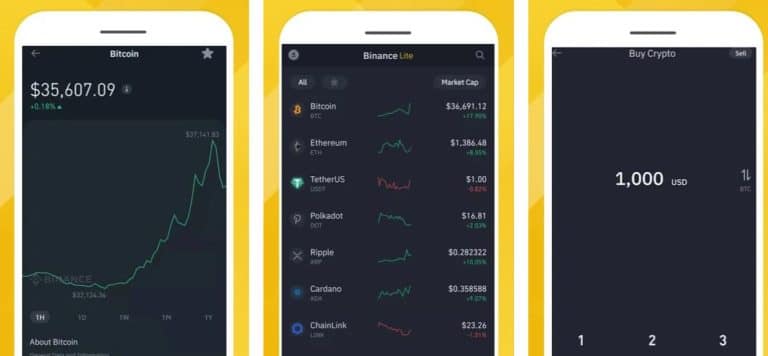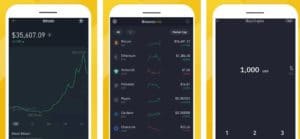 The Binance app's Pro mode is where you'll find all of the more advanced features, including highly customizable full-screen charts. Pro mode also enables you to trade crypto futures, Bitcoin options, and leveraged tokens right from your smartphone. The app includes helpful tools like price alerts, and we found it to be very user-friendly despite having a lot of data to present.
User Experience
Let's compare the Bittrex vs Binance user experience first for instant buy/sell orders on the web platforms. Both exchanges do a good job of making it easy to find the coin you want to trade and simply buying it in seconds.
That said, we think Bittrex comes out on top here. Once you find the coin you want to trade, the order form is incredibly simple - just enter the amount you want to buy, choose which payment method to use, and review your order. We also liked that Bittrex lets you sort coins by 24-hour trading volume or 24-hour price change so you can see which cryptocurrencies are getting the most action.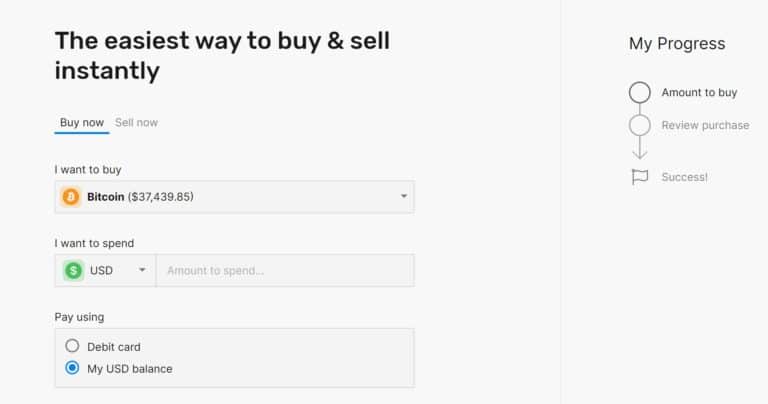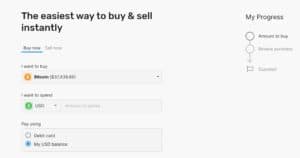 Binance has a similar sort feature, but we were thrown off by the fact that you need to choose your payment method before you can open an order form. If you instead click on a coin on the 'Markets' page, you'll be taken to the advanced trading platform - not to an instant buy order form. This felt counterintuitive, even if it's not a huge hurdle once you get used to the platform.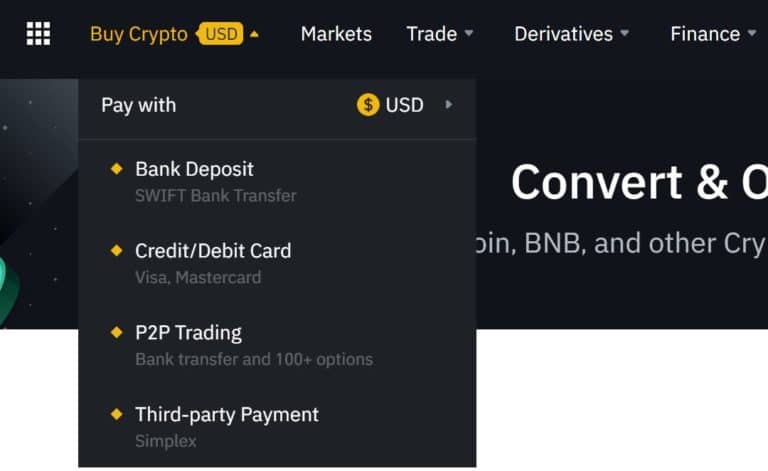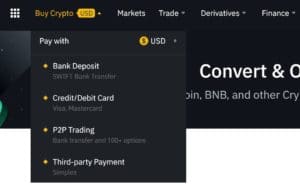 When it comes to spot trading with the advanced trading platforms, the user experience of Binance vs Bittrex is more evenly matched. Both platforms use a default layout that will look familiar if you're coming from another cryptocurrency exchange. It includes a large charting window, an order form window, and a window showing your open orders and account balance.
One aspect of the user experience that nudges Bittrex ahead is that it has 7 preset layouts you can switch between. You can switch between layouts using keyboard shortcuts, which we found to be really helpful when diving deep into analysis. In addition, the platform allows you to customize all of the keyboard shortcuts to your liking.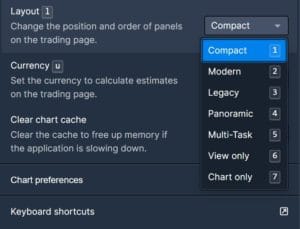 The Binance trading platform enables you to toggle individual modules on and off, but there's no way to change the platform's layout. There are also no keyboard shortcuts, and you cannot view price and depth charts at the same time.
Trading Tools and Features
The trading and analysis tools that Bittrex and Binance offer are nearly identical. Both platforms rely on charts from TradingView, which includes over 100 technical overlays and price data down to 1-minute intervals. You can also access depth charts and the exchange order book for any token that Bittrex and Binance support.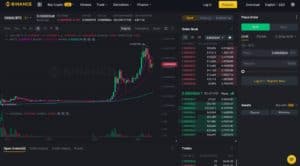 However, Bittrex has a significant edge in terms of order entry options. Both platforms support market, limit, stop-loss, and one-cancels-the-other orders. Bittrex also enables you to place trailing stop losses and ladder limit orders, which give you more control over your risk management techniques. In addition, Bittrex lets you choose whether to cancel an order if it cannot be fulfilled immediately after being entered.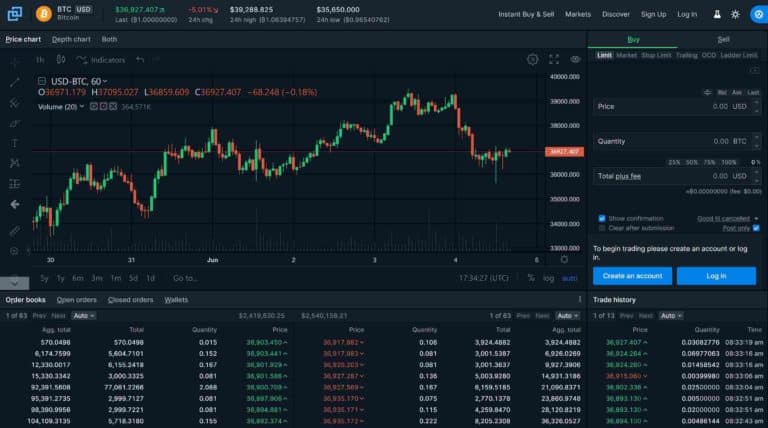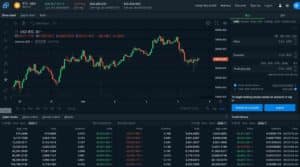 Bittrex vs Binance Payments
Bittrex and Binance accept payments by credit or debit card (Visa and Mastercard), bank transfer, or wire transfer. You can also transfer any supported cryptocurrency to your account from an existing Bitcoin wallet.
If you are outside the US, Bittrex supports fiat deposits in USD, GBP, or EUR. Binance supports a much wider range of fiat currencies - 42 in all!
Bittrex vs Binance Regulation & Licensing
Neither Bittrex nor Binance are regulated by any country, including the US. That said, Bittrex has a much better history of abiding by regulations than Binance.
Bittrex is based inside the US and complies with all US laws. It also reports to FinCEN, the Financial Crimes Enforcement Network. The exchange has never publicly run afoul of US regulators and is considered one of the most secure US cryptocurrency exchanges.
Binance, on the other hand, moved its headquarters several times to escape regulations in China and Japan. The exchange set up Binance.US to evade regulations in the US, and is now under investigation by the Internal Revenue Service and Department of Justice. Still, Binance continues to operate in the US and has a strong track record of customer safety in the hundreds of countries it serves around the world.
Contact and Customer Service
Bittrex and Binance aren't known for spectacular customer service. You can get in touch with the Bittrex support team using a ticket system in the online help center or through live chat. Binance only offers a robo-chat service. It's possible to eventually get a human on the other end of the live chat, but the wait can be several days long.
Bittrex vs Binance vs eToro

Before you settle on either Bittrex or Binance, it's worth comparing them against one of our top-rated cryptocurrency exchanges: eToro.
eToro is a popular crypto exchange and multi-asset trading platform that serves over 20 million users worldwide. The platform offers trading on 16 of the most popular cryptocurrencies, and you can buy tokens outright or speculate on prices using CFDs (contracts for difference). Even better, eToro is a stock trading platform, forex trading platform, and commodities trading platform in addition to being a cryptocurrency exchange.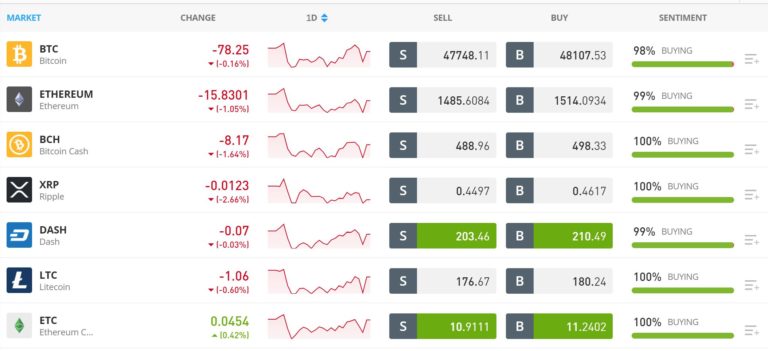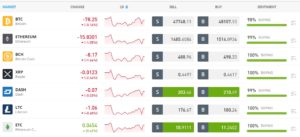 67% of retail investor accounts lose money when trading CFDs with this provider.
A big part of what sets eToro apart from Bittrex and Binance is its social trading network. With eToro, you can connect with the 20 million other traders from around the world to share ideas, learn new strategies, and offer encouragement. In the fast-moving crypto market, this network also offers a way to find out about breaking news and stay one step ahead of price action.
eToro also supports copy trading, which means you can automatically mimic the positions of more experienced crypto traders. This offers a simple way to set your trading on auto-pilot and can be a good way for new traders to break into the cryptocurrency market.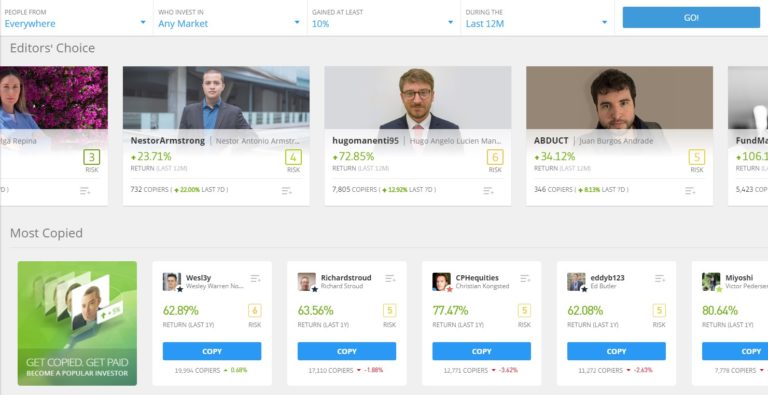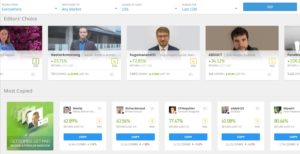 Past performance does not guarantee future results.
Another benefit to eToro is that you can fund your account not only with a credit card or debit card but also using an e-wallet. eToro currently supports PayPal, Neteller, and Skrill. Notably, eToro also has its own cryptocurrency wallet so you can easily store any coins you buy using the platform.
The biggest disadvantage to eToro relative to Bittrex and Binance is that it's slightly more expensive. eToro requires a minimum deposit of $50 in the US or $200 internationally and charges a withdrawal fee of $5. In addition, cryptocurrency trading spreads start at 0.90% and can be as high as 2.90% for some coins. Spreads are only charged when you buy a cryptocurrency with eToro, not when you sell.
| | | | |
| --- | --- | --- | --- |
| | Trading Fee | Deposit Fees | Withdrawal Fees |
| Bittrex | 0.35% maker or taker | None | None |
| Binance | 0.10% maker or taker | None | None |
| eToro | 0.90%-2.90% only for buy orders (varies by coin) | None | $5 per withdrawal |
The Verdict
If you're choosing between Bittrex vs Binance, we would recommend Binance for most traders. Binance charges less for spot trading and instant cryptocurrency purchases, and its mobile app is much more seamless than the Bittrex app. On top of that, Binance offers more cryptocurrencies to trade and has a wide range of derivatives that Bittrex doesn't support.
However, we'd recommend eToro over either Bittrex or Binance. Although trading with eToro is slightly more expensive, the fact that you can trade crypto, stocks, forex, commodities, and more all in one place is a huge advantage. In addition, eToro's social and copy trading tools are invaluable for staying ahead of a constantly changing crypto market.
Ready to start trading crypto today? Click the link below to sign up for an eToro account and buy your first cryptocurrency!
eToro - Overall Best Cryptocurrency Exchange

67% of retail investor accounts lose money when trading CFDs with this provider.
Cryptoassets are highly volatile unregulated investment products. No EU investor protection.
FAQs
How much money do I need to trade cryptocurrency?
Bittrex and Binance don't require a minimum deposit, so you can start trading cryptocurrency with just a few dollars.
Can I buy Bitcoin with PayPal?
The easiest way to buy Bitcoin with PayPal is to use an exchange like eToro that accepts PayPal deposits.
Do I need a cryptocurrency wallet?
With Bittrex, cryptocurrency wallets are built into your account, so you don't need to bring your own. With Binance and eToro, you will need to connect a crypto wallet to your account. Both Binance and eToro offer their own wallet apps.
What is BNB?
BNB, or Binance Coin, is a cryptocurrency created by Binance. You can use BNB to buy and sell cryptocurrencies on Binance just like you would use US dollars. In fact, Binance offers a 25% trading fee discount when you use BNB to fund your trades.
Is Binance regulated?
Binance is not regulated. The exchange is under investigation in the US by the IRS and DOJ for violating US money-laundering rules.
Is Bittrex regulated?
Bittrex is not regulated. However, the exchange is based in the US, complies with FinCEN, and follows all US rules for cryptocurrency trading.