Binance vs Kraken – Which Crypto Exchange is Best?
Trying to decide whether to use Binance or Kraken as your cryptocurrency exchange? In this guide, we'll compare Binance vs Kraken head-to-head to help you decide which platform is best.
What are Binance & Kraken?
Binance, founded in 2017, is the world's largest cryptocurrency exchange by trading volume. The exchange started in China, but has since moved to the Cayman Islands to avoid increasing regulation in Asia. Today, Binance operates in the US, Europe, and around the world and boasts over 13.5 million active users.
Binance offers trading on over 500 cryptocurrencies, including 2 coins it has developed itself: BNB (Binance Coin) and BSC (Binance Smart Chain). The platform also offers trading on leveraged tokens, cryptocurrency futures, and a decentralized exchange (Binance DEX).
Kraken, founded in 2013 in San Francisco, was one of the first major cryptocurrency exchanges. The platform gained popularity after the Japanese crypto exchange Mt. Gox collapsed in 2014, since users had to create an account with Kraken in order to get their coins back.
Kraken now offers trading on more than 70 cryptocurrencies. It offers low fees and a variety of advanced trading options such as futures trading, margin trading, and over-the-counter (OTC) trading. In addition, Kraken is notable for its airtight security – the platform has never been breached by a hack.
Binance Pros & Cons
Pros:
Trade over 500 cryptocurrencies
Very low trading fees
Instant fiat-to-crypto transactions
Pay with credit or debit card
No minimum deposit
Trade crypto futures and leveraged tokens
Crypto wallet available
Cons:
Not regulated in many countries
Complex trading platform for beginners
High fees for instant credit/debit purchases
Kraken Pros & Cons
Pros:
Trade over 70 cryptocurrencies
Beginner-friendly trading platform
Margin and crypto futures trading
Regulated in the US
Industry-leading security
Don't need a separate crypto wallet
24/7 live chat support
Cons:
No credit card or debit card payments
Doesn't have its own wallet
Slow customer support responses
Supported Coins
When it comes to the number of coins available for trading, Binance easily has the upper hand over Kraken - unless you're in the US.
Binance supports more than 500 cryptocurrencies for trading, including hundreds of relatively unknown altcoins. Binance also offers two of its own digital currencies, BNB (Binance Coin) and BSC (Binance Smart Chain). These tokens are stablecoins and you can get a discount for using them to trade for other cryptocurrencies on Binance.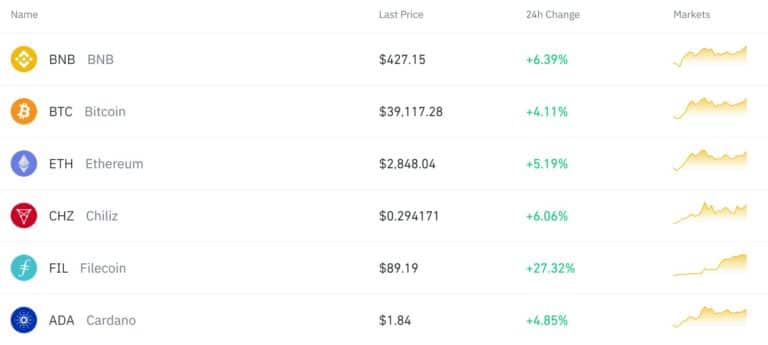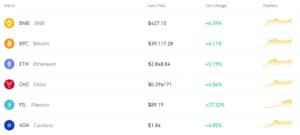 However, Binance.US, the exchange's platform for US-based traders, only offers 50 cryptocurrencies for trading. So, US traders have access to just one-tenth as many coins as traders using Binance's standard exchange platform.
Kraken has 72 cryptocurrencies available to trade, and this is true whether you're in the US or abroad. The selection includes many of the most popular digital coins such as:
Bitcoin (BTC)
Ethereum (ETH)
Litecoin (LTC)
Dogecoin (DOGE)
Ripple (XRP)
Bitcoin Cash (BCH)
Cardano (ADA)
Both platforms offer more than just standard cryptocurrency trading, too. Kraken and Binance both enable you to trade cryptocurrency futures contracts so that you can speculate on the timing of price changes. On Kraken, futures trading is available only for Bitcoin, Ethereum, Litecoin, Bitcoin Cash, and Ripple. On Binance, futures trading is available for over 100 cryptocurrencies.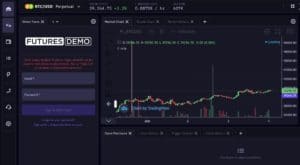 Binance and Kraken also enable you to trade cryptocurrencies on margin. At Kraken, margin is limited to 5:1 even for BTC trading. At Binance, you can access 10:1 margin for BTC trading and 5:1 or 3:1 margin for most altcoins.
Binance also has some crypto derivatives that Kraken doesn't offer. For example, Binance enables you to trade vanilla options around Bitcoin. The platform also offers leveraged tokens, which move 2x or 3x up or down for every 1x move in the underlying cryptocurrency.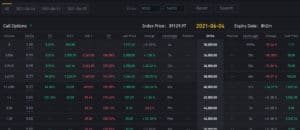 Binance vs Kraken Fees
Binance and Kraken are both incredibly affordable platforms for trading cryptocurrency, but Binance has a slight edge. Let's take a look at how fees for the two platforms break down.
Spot Trading Fees
Spot trading using the Binance or Kraken trading platforms is the cheapest way to trade.
On Binance, all trades carry a standard commission of 0.10%. However, you can get a 25% discount on every trade simply by using BNB to fund your purchases. In addition, Binance offers volume-based discounts, which offers extra incentive for traders who place at least 50 BTC worth of trades each month.
On Kraken, spot trading costs 0.16% if you create liquidity with your order or 0.26% if you take liquidity from the exchange with your order. As for Binance, there are volume-based discounts. You must trade at least $50,000 worth of crypto per month to qualify.
Instant Buy/Sell Fees
You can also buy or sell cryptocurrency instantly on either Binance or Kraken, although this can be more expensive.
At Binance, there's no extra charge if you fund your purchase with a bank transfer. However, if you use a credit card or debit card to buy cryptocurrency, expect a 1-2% surcharge on your order.
At Kraken, there's a 0.9% commission for instant stablecoin purchases and a 1.5% commission for all other instant crypto purchases. The exchange also adds a 0.5% processing fee, so the total cost comes to 1.4%-2.0% of your purchase.
Deposit & Withdrawal Fees
Neither Kraken nor Binance charge deposit fees, regardless of what payment method you use. Kraken doesn't charge withdrawal fees for most types of withdrawals, and Binance doesn't charge for withdrawals to fiat currency. If you withdraw cryptocurrency from Binance, the platform charges a fee in the digital currency you selected that's equivalent to around $20.
Spot Trading Fee
Instant Buy/Sell Fee
Deposit Fees
Withdrawal Fees
Binance
0.10% maker or taker
None for bank transfer

1-2% for credit.debit card

None
None for fiat

Approx. $20 for crypto

Kraken
0.16% maker

0.26% taker

0.9% for stablecoins

1.5% for all other coins

None
None
Buying Limits
Binance and Kraken each put limitations on how much money you can transact each day.
With Binance, your transaction limits are based on how many identity verification steps you have completed. When you provide your name, address, and date of birth, you can buy and sell up to $300 worth of cryptocurrency per day. When you add an ID to your account and verify it with a current photo, your buying limit is increased to $5,000 per day. If you verify your address, you can transact up to $50,000 per day.
Kraken doesn't impose buying limits, but it does limit how much money you can deposit or withdraw based on your account level. Starter account holders can deposit up to $9,000 per month and withdraw up to $5,000 per day. Pro account holders can deposit up to $10 million per day or $100 million per month and withdraw up to $10 million per day.
Binance Wallet vs Kraken Wallet
Binance offers its own crypto wallet, the Binance Trust wallet, for iOS and Android devices. The Trust wallet supports over 500 cryptocurrencies, including all of the tokens available for trading on Binance. It also supports NFTs (non-fungible tokens) and allows you to buy and sell crypto instantly from your smartphone.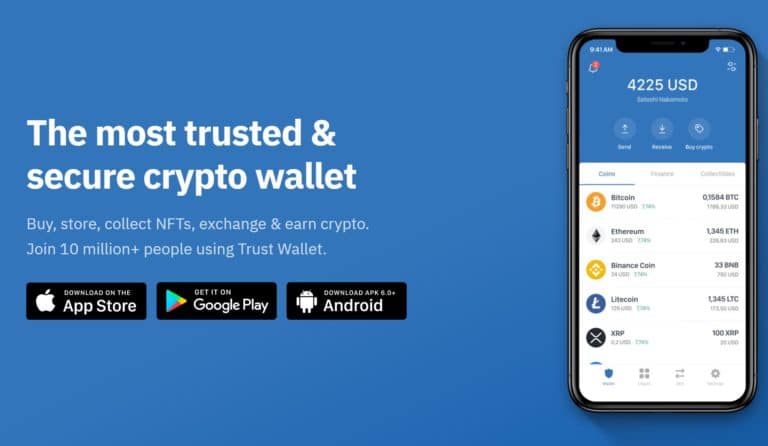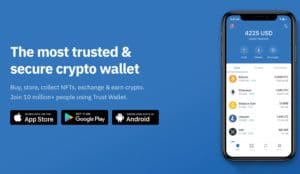 One especially neat thing about the Binance wallet is that it supports a Web3 browser so you can access decentralized finance apps (dApps). You can also send money to anyone, anywhere in the world instantly with no fees from Binance.
Kraken doesn't have its own crypto wallet for you to use. That said, you don't actually need a wallet in order to buy and sell cryptocurrency with Kraken. That's because the exchange has built-in storage for users, so your coins are safe in your account. More than 95% of coins held by Kraken are in cold storage, so you can rest assured that your funds are secure.
Mobile App
Both Binance and Kraken offer mobile apps to enable you to trade on the go.
Binance only has one app, but with two modes: Lite and Pro. The Lite version of the app offers a simple interface where you can keep a watchlist of cryptocurrencies you're interested in, place instant buy/sell orders, and easily manage your account. If you're new to Binance or cryptocurrency trading platforms more generally, the Lite mode is very easy to use.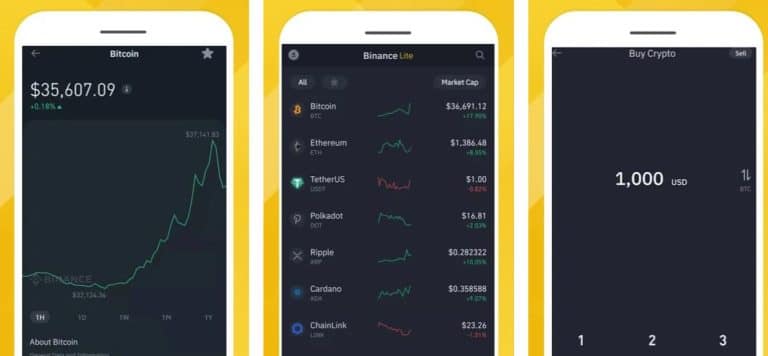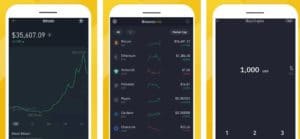 More advanced traders can use Pro mode, which includes many of the charting tools and features available on the Binance web platform. You get access to full-screen charts with dozens of technical indicators and depth charts. Pro mode also gives you access to all of Binance's trading modules, including futures trading and options trading.
Kraken has 2 different apps that serve similar purposes to the Lite and Pro modes of the Binance app. With the simple Kraken app, you can quickly buy crypto in pre-defined amounts such as $20 or $40. It also gives you fairly simple line charts so you can see price data without having to do much technical analysis.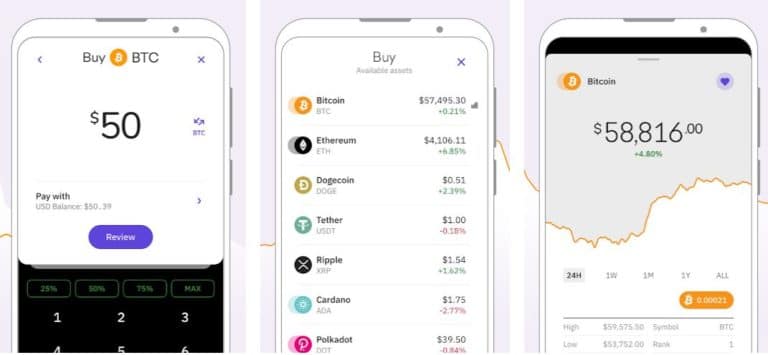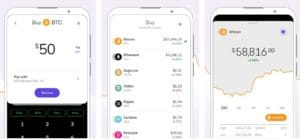 The Kraken Pro app is more complex, and not quite as seamless. While it shares a lot in common with the Binance app's Pro mode, we found the Binance app to be easier to use. In addition, having both Lite and Pro modes in a single app, rather than having to switch between 2 different apps, was a major plus.
User Experience
Just how easy is it to place an order with Binance vs Kraken? Both platforms make the process of entering an instant buy/sell order pretty easy, but we think Kraken has a better user experience.
With Binance, you have to choose what payment method you plan to use before you can even open an order form. This feels a little bit backwards, since most traders are thinking first about what coin they want to buy - not how they want to pay for it. In addition, you can't easily see your current positions when opening a new order with Binance.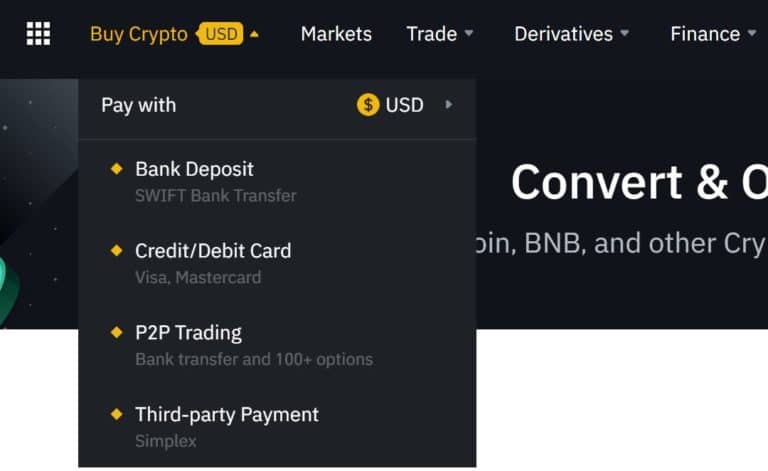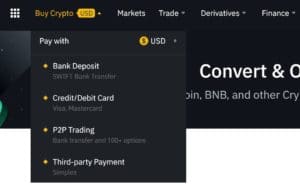 Kraken, on the other hand, lets you choose your coin and then launches an order form from there. You can easily sort coins by percent change, so it's simple to find tokens that are experiencing a lot of volatility. We also liked that you can view crypto prices in dozens of currencies, so you're not limited to thinking in USD.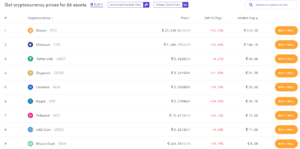 Trading Tools and Features
Binane and Kraken each offer advanced trading platforms built for crypto day traders, professionals, and retail traders alike.
To start, both platforms offer a wide range of technical indicators. You can overlay moving averages, indicators like RSI and MACD, and a handful of other popular studies like Bollinger Bands. Plus, both Kraken and Binance enable you to annotate price charts with trendlines, Fibonacci patterns, and more.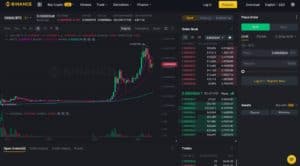 Another key element to both platforms is that they offer depth charts and access to the order book for any coin. So, you can easily see what the market for a coin is at any time and monitor momentum in real time.
Each platform offers market, limit, and stop-loss orders, but some traders will be disappointed that there are no conditional or one-cancels-the-other orders available. You can easily monitor your open positions and deposit additional funds to your account within the two trading platforms.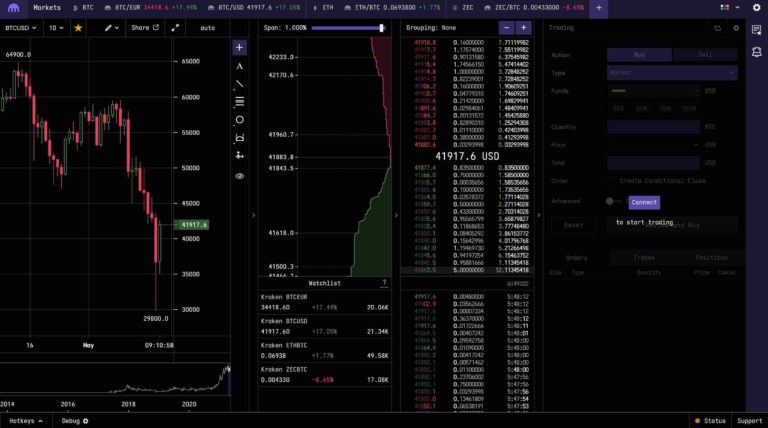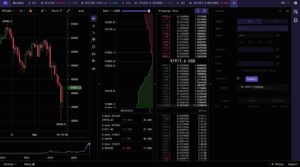 The biggest difference between Kraken vs Binance trading platforms is in their look and feel. We strongly prefer the Binance platform because it's simply laid out better. With Kraken, the charts are stacked next to one another and it can be hard to view the data. Binance does a better job of going easy on the eye with its default layout. Thankfully, you can move and resize windows in either trading platform to create your ideal setup.
Binance vs Kraken Payments
A major advantage of using Binance over Kraken is that Binance accepts credit and debit card payments in addition to bank transfers and crypto transfers. Kraken only accepts bank transfers and crypto deposits at this time.
In addition, Binance supports 19 fiat currencies for payment. That's the most of any major cryptocurrency exchange. Kraken allows you to make bank deposits in 7 fiat currencies, including USD, GBP, EUR, CAD, JPY, AUD, and CHF.
Minimum Deposit
Binance does not have a minimum deposit, regardless of what currency or payment method you use. Kraken does have a minimum deposit, but it's typically just $1 or 1 unit of whatever currency you choose to deposit.
Binance vs Kraken Regulation & Licensing
One major downside to Binance is that it is not regulated. In fact, the platform has deliberately sought to avoid regulations in the US and has come under increased scrutiny from US law enforcement agencies because of how it has approached the US market. Binance.US does hold licenses to operate from a number of US states, but that does not mean that it is subject to regulatory rules.
Despite the lack of regulation, Binance is generally considered trustworthy. It is the largest cryptocurrency exchange in the world, so there are many traders and industry experts watching how the company operates.
Kraken is only lightly regulated. The platform is registered with the Financial Crimes Enforcement Network (FinCEN) in the US and holds a banking license from the state of Wyoming.
Contact and Customer Service
Binance lags behind Kraken when it comes to customer service. The platform has a self-service help center, but you can only get in touch with the Binance support team through a messaging center if you need more help. There are no options for phone or live chat support.
Kraken, on the other hand, offers 24/7 customer support by live chat and email. The only problem is that the exchange has a history of being slow to respond to messages - "live" chat responses can take hours to days to arrive in some cases.
Binance vs Kraken vs eToro
Binance and Kraken each have a lot to offer, but before we recommend these platforms it's worth seeing how they stack up against eToro. eToro is a crypto exchange and CFD trading platform that operates around the world. It's regulated by the UK's Financial Conduct Authority and is registered with FinCEN in the US.
eToro currently offers 16 of the most popular cryptocurrencies for trading. While that might not sound like much compared to Binance or Kraken, you'll find all of the most in-demand digital currencies at eToro: Bitcoin, Ethereum, Dogecoin, Cardano, Litecoin, Ripple, and more. Spreads for trading cryptocurrencies start at just 0.90% when you buy, and there's no charge when you sell.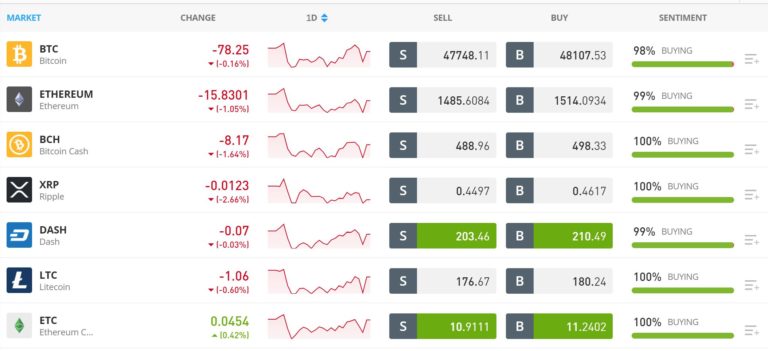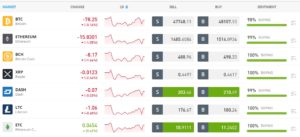 67% of retail investor accounts lose money when trading CFDs with this provider.
eToro's trading platform doesn't have all the bells and whistles that the Binance and Kraken trading platforms offer. For example, you don't get access to depth charts or the crypto order book. That said, the eToro platform is much easier to use, especially if you're new to technical analysis. The charts are uncluttered and you can apply over 100 technical studies and drawing tools to find the best time to buy and sell.
Trading Fee
Deposit Fees
Withdrawal Fees
Binance
0.10% maker or taker
None for bank transfer

1-2% for credit.debit card

None for fiat

Approx. $20 for crypto

Kraken
0.16% maker

0.26% taker

None
None
eToro
0.90%-2.90% only for buy orders (varies by coin)
None
$5 per withdrawal
On top of that, eToro offers market research, a news feed, and an economic calendar. These trading tools are critical for staying one step ahead of the crypto market, and they're especially useful if you want to trade crypto based on fundamental data instead of technical data alone.
Perhaps most important, you're not left on your own when trading crypto with eToro. The exchange has a built-in social trading network where you can connect with tens of thousands of traders from around the world. You can share news, ideas, and trading strategies, as well as simply find encouragement from a group of like-minded traders.
eToro's social network also supports copy trading, which means you can mimic the moves of more experienced crypto traders. This is a great way to dip your toes into more advanced crypto trading strategies without having to execute them on your own.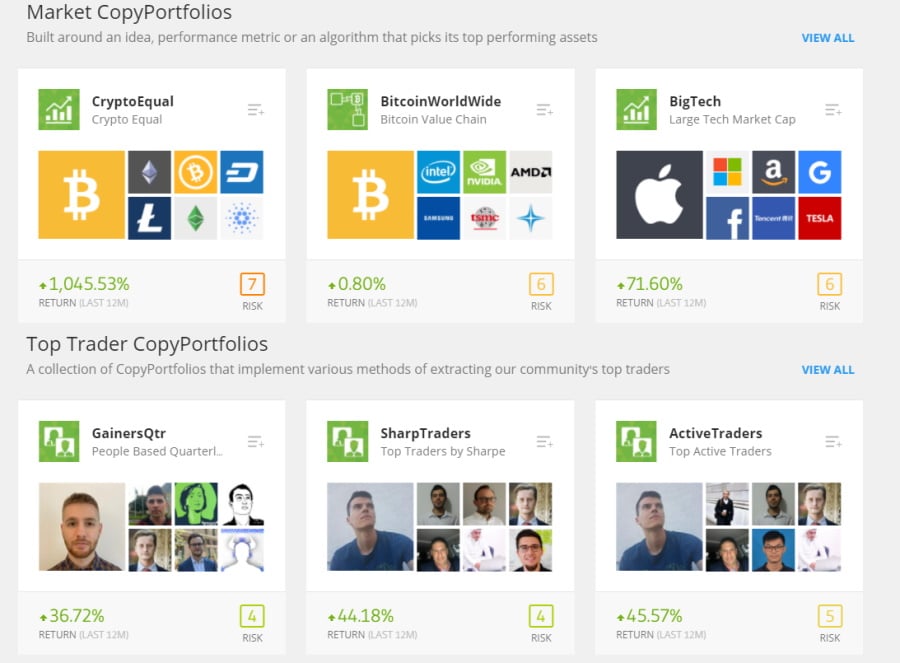 Past performance does not guarantee future results.
You can open an eToro account with as little as $50 in the US or $200 in other countries. The platform accepts payment by credit card, debit card, PayPal, or bank transfer. Plus, if you need help with your account, eToro offers 24/5 customer support by phone and email.
The Verdict
If you're trying to decide between using Binance vs Kraken as your cryptocurrency exchange, it's hard to go wrong. Both exchanges are highly secure and offer trading on a wide range of coins. You can also trade cryptocurrency futures or buy and sell digital currencies on margin. Overall, we think Binance is a better choice than Kraken because it accepts credit and debit card payments, has a wider variety of cryptocurrencies to trade, and offers lower fees for spot trading.
Before you sign up for Binance, though, it's worth taking a look at eToro. eToro is slightly more expensive than Binance, but it offers a user-friendly trading platform, a social trading network, and 24/5 customer support. On top of that, eToro allows you to buy crypto instantly with a credit card, debit card, or PayPal. So, it's as simple as possible to start trading cryptocurrency when you use eToro.
Ready to start trading cryptocurrency with eToro? Click the link below to create an account today!
eToro - Overall Best Cryptocurrency Exchange

67% of retail investor accounts lose money when trading CFDs with this provider.
Cryptoassets are highly volatile unregulated investment products. No EU investor protection.
FAQs
Can I buy cryptocurrency with PayPal?
Neither Binance nor Kraken allow you to buy cryptocurrency using PayPal. However, eToro accepts PayPal and you can open an account with as little as $50.
How much money do I need to trade cryptocurrency?
Binance doesn't have a minimum deposit, and Kraken has a minimum deposit of just $1. So, you don't need much money to start trading cryptocurrency.
Is Binance regulated in the US?
Binance is not regulated in the US. The company is currently under investigation in the US because of its past practices to avoid regulation.
Do I need a crypto wallet for Binance or Kraken?
Binance requires you to connect a crypto wallet to your account. You can use the Binance Trust wallet or any third-party wallet. Kraken supports crypto wallets, but does not require one. You can store coins directly inside your Kraken account.
Can I trade assets other than cryptocurrency?
Binance and Kraken each offer trading on cryptocurrency or crypto derivatives only. eToro offers trading on cryptocurrency, stocks, ETFs, bonds, forex, commodities, indices, and more.