IG Review Canada in September 2023 – Pros & Cons Revealed
Trading options, CFDs, and forex, as well as investing in stocks directly from IG's share dealing service, maybe what you are looking for. With IG's low commissions and market-leading spreads, you can trade thousands of popular international markets from the comfort of your home. Would IG be the right online broker for you?
This IG review will inform you of everything you need to know about fees, commissions, payments, and security, so you can spend less time researching and more time trading with a top-rated and regulated broker.
What is IG Canada?

It was founded in 1974, and now it has a global network of over 17,000 financial markets and around 240,000 traders. The spread betting and CFD trading opportunities provided by this CFD and forex broker appeal to beginners and experienced traders alike.
Alternatively, if you would rather own the underlying assets, you can invest in thousands of ETFs and shares or choose a wealth portfolio managed by an IG expert trader. In addition, short-term investors can increase their purchasing power by using spread betting and CFDs. Furthermore, since CFDs and spread betting are derivatives, you can speculate on the market's price without acquiring ownership of the underlying asset.
Additionally, IG offers long-term trading with more traditional investments. Through IG's share dealing service, you can buy and sell an array of international stocks for low commissions, with as little as £3 for shares listed on the London Stock Exchange. IG's Smart Portfolios allow you to select a managed and diversified portfolio that suits your trading needs and risk tolerance.
The UK's Financial Conduct Authority regulates IG and authorizes the company and client funds safely held in segregated bank accounts. The company has segregated bank accounts at several credit-worthy corporate banks, including Barclays and Lloyds. FSCS may compensate you up to £85,000 for funds and assets.
Is this your first time trading online? To practice your trading strategy risk-free, you can open a demo account, a paper trading account, with access to £10,000 in virtual funds. Demo accounts provide a great opportunity for you to become familiar with the trading platform and to gain valuable trading experience without having to risk your own money
IG Broker Canada Pros & Cons
There are some positives and negatives to what the exchange offers, as with any financial institution or broker. In this IG review, it's important to cover as many pros and cons as possible to get a full picture of what IG is all about. The following are just a few of the pros and cons:
Pros:
A fully digital and streamlined account-opening process.
You can trade major forex pairs such as EUR/USD for as low as 0.6 pips and commodities such as gold for as low as 0.3 pips.
IG does not attach a spread to share CFDs since you buy and sell at the market price. Instead, IG charges a commission when you open and close a trade.
You can use guaranteed stop orders to protect your trade against slippage.
Many payment methods include debit cards, credit cards, bank transfers, and PayPal.
You can practice your trading strategies before opening a real account with a demo account with £10,000.
Multiple trading platforms, including web and mobile apps, Trading Signals, MetaTrader 4, automated trading, and DMA trading.
Licensed and regulated by institutions including the UK's Financial Conduct Authority and the US Commodity Futures Trading Commission (CFTC).
Separate bank accounts are held for client funds.
CFDs and FX spot trading at IG are protected from negative balances.
Deposits are instant with Visa or Mastercard debit cards with no deposit fee.
Withdrawals are free.
Cons:
Visa deposits incur a 1% charge, and Mastercard deposits incur a 0.5% charge.
Cryptocurrency trading is only available to professionals.
Fractional shares are not supported
Assets lack fundamental data.
71% of retail investor accounts lose money when trading CFDs with this provider. 
What Can You Invest in and Trade on IG Canada?
Forex Trading
Trading CFDs and spread bets are possible with competitive spreads and leverage of up to 30:1. Including trading costs, the spread is the difference between the buy and sell prices. The spreads at IG are among the lowest on the market. For example, the EUR/USD pair has a minimum spread of 0.6 pips.
There is a very large financial market called the forex market, which exchanges fiat currencies. There is approximately $6.6 trillion worth of currency traded on the forex market each day, according to the 2019 Triennial Central Bank Survey of Foreign Exchange and OTC Derivatives Markets.
IG offers a wide range of major, minor, and exotic currency pairs such as GBP/USD, EUR/USD, GBP/JPY, and USD/TRY. The leading spreads of IG make it attractive to beginner traders looking for a free platform to trade on a low-cost basis. The EUR/USD forex pair, for instance, has a spread of just 0.6 pips and leverage of up to 30:1.
Shares Trading
IG clients can trade thousands of international shares and extended trading hours. So what is the IG order process for trading international stocks? Trading and investing in stocks online is divided into two main categories. First, you can either speculate on the underlying stocks' price movements or invest directly in shares through IG's share dealing service.
Spread betting and CFDs are leveraged trading strategies, which means you can gain exposure to shares at a fraction of the cost. Unfortunately, in addition to maximizing potential profits, leverage also increases potential losses. You can trade shares online using spread betting and CFDs without ever having to own the underlying asset, and you can also trade falling and rising markets.
IG's share dealing service allows you to invest in major stocks to sell them at a profit at a later date. In addition, you own the underlying asset when you invest in shares without leverage, which means you will earn dividend payments and stakeholder rights as well as earn profits.
Indices Trading
The London Stock Exchange and the New York Stock Exchange offer indices that track the performance of shares listed on their respective exchanges. Since there are no underlying physical assets, indexes are traded through financial derivatives such as contracts for differences and spread bets.
The key benefits of index trading include:
It is more cost-effective to diversify your investment portfolio by speculating on the price movements of a basket of shares rather than buying and selling individual stocks.
By trading indexes, you can gain exposure to an entire economy or sector at once.
You could hedge against any potential price increases if you have a short position on multiple stocks that are part of an index by taking a long position. Then, in an increase in the index, your position will earn a return, which will balance out some of the losses on the short stock positions.
IG offers tight spreads starting at 1 pip for major indices such as the FTSE 100, Germany 30, Japan 225, and US 500.
Commodities Trading
With leveraged CFDs and spread bets, you can speculate on the price of commodities such as precious metals, energy, and agricultural products.
But what is spread betting?
As a tax-free financial derivative, spread betting is popular among investors and traders worldwide since it allows you to speculate on financial markets. In other words, you open positions based on whether you believe the underlying asset's price will rise or fall.
Spread betting is available on many markets, including shares, commodities, indices, and forex. Traders open bets at the buy price if they believe the underlying asset will rise in price. Conversely, when traders believe that the underlying asset's price will fall, they open bets at the selling price.
As a result, the purchase price is greater than the market price and lower selling price. A spread is a difference between a sale and a buy price. Thus, traders select their bet size, the amount they bet per unit of price movement. In general, the greater the return, the more likely the market will move in the direction you forecast. Nevertheless, you will suffer losses if the market moves in the opposite direction.
IG offers commodities such as energies, base and precious metals, and agricultural products. Standard spreads for Spot Gold are 0.3 pips and 2.8 pips for US Crude Oil.
Options Trading, Futures Trading, and more
Options trading, futures trading, spot trading, weekend trading, and more are also available to IG clients.
Crypto Trading
IG only allows professional traders to trade cryptocurrency. In this way, advanced investors have access to the best cryptos to buy such as Bitcoin, Ether, and Litecoin. For a professional account, the following criteria must be met:
Within the last 12 months, to have traded leveraged derivatives in significant amounts.
Manage a portfolio of financial instruments worth more than $500,000.
Have at least one year's experience in the financial industry and have worked in a position that involved derivatives trading.
IG Canada Fees & Commissions
In addition to low trading fees, IG does not charge for deposits or withdrawals. However, IG's fee structure can be somewhat confusing, especially for beginners, due to its access to thousands of markets and the multitude of derivatives trading methods it offers.
The following are different fee models for the different types of asset classes:
Commissions are charged on CFDs, real shares, and options
In the case of CFDs on stock indices, commodities, bonds, and forex, trading fees are already built into the spreads.
A trading spread is charged on Smart Portfolios and an administration fee.
IG's ETFs, CFDs, and international shares
With IG's user-friendly trading platform, you can go short or long on more than 16,000 global stocks and 6,000 ETFs.
Share CFDs are traded at the real market price, and IG does not apply its spread but charges a commission every time a trade is opened and each time it is closed.
Commissions on CFDs are typically calculated as a percentage of the transaction value on most markets and as cents per share on Canadian and US markets. Let us look at the table below to see the commission charges:
| | | | |
| --- | --- | --- | --- |
| Share Category | Commission per side | Minimum Charge (online) | Minimum Charge (phone) |
| UK (FTSE 350) | 0.10% | £10 | £15 |
| US | 2 cents per share | £10 | £15 |
| Euro | 0.10% | €10 | €25 |
| Japan | 0.20% | JPY1500 | JPY2500 |
When you open a live trading account with IG, you will receive a full breakdown of all the commissions and financing rates.
The commission for stock CFDs is determined by a variable percentage multiplied by the trade value. Therefore, commissions vary depending on the exchange you choose and always come with a minimum.
The London Stock Exchange (LSE) charges 0.10% for trading shares of company stocks. So, for example, a trade worth £30,000 would result in a commission charge of £30. From the table above, you can see. However, all trades come with a minimum commission of $10, which means that unless the trade amount is greater than $10,000, you will have to pay a minimum commission of $10 per trade.
Competitive spreads
The spreads offered by this CFD and forex broker are among the best in the industry. That makes IG stand out even more from its competitors when considering its commission-free structure on non-stock CFDs.
Consider these examples to get an idea of how tight the spreads are:
There is a minimum spread of 1 pip for the FTSE 100.
There is a minimum spread of 0.6 pips for the EUR/USD major currency pair.
There is just a 0.3-pip spread on spot gold CFDs.
CFDs on futures for commodities and indices can be bought and sold to speculate on price movements over the long term. These long-term trading strategies include overnight financing fees in the spread. That makes it easier to determine your break-even point on your trades.
It is generally more beneficial to open a position in the forward or future over the long run. The minimum spread for CFDs on futures contracts is 4 pip for the FTSE 100 index and 0.6 pip for CFDs on Spot Gold futures.
When calculating your trading costs, keep in mind that spreads can change continuously as market prices fluctuate throughout the standard trading hours.
 Non-trading fees
Before opening an account with IG, you need to consider a few non-trading fees.
Fee for overnight funding
Keeping cash CFD trades open beyond 10 pm GMT incurs the overnight funding feeTake for example, the case of buying 10 contracts of EUR/USD at a spread of 0.6 on Wednesday for one night only.
Typically, forex trades are settled at T+2 or T+3, which means you will pay to hold a position for three nights rather than one if you hold it for one night on a Wednesday. In contrast, you will only pay the admin fee once.
To calculate the overnight funding fee at IG, we use the following formula: nights held * (tom-next rate including the annual admin fee of 0.8%) * trade size. Therefore, besides the 0.5% conversion fee, you also must pay dollar trades.
Fees for inactivity
After two years, you pay a monthly inactivity fee of £12.
Charts by ProRealTime
ProRealTime, a top-rated third-party provider, charges £30 a month for advanced charts.
Fees associated with credit card deposits
When depositing funds into your account, you will be charged 1% for Visa and 0.5% for Mastercard.
IG Canada User Experience
The IG web trading platform is easy to use and easily customizable to meet your trading preferences. Using the interface, you can configure things to meet your needs. The left-hand column contains all the different markets, watchlists, positions, orders, trade history, and more.
As well as setting price change alerts, price level alerts, and indicator alerts, you can set them with the push of a button. Autochartist is another third-party provider of trading signals.
Several financial news outlets are available on the right-hand side of the trading terminal, including Bloomberg, CNBC, CityA.M., CoinDesk, DailyFX, IGSquawk, and others.
Search results are presented with a convenient preview of Sell, Buy, Change, and percentage change statistics and a list of relevant instruments.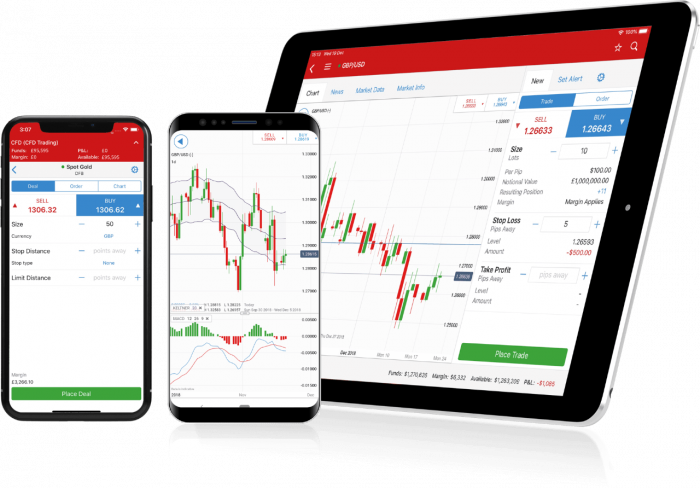 71% of retail investor accounts lose money when trading CFDs with this provider. 
It is a good broker for beginners with little trading experience that provides plenty of educational resources, such as webinars, special reports, and podcasts. IG can be considered a trading encyclopedia if you want to learn how to trade online and build a solid understanding of investing.
The web trading platform is ideal for new traders easily looking to access the financial markets. After opening an account and depositing funds, you will have unfettered access to your preferred market at the click of a button.
The main dashboard is well designed and user-friendly. It allows you to monitor and manage your portfolio in real-time, alongside a wide range of convenient resources such as trading signals, and it offers great customizability.
IG Canada Features, Charting, and Analysis
By choosing the Analyze and Learn tab on the main IG website, you can access many analysis and educational features and materials. In addition, the dropdown menu populates with a wealth of tools and resources, including:
An Overview
Managing your risk
Maximizing trading success
How to trade online
Trade analytics tool
News and trade ideas
Strategy and planning
Financial events
Seminars and webinars
Subscriptions and downloads
Special reports
Trading podcasts
Investing podcasts
Economic calendar
Glossary of trading terms
According to our IG review, the education and analysis department is one of the most comprehensive financial sectors. In addition, podcasts, seminars, and webinars are great ways to learn from the trading ideas and sentiments of experienced investors.
 Charts
Based on our research, we found that IG's web trading platform offers a very intuitive charting experience and has all the features you might need to satisfy most of your trading goals.
The charts can be customized in the following ways:
The date range can be modified from one day to five years,
As many as four charts can be merged in a single trading window
There are 30 technical indicators available, including Average True Range, Awesome Oscillator, Chaikin Volatility, Bollinger Bands, MACD, Detrended Price Oscillator, Parabolic SAR, Stochastic, and Volume Weighted Moving Average.
Use various drawing tools, such as Elliot waves, Fibonacci retracements, Gann lines, and more.
Select from candlesticks, Heikin-Ashi, Line, HLOC, or Mountain charts to customize the appearance of the charts.
Charts can be saved, edited, and deleted.
You can customize the colors and width of the candlesticks.
The alerts can be set by tapping on the alert tab on the trading window and defining the exact parameters for the price change, level, and indicator alerts. Then, by clicking on the alert management tab on the left side of the web trading platform, you can view and manage all your saved alerts.
IG Canada Account Types
IG can be divided into three main sections: CFDs, spread betting and share dealing. As such, this CFD and forex broker offers a variety of trading accounts.
Here are the types of accounts:
Share Dealing Account
The dealing share account of IG is only available to Canada -based clients. You can access ETFs, traditional stocks, mutual funds, and investment trust through the share dealing account. In addition, trading traditional shares and other financial instruments is possible through a share dealing account. You own the underlying asset instead of CFD derivatives with a share dealing account, so you enjoy shareholder rights, including dividend payments.
A share dealing account may fall into one of three subcategories:
Standard dealing account
Stocks and shares ISAs protect the first £20,000 invested each year from dividend tax.
The smart portfolio ISA requires a minimum deposit of £500.
CFD Trading Account
CFD accounts with IG do not have a minimum balance requirement. The one Charge on each trade is the spread or, in the case of shares, the commission. Once you have deposited funds into your brokerage account, you can start trading with the click of a button.
By opening an IG CFD account, you can manage your exposure through various risk management tools, including guaranteed stop orders and automated price alerts. Beginners can also familiarize themselves with trading strategies using the paper trading account before opening a live trading account.
With a CFD trading account, margin trading begins at 0.25% for forex trading and 5% for shares and indices.
Spread betting account
Financial markets allow you to speculate on price movements without taking ownership of the underlying asset. For example, in the United Kingdom, spread betting is a popular trading strategy since profits are tax-free.
Using a spread betting account will give you access to more than 17,000 markets, let you trade without paying capital gains tax or stamp duty tax, and allow you to trade on margin.
Here are the spreads, margins, and leverage:
| | | | |
| --- | --- | --- | --- |
| Market | Retail Margin | Leverage equivalent | Minimum spreads from |
| Forex | 3..33% | 1:30 | 0.6 |
| Indices | 5% | 1:20 | 0.1 |
| Shares | 20% | 1:5 | 0.1 |
| Commodities | 5% | 1:5 | 0.3 |
IG Canada Mobile App Review
IG's mobile trading app is compatible with Apple and Android mobile devices, including tablets and smartphones. Our research found that the trading app is user-friendly on mobile and desktop devices with an easy-to-use interface.
Manage your risk with tools such as trailing and guaranteed stop orders, and open, manage, modify and close trades from anywhere.
With the IG trading app's full-screen charts, you can analyze the market with 30 technical indicators. In addition, a mobile trading app offers the convenience of trading from anywhere. As a result, IG allows you to trade on the move with real-time market data and prices.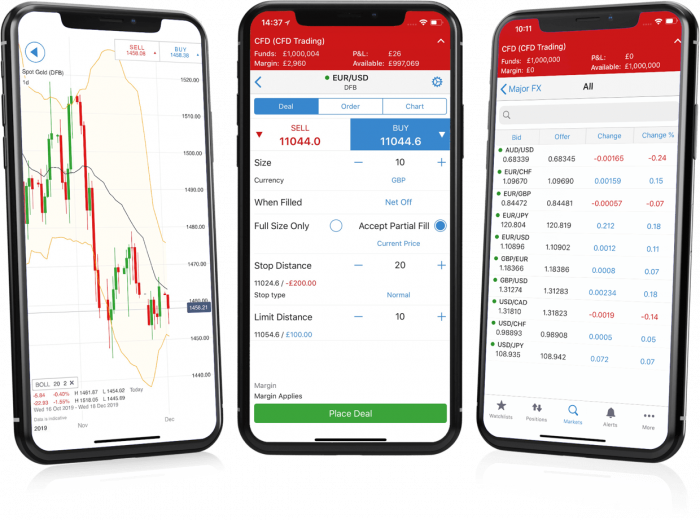 71% of retail investor accounts lose money when trading CFDs with this provider. 
With the click of a button, you can also set up price alerts for any market and get them via email, text, or push notification in real-time. In addition, the economic calendar lets you set up alerts for key market events. You can also get actionable buy and sell signals.
Additionally, the app has plenty of features for advanced investors, such as good-till-date and GTC orders, points through currency, partial fills, and the ability to save previous stake sizes and stop distances to streamline dealing.
IG Canada Deposit and Withdrawal Methods
If you wish to deposit funds into your IG trading account, you must use your credit card, debit card, PayPal, or bank account since the broker does not accept funds from third parties.
A debit/credit card, PayPal account, or bank account can be used to deposit funds into your trading account. You will receive an instant credit to your account when you deposit with a credit card, debit card, or PayPal. Bank transfers, however, usually take three business days to process. References for the payment should include your account ID and legal name.
As we have already mentioned, deposits with a Visa or Mastercard debit card are free. For a Visa credit card, the deposit fee is 1%, and for a Mastercard, it is 0.5%.
IG Canada Contact and Customer Service
A customer support representative at IG can be reached via telephone, email, and Chat, available 24 hours a day, from 8 am Saturday to 10 pm Friday GMT. You can also contact the trading services team via Twitter @IGClientHelp. An expert customer service team is there to help you every day of the week, 24 hours a day.
Is IG Canada Broker Safe?
IG International Limited is licensed by the Bermuda Monetary Authority to provide investment and digital asset services, including CFD accounts.
IG is regulated and authorized by several financial regulators, including Canada's Financial Conduct Authority, the Australian Securities and Investment Commission, the US Commodity Futures Trading Commission and National Futures Association, the Financial Services Authority of Japan, and the Bermuda Monetary Authority.
IG also offers negative balance protection on CFDs and forex spot trades for EU-based clients. Additionally, all client funds are held in segregated accounts at regulated banks. The Financial Conduct Authority protects residents up to £85,000 in the event of broker insolvency.
How to Start Trading with IG Canada
This section of our website will guide you through the process of getting started with IG as soon as it is available in Canada.
Step 1: Open a Trading Account
Following your selection of either a share dealing account, CFD trading account, or spread betting account, you will be asked to enter some personal information, such as your full legal name, address, date of birth, and National Insurance number.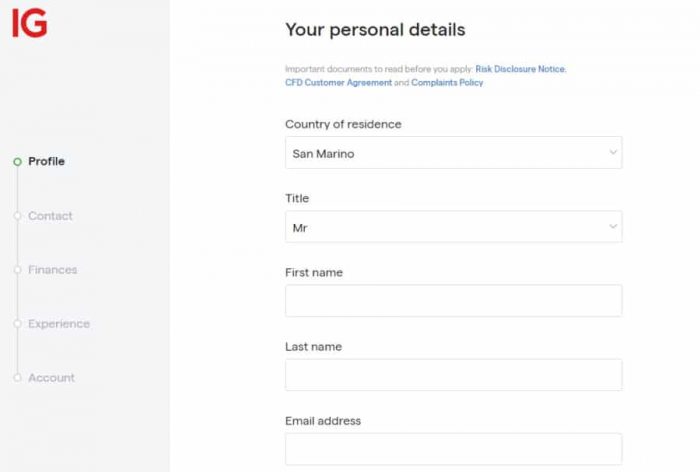 If you decide to open a spread betting or CFD account, you will be asked several questions about your trading experience and knowledge of derivatives. That is to assess your suitability to trade with leverage.
Step 2: Verify Your Identity
Standard KYC policies require you to upload a copy of your passport and a recent utility bill to verify your identity and address.
Step 3: Deposit Funds
Depositing funds into your trading account is the next step. IG accepts various payment methods, including debit cards, credit cards, PayPal, and bank transfers.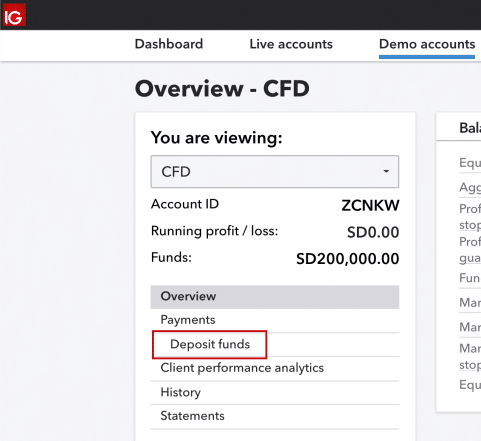 The IG mobile trading app allows you to deposit funds by opening the app, tapping on the account, choosing the account you wish to deposit funds into, and selecting add funds.
Step 4: Start Trading with IG Canada
You can start trading on any supported trading platform after successfully depositing funds into your trading accounts, such as IG's mobile trading app, MetaTrader 4, or its proprietary web trading platform.
You can place a trade on the web platform by searching for your preferred asset and clicking on it. First, the trading window will be populated with a chart and other useful information. Next, choose the buy or sell button on the right side of the trading window, specify the size of the trade, select the order type of your choice, such as limit or stop orders, and click on the place deal button.
IG Canada Review – Conclusion
Most beginner traders seeking a broker to engage in CFD derivatives trading and traditional stock trading will find IG an excellent option. CFD brokers at this site offer commission-free trading, competitive spreads, and a user-friendly web and mobile platform. In addition, IG is not available in Canada yet. Overall, our IG review found that AvaTrade is a better broker than IG.
With AvaTrade, you can trade commission-free ETFs, stocks, and forex with market-leading spreads as low as 1 pip for major currency pairs like EUR/USD. In addition, through your live trading account, you can trade fractional shares CFD derivatives and copy the trading strategies of other investors.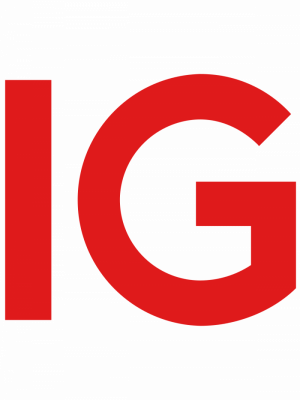 71% of retail investor accounts lose money when trading CFDs with this provider. 
FAQs
Can I trade with leverage in IG Canada broker?
Can I open an account with IG in Canada?