Biticodes iPlex Review 2023 – Is It A Scam or Legit?
Fact Checked
Everything you read on our site is provided by expert writers who have many years of experience in the financial markets and have written for other top financial publications. Every piece of information here is fact-checked. We sometimes use affiliate links in our content, when clicking on those we might receive a commission - at no extra cost to you. By using this website you agree to our terms and conditions and privacy policy.
Disclosure
The investing information provided is for educational purposes only. Trading platforms does not offer advisory services, nor does it recommend or advise investors to buy or sell stocks, securities or other investment vehicles. Some or all of the products displayed on this page are from partners that compensate us. It may influence the products we cover and the location of the product on the page. Nevertheless, our research and analysis is unaffected by our partners.
With the help of powerful algorithms based on artificial intelligence, automated trading platforms such as Biticodes iPlex now claim to help traders to reduce the human factor by automatically trading major cryptocurrencies on user's behalf. This supposedly reduces risk and maximizes profits.
Can these statements be trusted? Our Biticodes review looks closely at how this platform works as well as some of its main features.
Biticodes IPlex Review- Key Points
Biticodes is an automated trading platform that is designed to improve trading efficiency.
The software uses powerful algorithms to scan the market and determined trading opportunities.
The minimum deposit for Biticodes is $250.
Biticodes supports Bitcoin (BTC) and a range of other crypto tokens.
Biticoes doesn't charge any trading fees.
The compnay behind the Biticodes platform is unknown however high win rates are claimed on the website.
Biticodes uses SSL certificates to ensure security.
Your capital is at risk.
What is Biticodes iPlex?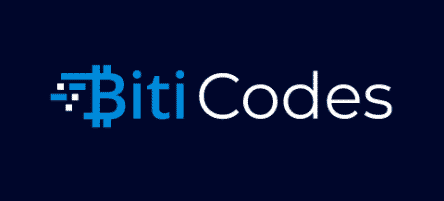 Biticodes iPlex is an automated trading platform designed to help people trade bitcoin and other cryptocurrencies.
It analyzes the market, predicts where the price will go, and automatically executes trades based on the forecasts. By analyzing market trends, its software can predict the appropriate time to buy and sell a particular cryptocurrency. Moreover, the Biticodes platform easily categorizes data into fundamental and technical analyses. This makes it stand out from other algorithmic trading platforms.
Traders can save a significant amount of time by using its powerful automated system, allowing fast transactions in their accounts. Moreover, due to intensive training, they state that reliable algorithmic trading bots initiate all orders as soon as they identify technical crypto signals likely to result in profitable trading opportunities based on years' worth of cryptocurrency market data.
Their website claims a very high success rate because it incorporates cutting-edge technology in trading, including Machine Learning and AI. No manual interventions require more than a basic initial setup for Biticodes to place trades. However, the platform recommends that traders spend some time each day monitoring their accounts by keeping track of all the open positions with a few clicks.
The platform's user-friendly interface allows traders to customize the Biticodes platform according to their preferences and requirements.
You won't have to pay fees to open, maintain or use a trading account with this platform. In addition, no commission is taken from your profits. The minimum deposit for opening an account with Biticodes is $250, and you can withdraw your funds whenever you want.
| | |
| --- | --- |
| Platform Type: | Automated Trading Platform |
| Minimum Deposit: | $250 |
| Claimed Win Rate: | N/A |
| Software cost: | Free |
| Withdrawal Timeframe: | 24/7 |
| Supported Cryptocurrencies: | BTC, ETH, XRP, BCH, LTE, MXR, etc. |
Biticodes IPlex Pros and Cons
Understanding how automated trading platforms work and their strengths and weaknesses will help you get the best results from them. Below is a list of some perks and drawbacks of utilizing the Biticodes platform during your daily trading season:
Pros:
An affordable minimum deposit
A demo account for trading is available
There are no platform fees
Fast scanning of cryptocurrencies markets
The most popular altcoins and BTC are supported
Claims a high win rate, more than manual trading
Withdrawals are processed quickly
Parameters can be customized to optimize algorithms
Cons:
There is limited information about backtesting
The team behind the project is unknown
Who Is Biticodes iPlex Suitable For?
The Biticodes iPlex trading platform is suitable for experienced traders who want to automate their trading and can afford to risk their funds. We do not recommend this platform to beginners because it lacks educational resources and research tools.
If you would like to take advantage of the volatile crypto market this platform may be an option to consider. Biticode iPlex is supported by powerful algorithms that claim to have a high level of accuracy and could help you to increase the number of profitable trades that you make.
How Does Biticodes IPlex Work?
Using cutting-edge technology and algorithms, Biticodes actively tracks the price movements of major cryptocurrencies.
When you deposit funds into your account, the software will use those funds to enable new trades to be executed on the platform.
Whenever the algorithm sees an opportunity to buy Bitcoin or another supported cryptocurrency for a profit, it will place a position using your funds in your trading account to make a profit. However, as soon as the position reaches the price target or the stop loss level determined by the algorithm, it will exit your position.
At the end of a trade, all the funds, including any profit, are returned to your trading account. Biticodes can re-use these funds to enter additional trades, growing your account over time.
With its powerful algorithms combined with a high-precision quantum computing engine, Biticodes captures multiple trading opportunities in seconds. Because of this, the trading platform claims to trade much faster than if a human trader handled it.
However, Biticodes can also be customized to allow users to execute trades regarding their trading strategy and risk tolerance. Furthermore, by providing valuable market insight and key data points, the platform assists all traders in making better investment decisions. This is done by providing them with critical market insights.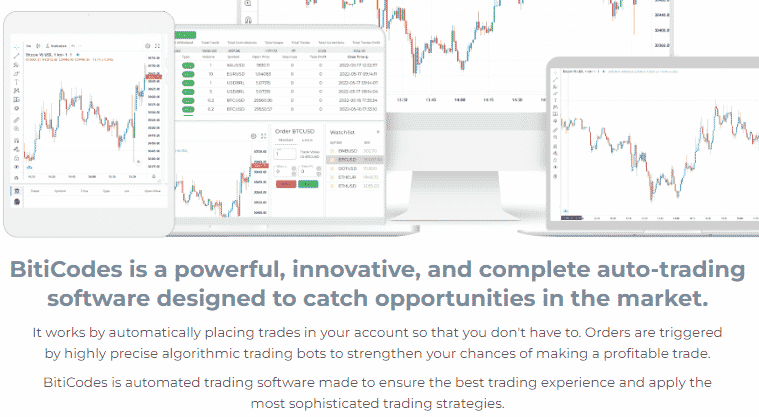 Your capital is at risk.
Can Biticodes iPlex Be Used To Make Passive Income?
Automated trading tools can be used to profit from the market without manually placing trades yourself. However, successfully using the tools requires some level of research and account management so the results aren't entirely passive. When trading crypto assets, it is important that you stay up to date with the market and tweak your trading strategies to meet the current market conditions. Automated trading tools can help with this but cannot be solely relied upon to make profits.
Biticodes IPlex Trading Platform Key Features
Fees
Like most platforms, Biticodes charges fees to use it's features and services. In order to better understand Biticodes fees, take a look at the following table:
| | |
| --- | --- |
| Account Opening Fee | None |
| Commissions | 0.01% |
| Inactivity Fee | None |
| Account Maintenance Fee | None |
| Transaction Charges | None |
There are no withdrawal fees associated with your account. As per the above table, there are also no hidden fees, such as annual or inactivity fees on Biticodes.
BitiCodes claims to be a free trading platform.
Automation
Even the most experienced market traders are prone to making serious trading mistakes that can cost them money. In order to make a profit, they sell too early or buy too late because their emotions get in their way. While Biticodes creates trades with the help of high-precision technical analysis, its core is based on a logical trade creation process.
Increasingly, AI-powered applications have become the norm in the last few years. As a result, more and more trading platforms such as Biticodes are using these refined mechanisms to dominate the market and lock in profits. Therefore, users will be able to spend less time scouring the market and more time focusing on their own business. Moreover, Biticodes' self-sufficient capabilities enable them to set limits on trades and place orders without any assistance from a person at all, which is an added advantage.
Biticodes claims they use scalping rather than swing trading on the higher time frames to make money from their platform. The Biticodes platform takes advantage of price fluctuations and instantly sets both a stop loss order and a take profit order whenever it executes a trade.
Minimum deposit
The minimum deposit required to use the platform is $250.
Once you top up you can then sit back and enjoy watching it perform trades on your behalf. Again, you do not need to do anything other than click on the 'Auto-Trade' option, select the pair you wish to trade with, and click on 'Get Started.'
Several payment methods can be used to deposit money onto your Biticodes account, including debit and credit cards, crypto wallets, and bank transfers. For instance, deposits in cryptocurrencies are processed within the minimum, if not instantaneous, processing times, ranging between a few minutes if there is a lot of network congestion.
If you are starting on the market, it is important to remember that it is a good idea to start slowly with only the minimum amount on your account and gradually increase it as your confidence grows as you gain more experience.
Security
Enhancements have been made to the trading platform's security protocols to ensure the accounts' safety. Biticodes claims to have adhered to various online security certifications to reduce the chance of internet breaches and hacks.
Moreover, Biticodes has implemented various verification processes on every phase of its platform to limit the possibility of unauthorized individuals accessing your account on the platform.
Blockchain technology has been used to secure transactions in the Biticodes app. Trading data are saved in a fully encrypted form, making it impossible for hackers to access the files and data stored in the platform's database systems. In addition, Biticodes uses SSL certificates to ensure the security of customers' data and payments when placing payments on the website. Therefore, traders must have peace of mind knowing that their money and data are secure.
User interface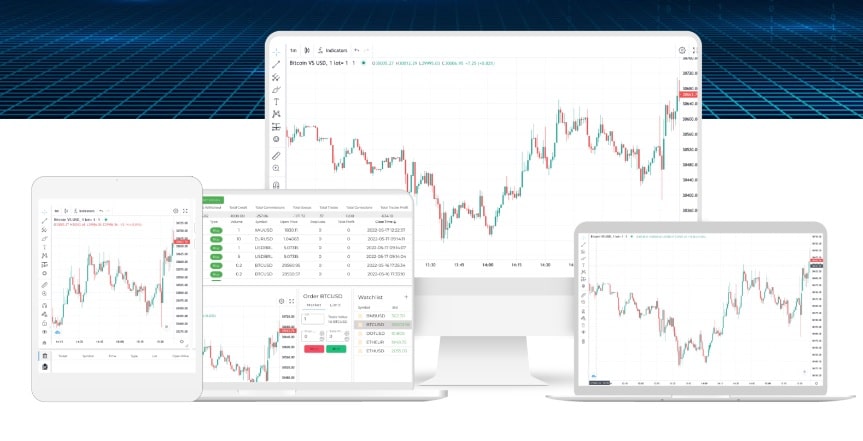 Your capital is at risk.
This platform is generally easy to use, regardless of your experience level, due to its simple and intuitive interface. There is nothing complicated about Biticodes, and you don't need to have any experience in finance to use it. However, it still offers everything that a professional can want from an automated trading platform in terms of ease of use and algorithm functionalities.
Moreover, if you use a web browser and have an active and reliable Internet connection, you can access the Biticodes online trading platform from any device, including laptops and mobile phones. In other words, you can trade from wherever you are, no matter where you are.
Customer support
As far as customer service is concerned, the customer service team are available 24 hours a day.
If the trader wants to reach out to Biticodes's customer service department, they can do so via an email from the trader's registered email address, a phone call, or a live chat session on the trading platform's website.
Registration
As far as the registration process with BitiCodes is concerned, it is quite straightforward and quick, meaning you don't need to go through a tedious registration process to set up an account. It is free and will not take you more than a few minutes to complete the registration process and to be up and running as soon as possible.
All you need to do is provide your basic information, including full names, email addresses, contact numbers, country of residence, etc.
After you have entered these details, you will receive an email confirming that your account has been successfully activated.
Nevertheless, Biticodes' online customer service is ready to assist you if you face any problems with your registration process.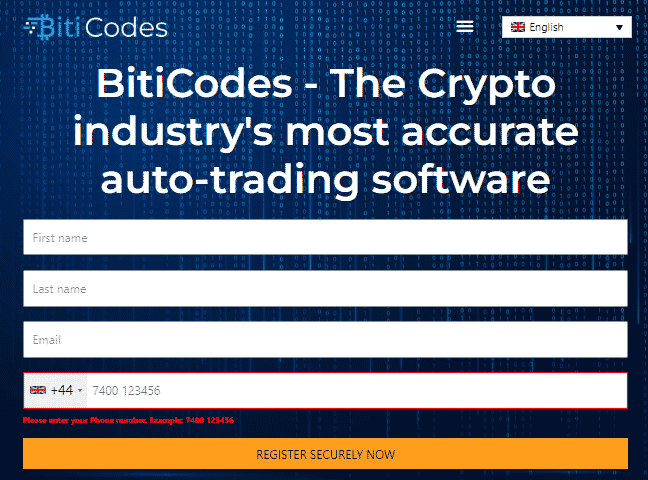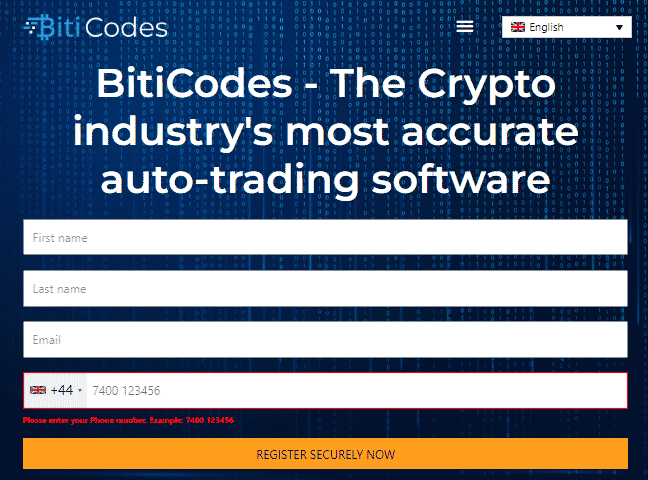 Withdrawal methods
When it comes to withdrawal methods, Biticodes supports a wide range of choices, including crypto wallets and bank transfers. Furthermore, withdrawals can be made whenever you want, as the platform is specifically designed for crypto traders worldwide.
Withdrawals at Biticodes are quick and easy, and the process takes only a few minutes. After you submit your withdrawal request, you should receive your money within 24 hours.
Moreover, the system ensures an advanced level of security and protection by preventing all types of data breaches and fraud. Withdrawals made to the personal accounts function completely transparently, with no hidden fees or charges associated with the process.
Demo account
Since it is possible to open a demo account on Biticodes, people interested in trading but do not have substantial experience can learn how its automated system and user interface work, making it an ideal choice for beginners.
If you are new to automated trading, you may want to start by experimenting with a demo account to get a better understanding of the trading platform and its many characteristics, as well as to get a general feeling of what it is like to trade in general, which will help you to improve your overall trading process and increase your profits.
Demo accounts are also recommended as a tool for examining different trading strategies and evaluating their performance before starting real trading.
The BitiCodes trading system provides traders a $1500 credit if they wish to try it out. A trader can practice their trading approaches in the demo mode using this amount before investing money.
Any profit or loss in the demo trading atmosphere is not real. This is purely for demonstration purposes and is not intended for live trading.
Asset variety
With its proprietary algorithms and proficiency in dealing in a wide variety of the best altcoins to buy, including Ethereum, Bitcoin Cash, Litecoin, and other top-ranked cryptocurrencies, this platform stands out from others in the market today. Due to the diverse cryptocurrency pairs, the user can easily find the configuration suitable to their needs from various available setups.
There are many opportunities to do fast-paced trading since it primarily focuses on the highly volatile Bitcoin.
Is Biticodes IPlex Legit or a Scam?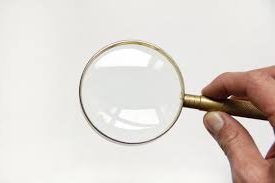 With Biticodes, you can automate the trading of multiple cryptocurrencies with the help of an artificial intelligence algorithm and machine learning technology. However, contrary to some of the other online crypto platforms on the market, this platform does not promise massive profits or success rates.
It is worth mentioning again that the Biticodes platform is available for free usage and also offers a demo account. Therefore, you can do so if you want to experience the platform before making a real money investment. Although the cryptocurrency market has many critics because of its volatility and significant risks, it remains an appealing option.
Moreover, most Biticodes reviews were positive when we conducted our Biticodes review. Several past users have talked about how it has helped them make money with the crypto market in the past. However, the reviews these users provide cannot be verified, so it will be wise to treat them cautiously.
Is Biticodes iPlex Owned By Tesla?
One of the biggest assumptions surrounding the Biticodes trading platform is that it is affiliated with Tesla. While there may be some reasoning behind these claims, we found no connection between Biticodes and Tesla or Tesla CEO Elon Musk.
Sometimes, these claims are made to increase the appeal of tools such as Biticodes. However, it is important not to get side-tracked by possible celebrity endorsement. Only use objective facts when making your own verdict about whether or not to use a platform.
How To Use Biticodes IPlex
Would you like to try Biticodes out for yourself? Here's how to sign up to the platform and get started.
Sign up to platform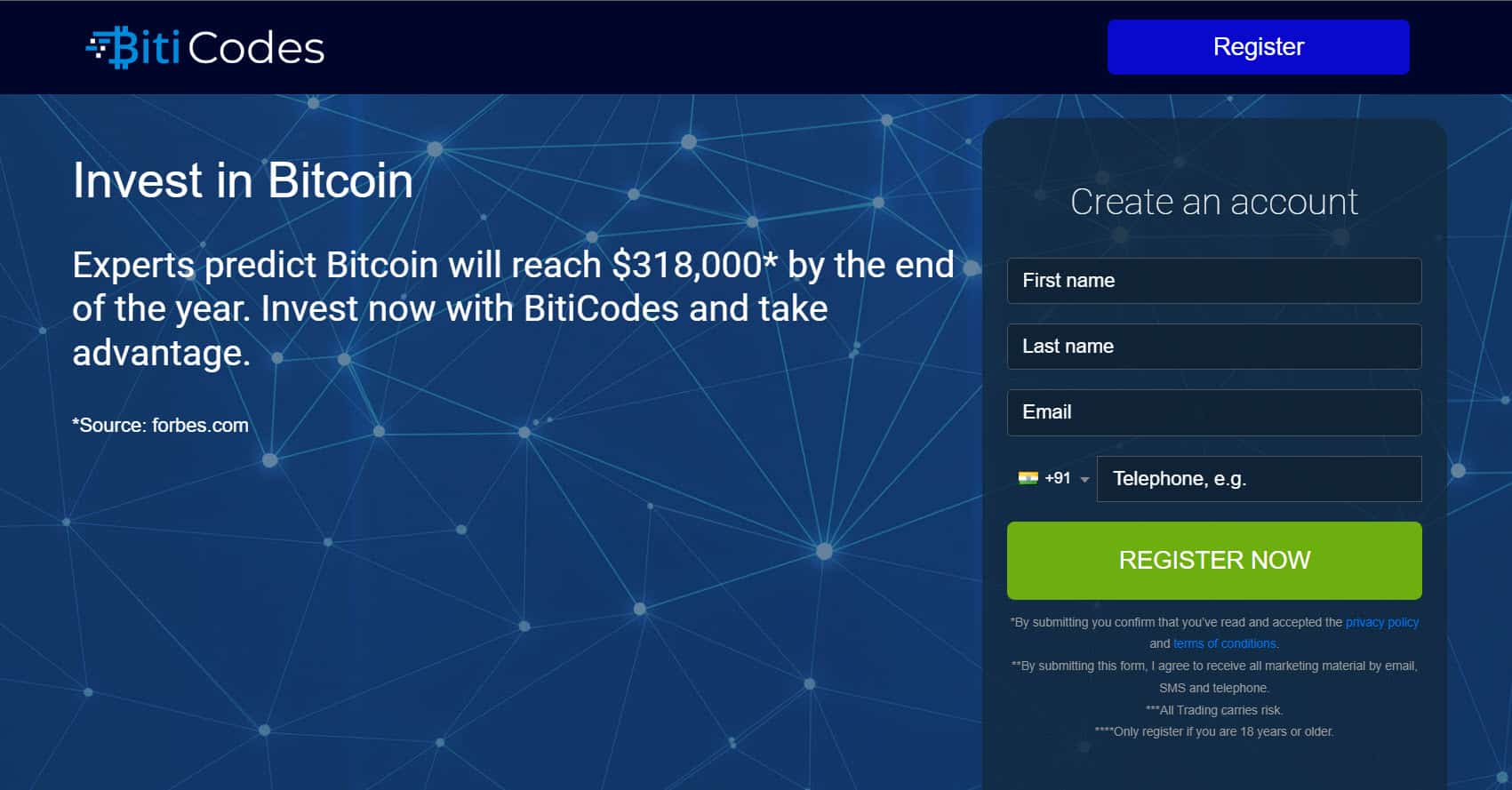 In order to get started, you must visit Biticodes' official website. When you arrive, you will be required to fill out a registration form. Please fill it out and complete the requested personal information such as name, e-mail, and phone number to receive your login information.
Your capital is at risk.
Verify ID
To verify your account, you will need to upload both sides of your ID document. Each picture must be clear in order to comply with KYC requirements. Additionally, proof of residency is required. Therefore, you will need to upload a recent bank statement or bill with your address.
After you have submitted these documents, it can take up to 24 hours for the verification to be completed.
Deposit funds
There is a minimum deposit requirement of $250 at Biticodes. Payments can be made through its platform in various ways. These include:  credit cards, debit cards, bank transfers, and electronic wallets.
Start live trading
Once the account has been set up, and the funding process has been completed, the next step that needs to be taken is to set up the account so that it meets the investor's requirements to make it useful to them.
As soon as you've accessed the trading platform, you can activate the algorithm by engaging the toggle on your account dashboard, which will automatically start trading cryptocurrency on your behalf as soon as it is enabled. With minimal calibration required, Biticodes is reportedly able to scan the market 24/7 without almost any human intervention.
Biticodes IPlex Review – Our Conclusion
In summary, the Biticodes crypto trading platform allows automatically trade Bitcoin, and a number of the most popular altcoins with the largest market caps, on your behalf. In addition, you don't have to worry about account fees or commissions on profits being earned on this platform. The only thing you'll need to get started on this platform is at least $250.
Biticodes does not provide specific information regarding its win rate, even though it claims a higher win rate than any human trader. However, it receives favorable reviews from users regarding its performance.
Our Biticodes review concluded that, in the end, this automated trading platform is an interesting investment if you want to try it out. So start trading cryptocurrencies today with Biticodes by signing up for a free account!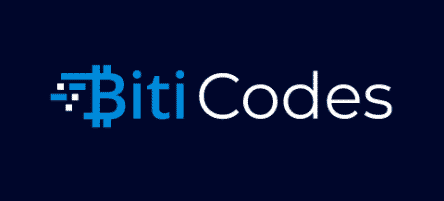 Your capital is at risk.
FAQs
What is Biticodes trading?
Is Biticodes good for beginners?
Can you make money with biticodes?