8 Best Stock Portfolio Trackers for December 2023
Fact Checked
Everything you read on our site is provided by expert writers who have many years of experience in the financial markets and have written for other top financial publications. Every piece of information here is fact-checked. We sometimes use affiliate links in our content, when clicking on those we might receive a commission - at no extra cost to you. By using this website you agree to our terms and conditions and privacy policy.
Disclosure
The investing information provided is for educational purposes only. Trading platforms does not offer advisory services, nor does it recommend or advise investors to buy or sell stocks, securities or other investment vehicles. Some or all of the products displayed on this page are from partners that compensate us. It may influence the products we cover and the location of the product on the page. Nevertheless, our research and analysis is unaffected by our partners.
Nowadays, there are numerous stock portfolio platforms and apps available that allow you to conduct a deeper analysis of your assets and gain a better understanding of your portfolio's performance.
A stock portfolio tracker is a tool that allows investors to keep track of their investment portfolio. Stock portfolio trackers allow you to consolidate all of your investments in one place and track their progress. This way, you can see all of your positions in relation to one another and keep track of them at a glance.
To help you find the best stock portfolio tracker, our team of writers has spent time reviewing and testing several different options that are currently available. During our research, we found 8 stand-out options that you could consider using in 2023. In this article, we will delve into the best stock portfolio trackers that we found and explain a little more about how stock portfolio trackers work.
Top 8 Stock Portfolio Tracker – Tested by Our Experts
Our experts invested over 30 hours in the manual analysis of 15 platforms, and in the end they chose the TOP 8 stock portfolio tracking tools ranked by their ease of use and utility for investors.
AltIndex –  provides real-time tracking of multiple of US stocks and cryptocurrencies. It is accessible through web browsers and provides alternative data such as social media mentions, shares, and comments, which are analyzed by artificial intelligence to produce a ranking score.
Sharemarketcap.com (now Stocklytics.com)– supports over 6000 stocks and ETFs from 10+ markets. It offers a fully-fledged stock and ETF screener, allowing users to find ideal investments based on filters like market capitalization, exchange, stock price, sector, or industry. ShareMarketCap leverages artificial intelligence to generate stock and ETF ratings, technical ratings, and AI-driven price assumptions.
Stock Analysis – Stock Analysis is a stock portfolio tracker that provides niche alerts based on a variety of data points, including custom stock price alerts, trading volume, market capitalization, and valuation ratios. It also provides real-time portfolio updates, investment insights, and an earnings calendar for all stocks on the NYSE, NASDAQ, and NYSE Arca.
Empower – The Empower app is a popular stock portfolio tracker with over 18 million users. It offers real-time pricing on investments and alerts on major movements. Empower links personal accounts such as savings, checking, credit cards, and loans, allowing users to evaluate their investments and work toward retirement goals. The 'You Index' tool in the app compares portfolios to benchmark indexes, allowing for adjustments if underperforming. Despite the lack of in-depth insights, Empower offers robo-investing services with a $100,000 minimum investment.
Stock Tracker – Stocks Tracker is an iOS stock tracker app with a 4.5/5 rating and over 55,000 reviews. It offers features like custom portfolios, real-time alerts, streaming quotes, stock screeners, and market scans. It supports real-time pricing charts, indicators, indices, futures, currencies, and cryptocurrencies. Users can access most features free of charge, but additional fees apply for direct NASDAQ quotes.
Kubera – Kubera is a user-friendly stock portfolio tracker that connects with various online brokers and financial institutions, allowing users to track their net worth in real-time. It supports over 20,000 financial institutions and is suitable for all experience levels. Kubera supports stock exchanges in various global markets but does not offer a free-costs plan. Users can manually add investments to their portfolio.
Sharesight– A portfolio tracking service that is automated and that provides real-time updates on stock performance, dividend tracking, and tax liabilities. It works with over 100 brokers and has four pricing options: free, 'Expert,' and unlimited holdings. Real-time information on stock price movements, market capitalization, long-term yields, and tax liabilities are among the features of Sharesight. The most expensive plan costs $31 per month, but can be reduced to $23.25 per month if paid annually.
WallStreetZen – Another popular portfolio tracker that provides investment insights by analyzing hedge fund portfolios and allowing users to view stocks and ETFs they own. It also provides traditional stock tracking services, such as the ability to add investments to watchlists and set custom alerts. WallStreetZen covers fundamental data points such as insider transactions, financial news, fluctuations in the prices of stocks, and fundamental analysis.
Your money is at risk.
Best Stock Tracking Apps Reviewed
In this article, we will look at which portfolio stock trackers are best for investors who want to keep all of their investments and assets in one place. It is important to keep in mind that many of these platforms offer only paid services. We are going to cover eight of the best stock portfolio trackers that are trending right now and review them based on a variety of indicators, such as: user-experience, pricing, tools available, etc.
1. AltIndex – Affordably Priced Stock Tracking App with Global Recognition
According to our research, AltIndex is a widely used stock portfolio tracker that monitors multiple US stocks and top cryptocurrencies like Ripple, Bitcoin and Ethereum. It is accessible using regular browsers and does not require designated software or an application.
Users can add their favorite cryptocurrencies or other stocks to their AltIndex portfolio, allowing them to track their investments in actual time. AltIndex also sends out alerts when an investment undergoes a significant market movement, ensuring that users are informed in the case of a rise or fall in their investments.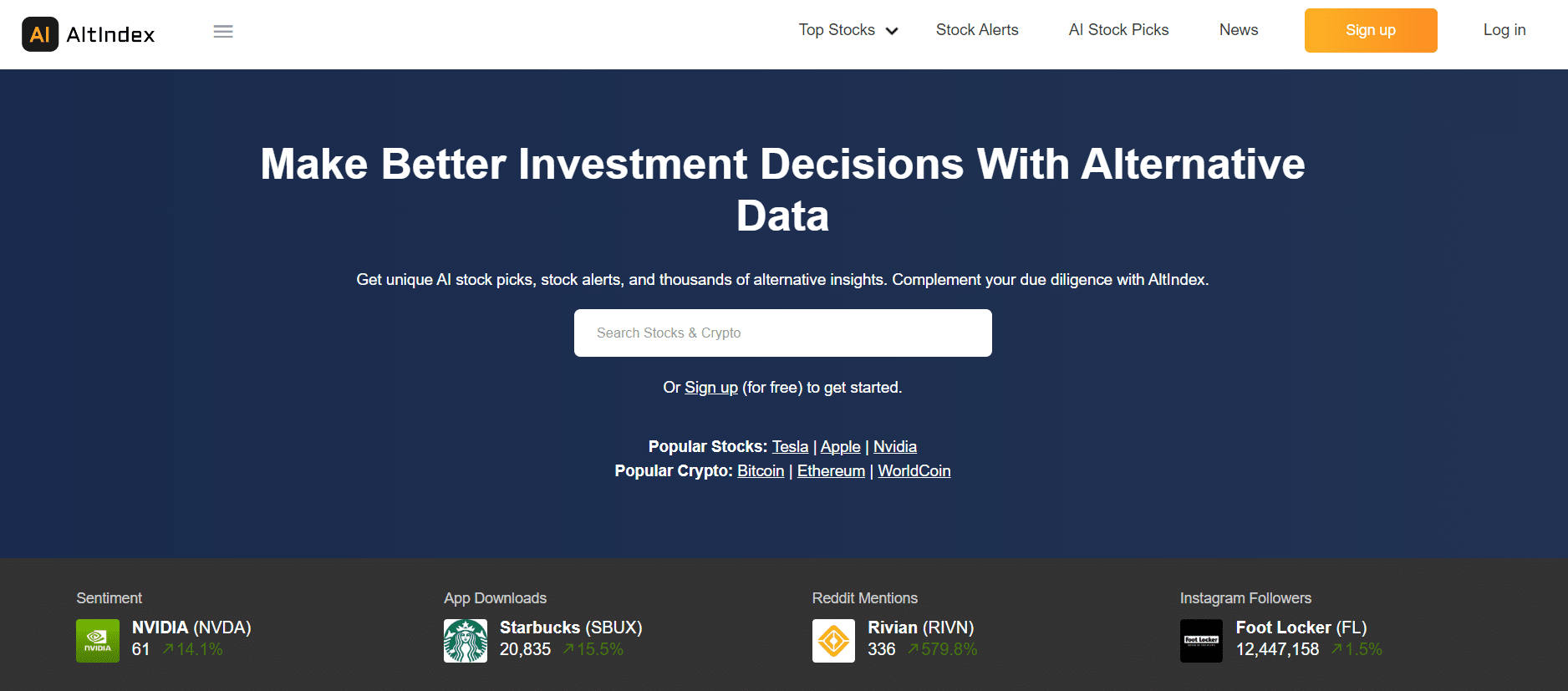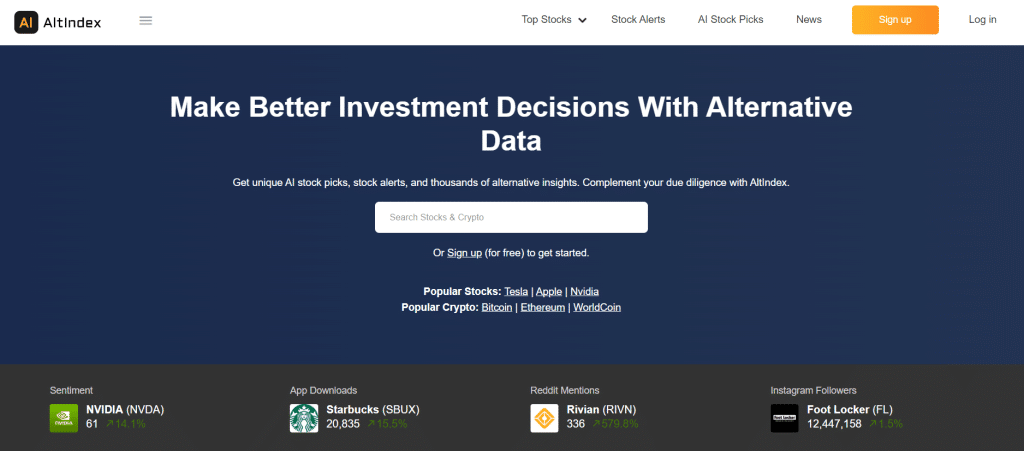 Altinex may be regarded as an alternative data provider with a distinct approach to investing based on its features. This data is then looked over by AI to produce a ranking score, with a higher score indicating a higher likelihood of a stock outperforming the market as a whole.
AltIndex also claims to offer a one-of-a-kind stock picking service, with users being notified over email when AI-backed-up tools provide a stock suggestion. This alternative data gives investors a first-mover advantage over traditional sources, allowing them to gain valuable insights into their investments.
AltIndex has a free of charge plan, but it has some limitations: you will only have 20 visits a month, two stock alerts, and you can add no more than two companies into the stock portfolio tracking app. You will also receive 10 alerts for stock monthly for a diluted stock screener. To use all its features, you will need to upgrade to a 'Pro' plan, which costs $99 monthly.
| | | |
| --- | --- | --- |
| App | Key Specifications | Pricing |
| AltIndex | Supports BTC and other popular cryptocurrencies. Receives recommendations based on artificial intelligence. Has a 75% historical win rate. | It varies between $29 to $99 monthly. Also has a $0 plan. |
Your money is at risk.
2. Sharemarketcap.com – Most suitable stock portfolio tracker for novice investors
ShareMarketCap (now Stocklytics) is another stock portfolio tracker on our list, with more than 2,700 ETFs and 6,200 stocks across 11 worldwide markets, including the United States, United Kingdom, and other well-known markets.
Stocklytics keeps you up to date on major news events. It incorporates the top financial news websites, such as Barrons and Yahoo!, and will notify you if a news story about a stock in your portfolio is published. Despite the fact that the platform provides an invaluable stock portfolio tracker, Stocklytics is completely free. To gain full access, simply create a free account with your email and password.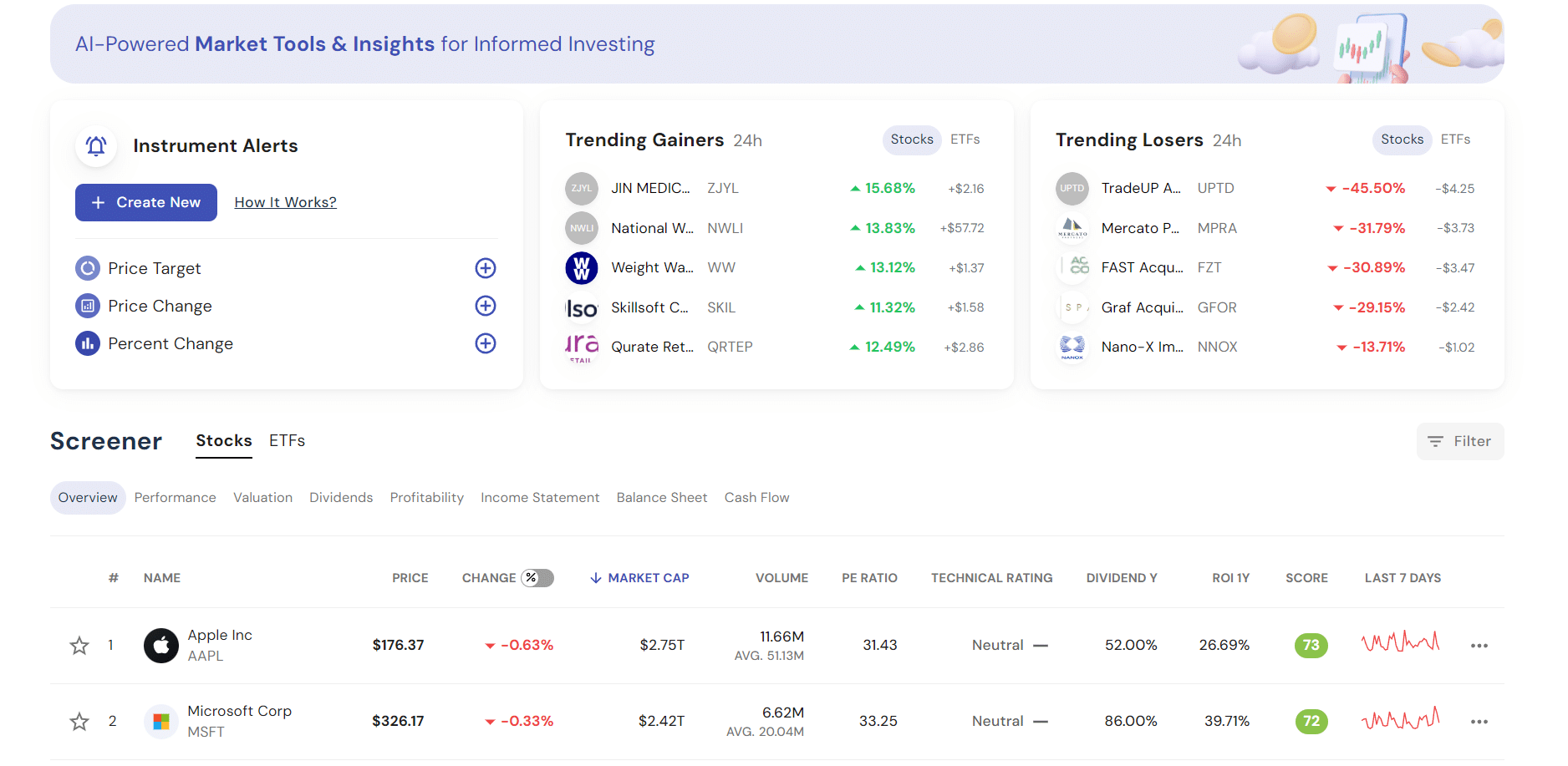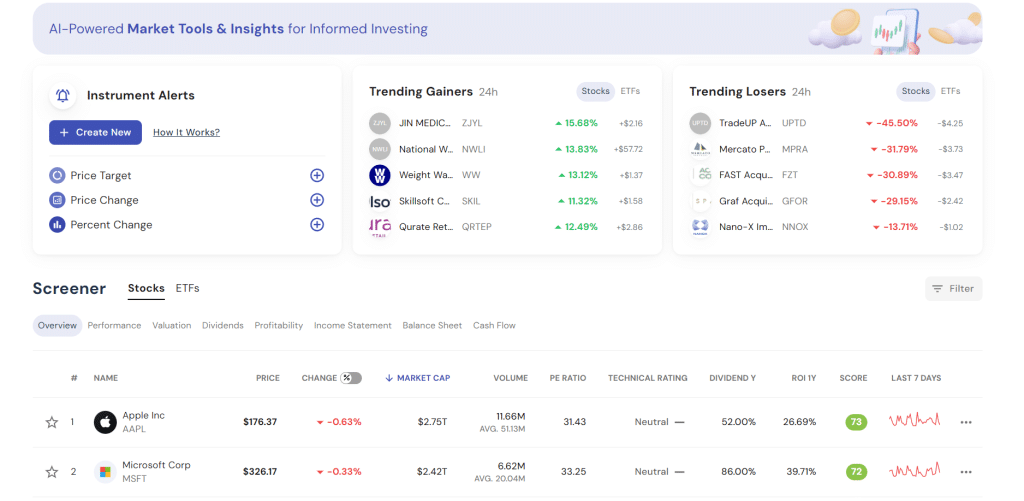 Stocklytics provides numerous tools aiming to assist you in making sound investment decisions. The platform includes a full-featured screener for ETF and stocks that can help you find the most suited investments for you using a variety of filters like stock price, market capitalization, industry, sector or exchange.
Users can also access price assumptions driven by AI based on high-end, low, and average estimates. Stocklytics gives you access to comparisons of companies in the same industry. As an example, investors could compare Tesla's recent performance to that of Honda, Ford Motors, and NIO.
You can easily adjust the portfolio you own and add investments to get updates for stock prices and helpful tools. Along with key metrics such as price fluctuations, the volume for trading, dividend yields, and P/E scores. Because all the metrics are shown in an extremely user-friendly manner, Stocklytics can be used by both novice and experienced users.
Stocklyitcs also provides technical ratings on all supported markets, indicating whether important technical features such as performance, dividends, debt and ownership indicate a buy, hold, or sell.
These technical analyses provide an in-depth assessment of the market, assisting consumers in making well-informed investment decisions. Stocklytic's personalized portfolio function allows users to track and manage their investments in real time, significantly improving the user experience.
| | | |
| --- | --- | --- |
| App | Key Specifications | Pricing |
| ShareMarketCap.com | Most suitable free stock tracker for novice investors. Tracks 6000+ stocks and ETFs across 10+ global markets are supported. No price charges or fees required. | Free |
Your money is at risk.
3. Stock Analysis – Well-known stock portfolio app that provides real time portfolio updates
Let's have a look at another well-known stock portfolio platform that allows its users to gather information about their investments. Stock Analysis is among the most suitable platforms for niche alerts. We tested it's stock alerts feature and came to the conclusion that this platform allows you to receive alerts that are strictly relevant to your desired strategy.
We attempted to create personalized stock price alerts according to the percentage of gains and losses, so the app would notify us in case our investments increased or decreased by 4% in a single day. Custom alerts can also be set up based on market capitalization, trade amounts, 52-week ups and downs, and after-hour fluctuations.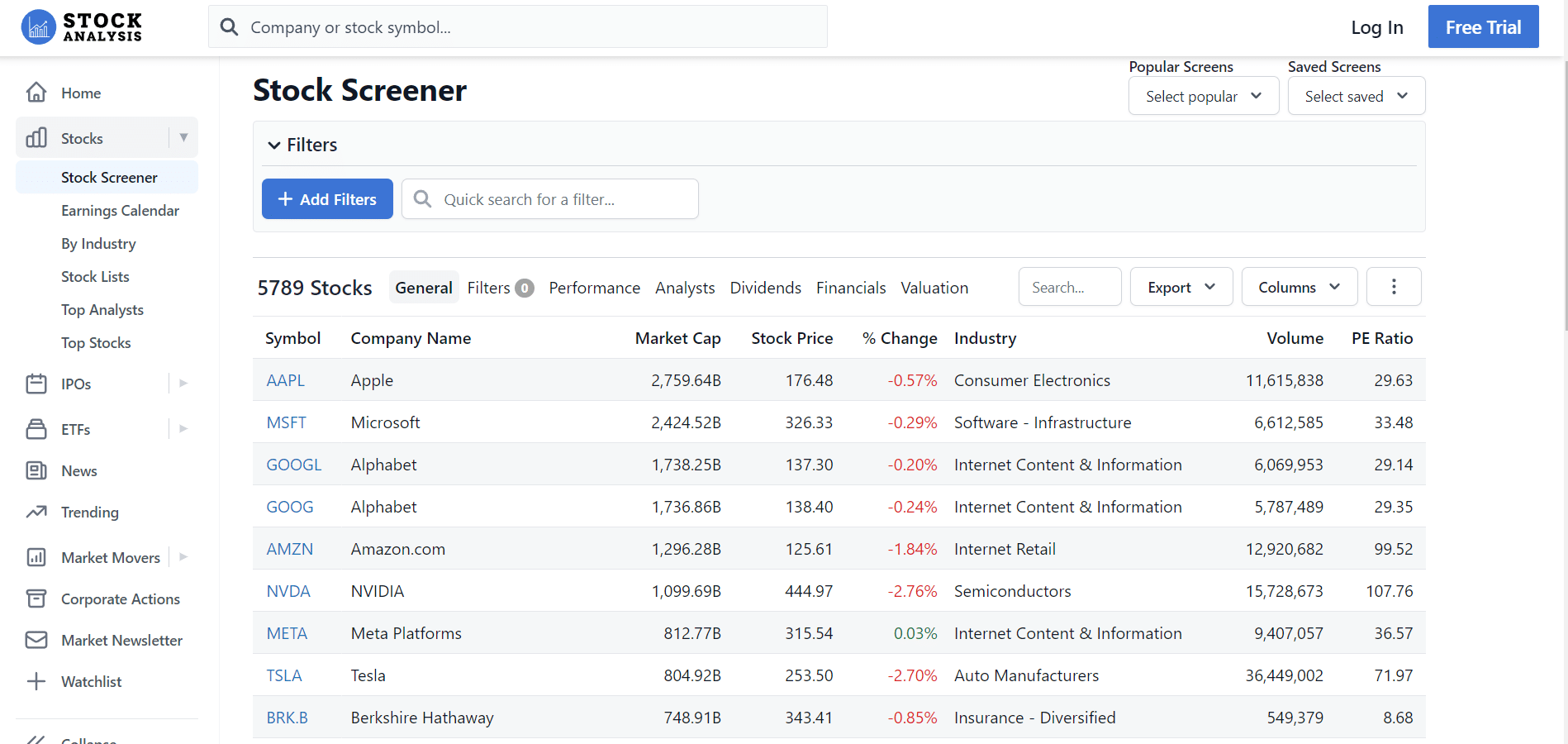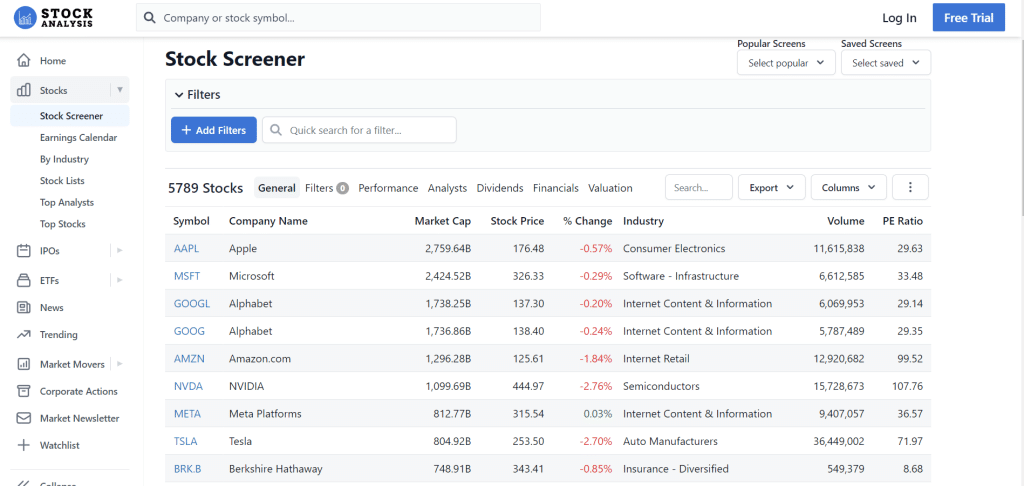 If your desire is to narrow it down, Stock Analysis performs tracking over the ratios of valuation. The following ratios are included: company value, PEG, P/S, P/B, and forward P/E,. Stock Analysis offers investment advice as well as real-time portfolio updates.
If you want to experience the platform before making a financial commitment, Stock Analysis offers a 30-day free trial period. Stock Analysis presents a free option with an infinite of ETF holdings, restricted financial data, and business actions. For $9.99 monthly, you can have the full set of feautures. It also comes with an unlimited number of watchlists and portfolios, as well as financial history dating back 30 years.
| | | |
| --- | --- | --- |
| App | Key Specifications | Pricing |
| Stock Analysis | Over 6,000 US-listed stocks and ETFs are supported, but it does not support stocks from outside of the US. Has customized portfolio alerts based on hundreds of data metrics. | $9.99 monthly, but also a 30-day free trial option |
4. Empower – Free stock portfolio tracker with a $100 minimum deposit required
Empower is among the most effective stock tracking websites that can be used to track your overall financial picture for free. Its financial dashboard is a free service that allows you to consolidate your credit cards, savings, checking account, savings account, loans, investments, and more into one location, allowing you to conveniently track your net worth, spending trends, and investment performance. You will have a detailed view of your money in a matter of minutes.
Furthermore, if you sign up for a free account, you will gain access to the rest of Empower's free products, such as its retirement planner, net worth calculator, budget planner, and investment check-up.
The app has a 4.7/5 rating on App Store similar to the rating on Google Play. Empower also receives a 4.5/5 rating from Forbes Advisor. Empower also provides a robo-investing feauture to track your portfolio automatically.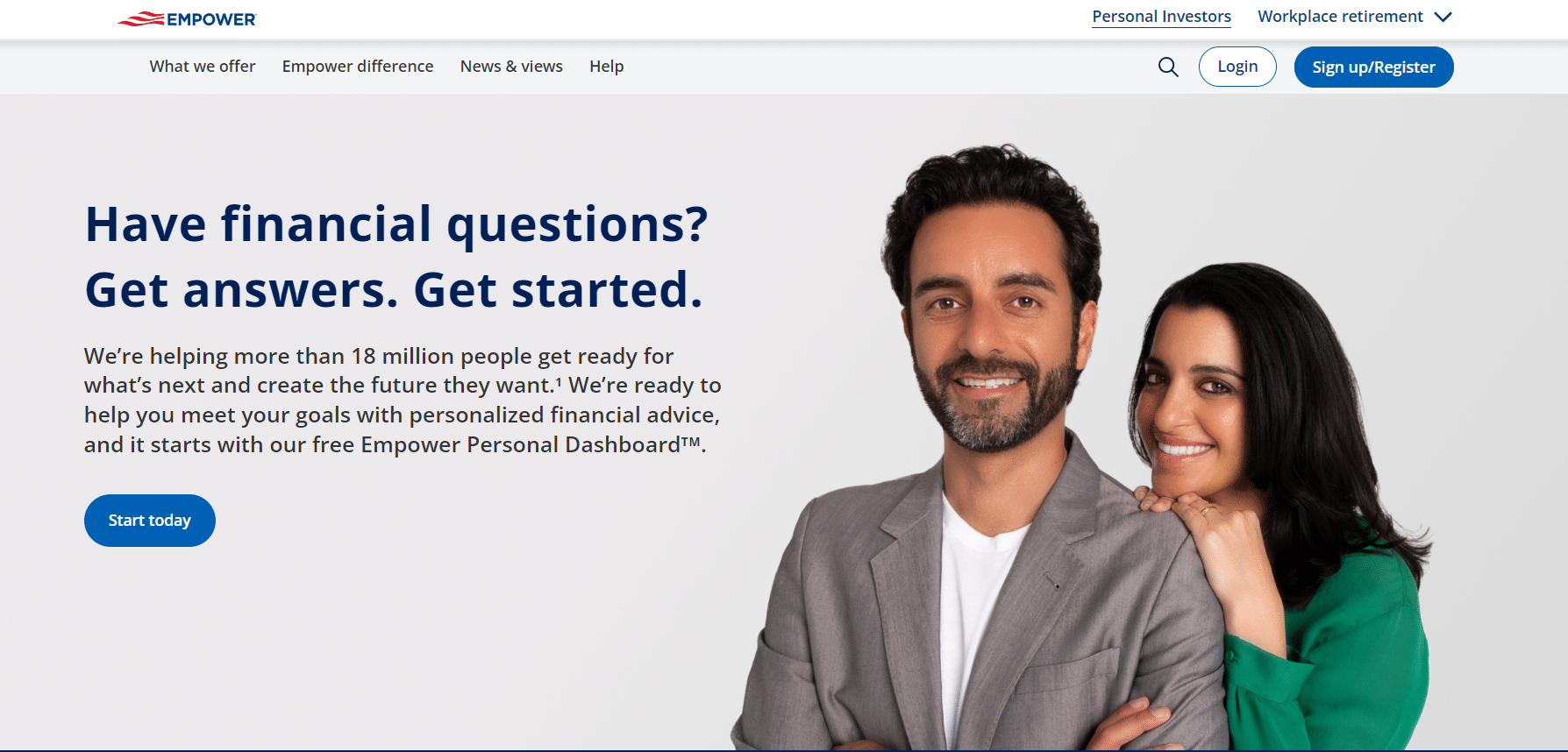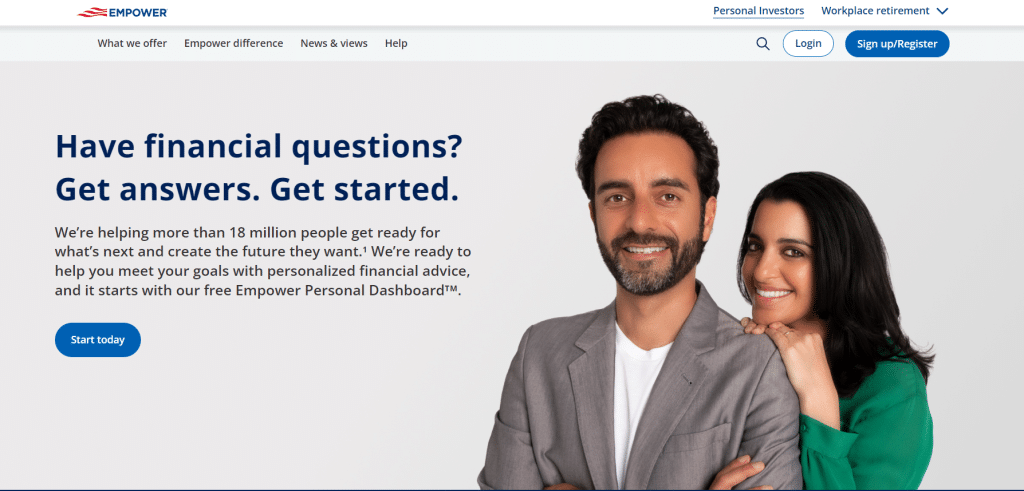 Its real time stock tracker covers thousands of stocks and ETFs based in the United States. You'll get real-time pricing on your investments as well as alerts on important changes. This is a ratio tool that compares your portfolio to bigger benchmark indexes like the Dow Jones and S&P 500.
If you don't like the traction of the created portfolio, you can make changes. For example, it lacks stock recommendations, ratings, and price forecasts. You can add these yourself if you would like more information.
| | | |
| --- | --- | --- |
| App | Key Specifications | Pricing |
| Empower | Absolutely free of charge. Real time financial health insights. Covers bank accounts, credit cards, investments and others. The 'You Index' score matches your portfolio with the stock market as a whole. | Free |
5. Stock Tracker – Best stock tracking app with a 7-day free trial option
Stock Tracker is another highly rated stock tracker app for iOS users on the App Store, with over 55 000 reviews and a 4.5/5 rating score. The platform includes a variety of features that allow you to stay up to date on the stock market at all times. The stock tracking software lets users build custom portfolios with real-time notifications, streaming quotations, stock screeners, and market scans.
While using the stock tracker app, we found that it could also be helpful for performing technical analysis. Because it includes numerous real-time pricing charts as well as indicators such as the 50/200 MA crossover, RSI, and Bollinger Bands. Stocks Tracker includes indices, futures, currencies, and new cryptocurrencies on top of stocks.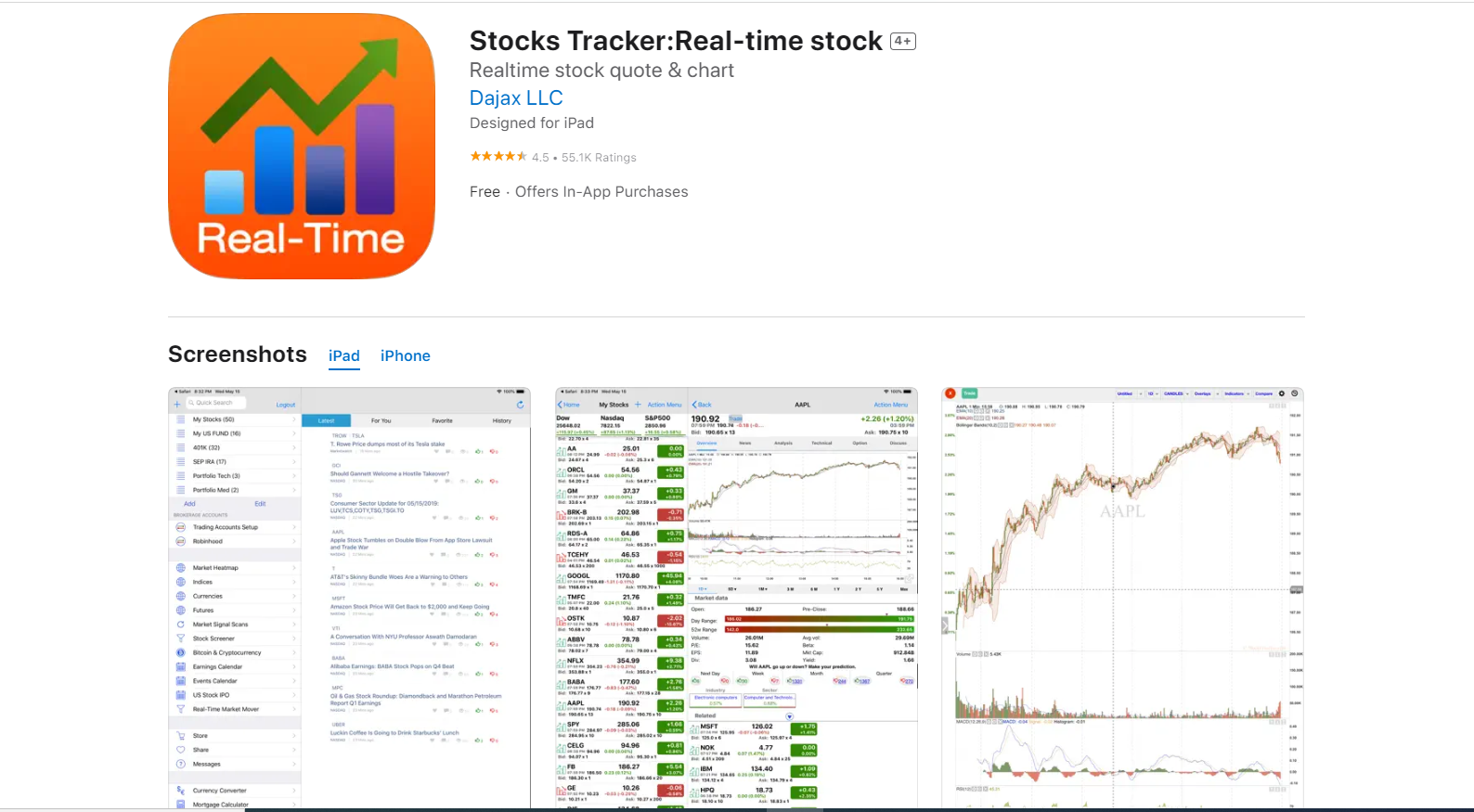 Although there are advertisements, the majority of the app's features are free to use. For $9.99 monthly, you can have full functionality. However, subscribers must pay an additional $0.99 to receive direct NASDAQ quotes. This rises to $5.99 per month if you do not have a membership.
Stocks Tracker also comes with a free seven-day trial period. During the trial period, users can experience all the premium features without any cost. After the trial ends, they can choose to continue with the free version or upgrade to a paid subscription for uninterrupted access to advanced functionalities and ad-free experience.
| | | |
| --- | --- | --- |
| App | Key Specifications | Pricing |
| Stock Tracker | Among the best stock tracker apps for iOS users. Free 7-day trial. Supports a wide range of assets, including equities, futures, and cryptocurrencies. Use pricing charts and indicators to conduct technical analysis. | $9.99 monthly for premium members. There is also a free plan but with adds |
6. Kubera – Best stock tracking app for $150 per year
Kubera is considered one of the best stock tracking apps due to its extremely user-friendly interface, which makes it suitable for users of all levels of experience. The stock tracker app also provides stock exchanges from piles of foreign markets, including the UK, US, Germany, France, India, China, Taiwan, Australia, and New Zealand, among many others.
Kubera stands among the best stock portfolio trackers for users who want to monitor their net profits in actual time. It integrates with a number of stock brokers online, allowing you to easily import the portfolios you own. Well-known brokers like Fidelity, Hargreaves Lansdown, and others are included.


You can manually add investments to your portfolio if you are not looking to add your accounts to Kubera. Kubera's main disadvantage is the fact that it does not provide a free plan. Prices begin at $150 for a year, which equates to $12.50 for a month. If you want to try the stock tracking software without any risk, you can purchase a 14-day trial that costs $1.
The stock tracker app works with over 20,000 financial companies worldwide, including Wells Fargo, Chase, Revolut, and Monzo.
| | | |
| --- | --- | --- |
| App | Key Specifications | Pricing |
| Kubera | Connect your accounts to get real-time data. More than 20,000 financial companies are supported. Monitor ETFs, stocks, cryptocurrencies, and other assets from piles of worldwide markets. | $150 for a year |
7. Sharesight – Completely automated Real time stock tracker
Sharesight is a portfolio tracking platform that is fully automated offering a wide range of insights and features. It allows users to receive actual data on their portfolio's performance based on fluctuations in the prices of stocks, market capitalization, and volume. The stock tracking software also is good at dividend tracking.
While testing this feature, we found out that it allows users to review and filter all of their ETF and stock dividends, as well as evaluate long-term returns and forecast future payments according to previously collected data. The stock tracker app is known for being one of the best stock portfolio tracking platforms that gives access to real-time information on what taxes you'll owe according to your previous investment dividends, sales, and purchases.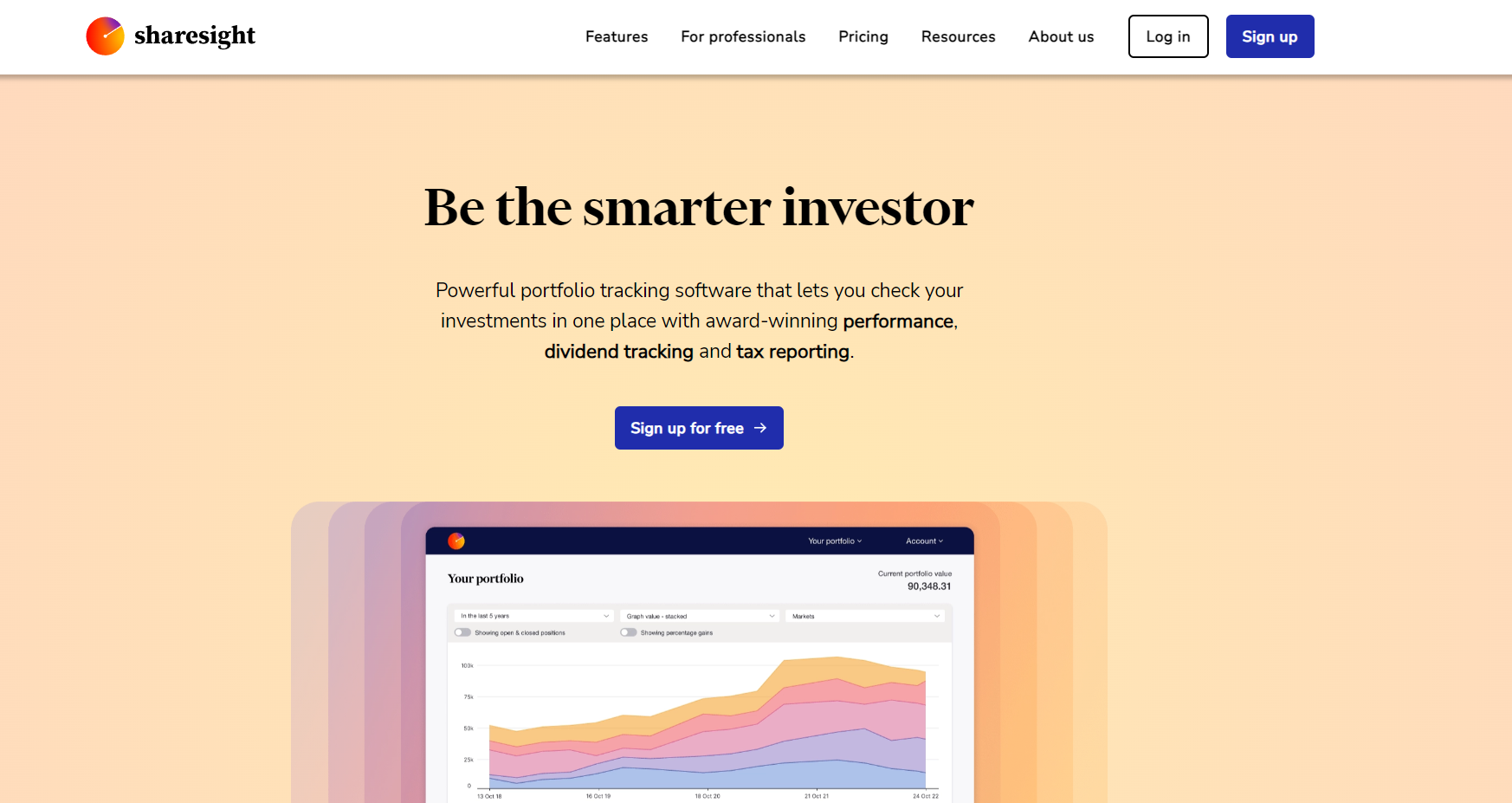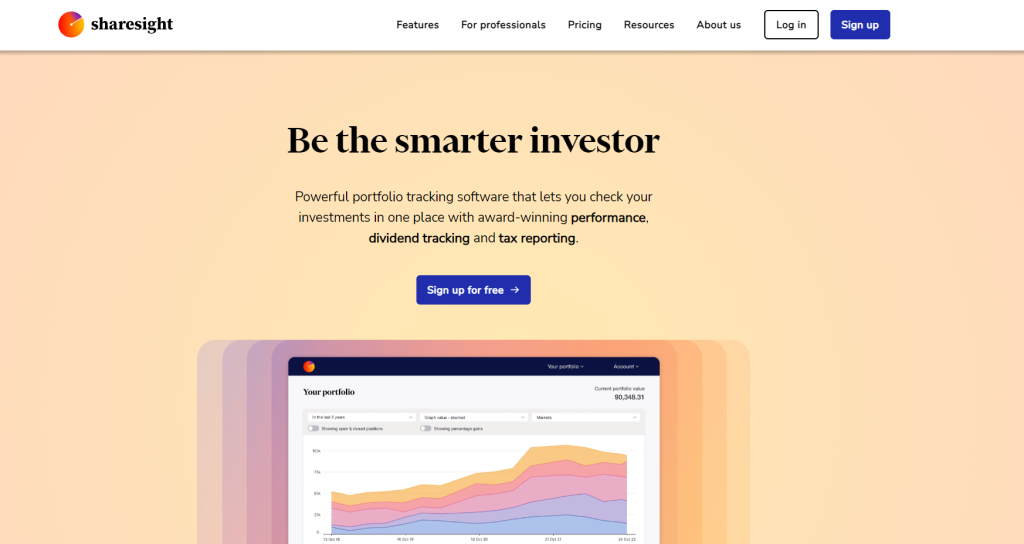 Sharesight is linked to over 100 brokers, including Robinhood, Interactive Brokers, and Charles Schwab. This means that your investments will be imported into your personal account on Sharesight  automatically.
Shareside offers a free demo trading account that provides restricted reporting, 10 holdings and one portfolio. It also provides 4 pricing plans, the most expensive of which, also known as "Expert," comes up with unlimited holdings, full reporting and ten portfolios for $31 a month.
| | | |
| --- | --- | --- |
| App | Key Specifications | Pricing |
| Sharesight | Over 240,000 equities, funds, ETFs, and cryptocurrencies are supported. More than 40 International and US trades are monitored live. It is compatible with more than 100 systems of brokerage. | Four plans available with pricing between $0 to $31 per month |
8. WallStreetZen – Stock tracking software with access to Wall Street's investors with high profitable portfolios
WallStreetZen is classified among the best stock tracker apps suited for gaining investment information with access to the hedge funds with the highest profit on Wall Street. In our research, we sorted the hedge fund portfolios based on their performance history, which allowed us to see which EFTs and stocks they own. More than that, WallStreetZen provides real-time information on market trends and news, allowing its users to stay informed and make viable financial decisions.
Another useful tool that we appreciated during testing WallStreetZen was the possibility to replicate investments that are similar like-for-like. WallStreetZen will notify you if there are any changes made by the hedge fund to the portfolio.


The stock portfolio tracking software also gives access to standard stock tracking features. Users can manually add their investments to the watchlist and set customized alerts. Based on this, investors will receive further information about whether an insider company sold or bought assets in any of the stocks they hold. WallStreetZen has access to a wide range of data points, such as insider transactions, fluctuations in the prices of stocks, fundamental analysis, and financial news.
The stock tracking app comes with a free plan that includes access to its basic trading tools, but users can also buy a 30-day trial for $1. Users will have to pay $59 every month for the full feature set, but it can be lowered at $19.50 a month if they're getting an yearly plan.
| | | |
| --- | --- | --- |
| App | Key Specifications | Pricing |
| WallStreetZen | Gain access to the portfolios of Wall Street's investors with the highest profits. Allows users to add EFTs and stocks into their watchlist by hand for personalized alerts. Financial articles, stock price fluctuations and insider deals are examples of data points. Comes up with a limited futures free plan. | There is a free basic plan available but it has limited futures. For full functionalities you have to pay $59 every month, or $19.50/month with an yearly plan. |
How do Stock Portfolio Trackers Work?
In this section of our guide, we will explore how stock portfolio trackers work. Stock portfolio tracking platforms are usually designed to help their users make investment decisions. These platforms are suited for investors of all experience levels, as they typically do not require research or analysis.
Stock portfolio trackers offer a full picture of investments, which is especially useful for people with diverse holdings. Manually checking investments without a tracker might consume a lot of time and overlook critical insights. A stock portfolio tracker provides traders that are most driven to success with an all-in-one picture of their assets permanently.
According to the stock portfolio app, investors can receive notifications on a variety of parameters, including fluctuations in the prices of stocks within their selected range. More advanced stock tracker apps can take an inside look at the fluctuations in the prices of stocks, volume, market capitalization, and different other success parameters.
When choosing stock tracking software, investors should keep in mind that most of them are not free and require cost prices in order to be able to gain access to their full set of tools. Of course, there are free plans available, but it is important to make sure that your investment goals align with the prices.
For tracking stock prices, a free plan may be enough; however, if you are looking for investment insights to outperform the market, a monthly fee may be worth it.
How to Pick a Stock Tracker App
Choosing a stock tracker app can be a real challenge for investors who want to monitor the movements of digital stocks in their investment portfolio and keep up with new market trends. Stock portfolio tracking saves you from spending hours checking and managing your account, as this useful tool takes care of everything without wasting your time.
Today, the best stock portfolio tracking apps offer investors a wide and varied range of additional features such as technical analysis, charts, graphs, live news and financial reports. According to moneyminiblog.com, some stock tracking apps even offer direct access to social media platforms such as Twitter and information provided by the Securities and Exchange Commission.
But with so many apps available, how do you choose the right stock tracker app for you? Read on to find out what to look for when choosing a stock tracker application.
✔️ Affordability
If having a convenient, accessible and efficient user experience is important to you, then this should be your primary consideration when choosing a stock tracker app. You will certainly find several apps on the market that offer you various benefits, but our advice is to choose the best stock tracker app that offers you an affordable price. Although there is nothing wrong with choosing the expensive options, why spend loads of money on something that you could get for free elsewhere?
✔️ Real-time tracking
When managing a portfolio, it is crucial to be able to synchronize all your investment accounts and manage your portfolio with ease, directly from an intuitive dashboard, ensuring you have access to real-time data.
Other features to look out for include the ability to perform backtesting, which allows you to assess the potential performance of your portfolio under different asset allocations. Another key feature is the ability to monitor risk levels and identify whether your portfolio is over- or under-exposed to certain assets or sectors.
✔️ Number of stocks traded
It is important to choose a stock portfolio tracking that provides you with the number of shares traded. Without this information, you will not be able to get a clear picture of the performance of your stock portfolio, nor will you be able to understand how your investments have performed in the past.
✔️ Compatible brokers
Not all stock tracking apps are compatible with all stock trading brokers. It is important to find a tracking tool that is compatible with the brokers you currently use. If they are not compatible, you will find that the tool you have chosen is ineffective and will not provide you with the information you need.
✔️ Analysis tools
There are a variety of analytical tools that can help you make more informed investment decisions. An equity analysis tool, for example, provides the full range of information you need to make informed decisions. These tools provide you with a wide range of data, from valuations to past stock performance, to help you make informed decisions.
✔️ Access to the latest news
To keep up with the latest news, choose an app that gives you this important tool. Breaking news can have a significant impact on stock performance. The best stock tracking apps usually include a built-in news feed to keep you informed of events that could affect your investment decisions.
✔️ Manage multiple accounts
An important aspect to consider is the ability to link the stock tracker app to all your accounts, including savings, current accounts, credit cards and loans. This will give you a clear picture of your total net worth, which is the main goal of using such an app.
The best portfolio management apps should also provide an overview of all your investments in each account, with the ability to drill down to relevant performance indicators for each type of investment.
✔️ Client support
Equally important, the app you choose should include client support. Why is this important? If you have a problem or need information, you should be able to resolve any uncertainties through customer service.
Conclusion
Portfolio management applications have become a valuable tool for investors who want to manage their digital assets more effectively, access their performance and track capital gains and losses. They offer a convenient way to manage asset allocation and provide insight into the performance of their stocks or funds on an annual or quarterly basis.
Some platforms even allow you to customize the time period for a more personalized experience. In addition, most, if not all, portfolio tracking tools are accessible via a mobile app, available for both iOS and Android devices.
One such app is Altindex, an advanced stock market analytics platform powered by artificial intelligence that helps investors make more informed decisions. AltIndex monitors and analyses a vast amount of data from sources such as social networks like Reddit, news portals, web traffic and job postings to provide stock picks based on trusted AI algorithms.
By leveraging this diverse data, AltIndex can generate valuable insights on hundreds of stocks in a very short time, saving investors time and effort. On the same note, AltIndex is not just about monitoring stock portfolios.
In fact, it is recognized as one of the leading providers of alternative data. AltIndex gives you a significant advantage as an investor by giving you access to vital information. It allows you to make more informed and potentially more profitable decisions in the investment world. To start using the application, investors can go directly to the platform's website.
Your money is at risk.
FAQs
How can I track my stock portfolio?
What is the best stock portfolio tracker app?
Which stock portfolio trackers are free?
References