Lightspeed Trading Platform Review – Pros & Cons
In addition to active day traders, professional traders, and trading groups, Lightspeed caters to active traders, traders, institutions, and hedge funds. There are several trading platforms offered by the company, including its flagship Lightspeed Trader platform, Lightspeed Web & Mobile platform, and Sterling Trader Pro, which provides advanced charting and Level II functionality.
Besides Sterling VolTrader, Eze EMS (formerly RealTick) is Lightspeed's only platform that allows for futures trading, Sterling VolTrader (an advanced options trading platform). Check this Lightspeed trading platform review and understand more about this platform.
What is Lightspeed Trading Platform?

Lightspeed targets professionals, institutions, and very high volume day, traders. Consequently, the account minimums for most of our rivals are much higher. Lightspeed, for example, typically requires a minimum deposit of $10,000 or more to begin trading – a minimum investment that's prohibitively expensive for most beginner traders.
Lightspeed's commissions are the lowest around if you are a very active trader. Each share purchased or sold is subject to a commission of $0.0010, with a $1 minimum. Traders who move more than 15,000,000 shares per month are eligible for Lightspeed's most affordable rates. We haven't seen a rate this high for anyone who isn't an active trader.
Lightspeed Trading Platform Pros & Cons
Pros
Lightspeed offers several platforms for trading, depending on your preferred trading instruments and features (Lightspeed Trader, Sterling VolTrader, Eze EMS, and Web & Mobile).
Lightspeed's Active Trader Commission Group pricing is available to clients who meet certain monthly trading volume thresholds. For example, in the equity market, customers can pay as low as $0.001 per share and $2.50 per trade, $0.20 per options contract, and $1.29 per contract/per side for futures.
Fast order routing is one of Lightspeed's many strengths. This algorithm rotates through different exchanges and routes to produce the best execution.
Cons
A Lightspeed Trader account requires a minimum of $25,000 in funding. In addition, you must have a Lightspeed WebTrader account with a minimum of $10,000 – unless you are a pattern day trader (PDT), in which case you must also have a minimum of $25,000.
For new investors, Lightspeed is less than ideal due to the high account minimums, high commissions, platform fees, and lack of "easy" tools. Furthermore, the broker may not appeal to casual investors seeking a diversified portfolio due to the absence of bonds and mutual funds.
Your capital is at risk
What Can You Invest in and Trade on Lightspeed Trading Platform?
In addition to stocks, options, and futures (you must have a separate account to trade futures). As for fixed-income investments, it's limited to T-bills traded via a live broker. The firm doesn't offer commission-free ETFs, forex, or mutual funds. A fractional share option is not available. Lightspeed allows investors to trade:
The easy-to-borrow stock list for short sales has about 6,000 stocks long and short.
OTCBB
Commodities/Futures
Futures options
with single and multiple legs (up to four legs)
Lightspeed Trading Platform Fees & Commissions
Trading volume is used to determine the commission plan offered by Lightspeed. The Active Trader Commission Group may be able to provide you with discounted commissions if you're meeting monthly trading volume thresholds (you can join the program by contacting the company for details). Depending on the volume of trades you make each month, per-share prices range from $0.0010 to $0.0045. Again, per-trade prices fall between $2.50 and $4.50 based on volumes traded. The rates for options are also tiered1.
Active traders can trade stocks and ETFs for $0.0045 per share (with a $1.00 minimum) or $4.50 per trade if they are not eligible for the Active Trader Commission Group. The cost of futures and options is $1.29 per side (plus exchange fees).
We've assumed the standard commission rates per share and per contract for Lightspeed Trader and Lightspeed Web Trader in the following table.
Each share costs $1.00. One thousand shares cost $4.50.
The OTCBB commission is $10.00 per transaction without a limit on the number of shares
Commissions for opening and closing options are zero
There is a $0.60 per contract option fee with a minimum of $1.00
There is a $30.00 charge for 50 contracts
Compensation for trading 500 shares plus five contracts is $5.25
At a balance of $10,000, interest is 8.0%, and at $100,000, interest is 7%
If an account falls below $15,000, the commission has to be $25.00 per month, or it must be paid the difference
No account closure fee
ACAT out fee is $95.00
Exercise and assignment fee: $20.00
Lightspeed trading platform free fee deposits and withdrawals
Fees: $20.00 for domestic wire transfers, $50.00 for international wire transfers IRA
opening fee: $20.00. IRA annual fee: $35.00
There are no fees for checks unless they are sent overnight or on Saturday, which are $30.00 each
The price for opening and closing a futures contract is $0.60 per contract, per side
There is a $130.00 per month access fee for Lightspeed Trader, which is reduced based on trading activity
No ETFs trade commission-free
You can trade live with a broker for $20.00 extra per transaction
$5.00 fee for paper statements
$2.00 fee for paper confirmations
How This Broker Makes Money From and for You
The zero-commission trend hasn't caught on with Lightspeed like many other brokers. As a result, they make money from you and for you in various ways, instead of just commissions.
Interest paid on cash: Uninvested cash at Lightspeed earns interest, but Lightspeed does not share any of that income with its customers.
Interest charged for margin: Many other large brokers offer comparable margin interest rates to Lightspeed. On a $10,000 balance, you'll pay 8% and on a $100,000 balance, 7%.
Stock loan programs: Basically, Lightspeed shares its revenue with you by lending your stock for short sales — with your permission, of course. The potential earnings of the firm's stock loan program were not disclosed.
Payment for order flow:  Lightspeed accepts payments from market makers as a component of the Payment for Order Flow (PFOF) system.
Price improvement: Details of Lightspeed's price improvement were not disclosed.
Portfolio margining: The margin requirements of Lightspeed clients can be calculated based on portfolio margining. Customers who trade derivatives to offset equity positions benefit most from portfolio margining.
Lightspeed Trading Platform User Experience
Investing and analysis tools are tailored to professional investors at Lightspeed, so you'll find plenty of high-level tools that will be valuable for institutional traders. In addition, Lightspeed offers the following features:
Trade platforms of different levels of sophistication: Lightspeed offers traders its own proprietary Lightspeed Trader platform as well as Eze's EMS Pro and Express. Trading platforms come in a variety of shapes and sizes, and each offers its own benefits. Investors can expect quick executions and no market data delay on any platform they choose.
By providing 100 order routing destinations, Lightspeed Trader provides investors with the quickest order placements and most up-to-date information possible. As well as being extremely customizable, the Lightspeed Trader platform enables users to create personalized layouts and home screens that suit their unique trading styles.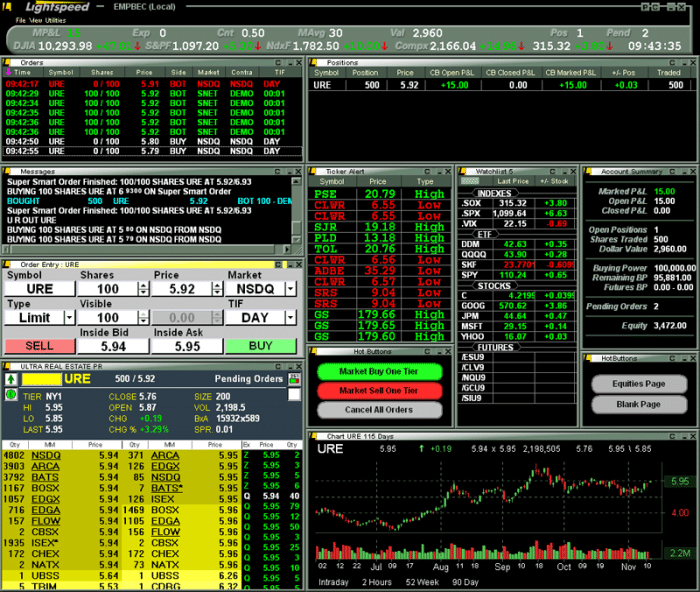 You can use Lightspeed's integrated market scanner to quickly and effectively identify your next trading opportunity with a comprehensive range of inclusion criteria. In addition to percentages, price ranges, highs, and lows for the specified period are included in the analysis. In addition, both equity and option movements can be analyzed.
Investing in underpriced securities can even be helped by specialized trading tools. For example, inversion trades, trades that are larger than the predetermined size, trades under parity, and other criteria can be scanned by trading tools. Similarly, Lightspeed's team constantly develops and implements new screening tools, so options will frequently change.
Lightspeed's order entry hotkeys make it simple to enter orders if you trade a few assets regularly. First, select a recurring hotkey for your standard order or custom order. Then, when you place the same order again, your trade will be executed quickly without customizing your execution parameters again. If you rely on minute-by-minute market data and fast order execution, this feature can be extremely useful for day traders, scalpers, and anyone else.
Lightspeed Trading Platform Features, Charting, and Analysis
A highly customizable and intuitive trading platform, Lightspeed Trader is the company's flagship offering. It takes just a few seconds to switch between the options and equity trading layouts using the two buttons at the top of the screen. In addition, using applications such as scanners, watchlists, time and sales data, risers and fallers, and the short locate feature.
The chart types and time frames are decent, but there is a limited selection of technical indicators and drawing tools. Orders can be entered in various ways, so you can create them exactly how you want them and choose from a range of trade defaults and hotkeys to quickly get your orders to the market.
Equities, options, and futures can be traded on any platform, but features (powered by CQG) are the only platforms for trading futures. Investors interested in monitoring risk may prefer Sterling VolTrader, tailored to options traders.
Each platform provides real-time streaming data, but only to one device at a time. In addition, all platforms offer Level I quotes, while Web & mobile-only offer Level II quotes. With Lightspeed Trader and Sterling VolTrader, you can enter multiple orders simultaneously, and with Eze EMS, you can stage orders for a future entry.
Lightspeed Trading Platform Account Types
Compared to other large brokers, Lightspeed offers limited research and account amenities.
Stock Screener
Lightspeed's market scanner, Lights can, scans and filters the U.S. equity and options markets. In addition to net change, % change, price range, and volume.
ETF and Mutual Fund Screener
As the broker does not support mutual fund trading, Lightspeed does not offer an ETF-specific screener or a mutual fund screener.
Fixed Income Screeners
Despite the broker's lack of bond trading support, Lightspeed does not offer a fixed-income screener.
Tools and Calculators
There are no calculators on Lightspeed, but it does offer several trading tools for identifying active and possibly mispriced options and stocks. Hyperactive identifies active options classes using user-defined parameters. Vertigo identifies trade imbalances based on buy/sell and puts/calls.
Trading Idea Generator
There are many ways to generate trading ideas and find your next trade with Lightspeed. We examine the following features: Social Media Analytics (SMA), TipRanks (T.R.), Gap List Scanning (G.S.), Block Trade Scanning (B.T.), Most Active Scanning (MAS), Order Imbalances (O.S.), and Halted Symbols (HHS). In addition, a variety of options analytics and trade idea generation features are available to traders who use the Sterling VolTrader platform.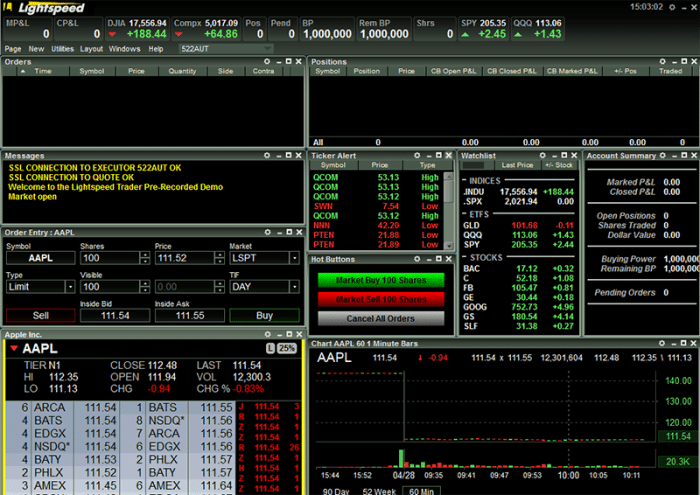 News
A streaming, a professional news feed is included in the basic market data package ($10.00 a month). There are several news sources to choose from.
Charting
You can customize colors, chart types (area, candlestick, bar, line, OHLC, and table), and period (time-based and volume) of charts. Besides providing market depth, Lightspeed provides a range of technical indicators and many drawing tools.
Cash Management
Customers are not automatically enrolled in Lightspeed's cash sweep program.
Lightspeed Trading Platform Mobile App Review
Using Lightspeed's mobile and Web platforms, traders have full access to equities and options markets in addition to a wide range of trading tools. Below are a few of our favorite features of the Lightspeed mobile app:
The app makes it easy to create and organize watchlists if trading stocks or options daily. Visit your watchlists in the app to quickly access your most popular choices when you open it to trade.
Data that's up-to-date: The platform's data is always current, so there are no lags or latency issues when trading
Charting and analysis capabilities: With Lightspeed, you can perform many of the same scans and analyses on your desktop platform as you can on the team's custom charts and software.
Lightspeed doesn't currently offer mobile apps for iPhones or Androids, but its Web and Mobile platform can be used on any Android, Apple, or Windows mobile device.
Lightspeed Trading Platform Deposit and Withdrawal Methods
Lightspeed Trading Platform Minimum Deposit
When opening a Lightspeed trading account, you are required to deposit at least 10,000 GBP/USD/EUR. Lightspeed's online brokerage account requires a minimum deposit to be opened.
Lightspeed does not charge a minimum deposit to open an account, so don't be scared off. In addition to the services they offer, brokers with higher minimum deposits often offer additional premium services that are not offered by other platforms.
In general, brokers with lower minimum deposits cater to more mainstream audiences that aren't as interested in the more advanced features and research tools. Brokers do not usually charge minimum deposits to attract new customers. The commissions and fees on trading accounts with low minimum deposits will probably be higher because they have to make some money somehow.
Trading platforms offered by brokers that require a higher minimum deposit amount typically provide more features. Brokers with these features often have more comprehensive tools for technical analysis and research and better risk management capabilities.
In response to the growing number of new online trading platforms entering the market, minimum deposit requirements to open a live trading account have been reduced as brokers compete for new business. Some brokers require as much as 6500 GBP/USD as a minimum deposit, depending on the type of trading account you choose. On the other hand, the maximum may reach 10,000 GBP/USD with some brokers.
Lightspeed Trading Platform Withdrawal Fees
Depending on the withdrawal method you choose, Lightspeed withdrawal fees may vary. Each broker has different withdrawal rules regarding how your funds can be withdrawn from your trading accounts.
Each brokerage company may have different withdrawal methods, and each payment provider may charge differently for processing transfers, provide varying processing times, and charge additional fees for currency conversion. A conversion fee is determined based on the base currency, the receiving currency, and the payment provider.
Wire transfers are an option for Lightspeed, for example.
Inactivity fees for Lightspeed
Inactive accounts are subject to a fee by Lightspeed
Registered brokerage accounts are subject to an inactivity fee.
Clients may be required to meet certain trading activity requirements that brokers may have as part of their account terms and conditions
An inactivity fee may be assessed if a client does not make any buying or selling over a specified period.
Online trading accounts are not subject to inactivity fees. However, inactivity fees are sometimes assessed by financial service providers. The broker's website should provide all the services and fees you may be charged, so make sure you understand and are comfortable with these.
Close your trading account with the broker's customer support if you no longer use it. If there are any remaining fees, make sure you have confirmation.
An inactivity fee can only be charged under certain circumstances, based on the type of account you have registered for. Inactivity fees are required to be disclosed clearly by brokers as part of their broker regulation.
Many brokerage firms charge inactivity fees to compensate you for using their expensive trading platforms in order to recoup the revenue you lose due to the lack of commission fees.
Lightspeed Trading Platform Deposit Fees
Some brokers may charge a fee if you deposit funds from your payment method to your trading account. You should always review the deposit fees. A fee may be charged if you use a certain payment method for funding your account. For example, if a specific fiat currency is deposited into your account, there may be a fixed fee. Depositing funds from a credit card is known to result in high fees. Therefore, credit cards are accepted by your broker if you wish to fund your account that way.
Lightspeed Commission Fees
CFD instruments are commission-based at Lightspeed.
Brokers may charge commissions for facilitating the purchase and sale of financial assets via your trading account.
Brokerages may earn most of their income from commissions charged to registered traders.
Trading commissions vary depending on the type of trading you do, the financial asset type, and the level of your trading account.
Brokerage commissions are charged if your order is fulfilled, canceled, or modified by the brokerage.
Your brokerage will not charge a commission when a market order is not filled.
Your brokerage may charge a commission if your order is modified or canceled.
Lightspeed Trading Platform Contact and Customer Service
You can contact Lightspeed customer service using several different methods.
If you are located in the United States, you may call Lightspeed's customer service at 888-577-3123. In addition, you can call +1-646-393-4800 if you're outside the U.S.
Send an email to conta[email protected] to reach Lightspeed's customer service team.
Messages can be sent online through Lightspeed's website, which offers its users a proprietary online messaging system.
Investors with hearing impairments do not currently have a dedicated customer service number.
Is Lightspeed Trading Platform Broker Safe?
Commissions, leverage, and margin trading are clearly described on Lightspeed's website. To determine which discounted rate is available to high-volume traders, they must contact Lightspeed.
Due to misleading customers and leveraging lower "market center fees" charged by its affiliate, Lightspeed was found guilty of securities fraud in early 2021.
An SEC filing states that Lightspeed offered its customers the ability to direct their orders to any trading venue of their choice and would charge them the fees Lightspeed incurred by processing their orders. Rather than following its customers' instructions, Lightspeed sent many orders to an affiliated broker-dealer (the "Routing Broker"), which routed the orders and generally charged Lightspeed no or low market center fees. When Lightspeed routed its orders in violation of its customers' instructions, it failed to disclose the involvement of the Routing Broker. Even though Lightspeed failed to direct the orders of its customers, it paid the market center fees even though the company was incurring lower fees or none at all."
As a result of the violation, Lightspeed was fined by the SEC.
How to Start Trading with Lightspeed Trading Platform
To create an account, check our short Lightspeed trading platform tutorial:
Click Customers > Customers in the main menu.
Type the searchable information about your customer in the Customer field.
Select the customer for whom you wish to establish a credit account.
Click the Account link on the left side of the page.
Click + Create an account in the section Create Primary Account.
Lightspeed Trading Platform Review – Conclusion
The Lightspeed platform is well suited for traders of equities, options, and futures with high volumes. Innovative trading tools, flexible order types, and multiple trading venues are available from the company. The company's flagship platform, Lightspeed Trader, is intuitive and offers many customizable features—plus plenty of hotkeys to keep you off the mouse (and speed up your trading).
However, Lightspeed's relevance is limited outside of the active trader crowd. In addition, Since LightSpeed's buy-in costs are high, its prices for casual traders are high, and its tools are difficult to use, it is not a good place for beginners or intermediate traders. Still, if you want to take your trading career to the next level and outgrow your current platform, Lightspeed may be worthwhile to consider.
eToro – Alternative to Lightspeed Trading Platform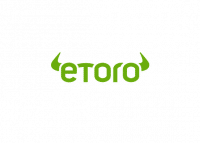 67% of retail investor accounts lose money when trading CFDs with this provider. You should consider whether you can afford to take the high risk of losing your money.
FAQs
What is Lightspeed Trading Platform?
They are a multi-asset broker and online trading platform founded in 2008. More than 13 years later, Lightspeed is more than just a forex broker; but is also a CFD broker and offers share trading.
Can I trade Forex with Lightspeed Trading Platform?
Besides Forex trading, Lightspeed offers CFD trading, share trading, and forex CFD trading to retail investors.
Can I open an account with Lightspeed Trading Platform from the U.S.?
U.S. stockbroker Lightspeed Trading caters to active day traders.
Can I trade with leverage in Lightspeed Trading Platform?
Margin accounts at Lightspeed Financial Services Group LLC allow traders and investors to borrow funds to trade securities in secondary equity markets, options markets, and futures markets. Securities can be bought, sold, and short sold using margin accounts.
What does Lightspeed Trading Platform cost?
There is a $130 software fee for Lightspeed Trader each month. The $130 fee is not applicable if the client spends at least $130 in commissions ($130 - $130 = $0). So comparing with other trading platforms, Lightspeed trading platform cost is not so high.