How to Buy VeChain – Beginner's Guide
Fact Checked
Everything you read on our site is provided by expert writers who have many years of experience in the financial markets and have written for other top financial publications. Every piece of information here is fact-checked. We sometimes use affiliate links in our content, when clicking on those we might receive a commission - at no extra cost to you. By using this website you agree to our terms and conditions and privacy policy.
Disclosure
The investing information provided is for educational purposes only. Trading platforms does not offer advisory services, nor does it recommend or advise investors to buy or sell stocks, securities or other investment vehicles. Some or all of the products displayed on this page are from partners that compensate us. It may influence the products we cover and the location of the product on the page. Nevertheless, our research and analysis is unaffected by our partners.
Designed to handle supply chain management and other business processes, VeChain (VET) is one of the most affordable cryptos to date.
What exactly is VeChain? And how do you buy VeChain? Follow this beginner's guide as we discuss where to buy VeChain, the best place to buy VeChain, how to buy VeChain crypto, and more.
How to Buy VeChain – Step by Step Guide 2023
As with any cryptocurrency, if you want to buy VeChain, you'll need to get a broker. For where to buy VeChain in particular, we recommend using the Binance trading platform. Here are 4 simple steps for you to start:
Register an account with Binance: Go to the Binance website and create an account.
Upload a valid ID: Next, you'll need to verify your account with a valid ID (ex. Driver's license or passport) and upload an image of yourself.
Make an initial deposit: Once your account review has been completed and verified, you can proceed to make an initial deposit. Payment methods vary depending on the currency you deposit in; among popular ones are debit/credit cards and bank transfers.
Buy VeChain: Press the 'Trade button on the navbar. You should then be able to search 'VET' on the search bar and it will lead you to the trading interface. From here, you can press 'Buy VET' and execute your order.
What is VeChain?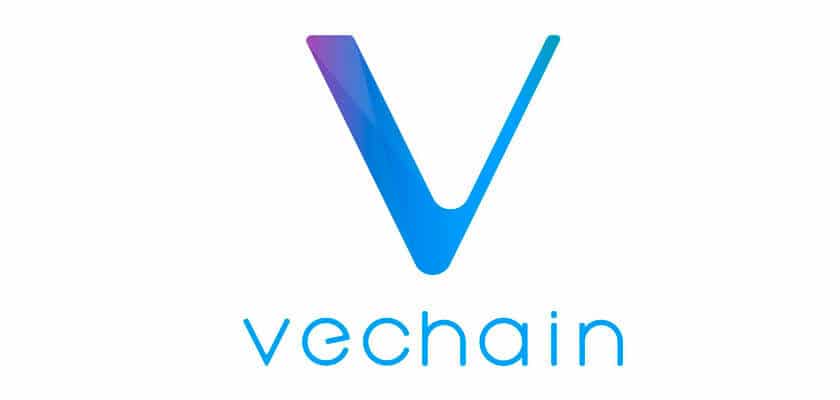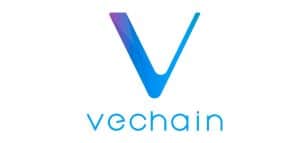 VeChain is a blockchain technology that aims to link products to consumers. It's designed to help optimize the supply chain as well as other business processes.
The VeChain network sports two distinct tokens: VeChain Token (VET token) and VeChainThor Energy (VTHO). The former is used to hold value across the VeChain network while the latter is used as "gas" to power smart contract transactions much like the popular Ethereum crypto.
Another aspect of the VeChain ecosystem is that it plans to scale to have 10 thousand transactions a second. Compared to other crypto assets like Bitcoin's 4.6 transactions per second, VeChain could be considered more scalable.
Why Buy VeChain?
With over $9 billion worth of VET in circulation, VeChain currently sits 23rd in the cryptocurrency rankings in terms of market capitalization.
One of the best reasons to buy VeChain crypto is because of the plentitude of features it has. For instance, it has compatibility with smart contracts, initial coin offerings (ICO's), and decentralized apps.
Also, because it can be purchased by consumers, it's not too difficult finding where to buy VeChain. Sites like Coinbase and Binance have the coin available for trading. Among these kinds of platforms is the best place to buy VeChain.
So we know that VeChain connects consumers with business processes like supply chain management. But exactly how is this implemented?
Let's say you were to purchase a luxury bag from a store. If the bag has a VeChain network QR code or NFC chip, potential buyers can use an app to see all sorts of information about the item. You'll know where it was made, how long it stayed before it was shipped, and many other key pieces of information.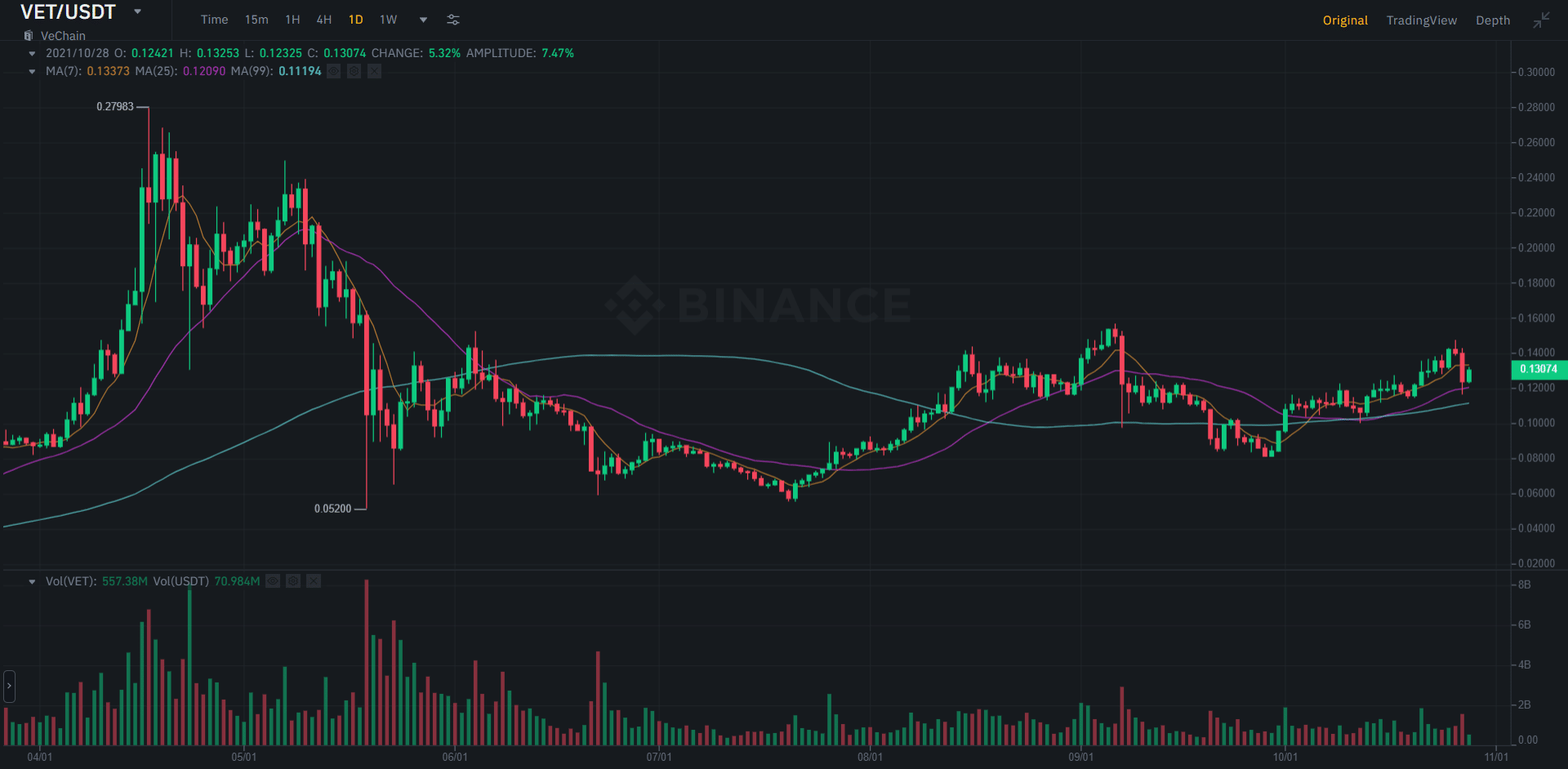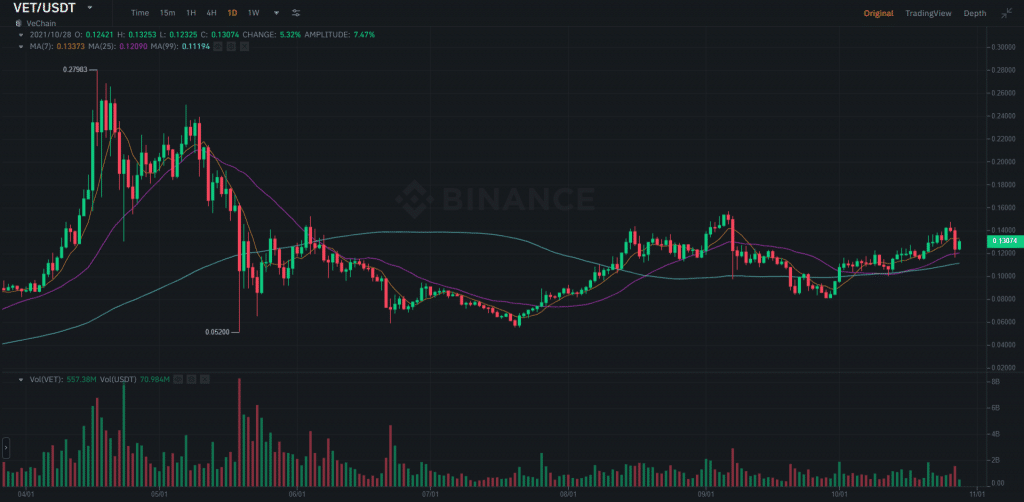 This feature of being able to track and store information of unique items solves supply chain problems like counterfeiting, spoilage, defects, and possibly even import policies.
Another feature of the VeChain crypto is that it has an Internet of Things (IoT) token layer. Blockchain technology aims to be a middleman of sorts between IoT device purchases.
All of these features combined with the ability to scale to 10 thousand transactions per second makes a compelling case to buy VeChain crypto. With the current bull run of cryptocurrencies led by Bitcoin, there is also reason to believe a bullish VeChain price prediction.
So you might be wondering where can I buy VeChain? We'll explore this and more in the next few sections below.
Your capital is at risk.
How Much Does it Cost to Buy VeChain?
Users can buy VeChain through a cryptocurrency exchange broker. Because VeChain isn't as popular as other mainstream cryptos, it might be more difficult to find VET coins in social trading platforms like the eToro app. Depending on the coin trading platform, spreads can vary, but sites like Binance charge a 0.1% spot trading fee and 0.5% Instant Buy/Sell fee.
It's possible that other platforms similar to Binance have varying fees as well. Depending on the crypto exchange and features, they could be more expensive or much cheaper. If you are interested in day trading when you buy VeChain, consider these day trading crypto exchanges.
How to Buy VeChain with PayPal
It's actually possible to purchase cryptocurrencies with PayPal. However, you can't buy VeChain in PayPal. The platform only allows for buying 4 cryptos at the moment: Bitcoin, Bitcoin Cash, Ethereum, and Litecoin (LTC).
If you want to buy VeChain in the USA, you have a couple of options since PayPal has yet to offer VET. Check out a few crypto exchange platforms such as the Coinbase site to find out where can I buy VeChain.
How to Buy VeChain with Bitcoin
Most crypto exchanges require you to link a crypto wallet when using Bitcoin to purchase other cryptocurrencies like Ethereum, Litecoin, Cardano, etc.
Use the Bitcoin in your crypto wallets and connect to a crypto exchange platform and look for the exchange where to buy VeChain requires Bitcoin.
Buying VeChain Safely
It's very important to consider how regulated your broker is when you plan to buy VeChain crypto. In this case, there are regulations for Binance, but it is not fully regulated. However, crypto exchanges like Coinbase and Binance have millions of active users.
Also, keep in mind that it is possible to store VeChain and VeChainThor in a VeChain wallet. Ideally, you'd want a wallet that has encrypted keys and good security measures. As with all encryption, make sure not to share encrypted keys that you use for your VeChain wallet.
Risks of Buying VeChain 
There always comes a risk even when you buy VeChain crypto. Beginners should be wary about increasing their risks especially in platforms like Binance that offer the ability to leverage certain positions. Leveraged positions occur with platforms that use CFD trading.
It's easy for novice traders to see the huge upside potential of trading on leverage, but users have to understand that there is also a huge downside potential. In Binance in particular, if you leverage your positions and they reach a certain price threshold, you may reach a point wherein your account will have to be liquidated to cover certain positions.
Basically, there are ways in which new users can immediately blow up their accounts and lose a lot of money. The rule of thumb and financial advice always when trading is to risk only what you can lose and make sure that you follow the trading strategy that works for you.
Even when buying VeChain crypto, success is never guaranteed and due diligence in trading should be followed. Also, get the best place to buy VeChain – preferably a regulated or widely accepted crypto exchange platform.
Your capital is at risk.
Selling VeChain
Once you've got the hang of things like the VeChain price movement and even researching yourself what you think the VeChain price prediction will be, you might want to consider selling VeChain.
In the Binance platform, once you're on the VeChain page, you should see a 'sell' button. That button essentially means that you want to bet against the coin and go short.
However, if you already own VeChain or have it in your wallet, you can opt to sell them if you think you want to realize your gains.
Where to Buy VeChain 
A crypto exchange platform is the best place to buy VeChain. Although Binance might seem quite overwhelming with its tools at first, we believe that it is a good platform for this beginner's guide. If you're looking to buy VeChain in the USA, Binance is a great place to start.
1. Binance
Founded in Hong Kong back in 2017, Binance is a leading cryptocurrency exchange globally. There is lots of variety in Binance as it offers a lot of altcoins to trade from. It features trading of over 500 cryptocurrencies and virtual tokens, including Bitcoin (BTC), Ethereum (ETH), Ripple (XRP), and of course, VeChain (VET).
In the platform, you can view live data and history on VeChain. The price chart is shown actually has several price indicators such as Moving Averages and trading volume which is especially useful when trying to find opportune trades.
If you want a more in-depth guide on how to buy cryptocurrencies online, you can look up different strategies on many educational trading sites.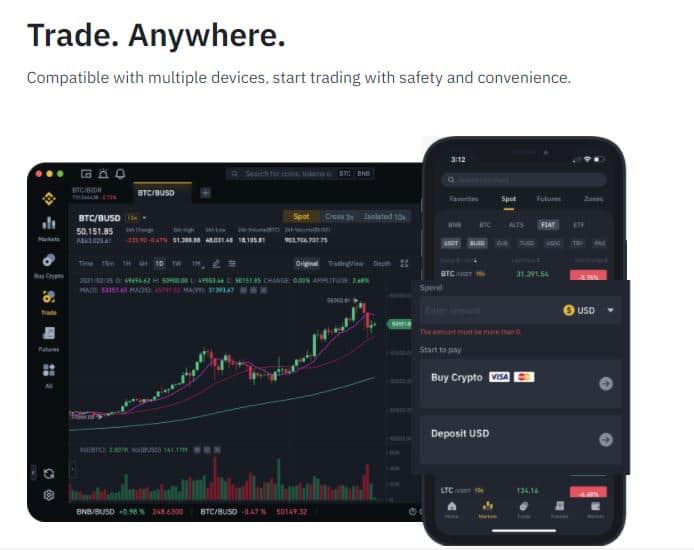 In terms of the fees for Binance, spreads are about 0.10%, but users actually reduce this by 40% simply by having BNB currency. BNB is the cryptocurrency issued by Binance which is used to transfer value among other cryptocurrencies.
The minimum deposit required for Binance is around $20 when using credit or debit cards. Note also that a minimum amount of $10 must be spent per trade. This is the threshold of the platform to execute any particular trade.
As of 2018, the Binance exchange platform moved its company headquarters to Malta, EU after China's looming regulations on crypto. Recently China has also been cracking down on the crypto business as well.
Pros:
Offers a simpler user interface for beginners
Tutorials available for newcomers
Lower spreads
Mobile App for iOS and Android available
Advance trading indicators and tools for pros
Cons:
Can be quite hard to learn at first
As a disclaimer, please consider it's not fully regulated
Trade responsibly.
Best Way to Buy VeChain – Binance Tutorial
Looking to get a better VeChain price prediction and increase your confidence in trading? Below is a short tutorial on how you can buy VeChain through the Binance platform.
Step 1: Open an Account
Enter the Binance web platform. After filling up the necessary details such as your email and password, you should be prompted to create your account. Note that you should not share your password with anyone.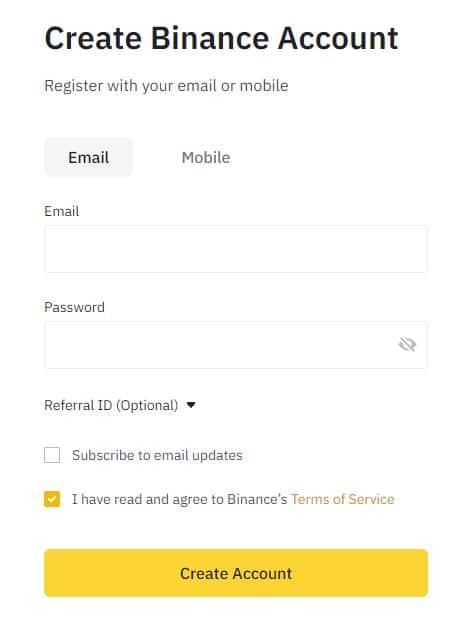 Your capital is at risk.
You should receive an email from Binance regarding the activation of your account. They will send a 6-digit PIN which you should enter.
Step 2: Upload ID
Similar to trading platforms like eToro, Binance requires its users to verify their accounts. Simply click on the 'Verify Account' button when you're on the home screen of Binance and follow the instructions. You'll need to take a picture or upload an image of a valid ID.
Users commonly upload their driver's license or passport. Make sure the image you upload is clear and matches the details that you filled out. If not, your verification will definitely take longer than the 10 days that the platform promises. You'll also need to submit a selfie for account verification.
Step 3: Deposit Funds
Your account should be verified at most 10 days after you submit your requirements. If not, you should contact customer support regarding the verification process.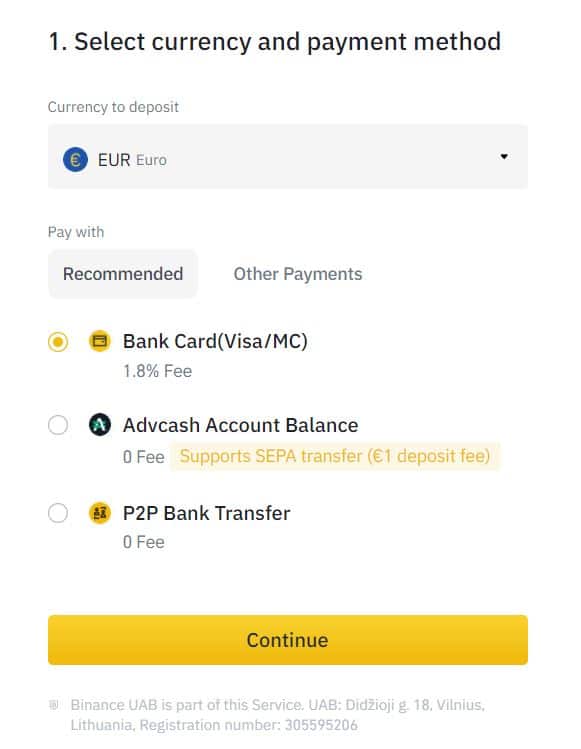 Your capital is at risk.
Once your account has been verified, you can now deposit funds. Go to the navbar and click 'Buy Crypto'.  This will then lead you to the Deposit Fiat page where you should be able to select your fiat currency and payment method. The minimum deposit for credit and debit card deposits should be $20.
You also have the option of transferring any cryptocurrency you own by linking an existing Bitcoin wallet.
Step 4: Buy VeChain
Finally, with your account funded, you can now buy VeChain! Hover over 'Trade' on the navbar and then select 'Classic'. On the search bar, type 'VET' and select 'VET/USDT' if you want to use USD to trade.
At the bottom, type in the amount of VET coin you want to trade, and press 'Buy VET'. If your trading strategy calls for setting stop losses and take profits, you should be able to set them on the same page.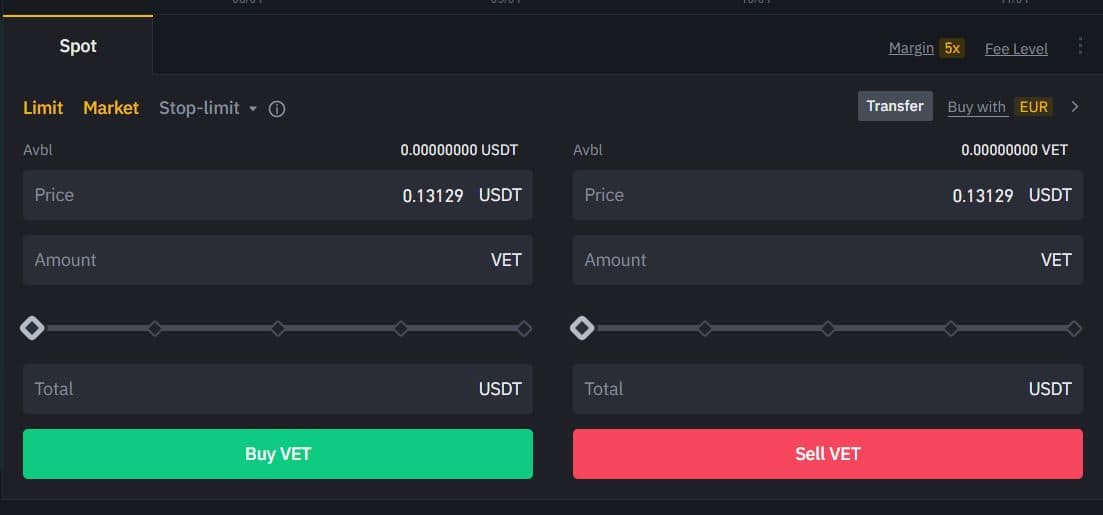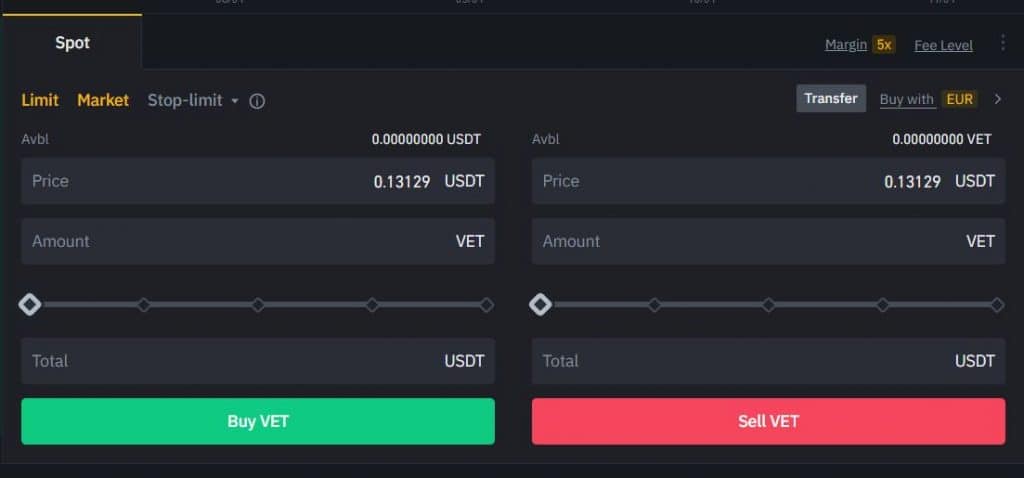 You also have the option of increasing the margin or leverage on your trades. Again, using leverage increases risk and is advised only to be used by more advanced traders.
Your capital is at risk.
 Conclusion
Bitcoin's latest breakout coupled with the craze of NFTs and blockchain technology has fueled another wave of crypto investing. If you believe in the future of VeChain, such as its scalability, practical use, and benefits to consumers and businesses, then you should consider purchasing the coin.
As this is a beginner's guide on the best place to buy VeChain, it's always important to remember that all trading comes with risk. If you need to ask yourself again where can I buy Vechain, make sure to do your research on any crypto exchange platform that you plan on using.
Whether or not you believe in the success of VeChain, profits are never guaranteed. Remember to practice proper research and responsible trading.
Looking to buy and start investing on VeChain? Click the link below to begin your VeChain investing journey – Buy VET here!
Binance – Best Crypto Exchange to Buy VeChain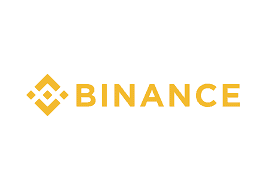 Your capital is at risk.
FAQs
What is the market cap of VeChain?
Do I need a crypto wallet to buy VeChain?
How much money do I need to buy VeChain?