Coinmama Review 2023 – Pros & Cons Revealed
Fact Checked
Everything you read on our site is provided by expert writers who have many years of experience in the financial markets and have written for other top financial publications. Every piece of information here is fact-checked. We sometimes use affiliate links in our content, when clicking on those we might receive a commission - at no extra cost to you. By using this website you agree to our terms and conditions and privacy policy.
Disclosure
The investing information provided is for educational purposes only. Trading platforms does not offer advisory services, nor does it recommend or advise investors to buy or sell stocks, securities or other investment vehicles. Some or all of the products displayed on this page are from partners that compensate us. It may influence the products we cover and the location of the product on the page. Nevertheless, our research and analysis is unaffected by our partners.
Coinmama is a cryptocurrency exchange that hosts some of the largest trading volumes in the digital currency sector. You can buy and sell several cryptocurrencies instantly and when you pay with a debit or credit card you can receive your coins within 10 minutes. But, does Coinmama suit your trading needs?
In this Coinmama Review 2023, we cover all the key metrics from fees, mobile apps, user experience, payments, regulation, and more.
What is Coinmama?
Coinmama was launched in 2013 with a mission to make buying and selling cryptocurrencies simpler and widely accessible. Since that initial start, Coinmama has served more than 2,800,000 clients in around 190 countries. Currently, Coinmama users can buy and sell Bitcoin and eight other altcoins including Ethereum, Ripple, and Litecoin.
With Coinmama you can also sell Bitcoin for different fiat currencies such as US dollars, UK Sterling, and euros. This cryptocurrency exchange is also known for its wide range of payment methods including the ability to buy digital currencies with credit or debit cards.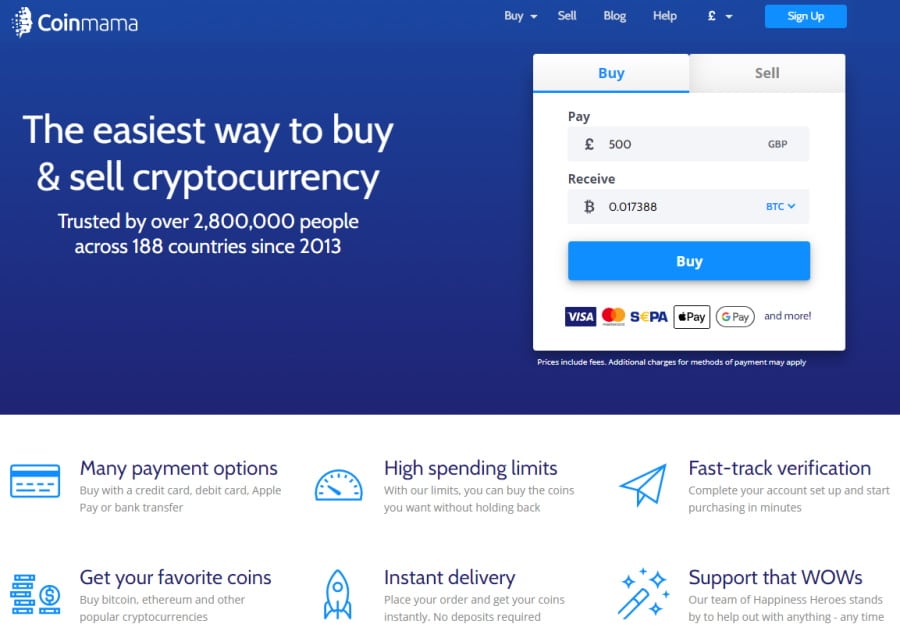 Furthermore, in the third quarter of last year, Coinmama settled an agreement with Apple and now supports the use of Apple Pay for cryptocurrency transactions.
Moreover, two factors make Coinmama stand out from its competitors. The majority of crypto exchanges support transactions between sellers and buyers, however, Coinmama facilitates crypto transactions between buyers and the company as all digital currencies sold originate from Coinmama's inventory.
Secondly, Coinmama does not offer crypto wallets, which are apps and devices that let users store and use their cryptocurrencies. So, whenever users buy cryptocurrencies they can store the digital coins in a crypto wallet and thus use it to execute transactions.
While this does improve the security and safety of crypto exchange it means that you will need to source your cryptocurrency wallet when making any transactions.
When it comes to fees, Coinmama is renowned for its low-cost commission model. Seeing as cryptocurrencies are decentralized, which therefore means that there are no central banks or governments managing the digital currencies, it is vital to note that every crypto exchange selects its own rate. Coinmama calculates its fees based on the TradeBlock XBX Index, which is the mean rate or market rate based on all registered providers.
Coinmama – Pros and Cons
What we like
Provides access to 9 different cryptocurrencies
User-friendly interface that is simple and easy to use
Useful FAQs providing relevant information on a wide range of topics
Wide variety of payment methods from credit and debit cards, to bank transfers and Apple Pay
Faster Payments available for UK bank account holders
Faster Payments provides 0% payment processing fees and quick Bitcoin delivery
Coins are delivered in a matter of minutes
What we don't like
Does not support crypto-to-crypto transactions
Does not provide transactions between sellers and buyers
Crypto wallets are not offered with this crypto exchange
Does not offer a mobile trading app
Fees charged on crypto buy orders are based on the TradeBlock XBX Index plus 2% as well as Coinmama's commission fee of anything up to 3.90%
Supported Coins and Markets
In this section of our Coinmama review 2023, we will cover what cryptocurrencies and markets you can access.
Coinmama traders can purchase Bitcoin (BTC), Bitcoin Cash (BCH), Ethereum (ETH), Ethereum Classic (ETC), Cardano (ADA), Litecoin (LTC), Tezos (XTZ), Ripple (XRP), Dogecoin (DOGE). Nevertheless, clients can only sell Bitcoin for fiat currencies including US dollars and UK pounds on the crypto exchange. This can be somewhat of a turnoff for traders interested in selling other altcoins or executing crypto-to-crypto exchanges.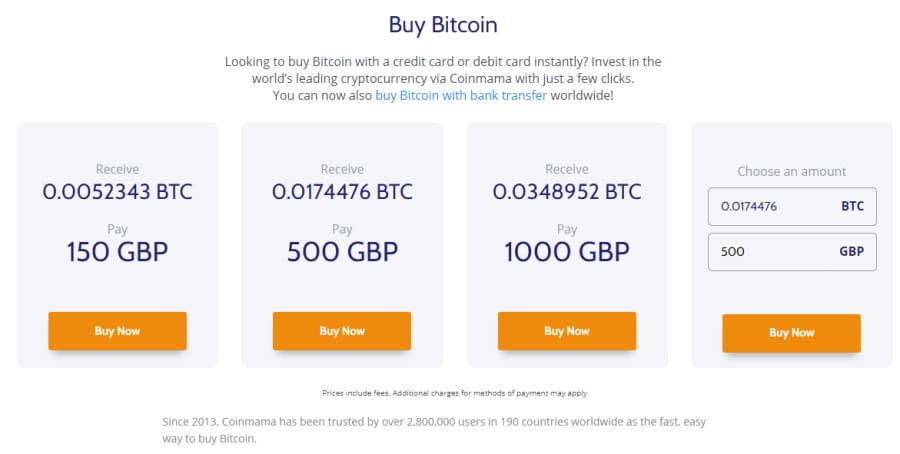 How do you purchase Bitcoin fractions? 
Bitcoin can also be split in the same way that fiat currencies are divided into different denominations. Simply put, the UK pound is divided into smaller denominations, thus 25% is £0.25, and a penny is £0.01.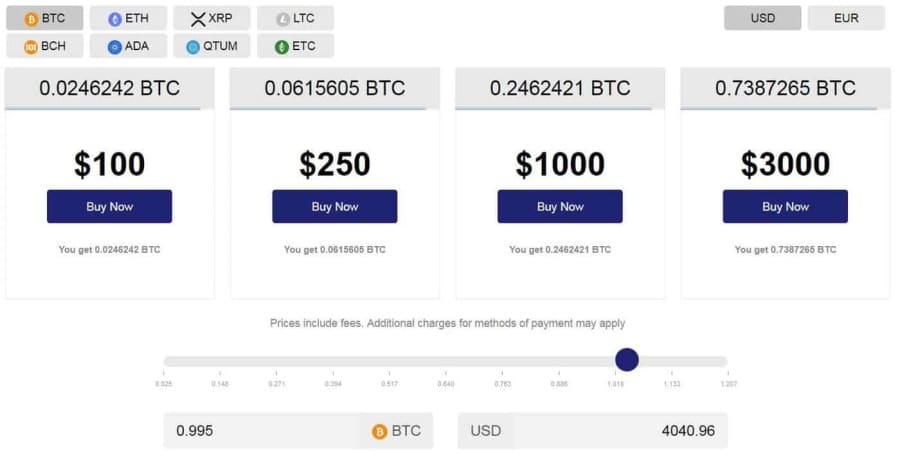 Bitcoin fractions work in the same way, with varying Bitcoin denominations equal to different portions of BTC. The Satoshi is the smallest unit that is available on the Bitcoin blockchain which is equal to 0.00000001 BTC. This means that at a Bitcoin price of $50,000 a Satoshi is equal to $0.0005. Despite being an extremely small denomination, the option to buy and sell Satoshi units is there.
Other Bitcoin denominations include:
Finney – 0.0000001 BTC
MicroBit – 0.000001 BTC
MilliBit – 0.001 BTC
CentiBit – 0.01 BTC
DeciBit – 0.1 BTC
So, how do you purchase Bitcoin fractions on Coinmama? This crypto exchange makes buying Bitcoin fractions simple and easy. It is worth noting here that the minimum order amount is $60. After you have signed up for a Coinmama account simply specify the amount of Bitcoin you want to buy, enter your payment details and confirm your crypto wallet address.
Fiat Currencies
On May 27th, 2019, Coinmama announced that its users can purchase cryptocurrencies using Australian Dollars, Canadian Dollars, Japanese Yen, Great British Pounds, Euros and US Dollars.
By accepting a wide range of fiat currencies not only does this crypto exchange give its clients additional payment methods, but it also removes added conversion fees, thus offering a better fiat to crypto rate.
To start purchasing with any of the aforementioned fiat currencies just enter the amount you want to buy and select the crypto you want to purchase and continue. Debit and credit card orders can be made in any of the supported fiat currencies, but, SEPA bank transfer orders can only be made in Euros and from an EU-based bank account, whereas purchases made with SWIFT bank transfers can only be made in British pounds.
Coinmama Fees
As we have already mentioned, cryptocurrencies are not monitored or managed by central banks and as a result, each provider selects its own rate. Coinmama's fees are based on the TradeBlock XBX Index, which is the market rate based on all known providers.
Buy Order Fees
Fees charged on buy orders are based on your Coinmama loyalty level and the method of payment. The prices posted on the site are based on the TradeBlock XBX index plus a standard deviation of 2% as well as the provider's commission fee of anything up to 3.90%.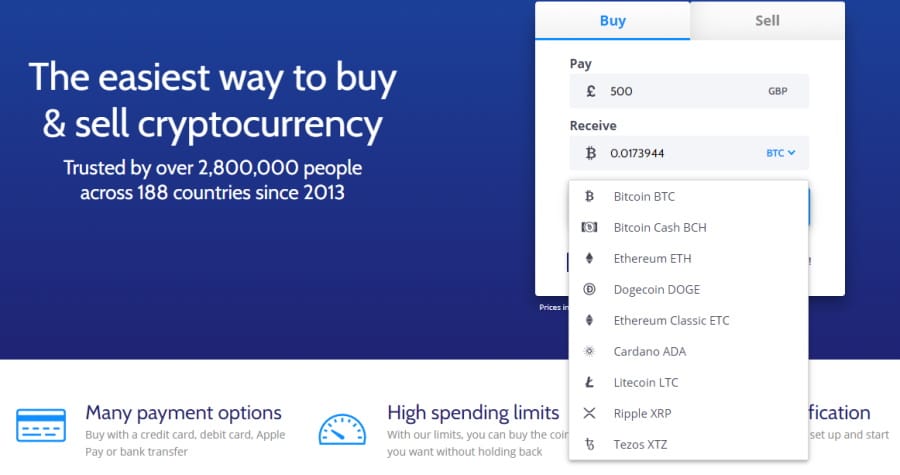 Buy orders made with bank transfers do not incur any additional fees whereas transactions made with a fixed crypto rate and instant delivery incur an added 5% express fee. This charge is supplemented to your total order depending on the type of card payment you use.
A useful tip to help you ensure there are enough funds on your card is by dividing the sum amount you are interested in spending by 1.05. For example, if you have a budget of $2000 simply divide it by 1.05, and therefore the amount you can spend when selecting how much crypto to purchase would be $1,904.76.
Sell Order Fees
Coinmama's sell rates are determined by the TradeBlock XBX Index market rate plus 2% and a selling fee between 0.9% and 1.9%.
When you choose the fiat currency or crypto amount, the fee and rate will be automatically based on your loyalty level. This leads us to the next question, what are Coinmama loyalty levels?
Simply put, the loyalty program is divided into three levels of savings with the more cryptocurrencies you trade with Coinmama the more money you save. After you have been promoted to a new loyalty level you can maintain it by meeting the minimum purchase amount during a 90-day timeframe. The loyalty levels are as follows:
The Crypto Believer level incurs a fee of 0.9% which is the lowest of the three levels and offers the chance to save up to 25% of the final price of the transaction. Savings show up as crypto bonuses when checking out. Eligibility for Crypto Believer depends on whether you have been buying for a minimum of 30 days. Maintaining this status necessitates an amassed purchase sum of $18,000 during a period of 90 days.
Crypto Enthusiast level incurs a fee of 1.4% and offers the chance to save 12.5% of the final bill. Maintaining the Crypto Enthusiast level requires a cumulative purchase amount of $5,000 throughout 90 days.
Beginner Coinmama users automatically gain access to the Crypto Curious level.
Breakdown of Coinmama Fees
Here you will find a comprehensive snapshot of the key Coinmama fees you should bear in mind.
| | |
| --- | --- |
| Direct Debit/Credit Card transaction fee | Transactions with fixed crypto rates and instant delivery – 5% express fee |
| Buy Order Commission Fee | XBX Index average + 2% + commission fee up to 3.90% |
| Sell Order Commission Fee | XBX Index average + 2% + sell fee 0.9% – 1.9% |
| Bank transfer | No added fees |
| SEPA transfer | No added fees |
Coinmama account limits (buy and sell)
Coinmama's transaction limits vary depending on your verification level, payment method, and regulations. The transaction limits are ongoing limitations which means that they apply to any specific 30-day or 24-hour period and are subject to your trading volumes.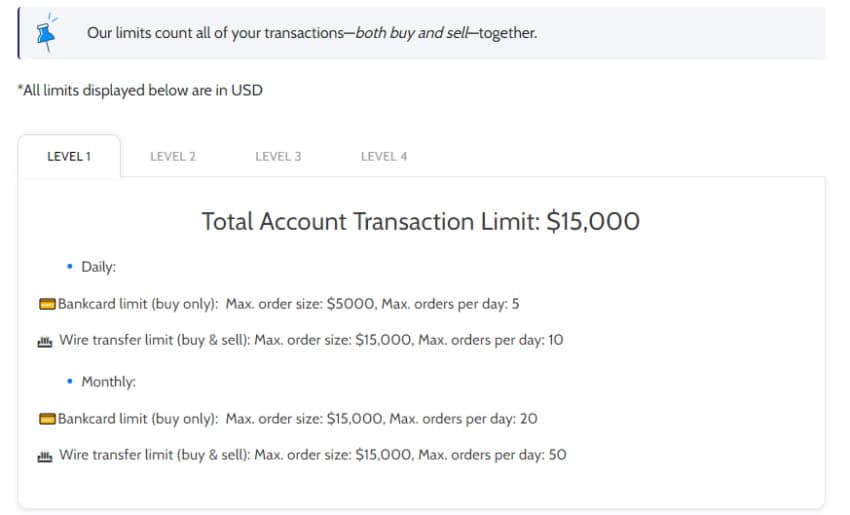 For level one verification the total account transaction limit is $15,000
For level two verification the total account transaction limit is $50,000
For level three verification the total account transaction limit is $1 million
Coinmama Wallet Review
Coinmama is not a crypto wallet provider which therefore means you have to research and choose your own wallet provider. Coinmama recommends ZenGo and Exodus which are hot wallets that give you access to your digital currencies and are stored either on your PC or online.
Coinmama Mobile App
During our research we found that Coinmama does not provide a mobile app which is rather disappointing as having the ability to monitor and manage your crypto account from your mobile device is not only convenient but also essential in this constantly evolving digital age. Nevertheless, you can still access Coinmama's services via most mobile browsers.
Coinmama User Experience
Coinmama's user-friendly interface and simple transaction flow are perfectly suited for beginner traders with little experience in crypto trading, however, its commission fees are somewhat higher when compared to other crypto exchanges on the market.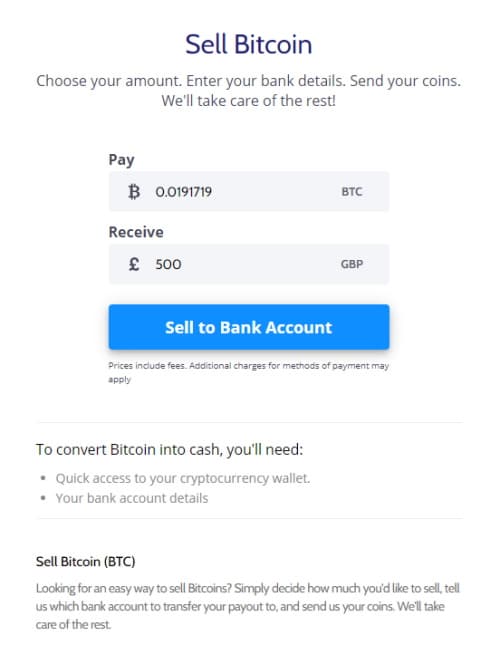 The simplistic nature of purchasing and selling directly from the provider reinforces its simple and user-friendly layout and design. Traders choose the quantity they wish to purchase with a range of payment options including Apple Pay which is very convenient and popular nowadays. Coinmama also provides fractional shares of Bitcoin which means that you can invest as little as $50 while diversifying your portfolio.
Coinmama Trading Tools and Features
When it comes to trading tools and unique features Coinmama is a great option for beginner crypto investors and enthusiasts because:
You can purchase Bitcoin and other altcoins instantly when you pay with a credit/debit card or even with online banking, as well as Apple Pay, you can receive your coins within 10 minutes.
You can purchase up to $30,000 at a time with your linked bank account.
Depending on the market you can now sell Bitcoin even if it was obtained via a different crypto exchange.
Coinmama offers extended safety and security as it does not hold client funds or maintain payment data. As this provider does not offer a crypto wallet you are required to use a third-party wallet, thus giving you total control over your cryptocurrencies.
Coinmama Payments
How do you purchase Bitcoin instantly with a credit or debit card on Coinmama?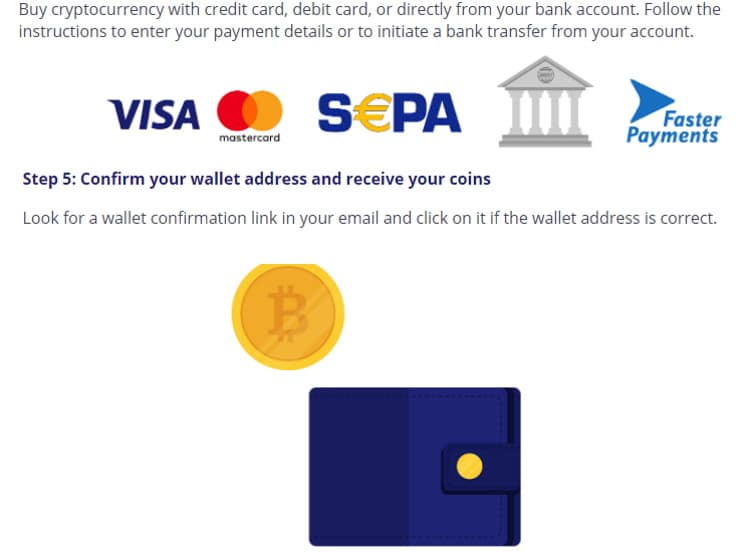 After your Coinmama account has been successfully created and verified you can simply enter the desired wallet address, fill out the transaction form and purchase BTC instantly. Coinmama also accepts payments via Mastercard and Visa, however, Discover, American Express, and PayPal are not accepted payment methods.
Coinmama accepts all types of bank cards from credit and debit cards to prepaid, gift cards, and virtual cards. For a more comprehensive list and breakdown of all the payment methods available with this crypto exchange please refer to the following table:
| | | | | | |
| --- | --- | --- | --- | --- | --- |
| Payment Method | Currency | Buy | Sell | Fees | Average delivery time |
| Fedwire | USD | Yes | Yes | None | 2 business days |
| SEPA Instant | EUR | Yes | No | None | Up to 1 hour |
| SEPA | EUR | Yes | Yes | None | 24 hours |
| SWIFT | USD | Yes | No | None | Up to 3 business days (Global) |
| Open Banking (UK – SWIFT) | GBP | Yes | No | None | Up to 1 hour |
| Bank card | USD/CAD/AUD/EUR/GBP | Yes | No | 5% express fee | Up to 1 hour |
| Apple Pay | USD/CAD/AUD/EUR/GBP | Yes | No | 5% express fee | Up to 1 hour |
| Google Pay | USD/CAD/AUD/EUR/GBP | Yes | No | 5% express fee | Up to 1 hour |
Coinmama Regulation & Licensing
Cmama Ltd operates and manages the Coinmama platform which is headquartered in Ireland and is a subsidiary of New Bit Ventures Ltd. Coinmama is regulated and registered as a Money Service Business with FinCEN.
FinCEN is a bureau of the US Department of the Treasury and works to protect the financial system from illegal activities and money laundering by collecting, analyzing, and disseminating financial intelligence.
Coinmama adheres to KYC compliance which helps to maintain the highest privacy and security regulations. By providing your personal details such as proof of ID and address, you help the crypto exchange combat fraud and keep your account safe. Once you have submitted your details for verification it usually takes up to an hour for the official thumbs up from the Coinmama HQ.
Coinmama Contact and Customer Service 
Coinmama's customer support team is referred to as Happiness Heroes and can be contacted via email, phone, as well as an AI bot called Emma which can be found at the bottom-right of the website. Response times are very prompt and when it comes to business hours, account verification operates 24 hours a day 7 days a week. For customer services and all other business inquiries the business hours are from 07:00 am until 01:00 am (UTC/GMT).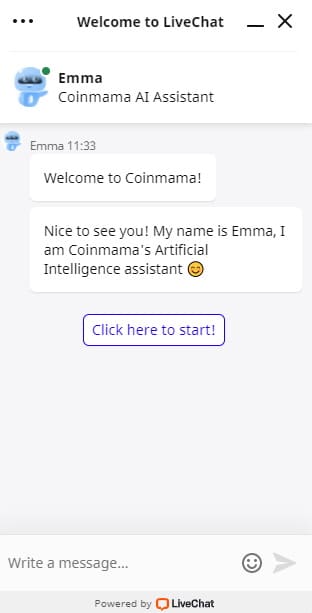 How to Use Coinmama
If you want to buy and sell cryptocurrency with Coinmama then follow these steps to learn how to open an account and start Bitcoin trading and more today.
Step 1: Open an Account
Firstly, head over to the Coinmama.com sign-up page and create an account. Enter your personal information including name, email address, and country of residence to continue. Coinmama will then send you an email with an account confirmation link.
Next complete the required form by filling out your name, phone number, date of birth, gender, and address.
Step 2: Upload your Documents for Verification
Select the type of identification you want to upload, which will vary depending on which country you are based in. Take a good-quality picture of the ID and upload it to your account for verification purposes.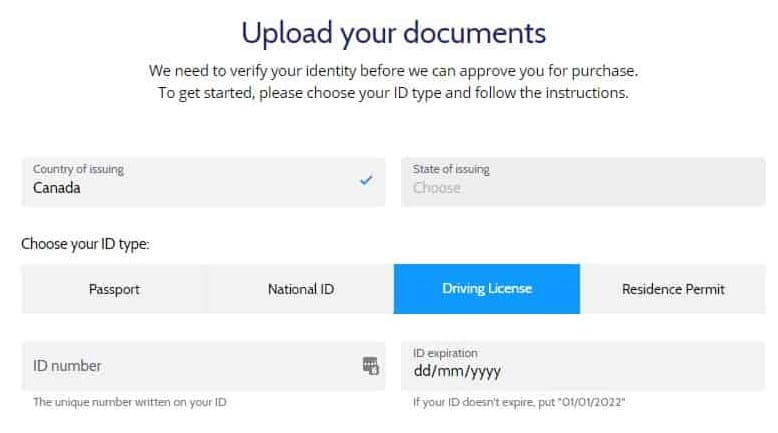 Then you will be required to upload a photograph of yourself holding a piece of paper that states today's date along with your ID. The selfie needs to clearly show your face and the documents. After all the required documents have been uploaded simply click on Send For Approval and a member of the Coinmama verification team will assess your application and documents. The verification process typically takes around fifteen minutes and after that, you can buy and sell Bitcoin and other cryptocurrencies on Coinmama from the comfort of your own home.
Step 3: How do I add Bitcoin to my crypto wallet? 
Crypto wallets and cryptocurrencies go hand in hand, therefore, without one you cannot interact or buy the other. Crypto wallets come in all shapes and sizes, with some allowing you to store multiple different altcoins whereas others support only one or two. Advanced crypto traders disseminate their coins across several crypto wallets depending on their needs.
The most important element that springs to mind when it comes to selecting a crypto wallet is to do your research. By this we mean to find out what coins each wallet supports, familiarize yourself with social proof, and then sign up and download the wallets that suit your crypto trading needs.
Step 4: Place an Order
So, now that you have your crypto wallet you can buy Bitcoin and other cryptos with your credit or debit card, SEPA or SWIFT bank account, or Apple Pay. Just specify the number of crypto coins you want to purchase, enter your payment details.
To send cryptocurrencies to your wallet you will be required to enter your public key or the wallet address so that Coinmama can send your coins to the right place. Then all that is left to do is to confirm the crypto wallet address via email and your cryptos will be added to your crypto wallet.
Coinmama Review Reddit – See What Users Have to Say
The unofficial subreddit for Coinmama has just over 100 members and is a great social platform to interact and communicate with other crypto traders and Coinmama users. The group has useful information including relevant FAQs, YouTube content, and discussions about the user experience on the Coinmama platform.
Coinmama vs eToro
Before you commit to signing up with Coinmama we recommend taking a wider perspective to see whether there is a better online trading platform or crypto exchange that fits your needs. After careful consideration and extensive research here at TradingPlatforms, we concluded that the free trading platform eToro secures the number one spot on our list of top brokers for 2023.
Let's dive into the specifics as to why we recommend eToro over Coinmama when it comes to buying and selling cryptocurrencies online.
Firstly, when it comes to security and trust eToro is heavily regulated by top financial authorities including the UK's Financial Conduct Authority, CySEC, and the Australian Securities and Investments Commission. eToro is also regulated by the US Security and Exchange Commission.
Adhering to and complying with such stringent regulations set by top-tier financial authorities ensures that client funds are protected and that you are trading in a fair and transparent environment.
67% of retail investor accounts lose money when trading CFDs with this provider. Your capital is at risk.
In terms of payments and fees, when you use a bank card at Coinmama, you will incur a 5% express fee on your transaction. This is somewhat expensive when you take into account that eToro provides free deposits for US-based clients. Moreover, eToro also supports multiple e-wallets such as PayPal, Skrill, and Neteller.
Unlike Coinmama, eToro has a crypto wallet that will save you the hassle of having to research and find a third-party wallet. Verified eToro clients can transfer crypto-coins from the eToro trading platform to the eToro wallet which supports Bitcoin, Bitcoin Cash, Ethereum, XRP, Litecoin, and XLM.
Markets and Tradable Assets
Furthermore, eToro traders have access to a wide range of cryptocurrencies, as well as crypto-to-crypto, and crypto-to-fiat pairs, which means that whatever your trading preferences are, eToro is likely to satisfy your needs. Moreover, eToro supports other tradable assets and markets, including commission-free stock and ETF trading, forex, commodities, CFDs, and indices trading all under one live trading account.
Mobile trading and demo accounts 
eToro also provides a mobile trading app that is compatible with both Android and Apple devices and offers a paper trading account with $100,000 worth of virtual funds for you to practice your trading strategies in a risk-free environment.
Copy Trading Tools
eToro, the social trading platform, which is now home to more than 20 million users worldwide, has tons of trading tools and resources for beginner traders to take advantage of. Copy trading allows you to copy the trades of other experienced eToro investors with the click of a button.
67% of retail investor accounts lose money when trading CFDs with this provider. Your capital is at risk.
Coinmama – Expert Verdict
This Coinmama review has covered all the key metrics you need to consider when choosing a crypto exchange to suit your trading needs. These metrics include everything from payments and fees to safety and user experience. In summary, we found that eToro is simply a better option as it has competitive fees and offers heaps more in comparison to Coinmama.
After all, we would suggest that eToro is the best trading platform to trade cryptocurrencies in 2023. When it comes to fees and commissions, you only pay a 0.5% fee to deposit funds via an e-wallet or debit card, which is much lower than the 5% express fee charged by Coinmama. Furthermore, eToro users also benefit from tight spreads that start from just 0.75%.
So, open an account and trade cryptos with eToro today!
eToro – Our Number One Recommended UK Cryptocurrency Broker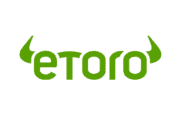 67% of retail investor accounts lose money when trading CFDs with this provider. Your capital is at risk.
FAQs
How long does Coinmama take to verify?
How long does Coinmama take to send Bitcoin?
How do I sell Bitcoins on Coinmama?