TD Ameritrade vs Charles Schwab – Which Broker Is Best in 2023
Fact Checked
Everything you read on our site is provided by expert writers who have many years of experience in the financial markets and have written for other top financial publications. Every piece of information here is fact-checked. We sometimes use affiliate links in our content, when clicking on those we might receive a commission - at no extra cost to you. By using this website you agree to our terms and conditions and privacy policy.
Do you want to buy and sell stocks and ETFs from the comfort of your home? To do that you're going to need a top-level trading platform. With thousands of options to choose from making the right choice can be difficult. Be that as it may, two stockbrokers stand out from the crowd. Read on for our full TD Ameritrade Vs Charles Schwab review.
In this guide, we will explore all the key metrics that you need to study when picking the right broker for you. These metrics include tradable assets, trading and non-trading fees, user experience, customer support, security and regulation, and more.
TD Ameritrade vs Charles Schwab Comparison
TD Ameritrade
Visit Site
Your capital is at risk.......
Charles Schwab
Visit Site
Schwab Stock Slices is not intended to be investment advice or a recommendation of any stock. Investing in stocks can be volatile and involves risk, including loss of principal. Consider your individual circumstances prior to investing.......
Fixed commissions per operation
What are TD Ameritrade and Charles Schwab?
Simply put, TD Ameritrade and Charles Schwab are both US-based online brokerages providing tradable assets at the swipe of a finger. All that's required of you is to set up a trading account and access everything from stocks, ETFs, and futures.
Depending on what tradable assets you are after there are some crucial differences between both trading platforms. So, without further ado, let's begin.
On October 6th, 2020, Charles Schwab announced that it had finalised its acquisition of TD Ameritrade, formally merging both brokers into one with a shared vision for the future. The business goal is to help active traders make their investment dreams a reality. Combined, both brokers have an investing track record that spans just under 100 years, as well as a proven history of pushing the boundaries for new and advanced traders.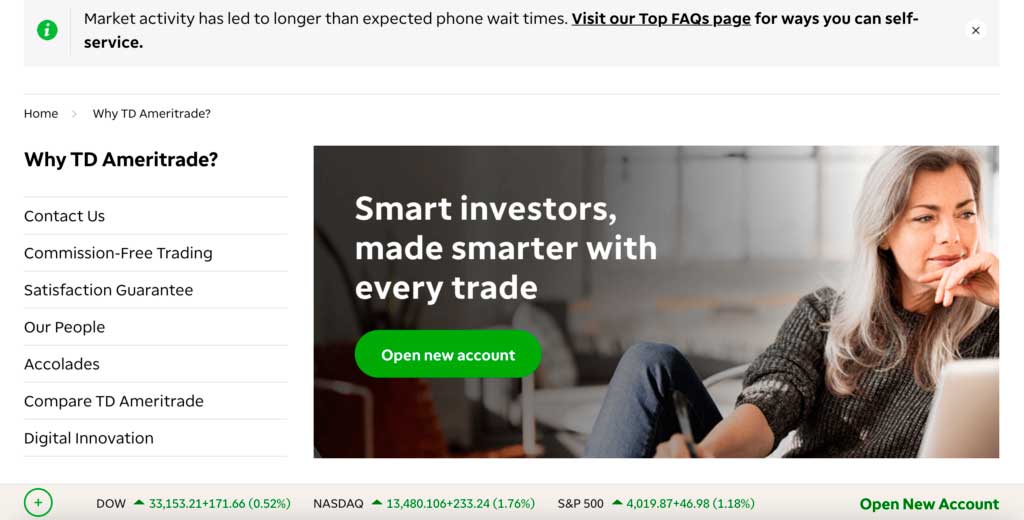 But for the sake of this comparison, we will focus on both trading platforms as separate entities.
Firstly, TD Ameritrade is one of the largest US-based stockbrokers that started in 1975. It is listed on the NASDAQ stock exchange under the ticker symbol AMTD. It is regulated by top-level financial authorities such as the SEC (Securities and Exchange Commission), the CFTC (Commodity Futures Trading Commission), and the FINRA or Financial Industry Regulatory Authority.
TD Ameritrade offers low trading fees with free ETF and stock trading. Thinkorswim, its in-house developed desktop trading platform, is one of the industry-leading desktop platforms on the financial market. Its customer service is available in three different languages, English, Spanish and Chinese, and can be contacted 24 hours 7 days a week.
Unlike Charles Schwab, TD Ameritrade supports forex trading with low forex fees. The fees are part of the spread. The average spread cost is 1.2 pips during trading hours.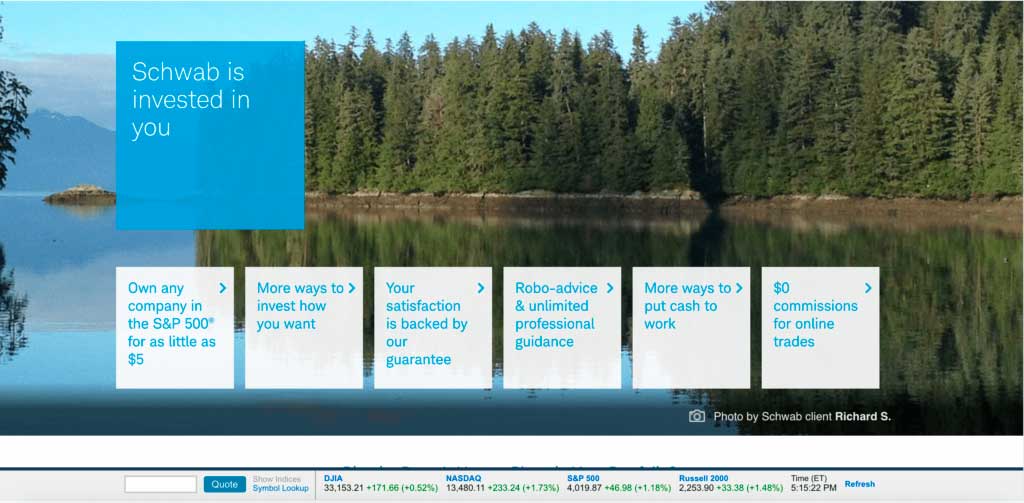 Moving on, Charles Schwab is also a US-based trading platform that was launched in 1971 and is listed on the NYSE (New York Stock Exchange) under the ticker symbol SCHW.
It falls under regulation by various top-level financial organizations, including the SEC (US Securities and Exchange Commission), FINRA (the Financial Industry Regulatory Authority), and the Financial Conduct Authority in the United Kingdom (FCA).
Charles Schwab provides free ETF and stock trades. In terms of research, it offers top-rated resources and covers a range of technical analysis tools, such as trading ideas and precise fundamental analysis. Customer service is available in English via live chat and telephone 24/7.
TD Ameritrade vs Charles Schwab Tradable Assets
There are many different asset classes available from futures to stocks. TD Ameritrade also offers social trading and robot trading which are best suited for beginner traders.
As we have already mentioned, TD Ameritrade is a better suit for forex traders as Charles Schwab does not provide forex trading. Something that both brokers have in common is that they do not offer CFD trading. So, if you are looking for a CFD trading platform then you could look at the top-rated social trading platform eToro. This is due to the fact that the broker offers shares and ETFs as well as tons of CFD markets. This covers stocks and cryptos to commodities and forex trading. eToro charges zero-commission on all CFD trading instruments.
ETFs and stocks
Our TD Ameritrade and Charles Schwab review found that the former only covers products from the US markets and the latter only covers products from markets in North America.
Charles Schwab enables its traders to purchase fractional shares of S&P 500 stocks rather than purchasing an entire share of a particular stock. This means that you can purchase a percentage of stock that stands for a fractional share. So, let's say a certain stock is trading at $1000 per share and you purchase $300 worth, this would mean that you owned 0.3 shares.
Forex
As aforementioned, TD Ameritrade allows forex trading via its desktop Thinkorswim platform. This offering gives it a strong advantage over its main rivals in the market.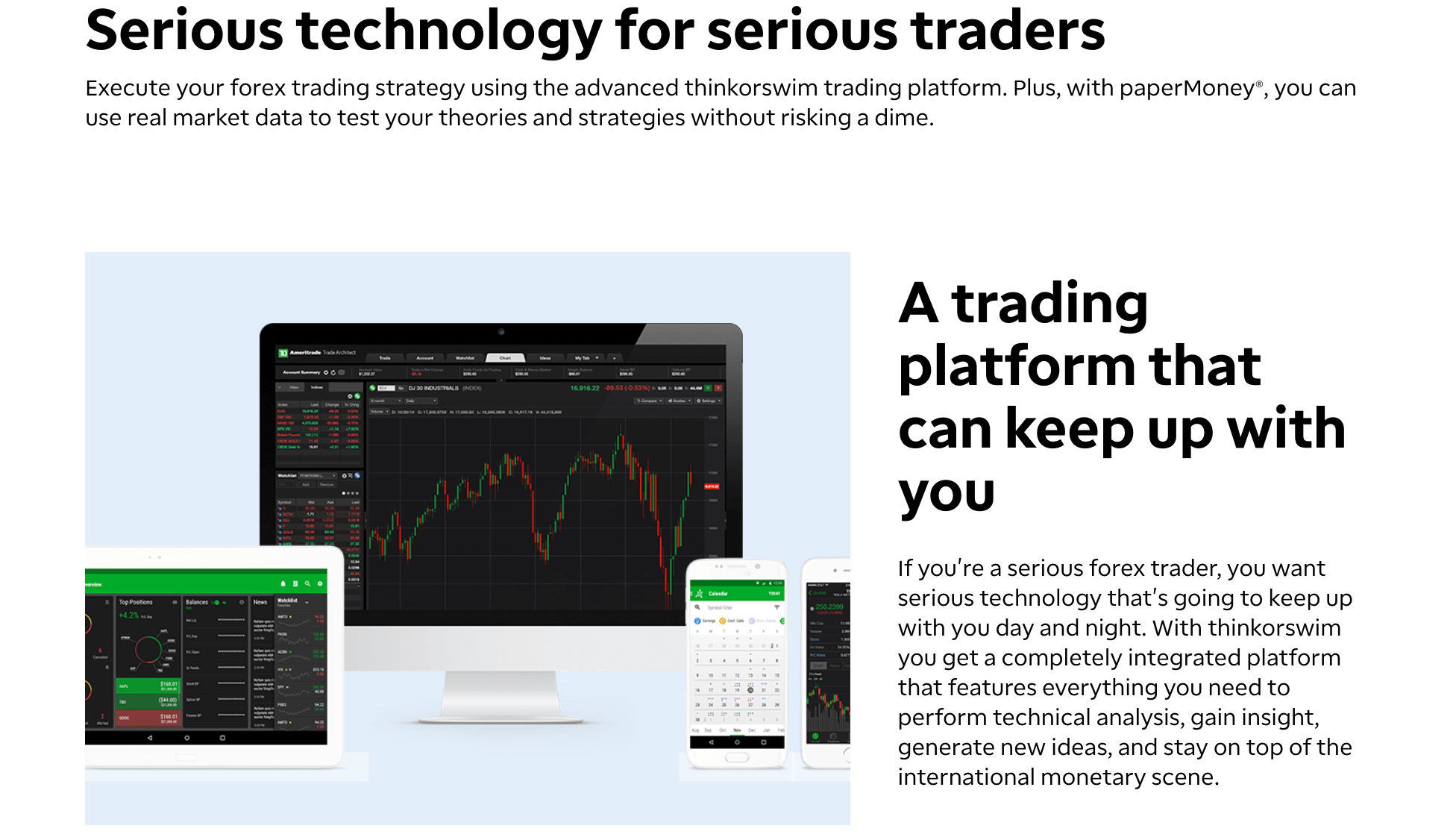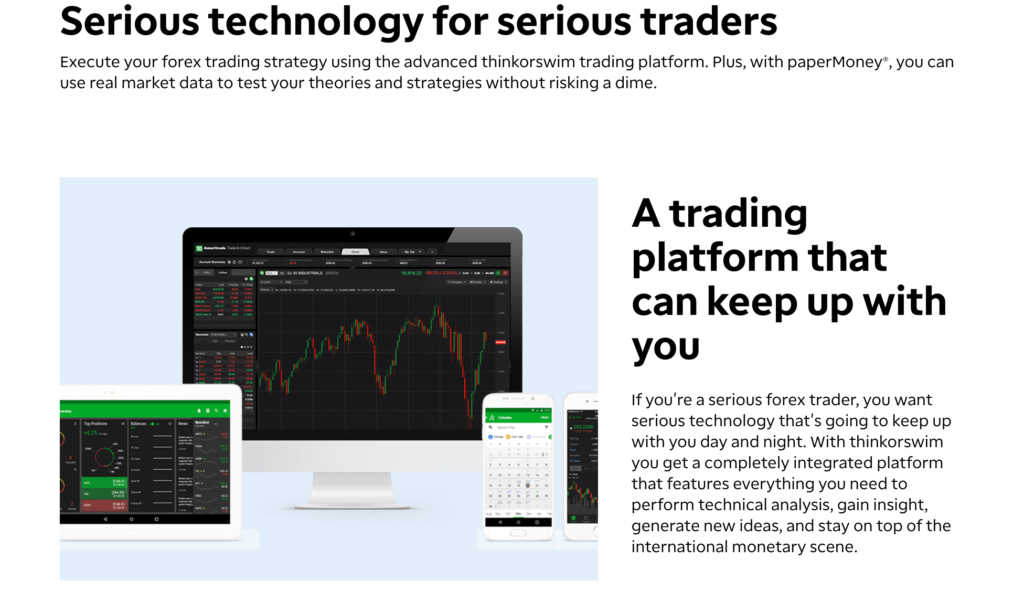 You have a range of options when it comes to forex trading through TD Ameritrade's Thinkorswim desktop trading platform. This includes more than 70 currency pairs. Foreign exchange currency pairs are traded in increments of 10,000 units on a commission-free basis. But, the trade fee is represented in the bid/ask spread.
Funds and bonds
There are plenty of mutual funds available at TD Ameritrade and Charles Schwab. You have access to mutual funds from the top fund providers, including Vanguard and BlackRock, in addition to small-scale mutual fund providers.
Both trading platforms have tens of thousands of corporate and government bonds available.
Futures
TD Ameritrade and Charles Schwab account owners have access to a range of investments when trading futures. These include but are not limited to gold and other precious metals, stock indexes, livestock, and interest rates.
At TD Ameritrade you can trade futures and futures options for a $2.25 fee per contract. Whereas at Charles Schwab you can trade futures and futures options for $1.50 per contract.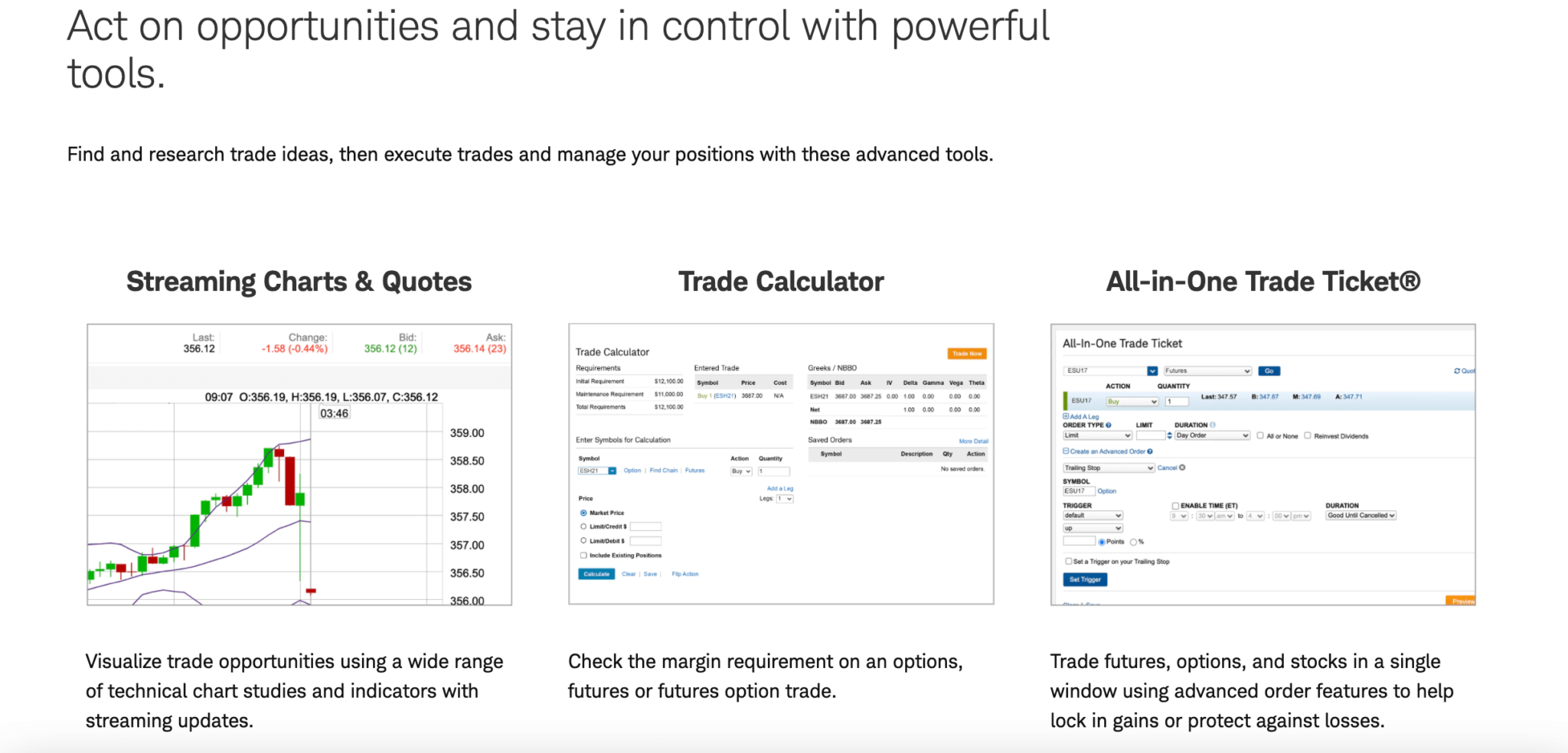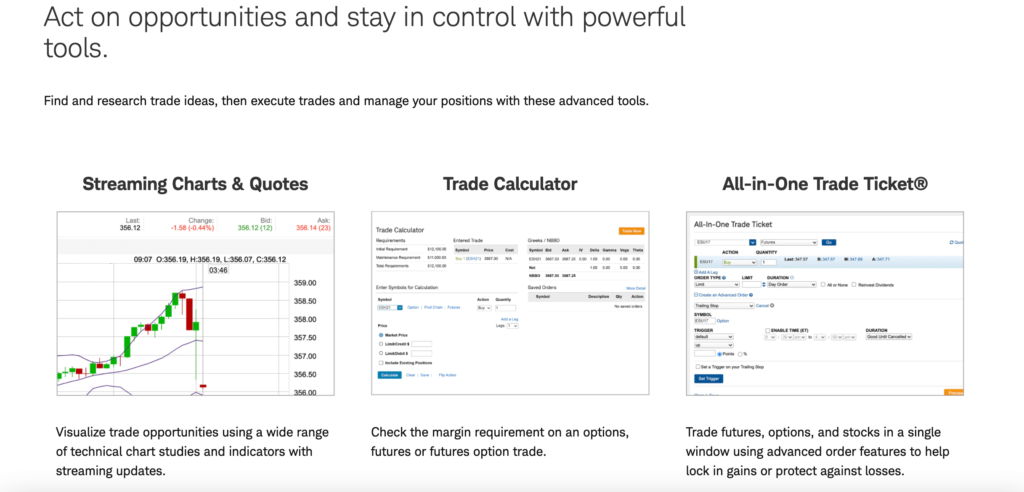 TD Ameritrade offers social trading through its desktop trading platform Thinkorswim. Simply click on the tools tab in the menu and create a public profile so that you can follow existing traders, interact with them via social media-style chat rooms, and share your trading experiences.
This is good for beginner investors who are looking for new trading ideas. You can also copy like for other traders' strategies. Making your copied trade is simple and easy and can be made at the click of a button.
Managed portfolios
If you want help to manage your investments then TD Ameritrade provides three different managed portfolios. These include:
Essential Portfolios
Selective Portfolios
Personalized Portfolios
TD Ameritrade's essential portfolio is a robo-advisory managed portfolio. To begin, you will be asked to fill out a few questions regarding your investment objectives, risk tolerance, and other key information. Depending on how you answer, you can pick from a range of ETF-managed portfolios. There is an account minimum of $500 to open an Essential Portfolio.
Charles Schwab's Intelligent Portfolios is a robo-advisory service. This is perfect for traders who require help in the form of robo-advisory services to manage their investments.
To start, you will need to give information regarding investment objectives, risk tolerance, and more. Depending on how you answer these questions a robo-advisory portfolio is set up that is tailored to your specific trade needs. Despite operating on a zero-commission basis there is a minimum deposit requirement of $5,000.
TD Ameritrade vs Charles Schwab Account Types 
Our Charles Schwab vs TD Ameritrade review discovered that both trading platforms provide multiple account types to choose from.
Let's start with TD Ameritrade.
TD Ameritrade Accounts
TD Ameritrade offers the following accounts:
Standard
Retirement (Rollover IRA, Roth IRA accounts, SEP IRA, etc.)
Education
Specialty
Managed Portfolios
The most popular TD Ameritrade trading account is a Standard account as it offers an exhaustive and huge range of investment instruments. Investors have access to bonds, ETFs, mutual funds, stocks, futures, forex, CDs, and options trading.
Charles Schwab accounts
Charles Schwab offers the following accounts:
Brokerage Account
Retirement (Roth IRA, Traditional IRA, and Rollover IRA)
Automated & Managed Portfolios (Schwab Intelligent Portfolios®, Schwab Intelligent Portfolios Premium™)
Estate & Charitable Planning (Trust Account, Schwab Charitable)
Banking (Schwab Bank High Yield Investor Checking® Account linked to Brokerage Account)
The main benefits of a Charles Schwab brokerage account include free digital equity trading. Once you open a brokerage account you have access to a variety of tradable assets from stocks, options, and bonds, to ETFs and much more. In addition, there are no account minimums and no non-trading fees.
TD Ameritrade vs Charles Schwab Fees & Commissions
TD Ameritrade and Charles Schwab both offer free trading of stocks and ETFs (Exchange-traded funds), in addition to low costs for some mutual funds, bonds, and in the case of TD Ameritrade low forex fees.
Trading and non-trading fees are important metrics to consider when choosing a broker that's right for you. So, continue reading this TD Ameritrade vs Charles Schwab review to find out everything you need to know about those all-important fees and commissions.
| | | | | | | | |
| --- | --- | --- | --- | --- | --- | --- | --- |
| | Commission (US stocks) | Mutual fund (per purchase) | Inactivity fee | USD margin rate | Deposit fee | Withdrawal fee | Account fee |
| TD Ameritrade | $0 | $49.99 | No | 9.5% | $0 | $0 | No |
| Charles Schwab | $0 | Up to $49.95 | No | 8.3% | $0 | $0 | No |
Both brokers have low non-trading fees including zero inactivity fees, account fees, deposit fees, withdrawal fees, and annual fees. Furthermore, from 2019 most trading platforms including the two brokers in question scrapped commission for stock and ETF trades. Now both brokers offer stock and ETF trading on a commission-free basis, while TD Ameritrade also offers low forex trading fees which sets it apart from Charles Schwab.
On the whole, both stockbrokers offer low-cost ways to trade financial instruments from the comfort of your own home. But, it depends on your trading preferences and if you're a keen forex trader, whether you pick TD Ameritrade or Charles Schwab as your provider.
Fund fees
Our TD Ameritrade vs Charles Schwab comparison found that overall they both charge quite high fees for a number of funds. But, these two trading platforms do provide a fair amount of free funds.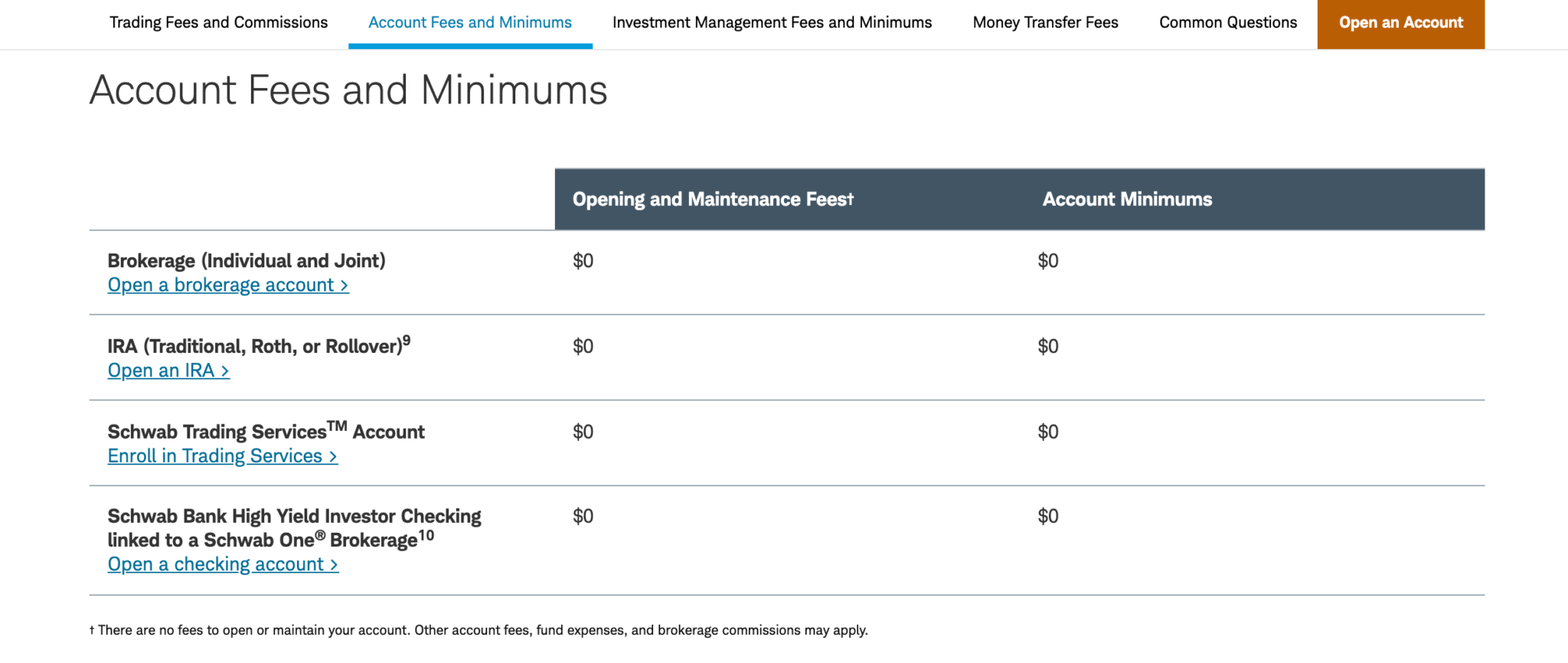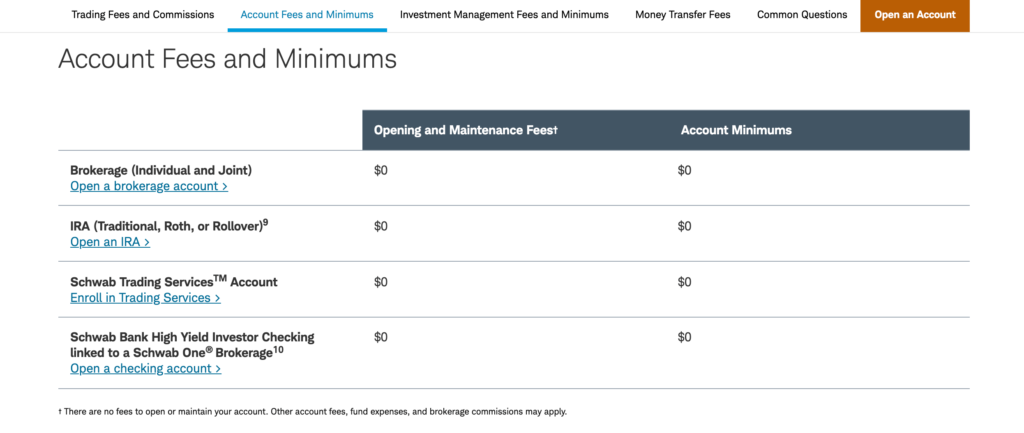 TD Ameritrade includes a $49.99 fee for mutual funds per transaction. TD Ameritrade offers a sum of around 13,000 funds, with approximately 4,000 of those being free-to-trade mutual funds. Even so, if traders sell these free mutual funds within 6 months after the transaction was made, a $49.99 sale fee will be incurred.
Charles Schwab's mutual fund fees are high with the exception of roughly 4,000 free funds. This covers about 40% of the approximate 10,000 fund selection the broker has on offer. The transaction fee is $49.95 while there is a zero-redemption charge. Nonetheless, if you trade these funds within 3 months of purchase, you will incur a $49.95 fee.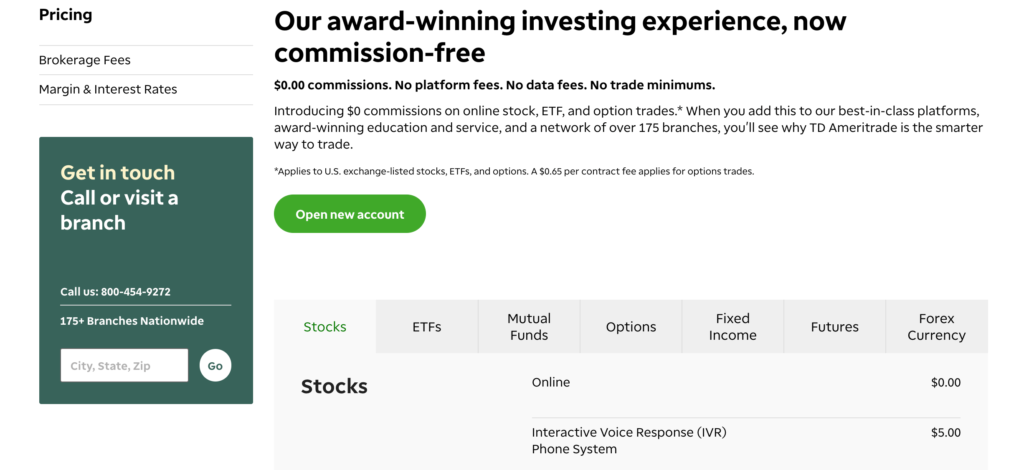 TD Ameritrade and Charles Schwab have low non-trading fees. There are no withdrawal fees if you use ACH transfers, inactivity fees or deposit fees.
Investment Management Fees and Account Minimums 
Charles Schwab offers four different managed portfolios and their fees and account minimums are as follows:
Schwab Intelligent Portfolios – Zero advisory fee and Zero commissions. There is a $5,000 account minimum for this managed portfolio.
Schwab Intelligent Portfolios Premium – $300 fee for one-time planning and a $30 monthly advisory fee. There is a $25,000 account minimum for this managed portfolio.
Schwab Private Client – Advisory fees start from 0.80% and the account minimum is $1 million.
Schwab Advisor Network – Zero fees for referrals with advisory fees depending on the advisor's discretion. The account minimum is $500,000.
TD Ameritrade Investment Management, LLC, offers:
Selective portfolios with a minimum investment of $25,000 and a 0.75%-0.90% advisory fee for the first $100,000 depending on the type of managed portfolio and investment total.
Personalised portfolios with a minimum investment of $250,000 and a 0.60%-0.90% depending on the type of portfolio and investment total.
TD Ameritrade vs Charles Schwab User Experience   
Both brokers offer user-friendly and easy-to-use web and desktop trading platforms as well as mobile trading apps. But, in terms of tailoring the platforms to suit your preferences, the TD Ameritrade and Charles Schwab trading platforms are not customizable.
If you're a trader on the lookout for an easy way to place stock, ETF, fund, bond, and options trades then Schwab.com is the platform for you. It is easy to use and features a simple design and layout. This is designed with beginner traders in mind as it is very user-friendly with a ton of educational resources.
The TD Ameritrade web trading platform is perfect for trading execution and research on investment instruments, such as Exchange-traded funds (ETFs) and stocks.
On the other hand, for the more advanced trader looking to trade complex tradable assets like futures, TD Ameritrade's desktop trading platform, Thinkorswim, may be the best option. This desktop trading platform provides heaps of tradable assets including forex and futures and has featured plenty of useful fundamental analysis tools.
Both web trading platforms are user-friendly, have simple layouts, and for beginner traders navigating your way around is a breeze. Everything you need to know such as managed portfolio pricing, what each broker has to offer is easy to find and understand.  On the flip side, they are not customizable whatsoever.
With plenty of TD Ameritrade and Charles Schwab account types to choose from, there is plenty of educational information to help both beginner and experienced traders make the right choice. When it comes to actually open an account and depositing cash these are simple and easy processes too. In terms of locating and researching a tradable asset, the search functionalities are great.
TD Ameritrade vs Charles Schwab Mobile App
The investment industry has witnessed a dramatic surge in the popularity of mobile trading platforms and the services they offer. We all have busy lives and having the ability to trade wherever we are is key.
TD Ameritrade provides a couple of mobile trading platforms, each designed with either beginner or seasoned traders in mind. It doesn't matter what your investment objectives are TD Ameritrade has you covered. The two mobile trading apps are TD Ameritrade Mobile and ThinkorSwim TD Ameritrade Mobile Trader. These mobile trading apps can be used on Apple Watch devices, which is unique for the market.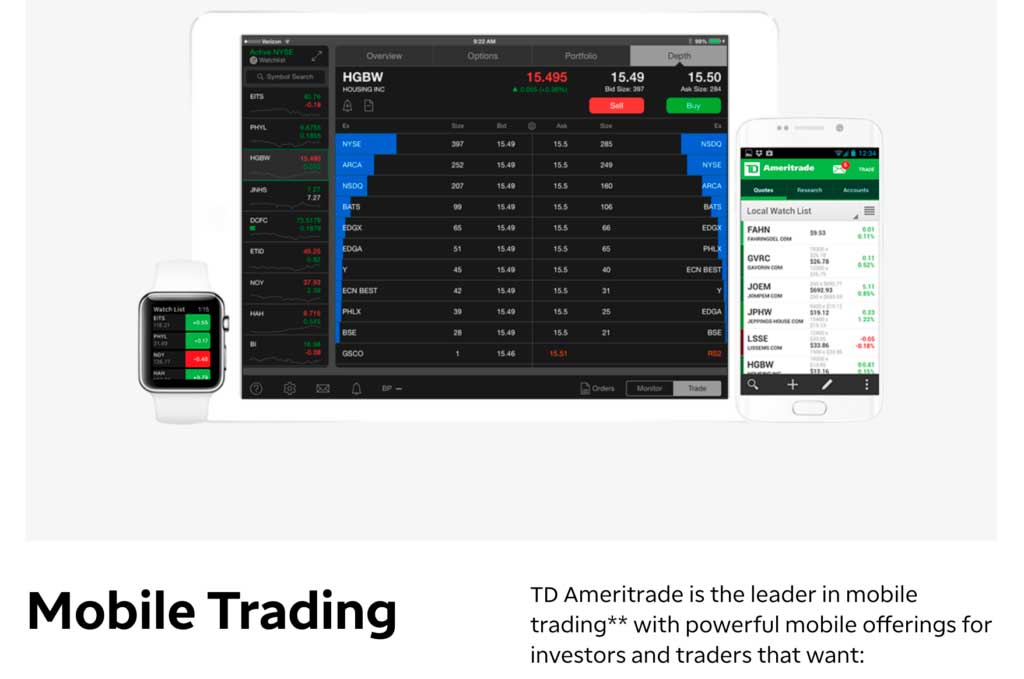 There are some fundamental differences between the two mobile apps. Firstly, Thinkorswim offers forex and futures trading while TD Ameritrade mobile does not. Secondly, there is a demo account available with Thinkorswim which is best suited for newbies who want to undertake a risk-free introduction to trading.
TD Ameritrade's mobile trading apps are available on Apple and Android devices and feature a two-step authentication login process. The trading apps are very user-friendly and you can easily set trade notifications and alerts.
Placing orders such as market and stop-limit orders is simple and can be placed at the click of a button.
Charles Schwab's mobile trading platform app is very user-friendly and available on iOS and Android devices. In terms of functionality and layout, it is practically identical to the web trading platform. It offers plenty of order types such as market orders, search functionality is great, and has one-step and two-step login authentication for extra security.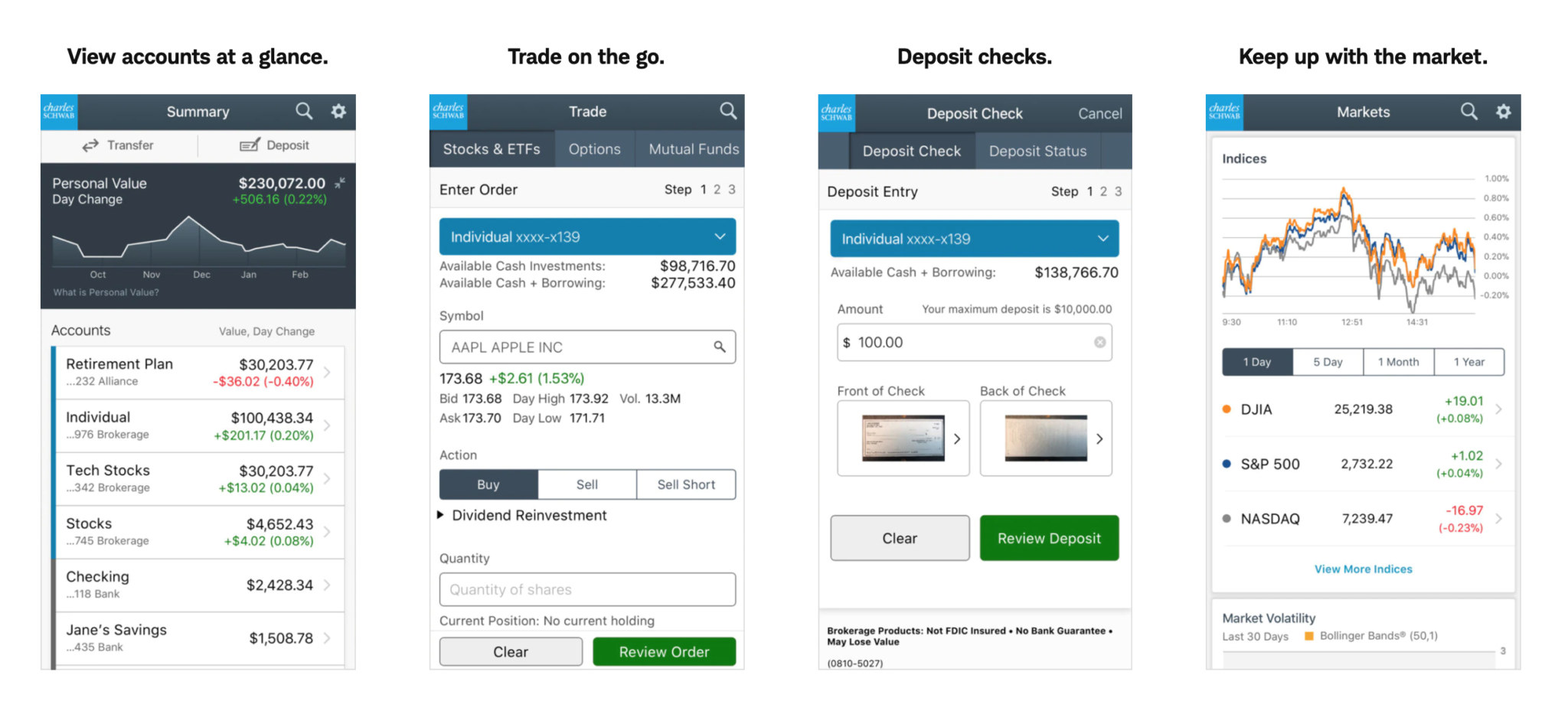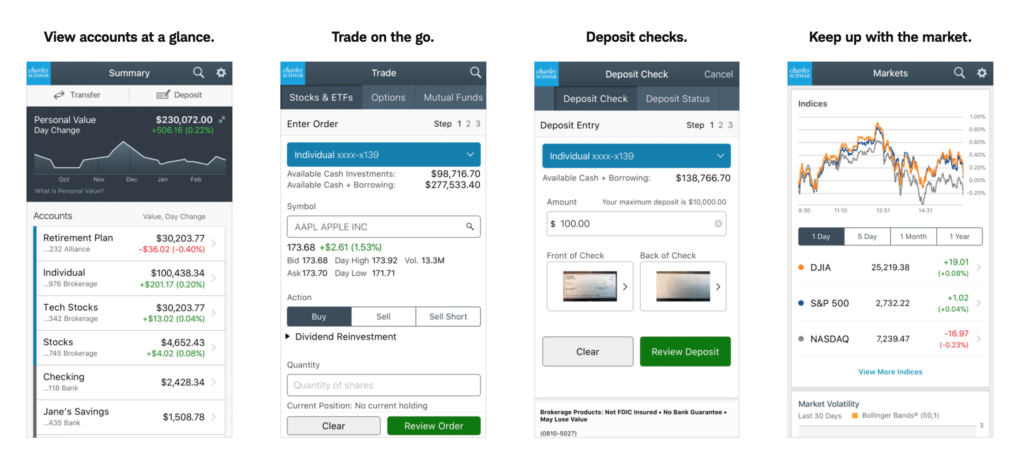 During our TD Ameritrade and Charles Schwab comparison, we found that the Charles Schwab mobile trading app does not allow you to set alerts or notifications. This is something that you should consider if you want push notifications in real-time on your mobile device or not.
TD Ameritrade vs Charles Schwab Trading Tools, Education, Research & Analysis
TD Ameritrade and Charles Schwab both offer great trading ideas and research tools, alongside heaps of fundamental analysis and education material.
In terms of trading ideas, both brokers offer trading ideas for ETFs and stocks. However, TD Ameritrade also offers trading ideas for other financial instruments including fixed income instruments and futures. Something worth mentioning is that some trading ideas are sourced from third-party providers such as CFRA (one of the planet's biggest independent investment research companies), Morningstar, and Thomson Reuters.
When it comes to stock trading ideas with Charles Schwab these can be located under the ratings and reports tabs in the menu bar. These give detailed insights into buying, selling and holding stocks.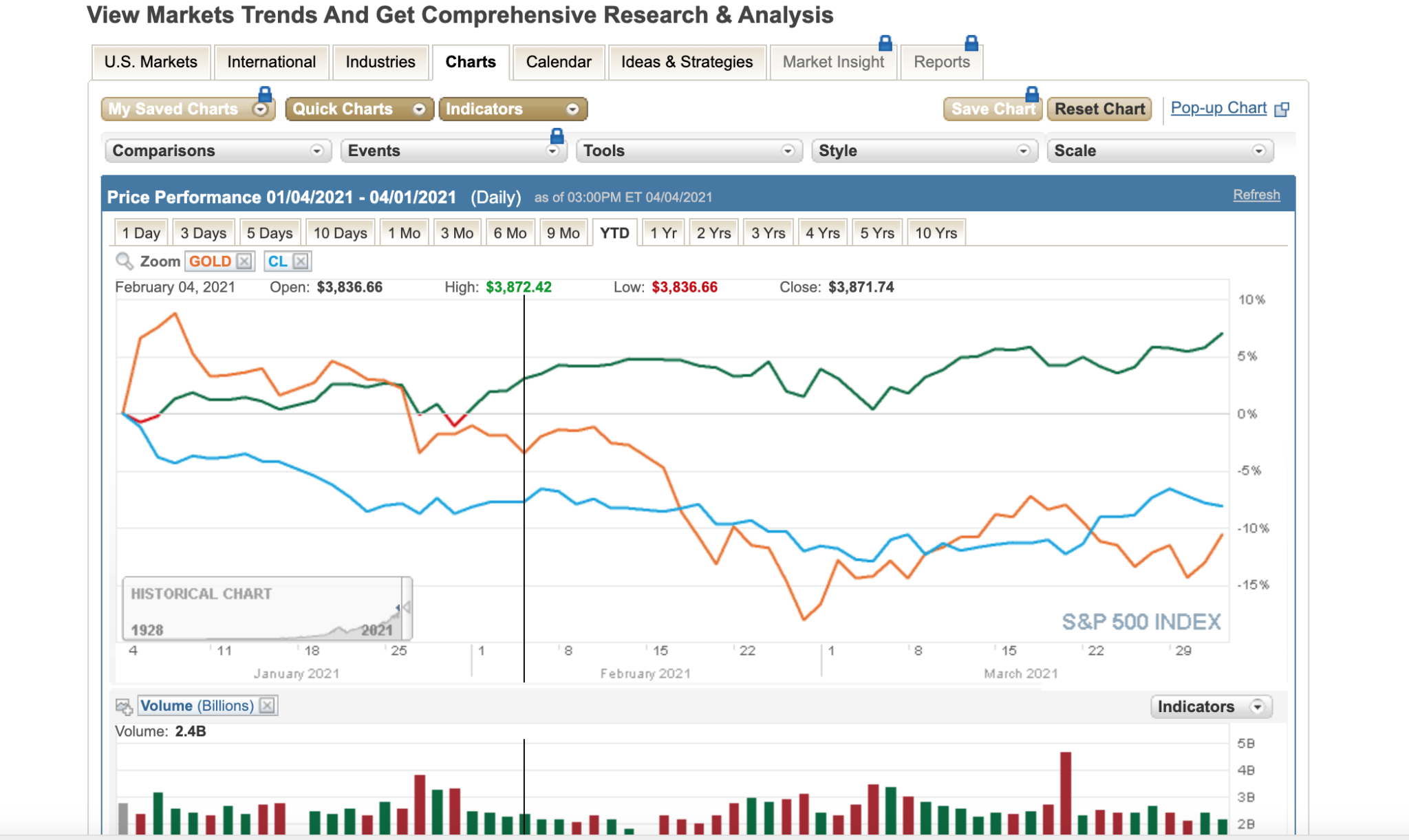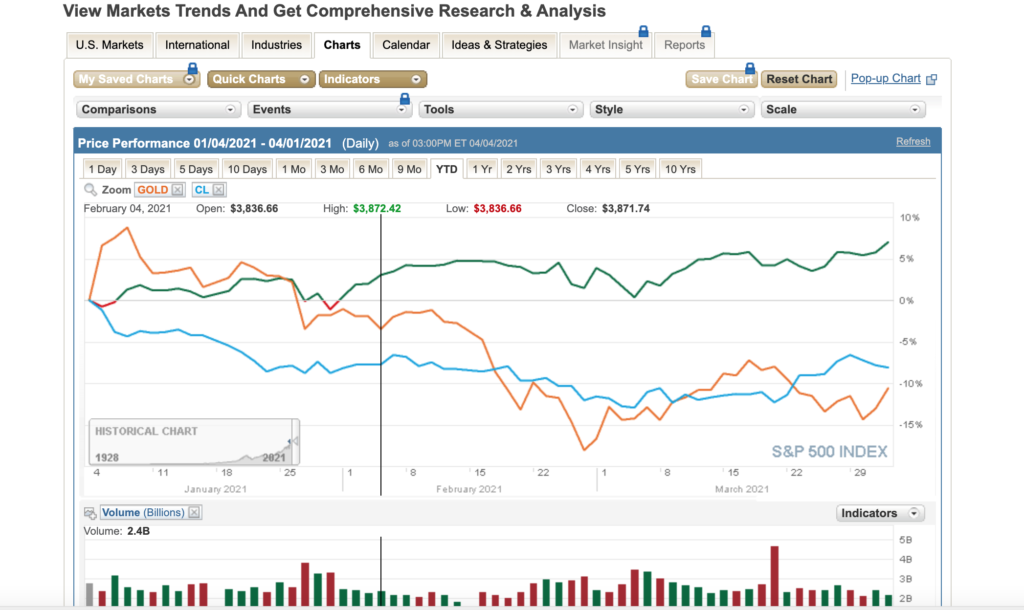 So, let's address the topic of fundamental analysis now. With Charles Schwab, there is a huge variety of fundamental analyses on everything from no-transaction-fee mutual funds to stocks. This includes features such as dividend calendars, previous financial statements, and more.
TD Ameritrade on the other hand predominantly offers fundamental analysis on stocks. , TD Ameritrade's Stocks Overview resource is suited to your positions. Stock overview helps traders pinpoint trending stocks and highlight prospective trade ideas. TD Ameritrade traders use it to monitor the day's trading high and low points and market movements. If this wasn't enough, you can also stay in the loop with top trending financial and trading news on social platforms and credible news outlets.
Charles Schwab and TD Ameritrade have great charting tools, with charts that can be edited simply with the click of a button. There are 56 technical indicators available with Charles Schwab, whereas with TD Ameritrade there are a whopping 400 technical indicators. So, if you are a more advanced and experienced trader who is looking for a broker that offers a huge array of charting tools TD Ameritrade would be the way to go.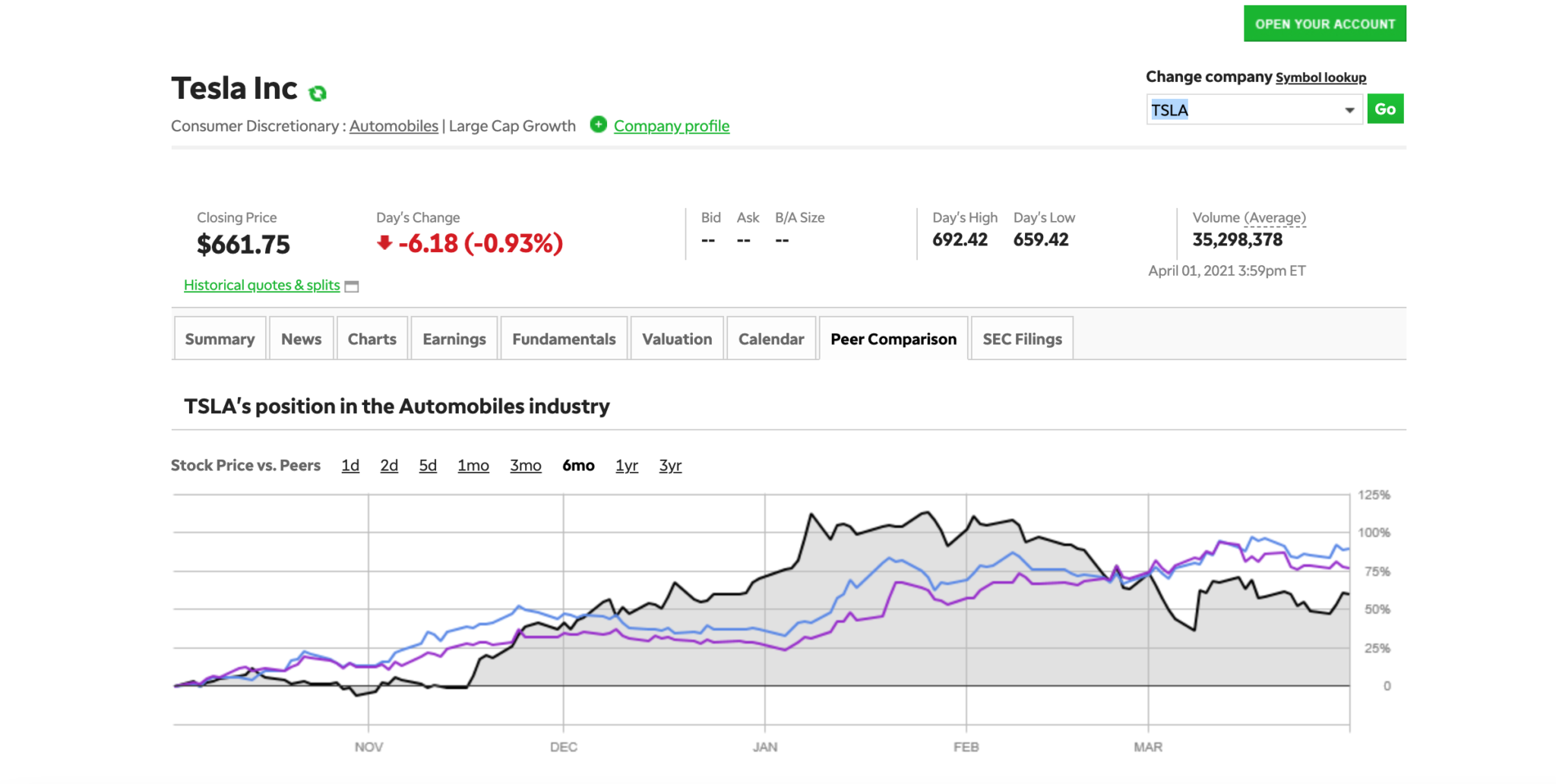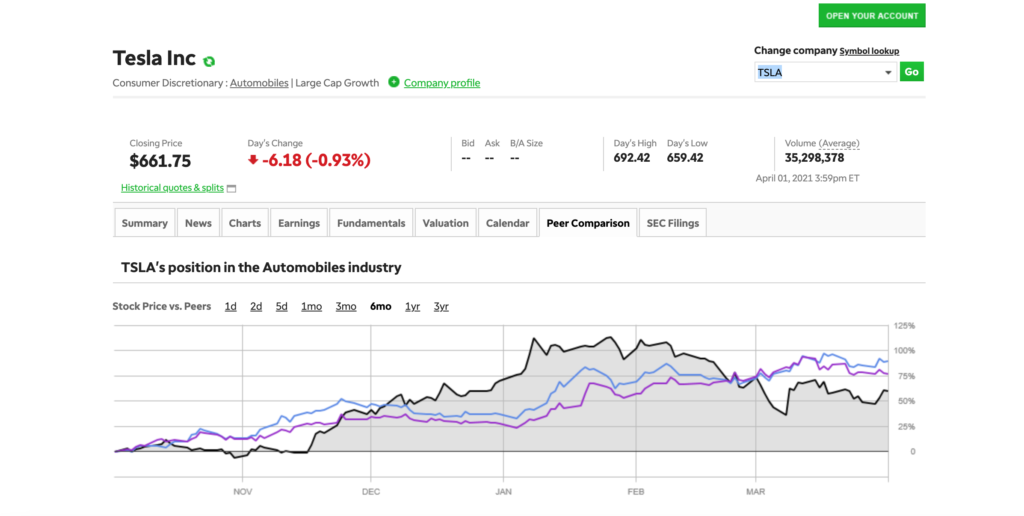 Now let's move on to the topic of screeners. But first, what exactly are screeners? Screeners are research tools used in the trading world that give users the ability to filter through heaps of tradable instruments to locate the ones that suit their trading objectives and risk tolerance. You can set stock screeners notifications that alert you to buying and selling signals.
There are great screeners available for stocks, ETFs, mutual funds, and more. You can search all stocks and tailor your screener with a range of different criteria from Bollinger bands to return on equity.
TD Ameritrade vs Charles Schwab Demo Account
Demo accounts or paper trading platforms are perfect for beginner traders who want to experience the world of online trading without the associated risks of losing capital. This TD Ameritrade vs Charles Schwab comparison concluded that the latter does not offer a demo account at all, which would make it better suited for advanced traders and investors who know what they are looking for and already have some experience with online trading.
Having said this Charles Schwab does provide educational tutorial video content as well as webinars and informative articles.
TD Ameritrade however does offer a paper trading account, webinars, and educational material. We really recommend the broker's demo account otherwise known as paperMoney.
This demo account is operated via the Thinkorswim desktop trading platform, and provides heaps of top-rated trading and charting features, giving you the opportunity to trial trading positions without risking your own money. A TD Ameritrade paperMoney account gives traders access to complex assets such as futures. All demo accounts start with a $100,000 deposit of virtual or paper money.
TD Ameritrade vs Charles Schwab Payments
At TD Ameritrade and Charles Schwab, the base currency is USD. This means that if you have another account with a currency other than the US dollar you will incur a conversion fee.
An effective solution to conversion charges is by opening a bank account with a digital bank that supports multiple base currencies. Digital banks typically offer multiple base currencies with good exchange rates in addition to free or low-cost bank transfers.
TD Ameritrade and Charles Schwab do not charge a deposit fee. In terms of available deposit options, US traders can use ACH and wire transfers as well as checks. On the flip side, credit cards, debit cards, and e-wallets such as Paypal or Skrill are not available to deposit methods.
ACH transfers take between one and two business days to process and you can only use accounts that are in your name to deposit funds. At TD Ameritrade there is a minimum deposit of $50.
TD Ameritrade and Charles Schwab usually charge zero withdrawal fees. However, wire transfers to deposit funds come with a $25 fee.
| | | | | |
| --- | --- | --- | --- | --- |
| | Minimum Deposit for US clients | Deposit Fee | ACH Transfer Processing Time | Withdrawal Fee |
| TD Ameritrade | $0 | $0 | 1-2 days | $0 |
| Charles Schwab | $0 | $0 | 1-2 days | $0 |
Customer Service
When it comes to customer support there is one element that separates TD Ameritrade from Charles Schwab. The latter does not offer email as a means of communication with its customer service. Other than that, both brokers offer 24/7 customer service support via telephone, live chat, and email (TD Ameritrade only).
Customer support is available in English, Chinese, and Spanish for TD Ameritrade clients and only in English for Charles Schwab traders.
The live chat services are also very good. The answers are fast and to the point. There are also relevant FAQ pages that have useful information on a range of different topics.
Safety & Regulation
When it comes to safety and regulation, our TD Ameritrade vs Charles Schwab review came to the conclusion that both US-based trading platforms are regulated by top-level financial organizations including FINRA, the SEC (Securities and Exchange Commission), the CFTC (the Commodity Futures Trading Commission), the MAS (the Monetary Authority of Singapore), the Hong Kong Securities and Futures Commission (SFC), and in the case of Charles Schwab the UK's FCA or Financial Conduct Authority.
What about client funds protection? TD Ameritrade and Charles Schwab traders are insured by the US SIPC or investor protection scheme. The SIPC investor protection scheme covers cash and security losses in the event that the broker liquidates. The US investor protection scheme covers a limit of $500,000 and $250,000 for cash.
TD Ameritrade and Charles Schwab do not offer negative balance protection. But why is negative balance protection? Negative balance protection means that traders cannot lose a greater amount than their account balance. Basically, with negative balance protection, you won't end up owing the broker capital.
For example, if you deposited $1,000 to your trading account and entered a CFD trade with a 10:1 leverage, you would have a position of $10,000. Then if market volatility causes your position to drop by a quarter, you would end up incurring a 250% loss as a result of the leverage. This equates to a $2,500 loss.  Your $1,000 deposit would not cover the loss and you would be in a $1,500 debt. This is where negative balance protection plays its role.
TD Ameritrade vs Charles Schwab vs eToro
This TD Ameritrade vs Charles Schwab review found that both brokers are similar but in terms of tradable assets, customer support, demo accounts, TD Ameritrade takes the lead.
Having said this, both offer:
Commission-free trading on stocks and ETFs
A user-friendly experience
Free deposits and withdrawals
Live Chat features
SEC and FINRA regulation and SIPC investor protection
However, we would recommend taking a different point of view and instead examine a third possibility – eToro. After all, eToro – which is now home to more than 20 million traders of all experience levels, stands out from the thousands of available brokers.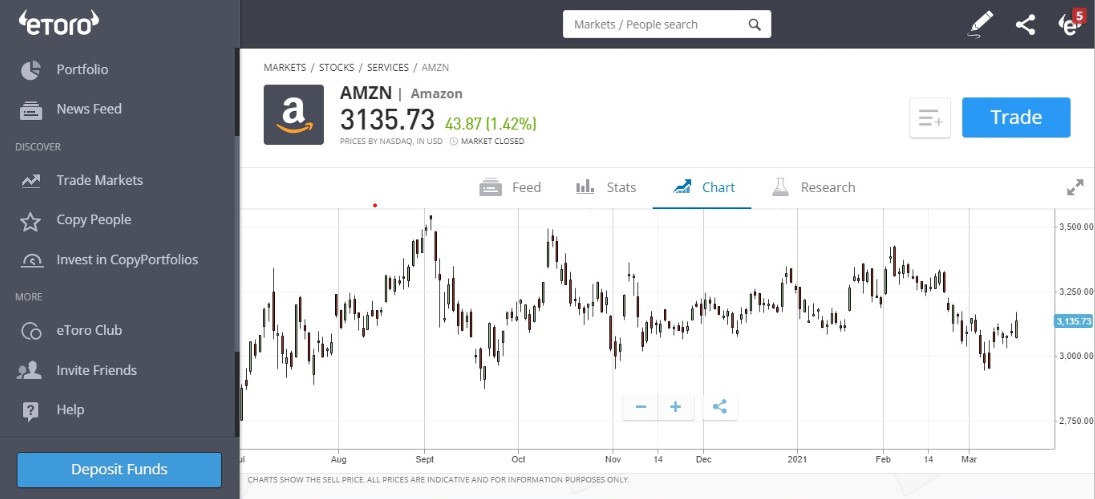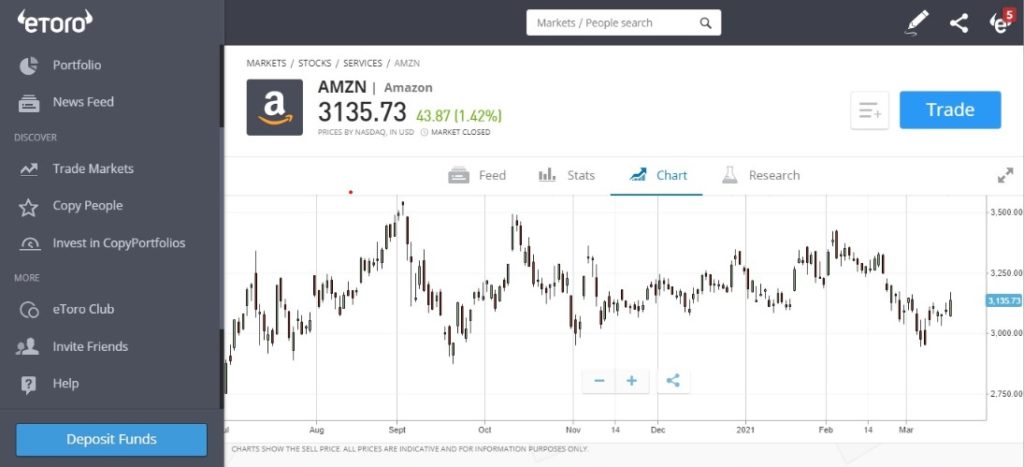 So far in this TD Ameritrade vs Charles Schwab review, we have found that in terms of payment options both brokers are limited. eToro, on the other hand, makes the deposit and withdrawal process a simple and easy action. This is because the social trading platform provides a full range of payment methods. This includes debit cards and credit cards, bank transfers, and even e-wallets like Paypal and Skrill.
Another important feature is that of paper trading platforms. That is to say, eToro users can access all financial markets through a single demo account with a default initial amount of $100,000 in paper funds.
| | | | | | |
| --- | --- | --- | --- | --- | --- |
| | Dealing Fee | CFD Commission | Inactivity Fee | Platform Fee | Stamp Duty Tax |
| eToro | FREE | 0% | $10 per month after 1 year | $0 | $0 |
The Verdict
After conducting this TD Ameritrade vs Charles Schwab comparison it is fair to say that TD Ameritrade is the better option for both beginner and advanced traders. Not only is TD Ameritrade a forex trading platform but it provides its Thinkorswim desktop trading platform with paper trading to help new investors learn the ins and outs of online trading without the added risk of losing real money.
However, we also concluded that eToro comes out in the top spot when it comes to its Copy Trading feature. This enables traders and investors to automate their trading strategies by copying another trader of their choosing. Finally, we also like the fact that eToro allows you to invest in 16 cryptocurrencies, which isn't possible at TD Ameritrade and Charles Schwab.
If this wasn't enough, eToro is also a top-rated CFD trading platform to consider if you are just stepping into the trading scene. The FCA, ASIC, and CySEC regulated broker was built with beginners in mind – simply put, eToro has all the features anyone would need to get the best start to a trading journey. The minimum investment begins from just $25 – which is great for traders looking for low costs and fees.
eToro – Best CFD Trading Platform with 0% Commission to Trade Stocks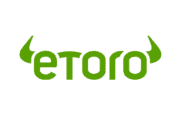 Your capital is at risk. Other fees apply. For more information, visit etoro.com/trading/fees.
FAQs
How do I withdraw money from a TD Ameritrade account?
Who bought TD Ameritrade?
How do you short a stock on TD Ameritrade?
Which is better, Charles Schwab or TD Ameritrade?