The decentralized finance market's popularity with crypto investors has grown over the past years – attracting worldwide interest. To put it simply, DeFi was designed to level out the existing economic playing field by revolutionizing the financial system as we know it. 
Here at Trading Platforms, we explore 5 of the best DeFi coins in the market so that you will know which ones to keep an eye on.   
Top 5 Best DeFi Coins 2021
Uniswap (UNI)

Chainlink (LINK)

DAI (DAI)

Compound (COMP)

0x (ZRX)
Uniswap 
Uniswap is a top DeFi cryptocurrency exchange that runs on the ERC20 DeFi token and uses an innovative trading model known as an automated liquidity protocol. Developed in 2018, the Uniswap platform is built on the Ether blockchain technology, thus making it compatible with every ERC20 DeFi token and crypto wallet service out there.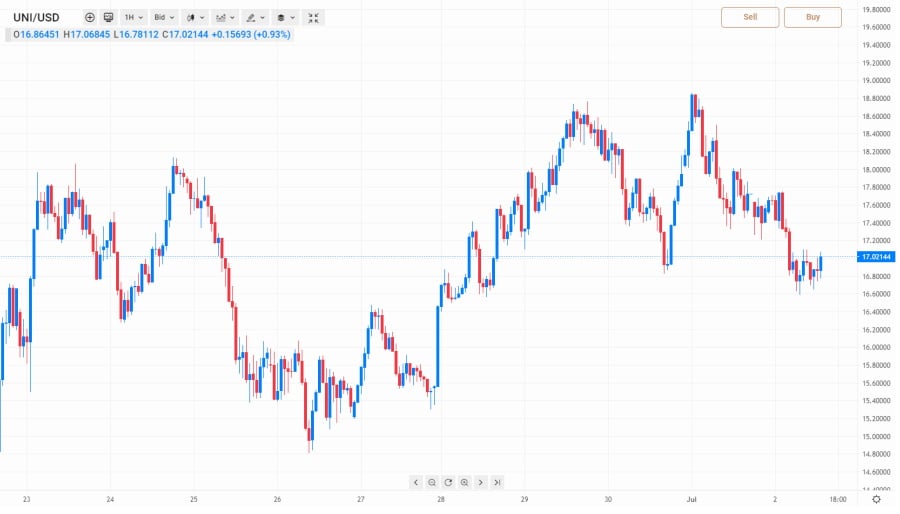 Uniswap runs on 100% open-source software, this means that you can copy the code and come up with your own DeFi crypto coins and tokens. Furthermore, this decentralized crypto exchange allows crypto enthusiasts to list tokens on the platform without a charge. 
Uniswap's DeFi token (UNI) is a native token. This means that users gain the right to vote on key developments from fee structures to how the tokens are distributed. Uniswap shows tons of potential with a live market price of $17.36 and a $326,514,063 24-hour trading volume. 
 76.25% of retail investor accounts lose money when trading spread bets and/or CFDs with this provider.
Chainlink  
Chainlink is one of the leading DeFi oracle networks that facilitate the merging of off-chain data into smart contracts. The current supply of LINK tokens stands at the 419 million mark or approximately 41% of the entire supply.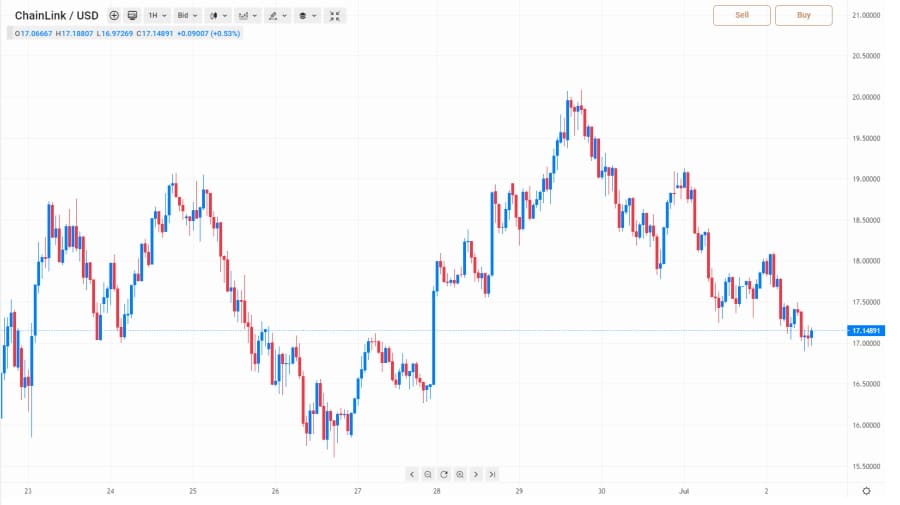 Launched in 2019, Chainlink has expanded significantly thanks to the growing demand and interest in decentralized platforms. Chainlink has started to fund other crypto initiatives that can boost the Chainlink ecosystem's value. 
In terms of the fundamentals, with a 24-hour trading volume of $716,769,258 at the time of writing and a current price of $17.42 many crypto enthusiasts forecast an upward trajectory for this DeFi token. Chainlink has plans to widen the functionality of its DeFi platform, which means that LINK could offer more flexibility for DeFi developers. With this in mind, LINK is one of the best DeFi tokens to buy in July 2021.
 76.25% of retail investor accounts lose money when trading spread bets and/or CFDs with this provider.
DAI 
Developed by the MakerDAO and Maker Protocol, DAI is a stablecoin based on the Ethereum blockchain and is soft-pegged to the USD fiat currency. With that said, DAI is the first DeFi crypto of its kind.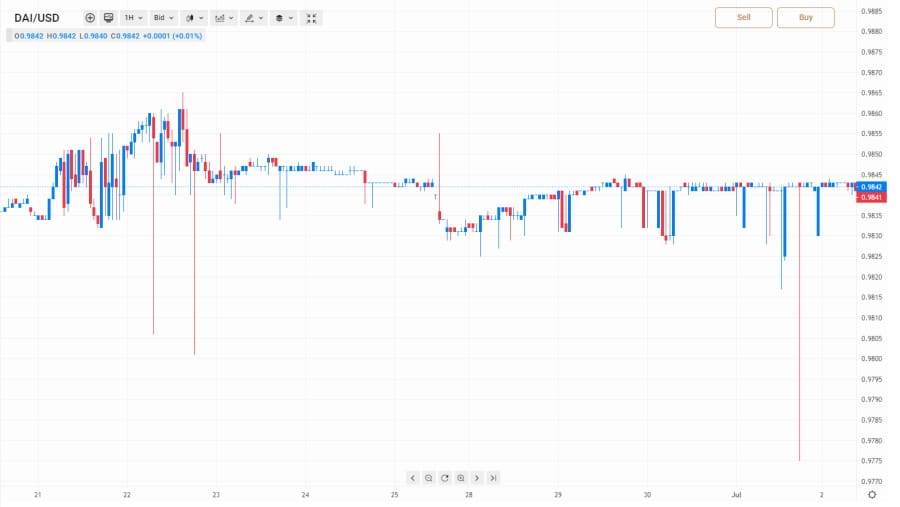 One of the key benefits of DAI is that it is soft-pegged to the value of the US dollar. The cryptocurrency market is one with the highest volatility out there, with DeFi coins with the highest liquidity such as the popular cryptocurrency Bitcoin (BTC) occasionally facing price movements with increments of 10% or greater within 24 hours. In these scenarios, investors turn to safe-haven assets with stable prices to help counterbalance huge price movements in the crypto markets. 
DAI is a prime example of a safe-haven DeFi coin as its value is pegged to that of the USD. At the time of this review, DAI has a 24-hour trading volume of $330,828,126 and a market cap of $5,409,391,509. So, for one of the best DeFi coins in July 2021, we would stick with DAI.  
 76.25% of retail investor accounts lose money when trading spread bets and/or CFDs with this provider.
Compound 
Compound, a DeFi lending platform, provides users with the ability to earn interest on their digital assets by storing them in one of many supported liquidity pools. Users gain cTokens in exchange for depositing cryptos to a Compound pool.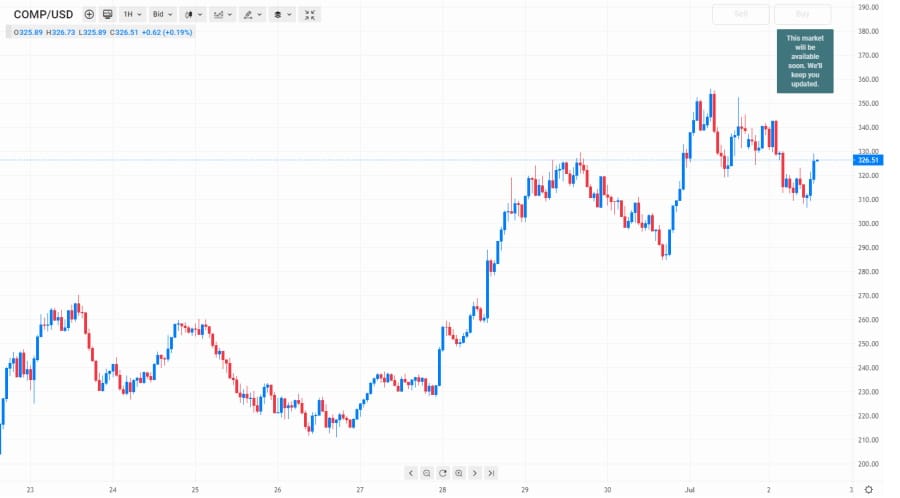 One of the most prominent selling points of Compound is that it allows users who deposit supported Ethereum tokens to earn interest. Holders of the DeFi token COMP have the right to suggest changes to the lending protocol as well as voting on how to distribute COMP tokens. 
Compound has been gaining a lot of attention in the DeFi market, with its DeFi coin (COMP) showing a fully diluted market cap of $3,098,924,460.71. With an all-time high price of $911.20 recorded on May 12, 2021, analysts expect Compound's price to continue rising over the long haul. 
Your capital is at risk. Other fees apply. For more information, visit etoro.com/trading/fees.
0x 
0x is a DeFi protocol that supports the P2P (peer-to-peer) exchange of ERC20 DeFi tokens and additional digital currencies on the Ethereum blockchain. This infrastructure protocol makes it easy for users to trade ERC20 tokens without having to depend on traditional cryptocurrency exchanges.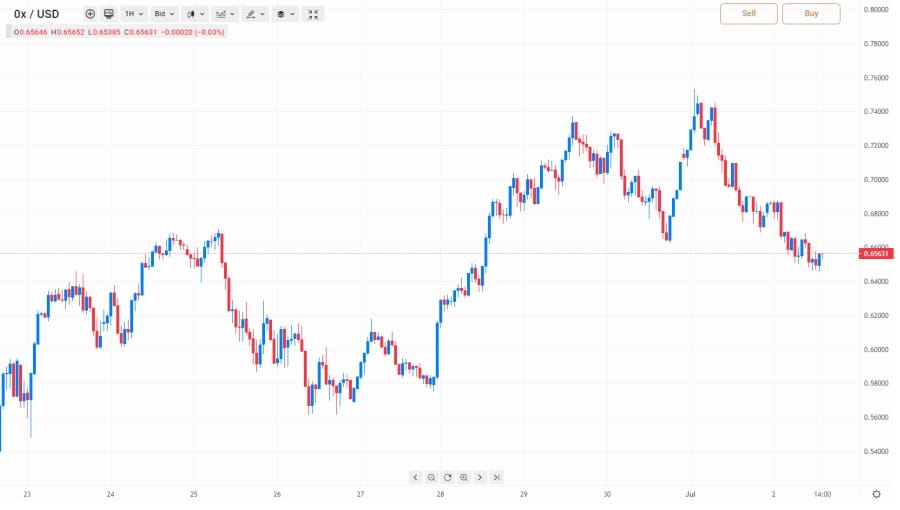 0x provides this decentralized exchange service by using a group of open-source smart contracts that integrate to create a streamlined trading protocol that is flexible enough for developers to implement into their products. 
0x stands out from the vast majority of Ethereum decentralized exchange protocols because it supports both non-fungible (NFTs) and fungible DeFi tokens (ERC723 and ERC20). In other words, ZRX tokens can be used for permissionless trading such as e-commerce marketplaces for online goods and services. 
Since an all-time low of $0.104 in 2017, the price of 0x has risen by a whopping 535.97% with record highs of $2.53 in 2018. The DeFi token known as ZRX has a current market cap of $558,904,364.01. If you're interested in buying this DeFi token, we recommend the fully regulated broker eToro. 
 

Your capital is at risk. Other fees apply. For more information, visit etoro.com/trading/fees.
The Bottom Line
DeFi tokens and coins are attracting a lot of attention and investments from traders and crypto enthusiasts from all over the world. Investing early allows you to capitalize on potential growth, and the DeFi industry is headed for exponential growth. 
We are at a pivotal point in history where a new digital and decentralized financial system is slowly uprooting the existing traditions. With that in mind, consider the 5 best DeFi coins and tokens from our list and start trading with a trusted broker such as eToro today. 
 

Your capital is at risk. Other fees apply. For more information, visit etoro.com/trading/fees.