Plus500 Review Australia – Pros & Cons
Fact Title
fact tooltip may be found in theme options under general.
If you're looking for a reliable, innovative, and simple multi-asset CFD trading platform, then the Plus500 broker is a great option. Announcing itself as Australia's best mobile CFD platform, the company is a rapidly growing trading provider in Europe and Asia with over 2000 instruments under its belt.
In this Plus500 review, we'll go through the key features and aspects of the Plus500 broker along with analyses of its web platform, fees, commissions, financial instruments, and more.
What is Plus500 Australia?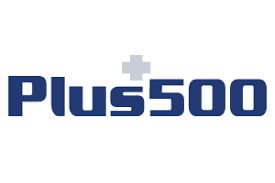 Plus500 started way back in 2008, launching as a PC-based online trading platform. As we found in our Plus500 review Australia, it envisioned itself to be the best CFD trading provider through technological innovations. They plan on acquiring new customers, increasing the trading volume of their current customers, and continue growing through research and development.
From our Plus500 broker review, we found that Plus500 values trading with transparency among many other characteristics of its platform. The broker does not charge its clients commissions and simply earns through the difference of the bid and ask prices from traders.
It's important to highlight the contract for difference (CFD) trading that is the sole trading method in Plus 500. Our review of Plus500 found that CFDs have certain advantages such as leveraged positions, lower costs, and less exposure. However, some caveats such as not being able to own the underlying asset traded exist with CFDs.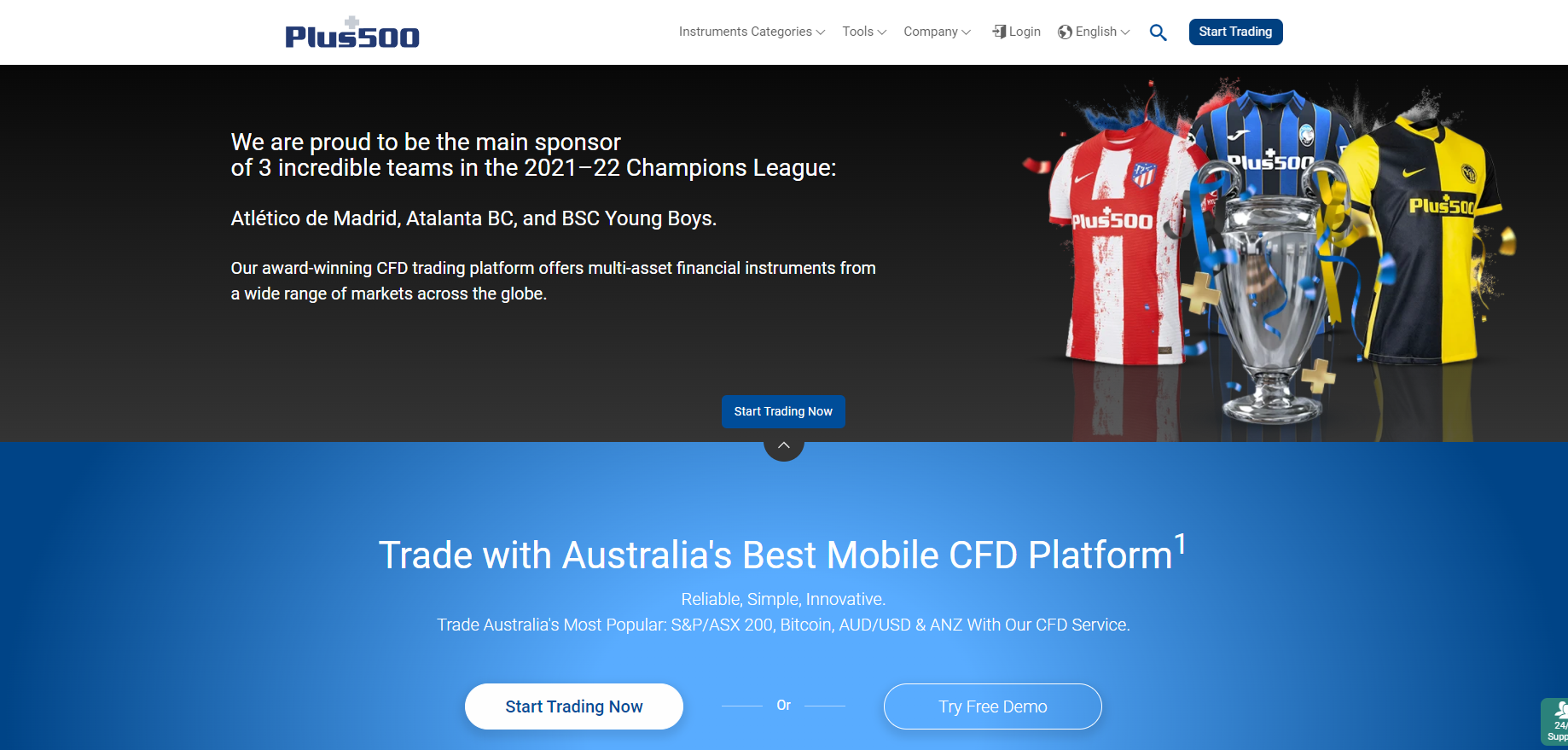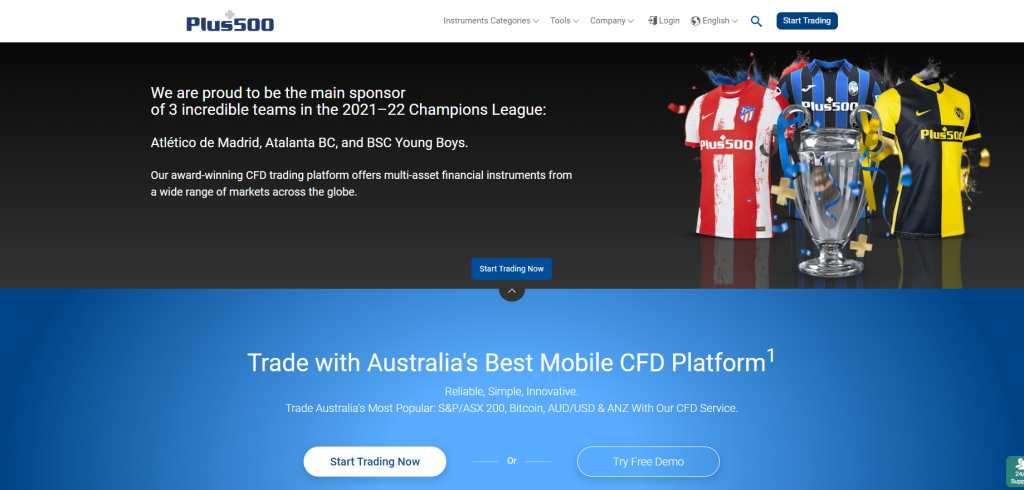 The Plus500 platform has over 430 thousand active customers, US$1.7 trillion worth of traded value, and 82 million positions opened in just 2020 alone. From our Plus500 platform review, we've also found the platform to be great for both beginners and advanced traders. The real professional traders can even opt for a professional account as we'll see in the Plus500 CFD review.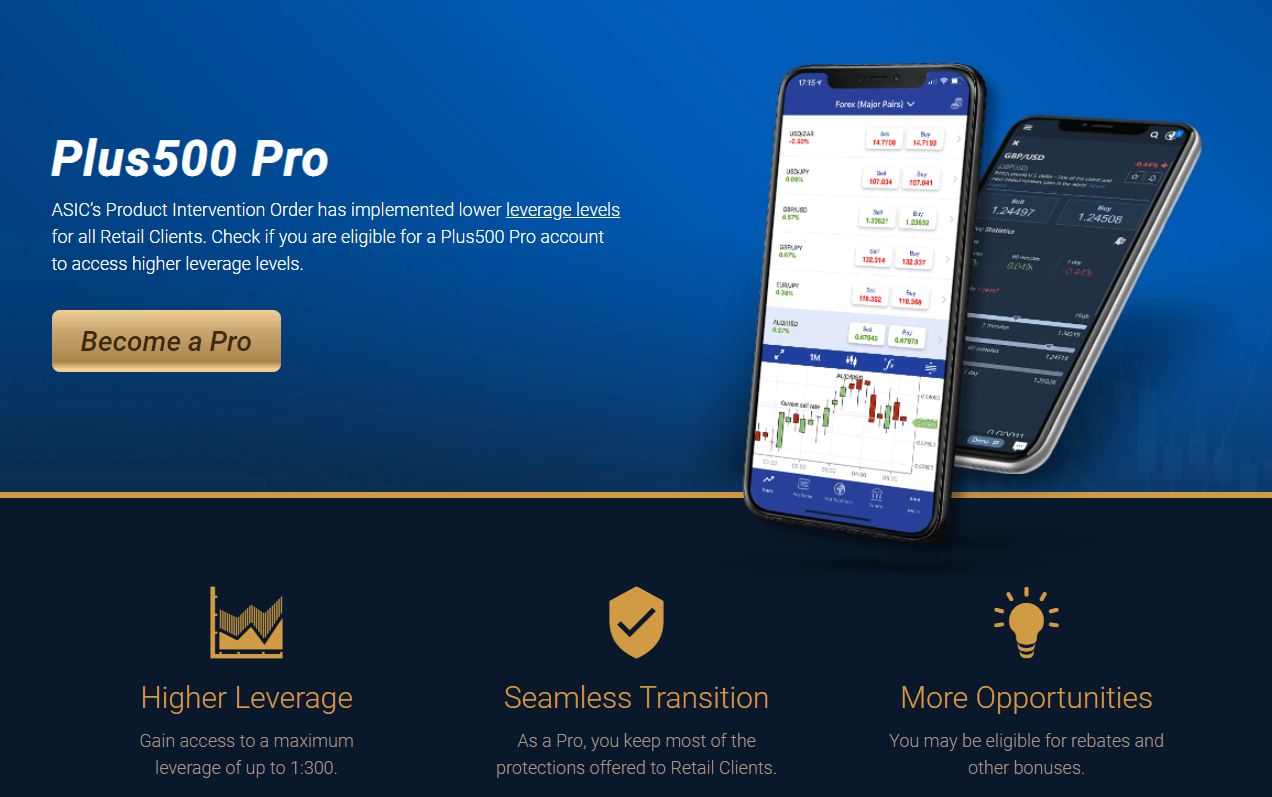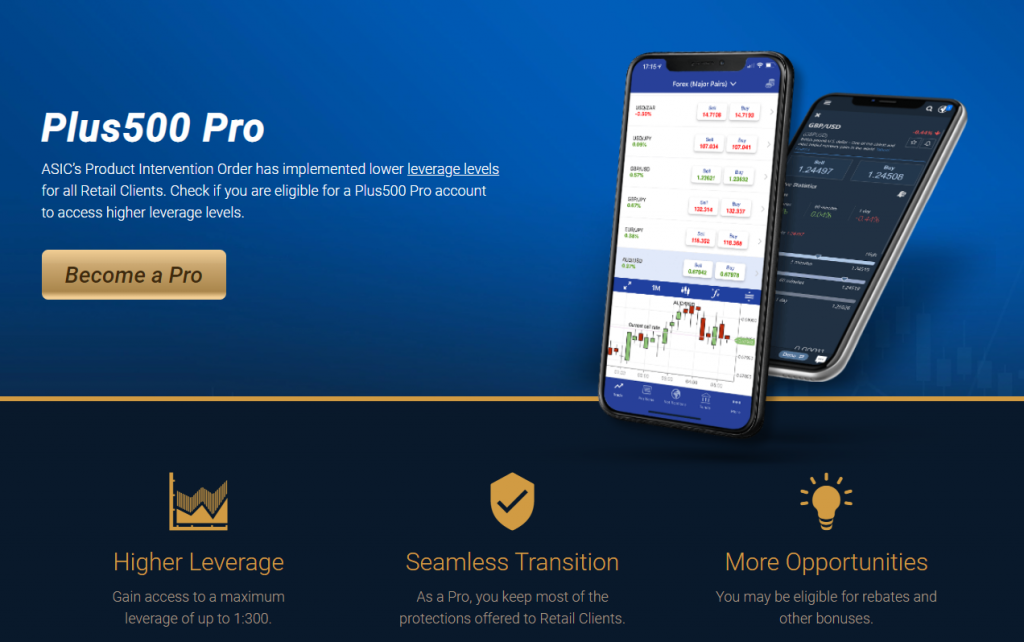 Another key aspect that we found while conducting our Plus500 review Australia is the presence of a demo account. Having a virtual trading account brings a huge advantage since anyone can start familiarizing themselves with the platform. More than this though, they can learn how to trade without investing any money.
More officially, Plus500 is a leading CFD trading platform, providing trading for shares, forex, commodities, cryptocurrencies, and other instruments in conjunction with innovative trading technology. Our Plus500 review Australia says that the company is licensed by the Australian Securities and Investment Commission (ASIC).
Plus500 Australia Pros & Cons
Pros
Offers commission-free CFD trading on thousands of markets with tight spreads
Plus500Australia is licensed by the Australian Securities and Investment Commission
Negative balance protections prevent account equity from reaching below zero
Clients' funds are held in segregated bank accounts
Wide range of payment methods including credit/debit cards, bank transfers, and other third party channels
24/7 customer support
Mobile app supported for Android and iOS
Multiple educational resources available
Access to a demo account with AU$50,000 worth of paper funds
Supports Cryptocurrency CFDs that let you buy Bitcoin, Ethereum, and more
No deposit fees
Cons
Only access to CFDS
US$10 inactivity fee per month after three months of inactivity
75.26% of retail investor accounts lose money when trading CFDs with this provider. You should consider whether you can afford to take the high risk of losing your money.
What Can You Invest in and Trade on Plus500 Australia?
Taking from our Plus500 platform review, over 2,000 financial instruments are available to trade on Plus500. Note that CFDs are contracts between an investor and the CFD broker on the price discrepancy of an asset from the time it was purchased to the time the position closes. The investor does not own the underlying asset in a CFD position.
Invest in Forex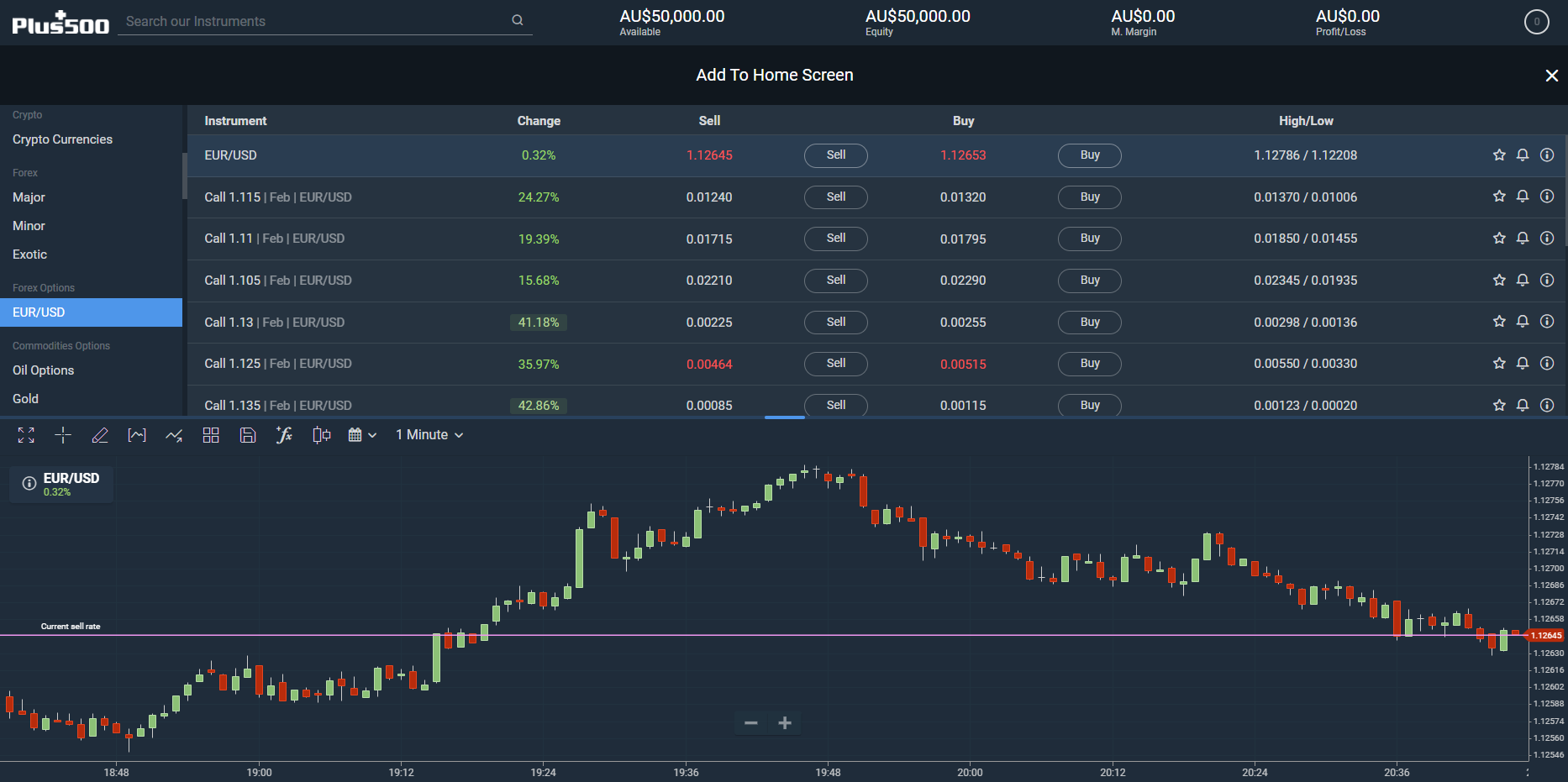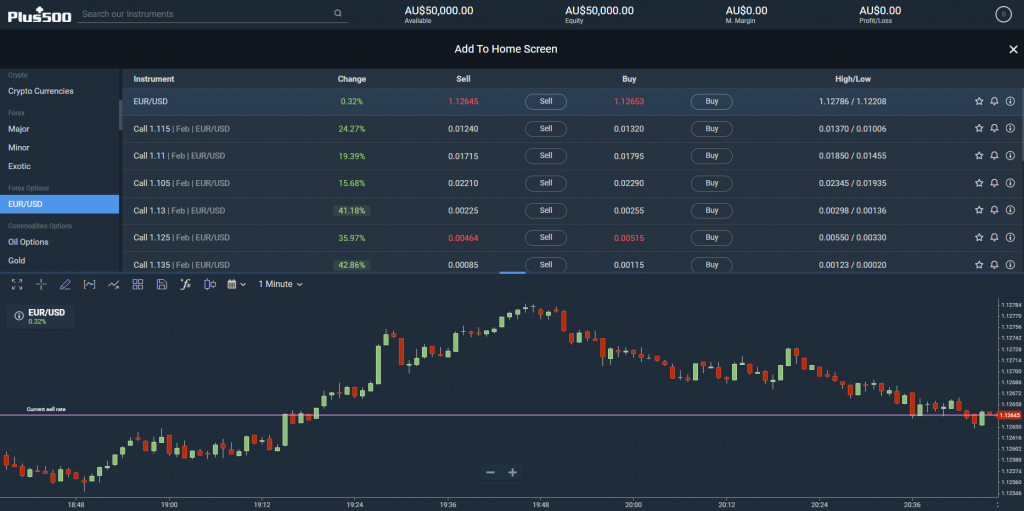 There are over 60 forex pairs on the Plus500 platforms ranging from major, minor, and exotic currency pairs. Our Plus500 review Australia has found that the platform is a great place to start forex trading with a maximum leverage of 30:1 for forex positions. AU$3,000 which is 30 times the actual investment.
Primarily three markets exist in forex: the spot market, forward forex market, and forex futures market. Recalling from the Plus500 online trading review, the broker offers 24 hour CFD trading on all its currency pairs. This includes major pairs such as the EUR/USD, GBP/USD, and EUR/GBP. 
We were happy to find in our Plus500 forex review certain risk management features to help investors better account for the risk in their strategies. These include stop limits and stop loss orders that are added parameters in forex trading with Plus500. How these limits and orders work is that when the price hits or goes beyond the range indicated, the position will close - yielding either a loss or gain.
As more than $6.6 trillion worth of transactions and trades happen every day in forex, Plus500 traders can expect liquidity in the right currency pairs as well as exchanges happening every day. 
Trade Stocks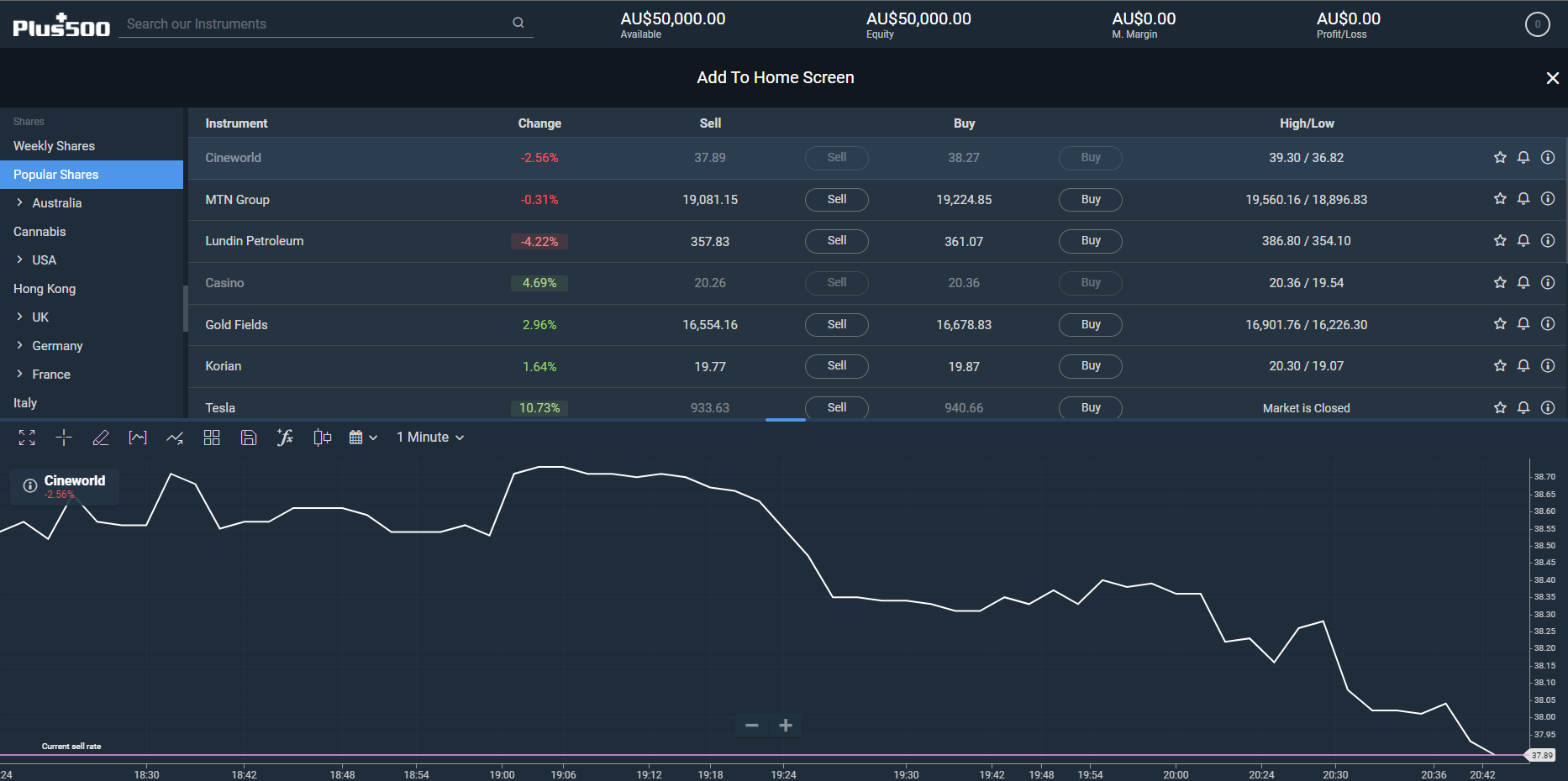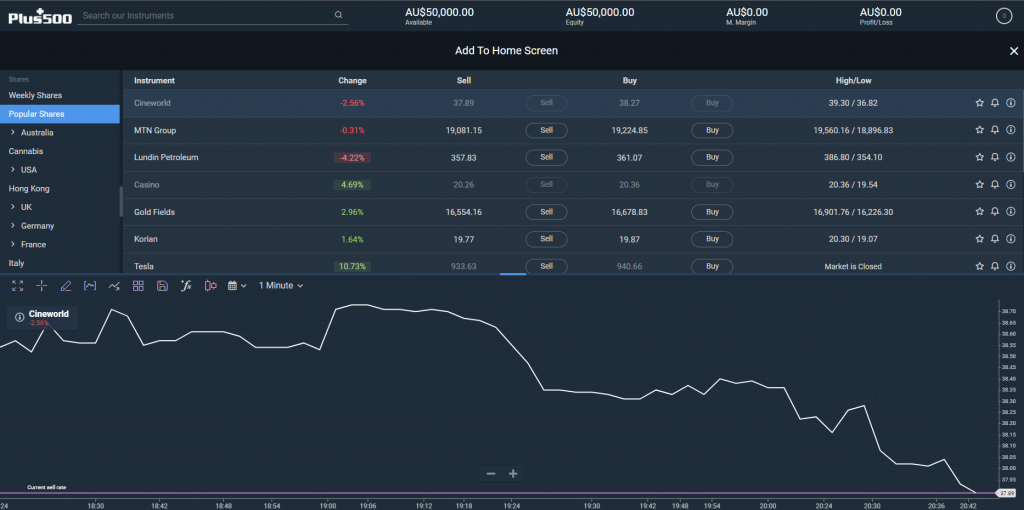 As we continue with this Plus500 trading review, we now move to the financial instruments of stocks. Plus500 offers stock trading from the world's largest companies including those from the US, Australia, Europe, and more. As one of the most viable CFD stock trading platforms today, Plus500 makes sure to include the stocks that the majority of its traders will benefit from.
The maximum amount of leverage when trading stocks in the standard retail account of Plus500 is 5:1. This means that using AU$200 can reach a buying power of up to AU$1,000. It's also useful to know from our Plus500 broker review that there is actually no stamp duty tax when it comes to trading.
In this Plus500 review forum, stocks from companies based in other countries were found, including countries like:
Australia
Ireland
Germany
France
Italy
Hong Kong
Invest in Indices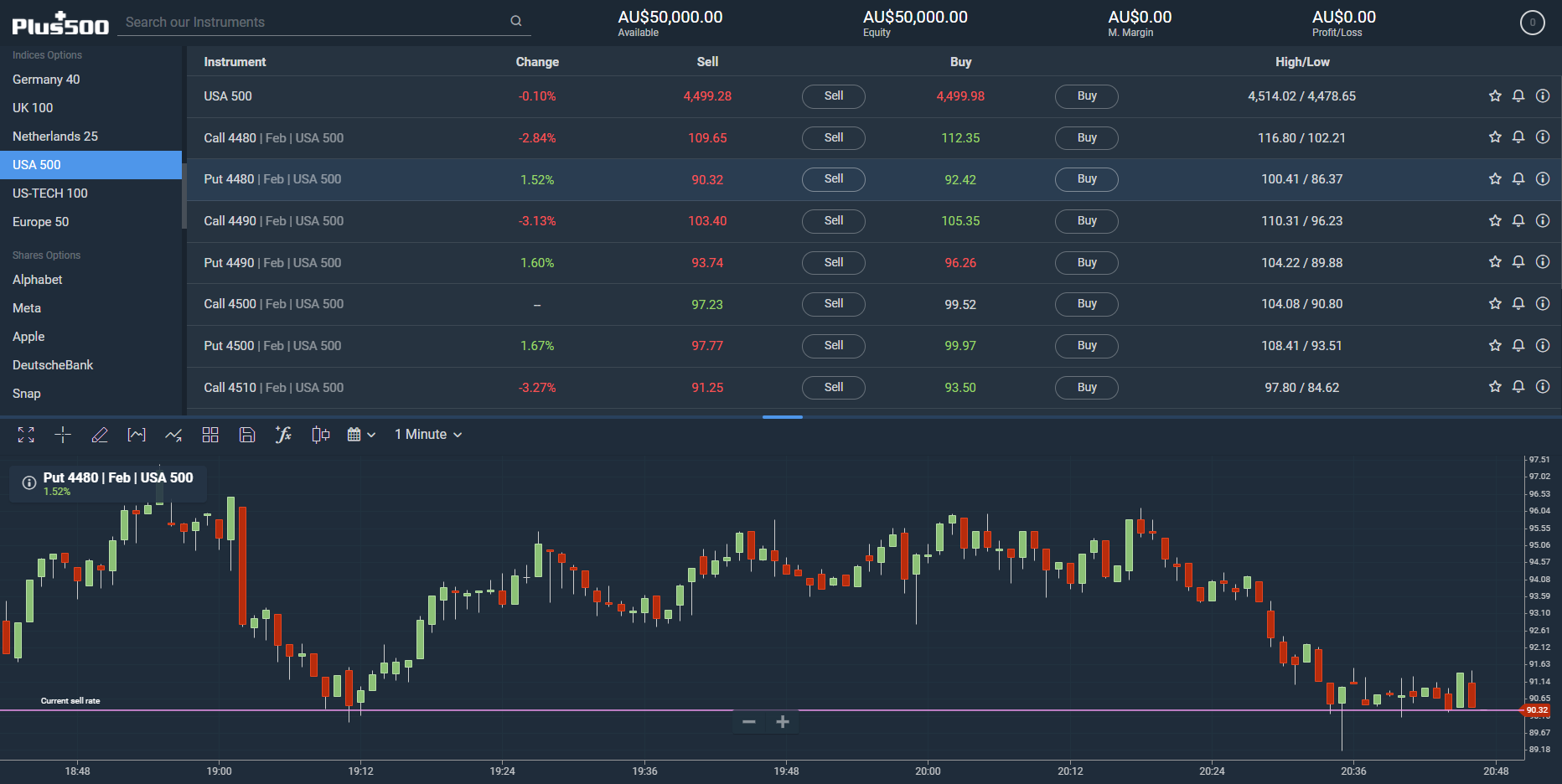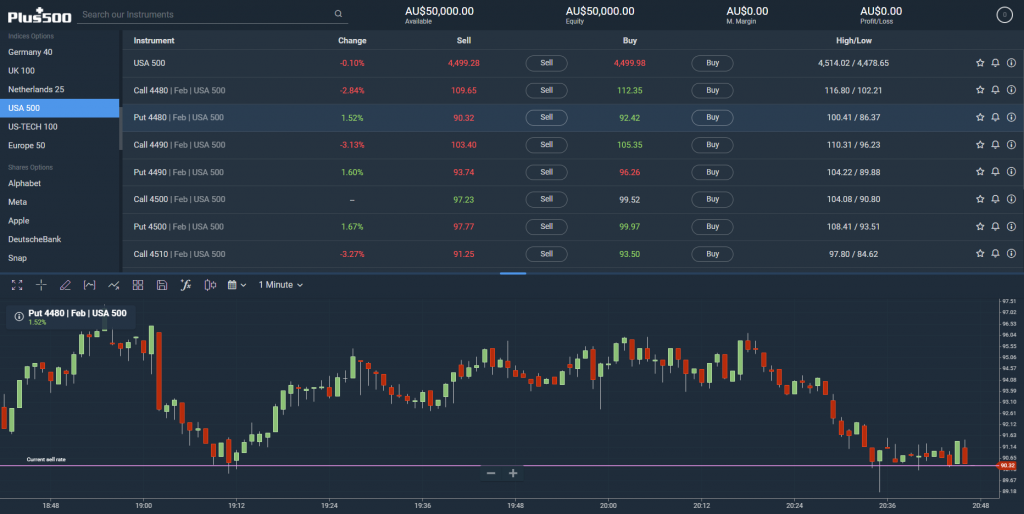 Indices are indicators or measurements of a group of assets such as in exchange. From our review Plus500 trading, there are over 60 indices available on the platform. Among these platforms are popular indices such as the USA 500, US-Tech100, Australia 100, ASX 200, and the Germany 30.
In terms of leverage, the maximum amount of leverage for indices in the Plus500 retail account is up to 20:1 still with zero commissions.
In general, indices offer investors a way of diversifying their portfolios as they invest in a broader collection of assets. Fluctuations in one particular asset in an index usually do not give larger movements on the index itself - meaning indices are less volatile in general.
Plus500 offers real-time quotes that are streamed for all indices. This means that you can also set price alerts and notifications on live quotes free of charge. As we've seen in the Plus500 review Australia, there's even the option of getting email notified when prices of certain indices have changed.
Trade Commodities CFDs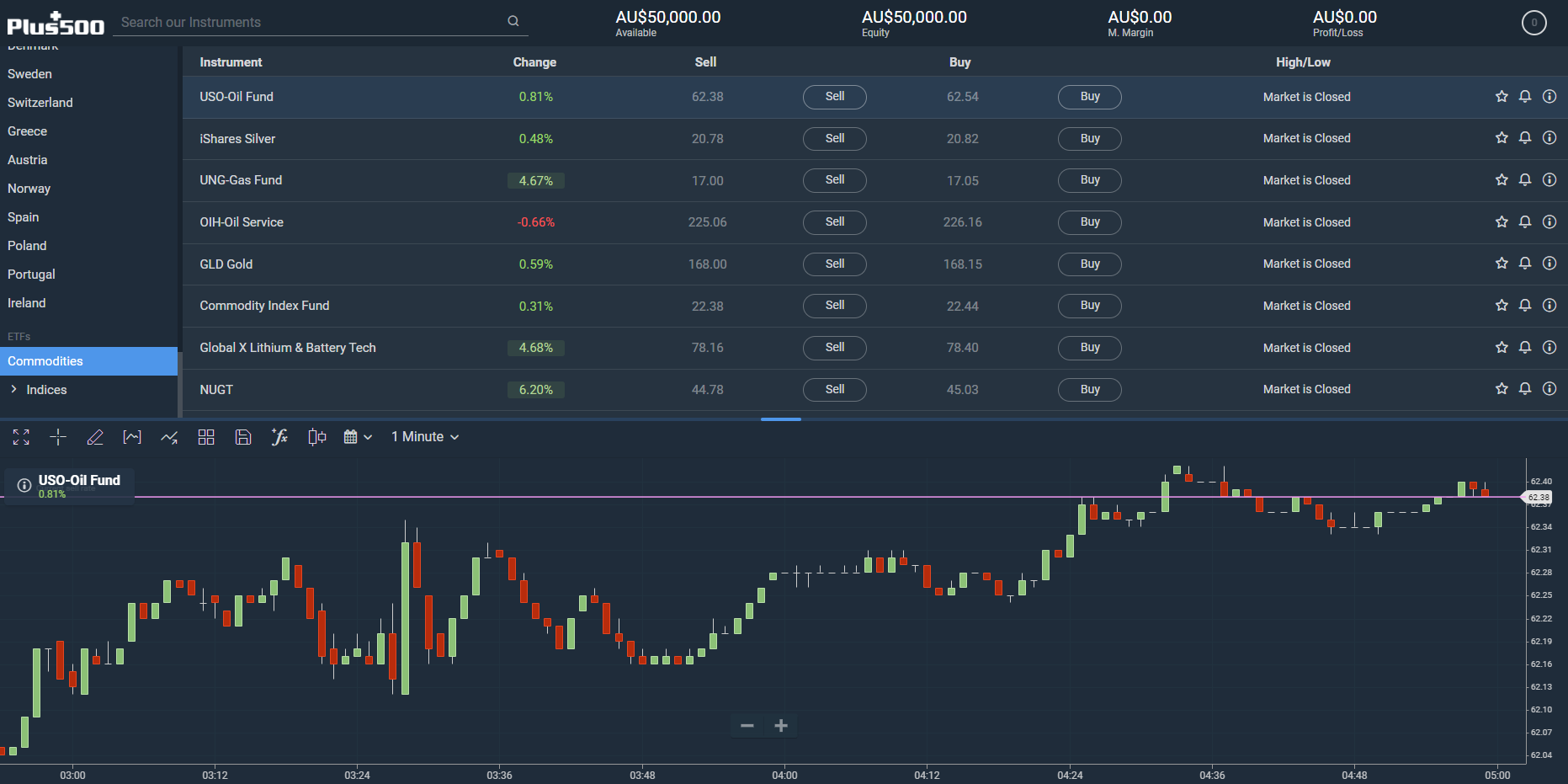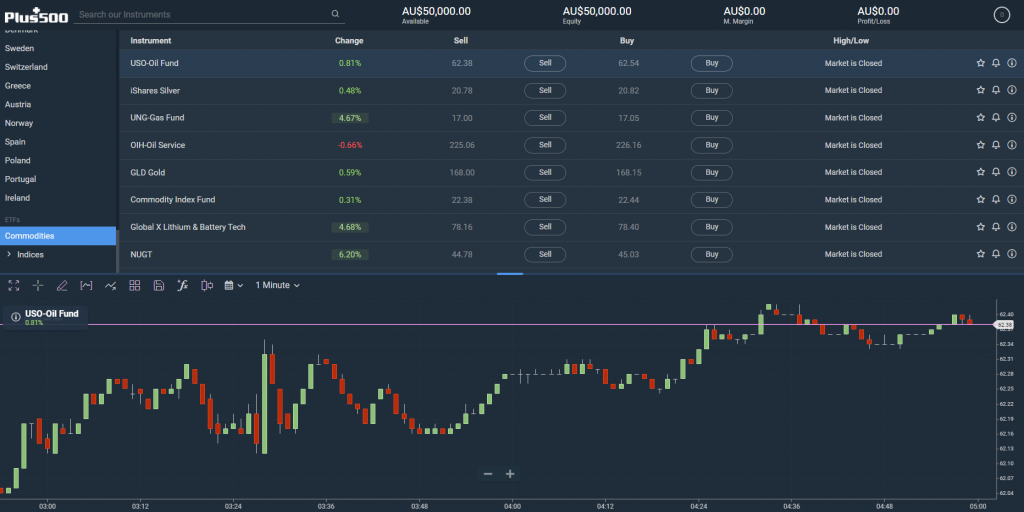 Overall, commodities are a great asset for investors not only looking to diversify their portfolios but also to hedge other instruments. Historically speaking, investors look to invest in commodities when stocks fall.
For Plus500, 22 different commodity CFDs are available for trading as seen on our Plus500 trading review. Gold, Oil, Silver, and other commodities are available for trading. Other commodities come in the form of farmed products like soy, wheat, sugar, corn, and live cattle which can all be traded from the Plus500 app review.
Commodity traders from the Plus500 platform can enjoy leverages of up to 20:1.
Trade Cryptocurrencies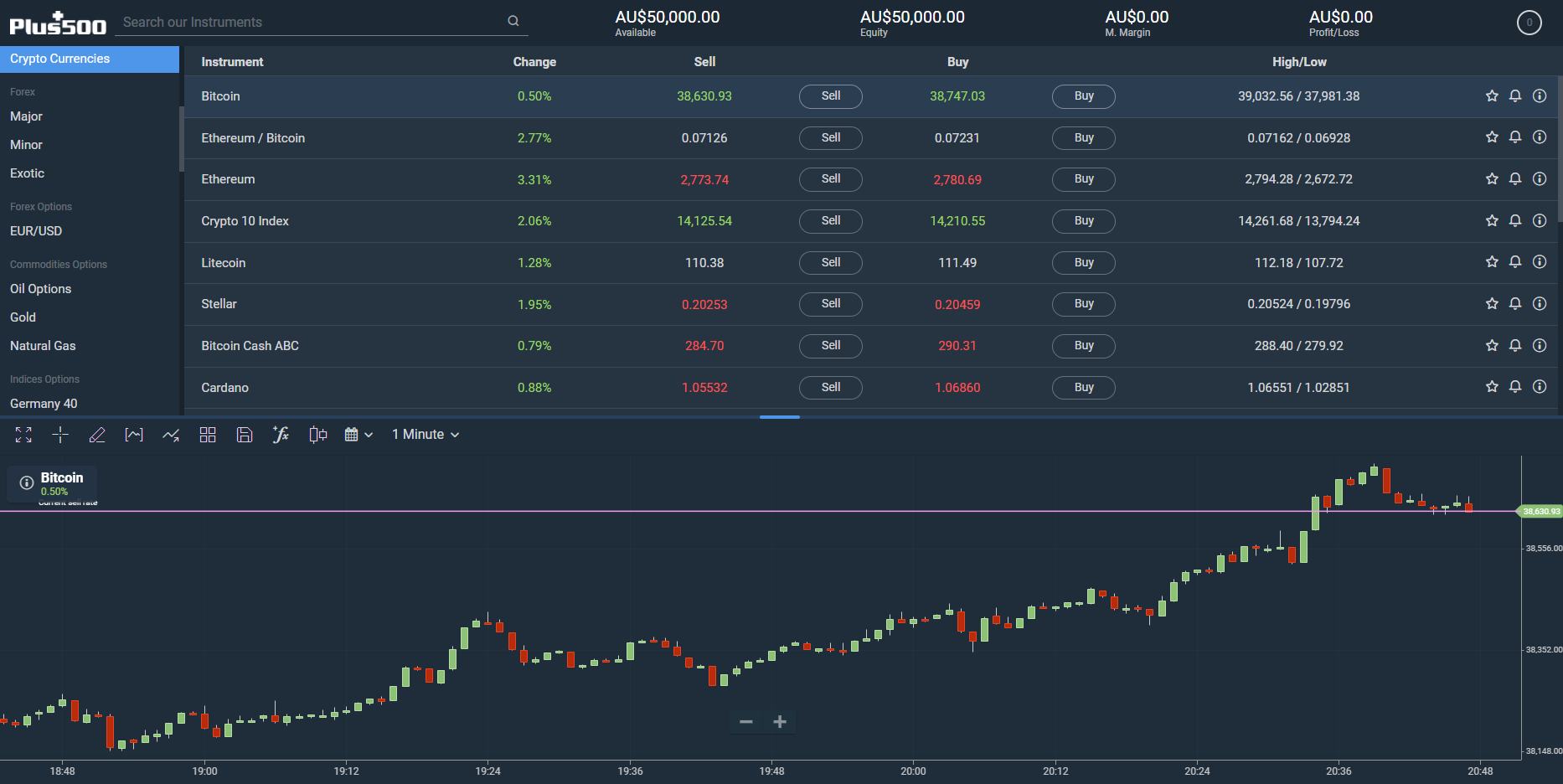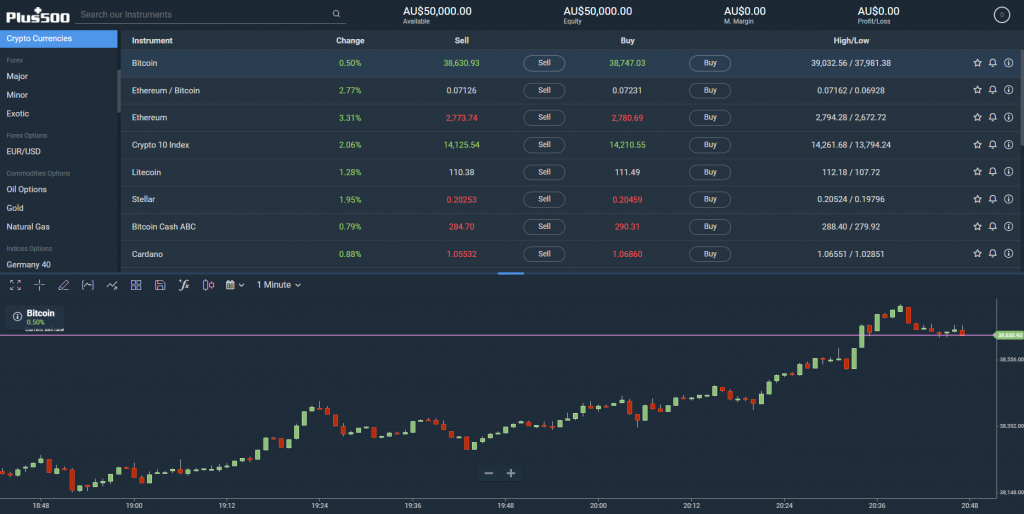 Taking from our Plus500 cryptocurrency review, almost 20 crypto CFDs are available for trading on the platform. As the underlying crypto assets are not actually owned by Plus500 crypto traders, the trade involves purchasing or selling contracts based on the price movement of the digital asset.
One of the most pronounced characteristics of the crypto market is its high volatility. Though some investors consider this a great way to earn quickly, many new traders might see this as a way to make more mistakes. Thankfully, Plus500 also offers CFD trading for the BITA Crypto 10 index.
 From our Plus500 review cryptocurrency, the BITA index tracks the top 10 cryptos like Bitcoin, Ethereum, Litecoin, Binance Coin, Polkadot, and more and aggregates them through certain weighted averages to create the index. As per the Plus500 bitcoin review, this index is available on the platform.
Finally, the maximum leverage amount for crypto traders on the Plus500 platform is 2:1. Seeing as crypto derivatives are being traded and not the digital asset itself, users won't even need a special crypto wallet or Bitcoin wallet to start trading the price movements of crypto. You can trade in any direction - long or short - and crypto markets are open 24 hours a day, seven days a week.
Plus500 Australia Fees & Commissions
As is the case with reviewing any other platform, it is important to understand the fees and commissions that are involved with your broker. The fees we will go through in this Plus500 review Australia can be split into two kinds. These are trading fees (fees associated with trading transactions) and non-trading or administrative-like fees (fees for maintenance of platform and user) based on our Plus500 broker review.
Here we have listed Plus500's key fees and commissions below: 
| | |
| --- | --- |
| Trading Fee | Charge |
| CFD trading | 0% Commission; Fees are built into spread |
| Forex trading | 0% Commission; Tight Spreads; Overnight on leverage is not included in the spread |
| Crypto CFD leverage | Up to 5:1 |
| Share CFD leverage | Up to 5:1 |
| Indices CFD leverage | Up to 20:1 |
| Commodities CFD leverage | Up to 20:1 |
| Forex CFD leverage | Up to 30:1 |
Here's a quick breakdown of the non-trading fees:
| | |
| --- | --- |
| Non-trading fees | Charge |
| Overnight Fee | For all CFDs, Plus500 Australia charges an overnight fee based on the asset, amount, and leverage |
| Deposit Fee | 0% |
| Withdrawal Fee | 0% |
| Inactivity Fee | USD$10 per month after three months of inactivity |
| Minimum Deposit | AU$100 via POLi and BPay. AU$200 via credit/debit card, PayPal, and Skrill. AU$500 via bank transfer. |
75.26% of retail investor accounts lose money when trading CFDs with this provider. You should consider whether you can afford to take the high risk of losing your money.
Plus500 Australia User Experience
Even if most trading instruments are available in a platform, if the user has a terrible experience using the system, the broker is basically worthless. In this Plus500 WebTrader review, we found their online platform to be straightforward and simple.
Any beginner looking to begin trading with Plus500 should enjoy a smooth experience in trading and an overall small learning curve. Because of the presence of a demo account, the user experience is definitely boosted as we've seen in our Plus500 review Australia.
WebTrader, a browser-based platform where many trading features can be found, is one of the main mediums of Plus500 users. Certain features such as charting, educational items, and risk management tools can be found here as we've seen in our Plus500 app review.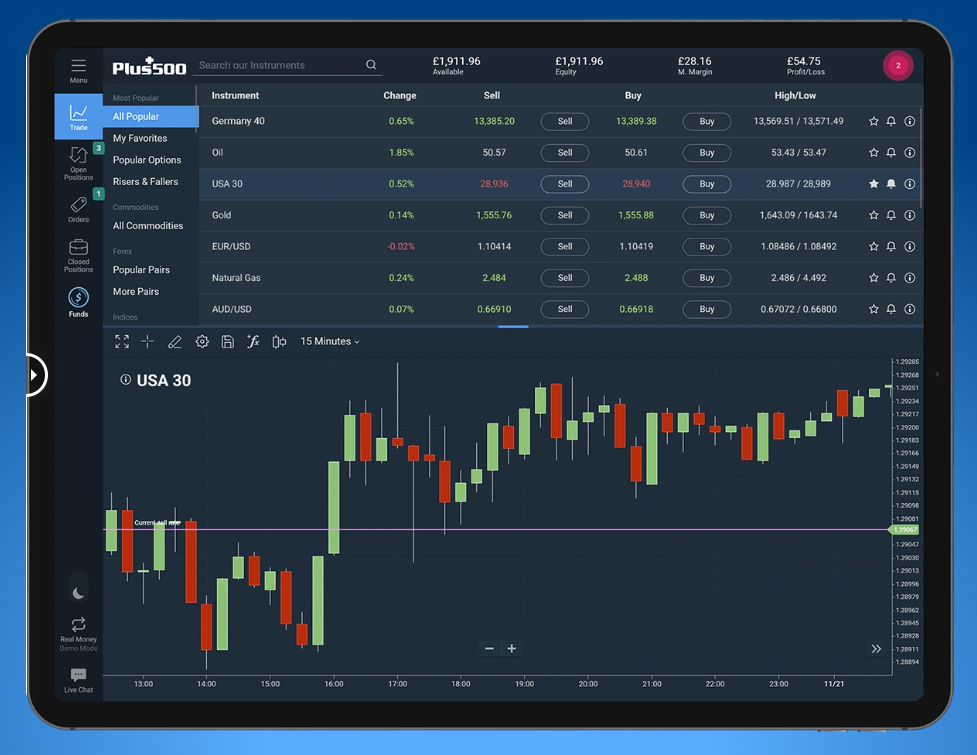 Furthermore, Plus500's platform has a very easy-to-use interface that even allows for the customization of the dashboard. We'll go through this in later parts of this Plus500 Australia review, but multiple charts can be shown on one screen together with different trading indicators.
Plus500 users also have the option of creating their own watchlists or favorite instruments which is essentially a collection of the assets they want to keep track of, currently are investing in, or are interested in. The platform also provides different views and interfaces for the charts as users would want to monitor them along with the watchlist.
The main medium for Plus500 is its webtrader or its browser-based platform where all trading features can be accessed including charting, educational resources, and risk management tools. In our Plus500 webtrader review, we found the user experience for the platform to be clean and straightforward. Any beginner looking to start trading with Plus500 will be able to enjoy a smooth and direct trading experience.
Plus500 Australia Features, Charting, and Analysis
One of the main features of the Plus500 platform is its risk management tools. Being able to close at profits is definitely something that all investors want to do. Essentially, Plus500 lets users do this and let their positions close when the prices reach their predetermined targets.
Although users can technically manually do this step by waiting for the price to reach a certain level and closing their positions, certain elements such as emotion and human error can cause positions to be held. Generally, as we've seen in this Plus500 broker review, an automatic system offers better consistency.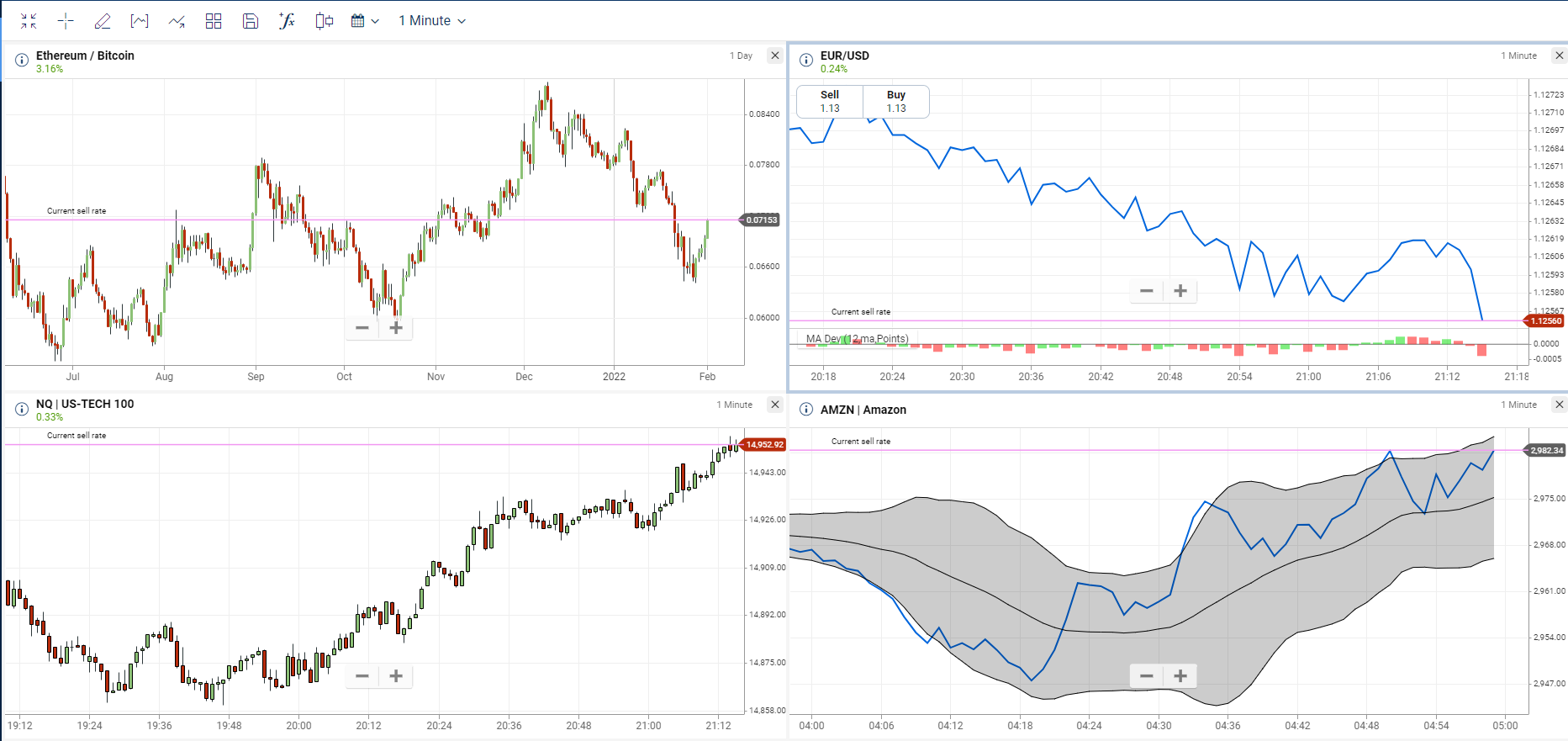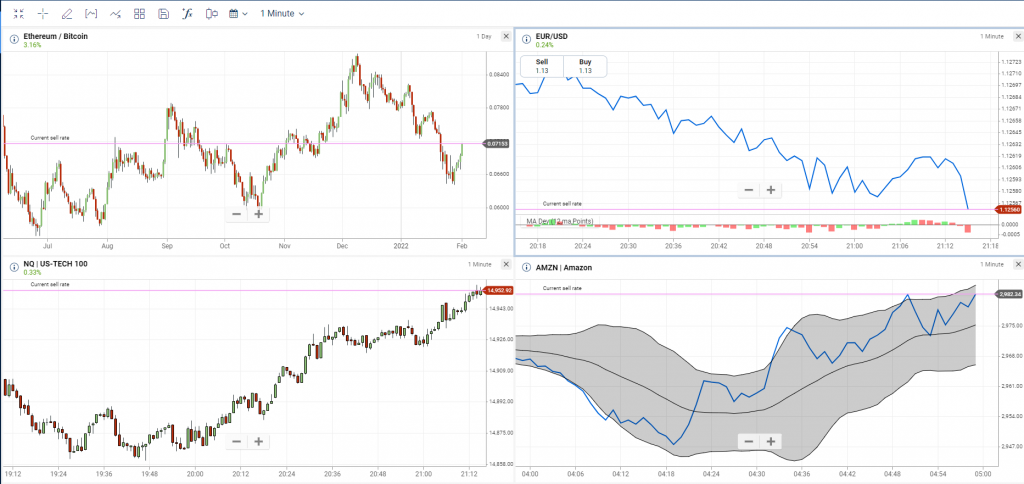 The Guaranteed Stop option for Plus500 orders gives users the option of putting an absolute limit on potential loss. This means that even if the price of the instrument traded moves significantly against you, our position will automatically be closed at the guaranteed stop price without any risk of slippage. Although Guaranteed Stop is only available for certain instruments, it still remains a great tool for managing risk.
Multiple charts can be added on the Plus500 dashboard as shown on our Plus500 review Australia. Candlesticks, baselines, lines, and other chart types can be used to display the information.  Other common indicators available are Moving Averages, Bollinger Bands, MACD, Relative Strength Index, and Volume Underlay. 
All of these instruments are easily editable and interchangeable as we've found out in our Plus500 review. The advantage here is that users can switch the charts around, use the indicators they want, and receive the information they want in the right places. It's also worth noting that the Plus500 platform has a night mode which can be a huge deal for those trading in later hours of the night.
Plus500 Australia Account Types
There are different account types that the Plus500 platform offers. These have different features and benefits as we've taken from the review of Plus500. Let's take a look at the three account types and what they have to offer in the following table: 
| | | | |
| --- | --- | --- | --- |
| Features | Demo Account | Retail Account | Professional Account |
| Maximum leverage on Stocks | 1:5 | 1:5 | 1:20 |
| Maximum leverage on Options | 1:5 | 1:5 | 1:5 |
| Maximum leverage on ETFs | 1:5 | 1:5 | 1:100 |
| Maximum leverage on Crypto | 1:2 | 1:2 | 1:20 |
| Maximum leverage on Major Forex | 1:30 | 1:30 | 1:300 |
| Maximum leverage on Major Indices, Minor Forex | 1:20 | 1:20 | 1:300 |
| Minimum deposit | None | AU$100 | AU$250,000 |
| Negative Balance Protection | Yes  | Yes | Yes |
| Client Money Protection | Yes | Yes | Yes |
| Transparent Execution | Yes | Yes | Yes |
| Inducements | No | No | Yes |
Given that the normal retail account requires an AU$100 minimum deposit, the demo account helps lower the barrier for entry for anyone looking to use the platform. The demo account is perfect for those looking to just try out the platform without having to invest in anything.
In order to avail of a professional account according to our review Plus500, users must meet two of the three following criteria:
You can be categorized as a Wholesale Investor and upgrade to Plus500 Pro if you meet one of the following conditions:
You have net assets of at least AU$2.5 million, or your gross income for each of the last two financial years was at least AU$250,000.
Plus500 Australia Mobile App Review
Plus500 can market itself as Australia's best mobile CFD platform thanks to its own client ratings a few years back. In this Plus500 app review, we'll see if the mobile application holds true to its ratings.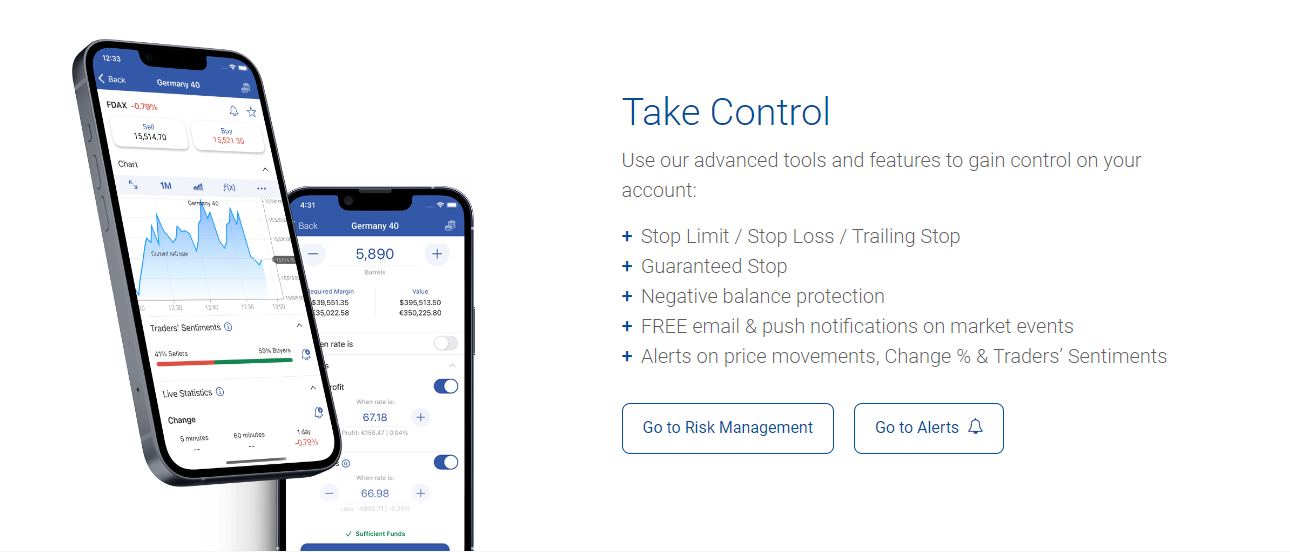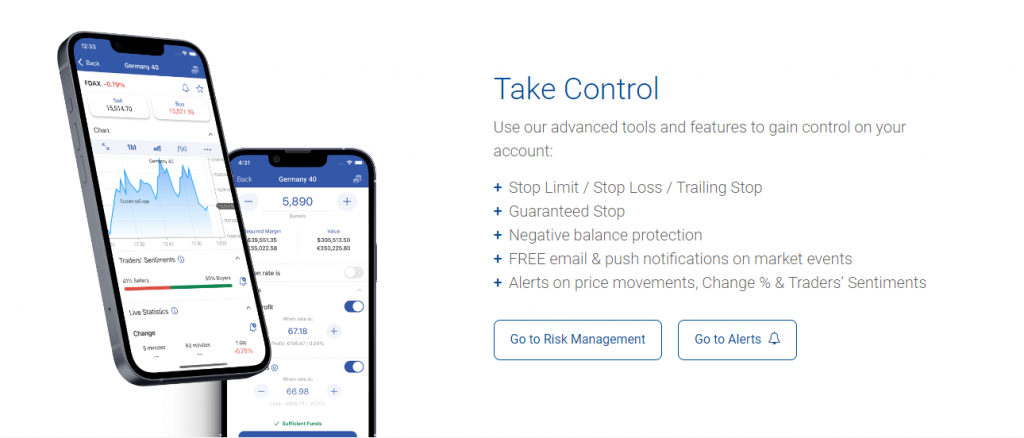 True enough, the Plus500 trading platform on the mobile app is intuitive, simple, and elegant much like its web browser counterpart. Upon conducting the Plus500 review Australia, we found the app available for installing on Android and iOS devices. Stock market quotes, news, index prices, and trends are among the few things that users can be notified of upon installing the Plus500 app.
Live quotes on different instruments like commodities such as oil and goal are also available in real-time. All of the Plus500 mobile app's usability and features are directed towards being able to best update its users on price movements. This is the most important aspect as many investors can't be in front of their computers all day.
Coupled with the fact that many Plus500 traders need to move around, go do other jobs, or simply mainly use their phones, the 24/7 forex, crypto, and other markets make it so that trading happens consistently and many users must always know what new event happens in the market.
Plus500 Australia Deposit and Withdrawal Methods
In this Plus500.com.au review, we've discussed the minimum deposit to fund a Plus500 account which is AU$‪100 for some bank cards and e-wallets and AU$500 for bank transfer. We've also mentioned that there are no deposit and withdrawal fees associated with Plus500. However, a limit of AU$68,000 must be observed when depositing and a maximum of five withdrawals per month can be made before additional fees will apply.
Plus500 Australia Contact and Customer Service
For many all-in-one trading platforms, customer service usually operates 24/5. From our Plus500 review Australia, the platform operates above this standard 24/7. We can tell just from this extent of operations that Plus500 does want to continue offering great value to its customers and providing them with the support they need to continue growing their investments.
Is Plus500 Australia Broker Safe?
Plus500 is licensed by the Australian Securities and Investment Commission (ASIC), a highly established body for financial services in the country. As the platform follows the FCA's rules and guidelines, users are protected and can trust that the broker has certain account safeguards. 
Earlier in this Plus500 review, we mentioned that user funds are kept in segregated bank accounts. We also said that certain safeties like negative balance protection are a feature on the platform. The website and its other channels like the mobile app also feature SSL which encrypts data from client to server and back.
How to Start Trading with Plus500 Australia
Now that you've learned the essentials from our Plus500 review Australia, we can proceed to help you get started on trading on the platform. Since registering can be done fully digitally and online, simply follow these steps to begin.
Step 1: Open a Trading Account
75.26% of retail investor accounts lose money when trading CFDs with this provider.
The first step is to head over to the Plus500 website and press the Start Trading button. This will open up the sign-up page where you can fill in the details to create an account. You may also use your existing Google, Facebook, or Apple ID account to register your account as well.
Step 2: Verify Your Identity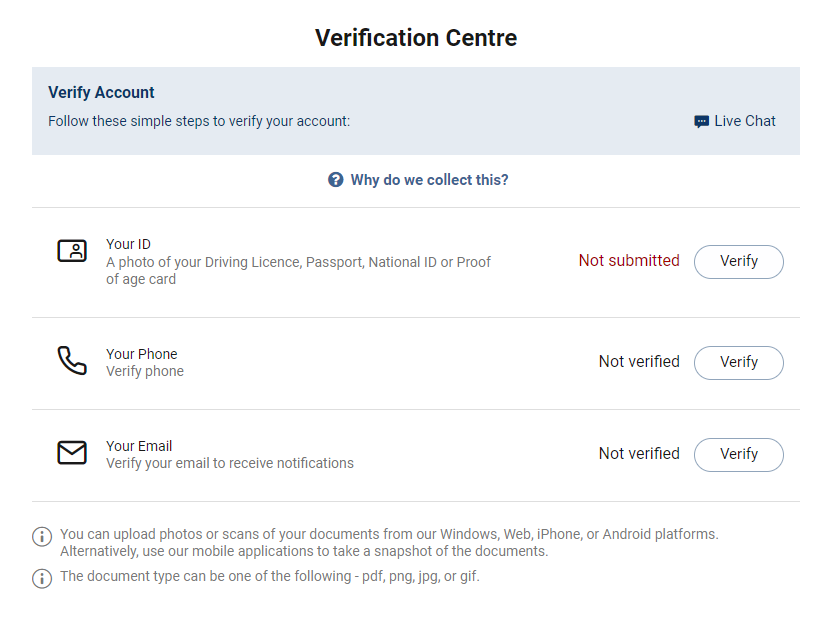 Next, you should receive an email that will let you know that your account has been registered and that you can log in on the platform. You'll now have to head over to the account tab and click on the Verify Account link. 
You'll then need to upload a government ID, a form of proof of address such as a driver's license, and your phone number to proceed with the account verification.
Step 3: Deposit Funds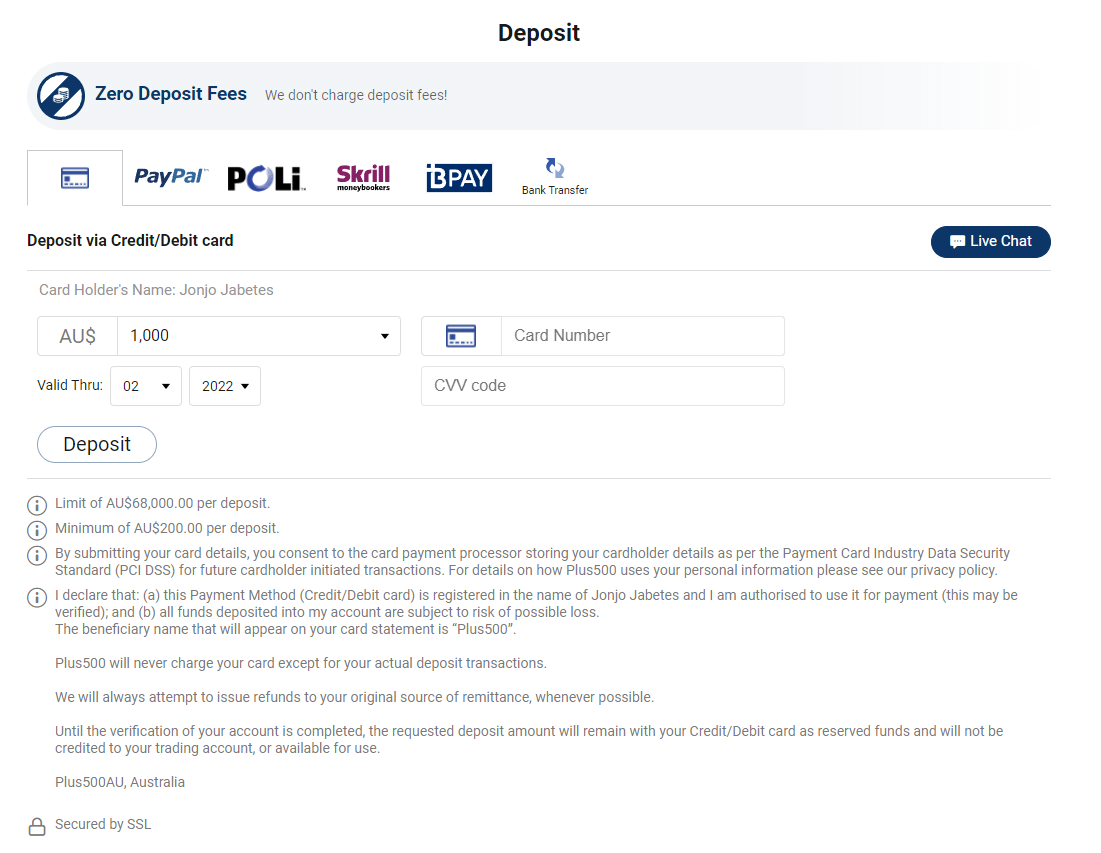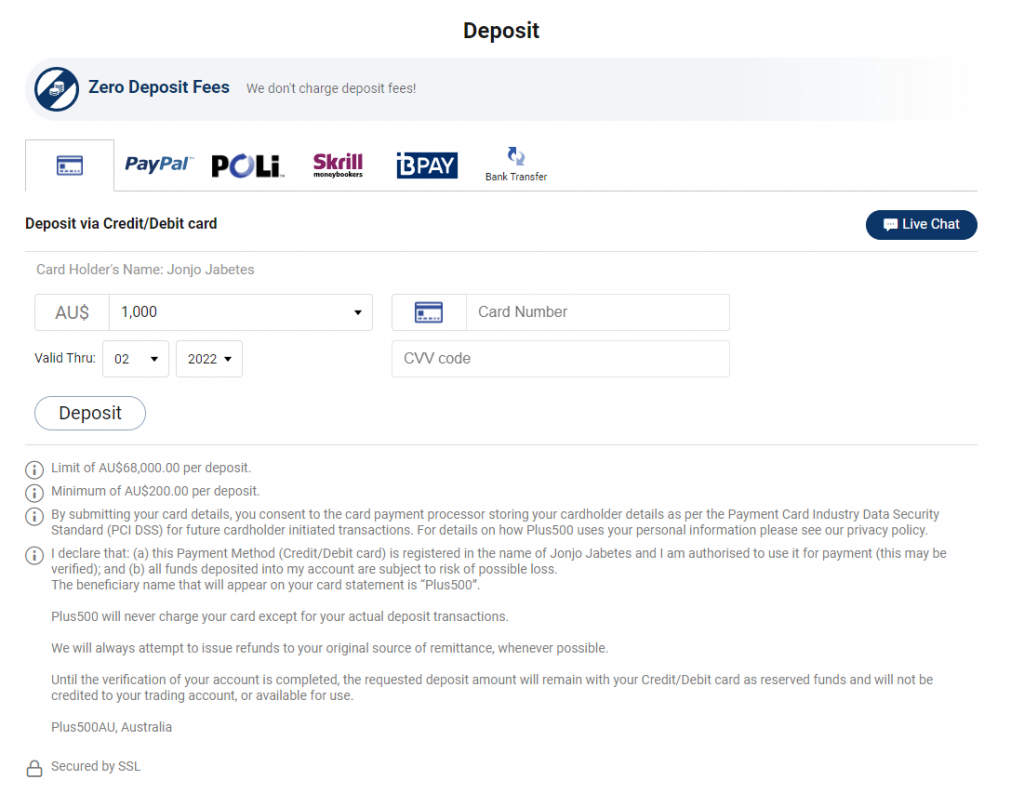 Once your account has been verified, you may now go and fund it. Simply look for the Funds button at the bottom left of the page and click on the Deposit button. From there, you may select what payment method you would prefer. 
Note again that a minimum of AU$100 via POLi and BPay is required while the minimum for credit/debit card, PayPal, and Skrill payments is AU$200. For bank transfer, it's AU$500 based on our Plus500 broker review. 
Step 4: Start Trading with Plus500 Australia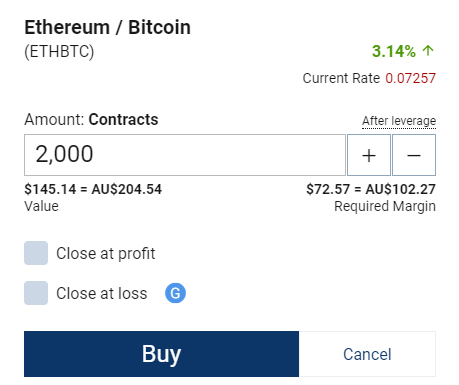 With your account funded, you can finally start live trading with Plus500! Simply go to the search bar and type in the instrument that you wish to trade. Once it shows up on the list, simply press the Buy button and a detailed tab of the asset should pop up on the right side of the page. Fill in the necessary details such as trade amount, leverage, stop loss, and stop limits and press the Buy button to open your trade!
Plus500 Australia Review - Conclusion
New investors might find themselves enjoying the demo account features and ease of use of the Plus500 platform. But as it is coupled with a great mobile application, it is a recommendation of ours to check out the Plus500 platform.
To start trading CFDs with 0% commission across the top markets, just follow the link below and open a live trading account with Plus500 Australia today!
eToro - Alternative to Plus500 Australia
Do you think that the Plus500 Australia platform is not for you? If that's the case, we would highly recommend eToro, another all-in-one regulated trading platform that has all the value that Plus500 has to offer and possibly more.
To create an account and start trading thousands of different assets with 0% commission, click on the link below and open an account with eToro Australia today!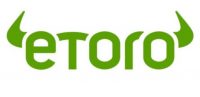 67% of retail investor accounts lose money when trading CFDs with this provider. You should consider whether you can afford to take the high risk of losing your money.
FAQs
What is Plus500?
Plus500 is an all-in-one CFD trading platform that offers investing in stocks, crypto, forex, and many other financial instruments across different devices and platforms.
What is Forex trading?
Forex trading, also referred to as foreign exchange trading, occurs when you convert one fiat currency into another. Forex is the largest traded market internationally, with businesses, investors, and major banks executing more than $6 trillion worth of transactions every day.
What is cryptocurrencies trading?
Cryptocurrencies are digital assets backed by the blockchain and are used as a transfer and store of value. Crypto trading is the buying or selling of these virtual currencies in real-time.
Can I trade with leverage in Plus500 Australia broker?
Yes, you can trade with leverage in the Plus500 Australia broker. When performing a leveraged trade, you will need to select how much leverage you'd want to take before proceeding with your trade.
Can I open an account with Plus500 in the Australia?
Yes, you can! Simply head to the Plus500 Australia website and create an account from their page.