Coinbase Review Australia – Pros & Cons
Fact Title
fact tooltip may be found in theme options under general.
If you're just starting your crypto investing journey and have little to no knowledge of digital assets then we recommend taking a look at Coinbase. Cryptocurrencies are still extremely new compared to other financial instruments and so the Coinbase cryptocurrency exchange has made it easy for anyone to start trading crypto.
In this Coinbase review Australia, we'll go through everything you need to know about one of the leading crypto exchanges. This includes certain key features and metrics as found in our Coinbase trading platform review, Coinbase account review, and Coinbase vault review.
What is Coinbase Australia?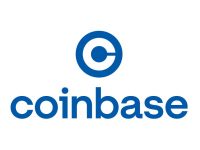 Coinbase was established in 2012 by ex-Airbnb engineer Brian Armstrong and former Goldman Sachs trader Fred Ehrsam. Initially a startup with its first funding from Y Combinator, Coinbase has grown to become one of the leading crypto exchanges after its IPO in 2021 based on our Coinbase IPO review.
With over 74 million users all over the world, the platform is very well known and the most popular crypto exchange in the U.S. We found in our Coinbase review Australia that the broker has a mission of increasing economic freedom in the world and believes that cryptos will provide the core tenets of economic freedom.
In line with their goal of empowering others to create a better life for themselves and their families through cryptocurrencies, Coinbase is known to be the exchange for beginners as seen in the Coinbase review Reddit. Their interface is clean, it's easy to set up an account, and they offer the popular coins that someone new to crypto would want.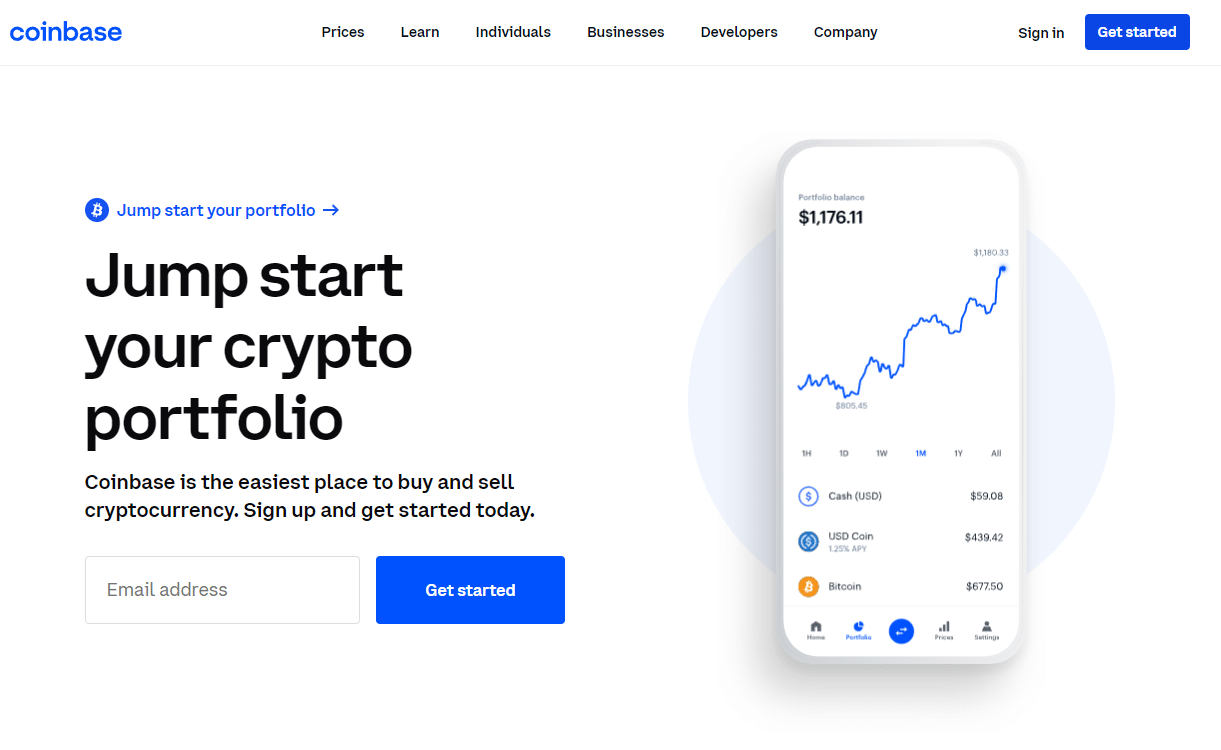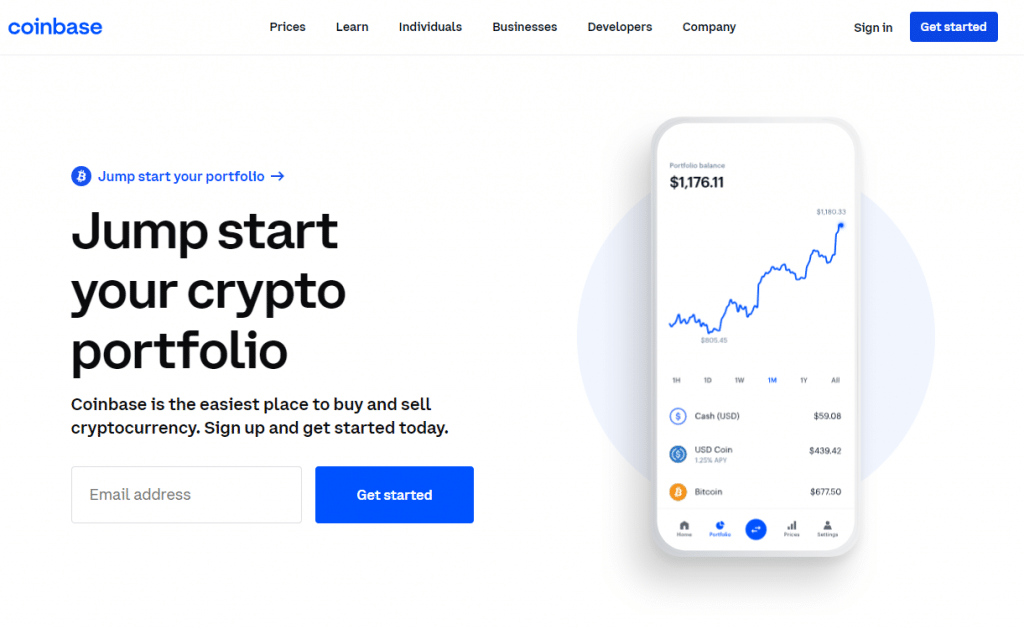 Cryptocurrencies are highly volatile assets. You should consider whether you can afford to take the high risk of losing your money. 
Although its front-facing interface is simple and easy to use, Coinbase allows all its users to use its subsidiary platform called Coinbase Pro. Our complete Coinbase review shows that this is more suited for advanced traders who actively day trade or buy and sell cryptocurrencies in the short term.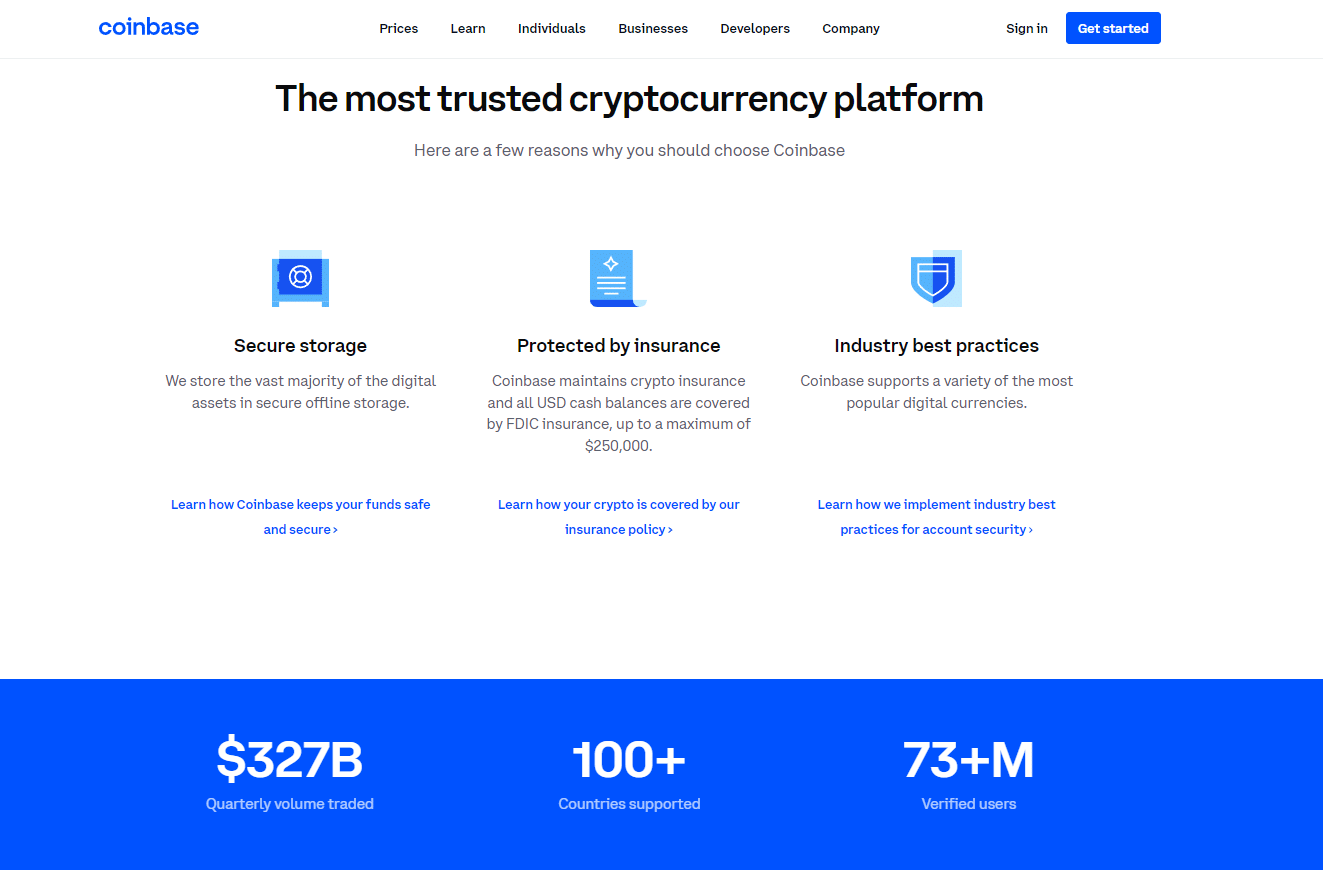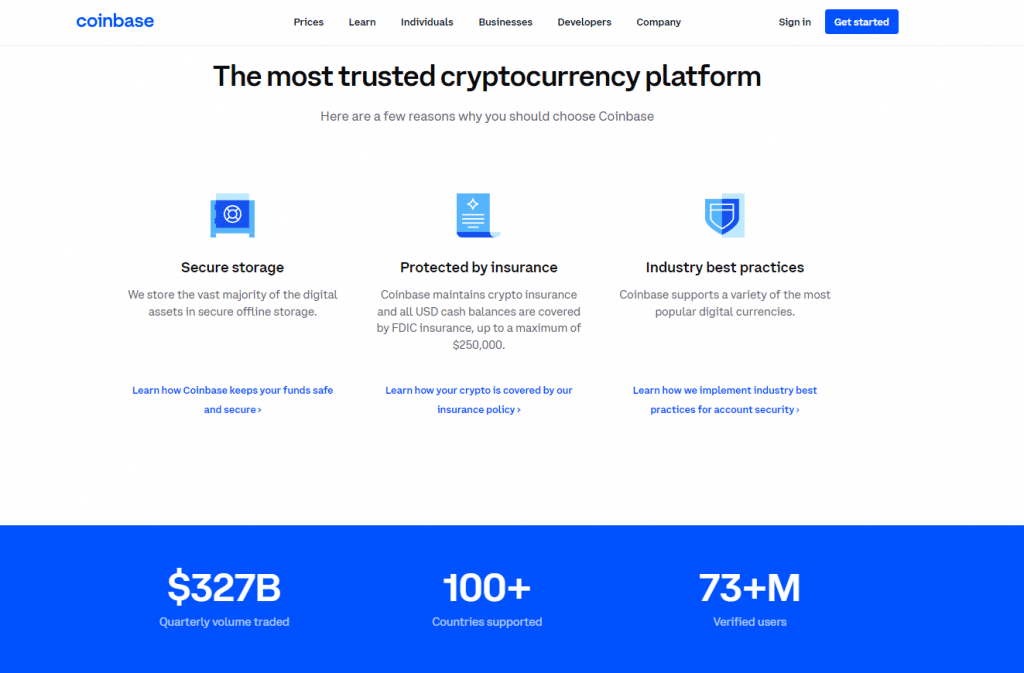 Additionally, Coinbase also has its own Bitcoin wallet and crypto wallet platform called Coinbase wallet. Taking from our review Coinbase wallet, the platform's crypto wallet app gives you full control of your cryptocurrencies and NFTs. 
Starting from a simple goal of building a more fair, transparent, and accessible financial system enabled by crypto, Coinbase, and its team have come quite a long way since its origins a decade ago.  In our review of Coinbase, the company has over 73 million users, over US$255 billion assets on its platform, and operates for over 100 countries.
Coinbase Pros & Cons
Pros
Over 100 tradable cryptocurrencies
Friendly interface great for beginners
Easy to sign up
Offers most popular coins
Can stake your coins for interest
Cryptocurrency is insured
Registered as a Money Services Business with FinCEN
Tons of crypto-related educational resources
24/7 live phone support
Supports debit cards and bank transfers
Top-rated mobile app
Offers a crypto asset wallet
Cons
Limited trading tools
No copy trading or social trading features
Crypto only – unable to invest in other assets like stocks
Cryptocurrencies are highly volatile assets. Trading cryptos brings your capital at risk.
Which Cryptocurrencies Can You Trade in Coinbase?
Our Coinbase Australia review has shown hundreds of cryptocurrencies offered for trading on the platform. Popular coins such as 1Inch, Aave, Algorand, Bitcoin Cash, and others are currently tradable on Coinbase.
Bitcoin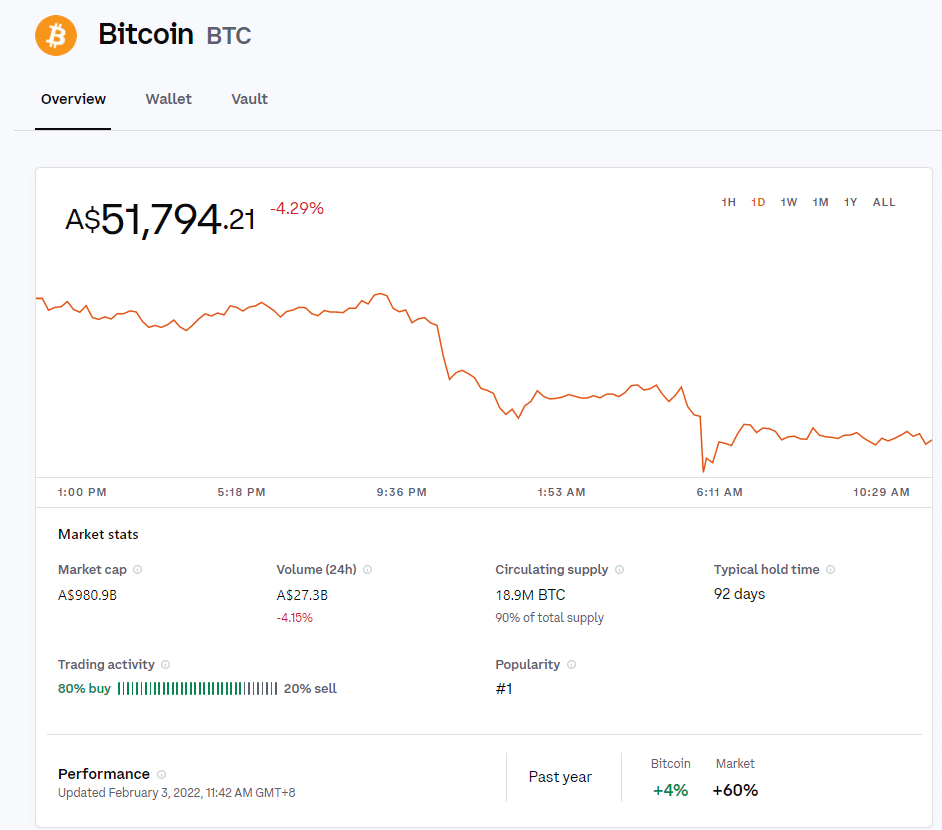 Crypto newcomers are usually recommended to trade popular coins like Bitcoin and Ethereum and for good reason. As the first widespread decentralized digital currency, Bitcoin has become synonymous to cryptocurrencies and is the most valuable crypto asset to date. With a current market cap of US$700 billion at the time of writing, no crypto comes close.
Through this Coinbase platform review, the Coinbase exchange shows a great overall market overview of Bitcoin. We can see the average volume of the coin in the past 24 hours as well as the current circulating supply as part of this Coinbase Bitcoin review 
Designed to be electronic cash, Bitcoin is inherently deflationary and is built to be a store of value. Because of this, many buy Bitcoin for the same reason a lot of people bought gold in the past. This has given Bitcoin the moniker 'crypto gold'.
Another important aspect of Bitcoin is that it uses the Proof of Work (PoW) consensus model. This protocol prevents the problem of double-spending as well as prevents certain types of malicious economic attacks on the network. Using the PoW model also means that Bitcoin can be mined which is another way of investing in the coin.
Ethereum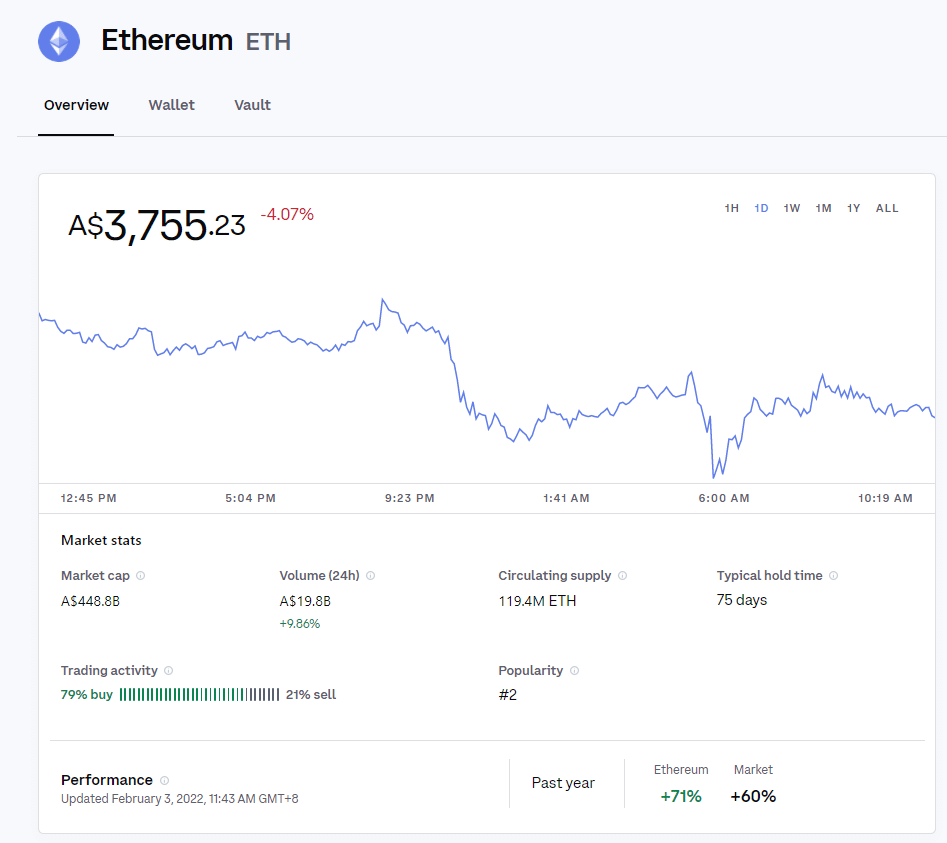 Also available on the Coinbase platform is Ethereum, the token used to fuel the Ethereum digital ecosystem of smart contracts and decentralized applications (dApps). As the second-largest cryptocurrency with a market cap of US$320 billion at the time of writing, Ethereum is a blockchain network intended to facilitate immutable, programmatic contracts and applications via its own currency. 
In terms of this Coinbase review Australia, Ethereum can be seen currently having a holding time of around 75 days and is up about 70% in the past year. Users can also buy Ethereum and store it in the Coinbase vault, cold storage that's mainly used to store large amounts of cryptocurrencies.
Ethereum has popularised dApps and the glamorous non-fungible token (NFT) market which, from our Coinbase review Australia, can be accessed in the Coinbase wallet. Although several other cryptocurrencies and blockchains have improved on different aspects of Ethereum, the second-largest crypto still remains to be widely used in its class.
Cryptocurrencies are highly volatile assets. Trading cryptos brings your capital at risk.
Litecoin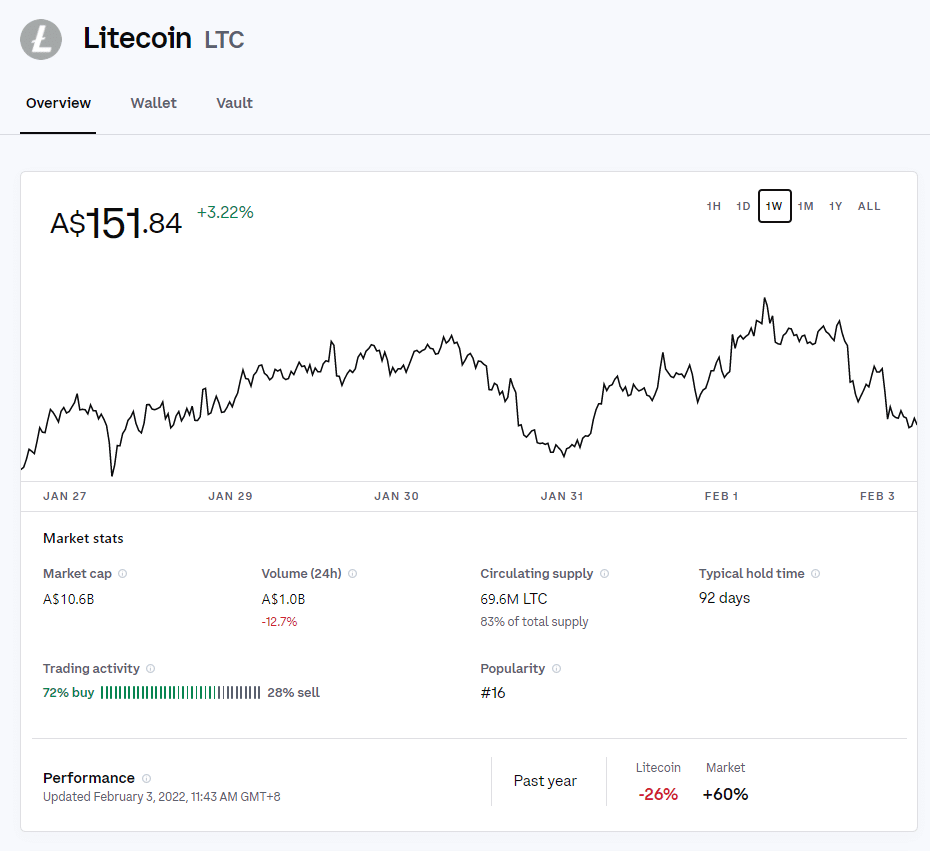 Everything that Bitcoin is but faster, lighter, and cheaper - this best explains the cryptocurrency Litecoin. As one of the top 20 most popular cryptocurrencies, Litecoin is featured in the Coinbase Australia review and is founded by ex-Google engineer Charlie Lee. As a more decentralized and efficient digital asset than Bitcoin, the aptly named Litecoin also uses the same protocol as its predecessor.
One thing to note about Litecoin and mining Litecoin, in particular, is that the cryptocurrency can be merged mined. Merge mining is when two coins can be mined using the same process power of just one specific token. Litecoin can be merged mined with Dogecoin, a popular meme coin. This can be done because of Litecoin's different hashing algorithm than Bitcoin as seen in the Coinbase digital assets under review.
Litecoin can also be stored in the Coinbase vault for safekeeping and is currently down 26% over the year as seen from the Coinbase wallet review. Community updates and the latest Litecoin news is shown under the Coinbase interface so that Litecoin traders can be more informed about the crypto all throughout their Coinbase experience.
Binance Coin
Binance Coin (BNB) was launched in 2017 and is now the fourth-largest cryptocurrency in the market cap. It was created by the team behind crypto exchange Binance, the largest cryptocurrency exchange right now. Holders of Binance coins actually have discounts for fees when using the Binance exchange.
BNB is actually not supported for trading on the Coinbase platform as we've found in our Coinbase com review but can be swapped via cryptocurrency from a Coinbase wallet. As such, limited information is provided for the cryptocurrency. After an iteration of the blockchain, Binance created the Binance Smart Chain that features smart contracts and is actually a fork of Ethereum.
Cardano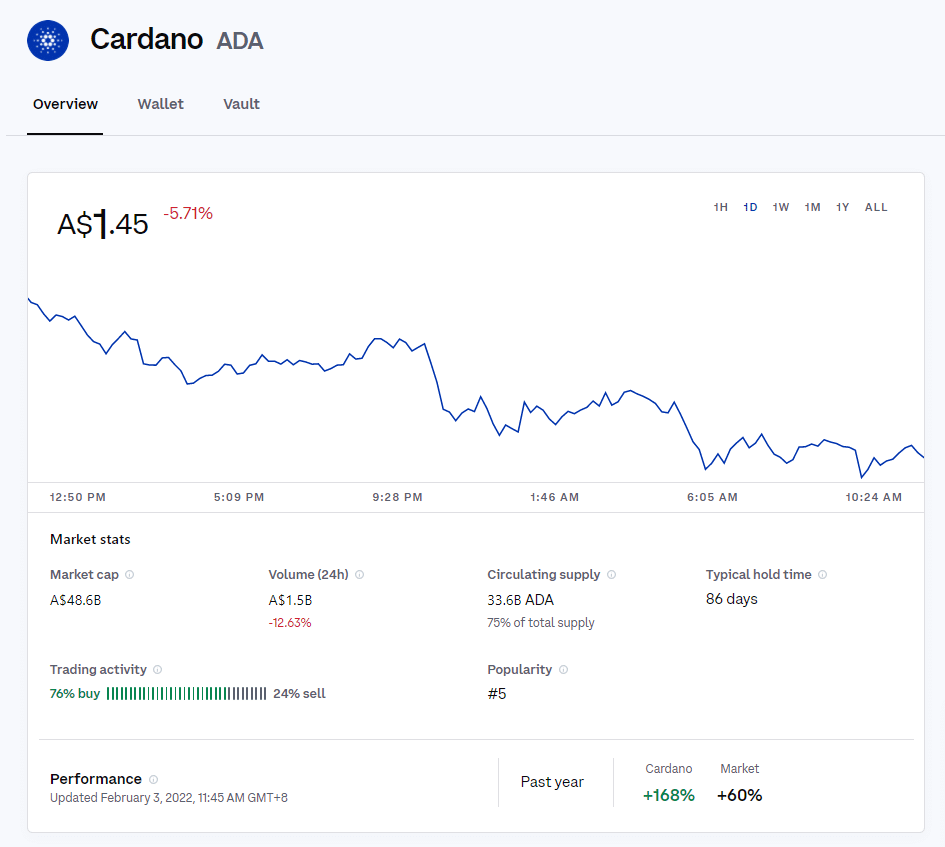 Named after mathematician Gerolamo Cardano, Cardano was founded just a few years after Ethereum by one of its previous founders, Charles Hoskinson. Cardano uses a different consensus model, the proof of stake (PoS) protocol, than Ethereum. Its main goal based on our Coinbase coins under review is to be more scalable, interoperable, and sustainable than Ethereum.
Cardano's native token, ADA, can be used to store value, send and receive payments, and for staking and paying transaction fees on the Cardano network. Cardano's PoS protocol makes it more energy-efficient and thus more environmentally sustainable. In our Coinbase review Australia, Cardano can be traded and bought in the platform, with price correlations UniSwap according to Coinbase.
Coinbase Australia Fees & Commissions
This section of our Coinbase review Australia shows the crypto exchange's fees and commissions. This Coinbase review platform fees are listed below:
| | |
| --- | --- |
| Fee Type | Charge |
| Debit Card Purchase | 3.99% |
| Maker Fee | 0.50% |
| Taker Fee | 0.50% |
| Bank Transfer Deposit | Free |
| Debit Card Withdrawal | 2% |
| Bank Transfer Withdrawal | Free |
| Standard Commission | 1.49% |
| Spread | 2% |
Coinbase Australia User Experience
From signing up to buying cryptocurrencies, the Coinbase user experience can be described as very simple and usable. Many Coinbase reviews recommend it as the best exchange for beginners and for this Coinbase review Australia, this fact remains. 
The crypto exchange's easy-to-use platform offers simple but intuitive buy and sells executions on different cryptocurrencies. Users can expect trading cryptocurrencies as simple as logging in, searching for the coin they want to purchase, and buying them.
You can also link your bank account to the Coinbase platform, making funding your account and buying crypto seamless. Depending on the payment method, account purchases can be credited to accounts almost instantly.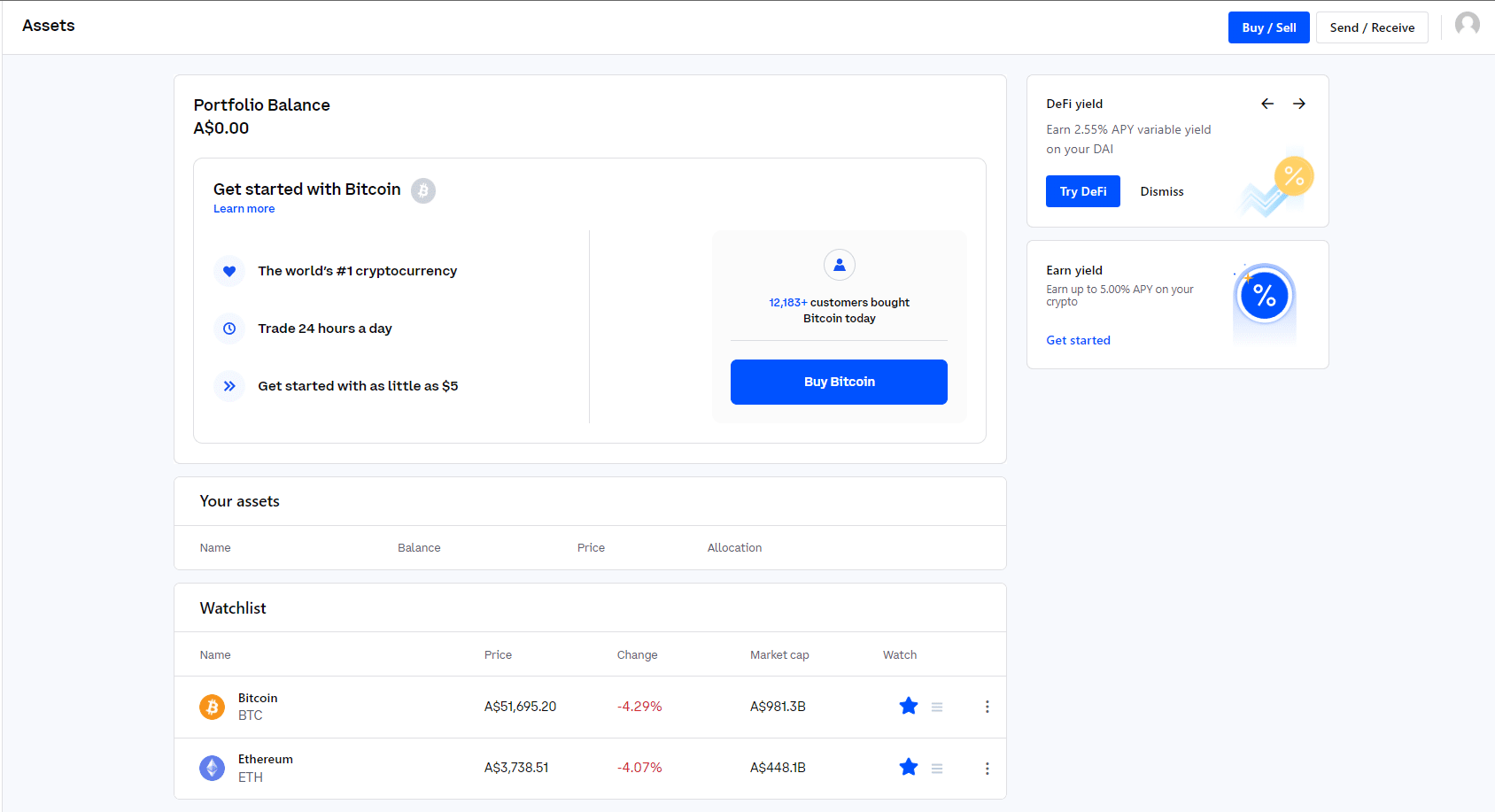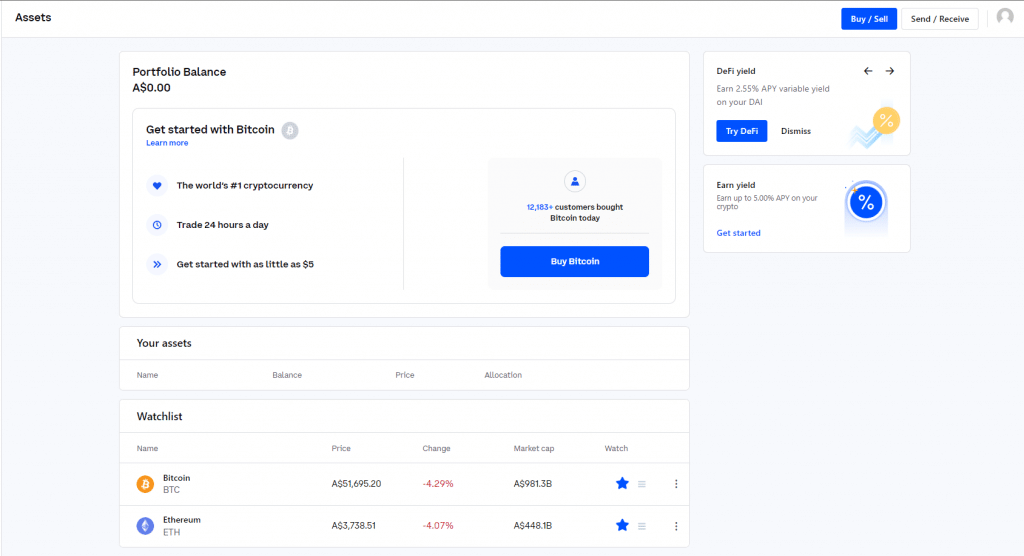 In your Coinbase account dashboard, we discovered through the Coinbase platform review that you can add different cryptocurrencies to your favorites list. It's essentially a watchlist that prioritizes the cryptocurrencies that you fancy.  At almost any point in the platform, you can search and start trading a cryptocurrency in just a few clicks.
For those looking for a more in-depth trading and crypto investing experience, then there's Coinbase Pro as previously mentioned in this Coinbase review Australia. Although this version of Coinbase seems like it's only for highly advanced crypto traders, anyone with a Coinbase account has access to Coinbase Pro.
For this, we made a short Coinbase pro review where we found the subsidiary platform offering more cryptocurrencies than the frontline Coinbase exchange. Also, more trade types like having limit and stop orders are available all with lower fees. Coinbase Pro is recommended if you plan on using the regular Coinbase a lot as mentioned in many Coinbase Australia reviews.
Cryptocurrencies are highly volatile assets. Trading cryptos brings your capital at risk.
Coinbase Australia Wallet Features
Many crypto exchanges come with a backed crypto wallet. For Coinbase and our Coinbase review Australia, this is the Coinbase wallet.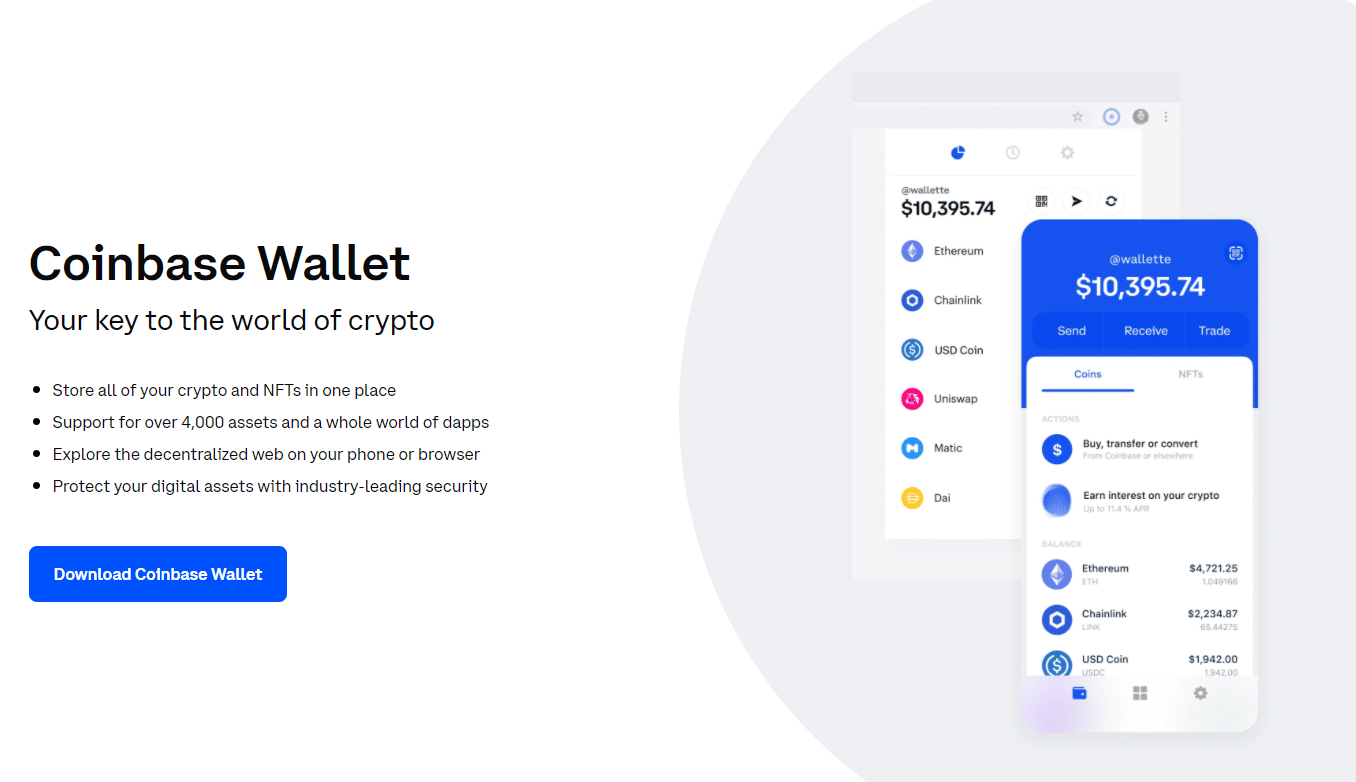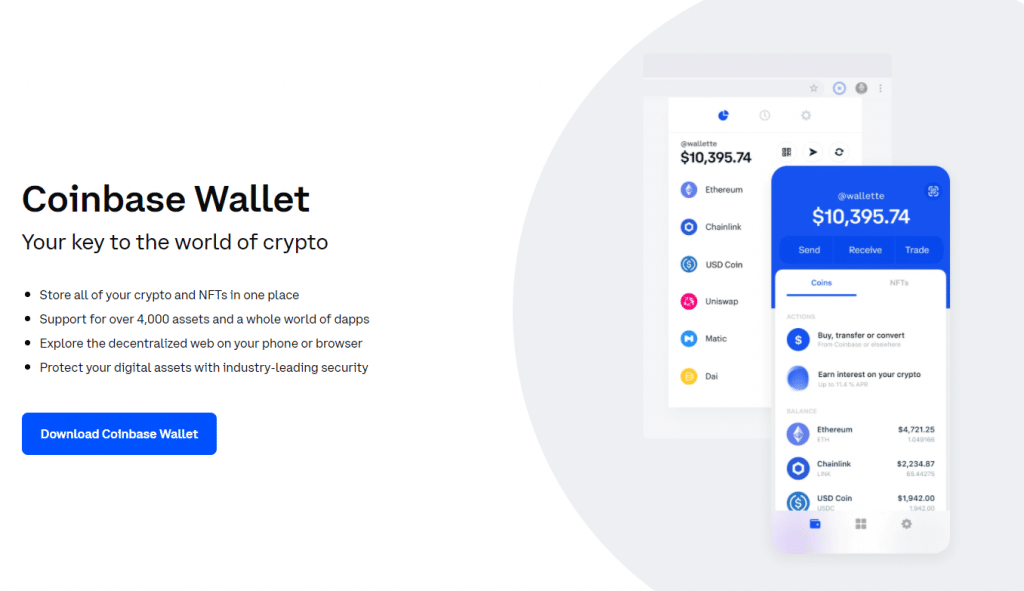 According to our Coinbase Wallet review, the crypto exchange's wallet offers support for over 4,000 crypto assets and the use of many different dApps. As the Coinbase Wallet is also available as a mobile app for Android and iOS, users can explore the decentralized web through the app while enjoying industry-leading security when it comes to their digital assets.
For many users, the Coinbase wallet is their key to the decentralized web. Our Coinbase staking review found that through the Coinbase wallet, users can generate yield through their tokens, buy and sell NFTs, supply decentralized finance (DeFi) liquidity pools, and more. An advantage of the Coinbase wallet is the ability to swap assets on decentralized exchanges (DEXs) which are more secure and anonymous exchanges for crypto. 
Based on our Coinbase wallet review, there are so many that users unlock when they use the Coinbase wallet. In particular, users also have the option of joining decentralized autonomous organizations (DAOs) and helping share major web 3.0 projects.
Coinbase Australia Account Types 
In this Coinbase review, we'll now go through the different account types as they both offer different features and can drastically affect your crypto trading and exchange experience. Below are the two main account types that Coinbase has to offer: 
| | | |
| --- | --- | --- |
| Features | Coinbase Account | Coinbase Pro Account |
| Tradeable Cryptos | 107 | 250+ |
| Debit/Credit Card Fees | 2.49% | 0% |
| Crypto Conversion | 0.50% to 2% | 0.50% to 2% |
| Coinbase Fee | $0.99 to $2.99 based on the amount  | 0.04% to 0.50% taker fee, 0% to 0.50% maker fee |
| Maximum Trading Amount | Varies depending on method and region | Unlimited |
Note that our Coinbase review mentioned that the Coinbase Pro interface can be accessed by anyone with a verified Coinbase account. This means that in order to trade under Coinbase Pro, users must first create a Coinbase Account and then opt to use the Coinbase Pro platform to enjoy its features.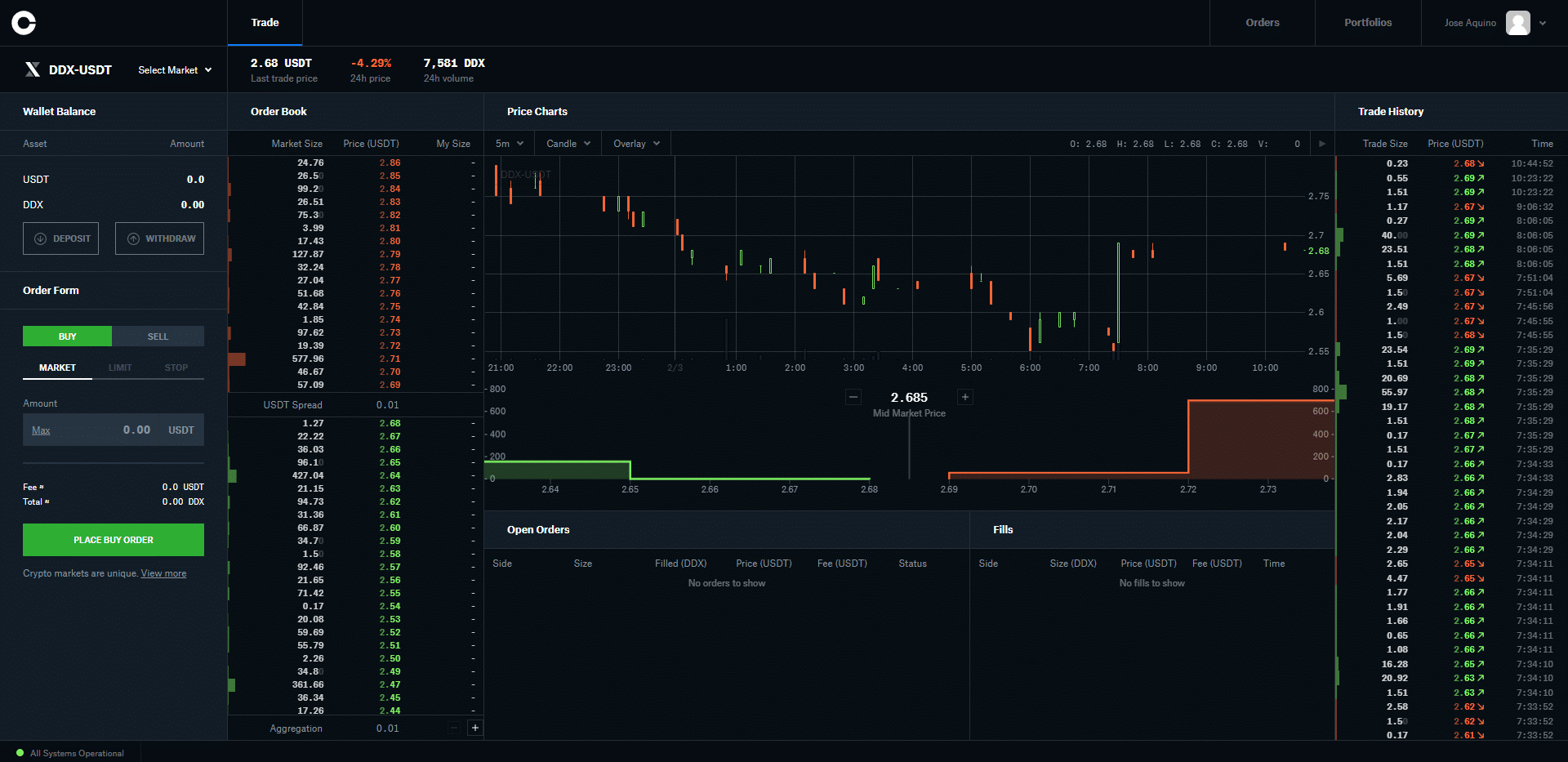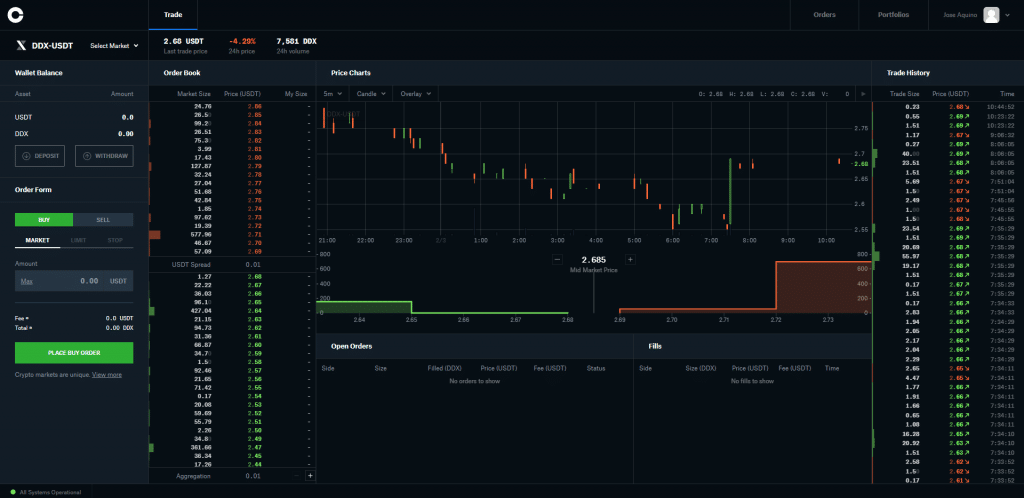 To add, the Coinbase Pro platform comes with advanced trading tools, charts, and top-level order books. Our Coinbase exchange review found this advanced interface to offer lower trading fees coupled with additional cryptocurrency pairs that are not featured in the standard Coinbase site.
Cryptocurrencies are highly volatile assets. Trading cryptos brings your capital at risk.
Coinbase Australia Mobile App Review
Available for Android and iOS mobile devices, the Coinbase mobile app gets the security, user-friendliness, and usability of the web platform and packs it in a mobile system. Our Coinbase review Australia found the mobile app to be highly rated with much of the same features as its web-based counterpart. With very mobile-relevant features such as push notifications, alerts, and content browsing, the Coinbase mobile app offers a simple, safe way to buy, manage, and sell your cryptocurrency.
Taking from our Coinbase Wallet review, we have to mention that the Coinbase wallet is only available on mobile devices. The crypto wallet is also highly rated on the App store and markets itself as a self-custody wallet that helps users take full control of their crypto. The Coinbase wallet is secure, safe, and well encrypted so that your account and crypto stay yours.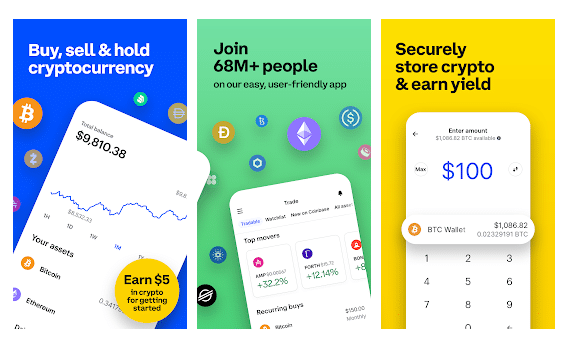 Because Coinbase users can access the subsidiary Coinbase Pro platform, there is also a Coinbase Pro mobile app that is available for both iOS and Android. Thanks to our Coinbase exchange review, we found the Coinbase Pro app to have more advanced orders and market data aside from world-class crypto security.
On the main dashboard of the Coinbase app, users can easily search the cryptocurrencies they wish to trade, view their current portfolio, and see the latest news and trends all in just a matter of taps. 
Based on our Coinbase review Australia, 98% of the cryptocurrency is stored securely offline and the rest is protected by their high-level security. It is even possible to lock the app with a passcode, or remotely disable your phone's access to the app if it gets lost or stolen for added security.
Coinbase Australia Deposit and Withdrawal Methods
Australian Coinbase clients can access their Coinbase account and choose the Australian dollar as their currency. As we've seen in our coinbase card review, Coinbaser credit card review, and Coinbase Visa card review, users can link their bank accounts to the platform to easily transfer funds.
Crypto wallets can be funded using a different payment method and cashouts may not be available for all Australia customers. According to their site, the payment methods supported by Coinbase vary by country and are determined by their partnerships with local banks and payment processors.
For deposits, bank cards will be the main payment method and currently, Coinbase is not able to transfer funds back to a card so they cannot be used to sell digital currency. It is important to highlight this limitation in our Coinbase withdrawal review since credit/debit cards are the only payment option. You won't be able to sell your digital currencies directly, but you will still have the option of transferring your digital currency from Coinbase to another wallet or exchange.
Coinbase Australia Contact and Customer Service
It is fairly standard for cryptocurrency exchanges to operate 24/7 as the crypto markets run in the same schedule. There is also a Coinbase Help Centre where users can reach out to for questions regarding the platform in general. In some other Coinbase reviews and Coinbase Australia reviews, the customer service has been known to be quite slow in answering requests.
What this could mean is that for example, if you encounter a problem like having your Coinbase coins under review then it may take a significant amount of time before finding a reply. It is for this reason that many often look to different communities or the Help Centre for guidance on the platform. 
Is Coinbase Australia Safe?
Coinbase is licensed to engage in money transmission operations as a registered money services business (MSB) with the Financial Crimes Enforcement Network (FinCEN). Our Coinbase review Australia does find these regulations mostly for US clients, but Coinbase is committed to obtaining the necessary licenses needed to comply with laws from other nations.
How to Start with Coinbase Australia
Now that you've learned the relevant coins offered, different features, and fees of the Coinbase platform, it's time to learn how to start trading in this Coinbase review Australia.
Step 1: Open a Trading Account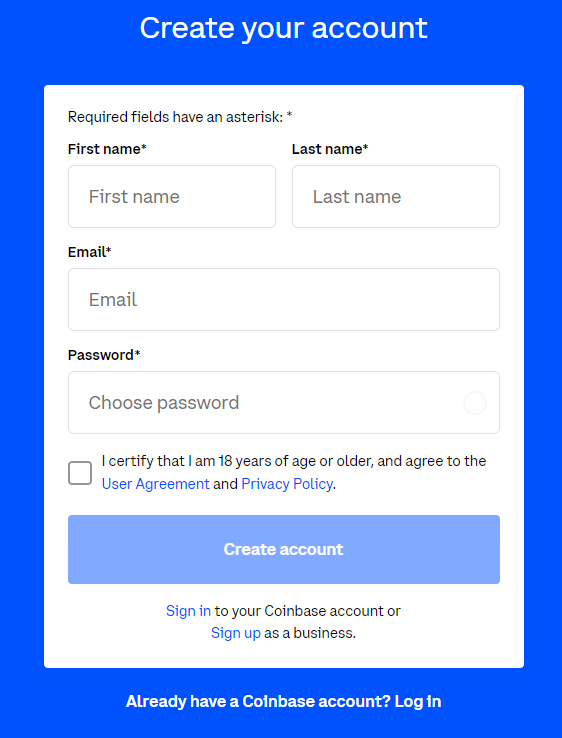 Cryptocurrencies are highly volatile assets. Trading cryptos brings your capital at risk.
First, you'll need to head over to the Coinbase site and click the Get Started button located at the top right of the page. This will redirect you to the account creation page where you can fill in your first name, last name, email, and password to start your registration.
Step 2: Verify Your Identity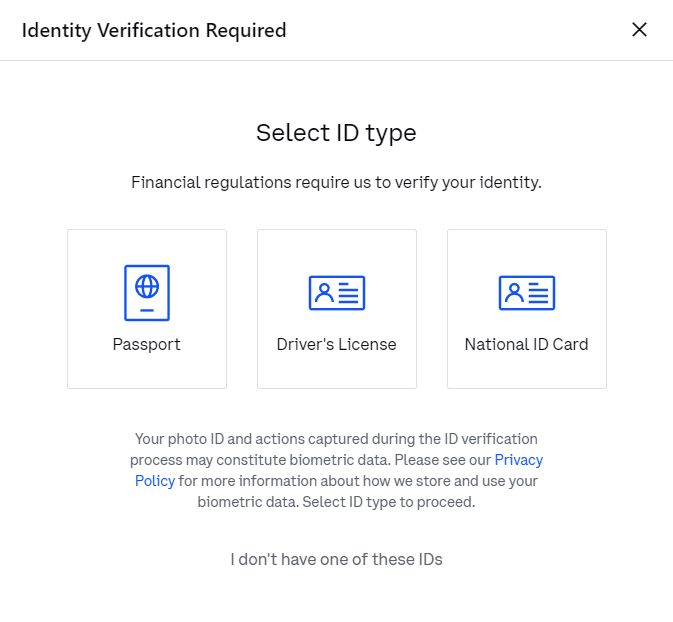 After the initial registration, you should have access to the web platform. In the platform, you will be asked to verify your identity before you can start trading and funding your account. You'll just have to upload a clear image of either your passport, driver's license, or national ID in order to complete the verification.
Step 3: Deposit Funds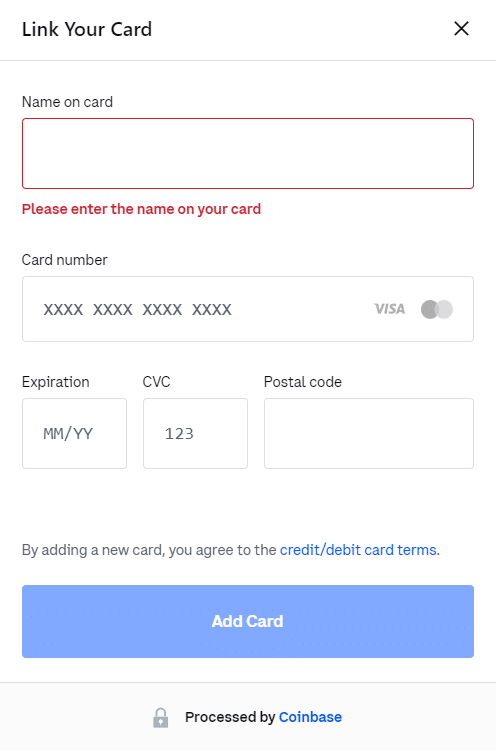 With a fully verified account, you can now fund your account and even access the Coinbase Pro interface. You may deposit by linking your Australia bank account mainly through a bank card. Simply head over to Settings, then Payment Methods before initiating a transfer.
Step 4: Store Your Cryptos with Coinbase Australia
With your account funded, you may start investing and adding cryptocurrencies to your Coinbase portfolio and crypto wallet! Click on the Buy / Sell button on the upper right-hand side of the site. Then, click the Buy field to select the asset you'd like to purchase. Afterward, simply enter the amount you'd like to buy denominated in crypto and select your payment method. If the details are correct, click Buy to complete your purchase.
Coinbase Australia Review - Conclusion
Though other crypto exchanges may offer many of the features that Coinbase has to offer, none of them can package it in a more beginner-friendly manner than Coinbase. The platform has something to offer whether you're starting to invest in crypto or have been trading digital assets for years.
Start trading the top cryptocurrencies using one of the largest crypto exchanges out there! Simply follow the link below and create an account with Coinbase Australia today!
Alternative to Coinbase - eToro: Overall Best Crypto Trading Platform in Australia
If you're not convinced with the Coinbase platform after our Coinbase review Australia, Coinbase wallet review, and Coinbase exchange review, then we would highly recommend looking into eToro.
eToro is an all-in-one regulated trading platform with over 40 different cryptocurrencies available for trading at zero commissions. To create an account and start trading crypto-assets and more with 0% commission, click on the link below and open an account with eToro Australia today!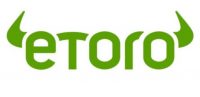 67% of retail investor accounts lose money when trading CFDs with this provider. You should consider whether you can afford to take the high risk of losing your money.
FAQs
What is Coinbase?
Coinbase is the largest cryptocurrency exchange platform in the United States by crypto trading volume.
Who founded Coinbase?
Coinbase was founded in 2012 by former Airbnb engineer Brian Armstrong and former Goldman Sachs trader Fred Ehrsam
What is cryptocurrency trading?
Cryptocurrencies are digital assets backed by blockchain and are used as a transfer and store of value. Crypto trading is the buying or selling of these virtual currencies in real time.
What crypto assets can I store in Coinbase Wallet?
All crypto assets, including NFTs, can be stored in the Coinbase Wallet.
Can I do crypto trading in Coinbase Australia?
As a cryptocurrency exchange, crypto trading is available in Coinbase Australia. Trade different cryptos such as Bitcoin, Ethereum, Litecoin, and more.
Can I open an account with Coinbase in Australia?
Yes, you can! Simply head to the Coinbase Australia website and create an account from their page.