What are the chances for inflation coming down? Will we see a true Fed pivot? Will OIL and NATGAS prices continue to fall? We address these and many other questions related to investing in 2023 in the latest report developed by XTB analysts.
The past few years on the markets were anything but boring. After the COVID crash of 2020 and the euphoric "everything-rally" of 2021, we had a fairly turbulent 2022 where inflation fears pushed stock prices down and the war in Ukraine sparked volatility on energy markets. Looking at 2023 investors have a mixture of Fed-pivot hopes and recession related fears. In XTB's latest report, you can find out which 6 stories will be crucial for the markets.
Inflation in the year ahead
Inflation has been the main market theme for a long while and the main reason behind struggles for the majority of asset classes in 2022. The big question investors are facing right now is, will it go down? 
US petrol price declined from $5 in June to $3.6 in November, ISM prices paid index averaged 83 points between January 21 and June 22, but was down to 46.6 in November, and used cars prices are down 15% from their peak in January 2022. These are only a few of the indicators showing that the peak of inflation might already be behind us. But how quickly and to what levels will it fall?
Will the Fed Pivot?
Despite a rocky 2022, the last 14 years on equity markets were amazing for investors, especially on the US markets. This was partly due to the long expansion cycle between 2009 and 2020 but was also greatly helped by a dovish shift in the central banks policies. Never in history have interest rates been that low, effectively at 0% in the US and even negative in Europe and Japan. As a result, equity indices gained more than suggested just by the changes in earnings or the GDP, resulting in elevated valuation metrics like price to earnings or price to sales. These investors hope that a more benign inflation outlook may convince central banks to rethink their recent decisions and reverse the course of the monetary policy in 2023.
However, so far central banks representatives signalled that they may prefer maintaining tight policy for longer to ensure that inflation is eradicated.
Further insights into investing in 2023, including the war in Ukraine, earnings recession, OIL and NATGAS prices and China's real estate bubble, can be found in the complete report. Open a demo account with XTB below, and receive the free ebook to your email.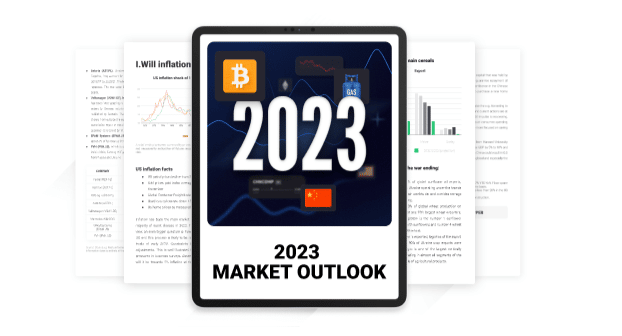 CFDs are complex instruments and come with a high risk of losing money rapidly due to leverage. 82% of retail investor accounts lose money when trading CFDs with this provider. You should consider whether you understand how CFDs work and whether you can afford to take the high risk of losing your money.
About XTB Group
XTB Group consists of companies with one of the largest stock exchange-listed FX & CFD brokers in the world. XTB Group has entities regulated by the world's biggest supervision authorities including the FCA, CySEC and KNF. With more than 15 years of experience, XTB Group provides retail traders instant access to hundreds of global markets. XTB is a fintech company based on trust, technology and support. Since 2002, XTB Group has expanded to 13 major markets in Europe, Latin America and Asia, attracting over 581,000 clients. Operating the company's own award-winning xStation platform and XTB Mobile app, the entities of XTB Group offer over 1,500 instruments, including forex, indices, commodities, stock and ETF CFDs. Through X-Open Hub, XTB provides leading technologies for financial institutions from around the world. Find out more at XTB.