TurboXBT Review: Fees, Pros & Cons Revealed
Fact Checked
Everything you read on our site is provided by expert writers who have many years of experience in the financial markets and have written for other top financial publications. Every piece of information here is fact-checked. We sometimes use affiliate links in our content, when clicking on those we might receive a commission - at no extra cost to you. By using this website you agree to our terms and conditions and privacy policy.
TurboXBT is a derivatives exchange and trading platform that has been making waves in recent months. This TurboXBT review examines the ins and outs of TurboXBT and how they operate.
What is TurboXBT?
TurboXBT is a digital trading platform that allows investors to earn profits on short-term contract trading. The platform enables users to predict the direction of the market without owning the underlying assets. A self-styled next-generation platform, TurboXBT claims to help traders "supercharge" their earnings, regardless of their trading background or experience.
To help traders maximise returns, TurboXBT focuses on short-term contracts with high yield potential. These contracts reportedly allow users to earn up to 90 percent profit on a single trade, which compares favourably to what's obtainable on other trading platforms. Traders have their pick of the litter on TurboXBT as it has a wide variety of trading pairs and asset classes to choose from.
There is no guarantee that you will make money with this provider. Proceed at your own risk.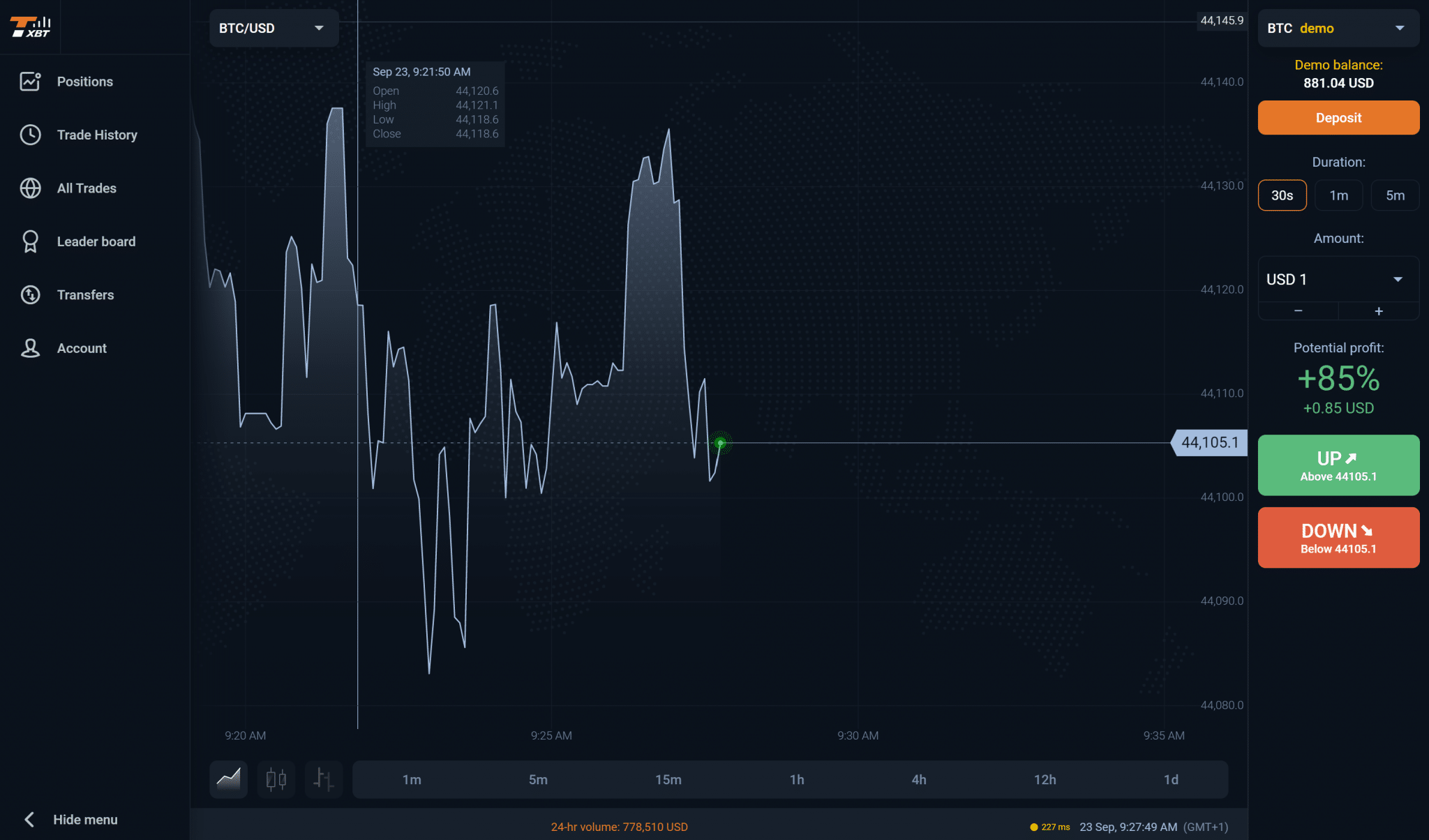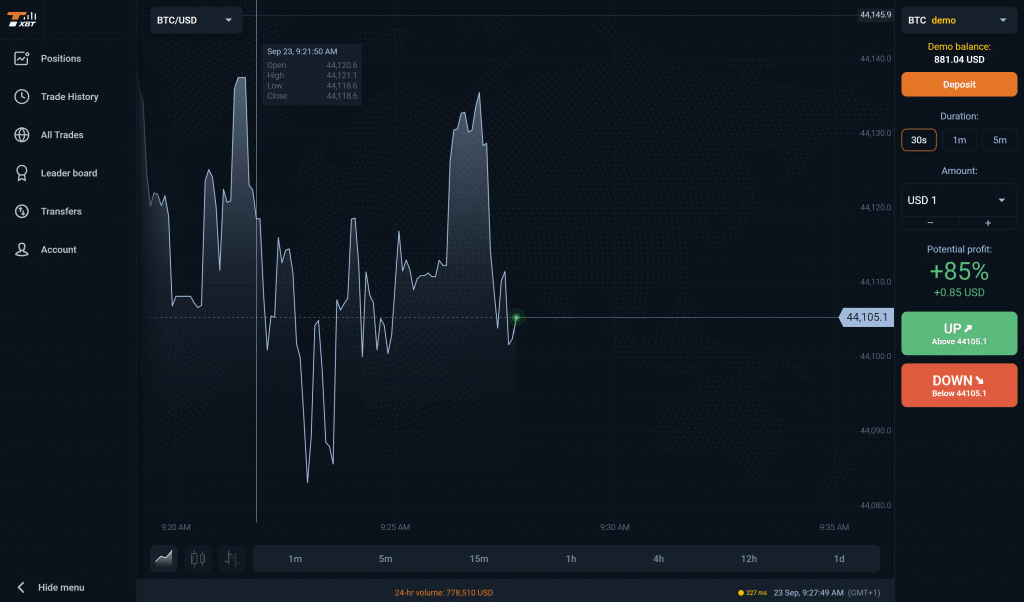 Your Capital is at risk.
TurboXBT operates out of St. Vincent and the Grenadines, which is a blockchain-friendly jurisdiction. Like most crypto companies, the lack of crypto-friendly laws has driven these firms to friendlier environments. But, this also means that no tier-1 authority regulates TurboXBT.
Besides its primary offering, TurboXBT offers traders the option to create their trading strategies and improve them over time. You can test these strategies using any of the asset classes offered by TurboXBT.
The TurboXBT platform offers users"UP" and "DOWN" contracts with different durations. These short-term contracts usually range from a few seconds to minutes. All you have to do is predict the movement of an asset's price. Either upward or downward movement. You start earning once the asset goes in your desired prediction.
Your Capital is at risk.
Supported Assets on TurboXBT
TurboXBT supports 17 assets in total. These include cryptocurrencies, commodities, Forex pairs, and indices. All of these assets are available on a short-term basis. TurboXBT offers speculation for the following periods:
30 seconds
1 minute
5 minutes
10 minutes
15 minutes
To earn using the time option, you predict the price movements within a specific time frame. Once your prediction is correct, you'll be eligible to cash out.
Trade Cryptocurrencies
Cryptocurrencies are the hottest and most exciting asset class available today. They've broken into the limelight and are now widely accepted by some of the largest firms in the world. Known for their volatility, cryptocurrencies offer investors an opportunity to earn massive returns – even in the short term.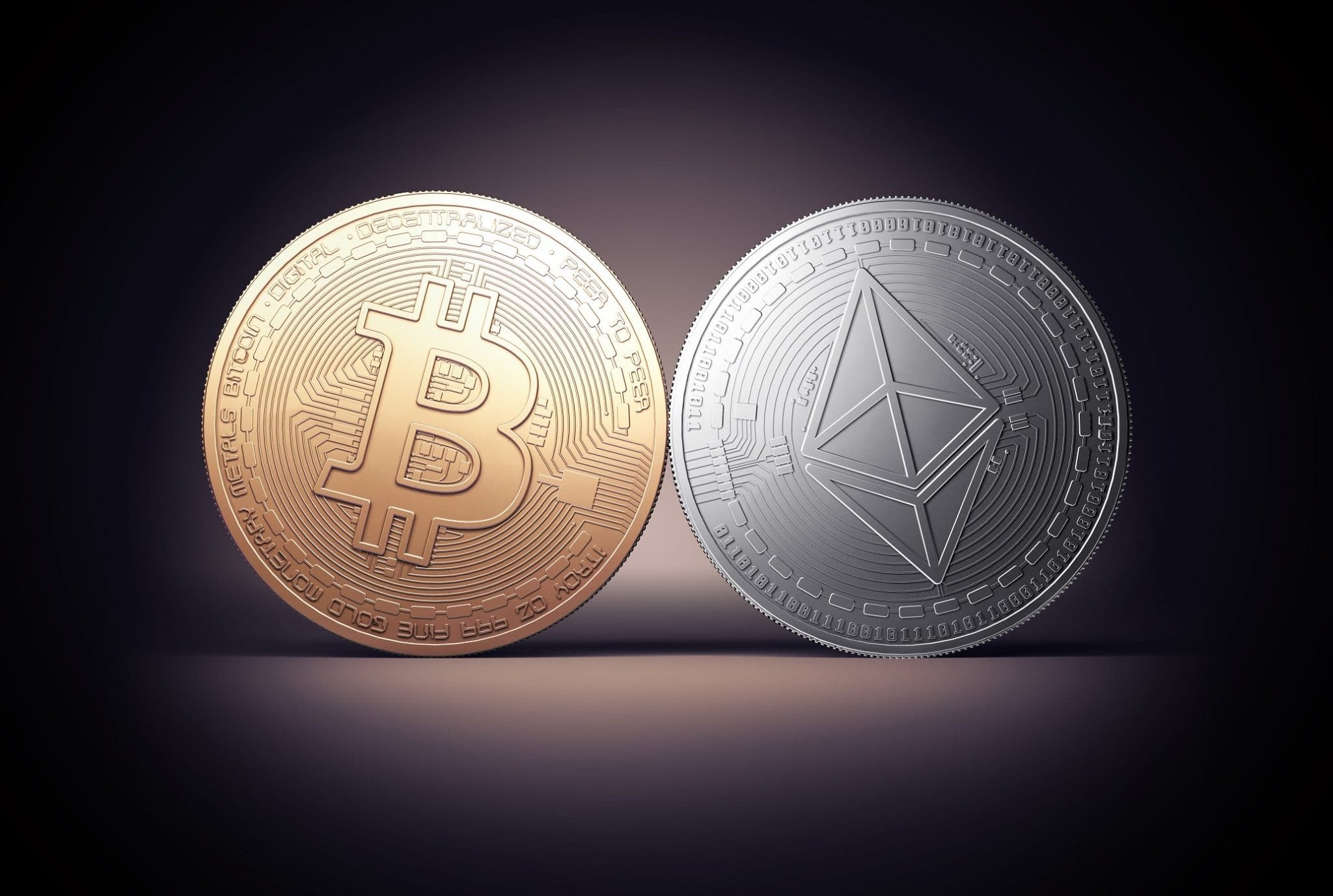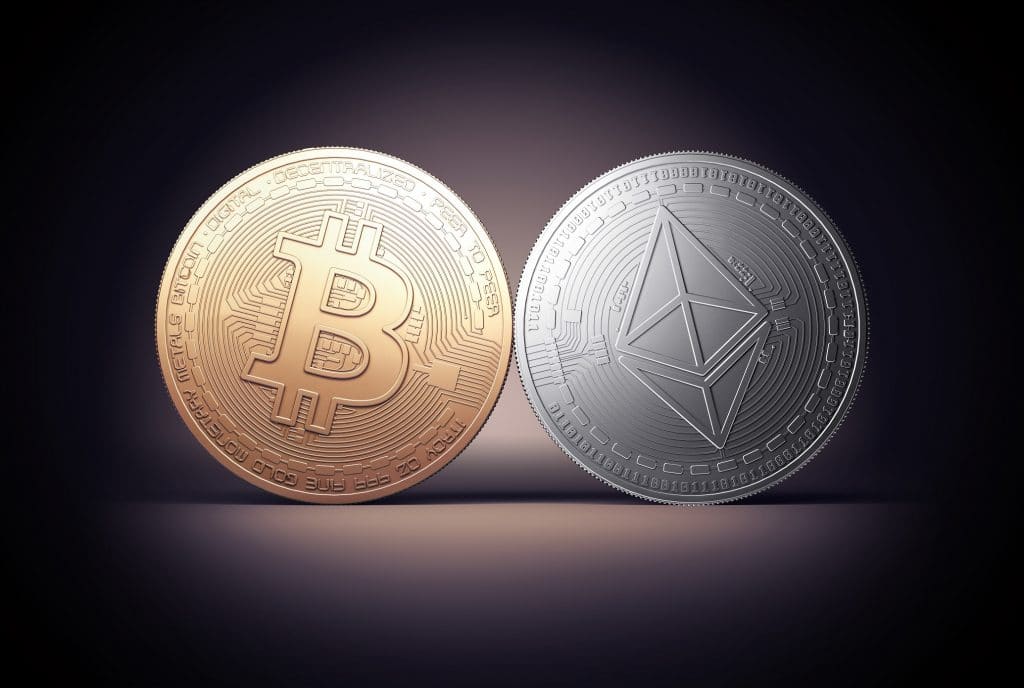 From our TurboXBT review, we found out that TurboXBT only allows Bitcoin trading and Ethereum trading on its platform. The two coins currently dominate about 60 percent of the total crypto market, and they're the most popular coins. But, there are more cryptocurrencies available. It's unclear whether TurboXBT plans to support more cryptos in the future.
There is no guarantee that you will make money with this provider. Proceed at your own risk.
Trade Forex Currencies
While the crypto market is highly exciting, forex trading remains the world's largest capital market – with trillions of dollars exchanged every single day. From our broker reviews, we found out that every major broker and trading platform worth its name will offer access to forex trading pairs, and TurboXBT is no different.
TurboXBT offers access to eight forex currencies. These are the United States Dollar (USD), Canadian Dollar (CAD), Australian Dollar (AUD), Swiss franc (CHF), Japanese Yen (JPY), New Zealand Dollar (NZD), the Euro (EUR), and the British Pound (GBP).
TurboXBT allows traders to access forex trading pairs 24 hours a day, five times a week.
Trade Commodities
TurboXBT also offers inroads into the commodities market. The platform allows users to speculate on the prices of Brent Crude, West Texas Intermediary (WTI) Crude, Gold, and Silver. These are some of the most popular commodities in the world, and access to them can be a great earning opportunity.
As expected, TurboXBT doesn't allow users to take ownership of any of these assets – you only trade them. TurboXBT is connected to the right brokers and aggregators, so you can view prices in real-time and simply speculate on how they move in the short term.
Trade Indices
Expert traders looking to speculate on broader markets will love TurboXBT's indices offering. It gives you access to the most popular ones in the NASDAQ, S&P 500, and the GER30.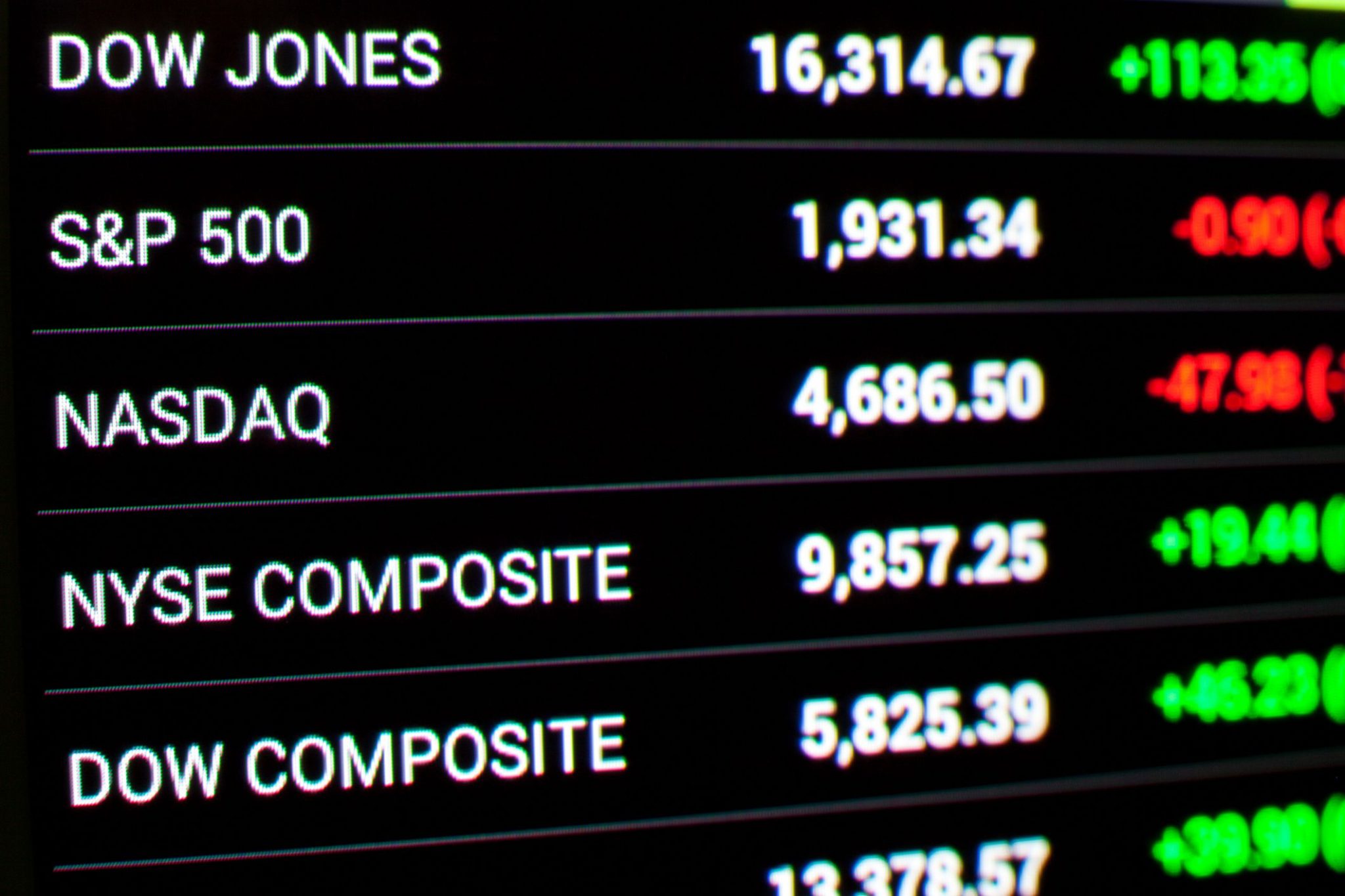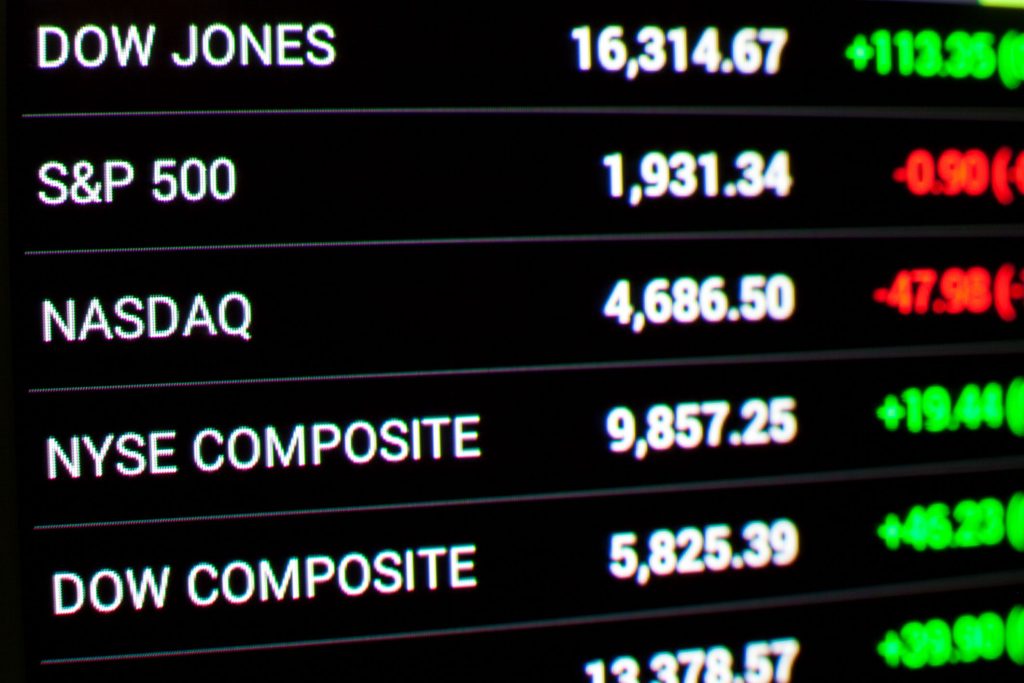 In general, TurboXBT offers access to 17 different assets across all available classes. Users can also trade on 38 trading pairs, incorporating all available assets.
TurboXBT Fees & Commissions
TurboXBT does not charge fees for transactions or trades. The service allows users to deposit and withdraw funds using cryptocurrencies, and it doesn't charge a commission on trades. Instead, all you need to consider are the network fees – which are entirely out of TurboXBT's control.
TurboXBT will also not charge you commissions on trades. The company confirms that any amount of money you make on speculation will be yours entirely.
It is worth noting that a successful prediction on asset price movements will only pay up to 90 percent of the profits, depending on the trading pair. This means that TurboXBT charges a 10 percent premium on successful trades.
TurboXBT User Experience
User experience is one area we had to cover in this TurboXBT review. User experience is especially important when considering the best trading platforms for you. It's important for you to interact with the platform and navigate your way through seamlessly.
One of the many areas where TurboXBT focuses on is providing a trading interface suitable for both beginners and expert traders. To wit, the service has incorporated a user-friendly interface that is easy to navigate.
The TurboXBT platform is simple to use and highly responsive, offering you a view of your trades and positions in real-time. The service also has extensive support for you, ensuring that you're never stranded. The platform's live chat is available to all users.
Lastly, TurboXBT offers an advanced security infrastructure. These include two-factor authentication (2FA), cold storage for keeping cryptocurrencies, multi-sig wallets, and address whitelisting. TurboXBT's team also reviews all withdrawal requests to check for possible signs of fraud. While none of these is a 100 percent guarantee of security, TurboXBT definitely seems to have done its homework.
There is no guarantee that you will make money with this provider. Proceed at your own risk.
TurboXBT Main Features
Privacy
TurboXBTdoesn'tt request that you go through any know-your-customer (YC) protocols when you sign up. All you have to do is enter your information and confirm your account, and you can start trading.
While this offers greater ease and speeds up the onboarding process, you should keep in mind that it also makes TurboXBT less equipped to provide superior service or help with fraudulent transactions. So, you want to double-check the details of your transactions to ensure accuracy before proceeding.
Commission-Free Trading
TurboXBT is a commission-free trading platform. It's entirely free to open and close positions on the platform. Also, thanks to its us e of cryptocurrencies, TurboXBT can eliminate processing fees from credit card issuers.
There is no guarantee that you will make money with this provider. Proceed at your own risk.
Quick Trading Interface
TurboXBT offers a highly responsive and quick trading interface as well. Considering that it focuses on short-term contracts, this is especially important. The service is quick and simple to use, allowing you to enter and exit positions when you want to.
Timing remains a very important factor when making trades – especially in markets like crypto and commodities. With TurboXBT, you have a platform that takes most of the stress off your shoulders and helps you to enter and exit positions instantaneously.
Demo Account
Every trading service worth its name will offer a demo account for people to learn. Well, TurboXBT is no different. The platform's demo account is available once you sign up, and you can use it to get acquainted with the platform.
The TurboXBT demo account gives you up to $1,000 to trade Bitcoin, Forex pairs or any asset of choice in a simulated environment. You can always go back to the demo if you have a new strategy you would like to test out, so you can run as many tests as you need and verify.
Low Minimum Account
Another impressive feature here is the low minimum deposit to get started with TurboXBT. The minimum deposit is as low as $1. Most trading services impose high minimum deposits on their users, but not TurboXBT.
TurboXBT Mobile App
Sadly, TurboXBTdoesn't have a mobile app. A mobile app helps traders to speculate and trade on the go. However, you should note that the TurboXBT website is mobile-optimised. So, you can access it from a mobile device, and rest assured that your user experience won't be affected.
TurboXBT Payments
Making deposits and withdrawals on TurboXBT can only be done through cryptocurrencies. The platform supports BTC, ETH, USDT and USDC deposits.
Once your deposit has been confirmed, you will be able to convert the money to your preferred currency on the platform and immediately start trading. This is expected especially with the lack of KYC protocols on the platform. Crypto deposits simplify the whole process. But, withdrawals on the platform take time. TurboXBT only processes withdrawals between 12:00 and 14:00 UTC every day.
TurboXBT Contact & Customer Service
TuboXBT offers customer support via its live chat functionality. You can contact the platform's customer service department for help, and they will get back to you as soon as possible.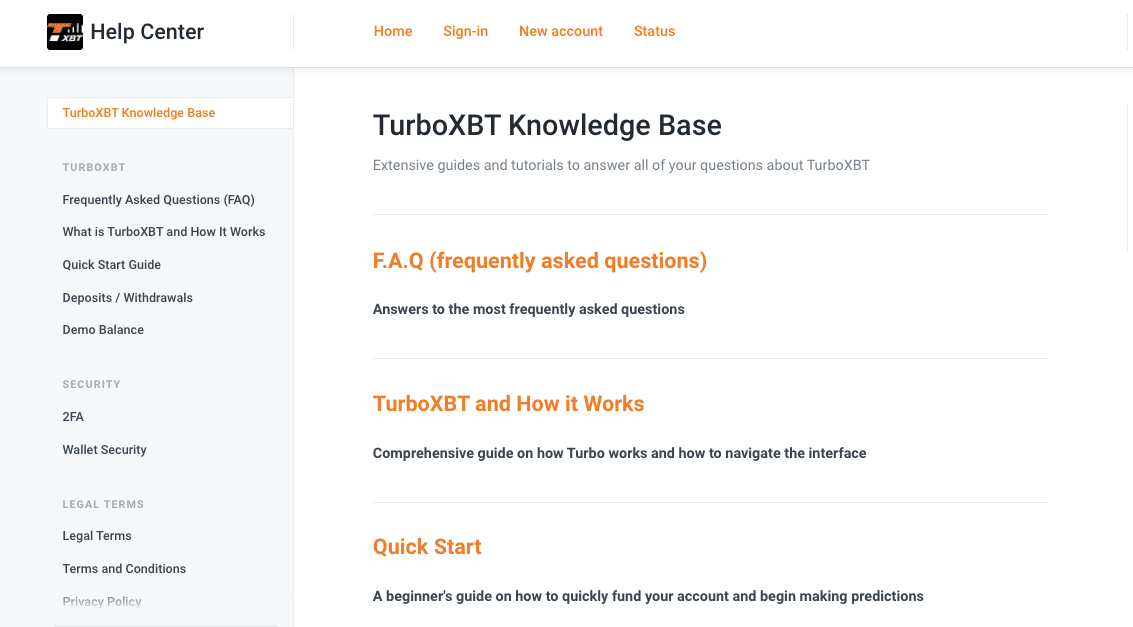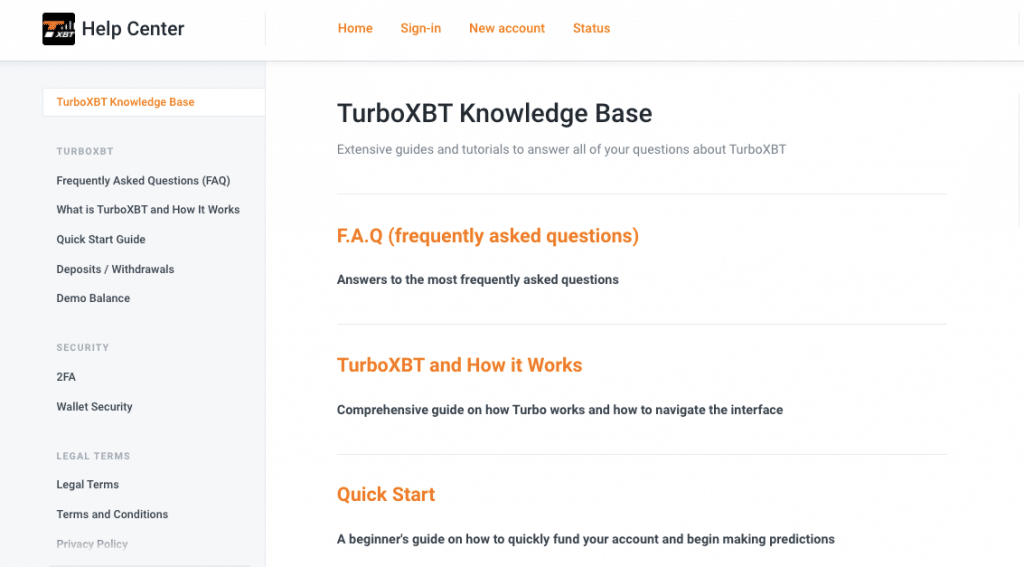 The service also offers a knowledge base, which includes quick videos that you can watch to get more critical information about it.
How to Get Started With TurboXBT
Getting started with TurboXBT is pretty easy, thanks to its easy and user-friendly interface. To begin, follow these steps:
Go to the TurboXBT home page and click on "Open Account."
Enter your details and confirm your Email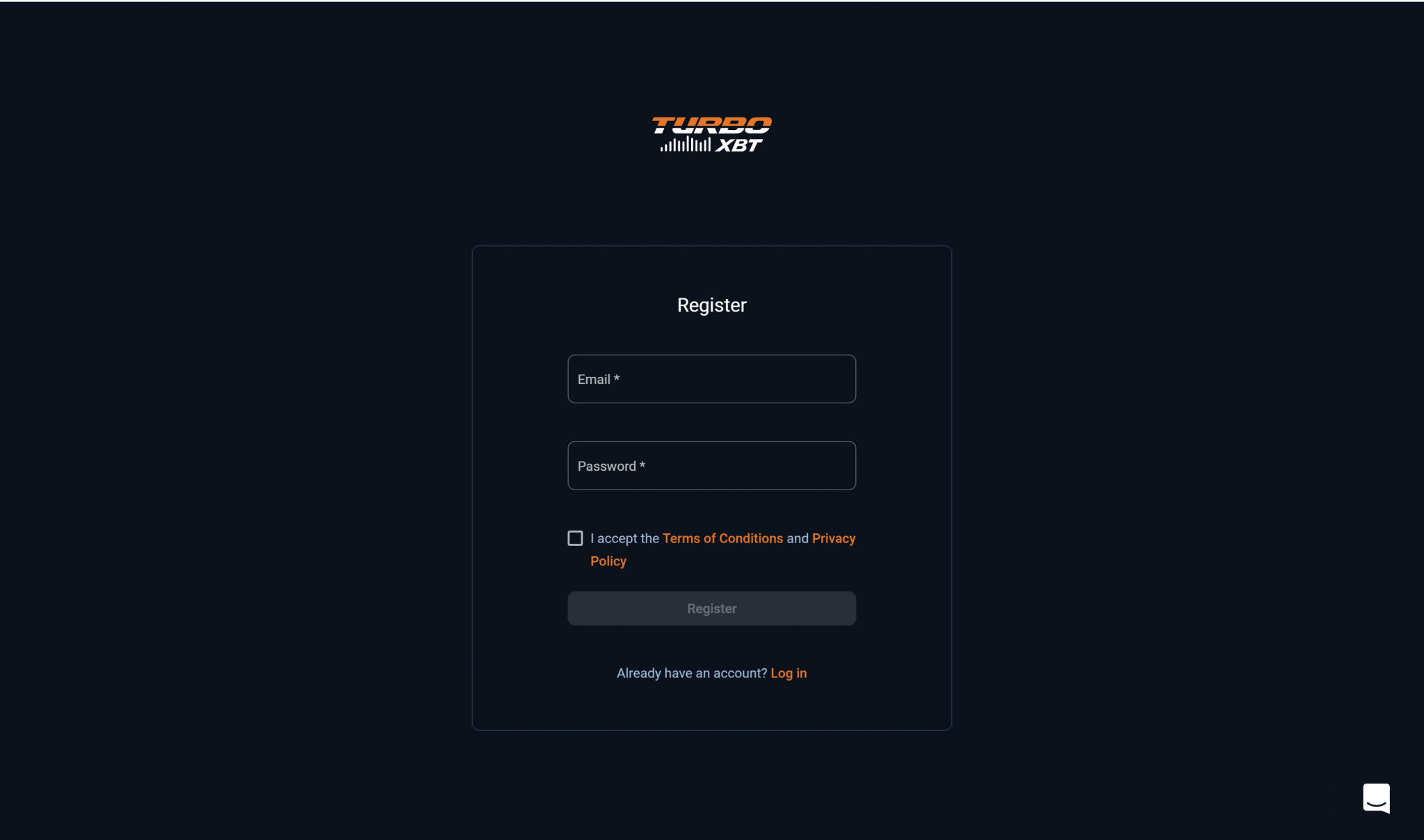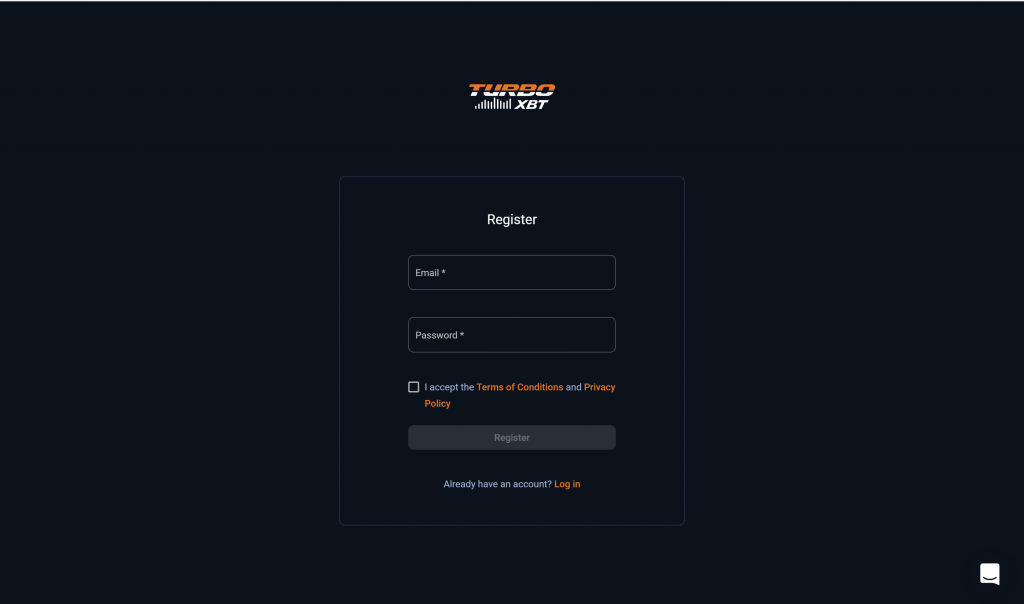 Your Capital is at risk
Once the process is done, you will be able to fund your account and start trading immediately. Click on "Account" and "Deposit" on the top right-hand side to fund your account. You will see the platform's account details based on the currency you choose.
To trade, simply select the "Turbo" option and you'll be taken to the synthetic contracts trading platform. You can select your preferred trading pair from a drop-down menu in the top corner, and you'll be able to see your payout ratio as well. There's also a chart available, so you can analyze price movements before placing a trade.
Select your trading duration and select "Up" or "Down" to show how you think the pair's price will move for the time frame
TurboXBT: Conclusion
TurboXBT is definitely a trading platform you should keep in mind as you start your trading journey. The service offers a lot of benefits, from its responsive and user-friendly interface to a low minimum balance. While its asset range is quite limited, there's every reason to believe that TurboXBT will eventually grow and expand its support. Users should also find it quite easy to make deposits and withdrawals, even though TurboXBT only supports crypto payment options. With its benefits clearly outweighing its drawbacks, TurboXT definitely is a good option to consider.

Your Capital is at risk
FAQs
Is TurboXBT Suitable for Beginners?
Is TurboXBT available to U.S Investors?
What are the Supported Assets available on the TurboXBT platform?