How to Invest In BioNTech Stocks
Fact Checked
Everything you read on our site is provided by expert writers who have many years of experience in the financial markets and have written for other top financial publications. Every piece of information here is fact-checked. We sometimes use affiliate links in our content, when clicking on those we might receive a commission - at no extra cost to you. By using this website you agree to our terms and conditions and privacy policy.
Disclosure
The investing information provided is for educational purposes only. Trading platforms does not offer advisory services, nor does it recommend or advise investors to buy or sell stocks, securities or other investment vehicles. Some or all of the products displayed on this page are from partners that compensate us. It may influence the products we cover and the location of the product on the page. Nevertheless, our research and analysis is unaffected by our partners.
BioNTech, or Biopharmaceutical New Technologies, is one of the leading pharmaceutical companies that are developing and manufacturing active immunotherapies for treating a variety of diseases. BioNTech stock price particularly started surging in late March 2021, followed by another extreme price jump in mid-July. This second surge took it to an all-time high at $390 on August 6th.
In this guide, we look at how to invest in BioNTech stock and make it as simple as possible for everyone interested in investing.
How to Invest in BioNTech Stock?
If you only wish for us to provide quick instructions on how to invest in BioNTech stocks then we show you how to do so in the steps below.
Create Your Account — Start by creating a trading account on your chosen platform and complete the sign-up process.
Verify Your ID — Next, verify your ID by providing your driver's license, passport, or ID.
Deposit Funds — Deposit funds that you will use as your initial investment through one of the numerous supported payment methods.
Invest in BioNTech Stock — Finally, search for BioNTech stock on your platform's search bar and confirm your purchase.
Step 1 — Choose a Stock Broker
If you wish to invest in BioNTech stocks, the first step you need to make is to invest with your preferred broker. Of course, there are plenty of brokers available, so choosing the right one can be a challenge.
View our full list of recommended trading platforms to discover the most suitable platform for your strategy, goals and experience level. We have taken the time to review 10 different brokers that offer stock trading as well as access to other financial markets.
Robinhood is one example of a stock platform that offers BioNTech stock. The platform is amongst one of the most reputable US brokers that is available on both desktop and mobile app.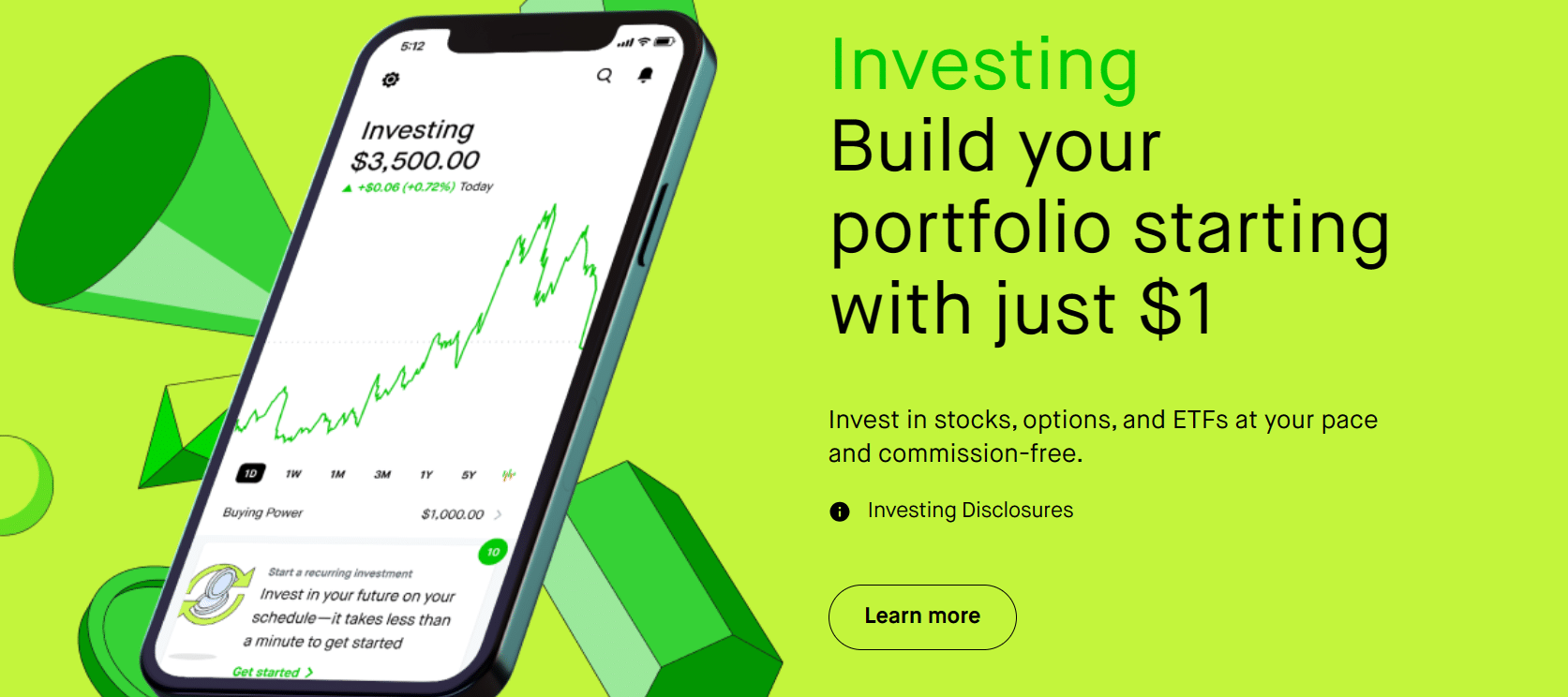 With Robinhood, you can start investing in BioNTech stock from just $1 and 0% commissions. This makes it a suitable platform for less-experienced investors who may have a smaller budget to start with.
The trading app offers a good range of research and analysis tools as well as a variety of investment account types to suit your goals. Furthermore, the app offers market-leading security to protect users from fraud or theft.
Step 2 — Research BioNTech Stock
Users may want to do their research before investing, stock trades, or anything. Most assets can be unpredictable and volatile, so learning about the company will give you a more in-depth view of the fundamentals and history of your potential investment.
What is BioNTech?
The first thing to do before you make your investment decision is to research who and what the company is, in the first place. As mentioned earlier, the firm has seen a rapid price surge as it worked on developing a COVID-19 vaccine, which is no coincidence, as the world is desperate to shake off the pandemic that has been plaguing it for over a year and a half now.
BioNTech Stock Price
BioNTech stock has been listed on Nasdaq for the last two years, since October 11th, 2019. In that time, the stock price has had its ups and downs, but by looking at its overall price-performance — it has constantly been on the rise.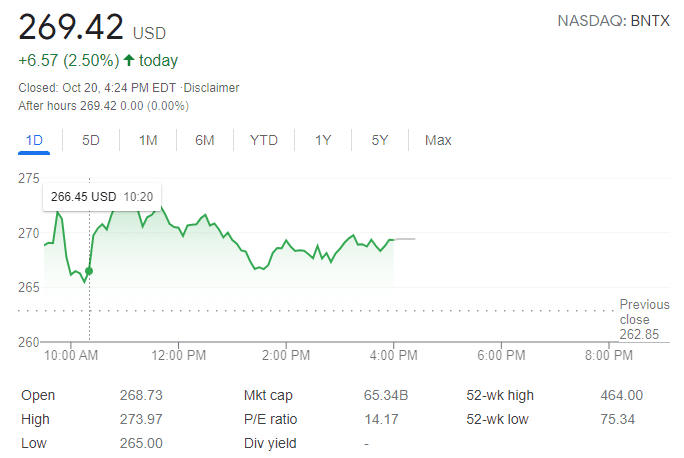 Its harshest drop was seen between September 17th and October 1st of 2021, although it is worth noting that it came after a particularly sudden rally that took it from $217 on July 9th to its current all-time high at $447, which it reached on August 9th. In a single month, the company more than doubled the value of its stock.
Currently, the stock is sitting at exactly $250 as of October 15th, 2021.
BioNTech Fundamentals
BioNTech reported that 2020 was a rather transformational year for the company, with the development and approval of the first mRNA drug in history. As of March 2021, the company delivered over 200 million doses of its Pfizer-BioNTech vaccine to over 65 countries
The company also saw a massive increase in revenue in the final quarter of 2020, earning an estimated €345.4 million. To put this into perspective, the firm earned only $28 million during the last quarter of 2019. Total revenue for 2019 was €108.6 million, while in 2020, that figure exceeded €482.3 million.
The increase in total revenue came due to two collaboration agreements for developing a COVID-19 vaccine, which ultimately led to the recognition of COVID-19 vaccine commercial revenues.
In the first quarter of 2021, the company recorded sales of €2.05 billion, with more than half of the amount flowing to its bottom line.
BioNTech Dividends
Dividend stocks are often pursued by investors as they provide passive income, allowing investors to earn without having to do anything but purchase and own stocks for a prolonged period of time.
However, when it comes to BioNTech, the company actually had a shareholder meeting during which its CFO, Sierk Poetting, disclosed that the management board and supervisory board will evaluate the possibility of proposing the initiation of a dividend next year.
BioNTech ESG Breakdown
When institutional investors go for a company, they typically research every aspect of it, including the ESG rating of the firm.
Earlier this year, BioNTech was awarded a "Prime" rating in its very first ESG rating, by the rating agency ISS ESG. As such, the company actually managed to enter a list of the top 10% of all rated companies in the Biotechnology and Pharmaceutical sector.
BioNTech Covid-19 Vaccine
Back in 2020, under the healthcare threat of COVID-19, BioNTech announced that it will be partnering with Pfizer (PFE) for developing the vaccine for the prevention of the coronavirus. While many know this vaccine as "the Pfizer vaccine," and BioNTech is usually completely left out, the company's contribution is very large. Together, the two firms created a vaccine that offers a 95% efficiency in preventing infectious disease, and this level of protection is confirmed at least 7 days after the second dose is received.
This very vaccine was also the first mRNA vaccine ever to be authorized in the UK. Only days later, it was approved in the United States, as well as Canada and Switzerland, with other countries soon to follow.
The vaccine's official name is BNT162b2, it requires 2 shots that are 21 days apart, and it is recommended that moderately to severely immunocompromised people receive the 3rd dose, at least 28 days after the second one. Others can also receive the booster dose, although it is recommended that they wait at least six months following the 2nd shot.
Step 3: Open Account & Invest
Now that you know everything you need to know about BioNTech stock, you can analyse the information and make a decision on whether or not you wish to invest in the industry.
Should you choose to do so, you may want to pick a suitable brokerage that will cater to your investing needs. In the sections below, we will show you how to begin trading with the chosen broker of your choice.
Step 1: Open Your Trading Account
Head over to the homepage of your chosen broker and begin the account set-up process. You will be required to fill in your personal details – including your full name, email address and mobile number. Create a username and password for the platform to continue.
Step 2: Verify Your Identity
Most popular brokers are regulated – which is why users may be required to verify their accounts. To do this, simply upload proof of ID (a copy of your driver's license or passport) and proof of address (a copy of a bank statement or utility bill). Once these documents have been uploaded, your broker should verify them in a couple of minutes.
Step 3: Deposit funds
The next step is to deposit funds into your trading account. Most brokers may support 1 or more of the following payment methods:
Credit card
Debit card
Bank transfer
e-wallet
Choose your preferred payment option and deposit the funds into your account.
Step 4: Invest in BioNTech Stock
Once your account has been funded, proceed to search for BioNTech stock by searching on your platform's search bar. Fill in the amount you want to credit into the trade, and confirm your transaction. 
Conclusion
In this guide, we have reviewed the BioNTech stock by reviewing the company's fundamentals, stock price and more. Users can analyse all this information to make a proper assessment on whether or not to invest in BioNTech stock.
Should you choose to invest, you may want to do so by evaluating and choosing a suitable broker that can cater to your trading needs.
FAQs
How much is BioNTech stock?