Apecoin Price Prediction September 2023 – Buy or Sell?
Fact Checked
Everything you read on our site is provided by expert writers who have many years of experience in the financial markets and have written for other top financial publications. Every piece of information here is fact-checked. We sometimes use affiliate links in our content, when clicking on those we might receive a commission - at no extra cost to you. By using this website you agree to our terms and conditions and privacy policy.
An increasing number of rypto investors are interested in Apecoin's price prediction for the coming year, and it is easy to see why. The non-fungible token (NFT) collection, Bored Ape Yacht Club (BAYC), gained massive popularity in 2021, and so did its native cryptocurrency, Apecoin (APE). The Apecoin powers the BAYC universe and has surpassed Decentraland (MANA) to become the biggest Metaverse token by market cap.
However, like other crypto assets, APE has struggled so far this year – thanks to the bear market. The current Apecoin price is about 90% down from its all-time high.
This Apecoin price prediction 2023 guide analyzes the coin to answer the question, "Will Apecoin go up in 2023?" and shows you the best place to invest in Apecoin.
Apecoin Price Prediction – Overview
Here's a brief overview of our Apecoin crypto price Prediction.
| | |
| --- | --- |
| Apecoin Launch date | Launched in March 2022 |
| Apecoin Fundamentals | 2.31% up in the last 24 hours |
| Apecoin Price Movement YTD | -45.59% |
| Apecoin Total Supply | 1 Billion Tokens |
| Apecoin Price | $3.95 |
| Apecoin Future Events | Staking Feature and Potential Metaverse Launch |
| Sell or buy? | Buy |
Important note: The crypto market is highly volatile. Price can never be 100% guaranteed. 
Apecoin (APE) – A Closer Look
Before diving deep into any Apecoin prediction, it's important to understand the cryptocurrency's tokenomics and utility. We take a closer look at Apecoin below before our Ape coin crypto price prediction.
What is Apecoin?
It is important to know what Apecoin is all about before doing an Apecoin price prediction. Apecoin (APE) is an ERC-20 token that operates on the Ethereum network. The coin is part of the Bored Ape Yacht Club ecosystem and acts as its governance token. In other words, it is a decentralized protocol layer that allows the APE community to build and develop Web3 products. Since it's decentralized, Apecoin is built and controlled by the APE community.
APE was launched in March 2022 by the ApeCoin decentralised autonomous organisation (DAO) that acts as a governing body for the ecosystem to which all Apecoin holders belong.
ERC-20 tokens like APE are fungible (interchangeable) tokens on the Ethereum blockchain. As such, Apecoin allows certain flexibility in its use. The coin acts as a governance token and as a currency in projects incorporated into its blockchain network.
Like other tokens, the APE coin is listed on some of the biggest exchanges today. Traders can buy, sell, and exchange APE on big exchanges like Binance, Huobi, Kraken, Coinbase, etc.
Why Was Apecoin Created?
Apecoin is a big part of the NFT series Web3 company called Yuga Labs, the developers of the famous Bored Ape Yacht Club (BAYC) collection. The collection features 10,000 unique cartoon ape drawings, each with a distinct look and style, with ownership of each verified on the blockchain.
BAYC is one of the most successful NFT projects around today. It has gathered hype and enjoyed popularity from individual and institutional investors, including famous celebrities like Eminem, Justin Beiber, and Snoop Dogg. The BAYC collection experiences price swings and fluctuations. but each collection piece sells for $85,102.68 at the time of writing.
According to Yuga Labs, Apecoin was created to become the "heart of art, gaming, entertainment and events on the blockchain." The APE Foundation oversees the decisions of the ApeCoin Decentralised Autonomous Organisation (DAO). As a result, Apecoin is the primary token used in its series of Yuga Labs' projects. These projects include NFT series like Mutant Ape Yacht Club (MAYC), Bored Ape Kennel Club (BAKC), and the company's virtual land metaverse called Otherside.
The token is responsible for administration, bookkeeping, project management in the APE DAO community. It is also useful for other tasks necessary to ensure the APE DAO community can develop new DeFi applications and services. ApeCoin's main focus is decentralization, which gives ApeCoin DAO members the power to make critical decisions about how the ecosystem is run, including its fund allocations, governance rules, new projects, partnerships, etc., through the APE Improvement Proposal Process.
Summarily, ApeCoin (APE) is the primary governance token that offers voting rights to members of its native DAO. APE holders participate in the network's governance proposals. The token was also developed to be a decentralized payment token across several web3 decentralized applications (dApps) in the APE ecosystem.
APE Tokenomics
Apecoin has a fixed supply of 1 billion tokens. That means the token is deflationary, and there won't be any new coins minted or burned when it reaches its supply cap. At the time of writing, Apecoin has a circulating supply of over 361 million coins. The coin's supply is designed to be distributed across four groups.
62%
First, there is an ecosystem fund that makes up 62% of the coin's total supply, which is 620,000,000 tokens. 150 million tokens from the ecosystem fund were airdropped to holders of BAYC and other related NFTs.
Bored Ape NFT holders got 10094 APE tokens
Mutant Ape NFT holders got 2042 APE tokens
Bored Ape + Kennel Club NFT holders got 10950 APE tokens
Mutant Ape + Kennel Club NFT holders got 2898 APE tokens
Second, 470 million tokens from the same ecosystem fund are for DAO treasury and resources. 117,500,000 of the 470 million are unlocked at launch, and 7,343,750 will be unlocked monthly over a 48-month period. These account for a total of 620 million tokens.
Another 16% of the total supply, which is 160,000,000, will go to Yuga Labs and for charity are divided below:
150 million will go to Yuga Labs over a 12-month lockup period, and an additional 4,166,666.67 tokens will be unlocked monthly for 36 months.
10 million tokens will be donated to the Jane Goodall Legacy Foundation with an initial lock-up period of 12 months, and an additional 277,777.78 tokens will be unlocked monthly over the next 36 months.
Finally, 14% of the total supply, which is equivalent to 140,000,000 tokens, will go to launch contributors under different lockups. The last 8%, equivalent to 80 million APE tokens, will go to the BAYC founders under a similar 12-month lock-up period, with 2,222,222.22 unlocked tokens per month for the subsequent 36 months.
Who is the Team Behind Apecoin?
Apecoin is a product of a Web3 company called Yuga Labs – the creators of the BAYC. However, the fascinating thing about the coin is that it wasn't exactly created by Yuga Labs.
According to the ApeCoin website and white paper, the coin is a community project that was launched by the ApeCoin DAO, which governs all APE holders, who double as members. The DAO is supported by another arm called the Ape Foundation, which handles the legal and administrative activities of the DAO community.
Apecoin Use Cases
As stated earlier, the major purpose of Apecoin is for governance. But according to the coin's developers, APE's four major use cases are:
Governance – Holders can participate in the decision-making process of the ApeDAO about the community's new projects, ventures, and other activities.
Unification of Spend – APE is built on the Ethereum blockchain, and the token can be used as a decentralized currency to pay fees and spend on other activities like building dApps.
Community Access – APE grants its holders access to various opportunities as part of the community. These opportunities include airdrops and other exclusive rewards.
Incentivization – When developers build new projects or dApps like blockchain games or other Metaverse applications that incorporate APE into their projects or participate in the Bored Ape ecosystem, they get rewarded with APE tokens.
However, Apecoin use cases are not limited to Yuga Labs projects alone. A number of blockchain games, including Animoca Brands' Benji Bananas, are play-to-earn (P2E) games with APE incorporated into their reward systems. With ApeCoin's wider adoption, it's very likely that its utility will also increase.
The APE DAO Ecosystem
The Apecoin ecosystem consists of individual APE holders and a series of products and services with the token as part of their functionalities. Yuga Labs is the most prominent member of the ecosystem since it's the major organization that has adopted APE as the primary token for all its projects and services. It's the company behind the BAYC NFTs and other successful Web3 collections.
However, the Apecoin DAO remains the prominent decision-making and governing team for the entire Apecoin ecosystem. The APE foundation is overseen by five members who are appointed annually. These members act as administrators and community leaders, so they are prominent people from the cryptocurrency industry. These members also include BAYC NFT holders and Mutant Ape NFT holders.
The current ApeCoin DAOs board consists of five high-profile cryptocurrency investors:
Alexis Ohanian: Reddit Co-founder
Amy Wu: Venture Capital Head at FTX
Maaria Bajwa: Principal Member at Sound Ventures
Yat Siu: Animoca Brands' Chairman and Co-founder
Dean Steinbeck: President of Horizen Labs.
Each board member gets a six-month term, and the ApeCoin website promises DAO members will be able to vote on future members. The 6-month term should have ended in October 2022, but in September, the DAO voted for an additional three months to extend the current DAO's tenure. So, we may see new members in the coming months.
Apecoin Price History
Before going fully into ApecoiAPE was launched on March 17, 2022. When it commenced trading, the token was priced at $7.26. Between the next 24 hours, the coin had gathered a bullish trend from investors and its price rose to $16.47. The coin's price later dropped to $14. 03 by the end of the day and only moved sideways on 19 March 2022 before its price dropped to just above $9 on 21 March 2022.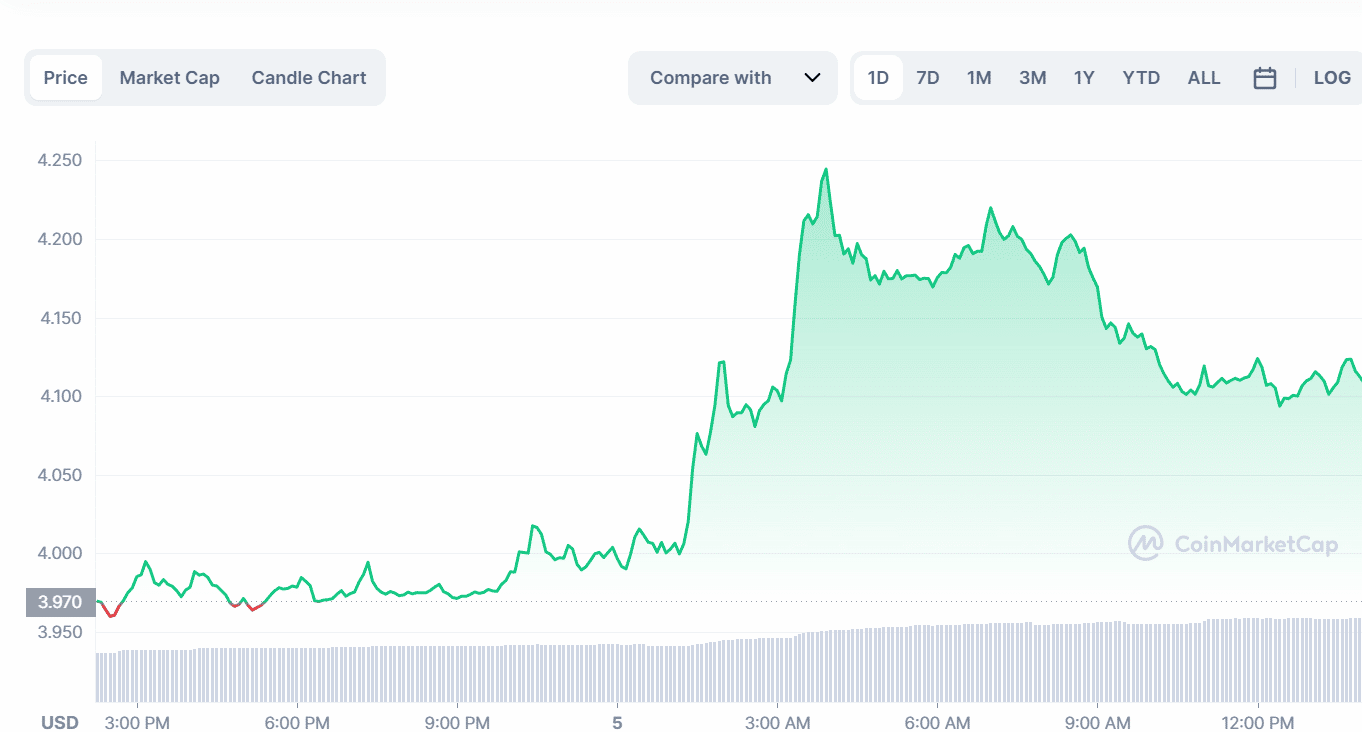 By 24 March, APE climbed back up to over $14 as investors anticipated the first-ever Apecoin DAO voting event scheduled for that day. The token gathered another bullish trend to peak at $15.43 on 28 March 2022. Eventually, its price went down to about $13, and it traded at that price for the rest of March and the early weeks of April.
On April 10, APE peaked at $12.27 after the Californian Bored and Hungry Restaurant became started accepting payments in Apecoin and Ethereum. The coin would later go as high as $17.31 on April 21, after the Apecoin DAO announced its partnership with the OliveXFitness Metaverse.
Towards the end of April 2022,  APE reached an all-time high price of $26.19, as the Apecoin DAO members opened three new proposals to vote on before crashing back down to $13 in May.
Since the end of May, the coin has struggled to hold value, thanks to crypto winter. On November 14, APE went to an all-time low of $2.63 to trade significantly lower than its launch price. However, it has had some gains since then.
At the time of writing, APE is valued at $3.95, 2.31% up in the last 24 hours, and a 24-hour trading volume of $123,585,028. However, it's still miles away from its April ATH.
How Has Apecoin Performed So Far in 2023? 
Apecoin has only been around for a couple of months, but the token has had its highs and lows in 2022. It launched in March to attain a $26.19 about a month later. It then plummeted to a low of $2.63 in November and regaining to reach its current $3.95 price. However, a couple of events in the crypto space – including the crypto winter and the recent FTX saga – have affected the entire crypto market, including the price of popular crypto assets like Bitcoin.
How Did The Crypto Winter Affect Apecoin?
The entire crypto market has been affected by the ongoing crypto winter. Since the first half of 2022, every major cryptocurrency has had its price drop following to collapse of TerraUSD and the LUNA network. Since then, multiple cryptocurrencies have been struggling, including popular assets like Bitcoin, Ethereum, and Litecoin.
The cryptocurrency market cap of the largest 100 cryptocurrencies was about $830 billion as of November 2022. That's almost a 70% decline YTD from the market cap estimated to be $2.7 trillion in November 2021.
For context, the largest cryptocurrency, Bitcoin, has also gone from its November 2021 all-time high of nearly $69k to a little about $17,000 at the time of writing. At the same time, Ethereum, the second largest cryptocurrency by market cap, has plummeted from its $4,800 all-time high in 2021 to just above $1k at the time of writing.
Similarly, the bear market has been challenging for APE. Since its April 2022 ATH, the token has reached an all-time low of just above $2 before crawling back to the $3 zone.
Has The Price of Apecoin Been Affected by The FTX Saga?
While the crypto winter has been on for most of this year, there have been numerous other issues in the cryptocurrency industry – the most recent being the FTX and Alameda collapse. Before declaring for bankruptcy and consequently exiting the crypto space, FTX was the second-largest cryptocurrency exchange behind Binance. However, the FTX collapse has had a domino effect on other crypto companies, including the crypto lending platform, BlockFi, which recently declared bankruptcy.
Though the Apecoin community announced that it had no assets held with FTX in a November 14 tweet, that hasn't stopped the saga's impact on Apecoin. The altcoin registered a 32% decline in its price in the same week. The price touched a crucial mark at $2.65, and according to Lookonchain, several holders sold their APE holdings before the price crash.
However, the coin has shown some signs of recovery since then, with more than a 2% gain in the last 24 hours to sell at $3.95.
Why Has Apecoin Recently Gone Up?
Apecoin has had a strong run in the past week (04/12/22). It's one of the few coins with notable gains at a time when the entire market is red. Experts believe the increase in the price of Apecoin is due to social media rumours about Yuga Labs creating a Metaverse platform where holders of Bored Ape Yacht Club and Mutant Ape Yacht Club NFTs may get the opportunity to invest in virtual real estate.
According to reports, users will be able to launch Metaverse characters from their NFT collections and access the virtual land. The rumours also suggest that transactions in the Apecoin Metaverse will be facilitated by Yuga Labs' utility token,  ApeCoin. Meanwhile, other rumours are going around about Yuga Labs' plans to conduct the sale through a Dutch auction and start the bidding at around 600 ApeCoins.
In addition, the Apecoin ecosystem is introducing Apecoin staking by December 2022. According to reports, users will be able to stake their APE tokens for rewards.
As a result, investors have been bullish on APE because of an anticipated increase in price if all the rumours are true. Similarly, with the staking feature getting implemented soon, we've seen the APE/USD rebound, with the coin outperforming top assets, including Bitcoin, as traders anticipate the Apecoin staking debut.
This is another reason why our Apecoin price prediction 2023 is rather positive. However, this is no guarantee that the coin will have a massive bull run this year – despite the rumours and upcoming staking feature.
What is The Current Price of Apecoin (APE)
According to CoinMarketCap, Apecoin is currently valued at $3.95. The coin has amassed a 2.31% increase in the last 24 hours and has traded units valued at $123,585,028 in the same period. This brings APE's market cap to $1,429,128,005.
Apecoin Price Prediction 2023
Several Apecoin price predictions have proved the token could be one of the most promising cryptocurrencies to buy in 2023. The coin is currently in the green zone, and since it's still relatively new, we expect that more developments may result in a wider adoption that will drive up its value. We analyze our Ape Coin crypto price prediction below.
Apecoin Fundamental Analysis (04/12/22)
Apecoin is currently trading at $3.95 per token, up 2.6% in the last 24 hours.
Going by the recent price action, it's easy to see that crypto traders and investors are bullish on the coin, and its price may potentially increase over the last days of 2022, especially with the ongoing rumours about Yuga Labs launching a Metaverse platform powered by the utility token. In addition, the APE staking program scheduled for December 5 will potentially influence the coin's value.
Apecoin Technical Analysis (04/12/22)
According to the technical analysis (TA) data from TradingView, the token is heavily in the buy zone. At the time of writing, APE's one-day summary points to a "buy" sentiment at 10.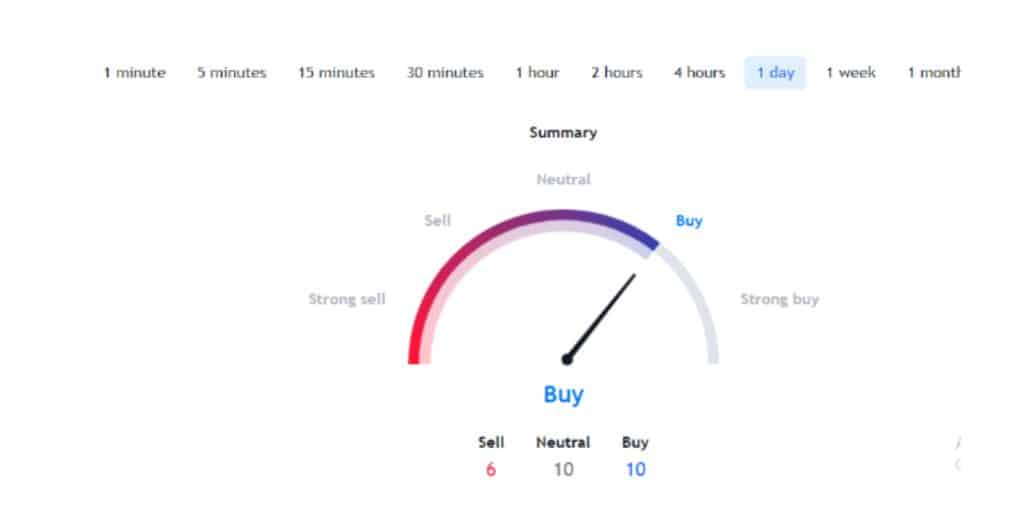 At the same time, the moving averages (MA) suggest a "buy" sentiment at 9. However, the APE oscillators are somewhat neutral, with a "buy" sentiment at 1.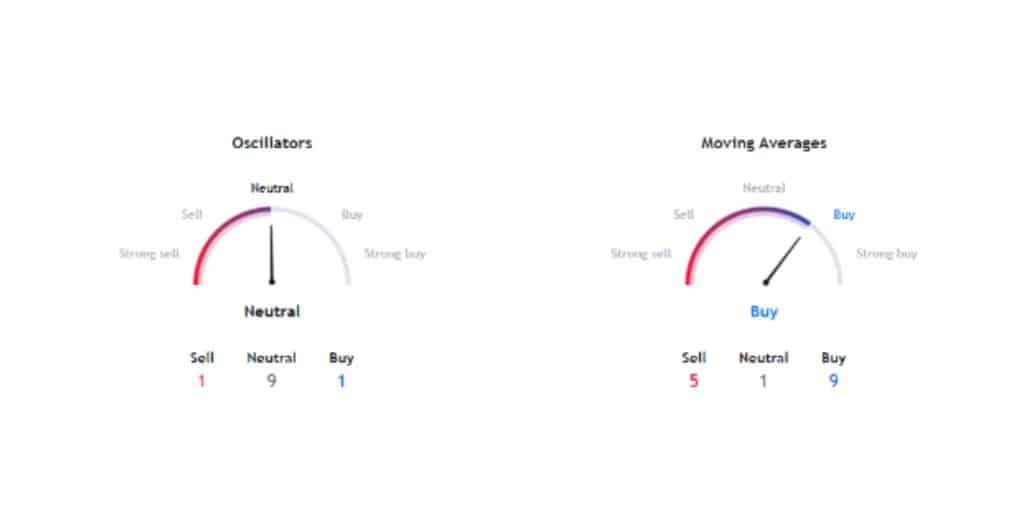 Altogether, the technical analysis reports for Apecoin show that it's currently in a good market position, with a major buy sentiment that can influence its price in the nearest future.
Apecoin Latest News 
As stated earlier, the latest news in the Apecoin ecosystem is the introduction of the APE staking feature. According to an announcement from its developer, Horizen Labs, the staking feature will be launched on December 5. Investors can stake their APE tokens at apestake.io and lock their holdings into four staking pools;
ApeCoin pool
BAYC pool
MAYC pool
Paired pool
Whatever pool investors decide to stake in, they'll earn periodic rewards. However, the staking website being restricted in certain locations, including the United States, may cause concerns among investors.
Upcoming Events That Could Affect The Price of APE
With the FTX collapse and its aftermath, more industry experts have called for the regulation of crypto trading and investing. Experts believe if regulations are properly targeted, there will be fewer speculations about crypto, and investors will feel more protected. That way, more investors can venture into the crypto space and invest in crypto assets, including Apecoin.
However, many cryptocurrency enthusiasts oppose regulation because they believe it will hinder innovation, and it is against everything cryptocurrency stands for, including decentralization.
All the same, new regulations can potentially prevent fraudulent activities, as alleged in the FTX case, and investors can have a clearer sense of guidance, which will, in turn, affect the price of APE and other cryptocurrencies positively or otherwise.
Will Apecoin Go Up in 2023?
Going by current price trends and upcoming events in the Apecoin ecosystem, including its debut staking feature, it is very likely that the coin will experience some gains and top many other cryptocurrencies like Bitcoin and Ethereum in 2023.
However, investors should bear in mind that predictions are not facts, so regardless of what Apecoin looks like right now and its potential, there is no guarantee that the coin will go up in 2023.
What Could Affect The Price of Apecoin Over The Next Year?
Apecoin is still a relatively new asset, but it has enjoyed massive pumps since it was listed on exchanges in March. With 2022 already running out, there is a lot of potential ahead in the future of Apecoin. By the end of 2023, experts predict that the Apecoin DAO would have implemented more features to improve the coin's use cases.
For instance, if the Metaverse adoption rumours are true, APE will have more utility and potentially increase in price. This is because the coin will likely be infused into numerous Metaerse projects and DeFi applications, which will consequently drive its adoption.
In addition, the upcoming staking feature will also improve the use of Apecoin and attract more investors in 2023.
Why Might Some Investors Consider Investing in Apecoin Right Now?
2022 has been very challenging for major cryptocurrencies, but Apecoin has shown massive potential with its recent bull run. With the staking feature coming, investors will likely go bullish on Apecoin for staking rewards. In addition, expert predictions and technical analysis are currently positive, so investors' sentiments point towards buying than selling.
Essentially, short-term investors can leverage the price increase and accumulate little gains from arbitrage and day trading.
On the other hand, long-term investors can stake their APE holdings in the various available staking pools that will be launched in the coming days. Typically, investors will be able to earn staking rewards and interests up to 15% APY when they stake on exchanges and Apestake.io.
Why Might Some Investors Avoid Apecoin Right Now?
Investing in any cryptocurrency is highly risky, and Apecoin has also had massive runs in the past but later plummeted. As a result, investors who aren't convinced about the coin's potential or other traders worried about the impact of the bear market and FTX collapse on crypto may choose not to invest in Apecoin.
How To Invest In Apecoin (APE)
Looking to invest in Apecoin in 2023 after this Apecoin price prediction? There are many options, including buying the coin and hodling for future gains, staking in the upcoming DeFi pool, or trading APE for short-term gains in the crypto market. Whatever the case may be, the first step to take is to purchase the token on a reputable exchange  in a crypto wallet with low trading fees like eToro.
Follow the easy guide below to kickstart your Apecoin investment journey:
Create an eToro account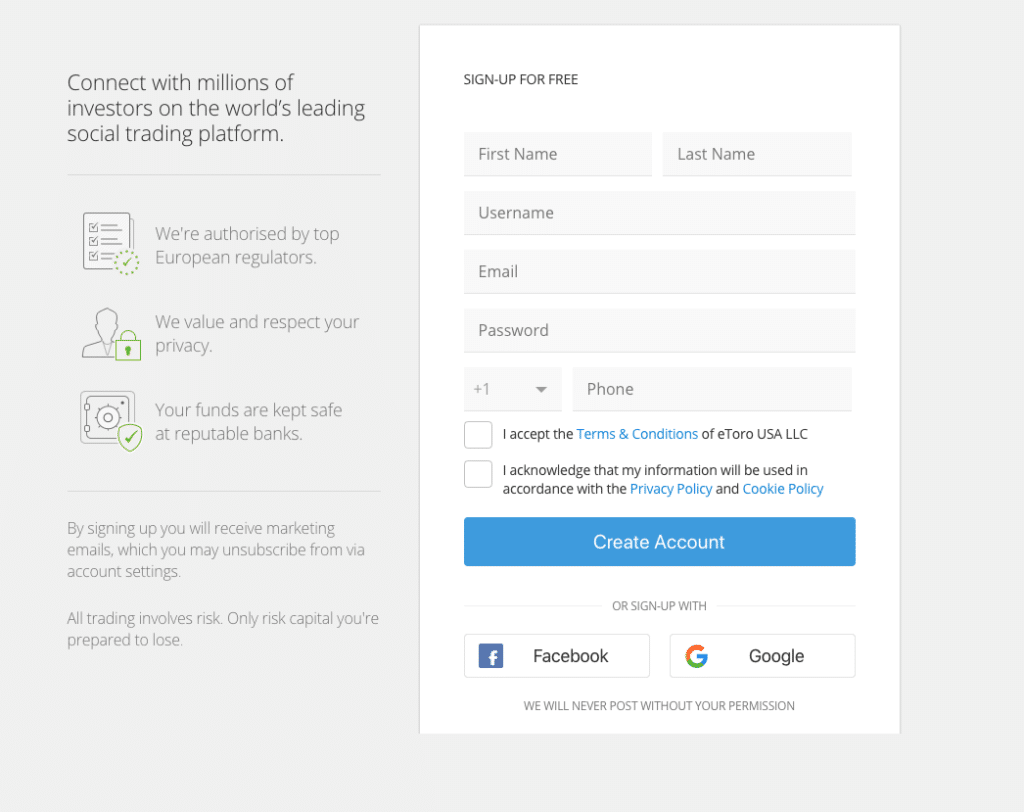 The first step is to register on eToro and get a trading account. To do this, visit the eToro website or get the mobile app for Android or iOS and click on "Start Investing". Enter the required information in the dialogue box on the next screen, including a unique username, an email address, and a password. Check the consent boxes below and click on "Create Account" to complete the process.
Verify ID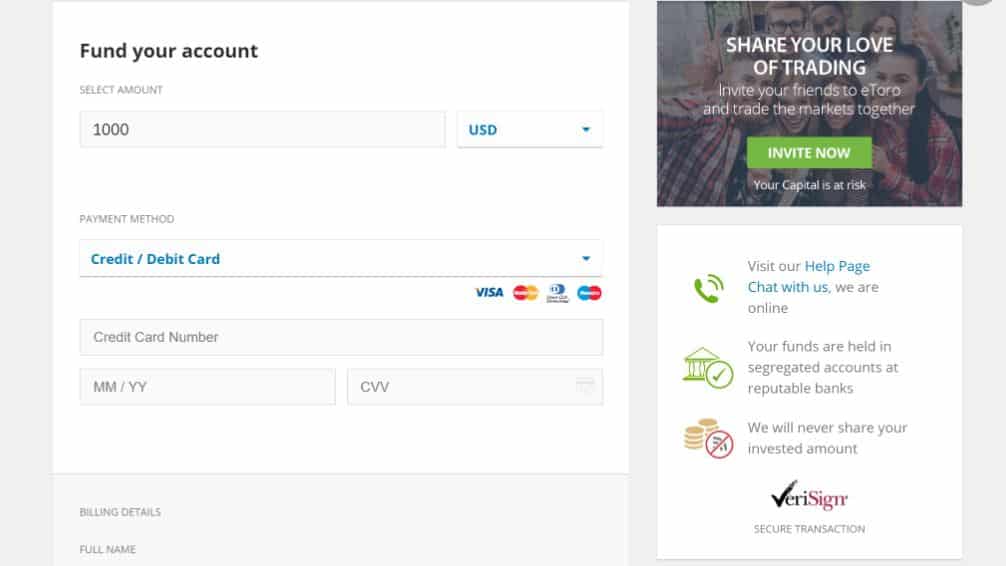 eToro requires all users to verify their accounts as part of its know-your-customer (KYC) and anti-money laundering (AML) process. To verify your eToro account, sign in to your registered account to start the verification process. You must enter the required information, including your full government name, trading history, and the purpose of trading during the verification. You must also provide proof of identity and residence and then verify your phone number.
Note that verification can only be done using the eToro mobile app. After completing the process, eToro will process them and provide feedback within a few days.
Deposit funds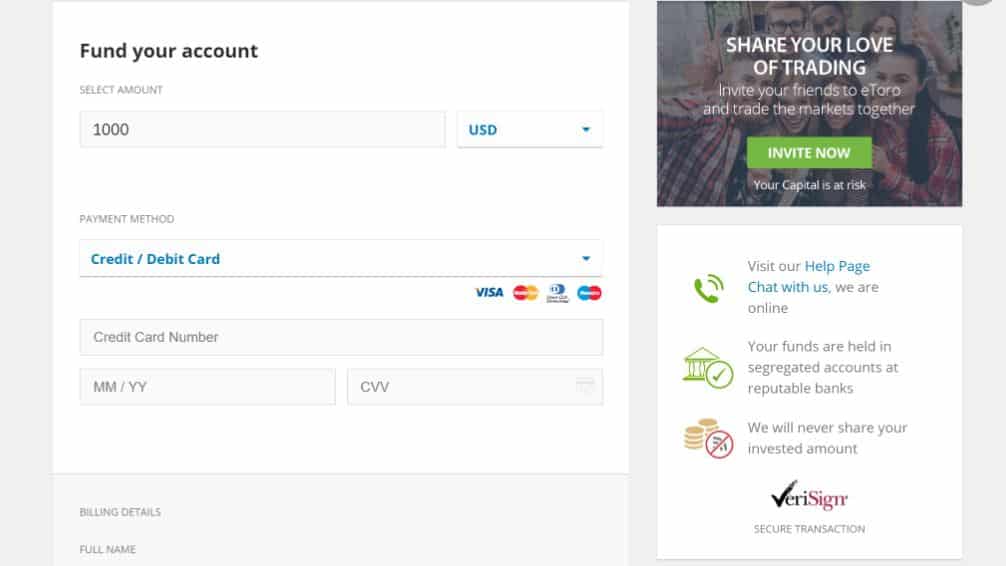 After verification, deposit funds into your eToro wallet using any of the available payment methods, including debit/credit cards, bank wire transfers, and e-wallets like PayPal, Skrill, Neteller, etc.
eToro's minimum deposit for first-time United Kingdom customers is $10 (or its GBP equivalent). However, if you're looking to invest more than the minimum in Apecoin, you can deposit as you wish.
Search for APE
After adding funds to your eToro wallet, search for APE or Apecoin using the search bar on the website or mobile app home screen and click on "Trade".
Place an order
Enter the amount of APE you want to purchase, verify the order details displayed in the dialogue box, and complete the order. The quantity of APE  purchased will reflect in your eToro wallet within a few minutes.
Transfer crypto to a cold wallet
Users can store their APE tokens in the eToro wallet. However, it is a hot wallet, which may be a concern for investors looking for more secure storage options. Interestingly, eToro allows customers to transfer funds from their wallet to an external wallet of their choice. You can transfer your crypto to a cold or hardware wallet for more security and unlimited access to your tokens.
Apecoin Price Prediction 2023 – Conclusion
Apecoin has recorded massive gains in the market lately, as investors anticipate numerous developments in its ecosystem. In this Ape Coin crypto price prediction, we've analyzed various expert predictions and analyses that show that the coin can be a worthy investment now and in the future.
Since it's still an emerging project, growth is imminent in the Apecoin ecosystem. However, every Apecoin Price Prediction 2023 is speculative, and investing in cryptocurrencies is risky.
Frequently Asked Questions
What is Apecoin's current price?
Is Apecoin predicted to go up?
Is APE a good crypto to buy right now?
What is the utility of Apecoin?