How To Buy Shibie Coin – Presale Buying Guide 2023
Fact Checked
Everything you read on our site is provided by expert writers who have many years of experience in the financial markets and have written for other top financial publications. Every piece of information here is fact-checked. We sometimes use affiliate links in our content, when clicking on those we might receive a commission - at no extra cost to you. By using this website you agree to our terms and conditions and privacy policy.
Disclosure
The investing information provided is for educational purposes only. Trading platforms does not offer advisory services, nor does it recommend or advise investors to buy or sell stocks, securities or other investment vehicles. Some or all of the products displayed on this page are from partners that compensate us. It may influence the products we cover and the location of the product on the page. Nevertheless, our research and analysis is unaffected by our partners.
Wondering how to buy Shibie coin in 2023 ? With the recent release of the blockbuster Barbie, a clever team of meme coin enthusiasts created Shibie Coin, combining the trending theme of Barbie and Shiba Inu. There is still a lot of buzz about the Barbie movie, so now is a great time to purchase one of the best meme tokens in 2023. Here's how to invest in Shibie coin during the ongoing presale event.
How To Buy Shibie Coin – Simple Steps
This article briefly overviews how to participate in the Shibie coin presale which has become one of the best crypto presales this year. Here's what you need to know.
Step 1: Connect a crypto wallet to the presale
If you do not already have one, a crypto wallet must be created and connected to the Shibie coin presale website. It is recommended to use MetaMask or Trust Wallet.
Step 2: Swap ETH for SHIBIE
If you want to buy Shibie coin, you must exchange at least 100 $SHIBIE for Ethereum (ETH) or Tether (USDT).
Step 3: Claim tokens after the presale
You will be able to claim the Shibie coins that you buy after the presale event. The presale is expected to end in a few weeks which leaves very little time to invest early in this exciting new meme coin project.
Your money is at risk.
What Is Shibie Coin?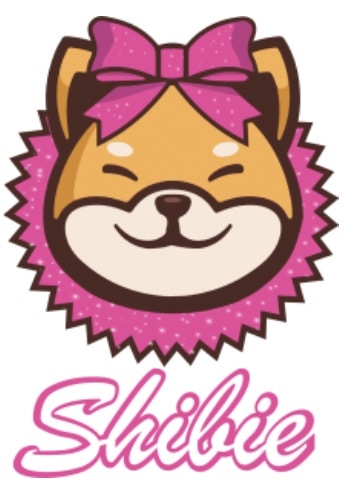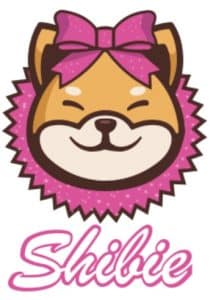 Several meme coins have enjoyed tremendous success, despite delivering little in terms of societal value. One meme token meta that has seen great success is the Shiba Inu meme token, which is the second largest meme coin by marketcap.
Shibie coin is a new meme token that will attempt to emulate Shiba Inu. $SHIBIE coins are based on the Shiba Inu protocol as well as the concept of Barbie. As a token, $SHIBIE can capture both the whimsical charm of a Shiba Inu and the iconic allure of Barbie, all within a single token. This meme token fuses two cultural icons into a playful fusion set to break crypto boundaries.
Through its innovative tokenomics approach, Shibie Coin embodies an enthusiastic, energetic community spirit. In a similar manner to the original Shib token, $SHIBIE fosters a vibrant community of supporters.
SHIBIE is a true meme token with no real utility. However, the coin will support the Shibie community and will enable investors to make quick profits from price pumps after listings. The purpose of the project is to provide returns to presale investors. The team behind Shibie coin will use social media hype and fomo to attract investors and send the value of the coin upwards.
In a crowded crypto space dominated by serious investments, $SHIBIE provides a unique, refreshing experience. It aims to become the largest meme coin in 2023. You will need a Web3 wallet (Trust Wallet or MetaMask) to participate in the presale. On the Telegram channel, you can find the contract address.
$SHIBIE Tokenomics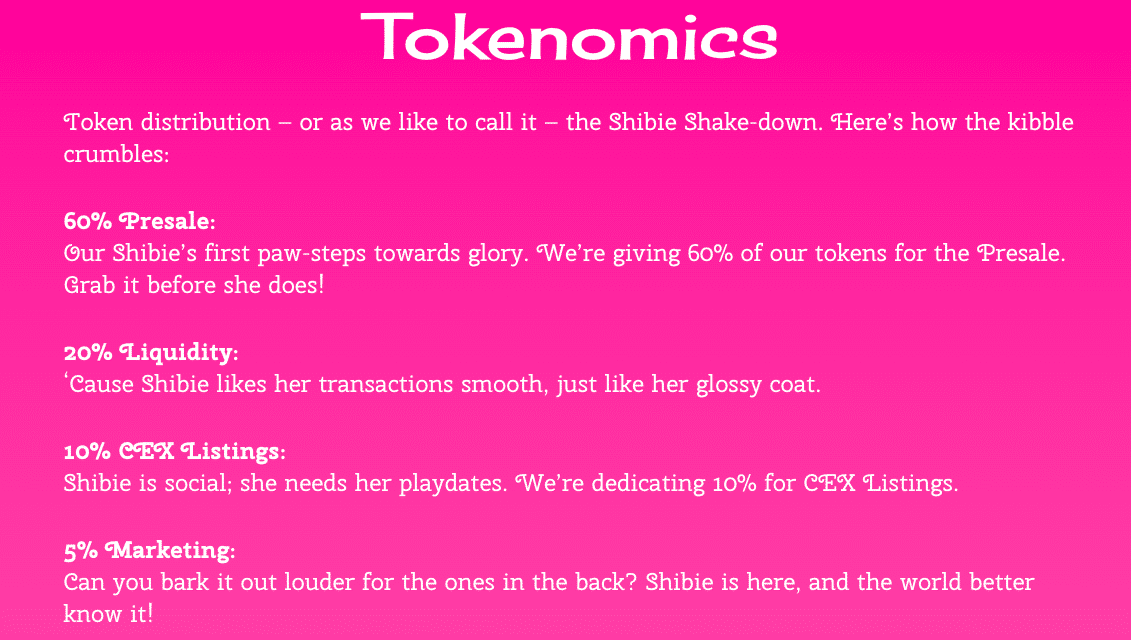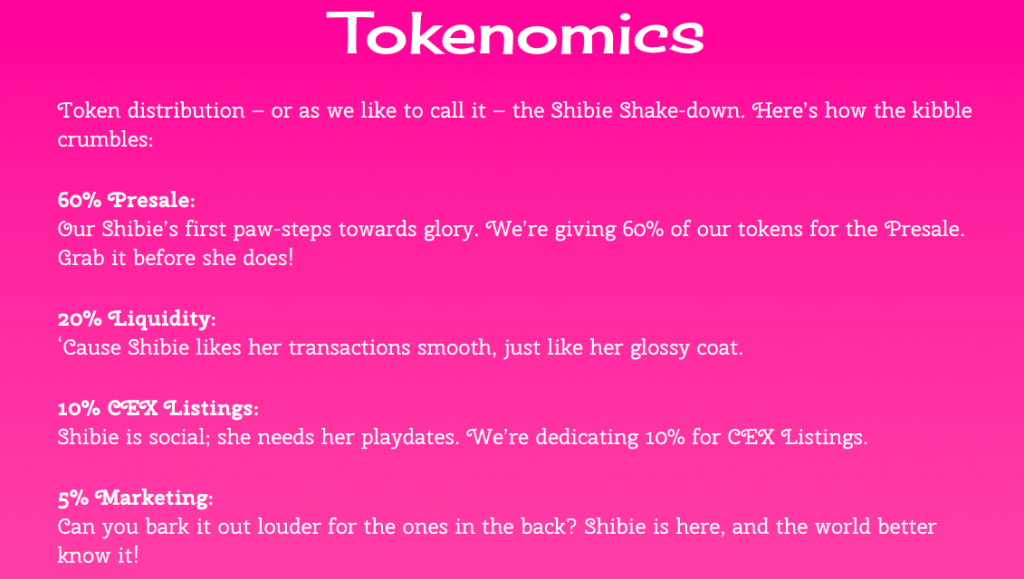 The total number of $SHIBIE coins is 2,107,202,300 (2.1 billion). $999,999 will be raised during the presale of 842M tokens that are being sold for a price of $0.000474. As a result, Shibie could become one of the best crypto under $1 this year. The undervalued presale price is likely to attract the interest of investors around the globe who are looking for the next opportunity to make huge returns. The Shibie coin presale supply consists of 40% of the total token supply, 20% will be held for liquidity and 20% for the yet-to-be-listed CEX listing. The remaining 20% will be held for marketing.
This project intends to target decentralized exchanges (DEXs) and centralized exchanges (CEXs). As part of Shibie's clear tokenomics strategy, it plans to list on CEX platforms to increase $SHIBIE's availability and foster a broader community.
A significant marketing campaign is underway to capitalize on Barbie's popularity, with 20% of $SHIBIE's supply dedicated to marketing. No team or insider reserve is associated with the token, so it will not likely become a massive token sale.
Shibie Coin will likely be featured in various crypto media outlets soon, so meme coin enthusiasts can reasonably expect to see it soon. Its whitepaper promises "marketing, marketing, and more marketing.".
Several influencers will be contacted to promote the token on platforms such as Twitter, YouTube, and various trading groups on Telegram/Discord. Additionally, Shibie will likely be extensively covered on crypto news websites through partnerships with media outlets.
| | |
| --- | --- |
| Hard Cap | $999,999 |
| Total Tokens | 2.107 Billion |
| Tokens available in presale | 842 Million |
| Blockchain | Ethereum Network |
| Token type | ERC-20 |
| Minimum Purchase | N/A |
| Purchase with | ETH, USDT, Card |
Your money is at risk.
What is the Point of Shibie Coin?
The point of Shibie coin is to create a fun-loving meme coin community that will reward early investors. Incorporating Barbie's iconic allure with the whimsical charm of a Shiba Inu, $SHIBIE is a captivating shitcoin. Aside from being a digital currency, $SHIBIE is also characterized by its inspiring community spirit, reflected in the tokenomics approach that fosters a vibrant Shibie community.
$SHIBIE's ambitious goal is to debut on DEX and expand its reach through strategic CEX listings. This will ensure accessibility to all crypto enthusiasts seeking a vibrant experience and contribute to a diverse and inclusive community. It is suitable for thrill-seekers and prudent investors and offers a perfect balance of fun-filled entertainment and tactical investment opportunities. A compelling tokenomics structure drives $SHIBIE's exciting journey, offering a dynamic ascent in the crypto market.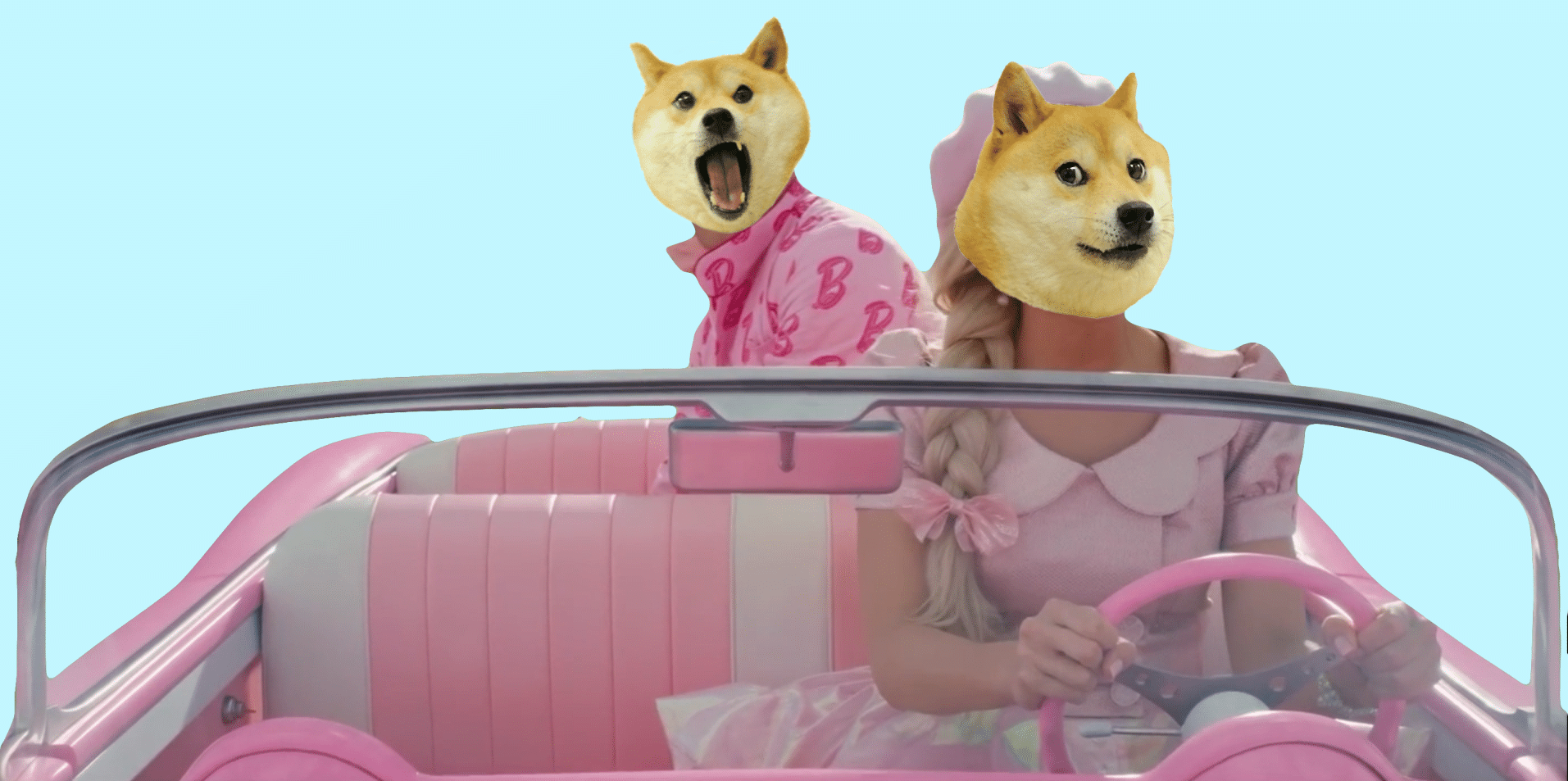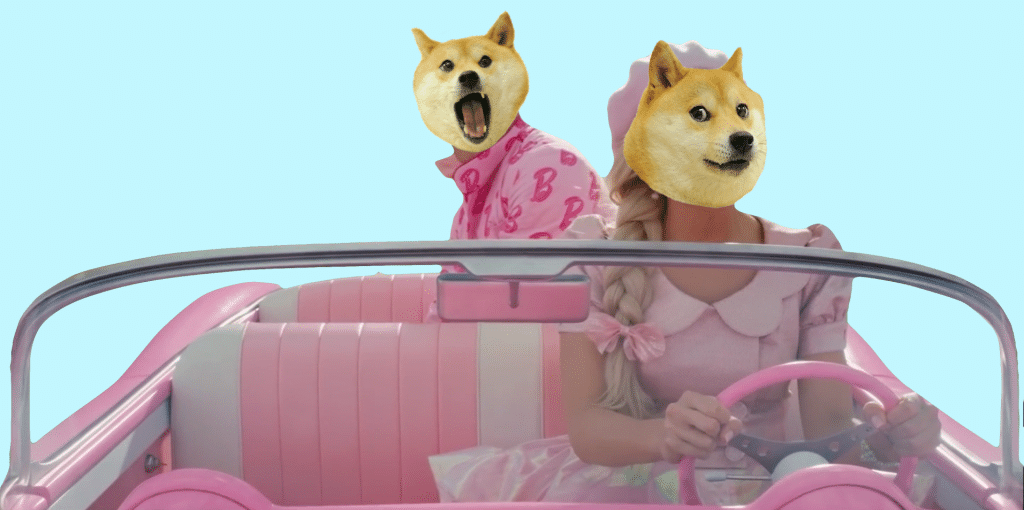 With its Barbie and Shiba Inu communities, Shibie stands out among other unremarkable digital coins. A Shibie bot powered by artificial intelligence is planned for release on Telegram, allowing users to interact with Shibie and receive fun insights directly from their favorite messaging platform. There is no doubt that this meme coin presale will be profitable.
Pros and Cons of Buying Shibie Coin in 2023
Pros:
This $SHIBIE tokenomics strategy is designed to promote community engagement and participation, reflecting the spirited ethos of the Shibie community.
Investors can access a lively and engaging community that challenges crypto norms during the project's presale and subsequent DEX launch, giving them early access to investment opportunities.
Unlike more serious financial investments, $SHIBIE's lighthearted approach provides a unique experience in the crypto space.
Cons:
Those seeking a less volatile and traditional investment path may not be satisfied with $SHIBIE's bold and vibrant nature. A meme coin-lover community enjoys the dynamic ride of the market's adventurous approach, driven by robust tokenomics.
$SHIBIE's value depends heavily on its community size and engagement level, just like other meme coins. A slow growth rate or a decrease in engagement could affect the token's value.
Your money is at risk.
Shibie Roadmap
During the presale for $SHIBIE, 60% of the tokens will be offered to pioneer investors eager to join this exciting journey. To facilitate future growth and ensure token stability, 20% of the tokens are added to the liquidity pool after the pre-sale.
The playful spirit of Shibie will be maintained through a 10% token allocation for promotional activities and partnerships, beginning seven days after the DEX listing takes place. Shibie's community engagement and rewards approach ensures engagement and rewards for holders and partners. Another 5% of the tokens will be allocated to the team, and 5% will be allocated for marketing purposes.
Shibie's spirited nature will guide the project to accomplish all roadmap milestones by Q3 2023. Some strategic alliances will be forged, community development will be prioritized, and an ecosystem will continuously evolve in the subsequent quarters. In the meantime, the Shibie team will provide more details on these future endeavors as Q3 2023 approaches.
How To Buy Shibie in 2023 – Complete Guide
Shibie coins can be purchased during the presale using ETH or USDT. To purchase Shibie coin on the presale site, you'll need a third-party wallet like MetaMask. Here are the full details of how to buy Shibie coins.
Step 1: Buy ETH from eToro
The best place to buy Ethereum is eToro which offers a seamless trading experience and low fees. If you do not already have an eToro account, you can easily create one through the website or mobile app.
If you have an eToro account, you can buy ETH by logging in via the website or mobile app. You can buy ETH by accessing the website and searching for Ethereum using the coin ticker.
To complete the transaction, enter the amount of ETH that you would like to buy. You can use the following payment methods to invest in cryptos through eToro: credit/debit cards, cryptocurrencies, bank transfers, or electronic wallets.
ETH will be credited to your eToro account within minutes after purchase.
Step 2: Move ETH to MetaMask or Trustwallet
The next step is to move the ETH from the eToro trading account to the eToro Money Wallet – this will allow you to send ETH to an external wallet that can be connected to the Shibie coin presale.
You can transfer ETH to your eToro money wallet by visiting the portfolio page and selecting it from the cryptos you wish to transfer. You can complete the transaction by clicking "Transfer to eToro Money Wallet." It will take eToro a few minutes to approve the transfer.
You must have the eToro Money wallet app downloaded on your phone before you can complete this step.
After moving your tokens from the trading account to the eToro Money wallet, you will be able to send the tokens to MetaMask or Trust Wallet. If you don't already own a crypto wallet, follow the steps below.
How to create a MetaMask wallet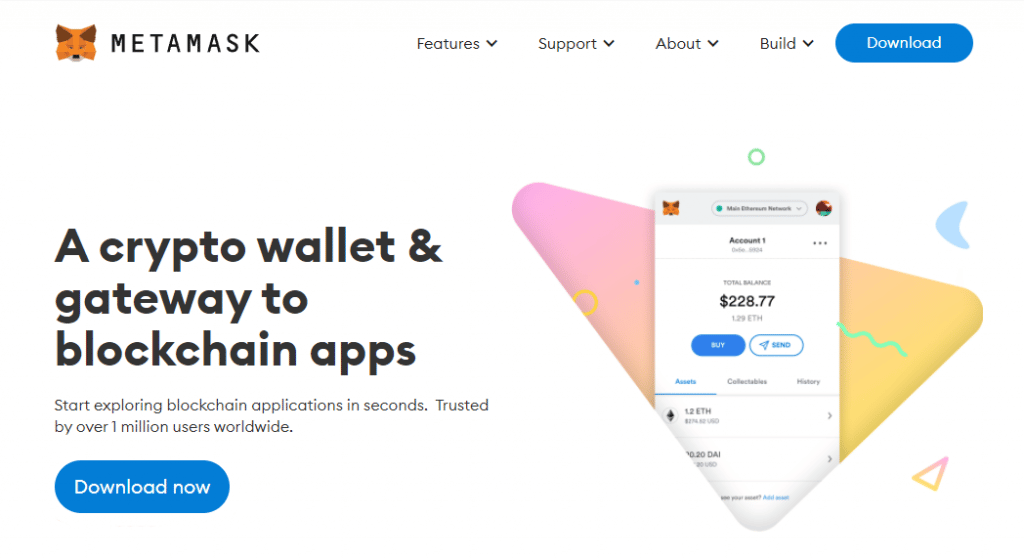 There are two forms of MetaMask – a web browser extension and a mobile app. Here's a detailed guide to setting up MetaMask via a browser extension. Setting up MetaMask on an iPhone or Android device is similar.
To install the wallet, visit the MetaMask website and choose a browser of your choice.
Upon installation of the application, click 'Create a Wallet.' Creating a complex and alphanumeric password is now required.
The next step is to write down the 12 words that compose your recovery phrase on paper and secure it somewhere safe. MetaMask can access your wallet remotely if these 12 words are entered. MetaMask's 12-word recovery phrase should never be shared.
Connect to the Ethereum network. Shibie Coin tokens cannot be engaged with MetaMask because MetaMask only supports Ethereum transactions by default.
The next step is to transfer ETH to MetaMask from your eToro Money Wallet. On your mobile device, launch eToro Money and log in to access your wallet. Choose ETH from the available options of cryptocurrencies to send using the crypto icon at the bottom of the screen.
Input the MetaMask Wallet address and the amount of ETH you'd like to send to MetaMask. Alternatively, investors can scan the MetaMask wallet QR code with the camera icon on the money app to automatically enter the wallet address. Following the address input, tap the "Send" button and enter the verification code sent via SMS to verify and complete the transaction.
After eToro confirms the transaction, your external wallet will receive the cryptocurrency within minutes.
Step 3: Add SHIBIE to your wallet
The next step is to import $SHIBIE into your MetaMask wallet. When announced, the $SHIBIE contract address can be submitted by clicking 'Import Tokens.' Using the official Shibie Coin Telegram group, you can verify the $SHIBIE contract address.
Step 4: Connect your wallet to the Shibie coin presale
The next step is to connect your wallet to the official Shibie coin presale event. Simply open the website in your browser and click 'connect wallet'. Then, select the wallet that you wish to connect and confirm the connection.
Step 5: Swap ETH for SHIBIE
Swap the ETH in the wallet for the $SHIBIE coin once the external wallet connects to the presale site. Investors can invest as much as they wish in Shibie coin since there is no maximum investment amount. A transaction breakdown will be displayed once the amount of ETH converted into $SHIBIE has been entered, including 0.008 ETH as a gas fee and the equivalent amount of Shibie tokens to receive.
Following the prompt, complete the transaction and wait for the presale to conclude.
Upon closing the Shibie presale event, all $SHIBIE holders may claim their tokens before they are listed on the DEX. To claim the associated tokens, return to the official presale site and connect the MetaMask wallet used during the purchase.
Your money is at risk.
Shibie Coin Price Prediction
During the $999,999 presale, Shibie Coin offers 40% of its token supply at $0.000167 per token. This presale is relatively small compared to other Web3 raises and may sell out quickly. There is ample potential for the price to skyrocket with a modest valuation of $2.5 million. With $SHIBIE, investors can expect 1,000x to 1,000x gains based on the Shiba Inu's success.. The success of $SHIBIE has been attributed to its ability to seamlessly combine the whimsical charm of a Shiba Inu with the iconic charm of Barbie, creating a perfect formula for virality and exponential growth.
Shibie coin does not have any real utility so it is difficult to predict where the price might go in the future. It is normal for meme projects to pump and then die down once the hype drops. Therefore, the best time to invest in the project is during the presale, before the token reaches its peak.
When the hype for Shibie, and the Barbie franchise in general, dies down it is likely that the price of $SHIBIE will follow wider meme coin trends. Meme tokens tend to do well when other areas of the market are struggling. This makes meme coins a good way to diversify your crypto investment portfolio.
How To Buy Shibie Coin in 2023 – Conclusion
During the limited-time presale phase, $SHIBIE tokens will be offered for $0.000167 each, an attractive price for this new token. A newcomer and a seasoned crypto enthusiast are welcome to join the Shibie Coin team. It costs 100 tokens (less than 2 cents) to acquire $SHIBIE as an early investor using $ETH or $USDT.
As well as offering investors an opportunity to invest in $SHIBIE, this prelaunch will also lay the groundwork for the company's upcoming DEX launch. As the token becomes more accessible and visible after its presale, it often indicates a positive trajectory upon its listing. However, it would be best if you remembered that all investments carry risks, so don't spend more than you can afford.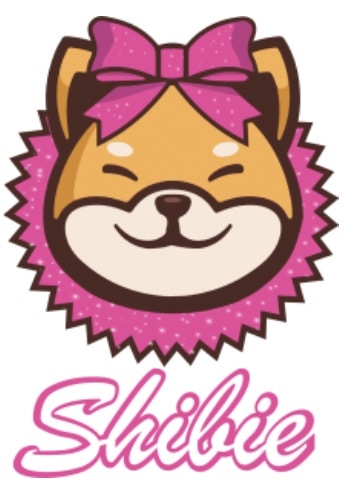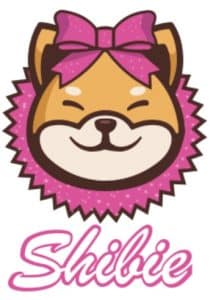 Your money is at risk.
FAQ
Where is Shibie coin listed?
Can I buy Shibie on Coinbase?
What is the easiest way to buy Shibie coin?